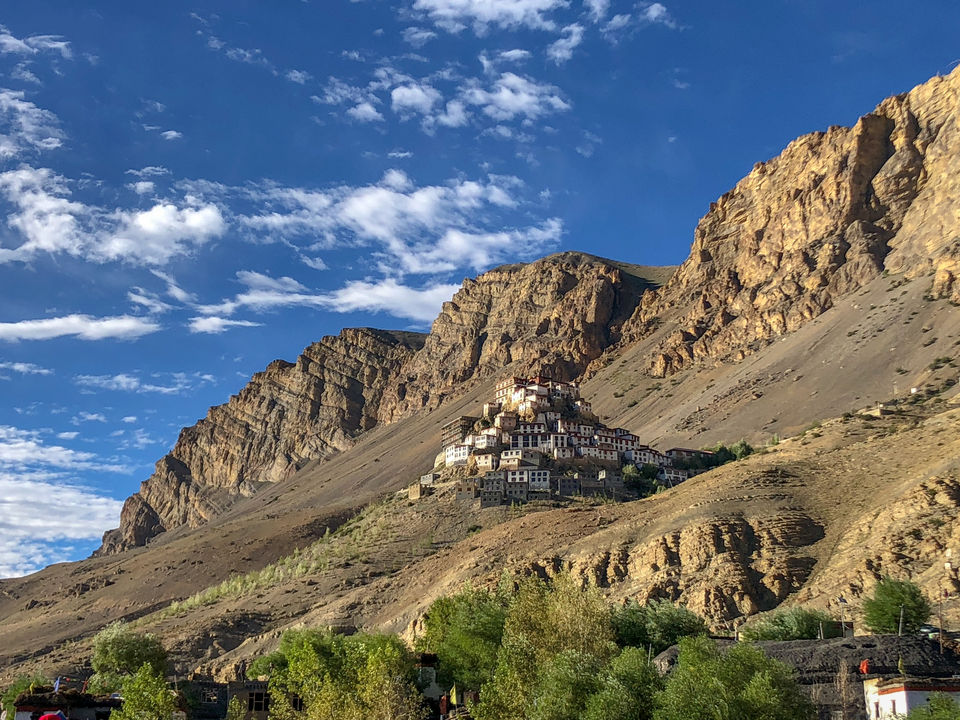 It's a feeling of awareness; endless beauty; spirituality; exploration; persistence; blessing; clear skies; picturesque no man's land; crossing milestones; enjoying the journey more than the destination; liveliness yet tranquility; romance; selflessness; disconnection yet self-connection; living, playing, singing, dancing with amiable and super generous locals; fun turning to thrill to adventure to fear; conquering fears and letting yourself go!
Each phrase/word above is here because of a story I lived in Spiti. No picture, no video, no description, no explanation, no story can do justice to the essence of this place. One needs to be there to feel it and a week is too less a time to imbibe it. So next time for longer!
A night in Kye Gompa (Monastery) also known as Kee, Ke, Ki or Key Monastery at ~14k ft. has to be the crown jewel of my trip to Spiti. Remember Highway, the scene where Alia is overlooking a snowcapped mountain and saying "Aisa lag raha hai ki woh mujhe bula raha hai, kaash hum waha jaa paate". That's the monastery in the background – Key Monastery. But contrary to the movie, given a choice I would have never left!
It was founded in 1000 AD and is the largest monastery in Spiti. It is believed to be least a thousand years old and one of the Lamas told us about the celebration of its millennium in 2000 in the presence of the Dalai Lama. It is also one of the oldest training center for Lamas and is home to over 300 Lamas.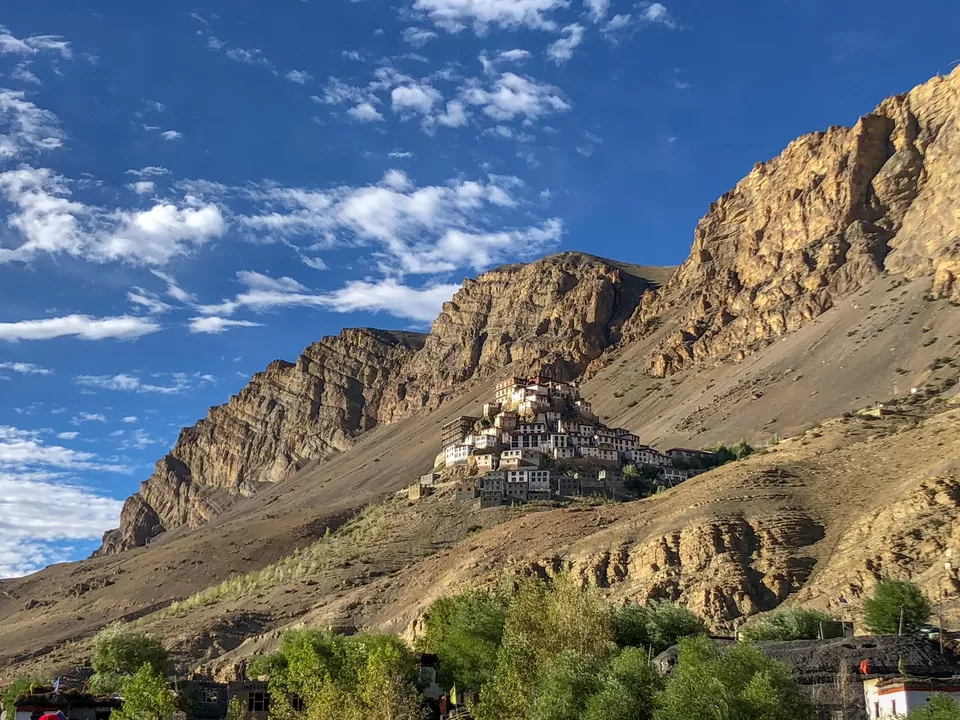 Kye Gompa was attacked and destroyed frequently by invaders during 18th and 19th century, however it rose and shone time every time. It has survived a massive fire and a devastating earthquake as well. Successive trails of destruction have led to haphazard growth in irregularly box structures, famously known for Pasada style architecture.
During the day, it looks like a majestic and glorious fortress on a hilltop that's calling you with wide arms for an embrace (trust me it's too overwhelming to resist). At night, light breaking out of the windows of these box structures makes it look like all the starts in the sky have gathered together in its embrace and become more luminous.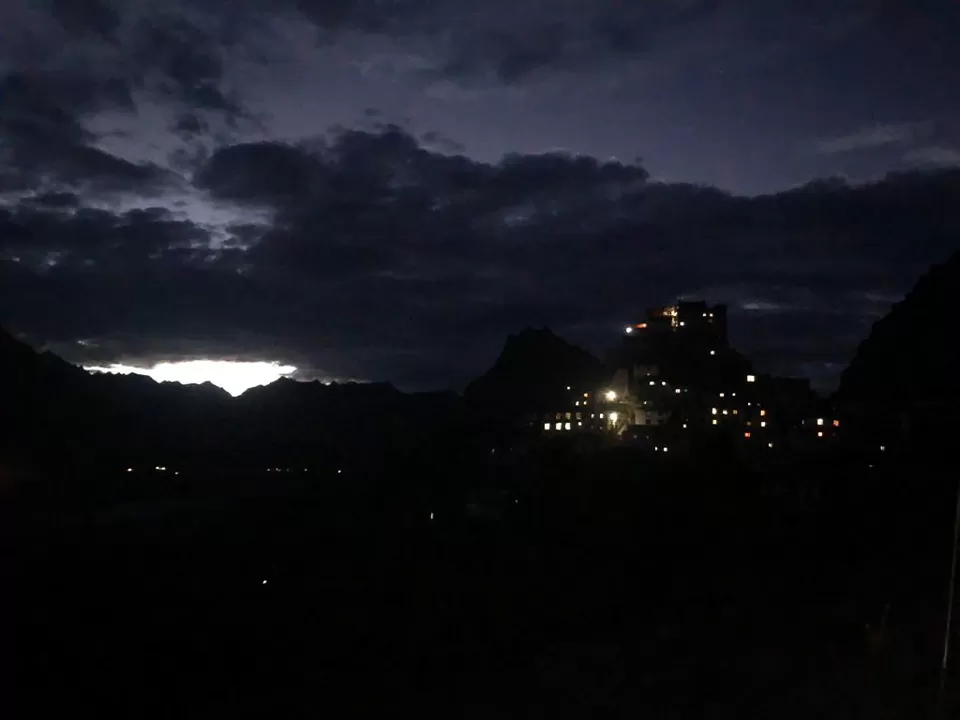 The evening I reached Key Gompa, I went up to the prayer hall through a series of narrow steps then finally to the rooftop where on one side are the mighty Himalayas, and Spiti valley river flowing on the other. Spent hours staring at the view, before I got the news that instantly lit me up – "We are staying for the night here"!!!
Living not in any guest house, but existing Lama quarters was divine. I felt so much peace by just being in those quarters (oh, how much I miss that in this concrete jungle that I live now). The wind was stronger than what it sounds in the clip. The escapade got even better with meals that would be cooked by and for the resident monks. The kitchen and the food at Key Monastery would beat any café or delicacy. From basic daal and rice in dinner to chai (sweet/salty) and Barley sattu (flour made of roasted grains) with cheese and desi ghee in breakfast were the most satisfying food. Kitchen was the warmest place with welcoming Lamas reflecting simplicity from every corner.
Post dinner, when the moon was bright we went for meditation. The sensations from the meditation bowl induced a calmness in me I had never felt before. The stillness of that meditation place was so infectious that I almost lost track of time.
I woke up early next morning to absorb as much as of this pious place, then went to attend the prayer where about 30 monks were chanting "Mantras" in unison. To my surprise, all the monks were having tea during the prayer. They also served us hot butter tea and it was butterlicious. Such a refreshing and eye-opening encounter.
Later at breakfast, a Lama was telling my friend about the annual ceremony of Yenne Gaaye (Khetal) – a tradition of the Gelugpa religion of Buddhism is celebrated with great spirit. This ceremony lasts for a few days where all the 300- 350 monks from the monetary visits each and every house of the nearby villages to conduct prayers and offer blessings to the people. Popular mask dance (Chham) is an important part of the festival which emphasizes on victory of good over evil.
Lucky me, that it happens in July – I know now where I am spending my birthday next year!