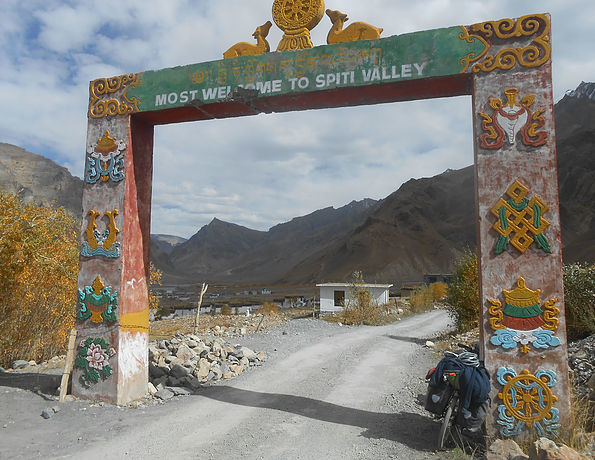 SPITI- A LONE WORLD IN ITSELF
There is a huge difference between a tourist and a traveller. A Tourist sees what he knows; a traveller sees what he wants.
This was my first trip made solo as a traveller and not a mere tourist. Spiti was a place that I came to know about a year ago. It's enchanting and breathtaking views clogged me to it. It developed a strong urge within to visit this untouched valley and explore it.
Being an amateur, and my zeal of making that first solo trip; Spiti was my aimed destination. To begin with the geographical settings and forecast- Spiti is situated in the north-eastern part of the Indian state of Himachal Pradesh. The name "Spiti" means "The Middle Land", i.e. the land between Tibet and India. The Spiti Valley is also known as "Cold Desert" valley located high in the Himalaya Mountains.
The valley and surrounding region is one of the least populated regions in India. The route starts from Keylong via the Rohtang Pass or Kunzum Pass respectively. The capital is Kaza Village which is situated along the Spiti River at an elevation of about 12,500 feet (3,800 m) above sea level.
The Rohtang Pass, at 13,054 feet (3,979 m), separates Lahaul and Spiti from the Kullu Valley. Lahaul and Spiti are cut off from each other by the higher Kunzum Pass, at 15,059 feet (4,590 m). A road connects the two divisions, but is cut off frequently in winter and spring due to heavy snow.
The climatic conditions, no doubt is very cold. The oxygen level up there gradually reduces as you go higher from 8,000- 10,000 ft. People tend to get high altitude sickness/ Mountain sickness due to this. Symptoms are high body temperature, severe headache, chest pain, vomiting, lack of sleep, fatigue and nausea. Do not ignore these signs and remedies are must for this.
This basically happens due to body not receiving the actual amount of oxygen that it is used to. Hence for your body to adapt to this environmental change, we need to take care in following ways:
Drink lots of water (As water is the source of oxygen, also use with Electral/ Glucon-D etc)
Diamox (Medicine, highly used for acute mountain sickness/ Doctor prescribed is preferred)
Do Not exhaust more, walk slowly, maintain your calmness, no fast breathing.
Enough of the Specs and facts, but this was the information gathering that I did to know more about Spiti. But let me tell you, the actual experience was just so different than the Spiti I imagined. Be ready to get amazed because it is just so much more that you see in the usual pictures that you google for Spiti.
I went for a 6day trip starting from Manali-Spiti-Manali. The group was so diverse, people from different professional background came together due to a similar interest. No one knowing each other till the day of the trip. Our trip started from 7th September. Moreover I was worried initially about the "No connectivity and network" issues and "rugged terrain". Little was I to know that these were the only things that made the journey so worthwhile.
From Manali via Rohtang Pass which took around 8 hours to reach Chandra Taal. We passed areas of Batal and Chatru, where we took a short break for tea at the only dhaba we found on the way.
CHANDRA TAAL:
We reached to a base camp which is around 3kms away from Chandra Taal. The night we spend camping and star gazing. And what a splendid view to just look above in the sky. A sky so clear. A sky just so clustered with stars. You can also recognize constellations and stars. Early morning wakeup was just so thrilling. We woke up to the view of snow cladded mountains from our tent and the sunrays getting stronger and brighter. Temperature was too low. We all turned purple just as we removed our gloves and caps. The camp provided tea and omelet bread which was highly needed. Thanks to the NOMADIC CAMP.
From the camp we need to reach a motorable track, later we need to cover 1 km in foot to reach the lake. The first scenic view we visited was of the Chandra Taal Lake.
This lake is situated at an altitude of about 4,300 meters (14,100 ft). Mountains overlook the lake on one side, and a magnificent cirque presents a view on the other. The lake is known for the Full Moon beauty that is reflected in this lake during the night. Also in the day time, the lake is known to change its color depending upon the sky color.
At first even I was assuming that how is this possible, but when we were reaching the lake it was a little greyish in color. We all just spend some time there roaming around and clicking pics. Suddenly we just saw the lake and OMG the lake was blue in color. Later the border turned green. It was definitely the reflection of sky, but this is just the beauty of the nature that we can simply be amazed of.
The lake can be visited only during (June- September) months. For the rest of the season, the lake remains cut off and frozen.
KUNZUM PASS:
Moving ahead from Chandra Taal, we visited the highest peak "Kunzum Pass" (4551 meters) where the locals believe to pray by performing a respectful circuit of the stupas strewn with fluttering prayer flags at the top before continuing down into Spiti.
KAZA:
From Kunzum we moved ahead for Kaza. The journey was of around 75kms. In Between we had a halt at Lossar to have something for lunch.
Moving ahead from Lossar, you will come along very amazing and picturesque views of the Valley which seriously will keep you wondering. The most apt dialogue one guy in our group said was "YAAR AB KYA HUM JAAN DE DE KYA YE NAZARE DEKH DEKH KE". It's the exact definition of the nature that you will witness. Speechless it was to look out of the window. Where ever you see, you will always be surprised. You will see the amazing mountain structures which will spellbound you.
Along we just came along with a road so amazing in the valley base.Very beautiful view it was. And we just jumped of the car and just clicked pictured like crazy people giving crazy poses.
Moving ahead we visited small habitants of Haal Village, Rangrik , Kyurik, Syurik Villages which had their own small monasteries. Here we finally got to see some greenery due to the vegetation the farmers do. But yet again the villages are just spread across 8-10 houses.
We had a view of the very famous (KYE-Monastery) along the path. The setting sun rays just illuminated the view. But our next stop was Kaza Village. It is known to have the highest altitude situated post office and petrol pump in the World. Our stay was in Zostel. It was a very nice setup made for the travelers to have a pleasant stay in such environment. Good dormitory with common room to enjoy indoor games and some area to just chill out. Finally here you can have some varieties of food.
KOMIC VILLAGE
Finally having a sound sleep in Kaza , the next day we began our journey to visit Komic Village. This village is known as the highest village in the World with population around 114 people in area of 100kms. This village has a monastery about 1000 years old. Many fossils were found by the locals. This bears some civilisation history. Today we were not feeling any health issue as we were having lots of water. Also our body adapted to the climate.
Lang Zha:
Returning from Komic we visited Lang Zha village. This place we witnessed different kinds of birds. This place is known for amazing Buddha stupa located at the mountain top which is just so beautiful.
Kye Monastery:
Next stop was the Kye Gompa, the history of this monastery you can read at its entrance. This is the most renowned Tibetan Buddhist Monastery close to Spiti River. The structure is splendid as it is built across a mountain top. It is a religious training center for Lamas. It reportedly had 100 monks in 1855. The amazing thing is the travellers can stay in the monastery with the monks and also share their kitchen and have a chit chat chai with them.
It was real divine experience to see the monks habitat and school etc. Also the peace that you receive there is priceless. It's always that the one's who has very less to give, only have their Big Heart. The people were that welcoming and always smiling. I can come now any number times and spend a part of my life in this great hidden valley which has so much amazed me.
We left the place with all the beauty always remaining fresh in our memories. Though we cannot capture everything in camera because:
Spiti for me is not just a place to visit. But an experience to be lived.
Travel Courtesy:The Weeknders Group: Akanksha, Nishant
Driver: Sanju Bhaiya