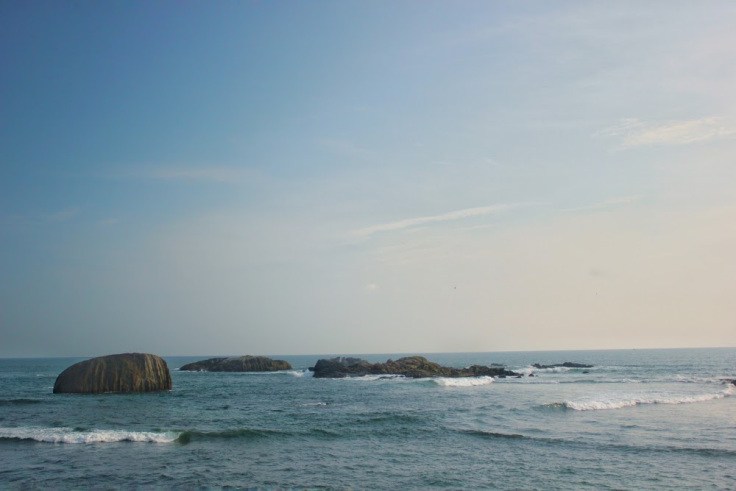 Heads up: Only for those who enjoy travel rambles.
Months of planning. It all started as a crazy idea. D's wish of wanting to make a foreign trip before turning 26. She asked me and in a fit of excitement, I say yes. She asked A, and pfft... being the wanderlust that she is, we would've been surprised had she told no. G was interested too, but given that she didn't have a passport yet, we had to give her time to get her passport ready.
The most viable, cheapest, closer home, not burning multiple holes in poor journalist pockets- Ceylon or as it is contemporarily known, Sri Lanka. The birthday is on Feb 10 and the idea is to spend the birthday there. We start planning 6 months in advance! Yes, crazy, I know!
It all began by checking the flight ticket rates. (You should keep in mind we are actually poor journalists who barely make ends meet.) 7777 to and fro? You gotta be kiddin' me! But no, that was the flying charge to this charming island nation. Did we grab the offer? No. We hadn't put down the 'p' of planning, let alone book tickets that are non-refundable.
Here come the notepads. Jot down all crazy ideas. Pick out craziest of 'em all. That's what we'll do in SL, we decide. We set on places to visit in a span of days. Contacted tourist guides, package tours, etc. but in vain. Who wants to do mere paperwork for three travelers who have made their own plans? Nobody. Nevertheless, no hope lost.
Plan circuits, cheap accommodations, food researches (2 veggies, you see!), commute confusions, public transport researches, shopping, the list is endless.
But enough with the planning, what say? Let's fast forward a bit. We booked the hostels with good deals, went on shopping sprees, got our tickets, and decided on a on-arrival visa. All set to go.
We arrive at the Chennai International Airport the night we're to leave, past security checks, travel questions, packed idlis for dinner (quite the Indian-ness, yes.), chit-chatting away to glory, and the time comes when they finally announce boarding! Yay... We're at the gates and we don't see any sign of people boarding any flight whatsoever. It's almost time. Is the flight delayed? Unable to find out as screens are running ads too. We decide to sit down and have some chocolates when my phone rings. The caller is asking for passengers Roshni, D, and A to board. Panic. Then we hear a security personnel on his walkie-talkie, "Passengers spotted. I repeat, passengers Roshni, D, and A have been spotted. They are on the way to the gate now." Then there's another man in a Spicejet uniform to escort us to the flight. In case you didn't catch the drift, we were at the wrong gates. This is embarrassing, you'd think! Wait till you hear the rest of it. We were the only people on the air-bus, and the entire crew was waiting outside the flight for our arrival. At least we weren't late. We board the flight and we have about a hundred pair of eyes on us as we walk down the aisle to our seats. Now, that is embarrassing! Anyway...
We arrive in Colombo in about an hour and a half enjoying the night lights of the city departed and the city arrived.
Part I: Colombo, History overloaded.
Sticky. Hot. Humid. Sultry. Sweaty. Those describe the Colombo atmosphere. We stayed in Colombo City Hostel (a dorm), which is in the center of the city (in the Prime Minister's neighbourhood!) fit right into our budget. A clean and neat place with interesting fellow travellers in-house.
Colourful (special mention to the BobMarley one) tuk-tuks, awesome food (special mention to veg kothu), view of the calming sea, fancy bakery in Pettah- where we managed to go thrice during our stay in Colombo and once on our way back stop in Pettah before the flight- Ceylon tea, you ask for a bun and they'll get you a bun platter; you talk in Tamil, they ask "neenga Uttar Pradesh ah? (Are you from Uttar Pradesh?)" and you burst out laughing!
The innocence, the kindness, the attachment that stems from the mere linguistic commonality...you can't put a price tag on it.
Moving on to the most privileged part of the trip- meeting Mr PK Balachandran, Foreign Correspondent with TNIE. This was the most looked forward, yet the most uncertain. Uncertain because a person of his stature and experience making time for three amateur misfits seemed quite far fetched! Having lunch with him, sharing space with him and spending time was great honour. He won us all over with such charm and chivalry, and the most captivating of all, his wartime stories (must say, quite the bedtime story for a journalist)! His accounts of the Eelam War, the culture of Sinhalese, Tamils, and Muslims of the land paint quite a picture that even time can't erase from one's memory. Wartime reportage, the constant uncertainty, and the adrenaline could be inexplicable! Scribbling bits and pieces of this complex piece of history didn't do justice- neither to history itself nor to the person narrating it.
And thus, an eventful South Indian lunch in Ceylon with a wartime journalist came to an end. Hearts and stomachs full, mind still longs for more stories... We will meet you again, PKB sir.
The Ganga Ramaiah Temple, Dutch hospital, shopping, wandering the streets, walk along the President's house, Galle Face Green, kites, and the sea marked our second day in Colombo.
The following night, after having our definition of a fancy dinner comprising of salads, fries, and sandwiches, we secretly pack the only available dessert. A jaggery pudding was about to become Deeps' birthday. All set for a humble midnight celebration. Two gifts, a pudding, and loads of love. A birthday party in Lanka ensued.
Part II: Galle, To each her own.
The journey of three hungry souls begins. We took Steve Jobs' mantra quite literally!
Three sleep deprived hungry souls occupy three window seats on what's going to be an uncomfortable yet unforgettable journey. Few hours of sleep, few biscuit packets emptied, few perverted men fended off. A beautiful view of sea on the right and railways on the left mended the unsettled heads. Beaches never cease to give hope.
Arrive Galle! Got off right outside the rustic Galle railway station. A vibrant tuk-tuk takes us to the ever more vibrant Galle Center Home! "Free Wi-Fi" was all that we wanted to hear...calling parents, Instagram-ing photos, updating friends just to make sure they get a teensy bit jealous.
We shower our stickiness away and set off to the Galle Fort. A bad lunch couldn't dampen our spirits even after it being the first morsel of food! We split up and went different directions to explore the fort by ourselves promising to meet at the same spot for sunset. Mind you, we have no means of reaching one another!
However, we did meet for sunset after hours of exploring and successfully not at all running into each other. With a load of pictures to show each other, there we sat on the fort wall. Taking in the crimsons, oranges, and golds thrown at us by the sun. Feet dangling to the sea, the waves softly bouncing off the wall beneath us. The Lankan hues reflecting off the sea and us reflecting on our own thoughts. To sum this experience, I'd like to borrow what someone told me once: Nature loves symmetry.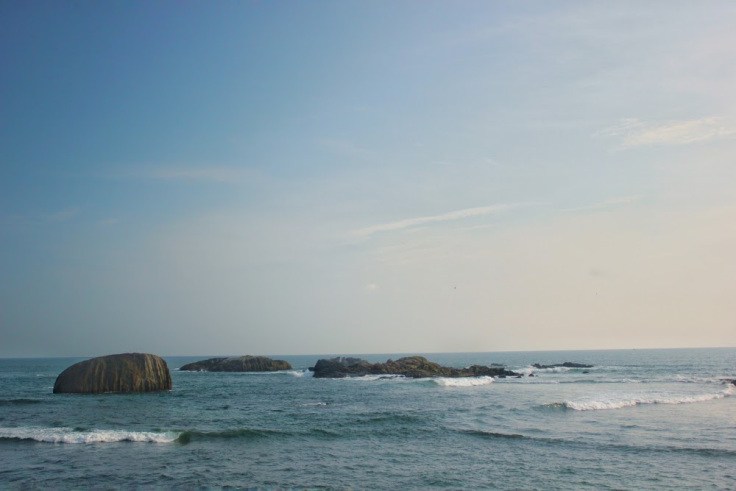 A sumptuous dinner of pineapples and black tea later, we sit in our own cozy corners to jot down the memories of the day. You know you're unbelievably close to someone when you can share comfortable silence with them. That's exactly what we were.
Day two in Galle begins with a healthy breakfast of bread, jam, and bananas. An eventful day lay ahead of us and we had no idea. Snorkelling, me? Who'd have thought? I can't even swim. Of course, I didn't take any extra clothes along.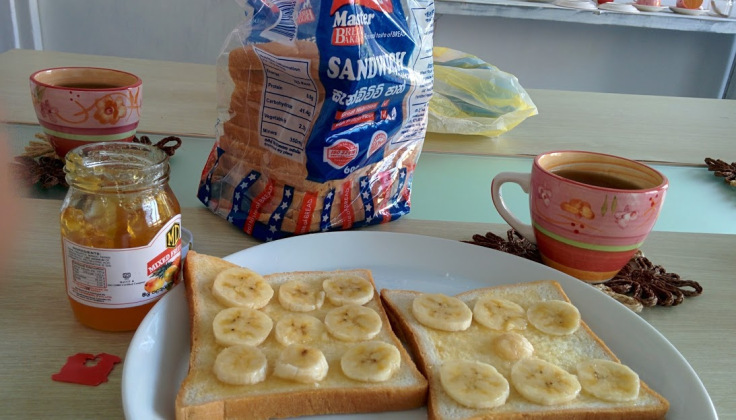 The train journey to Hikkaduwa was one of the most beautiful. Beautiful is quite an understatement. With huge windows that can fit a person whole, the green views, huts and small settlements along the railway lines were nothing short of picturesque. We arrive at the beach!
Thanks to these wonderful ladies in my life, I snorkelled. I saw the sea world. Corals, fish, turtles. Colours whose names I don't know. Touching a tortoise as large as life itself, a touch-me-not coral that shies away, schools of multicoloured neon fish, rocks eroded with time, and remembering the breathing pattern amid all this. This is what surrealism must look like.
An instructor who wanted to give me the experience, friends who pushed me to it, I've sure done some good karma to deserve this.
All the ocean time got us hungry. In search of food we go. Some lunch and we're set to return to the cute room we had. Siesta. A missed sunset. Fruity dinner again.
Oh, how can I forget! We met two wonderful women from Taiwan. Language is never a barrier if you want to befriend someone. We spoke to them, broke bread, shared experiences. Turned out they loved India!
Part III: Nuwara Eliya, Tea's own country.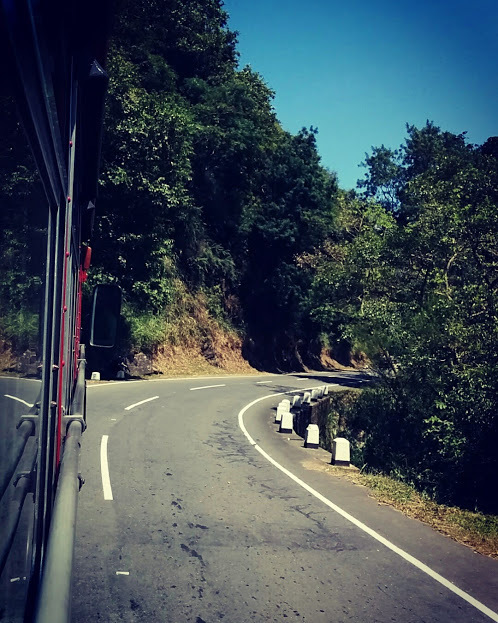 What followed was one of the most tedious of journeys in Lanka so far. Rickety (red bus!) bus ride for more than ten hours is not how we imagined spending our time! Nevertheless, we made the best of the worst thrown at us, just like a bunch of seasoned sailors. Bread and jam, music, sleep, scenic views every now and then made up for all the sticky, movement-restricted, leg-cramping, bumpy drive uphill.
Yes, uphill! Nuwara Eliya is a hill country. Respite. Respite from the heat and from the humidity. Most of all, the excitement was of a new experience. Who am I kidding, we were excited about TEA.
Sprawling tea estates on all sides, hairpin bends that smell like freshly cut tea leaves, the cold thin air stinging the nostrils, and an attractive larger-than-life 'Mackwoods' sign that bore absolutely no semblance to the 'Hollywood' sign *wink wink*.
We reached our home-stay late afternoon and were greeted by the humble, warmest family who live there. Happy with our room, the super soft quilts, and the availability of fried rice and dosa for lunch, we changed, hogged, and went to bed promising ourselves to be up in time for the sunset. We did oversleep ( I'd like to blame the warm fluffy fleecy quilts), but managed to catch the last rays of the setting sun. We walked downhill to the lake, got a hot cup of tea to enjoy on the cold dewy evening and walked back up.
The ultimate bliss was the home cooked traditional rice and curry. We were enjoying the restaurant ones so far that we didn't know how heavenly the homemade dishes were! The cottage owner's sister whipped up rice, dhal, papad, salad, and a couple more accompaniments. We ate like we hadn't seen food for days at end. The cherry on top was the hot cup of Ceylon tea. Hmm...this is what happiness is made of.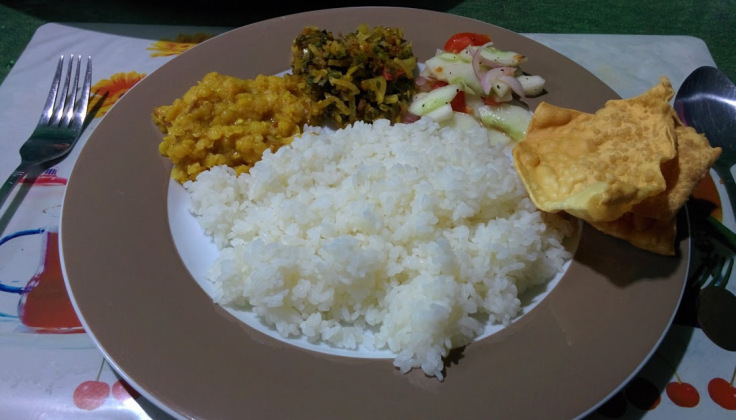 We also met two beautiful ladies (our age. We're all 23-24, FYI.) from UK who stayed in the room next door! Sharing experiences, knowledge about cricket, their travel to India, Amoolya's adventures in Birmingham...we sure knew how to keep our conversations going till we felt sleepy. When it was time to retire for the day (back to the soft quilts!), we thought why not invite the ladies to join us on our tea estate tour the next morning. Too bad they had other plans.
Setting off in a car, our first stop was at the railway station to book our tickets to Colombo for the next day. We missed the last available tickets and went on to explore the tea gardens. Spiraling up the hills, stopping for an occasional view-point picture, we met an interesting man who was en route Kandy by foot! Wishing we could be like him some day, we carried on until we reached the Mackwoods whose signs have been daunting us all along.
A patient guide who explained the tea making process, a complimentary cup of Mackwood, a tempted purchase of chocolate cake, and three happy bobbing heads sipping black tea, eating cake, and grinning.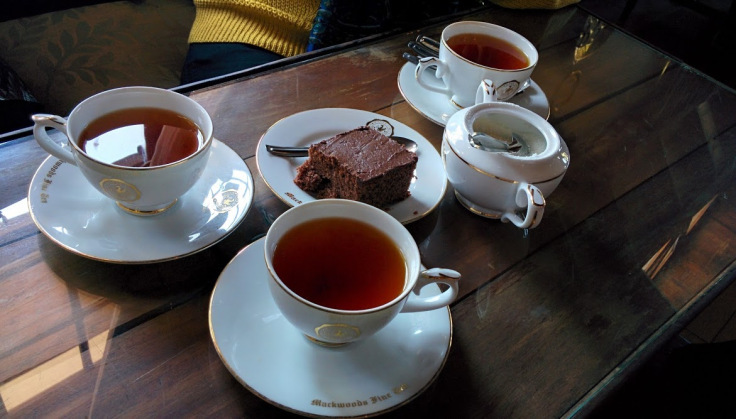 Some luxury tea shopping followed as each of us got ourselves a piece of the expensive Mackwood tea to cherish back home.
Then we went to the most beautiful quaint little colonial post office we have ever seen. The bright red exterior and the rustic interior sent a tingle of history down the spine. Soon enough, we indulged ourselves in some serious postcard picking. Names of friends floating in our heads, wanting to keep the good ones to ourselves, we finalised on a few that according to us gave the inherent Ceylon-ness.
Tea shopping again! You must be bored at this point...so I'll just rush through with it. Our driver found us a tea shop where we could buy some authentic tea for such a steal. We filled out quite a few plastic bags and emptied quite big bucks from the wallet.
Sending the car back to the cottage with all our goodies, we set out on a walk in the town-like settlement that has developed around the post office. A few more minor shopping here and there of small Lankan things, we returned on a tuk-tuk.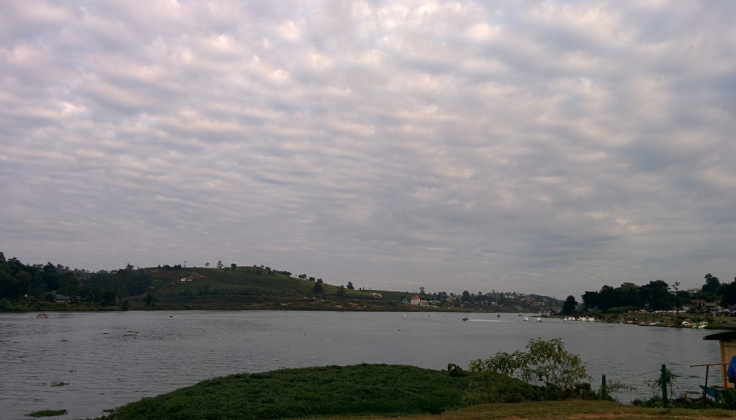 The evening was one of the most awaited. Cycle rides down hill! We all set out before sunset, went to the lake, circled the road around for a bit, and finally put ourselves down along with our cycles on what we felt was the best spot! Chit chatting till the dew got through our pants, we made our way uphill riding to the cottage huffing and puffing for breath.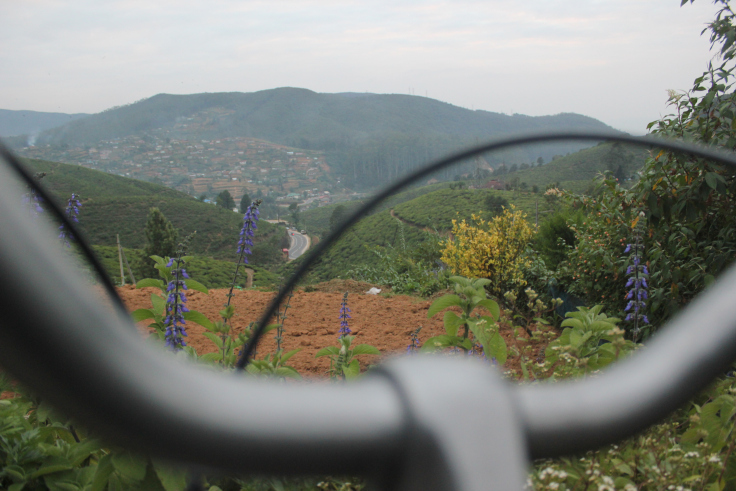 The next morning, we took a bus back to Colombo. Loitered around Colombo like a bunch of locals, and retired at the airport. Content. Solemnly swore to return to get a glimpse of the many more missed places.
La fin.