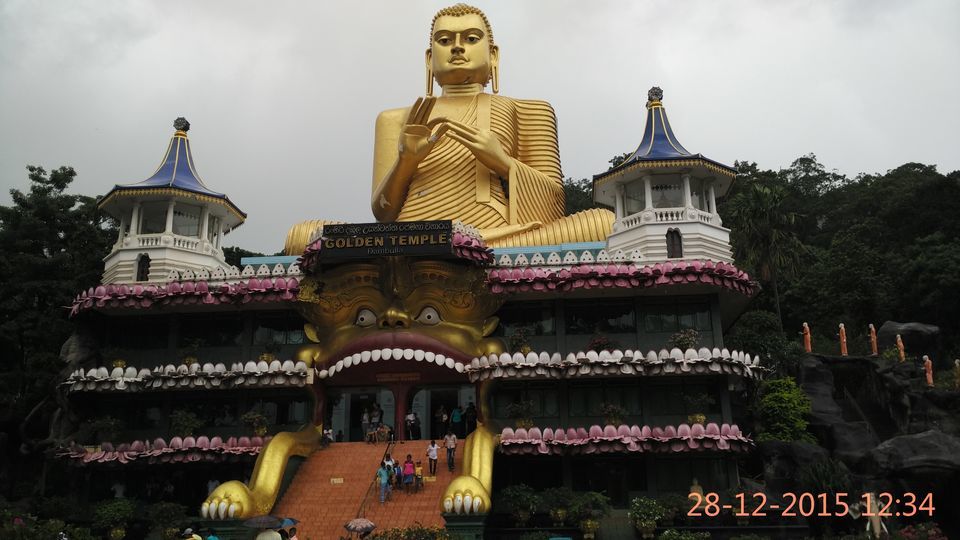 Srilanka is a perfect destination for travelers and tourist, compactly packed with a lot more tourist attractions than you can possibly imagine. With a perfect combination of history, heritage, culture, nature and beaches this is definitely one heaven of a place on Earth that every travelers should have on their wishlist. I shared here my experiences and few information on places I managed to visit during my week long trip there.
Day 1: Bandaranaike International Airport is the only International airport of Srilanka, about 20 miles north of Colombo city. The fastest and easiest way of getting to Colombo from airport is via express way and there are regular buses operating between airport and the city during day time. Since you arrive at Colombo, you can spend the day (or half) exploring the city.
You can possibly visit Seema Malakaya temple, Gangaramaya Temple and Viharamahadevi Park in central Colombo during the daylight hours.
In the evening you can go gaze at the sunset over Galle Face Green which becomes vibrant with the local crowd after sundown. Also can try some of the local delicacies in one of the many street food stalls lined up there. Later to chill out with some beer and music, there is this nice cozy bar, Taproom by RnR located in old dutch hospital complex.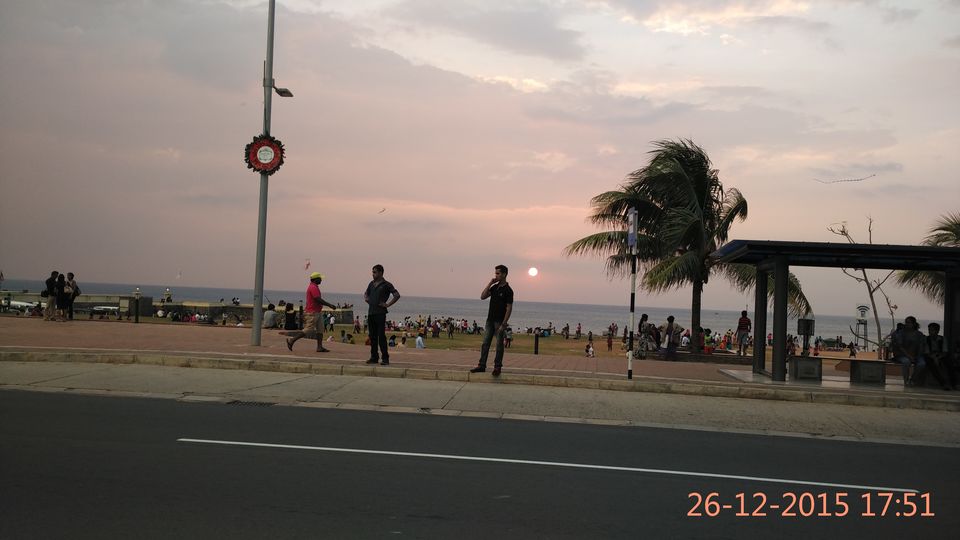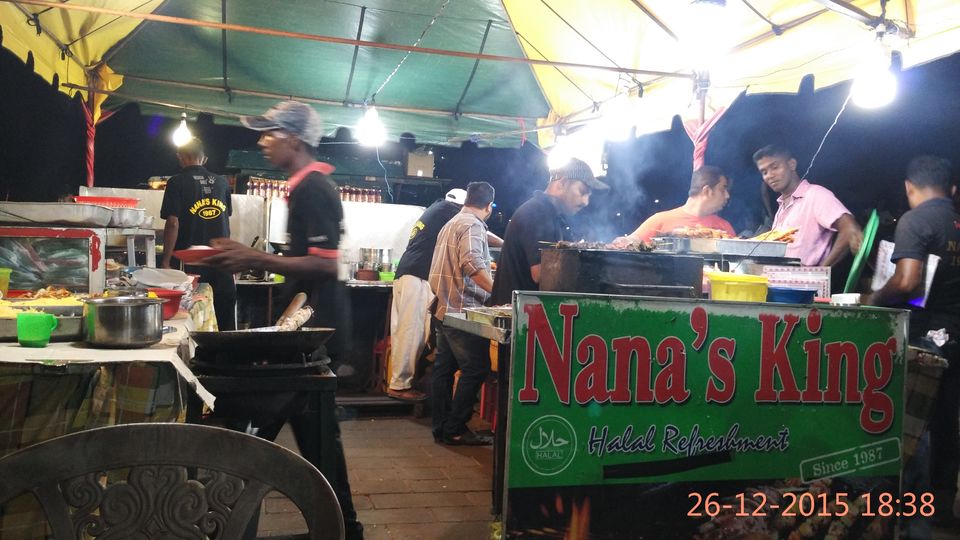 We stayed in Back Pack Lanka in central Colombo, which offers nice and comfortable dorm stay and is located at about 15 mins walking distance from Galle Face Green.
Day 2: We checked out early in the next morning and left to Kandy. There are frequent bus services to Kandy from central bus station, Colombo . Traveling by bus is quite comfortable for the 4-5 hrs ride to Kandy. Alternatively you can also take the train if you are lucky enough to make a reservation.
Once you reach Kandy by afternoon you can check-in to your hotel and rest for a while to start with your sight seeing in the evening. Backpackers vibe hostel, located in a quite little lane not far from lakeside was a good choice and also could meet and chat with some fellow travelers there.
Kandy being boasted as the cultural hub of Srilanka and also the last capital of royal era, is known for its sacred tooth relic temple of Buddha and Kandian dance performance. Check with your hotel about the timings of the performance and venue, as there are quite a few cultural centers around the town that arrange for the show. The cultural center besides the lake nearby the tooth temple put up a good show and also after performance you can easily get to the temple to witness the evening rituals. Once its dark, the whole town starts to shutdown very soon unlike Colombo.
There are few local bars nearby the town center that serve beer and other alcoholic drinks. But these place are quite deserted and mostly the local thugs hang out there. I recommend better stay away from there unless you are with a group of friends or a daredevil yourself . Try to get some good night sleep as it is going to be a long day ahead.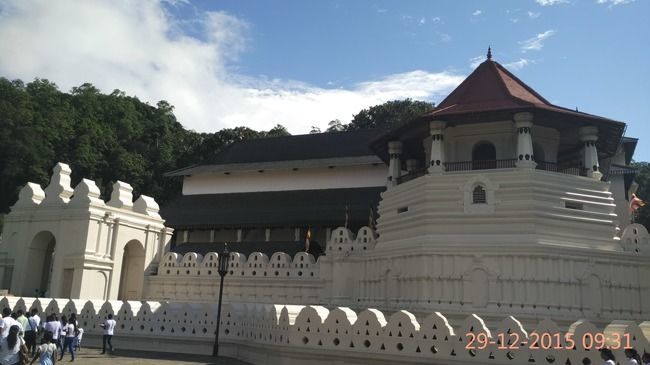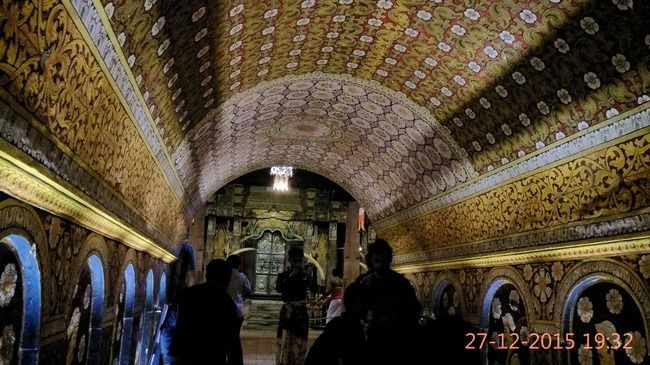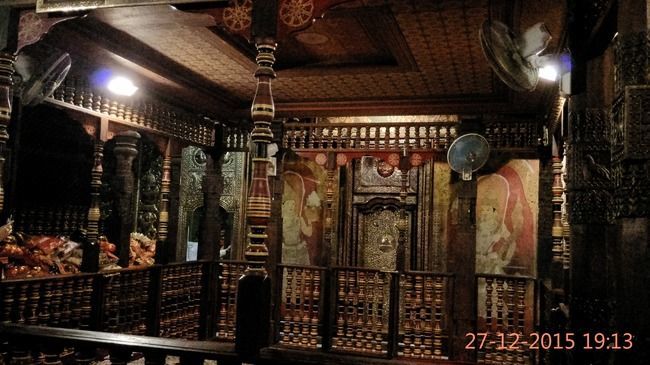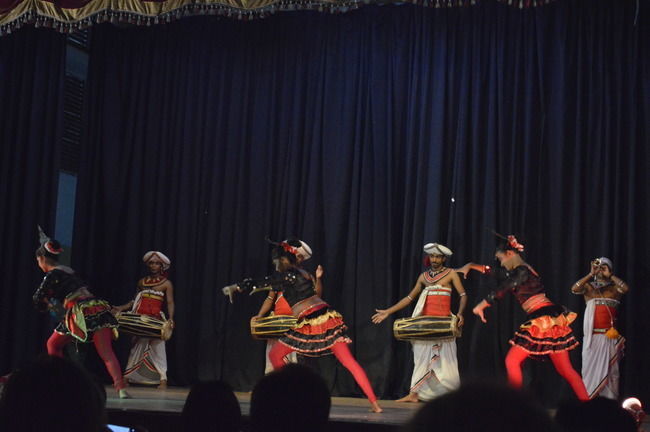 Day 3: Dambulla and Sigiriya are part of Srilanka's cultural triangle which are situated approximately 50 miles north of Kandy. Buses ply frequently to Dambulla which takes approximately 3 hrs from Kandy. You can ask the driver to drop you directly near the entrance of the Golden temple and Rock cut caves of Dambulla.
After you are done with site seeing there, you can take a tuk tuk to the bus station and catch a bus to Sigiriya which takes about 30 - 45 mins to get there. Again ask the driver to drop you off nearby the entrance of the rock fortress which is the main attraction there. The entrance fee to here is quite expensive for foreigners (2000 LKR for south Asian countries including India and 4000 LKR for others) but its definitely worth the visit. Make sure you have at least 3-4 hrs to explore the place as it might be quite crowded here especially on the weekends and you might have to que up in order to get to the top.
Not to forget that the last bus to Dambulla leaves at around 5.30 pm which you don't want to miss or else you need to spend some extra money for a tuk tuk to get you back to Dambulla. Once you are in Dambulla there are frequent buses to Kandy which runs until late in the night.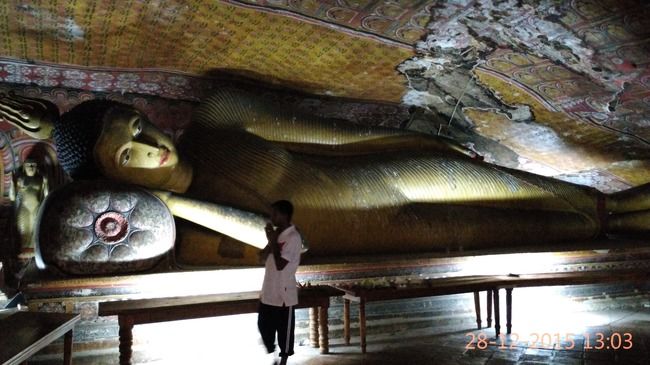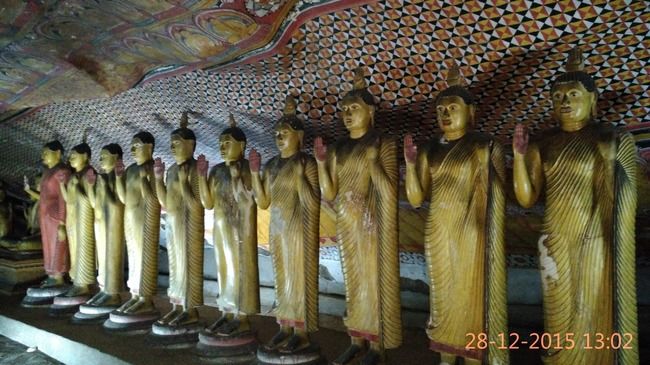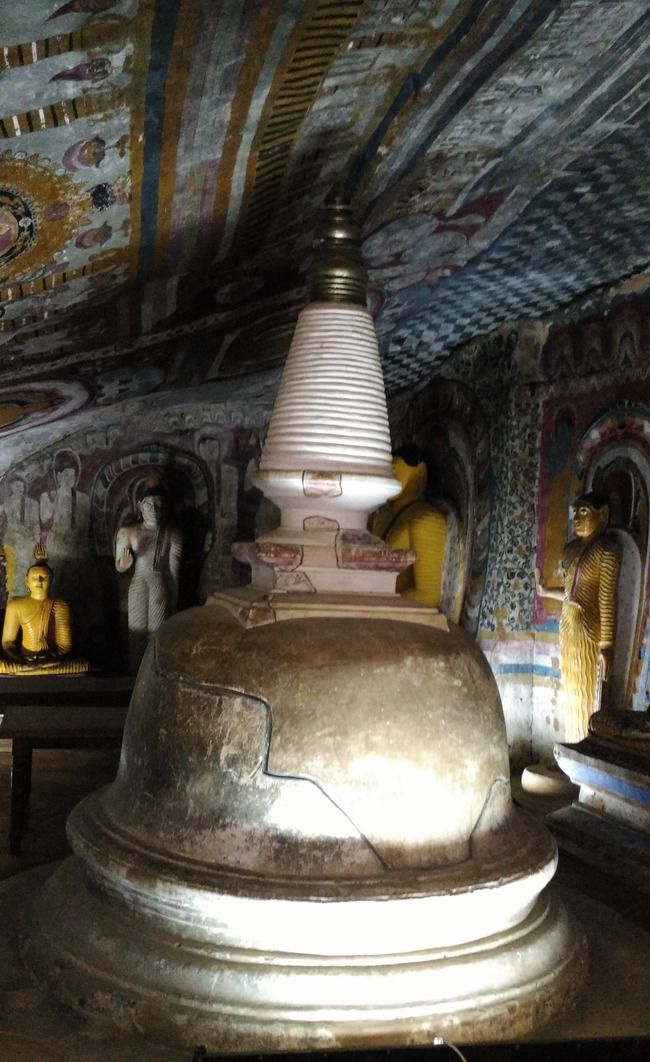 There is a direct bus to Sigiriya from Kandy at 7.30 in the morning. So if you are planning for a day trip to Dambulla and Sigiriya I suggest you take this bus directly to Sigiriya and you can visit Dambulla caves on your way back to Kandy. This should make your day less daunting.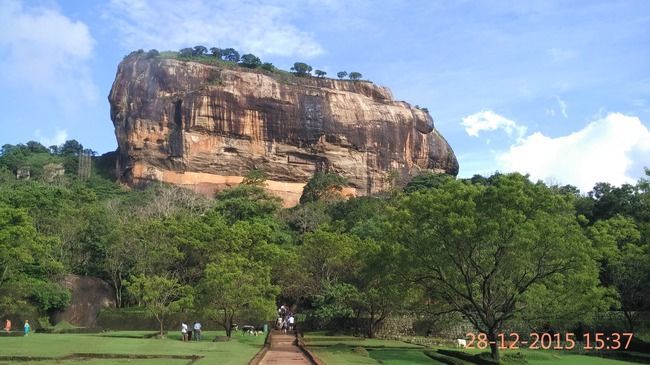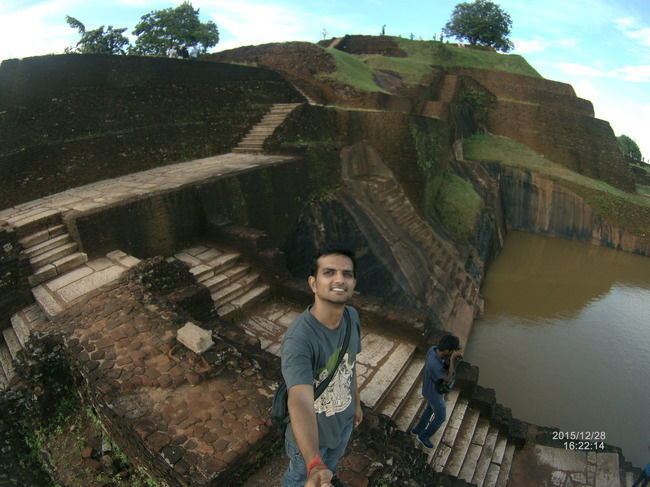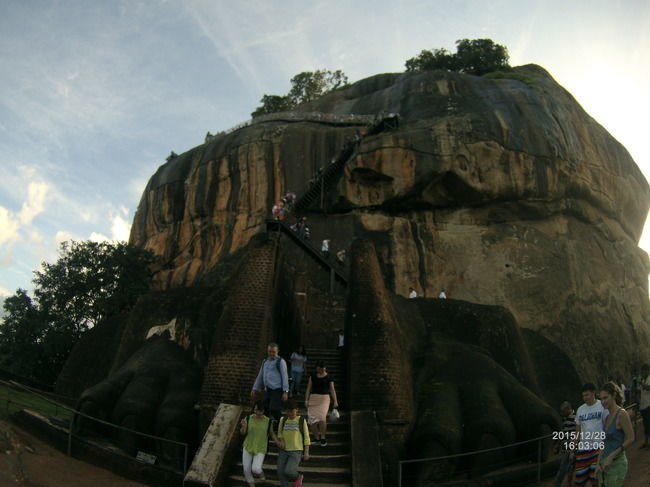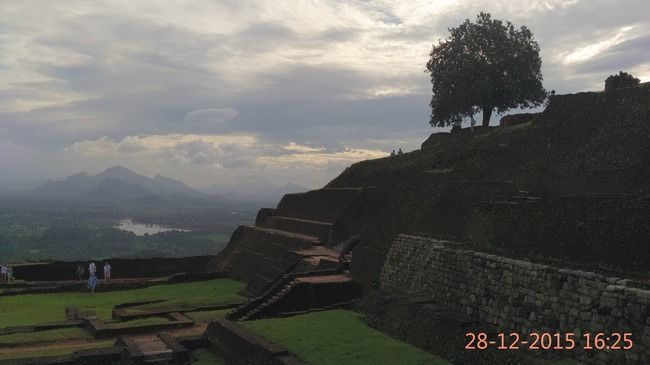 If you don't feel like making this long and quite hectic trip, there are other places nearby Kandy like Pinnawela Elephant Orphanage, Botanical Garden, Tea museum etc, to spend your day in a relaxed way. You can rent a tuk tuk for the day to take you around to these places. Be aware that if the tuk tuk driver suggest you to visit gem factories, where if you buy something he will get a share of the profit and it possibly might be a scam. So gently avoid anything he suggest to buy unless you are very sure of it.
Day 4: Kandy is visually more pleasing during morning hours. Wake up early and take a walk along the lakeside and also visit Bahirawakanada Temple, where the Buddha the omnipresent of Kandy is sitting on a small hill top. There is a road that leads all the way up there from the town center. From there you can also have a nice aerial view of Kandy town which engulfs the lake in the middle.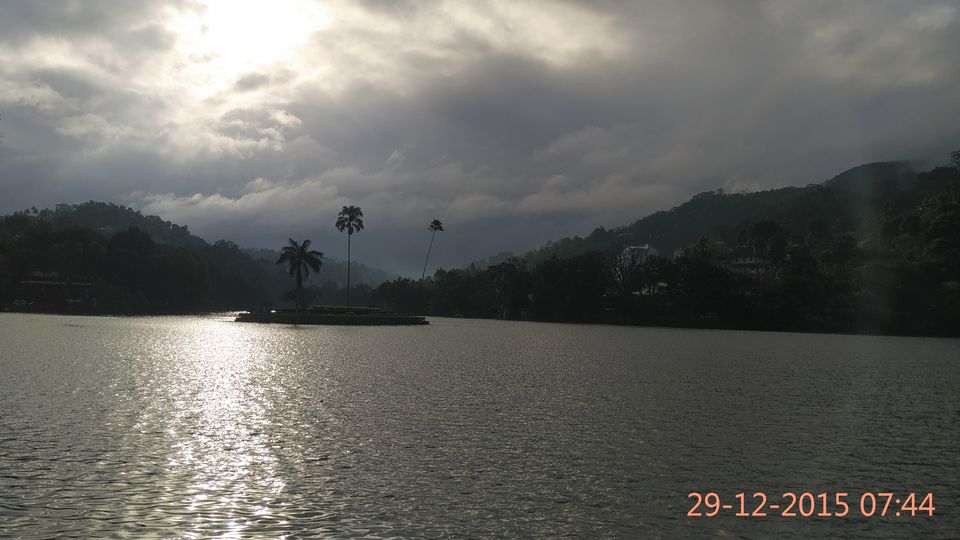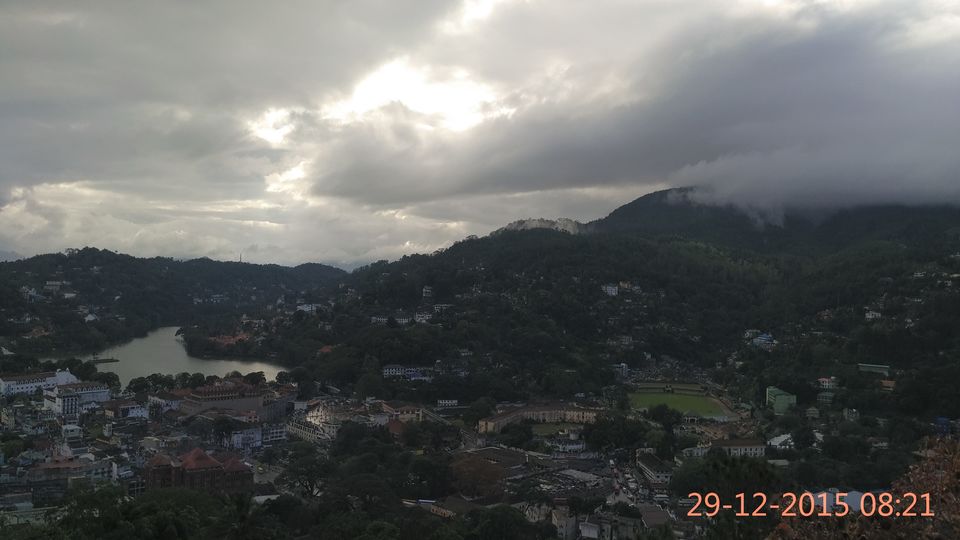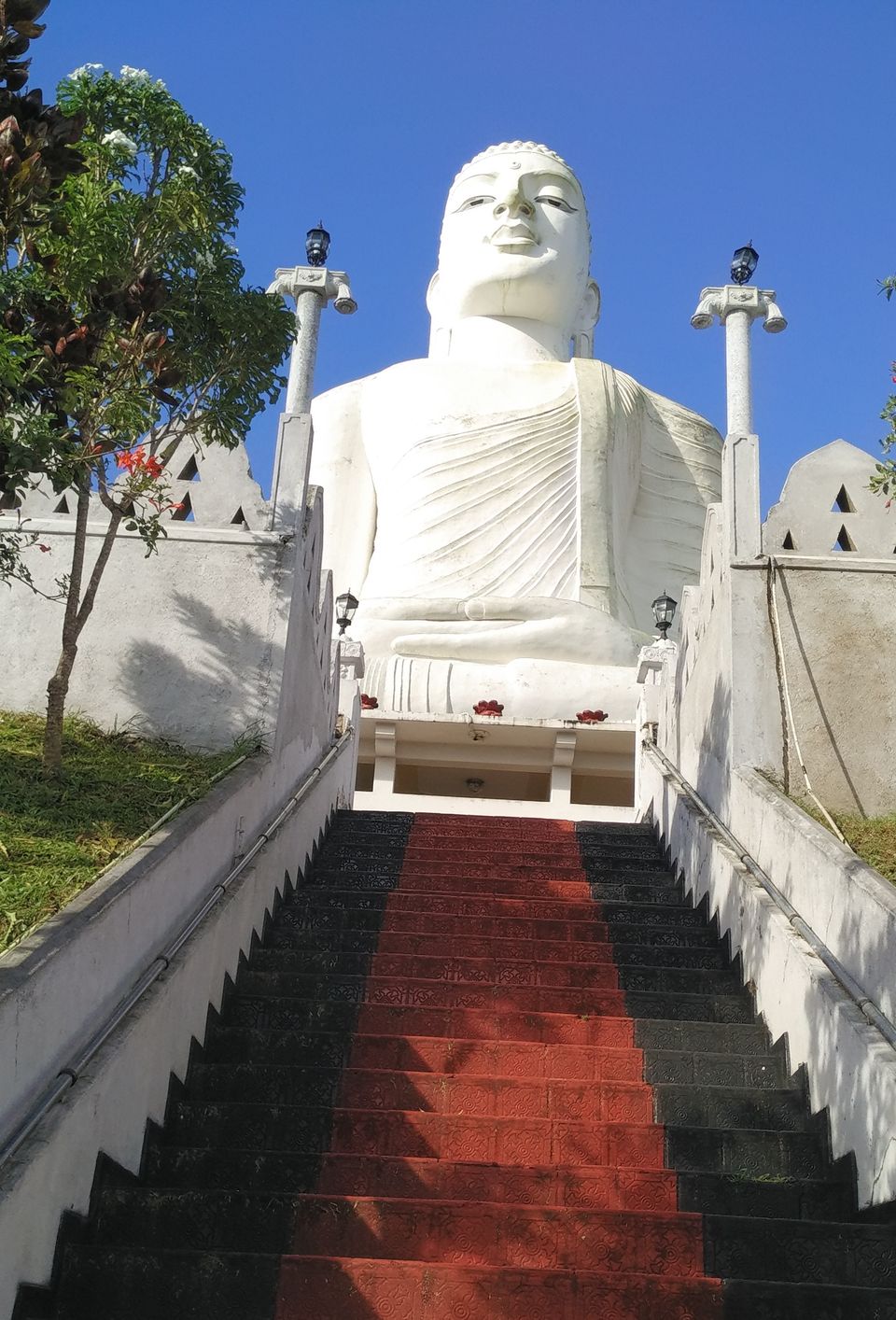 The next stop of the journey is Hatton. Hatton itself is not a very touristic place but rather its the gateway to other prominent places like Horton plains, Nuwara eliya, Delhouse etc.
Our plan is to visit Delhouse (or Nallathanniya) which is one of the base for the trail to Adam's Peak. The trip from Kandly to Hatton takes about 3 hours and can be made by either bus or train. There is a morning train that leaves at around 10 am to Hatton and the I suggest you try to get a reservation on the day you arrive at Kandy unless you don't mind travelling, sitting nearby the doorway like I did. You can possibly get a bus to Delhouse directly from Hatton train station, during peak the season or else you have find your way to the bus station in order get a bus to Delhouse.
The 2 hrs ride from Hatton to Delhouse is very scenic as the bus makes its way through lush green tea plantations, lakes and water falls. Most of the guest houses (Grand Adams Peak, Slightly chilled etc) in Delhouse are located along the main road, so if you could locate your guest house on the way you can ask the driver to drop you off there directly. Later in the evening take a stroll around the tea plantations by walk or hire a tuk tuk if you want to wander a bit far off. Most people here are migrants from Tamilnadu (in south India) and are super friendly especially towards Indians.
The lakeside here has great view with with water falls in one corner and tea plantations around. Possibly your tuk tuk driver can get you through there as its located inside some private tea plantations and you are not supposed to trespass by yourself. Once you finished with sight seeing go to bed early as tomorrow is going to be a tough and challenging day.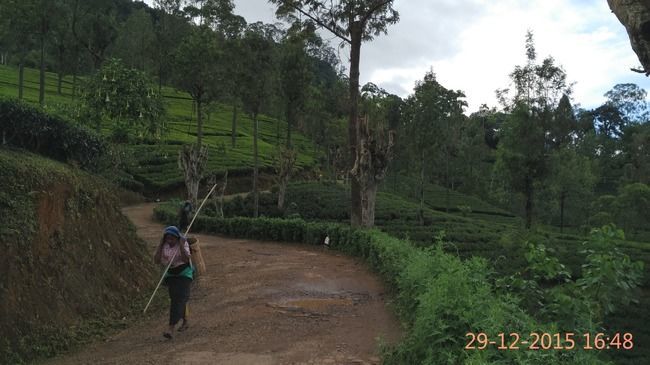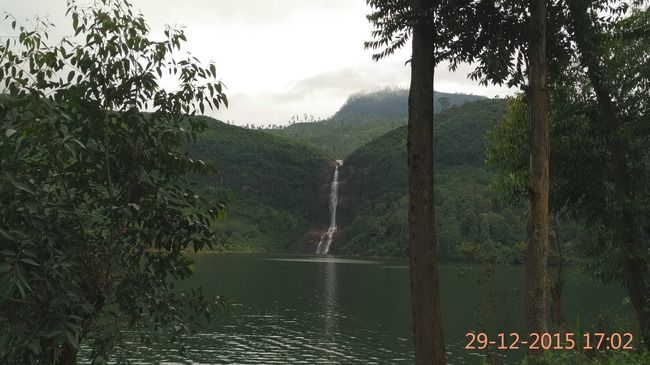 Day 5: Tourists and local Pilgrims flock to Adams peak during post monsoon season (Jan- March). The climb to the top normally takes 2.5 to 3 hrs through the stone pitched trial and is usually done in early hours before dawn so that you can reach to the top by sunrise. Sitting amidst the crowd at the top and watching the sunrise itself is a wonderful experience apart from the adrenaline pumping climb. Once you are back at the base then its time to pack and leave to Galle.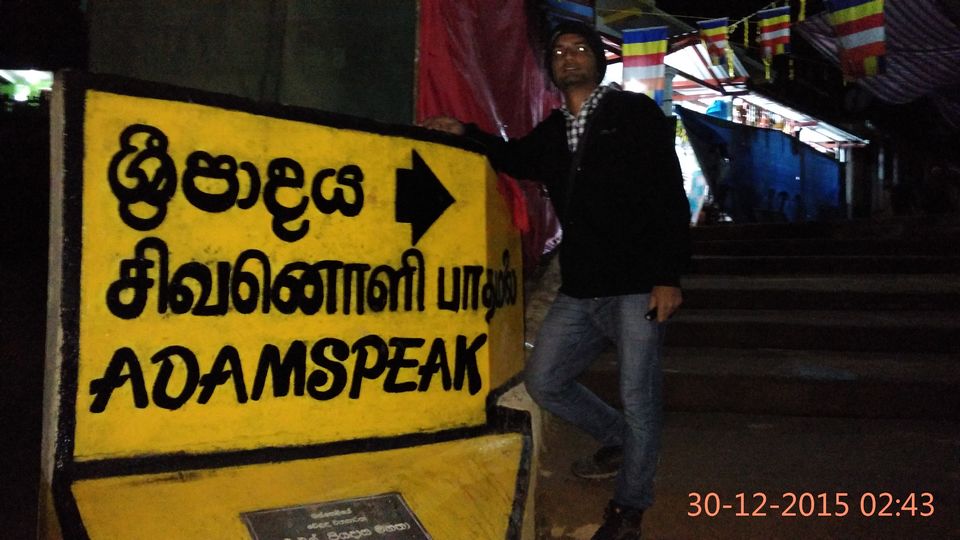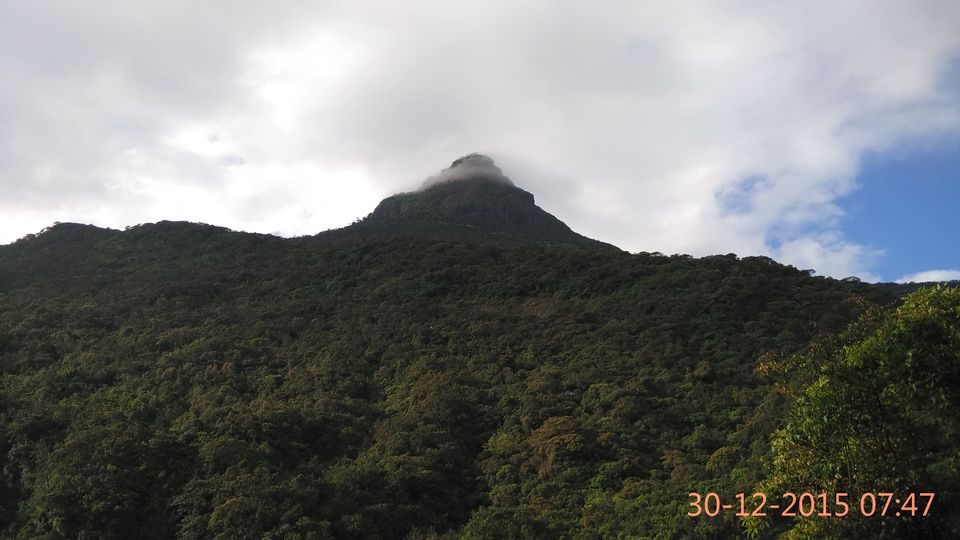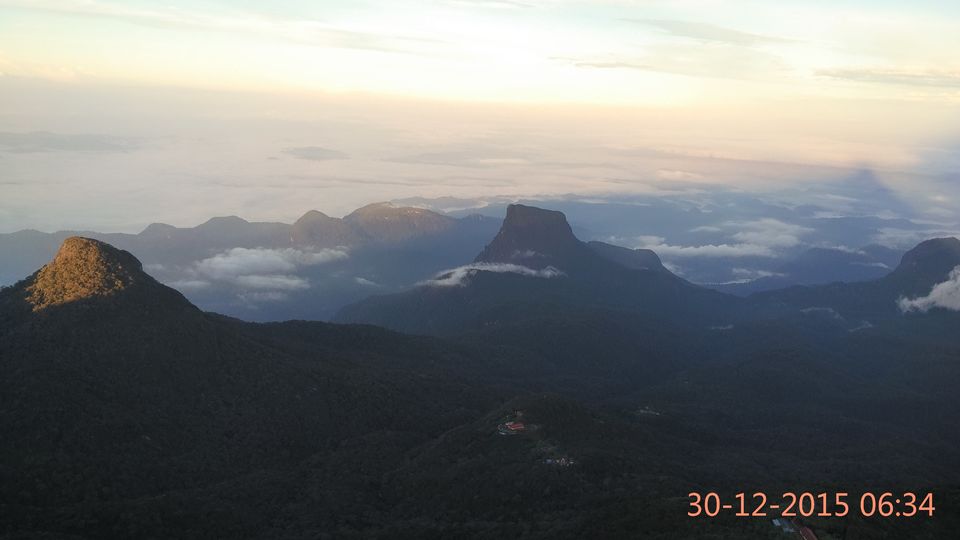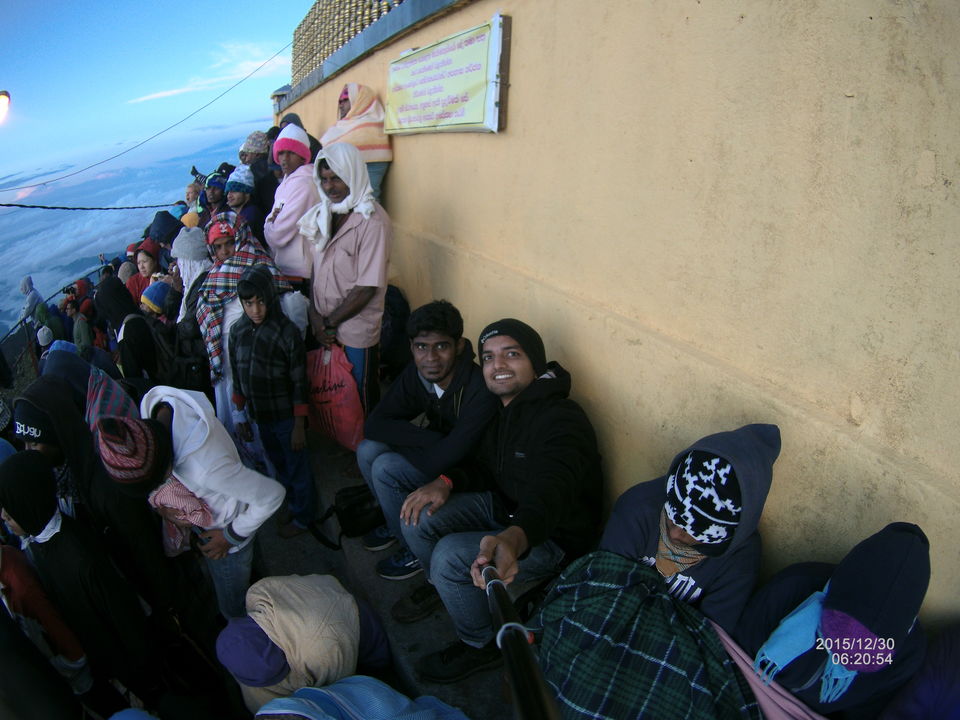 Galle located at the southwestern coast of Srilanka is not only known for its famous Dutch fortress but also some of the awesome beaches around it. From Hatton take the bus to Colombo and alight a few stops ahead at Kaduwela from where you can get a bus to Galle that runs through the southern expressway and hardly takes an hour and a half to reach Galle. For stay, there are plenty of guesthouses and a few hostels inside the fort to choose from. Once you have checked in your guesthouse you can spend the evening walking around the fort and admiring its rich heritage. Though I read online that you cant get alcohol inside the fort, there are quite a few restaurants cafes inside that serves beer and other beverages and the most noticeable being Taphouse by R&R located in the hospital street nearby the lighthouse.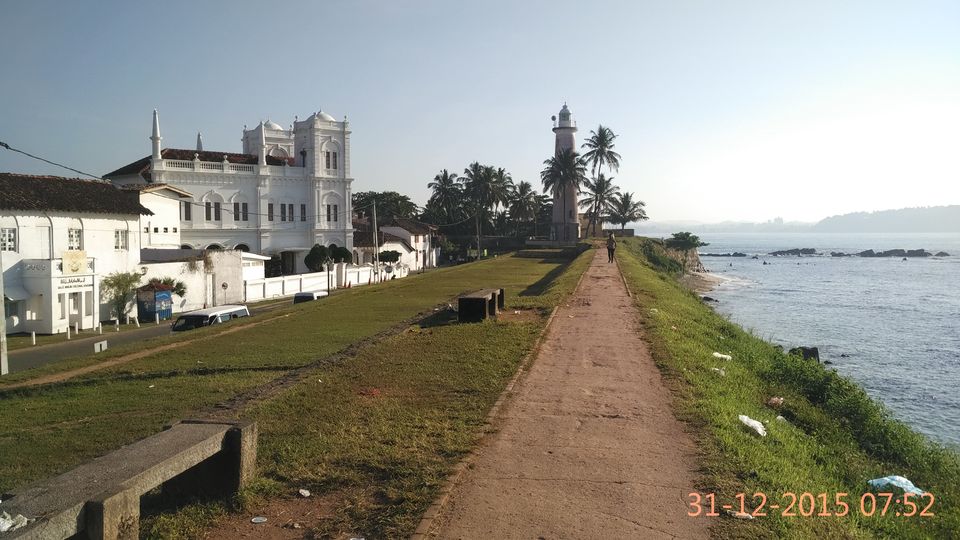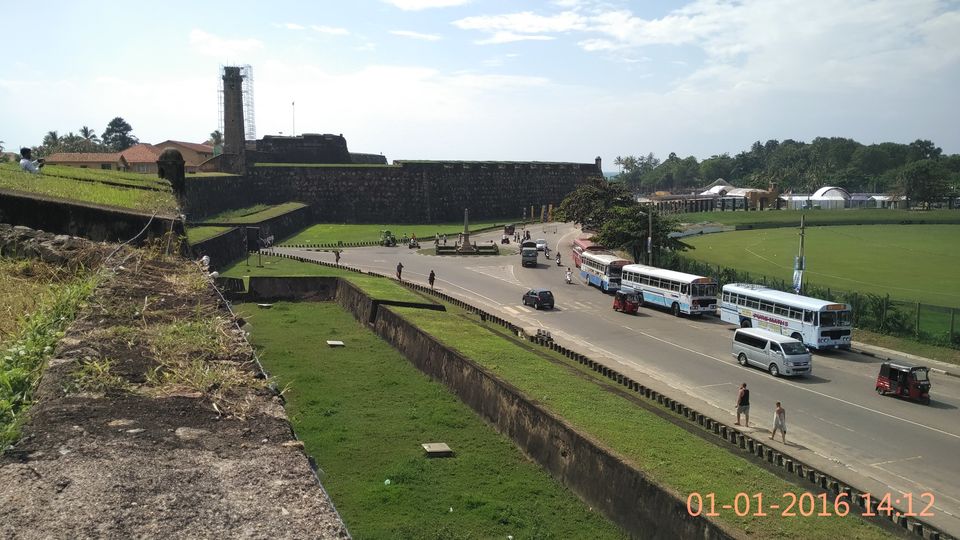 Day 6: There are motor bike rentals available within the fort from where you can rent a bike for the day to go explore the beaches around Galle. The roads outside the city are in generally good condition but be aware of the harsh bus and truck drivers in the road especially while negotiating the curves. The most famous beaches nearby Galle are Hikkaduwa and Unawatuna which are known for their coral reefs and water sport activities. Hikkaduwa is located some 12 miles north of Galle and good for surfing, snorkeling and scuba diving. I have posted my experience of scuba diving in Hikkaduwa in the link here.
Unawatuna which is just 3 miles south of Galle, is comparatively calm water beach and good for snorkeling and diving with abundant corals and fishes.
Koggala beach, on the other hand is less prone to tourists and is a perfect place for a peaceful retreat. It is located further down in the south and has a sea turtle hatchery as well.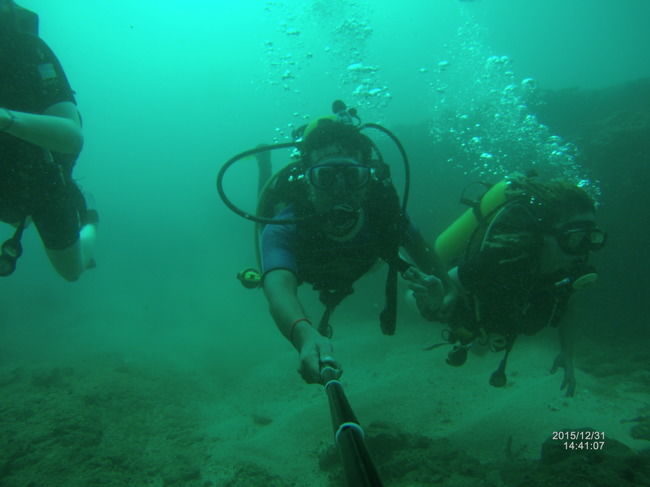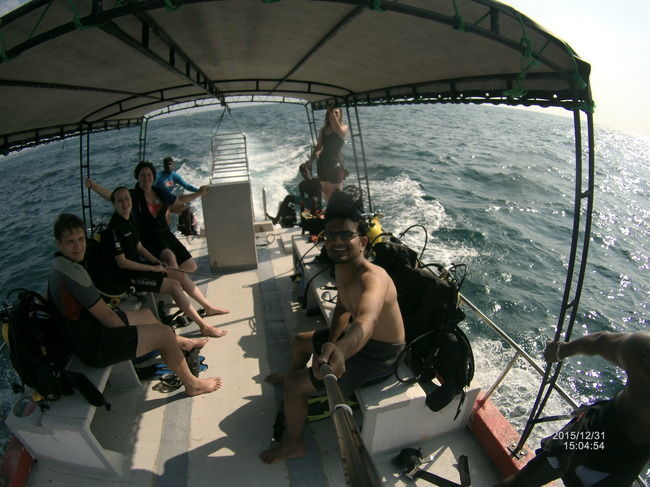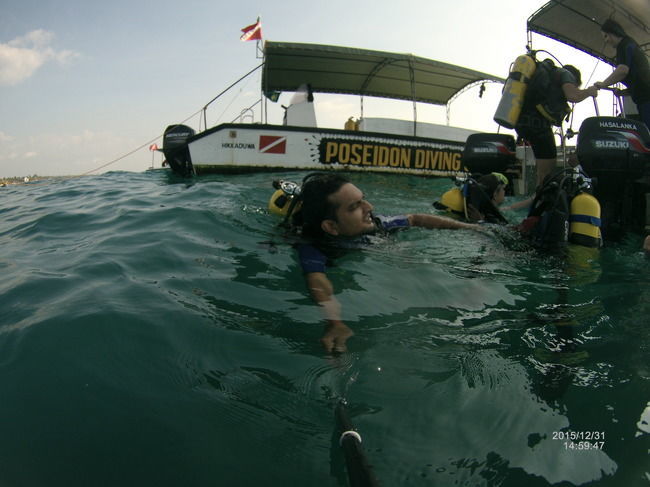 Later for the night stay depending on your preference you can either go back to the Galle fort or stay in one of the many guesthouses in these beaches (recommend Unawatuna as its being closer to Galle) and enjoy the beach party.
Day 7: Its the final day and you don't want to put yourself into any more strain on travelling. Take a relaxed walk around the wall of Galle fortress in the morning hours. Also you can go visit some of the heritage buildings inside the fort like the mosque with its very unique architecture, national maritime museum and the old church.
If you are staying in Unawatuna beach you can go visit the peace pagoda located on a small hilltop nearby or hire a glass bottom boat and venture into the sea to gaze at the abundant marine life.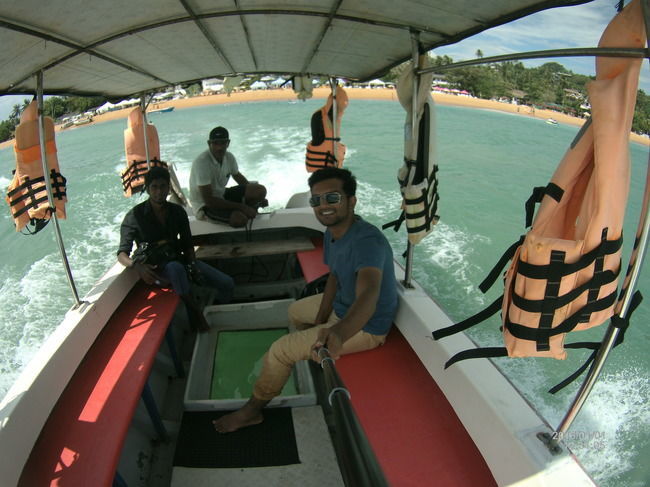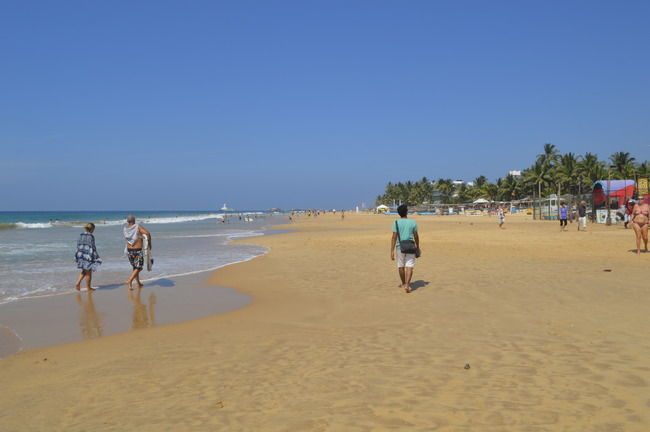 Train which run along the west coastline hugging the beach all its way, is the most pleasant and comfortable way of getting to Colombo from Galle. Depending on your flight timing you can either take the morning or afternoon train. Checkout the train timing and try to make a reservation on the day your arrive at Galle. Once you are at the Fort station, Colombo you can walk across a few hundred meters to the bus station to catch the bus to airport.
Travel Budget: This week long trip should cost you about 25k in INR (375 USD) including round the trip flight charges from Chennai - Colombo. If you are planning to try scuba diving here, it might set you back for another 4-5k INR.
Visa: Srilanka offers online visa for travelers which is cheaper and hustle free compared to visa on arrival. It hardly takes a few minutes to fill the form and make the payment online and you get your visa emailed to you within a working day. Follow this Srilanka visa link to get more details and to apply for the visa online.
Money exchange: There are quite a few money exchanges in York street, Colombo (Golden money changer, Royal exchange etc) that offer good exchange rate to Indian currency. Carry enough Srilankan rupees (about 2000 LKR should do) or some USD in order to get you from airport to Colombo city as the money exchanges in airport do not accept Indian rupee.
This blog was originally published on 'my travel hustle'
Frequent Searches Leading To This Page:-
Sri Lanka tour best time to visit, Best Sri Lanka places to visit, Sri Lanka tour itinerary, Sri Lanka honeymoon trip, 4 days tour packages Sri Lanka, Sri Lanka beach tour packages