In continuation with the Sri Lankan series, the next experience I would like to share is our memorable train journeys. Our trip to Sri Lanka was going to be a short one of 5 days and we wanted to cover as many places as possible in these 5 days (Believe me, that is actually a crime while exploring this beautiful country!!!! :D ). After extensive research, we shortlisted the following places- Galle, Kandy, Sigiriya, Nuwara Eliya & Colombo. Sri Lankan cities are well connected by railways, so for our intercity transfers we decided to travel by train, only for the fact that train journeys would be much more comfortable than long road journeys and they would also be pocket friendly ;) . But our train journeys turned out to be much more than just that!!!
After landing in Colombo, our first stop was Galle. We took the 10.30 am train from Colombo Fort station to Galle. There are no reserved compartments on this train, so you would have to buy the general tickets, preferably 2nd class and look for place to sit. After leaving the busy Colombo City, the train took us on a 3hr journey alongside the Indian ocean.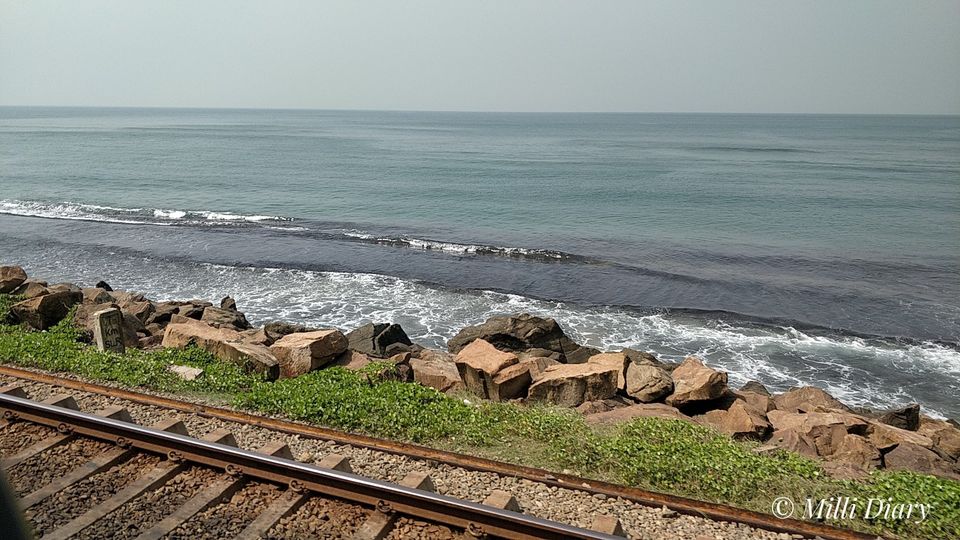 Breathtaking views of the waves hitting the shore and the train riding just meters away from it. It was as if riding in a train on the beach !!! There are many stations on the way to Galle and after getting down on one of these stations, you can walk directly to the beach behind it. How awesome is that!!!!!
Watch a short video on the rail route by copy pasting the following link in your browser:
https://videos.files.wordpress.com/IxaNs1rx/vid_20180124_104637_hd.mp4
Super destination for beach lovers!!!!!! Our very first train ride in Sri Lanka and we absolutely loved each minute of it.
( Train: Colombo Fort to Galle; Train Number: 8086; Our tickets- Unreserved 2nd class- 180 LKR per person; Travel time: Roughly 3 hrs)
Our next ride from Galle to Kandy was a very long one. We boarded the 2.45 pm train in Galle, again with 2nd class tickets. The train was very crowded at this time of the day and it was only after 4hrs journey till Colombo that we managed to get seats. The train took us on the same coastal route till Colombo and after that we started ascending to Kandy. The route took us through the countryside of Sri Lanka and it was perfect to get glimpses of the Sri Lankan lifestyle. Owing to the climb, the train slowed down pretty much and reached Kandy at around 9.30 pm.
(Train: Galle to Kandy; Train Number: 8039; Our tickets- Unreserved 2nd class- 310 LKR per person; Travel time: Roughly 6.30- 7 hrs)
The most awaited train ride of the trip was the next one from Kandy to Nuwara Eliya and indeed each minute of this ride turned out to be very exciting! We wanted to board the 8.42 am train from Kandy to Nanu-Oya and we reached the station well in advance to buy tickets. On reaching the ticket counter, we were told that the reserved tickets were all sold out and we were like, "does this train have reserved compartments???". That was the first surprise we got and ended up again with unreserved 2nd class tickets. (The reserved tickets are released one week prior to the travel date. So if possible, try to pre-book your tickets. Sri Lankan railways don't have online booking so you would have to get them over the counter at any railway station. Maybe your hotel folks can help you with that).
The next surprise we got was on the platform! There was a single train track in between two platforms so people can board from either sides and both the platforms were jam-packed with tourists. We devised a plan to get on the train before others and according to that, I was to get in first with our small bag pack and look for a seat while my husband would get in later with our bulky suitcase. I told myself that all the experience of boarding crowded trains in India would have to be put to use that day :D . The moment finally arrived when the train entered the platform. There were only two unreserved compartments in the train and somehow everybody on the platform wanted to get into them. I was trying to get into one of those compartments but it was just too crowded to even step in. I started feeling that we would have to miss that train and wait for next one. At that moment my husband called out to me and asked me to get into one compartment where some people had moved. Luckily, the people getting off the train at Kandy were exiting on our opposite side so finally I managed to get in!!!! That was a moment of Yay!!!! But my happiness din't last long! I looked back and my husband was still on the platform :O . He couldn't get in with our suitcase amidst this crowd. Moreover, the train stops at Kandy for only 5mins so I started panicking that if he doesn't get in then he will be stranded on the platform without a phone or money !! (If you are a bollywood movie fan from the 90s, you can imagine this to be a perfect DDLJ moment :D ) Finally, somehow he did manage to get in and we were reunited (Phew!!!!)
There was not more than an inch space to move in the compartment and we got our next surprise when the train left Kandy and within few minutes, the engine broke down!!! We were stopped in the middle of nowhere for almost an hour. But this was sort of blessing in disguise because most of the impatient passengers got down from the train and we got places to sit. :D
Once running back on track, this train took us through panoramic views of the lush green tea plantations on all sides, occasional waterfalls and lakes. In between all the greenery, there were trees that stood out with flowers of blue colour or pink colour. Capturing this beauty in camera did not make justice at all!!! What we saw in person was multifold more beautiful!!!!! This was the final surprise we got and it turned out to be an awesome one. Do not miss this ride for anything !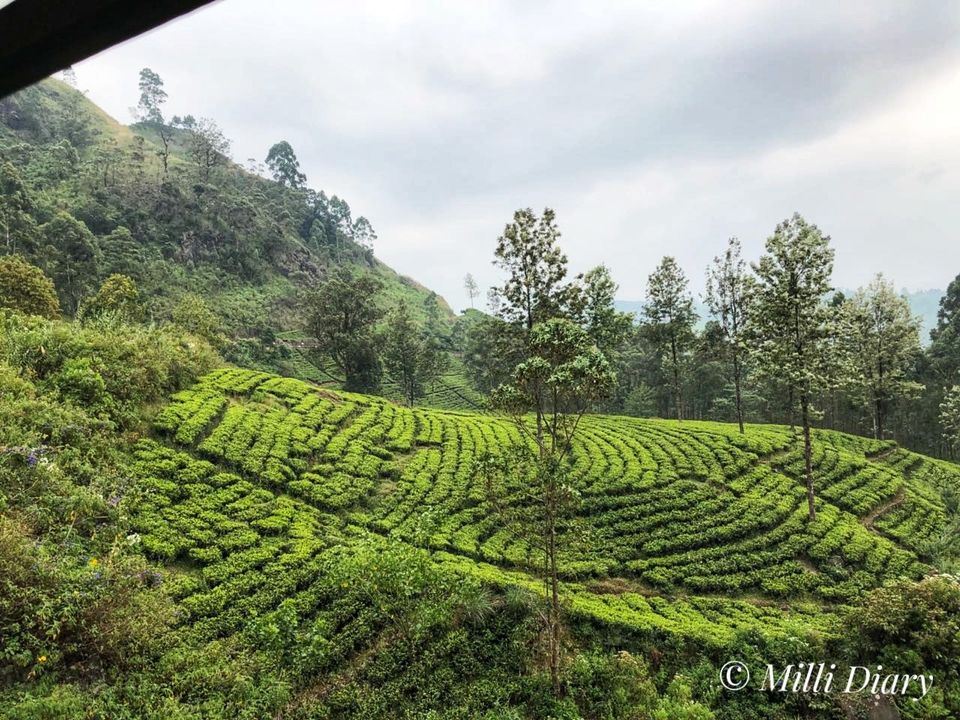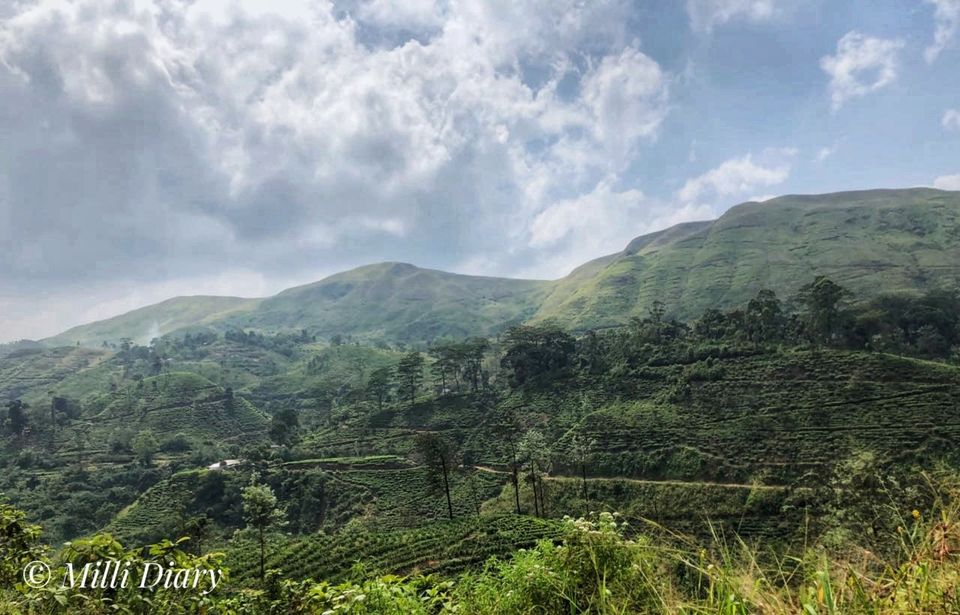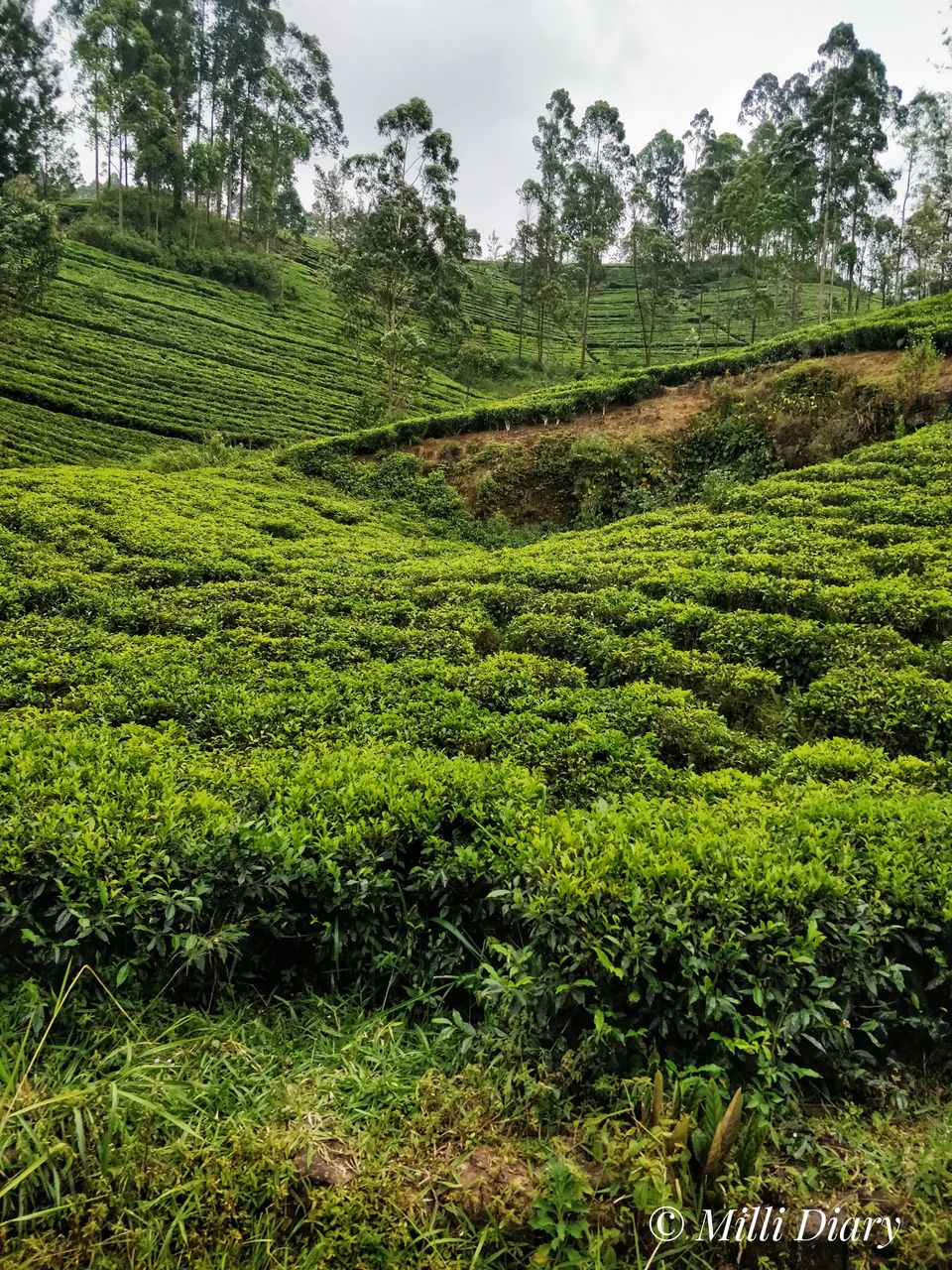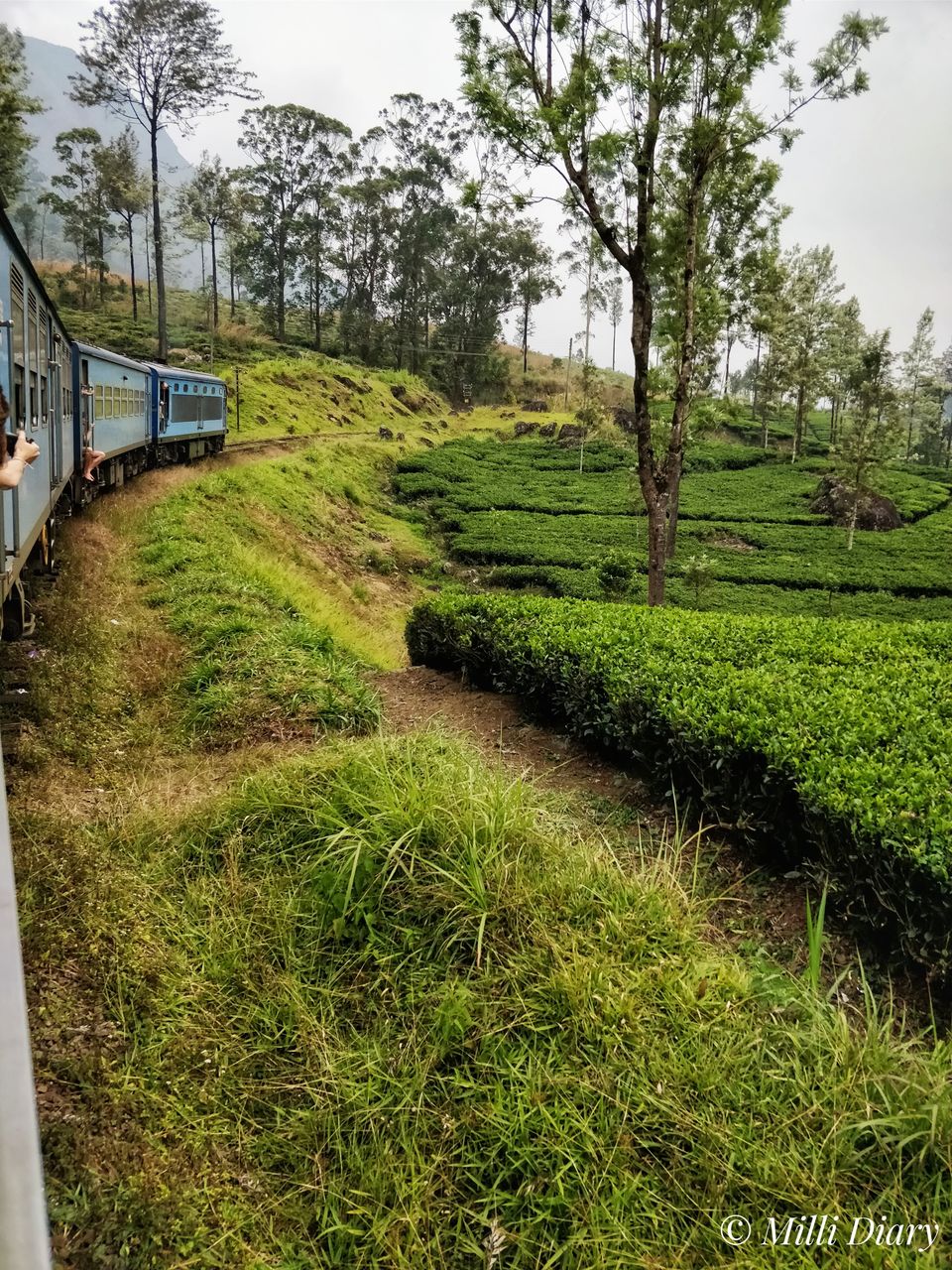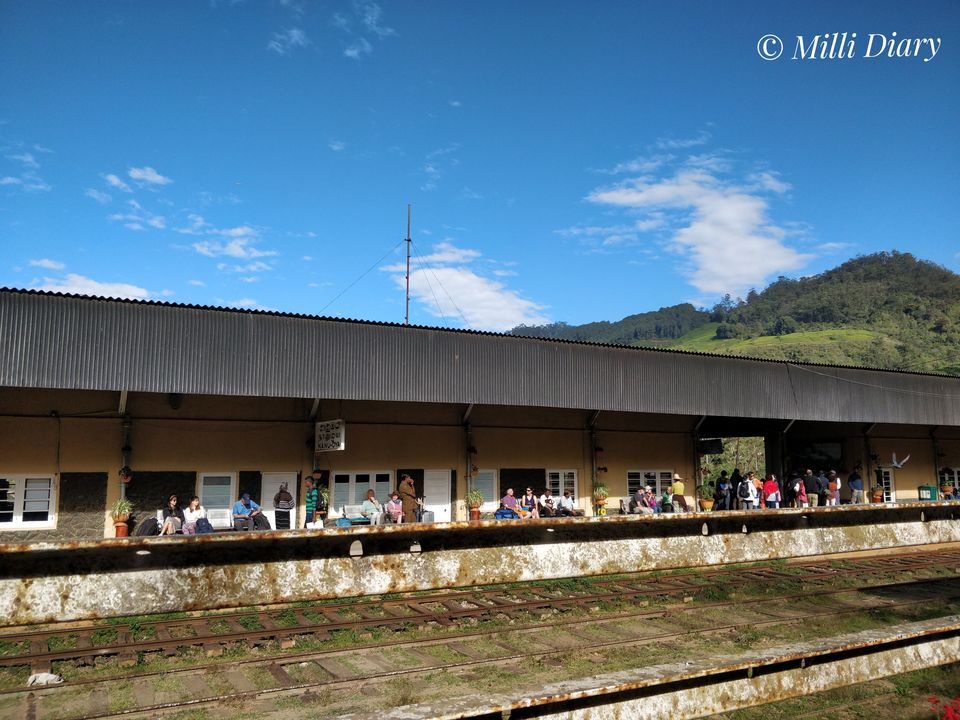 (Train: Kandy to Nanu-Oya; Train Number: 1005; Our tickets- Unreserved 2nd class- 160 LKR per person; Travel time: Roughly 4hrs)

The railway stations of Sri Lanka also need a special mention. They take you to the past and its just amazing!!!!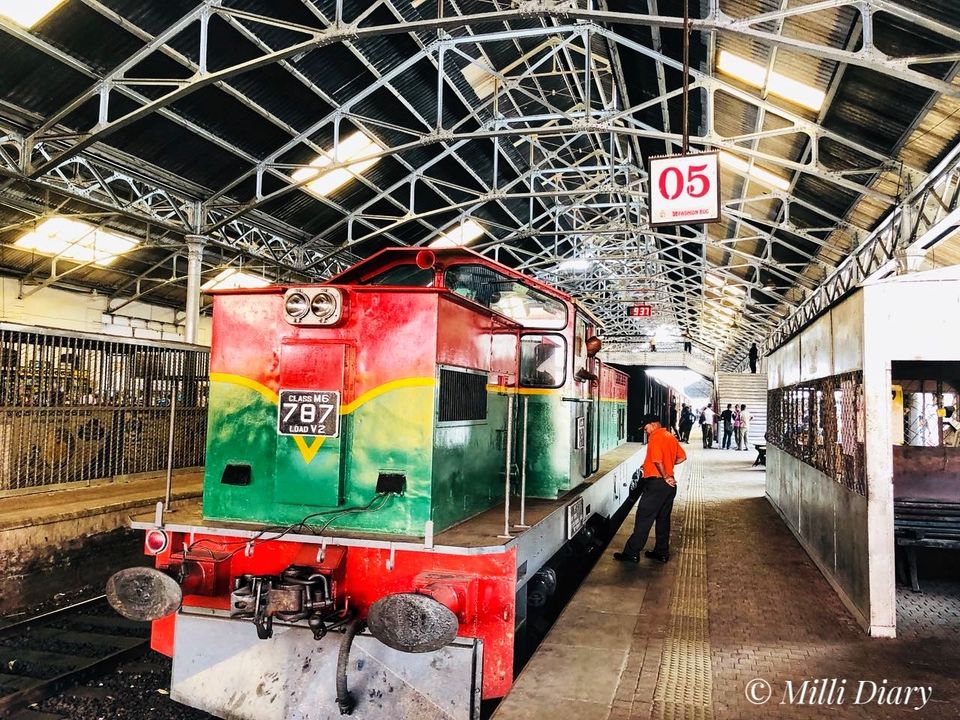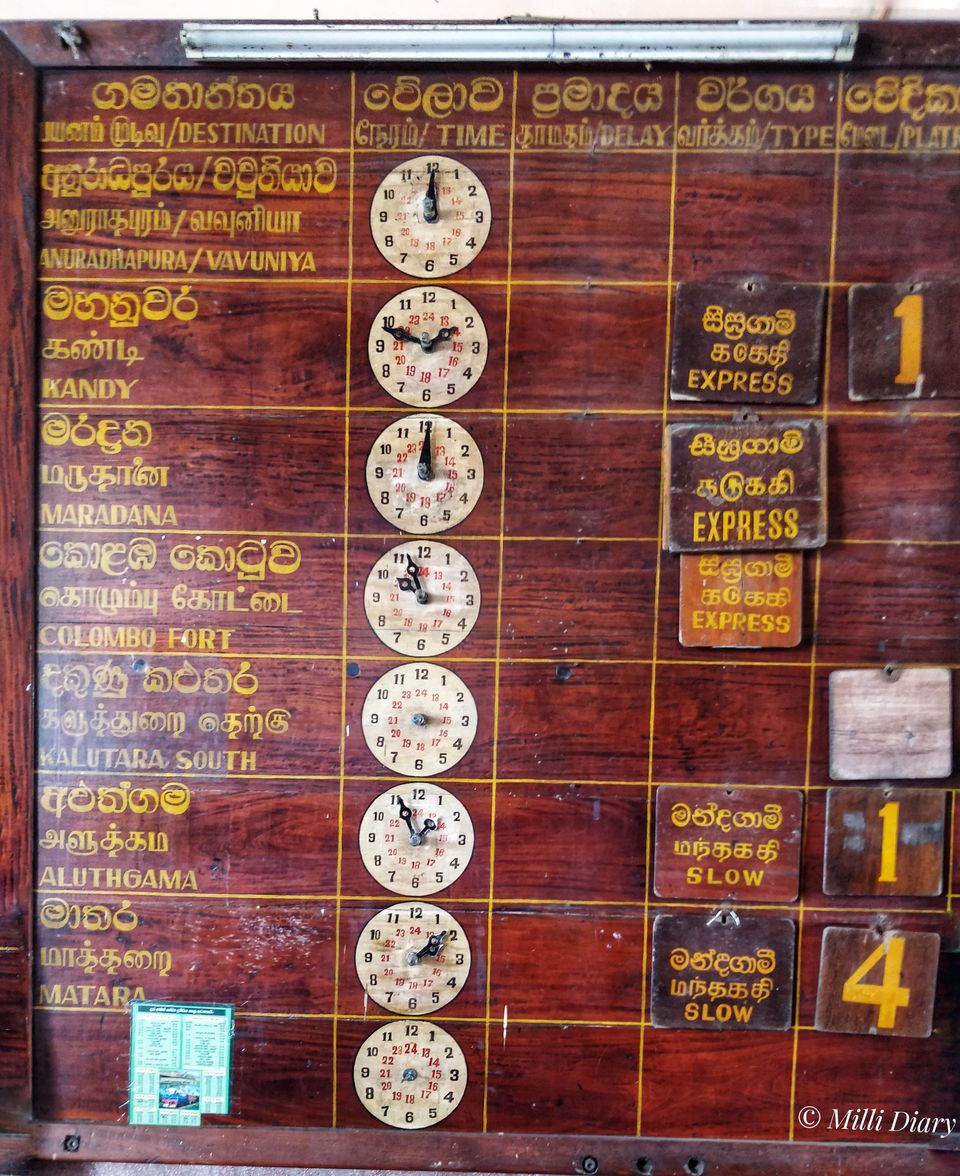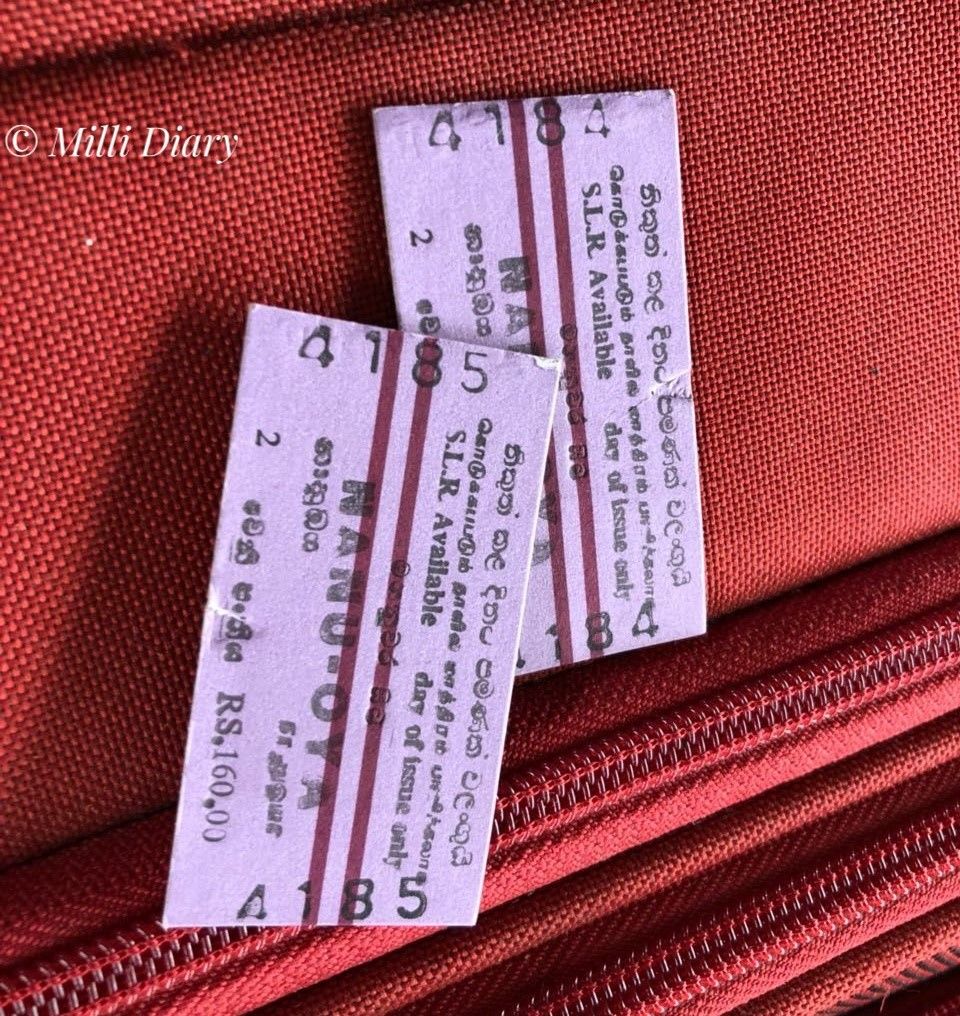 Overall, we had wonderful time in the train journeys of Sri Lanka. It gave us opportunity to meet people from different countries, interact and make new friends!
P.S (You can find a complete guide to the trains in Sri Lanka on https://www.seat61.com/SriLanka.htm or the official website of Sri Lankan railways https://eservices.railway.gov.lk/schedule/searchTrain.action?lang=en )
As always, please like/leave your comments on this blog in the comments section.
You can view all my travel blogs on https://millidiary.com