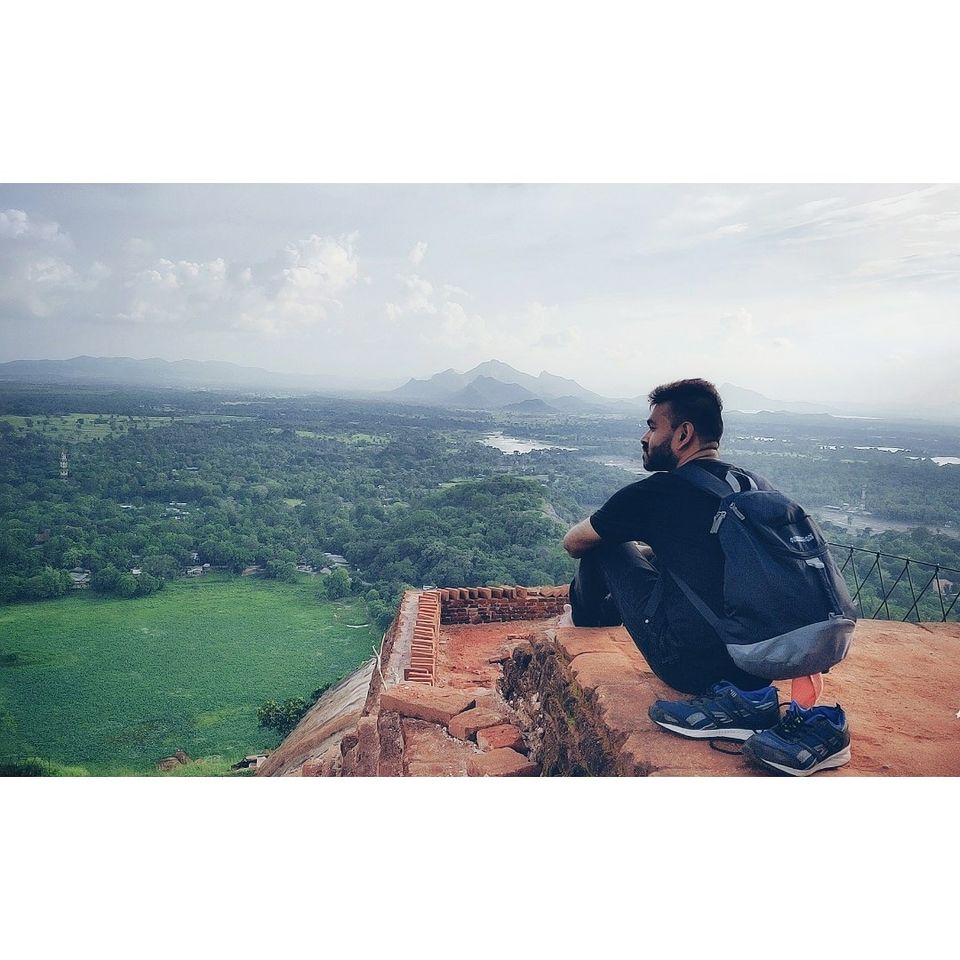 Day -2  Dambulla – Cave Temple , Sri Lanka (7:15AM to 12:30PM)
Transportation – You can take local  AC bus from Kandy Bus station to Dambulla Golden Temple  – The charges are 1.5 $ Per Person – bus Drops you direct at the Gate of Golden Temple. Travel time is approximately 1:30 to 2:00 Hours
Following are the things you should keep in mind while travelling to Dambulla
Read about  Difference Dambulla Cave vs Rock Temple vs Golden temple
Wear appropriate clothes
You'll have to climb uphill to reach the temple
Buy tickets at the lower / south entrance – Ticket Prices are 15 $ for NON Srilankan NON SAARC ( South Asian Region ) and for SAARC region it is 9.5 $
There is no Food or other services at  top (but not too much)
Pick   Morning time to visit- It took 4 Hours for me to visit this place
The limestone or rock overhangs, are the most stable spaces on Earth. They preserve a history that counts time in centuries, not decades. The Dambulla Temples are well preserved and still functioning today after nearly two thousand years of continual use. The continuity of use makes it the best preserved antiquity you'll ever visit. As you look at our pictures, just think that these temples are over 2000 years old. For Details Story Check my Pictorial Series of Dambulla at Insatagram – Kartooti_Creature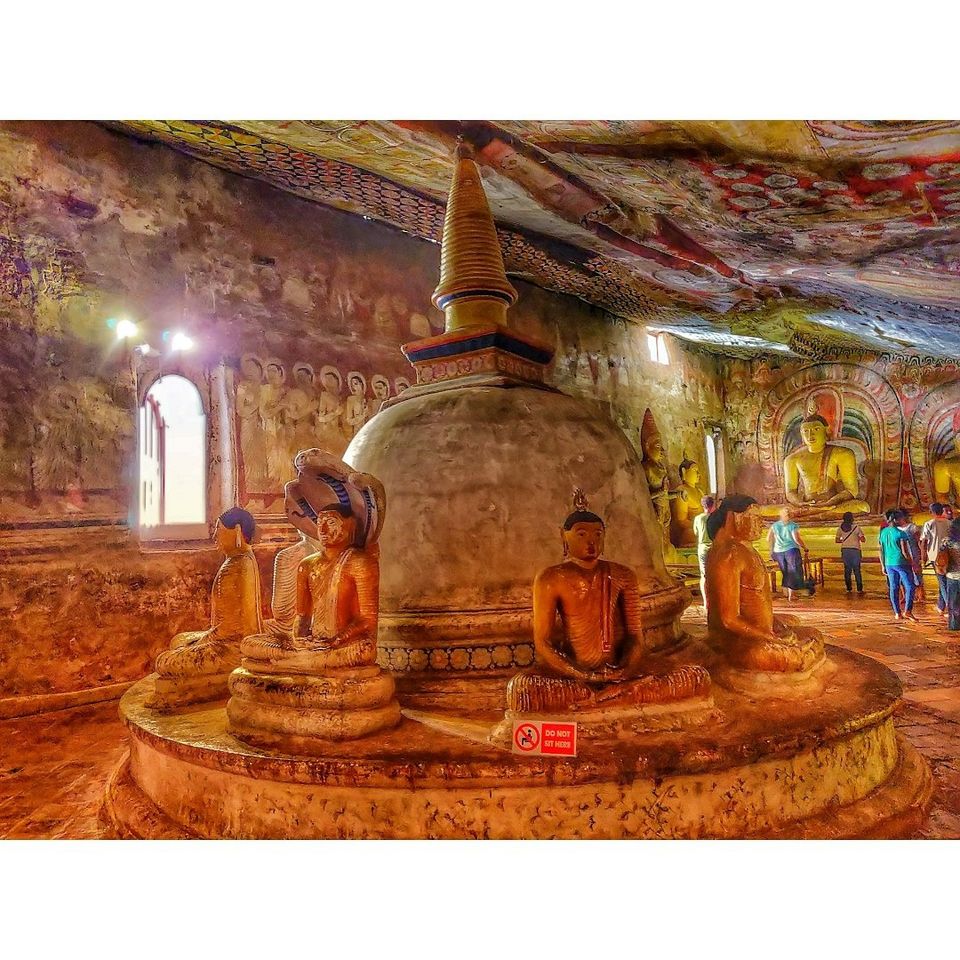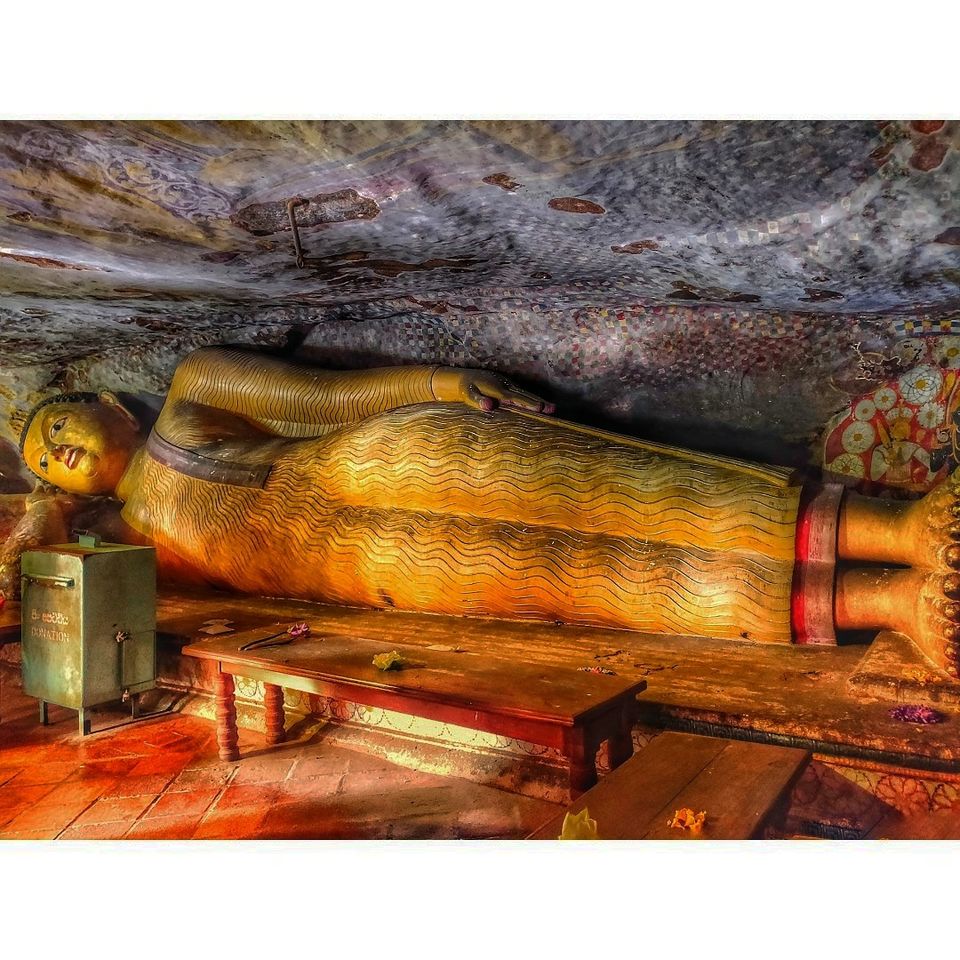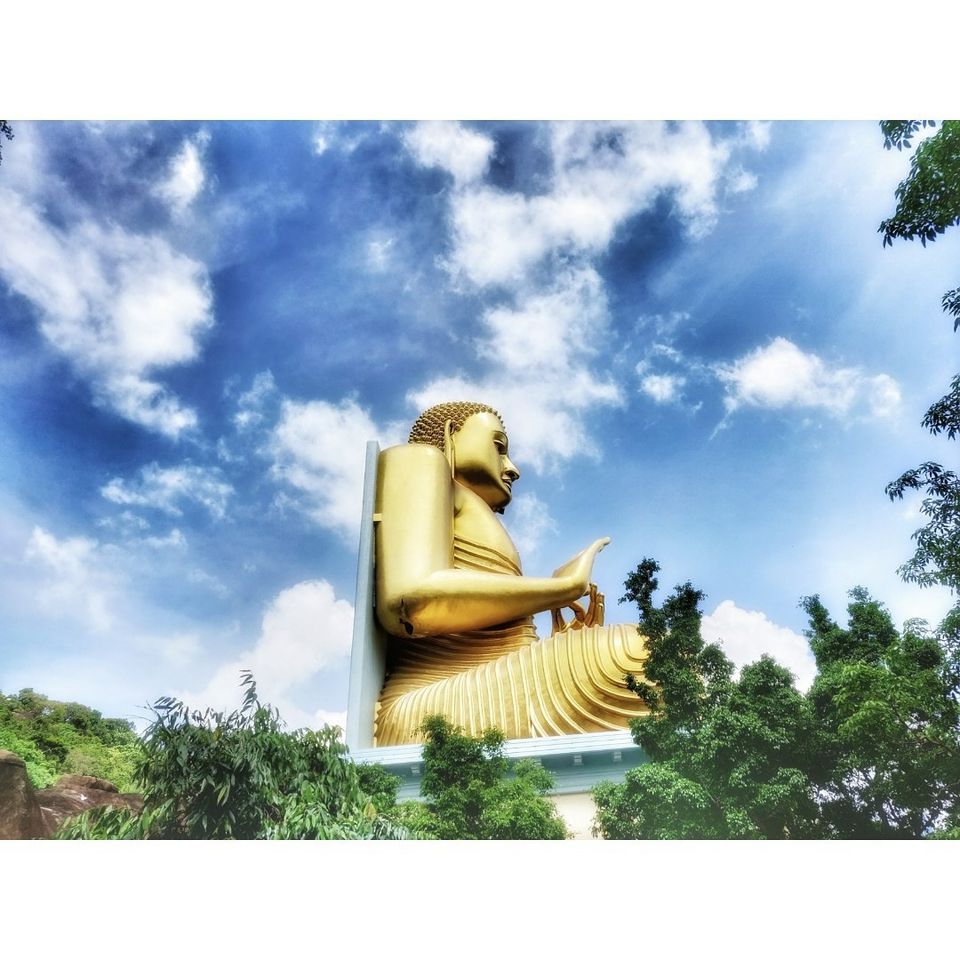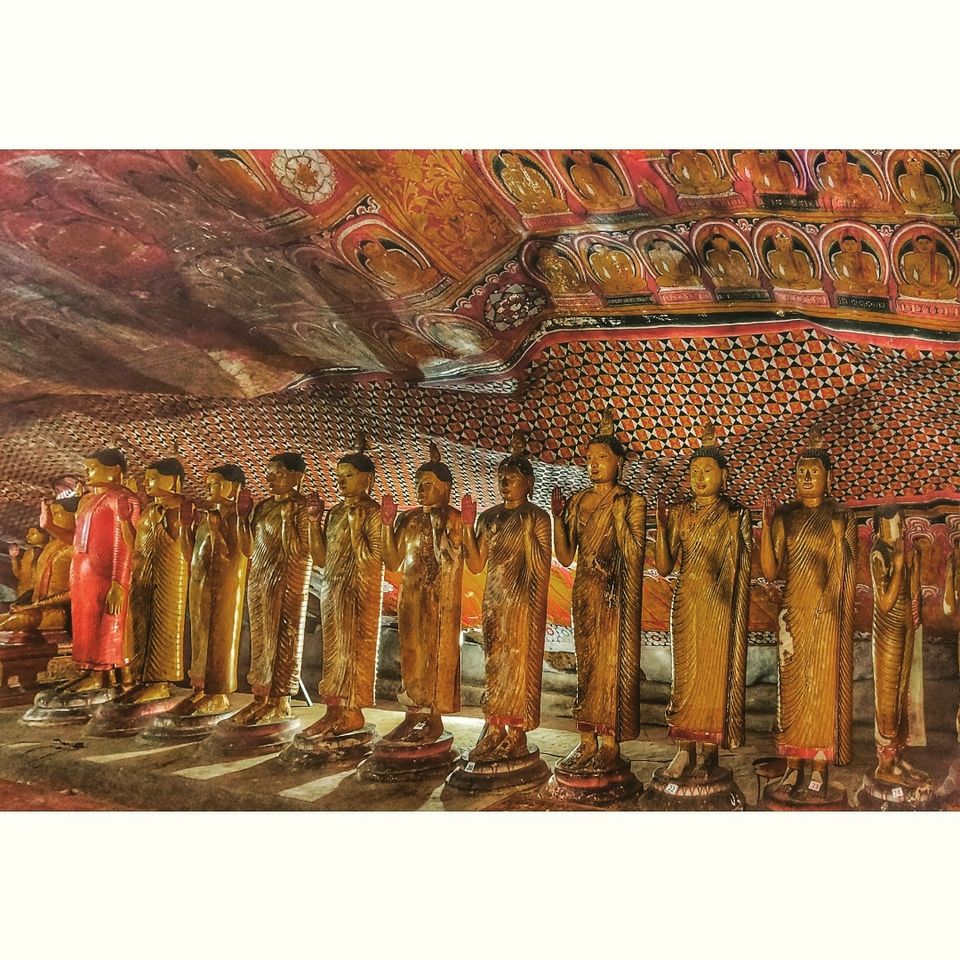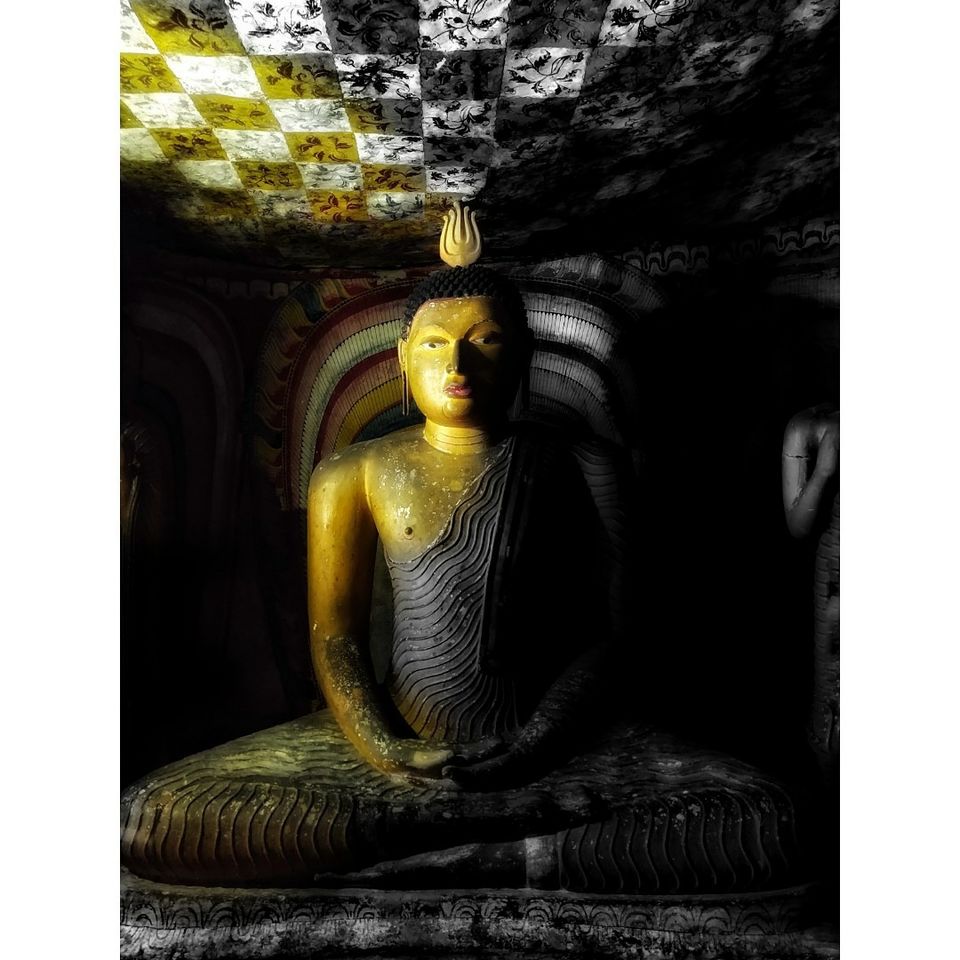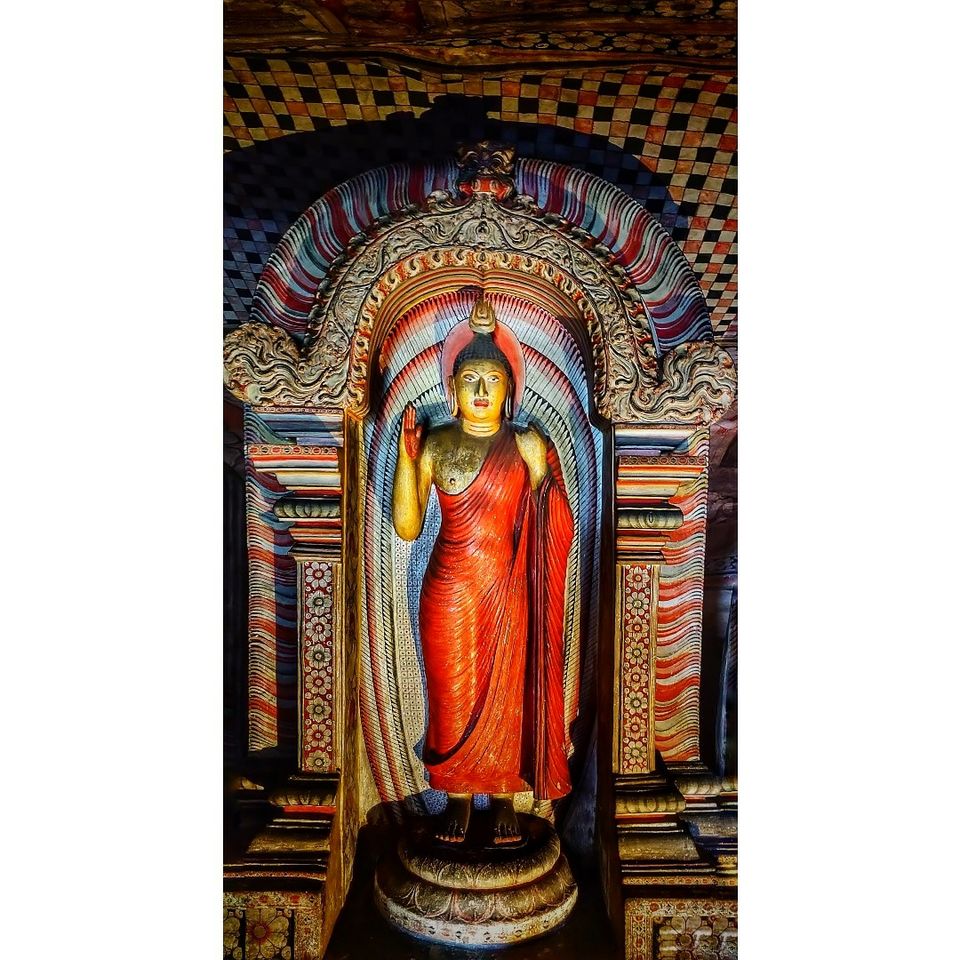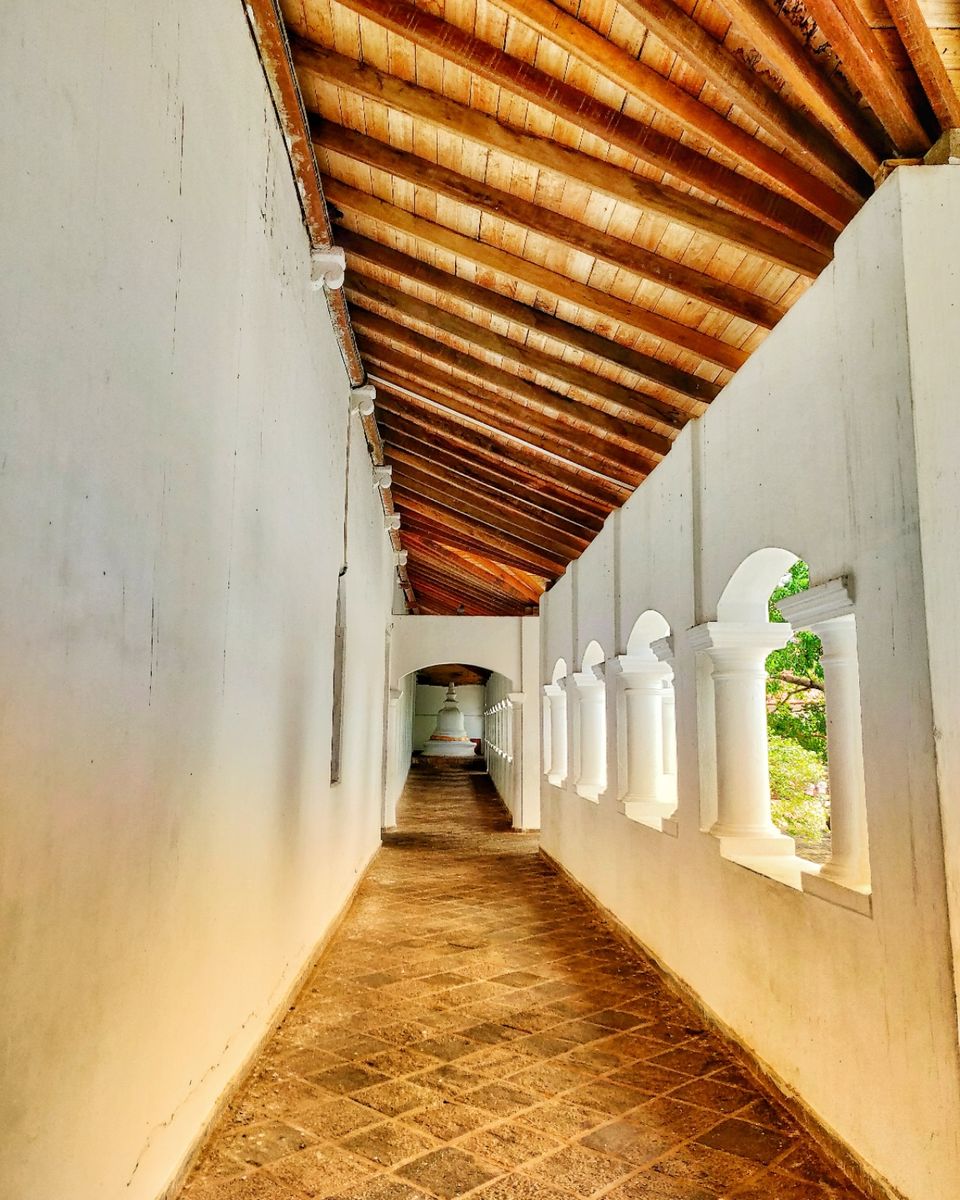 With a lot of expectancy and prophecies I have planned my international trip to Sri Lanka, it's not that it is my first international trip, but this is my first trip as yours truly " KARTOOTI_CREATURE"( Instagram handle)  and this trip has become popular amongst all  of my friends , well-wishers and  instagram family,  After a  long list of suggestions to share details about my Sri Lanka Trip,  I have decided to pen down every moment of this trip in Two Parts .
Part -1 Colombo to Sigiriya- Mountain Journey
Part  2– Colombo to Galle- Colombo – Sea Side Journey
Part -1 Mountain Journey – Colombo- Gampha- Kandy – Dambulla- Sigiriya Rock – Colombo
Day -1 The Journey starts from Bandaranaike Int. Airport to Gampha –
Trains at Kandy Station
The journey from Bandaranaike Int.  airport to Gampha was really astonishing and local, There is no direct transportation from Bandaranaike Int. Airport to Gampaha. However, you can take the walk to Katunayake Airport Bus Station and take a bus from there to Gampha, though the frequency of buses are less , hence I took the taxi to Gampaha which costs 5 USD .
Note :- The benefit of going to Gampha is if you really do not want to stuck in long hours of traffic of Colombo city and really have a plan to go directly to Kandy then Gampha is the station(22.4 KM)from where you can take a train to Kandy.
Day -1 Gampha to Kandy – Train Journey(92.3 Kms- APPx – 4-5 Hours)  – Beautiful Experience
Gampha to Kandy Train Tickets –Approximate Prices – 1st class – 4 $, 2nd Class – 1.5 $ , 3rd Class  - 0.5 $
Timings – Check timings (https://eservices.railway.gov.lk/schedule/searchTrain.action?lang=en)
Train tickets are available online for AC travel , for NON AC travel you have to purchase tickets from ticket window
The train journey is stunning and spellbinding, train passes through striking tunnels, mountains, It's an extraordinary experience of taking the train. It thrills when the cold air that comes in through the windows and the endless rolling hills of tea plantations and lush forests. The Eastern train route takes you from Kandy to Nanu Oya, on to Ella and Badulla. You must first take the train from Gampha to Kandy and then change lines at Kandy.
Day -1 Arrival to  Kandy and City Tour at kandy
I had boarded the train at 12:30 PM to Kandy and reached to Kandy by around 4:00 PM, so it was approximately 4 Hours of beautiful journey.
Kandy Station
Accommodation at Kandy -  There  are Many homestays, Budget Hotels and Luxury Homestays are available, My Homestay experience during my visit to kandy was not that Great, as the homestay was very far from city centre and overpriced , hence  I am not sharing details here but through www.booking.com . You will find many good budget homestays near city center. Booking.com provides good facility of advance booking without paying or pay at property. Approximate cost of Staying in Kandy is 15USDight for Budget accommodation. It is very much recommended to stay near city centre as Kandy city  Markets, Hotels, Restaurants and TUKTUKs start closing post 8:30 PM and transportation can be Biggest Problem
City Tour Kandy – Attraction of the Buddhist Capital – Sri Lanka -The city houses some beautiful temples which has one of the most beautiful shrines of Buddha. The Buddhist temple has the relic of the tooth of Buddha and  is a popular tourist attraction. 
Tooth Relic - Kandy
The Temple of the Sacred Tooth Relic, Kandy- Nestled close to the Udawattakele Sanctuary, The Temple of the Sacred Tooth Relic is one of the most important shrines of Sri Lanka. Also named as Dalada Maligawa, this temple is based in the royal palace of the Kingdom of Kandy.
Location: Royal Palace, Kandy
Time: 5:30 AM to 8:00 PM
Price: Approximate price starts from 1000 LKR  to 2134 LKR
Bahiravokanda Vihara Buddha Statue, Kandy- This place showcases a breathtaking view of the entire Kandy town. The 88ft high statue of Buddha is something one cannot afford to  miss while in Kandy.
Take a Walk around Kandy Lake - One of the greatest attraction and a must do for the visitors of the hill country, Kandy, is to take a walking tour around Kandy Lake which dominates the heavenly location with its cascading beauty.
Victoria Hotel - Kandy
(There are Many Other Attractions near by Kandy but these are the most Popular and ones and I have visited these three Places during my stay  in Kandy)
Food – Kandy city – Kandy is relatively quiet and peaceful town. It is  mixed heritage the city provides you with a variety of cuisine from local seafood to long forgotten European delicacies. You can even taste some Indian food here including north and south Indian food.
The Kandy Garden Café- Small Café which serves amazing Kottu – find more reviews on www.zomato.com 
Theva Cuisine- Multi cuisine  food – Luxury and Ambiance – Check www.tripadvisior.com
Balaji Dosai- Best , reasonable and Yummy  Indian food at very cheap price- Must visit – Reviews are on www.tripadvisor.com
Transportation – You have to take local taxis or Tuktuks to travel around the Kandy city, best way to travel is  by walking.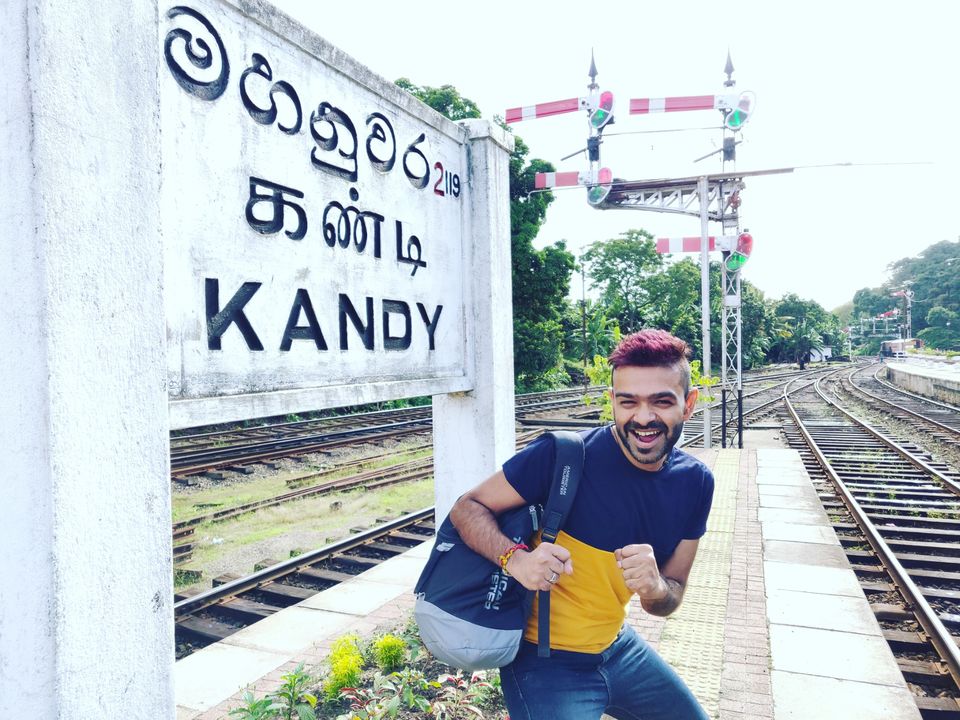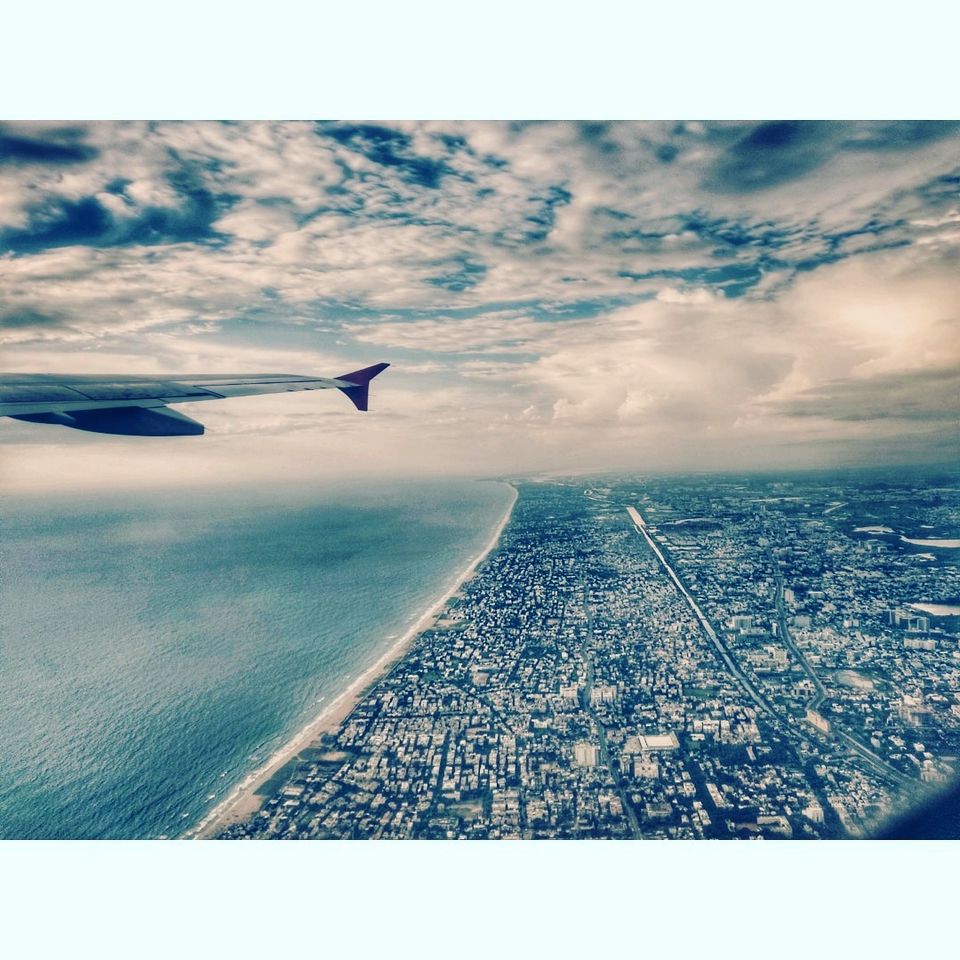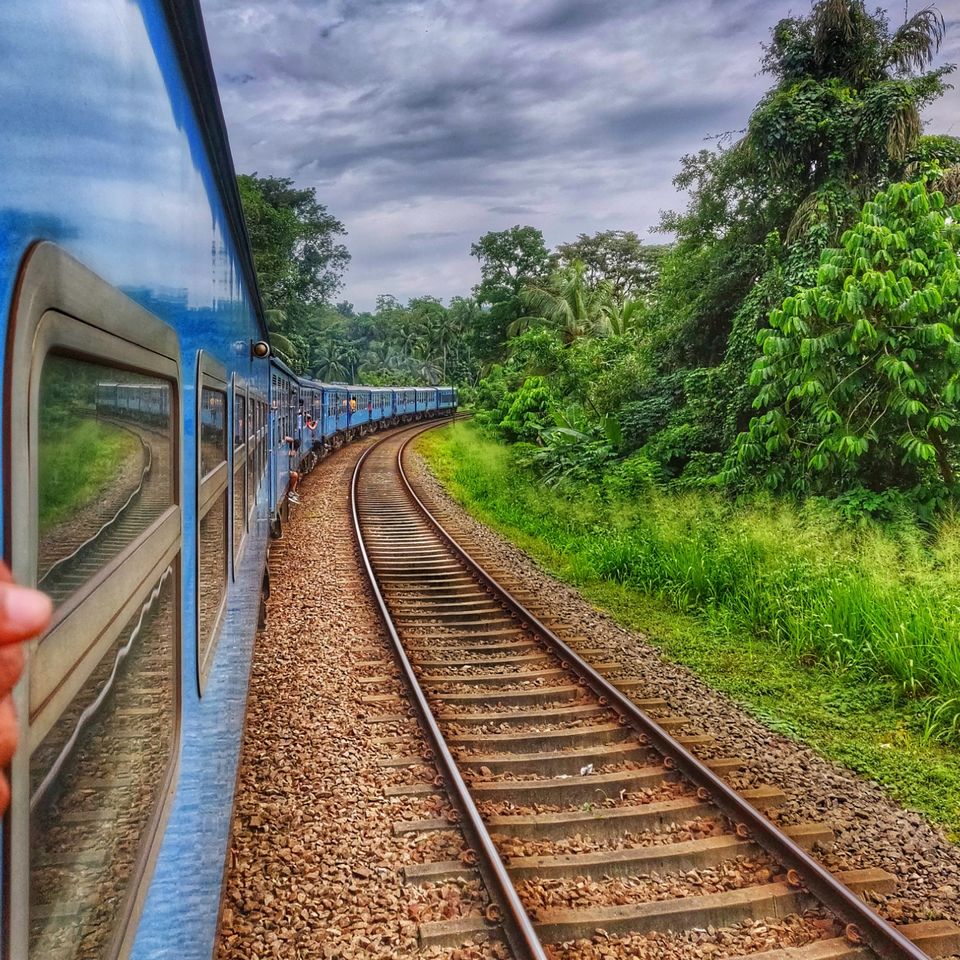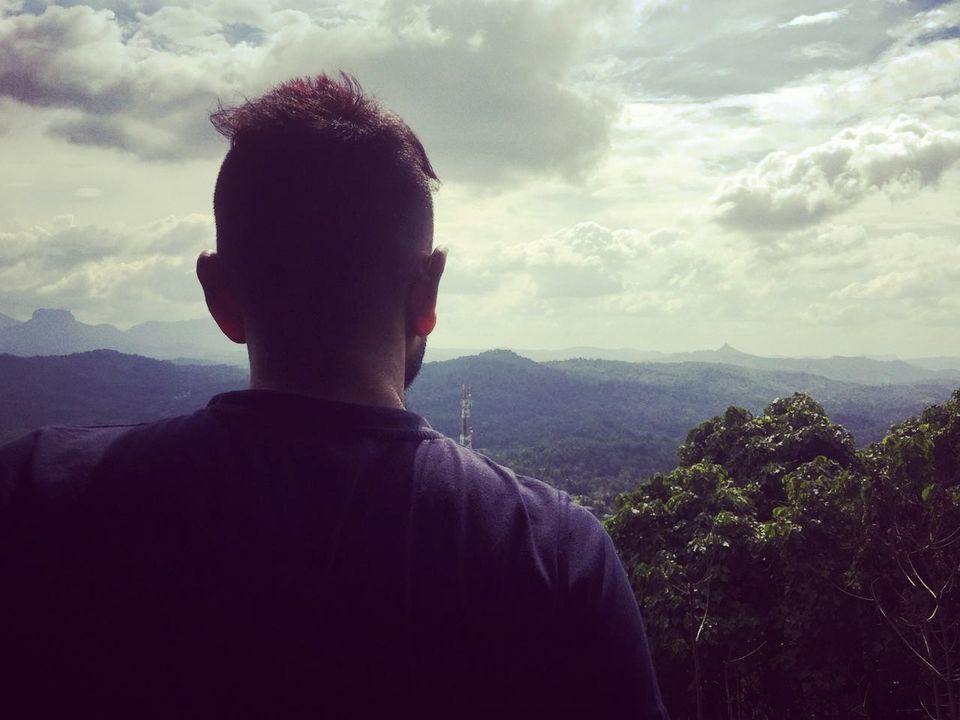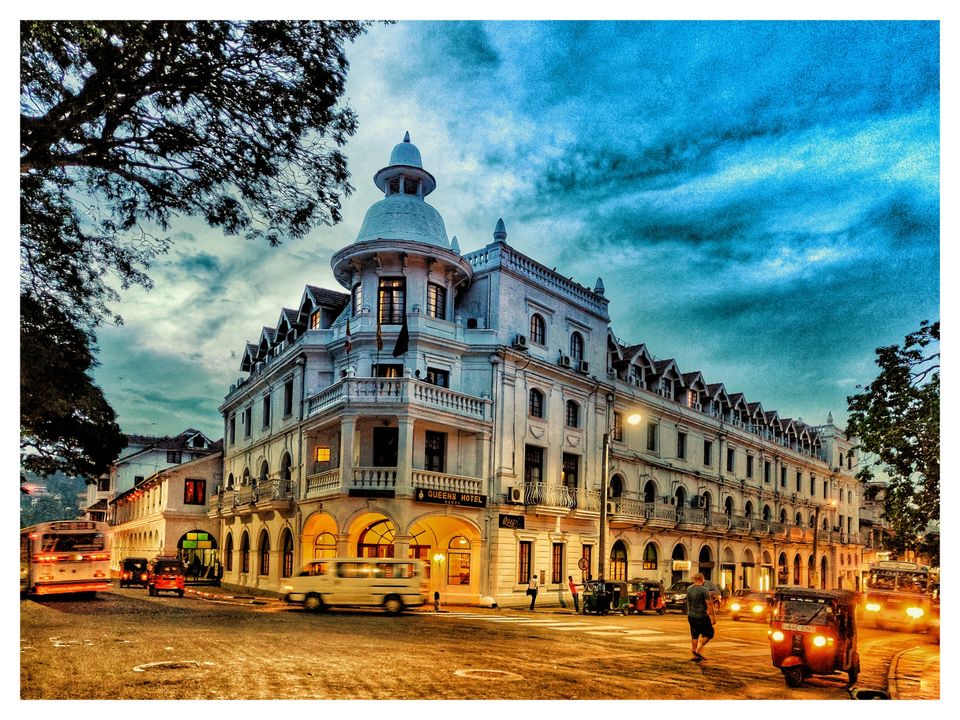 Day -3 Dambulla – Cave Temple  to  Sigriya Travel , Sri Lanka (12:30 PM to 1:30PM)
Transportation –
Part 1 – Dambulla Cave Temple to Dambulla Town – You can take Local non AC Buses Costng 0.2 $ to reach to Dambulla Town
Part -2 Dambulla Town to Sigriaya Rock – You Can take Local Non AC buses costing 0.5$ to reach sigirya, however the bus will outside the Rock periphery and you have to walk for approximately 1.5 Kms to reach to ticket Counter
Note – If you are battering Dambulla and Sigirya together then you must have your lunch at Dambulla town, The most recommended Place at Dambulla is "Rithu Restaurant" ( read Reviews at www.tripadvisor.com ). They Serve amazing Sri Lankan Rice and Curry
Dambulla – Cave Temple  to  Sigriya Travel , Sri Lanka (1:30  PM to 5:30PM)
Sigiriya served as a place of religious retreat as far back as the third century BC, when Buddhist monks established refuge in the locale. It wasn't until the fifth century AD, that Sigiriya rose briefly to supremacy in Sri Lanka.  Sigiriya rock  is  a combination of pleasure palace and indestructible fortress, which Kassapa intended would emulate the legendary abode of Kubera, the god of wealth, while a new city was established around its base. According to folklore, the entire fortress was built in just seven years, from 477 to 485 AD. This is situated at 200 M Height
Following are the things you should keep in mind while travelling to Dambulla
Sigiriya Rock – It is beautiful example of One of the best Town Planning
Wear appropriate cloths
You'll have to climb uphill to reach the Top- It's a tough Climb of 200 Meters
Buy tickets at the lower / south entrance – Ticket Prices are 30 $ for NON Srilankan NON SAARC ( South Asian Region ) and fro SAARC region it is 15 $
There are Food services at  top(but not too much)
Beware of attack of Bumble Bees – Maintain silence
There are few Places where camera use is not allowed – Please maintain that
Carry ample amount of Water with you .
Pick  Evening  time to visit- It took 2Hours for me to reach at top – you can see beautiful Sunset
The View from TOP of Sigiriya Rock is breath taking
Finally  the day ended at Sigiriya and I Started my journey back at Dambulla Town – If you have travelled by Local Buses then please keep in mind, there is bus service from Sigiriya to Dambulla after 6:00 PM, hence Finish your visit before that.
Once you reach to Dambulla you can get AC Bus Services to Kandy or Anuradhapura till 9PM – The prices are 1.5 to 2 $ Per person.
Here we are saying bye to the  Part -1 Srilanka - Colombo to Sigiriya- Mountain Journey, The next Part is Equally Beautiful when you travel to Sea Side.
Let your excitement range to the sea Side Jounrey, Colonial township and City Life