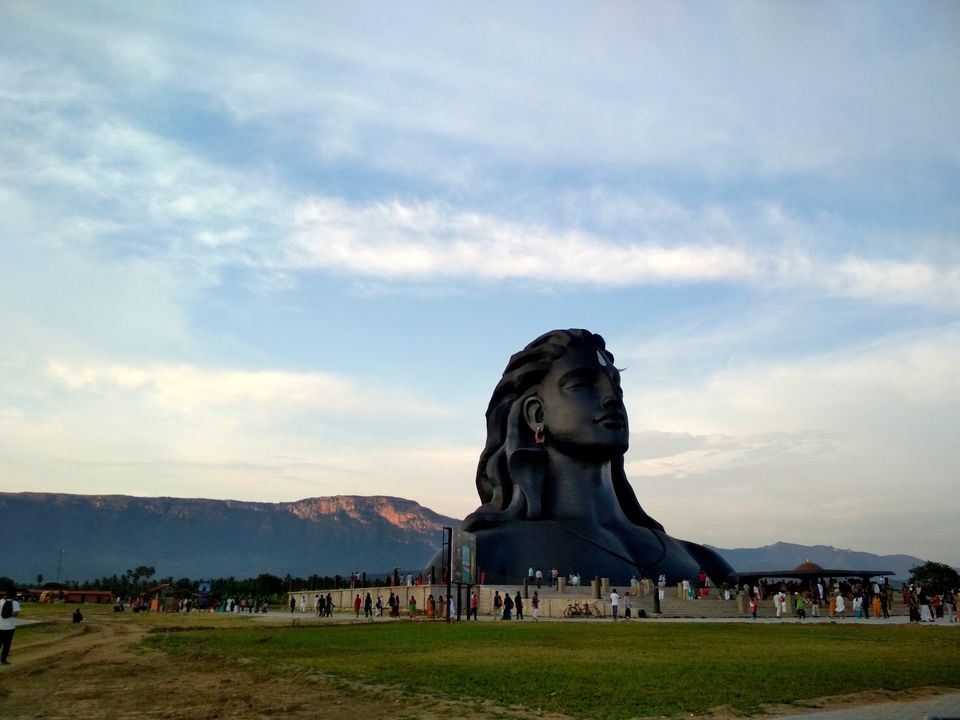 "Manzil nayi hai anjaana hai kaarvaanChalna akele hai yahan"
- Shaan
"The destination is new and the journey is unknown In the end, have to walk here alone"
The singer, Shaan had brought out the essence of life that I hadn't really understood until my first solo travel. Even when the destination is decided, the journey is planned, nothing can prepare you for the unforeseen.
It was intimidating at first-the thought of travelling alone-but I had to get over my fear and experience solo travel. With nobody but google to guide me, I planned my itinerary, booked my hotel and tickets and set off on my most awaited journey.
Coimbatore, Tamil Nadu
Close to the border of the state of Tamil Nadu, in the Indian plateau is the small town of Coimbatore. Be prepared to cause some raised eyebrows if you tell someone that you are visiting Coimbatore but not Isha Foundation.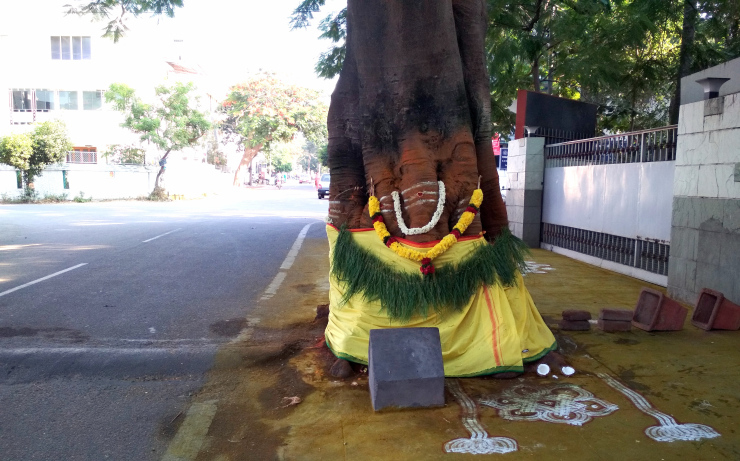 Established by Sadhguru in 1992, Isha Foundation is one of the most well-known Yoga Centres in the world. If you haven't heard about the mystic and maverick who is a Shiva devotee and loves riding dirt bikes and playing golf, here is the link. Oh and he is also the enlightened one!
Sadhguru's advice for the youth of the country, his simplistic and easy-to-understand explanations for the complexities of life was what, like many others, drove me to visit Isha foundation.
About Isha Foundation and How to Reach There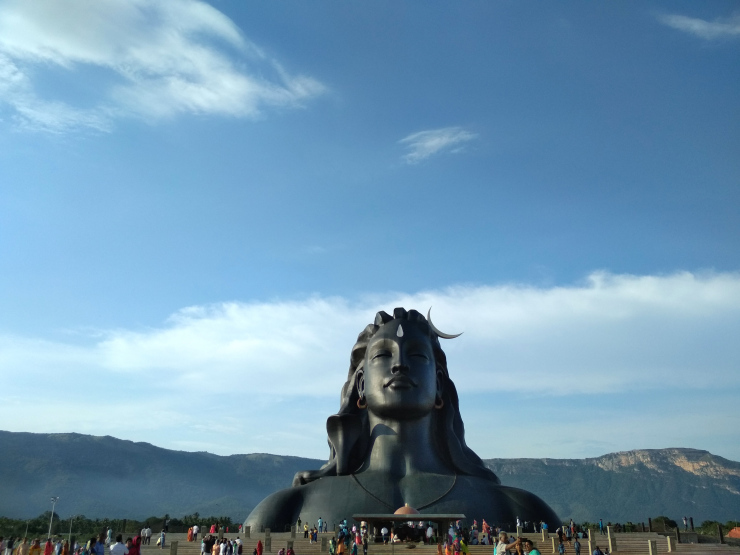 About 29Km away from Coimbatore at the Velliangara foothills, Semmedu, a chiselled idol of Adiyogi rests in deep meditation.
The 112.4ft matt black statue of Shiva spreads a mystical aura across the vast landscape that is surrounded by the majestic hills on three sides.
Close to the small temple on the stairs at the base of the idol, Sadhguru can be heard repeatedly chanting prayers on speakers. His voice will follow you across the campus.
About 200m away, a huge sandstone entrance with serpent carvings welcomes you to the huge, serene campus of the Isha Yoga foundation.
If you're on a day's visit you can't take your phones and cameras beyond this point
Coimbatore to Isha Foundation
A local bus leaves for Isha foundation from Gandhipuram bus stand, Coimbatore every hour throughout the day. An hour-long road journey takes you across a number of villages before taking a sharp left through a canopy of trees that opens at Isha.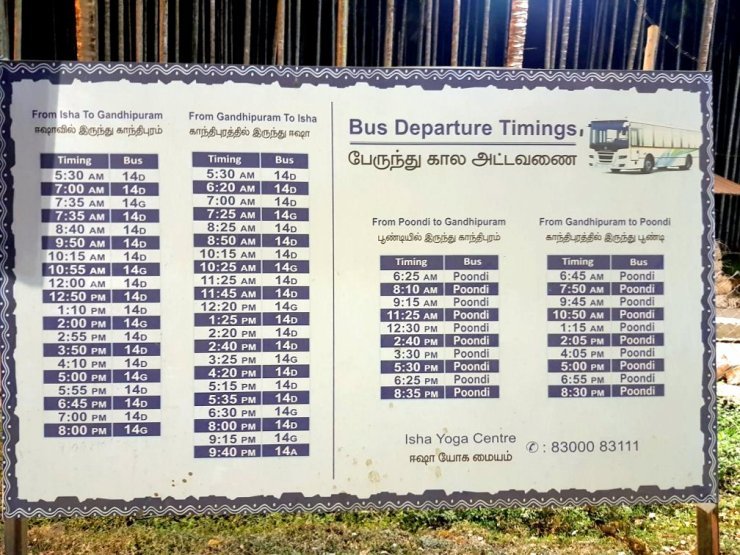 Note: You could also book a cab, Ola service is available in Coimbatore.
How To Reach Coimbatore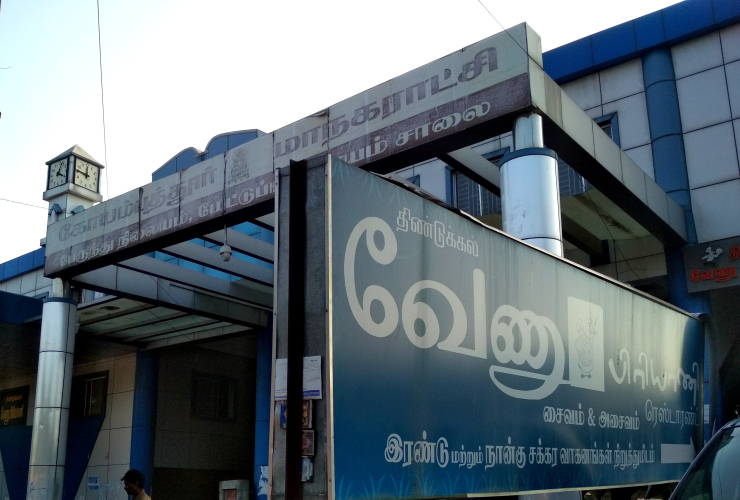 By road: Coimbatore is well connected to other cities by road-363Km from Bangalore, 380Km from Trivandrum, 190Km from Cochin and 505Km from Chennai.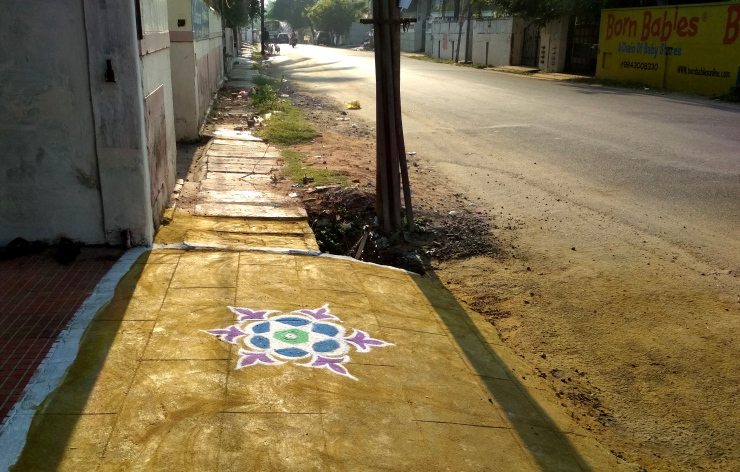 By air: Coimbatore International airport, which makes the Isha very much accessible, is about 15Km from the city.
By train: Coimbatore Junction is the main railway station and is well connected to other cities.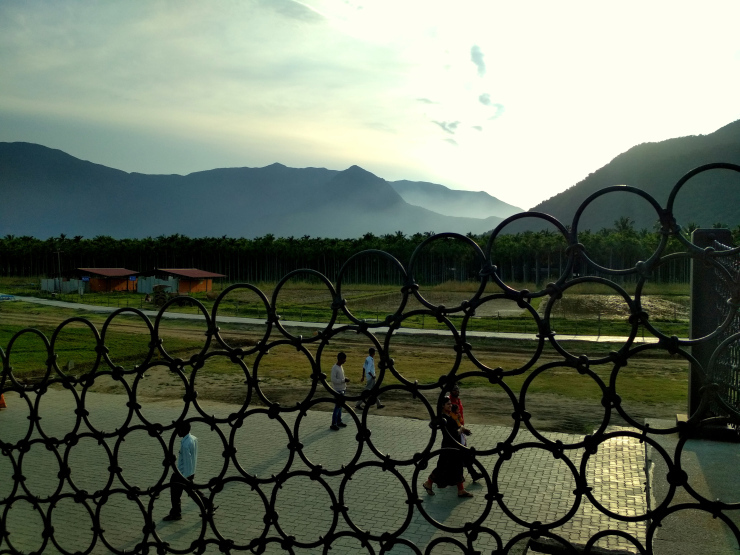 The calmness and serenity of Isha absorbs you and makes you a part of itself. Honestly, the positive and pure aura that I felt in the campus intimidated me. I constantly felt the need to stay for longer and longer as I left my world behind.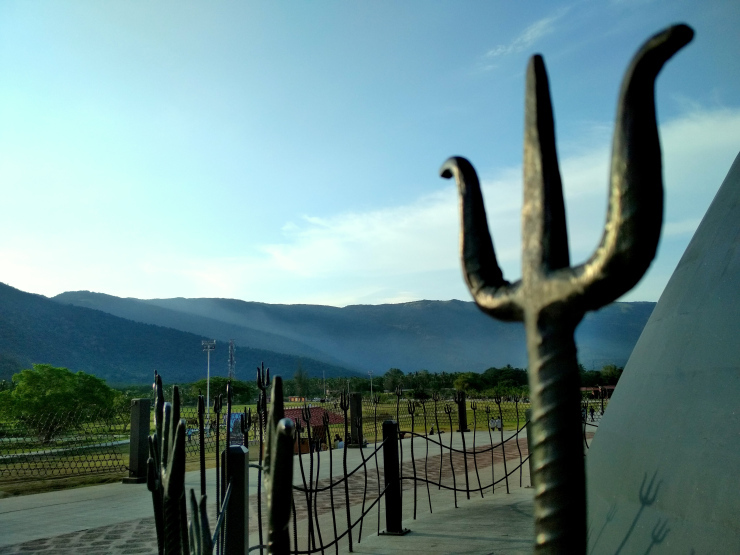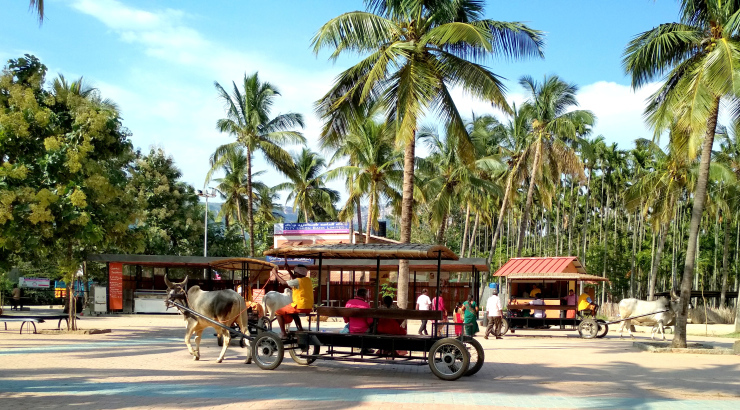 After you deposit your belongings, including the phone and camera (except the wallet) at the entrance, enter the Suryakund (for males) to have a refreshing dip into the holy waters-that apparently synchronize your energy and purify you before you enter the main sanctum.
An equivalent of Suryakund is Chandrakund, which is for women and is present in the inner sections of the campus after one passes the temple of Kaal Bhairavi (opens at 4pm).
Note: You'll be charged a mere 20 Indian Rupees to enter the kund. The attire to be worn is provided by the staff.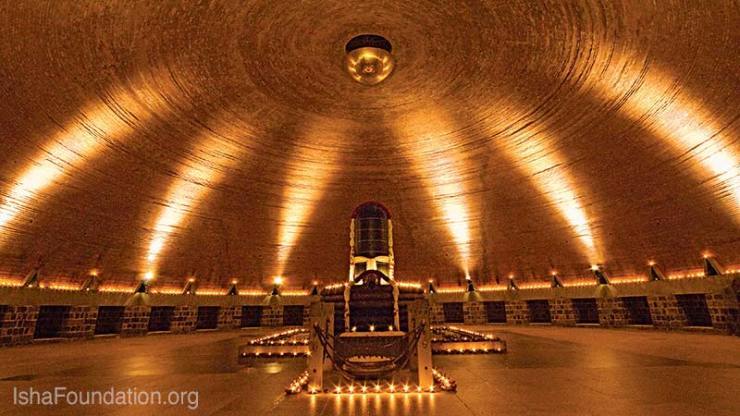 The entrance to the Dhyanalinga opens into a meditative space where a huge consecrated Shivalinga emanates a distinctive energy and inspires awe with its sheer presence. A very disciplined routine allows you to enter and exit the space on the sound of a gong. However, you can sit there in silence for as long as you want.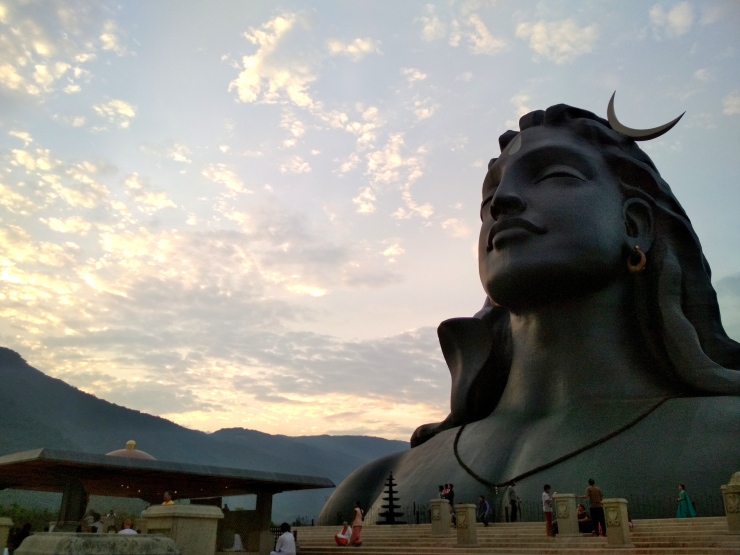 I visited Isha twice during my trip and would want to go again whenever I can. Nope, I did not meet Sadhguru, but I interacted with a 17-year old wise kid whose peacefulness piqued my interest. We had an hour long chat about life outside and at Isha while peeling jujuve seeds and I was left wondering whether I would ever want to live like that given a chance.
Udhagamandalam aka Ooty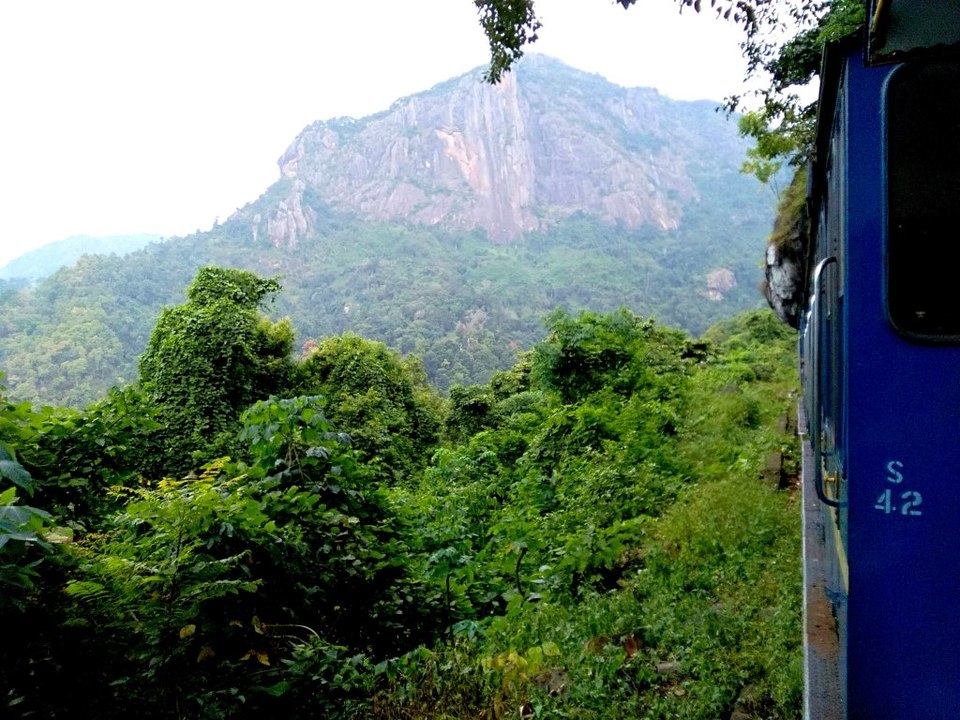 Ooty is a dreamland nestled in the Nilgiri hills. Be prepared to be smitten by silent evenings, splendid green landscapes, tea gardens and towering Cypresses in Ooty, which is around 2 hours 30 minutes drive from Coimbatore.
How to Reach Ooty from Coimbatore
One can either relish the 5 hours long Toy Train ride from Mettupalayam to Ooty or take a direct bus from Gandhipuram bus stand, Coimbatore and reach Ooty by road. The nearest airport is Coimbatore International airport.
I did the former and boarded a bus to Mettupalayam bus stand which is at a walking distance from the station. The Nilgiris Toy Train is scheduled to depart from Mettupalayam station at 7:30 am (ours was late by 45 minutes).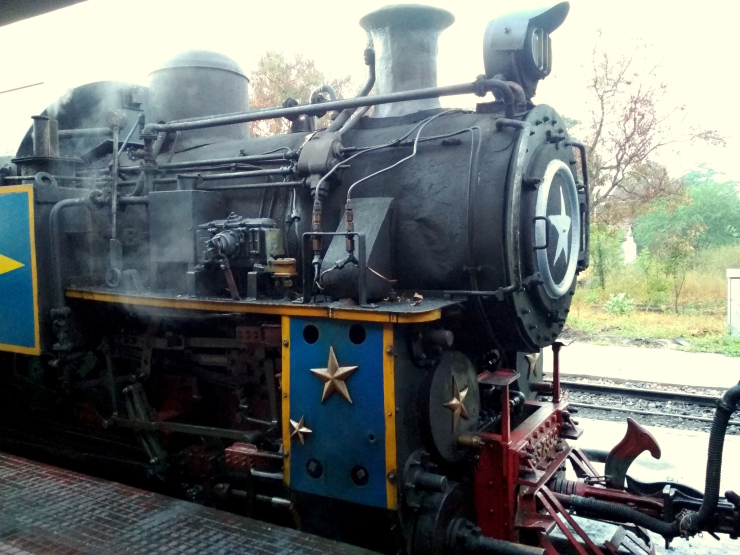 Our Engine arrived in style and glory. The huffing and puffing marked the beginning of this exciting journey.
Note: Mettupalayam bus stand is at a walkable distance from the station and if you start early from Coimbatore, you can easily catch the morning train. This train journey is an experience that you mustn't miss.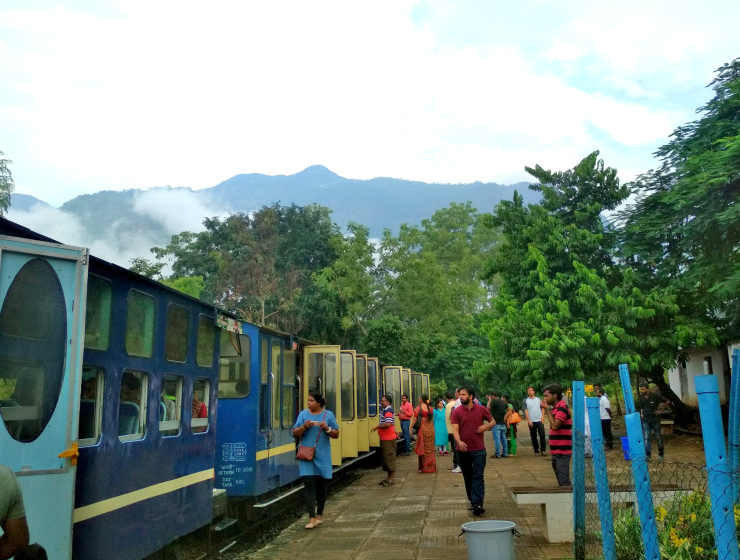 Note: Book your tickets in advance. The general coach gets quite crowded and uncomfortable for such a long train journey. Grab the window seat on the left in the direction of the train and enjoy the breathtaking view of Nilgiri hills blanketed by rich greenery.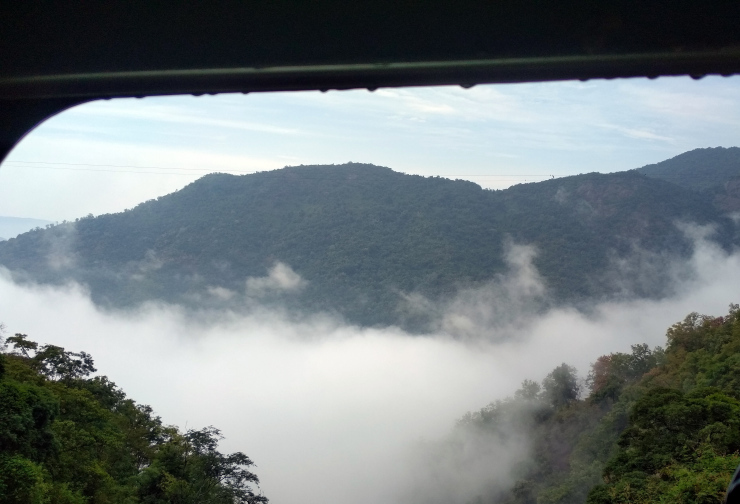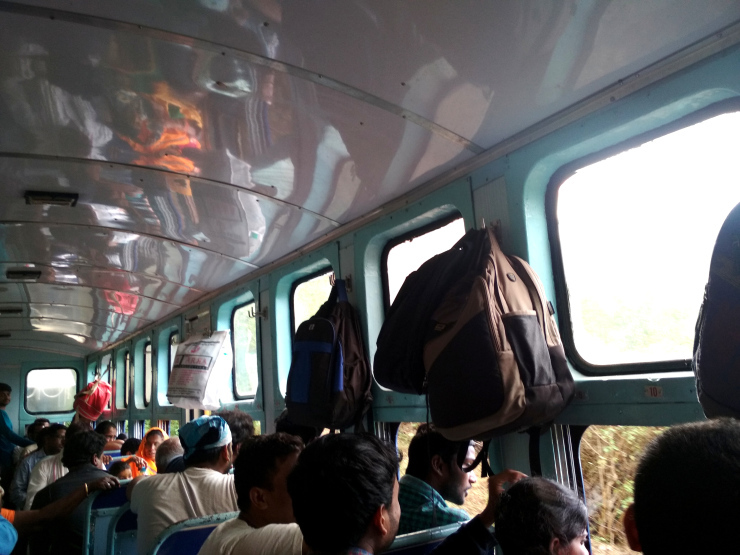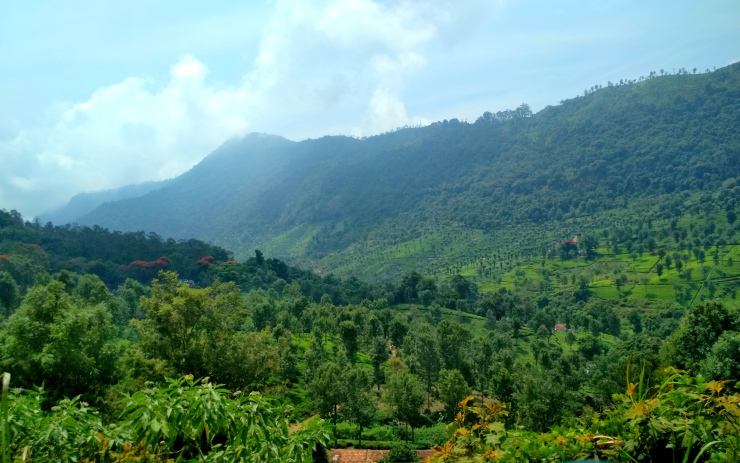 Note: Don't forget to buy breakfast from the only restaurant at the Mettupalayam station and across the journey-they offer hot idli vada and steaming hot pongal that you can challenge yourself to eat in the rumbling, congested train.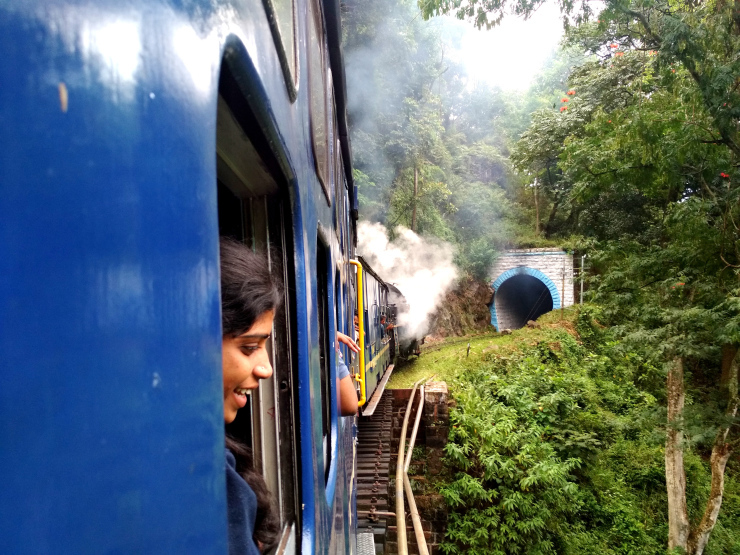 Note: Tall people caution. In the general compartment, there is no leg space for you to stretch your legs.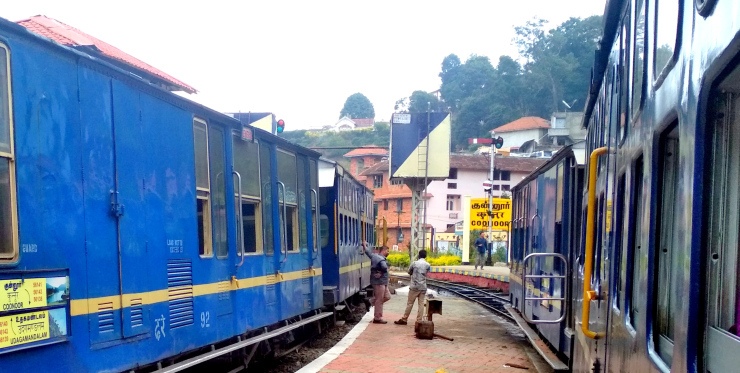 Those who wish to visit Coonoor can get down one station before Ooty
A time crunch allowed me to visit only three places in Ooty-Ooty lake, Doddebetta peak, and the Tea Garden.
Ooty Lake
No more than 2Km away from the Udagamandalam (Ooty) railway station, Ooty lake is where families can go for boating or picnic. Being picturesque and easily accessible, this place does become crowded in the evenings.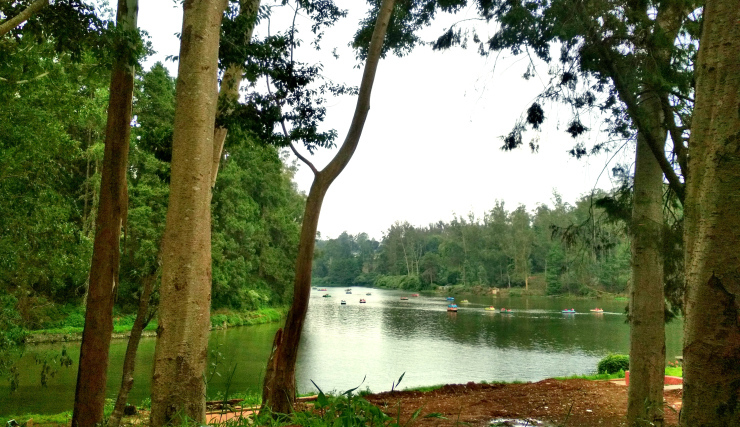 A small market at the entrance is were you can shop for souvenirs and goodies to take back home.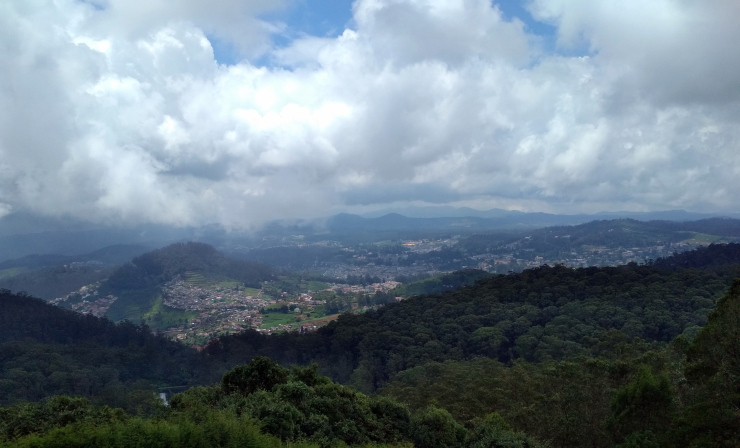 The highest mountain in the Nilgiris, it lies at 2637 metres. I remembered taking a wrong bus to reach the starting point, which was in a reserved forest.
Unbeknown to the fact that you can't be on foot inside a National Park, I continued walking up the pukka road only to be stopped by the guard. I didn't want to turn back so I took lift from a passerby, who happened to be a family.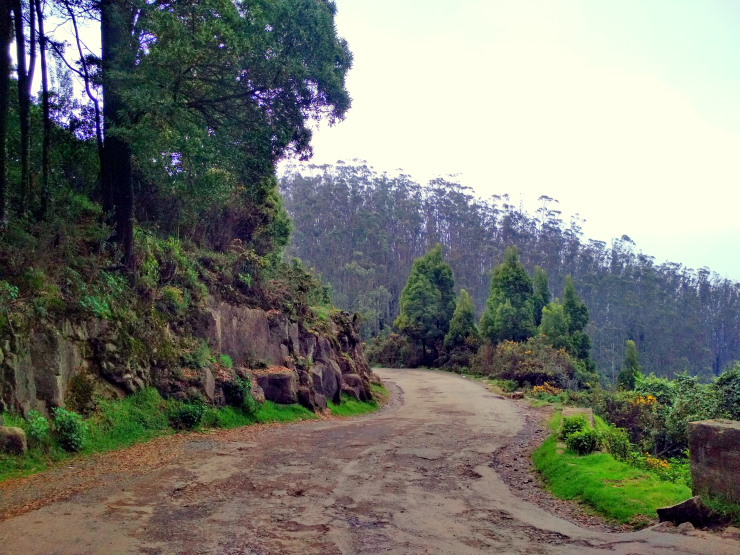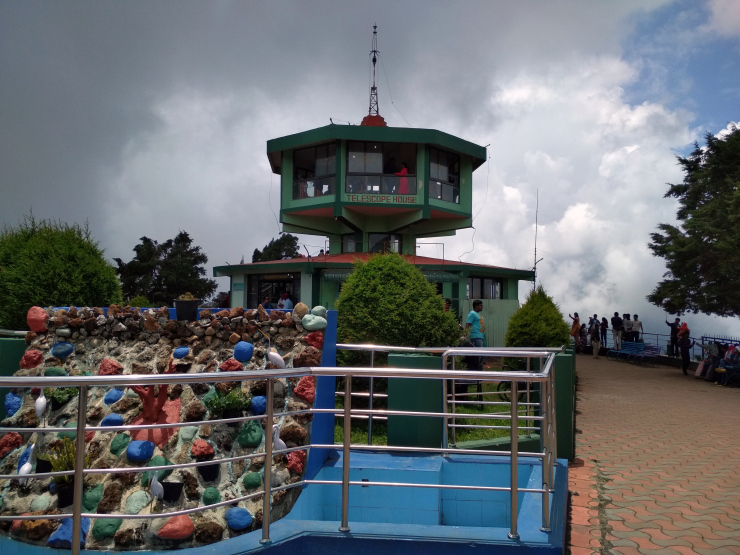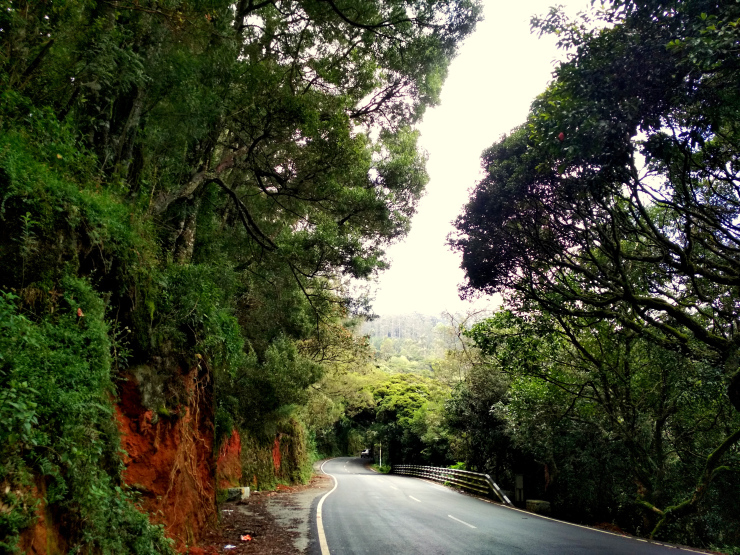 Driver: Are you carrying a knife? I want to confirm because I am travelling with family.
Me: I am travelling solo and I am not carrying a knife. ('Would a murderer answer the same?; I thought)
The 15-minute silent drive to the peak is extremely bumpy. When I reached the parking, I couldn't believe the sheer number of cars that were scavenging for space. The way to the peak is a stepway through a market. If not anything, you will find carrots being sold like they grew there-oh so many!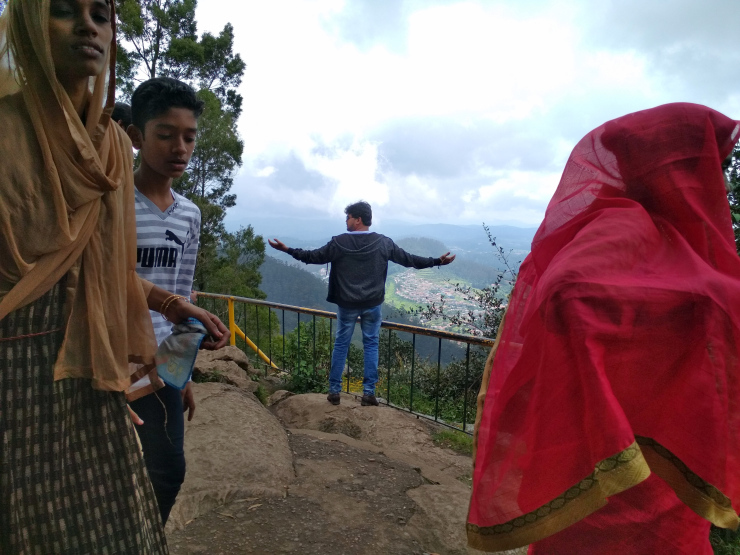 The peak is a viewpoint that offers a stunning view of the valley below. It is impossible to take a photo without being photobombed unintentionally - it's a popular tourist destination.
Note: The bus numbers and sign boards are in Tamil. If you don't know the language, check with the locals-they are quite helpful.
Unable to get a lift, I walked my way back through the jungle and got a ride meters away from the starting point.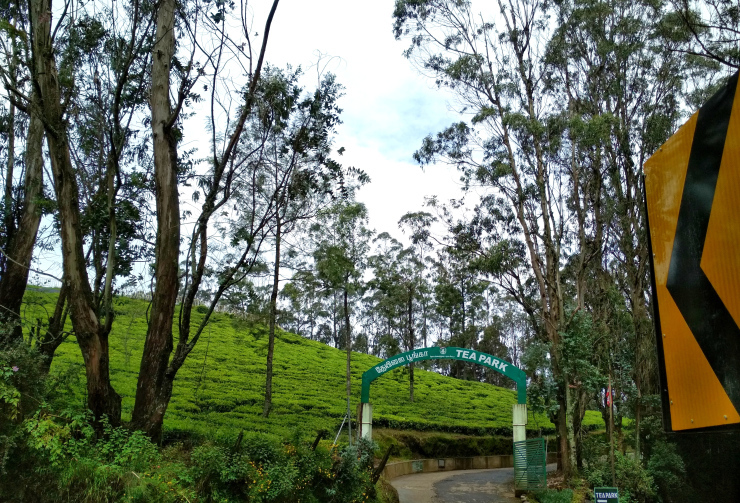 For the tea lover I am, I had to visit here. A few meters of a scenic walk from the Doddabetta road took me to the tea garden. The green gardens were pleasing, the roads wet and clean, and the hills welcomingly beautiful-I just didn't want to stop walking.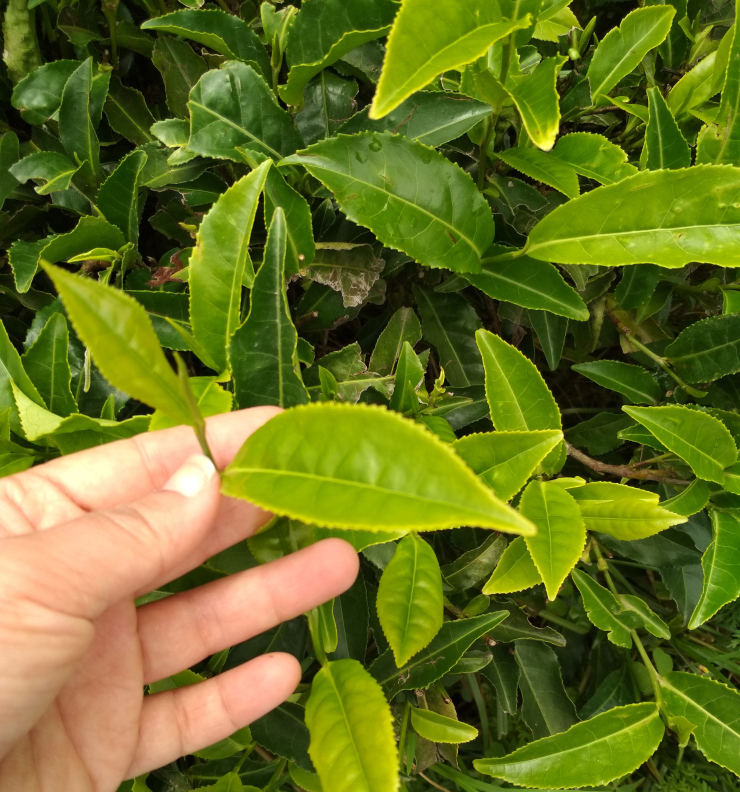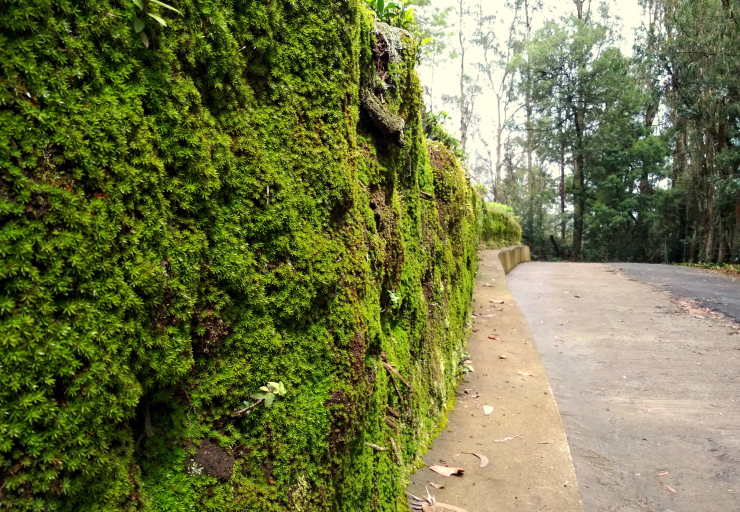 It's a quiet and tiny tea garden. One can eat and nap in the gentle cold breeze under the tall green deodars and forget the world.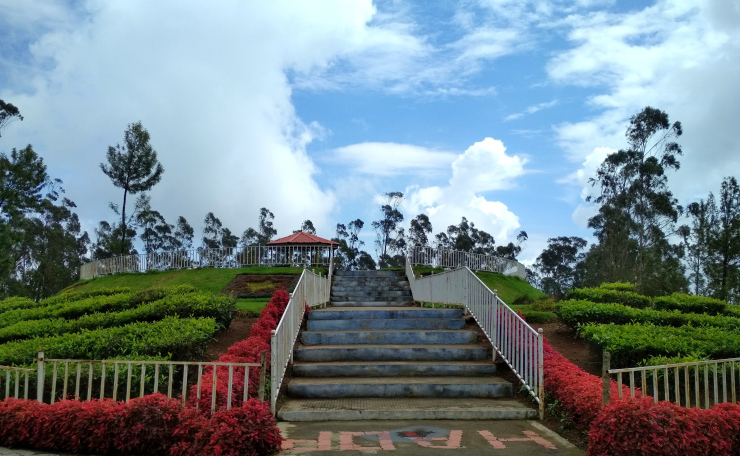 The local tea that I tried-because, well, drinking tea in a tea garden is amusing- was a disappointment. May be the shopkeeper didn't prepare it well but I missed my mom's tea immediately after the first sip.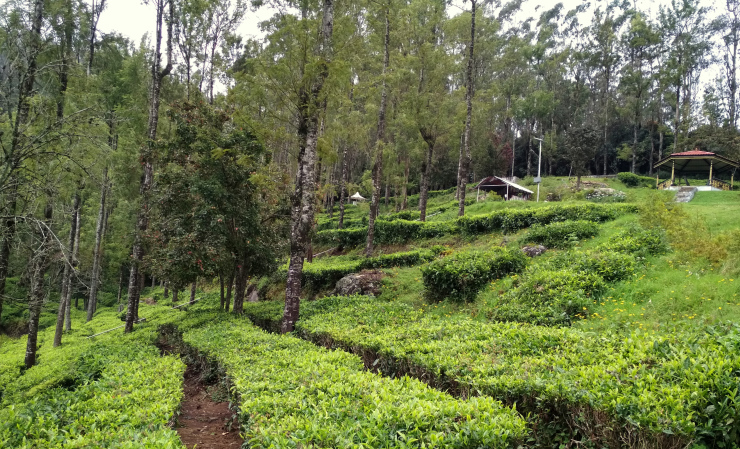 Note: The buses from the Doddabetta base back to the Ooty city are less frequent and often too crowded. Plan to come back well before it gets dark.
Other Attractions in Ooty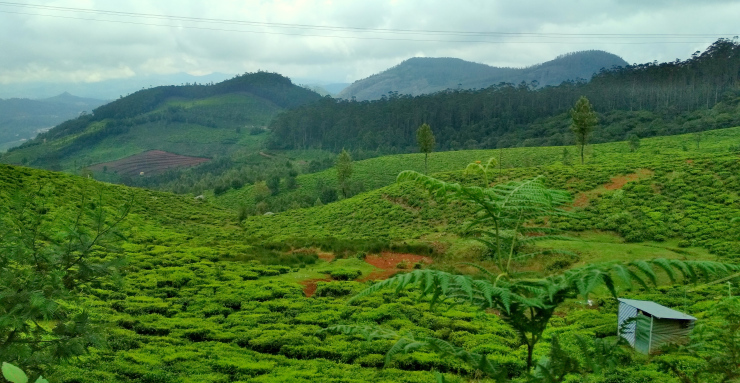 If you have some more time at hand, you can visit these few places in Ooty:
Botanical Garden Rose Garden The Tea Factory and the Tea Museum St. Stephen's Church Thread Garden Kalhatti Falls - 13Km from the city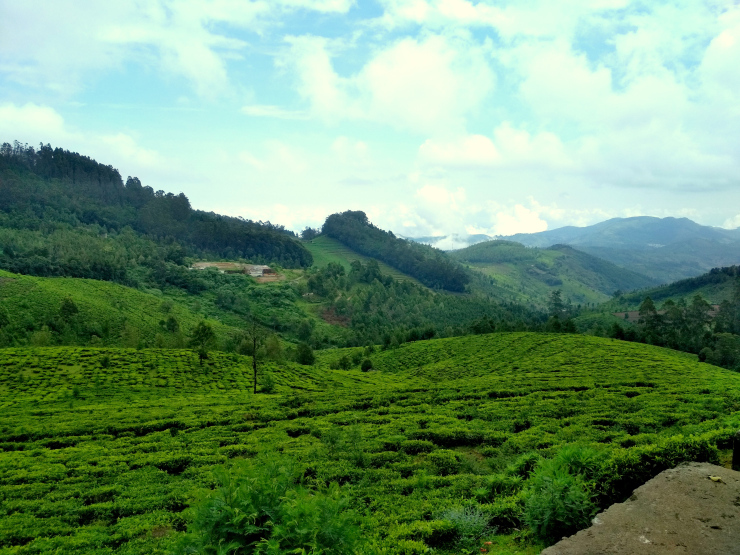 Treks in Ooty
Glenmorgan Trek: 7 hours, 16Km Parsons Trek: 8 hours, 8Km Ebbanad Trek: 6-7 hours, Rangaswamy Pillar Trek: 6 hours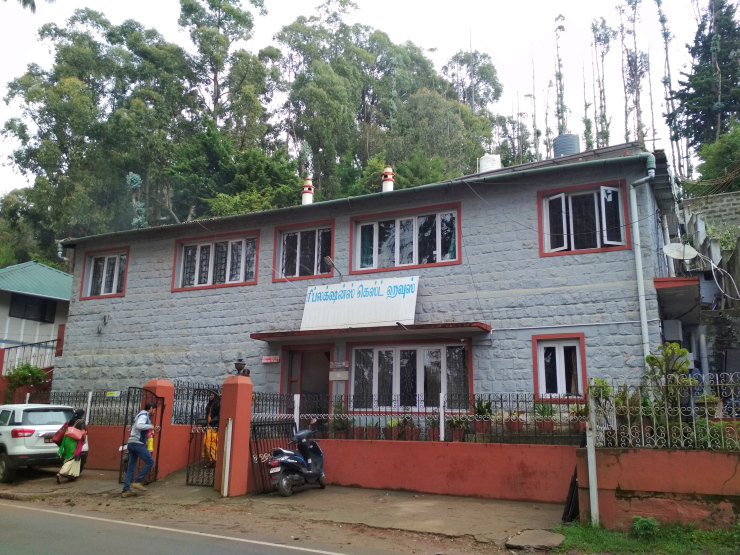 Safety Rules for Solo Travel
- Keep your eyes and ears open, all the time.
- Keep your phone charged before you leave the hotel; carry a powerbank if needed.
- Plan your itinerary in such a way that you reach back to hotel in time.
- Always carry a knife or pepper spray and some extra cash in your bag.
- Carry plenty of water and some snacks for the way. Interact with the locals but make sure to NOT give them any details about your stay or travel.
- Google Maps are deceiving, don't hesitate to ask for directions and details.
- Your luggage, your responsibility. Period.
- East only freshly cooked food.
- Medication should be carried under all circumstances.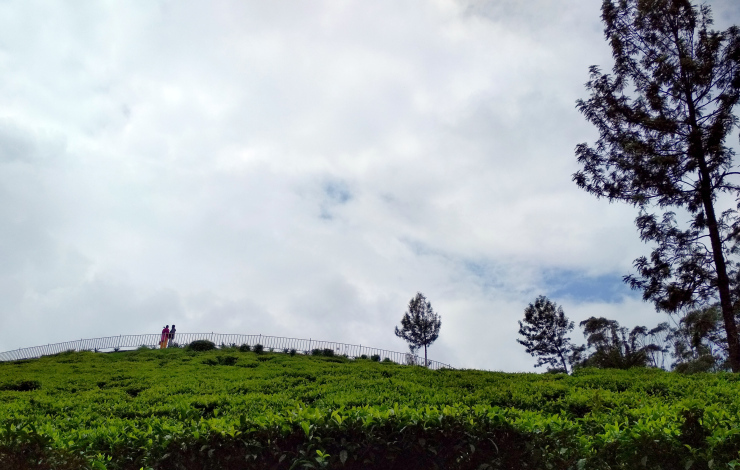 I won't deny that I did miss having a company especially in Ooty. However, it was also quite liberating to pave my own way and travel as it pleased me.
Loved my adventurous endeavors? Here's some more for you.
Frequent Searches Leading To This Page:-
ooty kodaikanal tour, ooty packages from bangalore for 3 days with price, special honeymoon packages ooty, ooty minibuses tour packages, tamilnadu tourism ooty package, delhi to ooty tour package