I have two major hobbies: travelling and writing about travel. However, of late, I have started enjoying reading about travel, too. A casual search on easy road trips around Bangalore led me to an online post featuring a write-up on a beautiful tree house homestay just off Sarjapur and about a 45-minute drive away from Bangalore, on the outskirts bordering Tamil Nadu. A little more research revealed that the house is actually the property of a local architect who rents it out on Airbnb.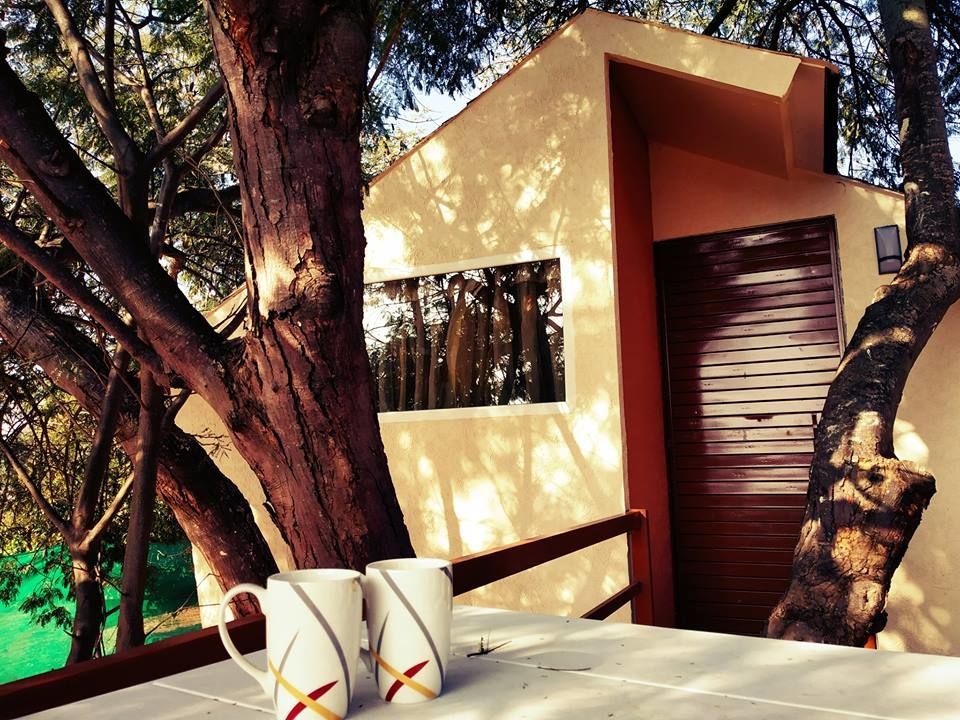 The link that the site provided, however, showed that the tree house remains booked almost throughout the month. Thus, booking in advance is recommended.
I decided to explore the tree house and the surrounding area over a weekend. A friend from Bangalore accompanied me. We decided to head for the place on a Friday evening and reached the place at around 10 pm. Although the tree house remains well-lit at night and is inside a gated farm, the road leading to the place was isolated and a bit creepy at night. There is a 2 km stretch that is completely dark and can be scary at night.
However, once we reached the place (which is located next to a village), the friendly caretaker guided us to the tree house. Not much of the property could be explored at night, but we noticed that the place was decked with fairy lights and looked lovely.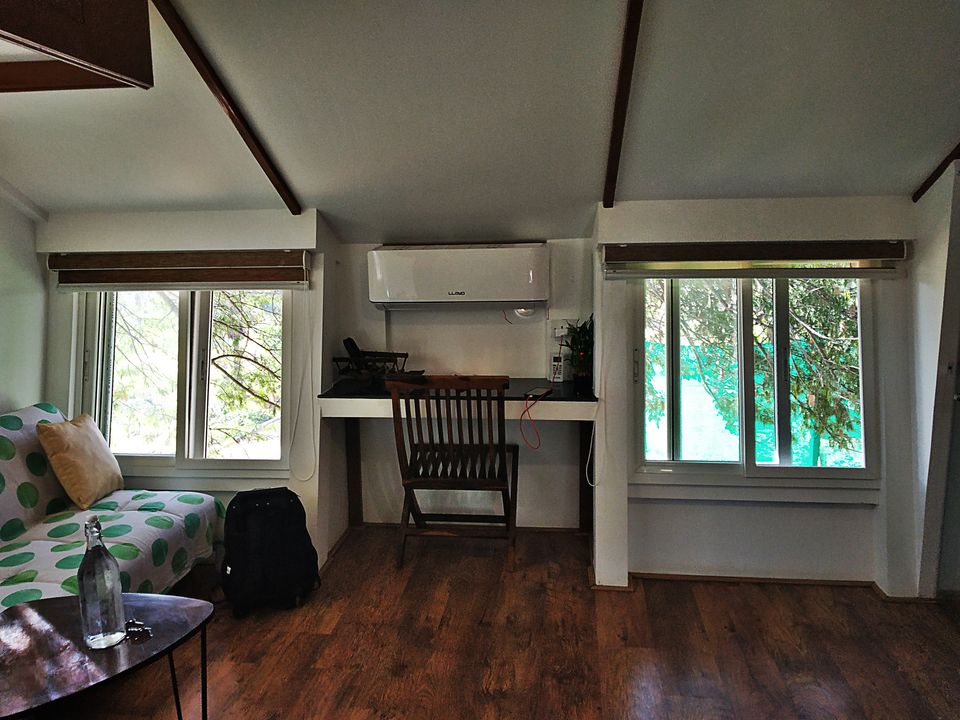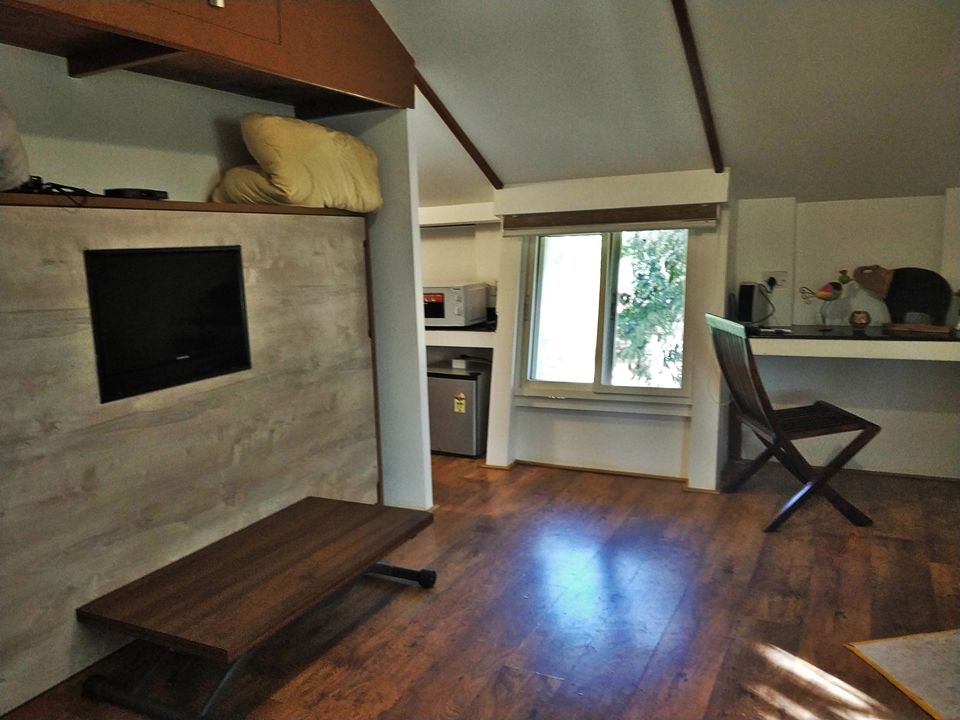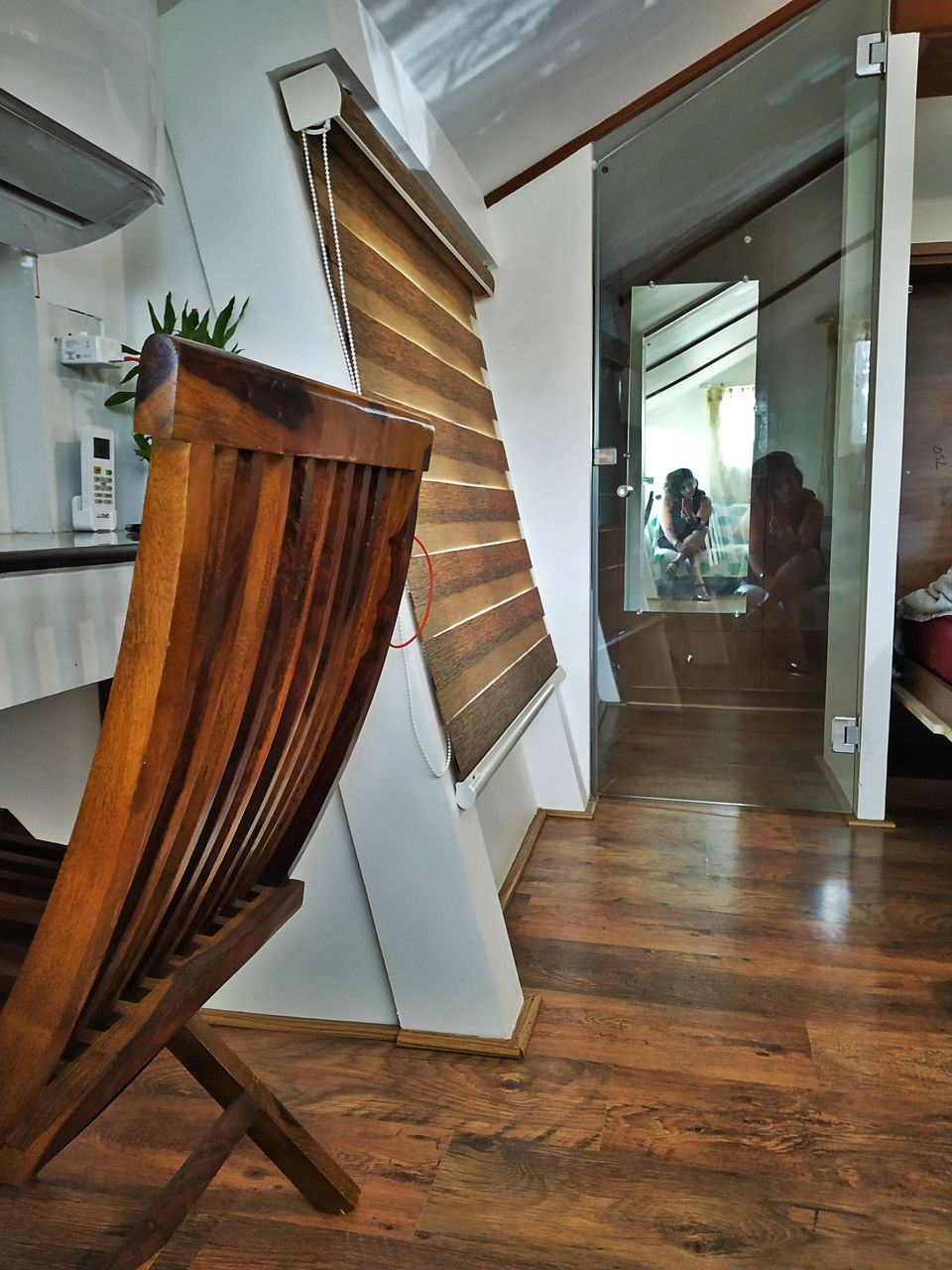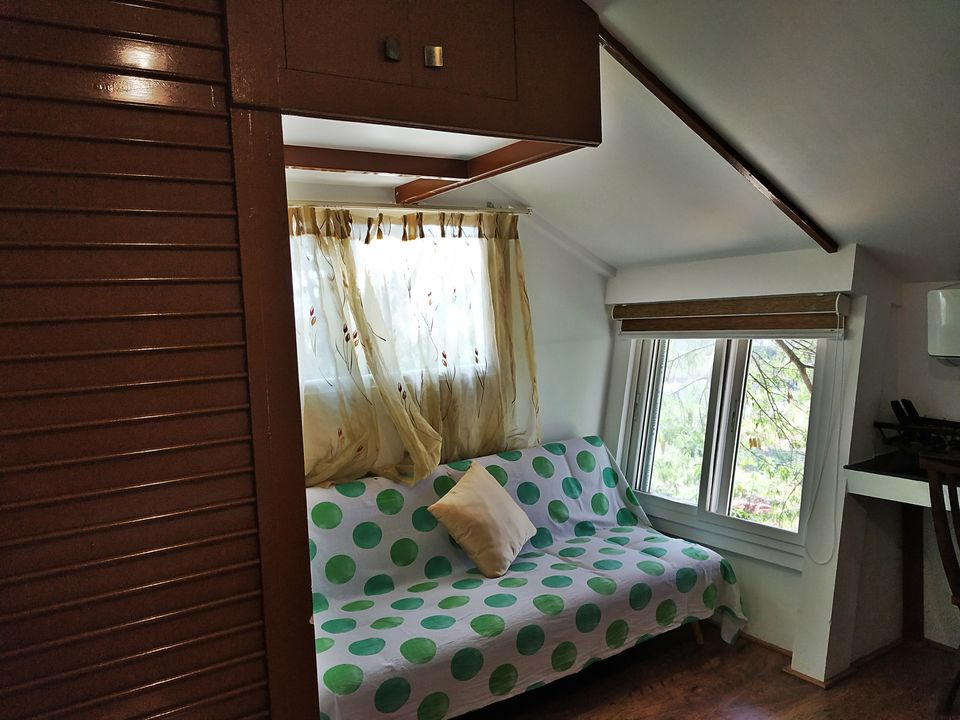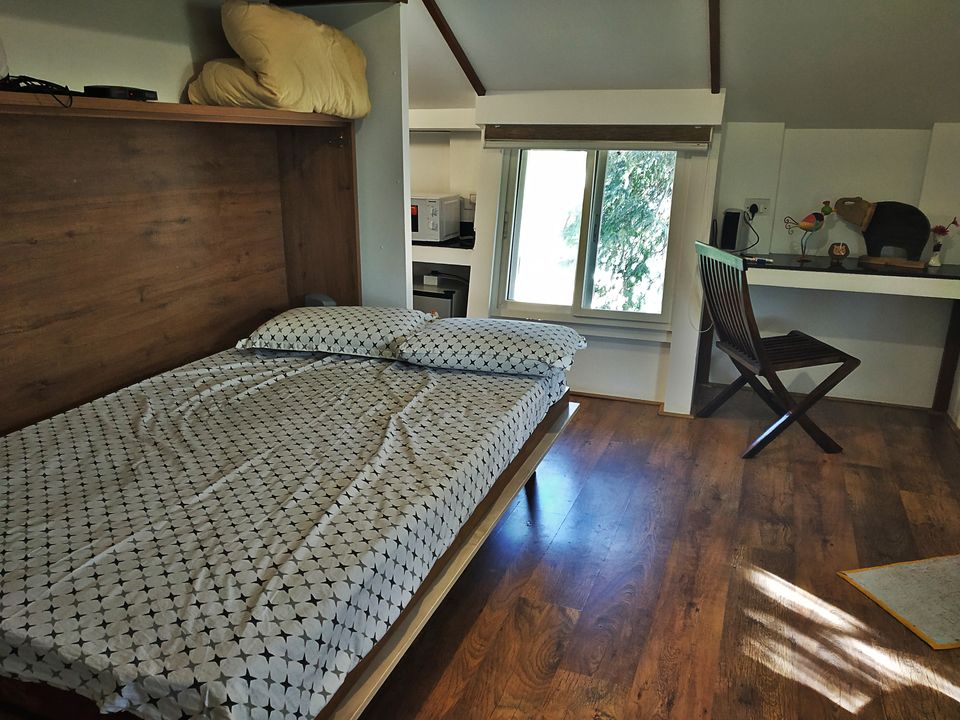 Once inside, we were floored by the strategic use of space inside the tree house. The amenities that we got as part of the package included:
*An AC tree house with a balcony
*A TV attached to a convertible bed
*A well-stocked kitchen, with a microwave oven, an induction cooker, a fridge, utensils, crockery, and cutlery
*A sofa-bed
*An attached bathroom with a glass (not opaque, not even semi-opaque) door, a cute little bath area, a geyser, and a hair-dryer.
*An emergency light (just in case, the power fails)
*A heater and a whole lot of cupboards and storage areas.
*Two wooden chairs and a coffee table
The aforementioned list is not meant to be an advertisement for the place but a sheer expression of awe at how well-utilised the space was. The house also had cute decor, and there was not a speck of dust inside.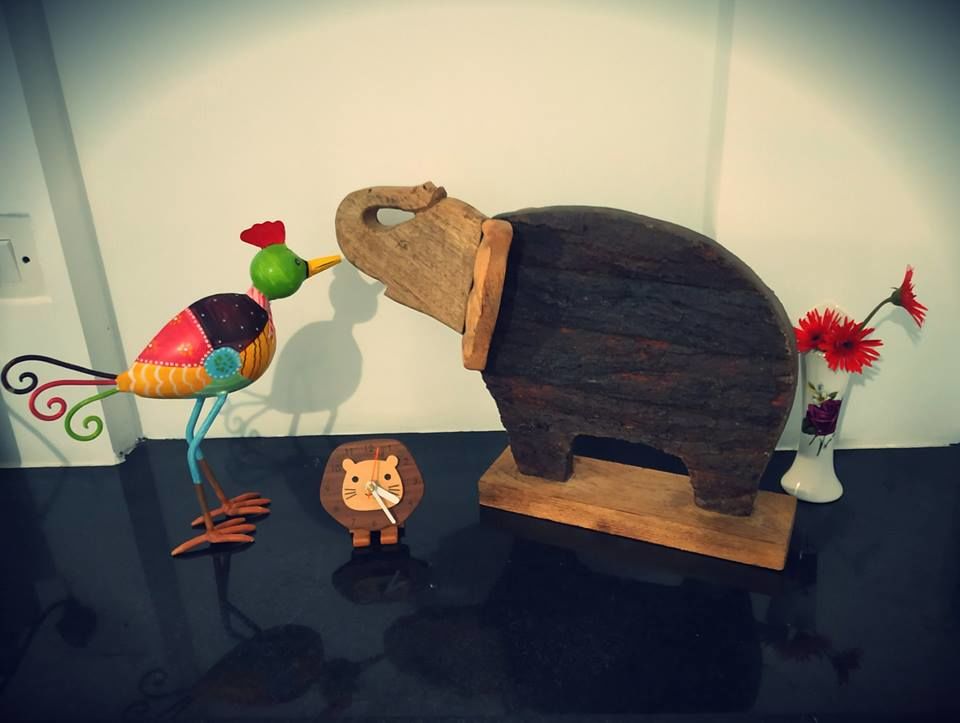 The next morning, we spent some time exploring the property. The place was essentially a farm house, with a badminton court, a bonfire area, and a campsite.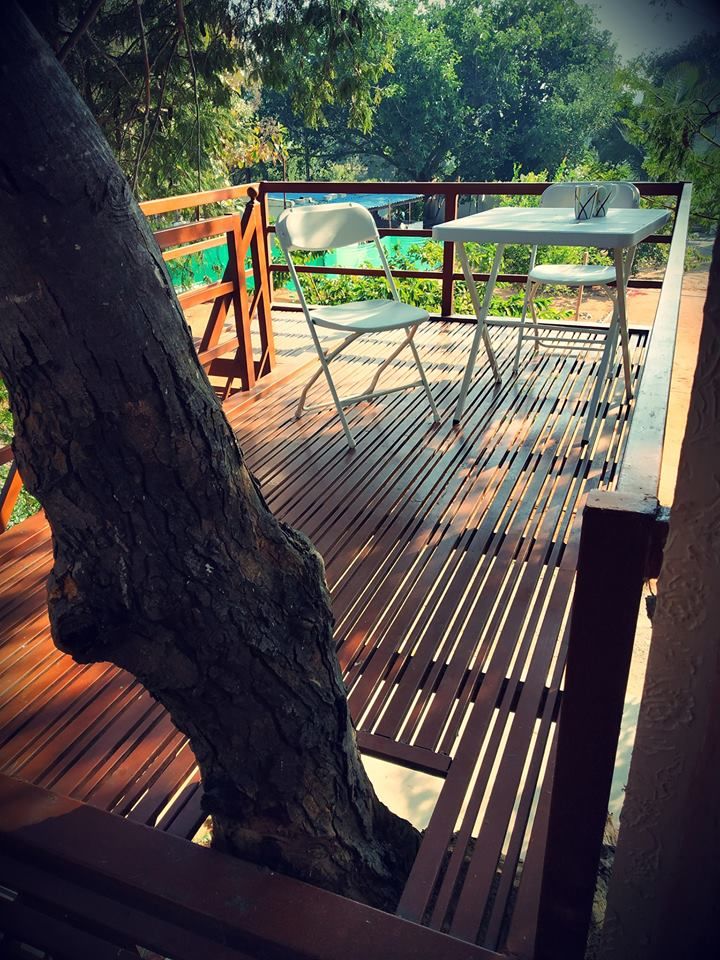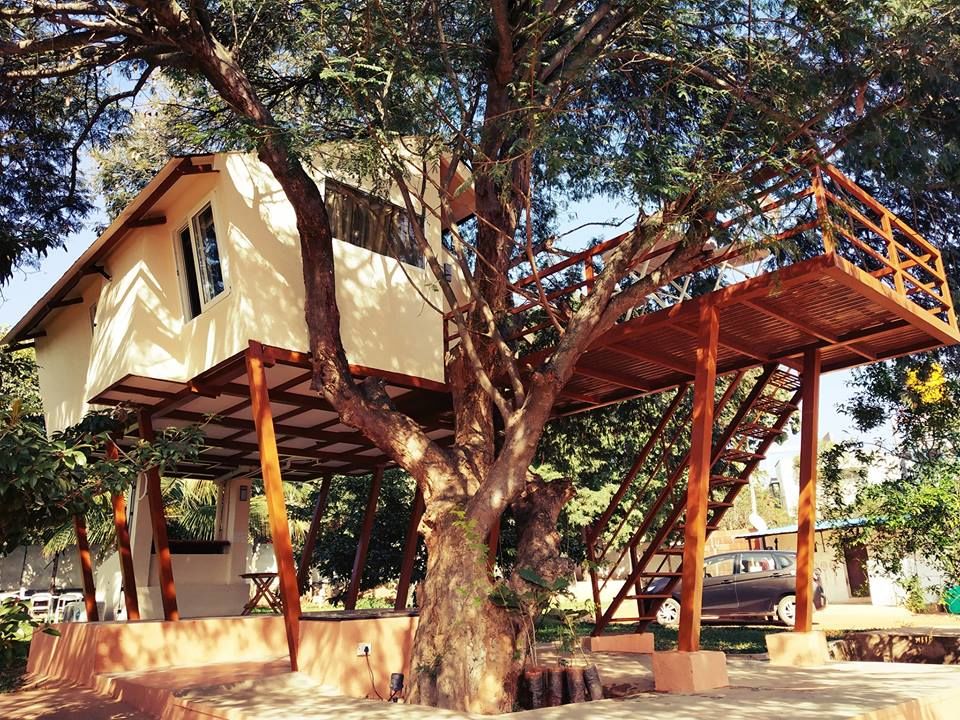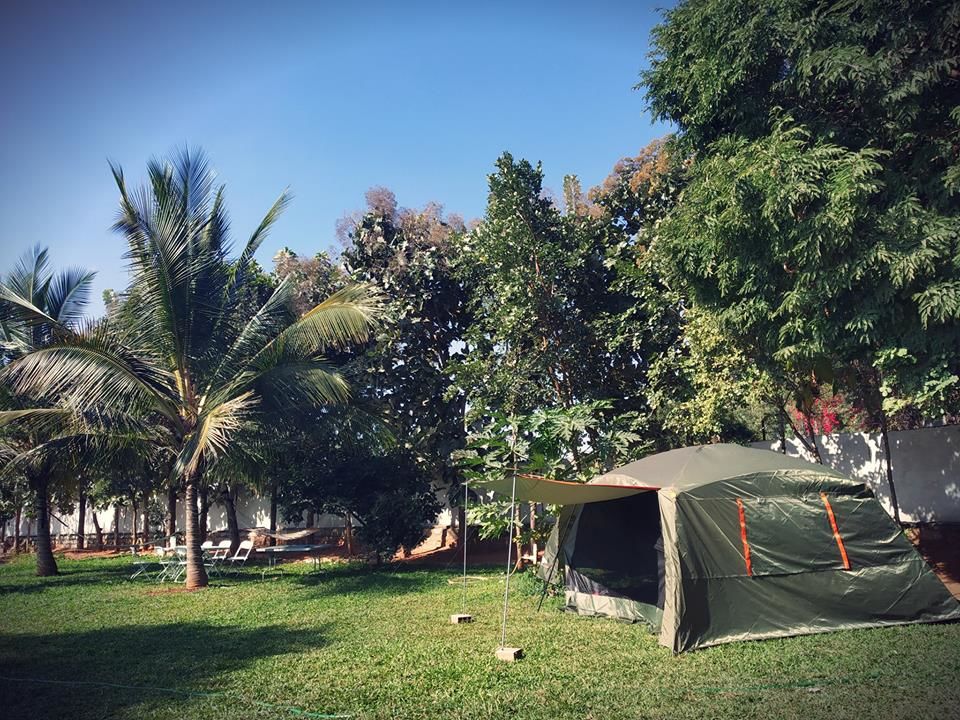 After having our morning cuppa at the beautiful balcony (surrounded by greenery) and clicking a few photos, we headed for brunch at the nearby Clover Greens Golf Course. The golf course is a nearby attraction (only a bit more than a km away) and has an affordably priced restaurant. It is apt for a team outing or even a short excursion with friends.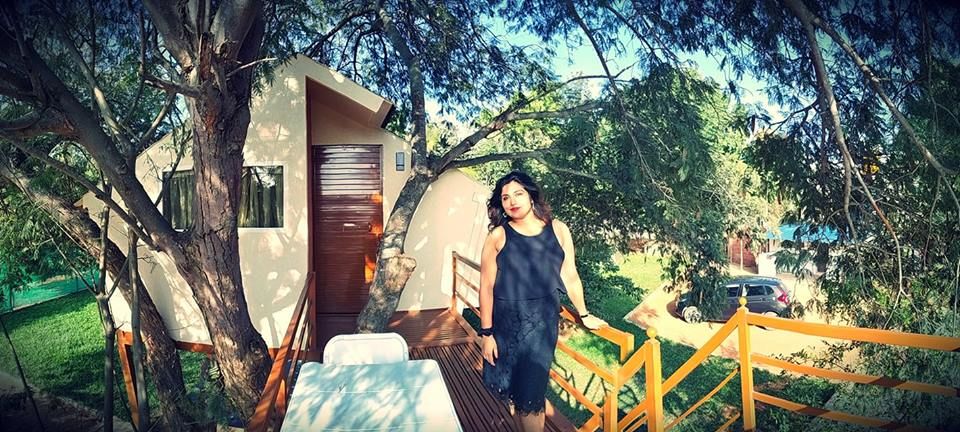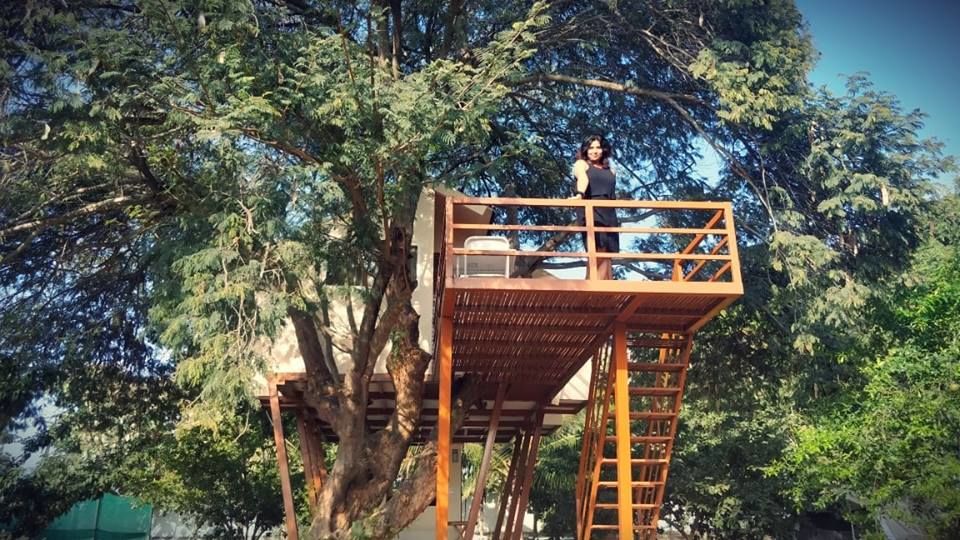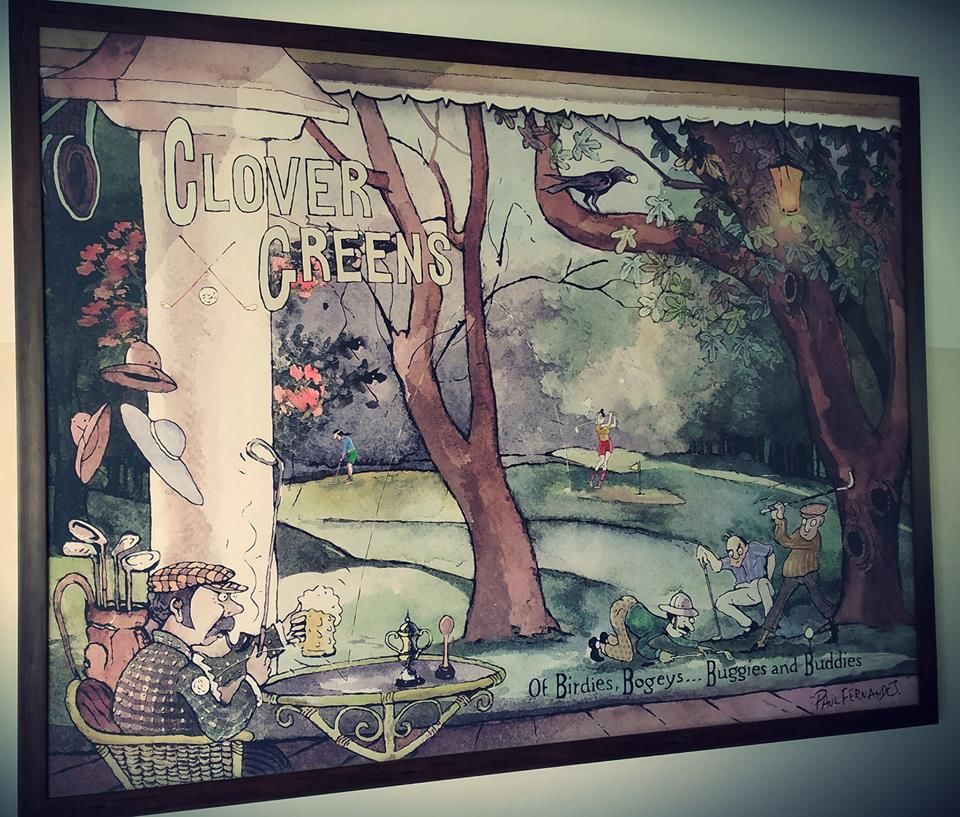 We had an awesome brunch there, and our spread included masala dosa (which was unusually tasty), scrambled eggs, toast, baked beans, and pancakes.
There was nothing much to do at the golf course, and we left after a quick recce of the property. It appears the golf course compound offers accommodation and also delivers food to the tree house on request.
Those who wish to visit only touristy places might be disappointed, as there are no tourist spots or typical "places to see" near the tree house. However, if one wishes to spend a quiet weekend, away from the hustle and bustle of Bangalore, amidst the chirps of birds and in a well-equipped, modern tree house, the homestay is THE place to be! At the end of the trip, I could say for sure that I had fulfilled my fantasy of staying in a tree house.