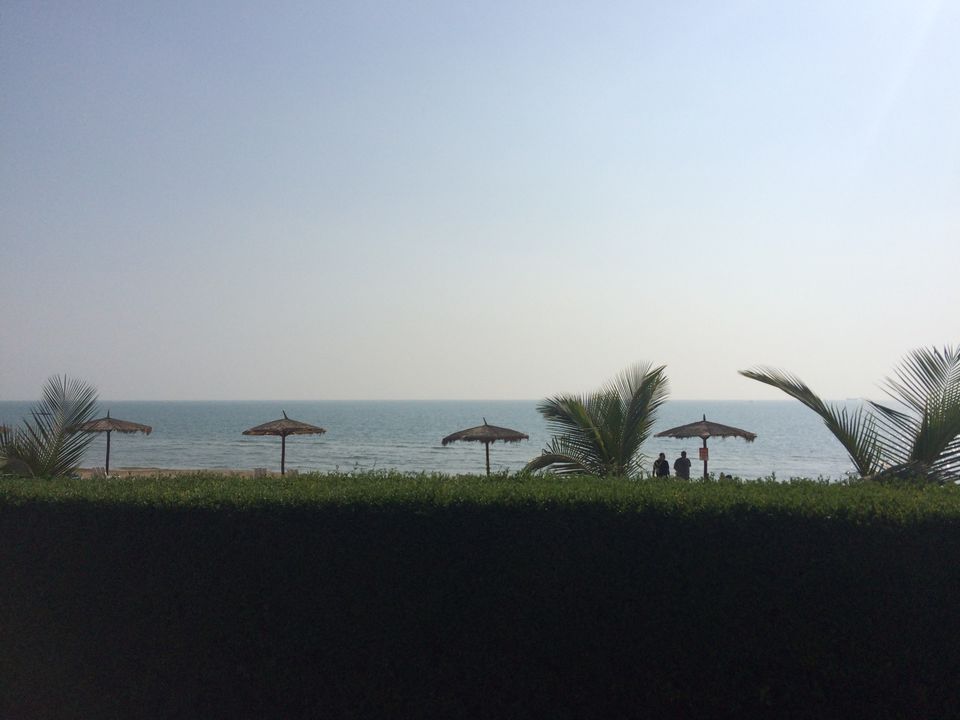 A private beach resort in Mandvi, came as quite a surprise for me, and it definitely intrigued the travel bug in me. Hence it was added to our pre-planned itinerary to visit the White Rann of Kutch.
Mandvi, was the last leg of our 5 day trip to Kutch. It is nearly 2 hours' drive from Bhuj, and the roads and highways leading up to Mandvi are decent for a comfortable drive. Thanks to Google Maps we located the Serena Beach Resort quite easily. Combating the late afternoon traffic of random animals footballing on the road, to scooters skidding in from unknown lanes, we managed to reach the Main Gate. Once you enter that gate, you enter in to an artistically done veranda, and a long well-lit and gardened road leading you to the reception. No doors, open thatched roof, tiled back walls and antique furniture is what makes this reception a little different from those I have seen so far. The reception was in itself a mini antique Art Exhibition, in specific I fell for the peacock shaped Iron Swing. Another innovation recycling idea that I really liked was the stairs that went up to the reception, which were done with mini colorful tiles, it is definitely one idea I want to try for myself. The check in was quite smooth and hassle-free and Ms. Rajani, the Manager was very helpful in making this process smoother.
As we come down from the reception there is a big floral roundabout in the middle and different pathways leading up to the rooms/tents/villas, restaurant, swimming pool and of course the beach. The entire resort is spread across in a huge land and getting from the room to the reception, or to the beach or to the restaurant can be quite a walk. Here I was hoping to find some kind of a mini golf cart type vehicle, it wasn't there and you only had your own two feet to get you across. Although I would strongly suggest the resort management to think about that, most luxury or premium resort that are spread expansively as this one have a golf cart provision, it is especially necessary when you have senior citizen guests or guests with some kind of physical disability visiting your resort.
The pathways leading up to the rooms and various other sections of the resort were tastefully done with natural greens and landscaping and to add a little quirk and also provide with a pretty photo booth for the guests, they had a pathway lined with quirky décor like painted cycles, ambassador car, trees etc. Small clusters of hut tents, well-furnished and each with its on front patio were scattered across the resorts. At the far end were the Garden Villas, which we had booked since we were 8 of us and we were told that the villa could sleep up to 4 people. So we had booked 2 garden villas, each with their own garden, back patio etc. But here is the catch. We were a little disappointed because once inside the villa which had nice interiors and provided that premium to luxury feel to the rooms, there was one master bedroom and one hall which had a convertible sofa-cum-bed, which is convenient if there is a group of friends traveling or family with children, however, we had to accommodate 2 couples in a villa and that became a little awkward and troublesome since there was no privacy or private space for those not staying in the master bedroom. The photos of this villa were nowhere to be found on the internet and hence before booking we had no clue how it would be, and although this property was on top of our visit list and we were pretty excited to be here, the room situation kind of played a foul on our trip. Apart from this I found the night service staff to be extremely laid back and arrogant. We didn't have drinking water in our room and when we ordered, it was delivered to us almost couple of hours later that too we had to keep calling the reception.
Although, I must thank Ms. Rajani, who was prompt in providing us two tents instead of one villa at the last minute and ensured that we had no problems further to that. But here I would really recommend the resort management to be clear while booking or referring this room to a guest. Undoubtedly the rooms were excellent and so were the amenities. Since I did not want my other traveller friends to face a problem like we did I have a whole bunch of photos of the Garden Villa, so you can make a right choice if you decide to stay at Serena beach resort.
Apart from few minor glitches here and there the experience of Serena Beach Resort was truly amazing, the food, the restaurant, and of course the mesmerizing private beach. Earlier morning when I walked on the beach, I was reminded of my trip to Greece and it felt like I was back in Mykonus at my beach hotel, so you can imagine this beach was pretty well maintained and clean. The restaurant is a bit on the expensive side for an A la Carte meal as well as the buffet. However, the breakfast spread is amazing with so many food varieties to choose from. The location of the restaurant almost like a deck overlooking the ocean will make you forget and forego everything.
So once if you can, do visit the Serena Beach Resort, Mandvi and experience luxury in the middle of an aired plain like Kutch, with a private beach, a sizeable pool, and a restaurant with a breathtaking view, this one will surely not disappoint you.