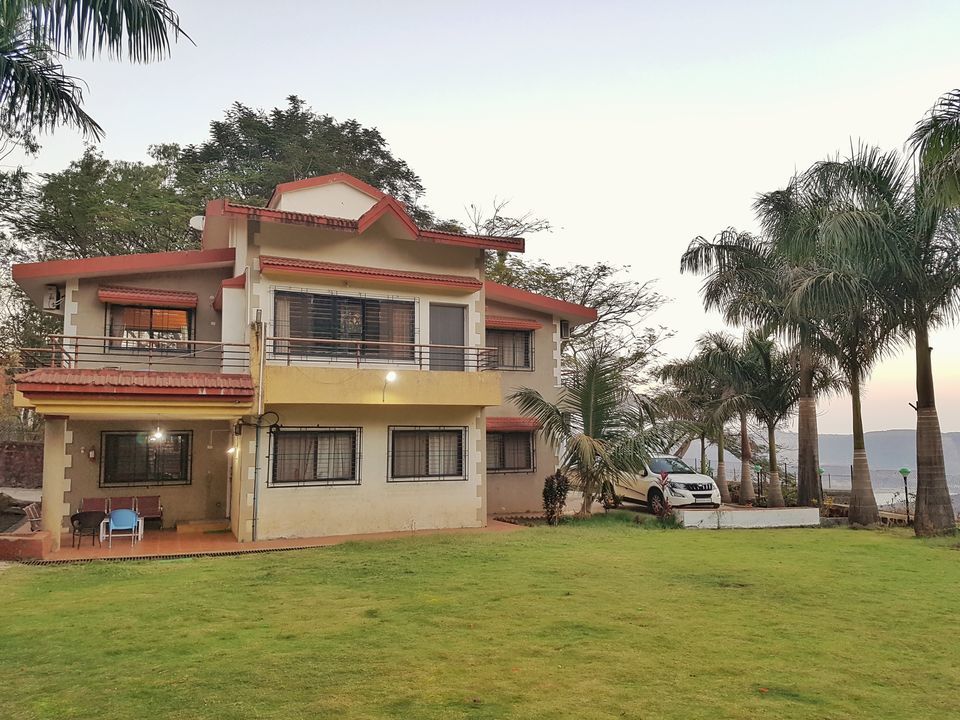 Bhatia Villas is a group of total 6 villas located over a massive property and situated at 1.7kms away from the Panchgani market and about 7kms from Mapro Gardens.
A fairly easy to locate thanks to multiple decent signage outside the main entrance.
With a huge and available parking space, you can be rest assured of not hunting for a space to park your vehicle.
We were fortunate to put up in Villa C, which in my opinion is the best as it comes with the perfect valley view.
The villa was massive and can easily accommodate 10+ people.
The ground floor has an outside seating area with about 8 chairs followed by a living room with 2 sofa cum beds and a Television, a well furnished kitchen and a master bedroom.
Kitchen comes loaded with appliances such as Refrigerator, Gas stove, Water Purifier & a Microwave. A dining table is a just the right add-on to relish a great meal.
Moving on, the first floor has another living room with 2 sofa cum beds and 2 master bedrooms. Within the common space and both the bedrooms you will find a small sized balcony too. You can experience the best view of the valley as well as the sunrise from the bedroom on you left post the stairs.
Rooms are fairly spacious with a queen size bed, a wardrobe, air conditioner and a washroom. However, the geyser takes a while to warm up and the washrooms are quite confined in space.
The overall property is well maintained and may whatever your age be, there's something in it for you.
The garden is well maintained with a variety of trees and plants and there's a separate section for kids to keep them engrossed with a few rides.
Cold chilling nights can be best enjoyed with a bonfire and some dark rum, they'll get you covered with the bonfire too, all you got to do, is to arrange for the rum.
Bhatia Restaurant is the in-house restaurant available which serves only Pure Veg food. In my opinion skip it and order food from outside as there's a plethora of options nearby when it comes to food delivery. The restaurant is the only point which the management needs to really work upon and a bit on timely service too.
Apart from that, this place is a total stunner in my opinion. May it be the view or the value for money quotient, it shouts out loud for itself and makes it a compelling deal, especially if you plan to stay in a larger group