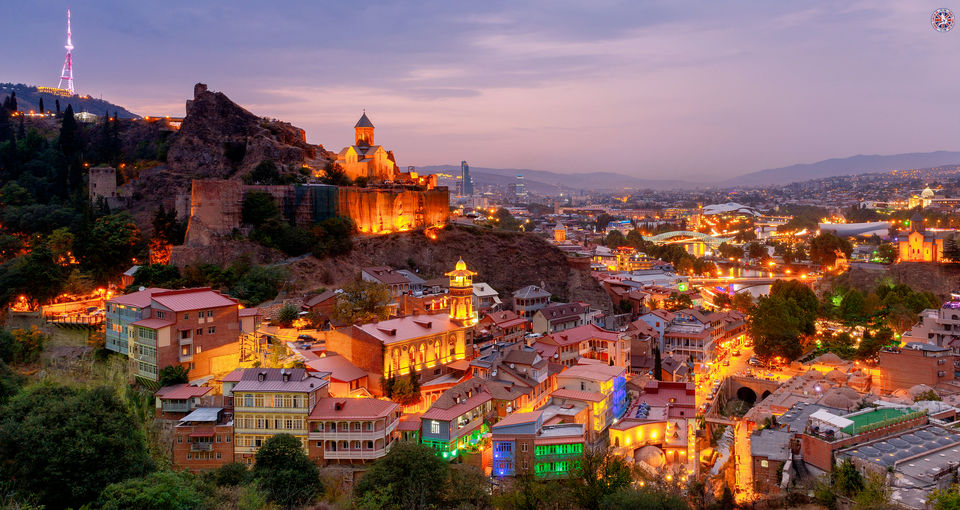 It was almost 10 months; I had not met my girlfriend who was miles away from me. As we both work in different countries, it was not possible to meet regularly. We kept in touch thru Skype and whatsapp.
Finally we had our chance for a vacation and started planning for a new country to visit.
Normally, when it comes to travel, people like to travel to country which are famous for tourism and mostly discussed ones. Then I came across – Georgia, a country in the Caucasus which was not so much famous for tourism and travelling within Indians. When I looked for the visa requirements, I found out the E-visa facility is available and hence we finalized this country to travel. She is Russian and luckily no visa was required for her.
I booked my flight from Turkmenistan (where I was working) to Georgia via Moscow. Moscow was the place where we decided to meet and then take the same flight to Georgia. The flight from Moscow to Georgia was awesome. There were beautiful views of the snow covered mountains.
I would like to warn you even this country shall provide you E-visa they do a strict checking during immigration. We were almost the last ones to get in to the immigration line. I went to one of the line and then the lady took hours just to see my E-visa and the other documents. She said nothing to me but just kept on checking my documents. At one point of time, I felt like I am terrorist or smuggler. My girlfriend was standing in another queue, she easily passed thru the queue and was approved to enter. As this lady officer kept watching my documents, I patiently waited for her to say something. She called out to one of the officer and said something in Georgian. I expected that there are 2 possibilities, one she doesn't understand English or 2nd I am in some trouble. The officer called me out loudly and said "Come here. Mister".
I handed over him all the documents and then suddenly, this immigration officer became like another person. He raised his voice and was so arrogant while talking to me. He started asking question what are you doing here? Where are you going to stay? Etc. I politely replied to all his non stop questions. But I guess he was not over yet, he kept bombarding me with questions and then his sound reached to his other colleagues who were chitchatting in the back office. One of them came close to us and kept observing our conversation ( I would say one sided fight).
My girlfriend was just looking at me and was standing there helpless. During this point the immigration section had only 4 people (my girlfriend, me and 2 Immigration officers). This colleague spoke to my girlfriend in Russian and asked her "Is this guy with you?". I was watching this other officer from the corner of my eye and he made a surprised face after knowing that we were together. He called out this arrogant office and said something in Georgian (something like stop harassing , they are together. Let him pass). This arrogant office returns his voice to the normal tone and then with an evil smiled stamped my passport and said "Welcome to Georgia ".
I collected my passport and the documents and gave him a rude look and entered Georgia. No thanks and no further words were required for that arrogant officer. We collected our baggage and started the journey.
We reached by around evening and decided to rest to start exploring from the next day.
The next day we had planned to go to Stepanstsmida. It takes around 4 hours to reach Stepanstmida from Tbilisi city. We had hired a car. There are some many monasteries visible during the journey. There were diverse landforms. We could see mountains and flatlands covered with green grass during the travel.
The driver recommended us to try snow sports before reaching Stepansmida which were available in the city called Gudauri (around 40 kms from Stepanstmida). The City of Gudauri is located among the mountains was covered with snow. It was quite delightful to see the white bright view. We were checking the snow sports option and they had facilities like Skiing, Snowmobiling, Parasailing etc We finalized on the snowmobiling. There were skiing option if you are an expert a Skiing. They also provide Skiing training for few days and provide accommodation included in their package.

The snowmobiling cost us around USD 140 and gave us a ride for about 25-30 mins. They will brief about the snowmobile for about 5-10 mins, inform the basics and precautions to be taken. The staff started the snowmobile and the noise of the engine gave me a slight goosebumps. May be I was nervous about the ride with my girlfriend seated as the pillion rider. It was a 25 min ride up and down the hill. They tooks us to a top of the hill and showed us the amazing view around the citiy Guduari.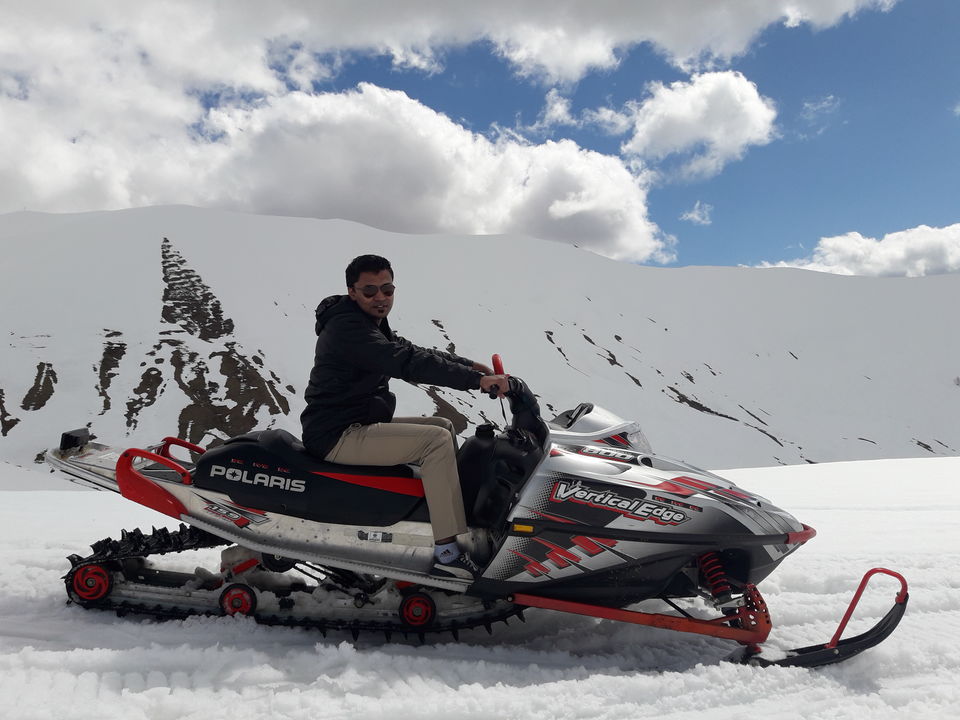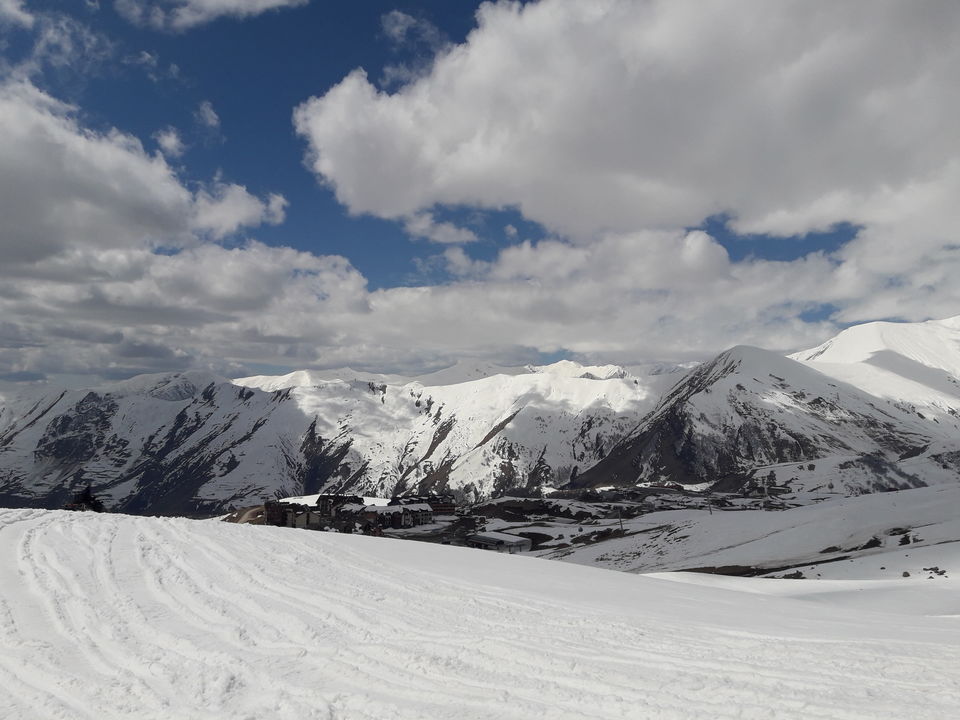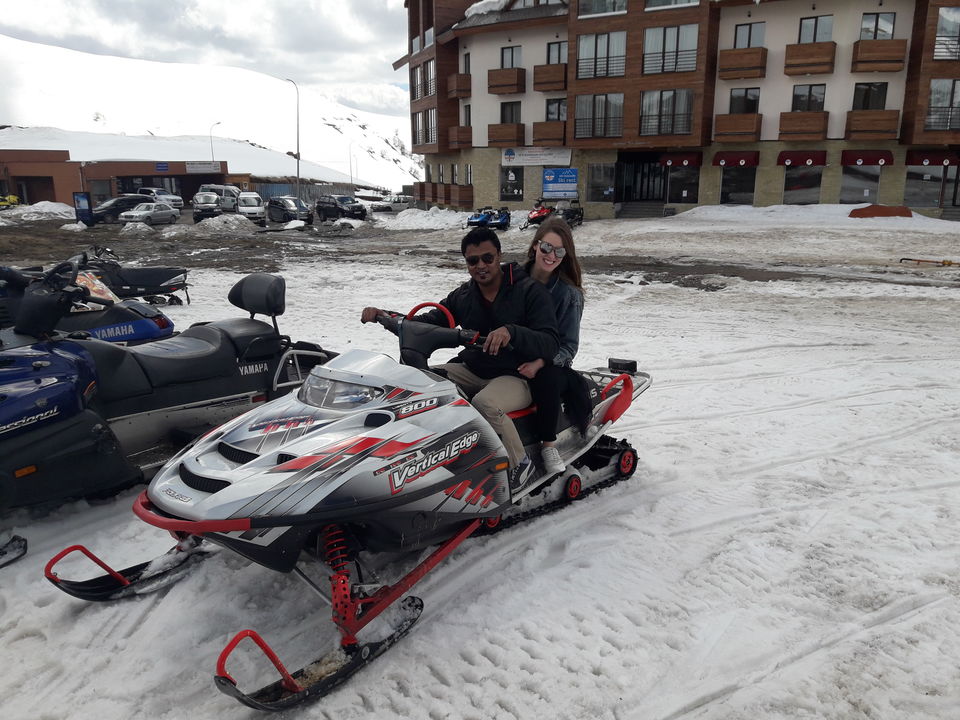 On reaching Stepanstmida, we changed our transfer into a 4X4 all-terrain vehicle and started the journey to St. Gergeti Trinity Church. The road for the 4X4 was very bad. I was happy that I did not have a stomach full breakfast or else surely I would have thrown up during this ride.
The climate dropped as soon as we gained altitude and the winds picked up pace. I was almost shivering when the winds blew. The view from the top of Trinity church was mesmerizing. We also had a view of Mt. Kazbek which one of the major mountains in this area.

Journey to Stepanstmida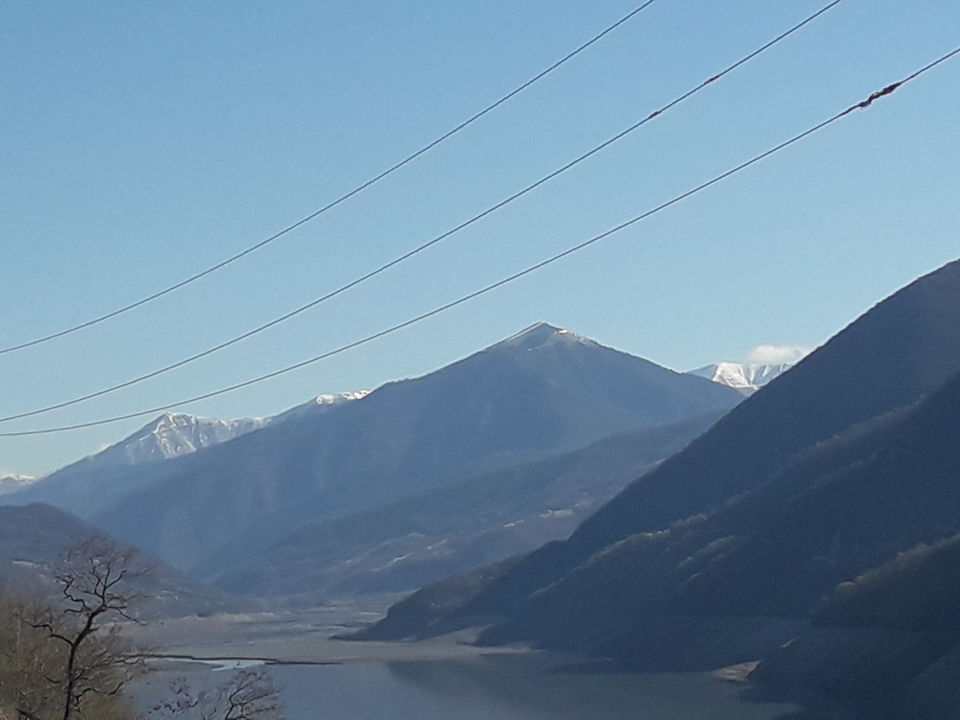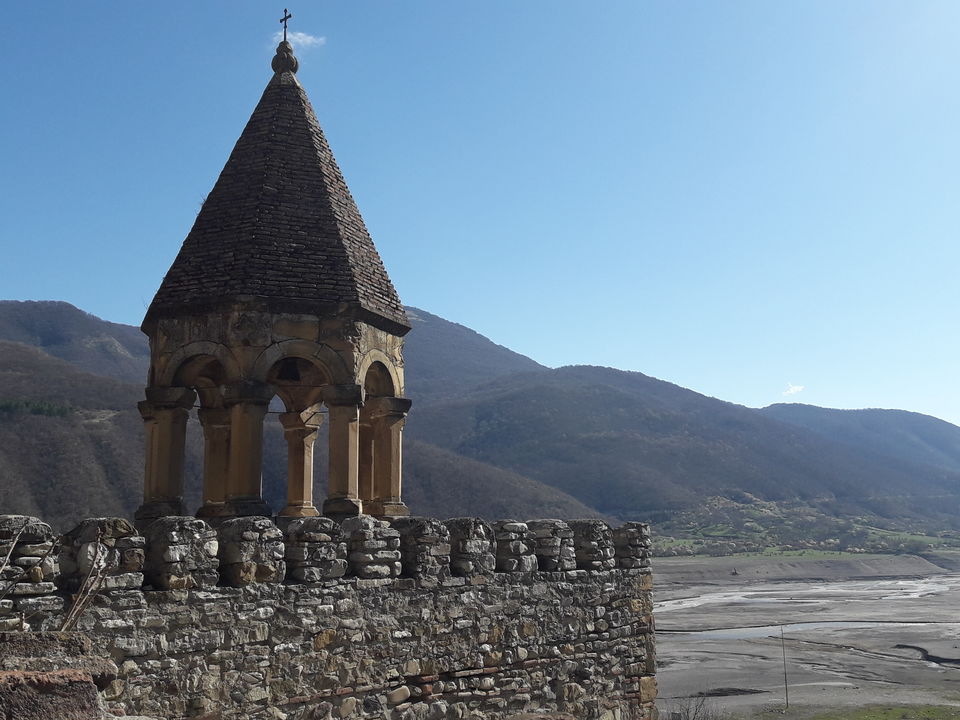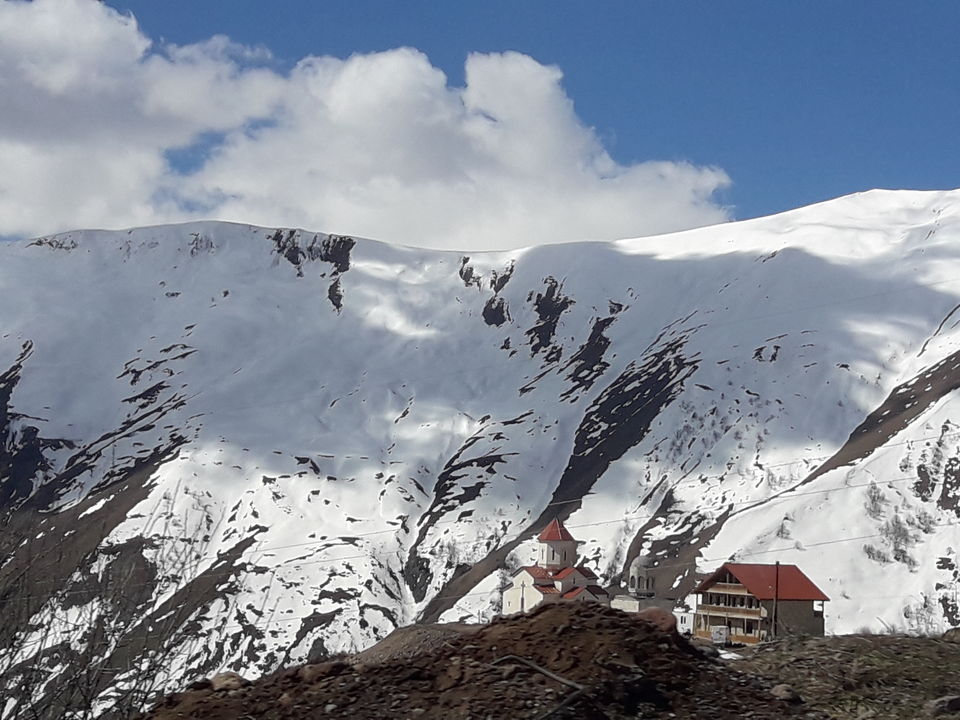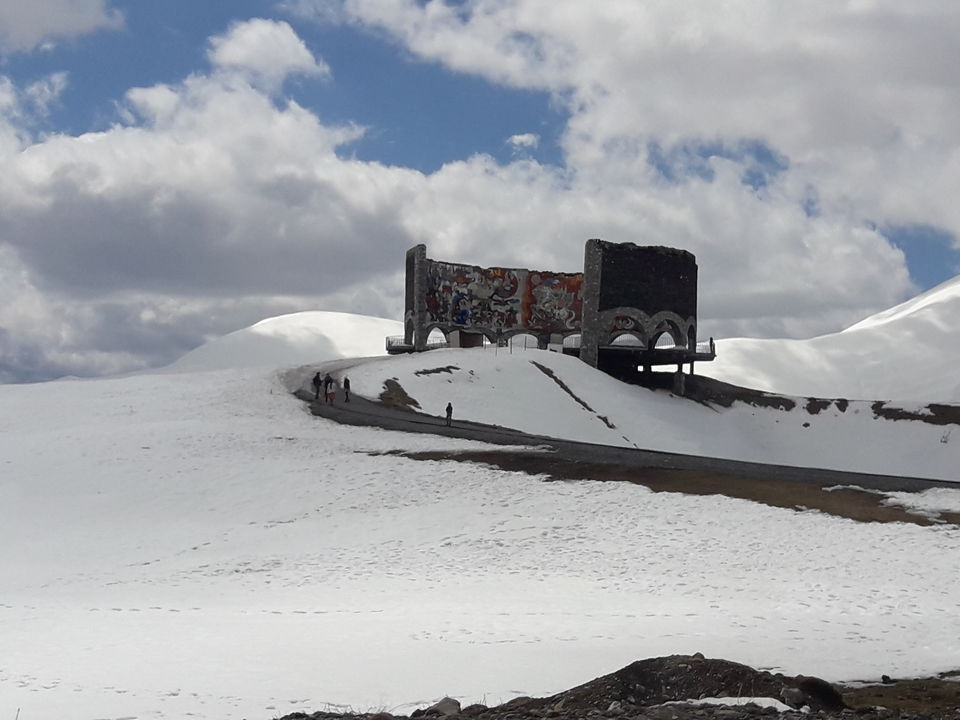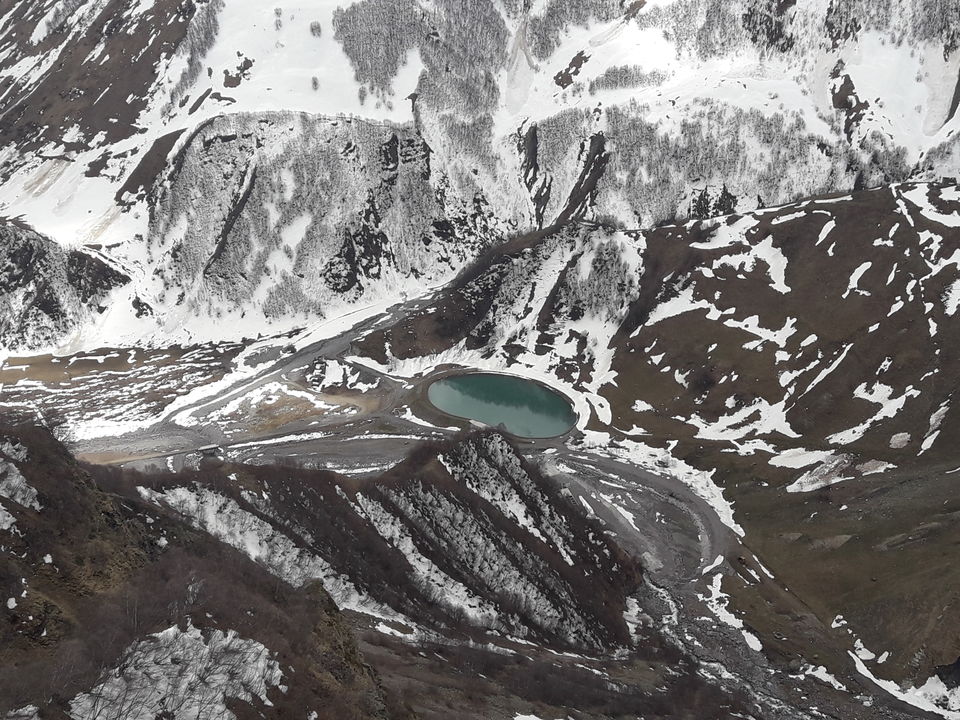 View of Mt. Kazbek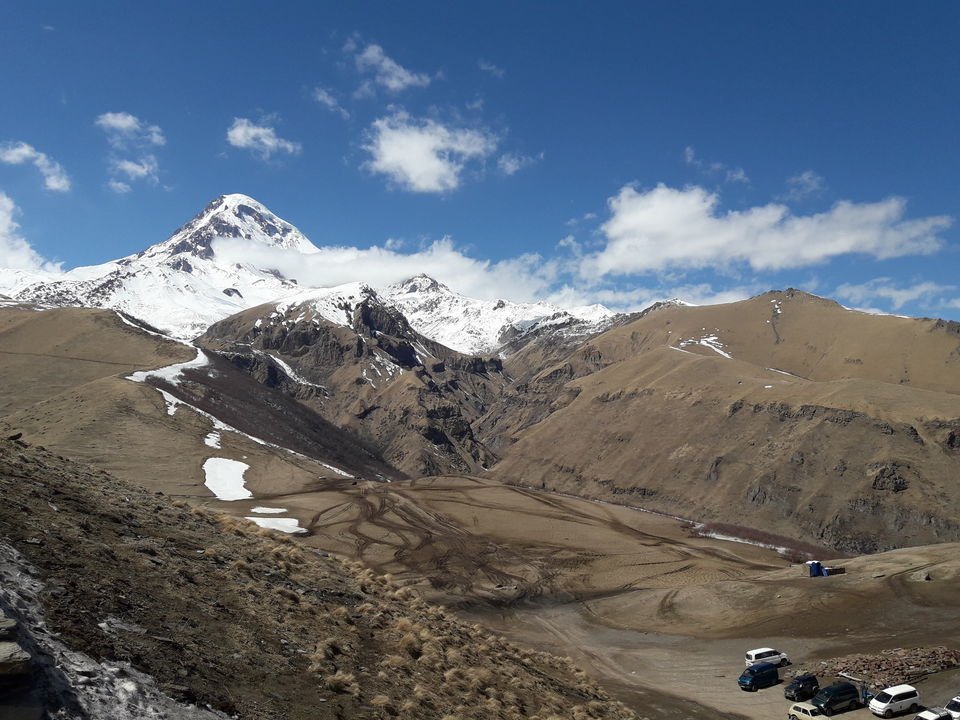 St. Gergeti Triniti Church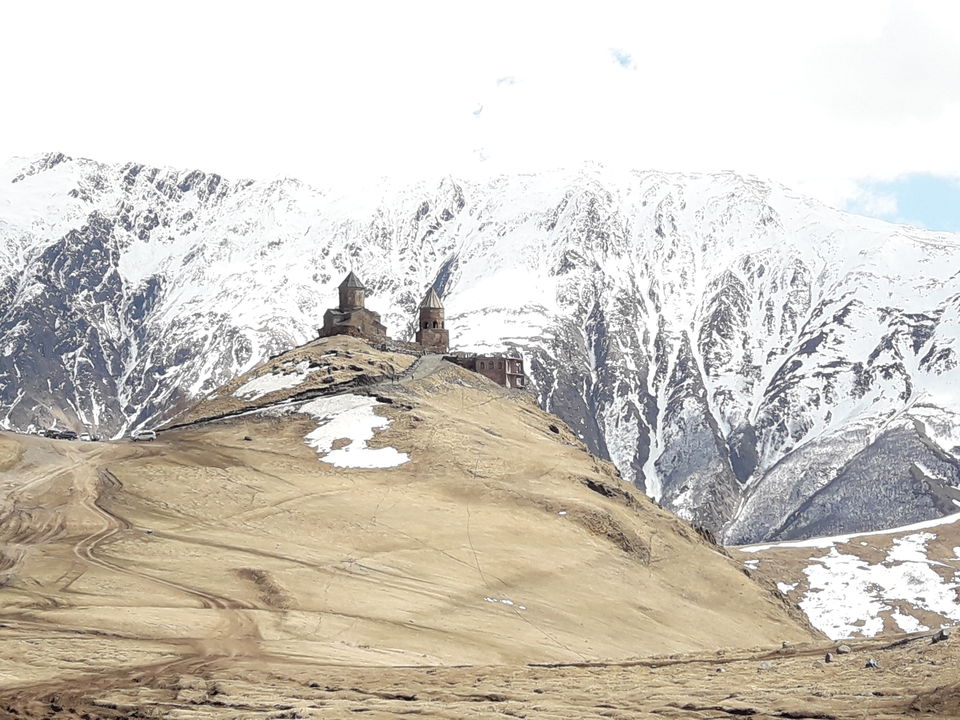 We returned from the journey and had a long ride back to Tbilisi. The journey is quite peaceful and calm. The mountains , the valleys they just soothe your mood.\
Day 2 : Mtsketa City
We left early in the morning to avoid the rush and start the day early to make it possible to see as many places as can. We reached the Jvari Monastery of Mtsketa. This monastery was built somewhere in the 4th Century and located on a small hill near to the Mtsketa city. On reaching the doors of the monastery, there is a peculiar thing which I noticed was the silence. There were lot of tourist in the monastery but there was pin drop silence around the complete monsatery. It was so nice to watch that people respect and are courteous to the rituals of the others.
There was so much silence that we could hear the winds whoosing through the walls and openings in this monastery.
Jvari Monastery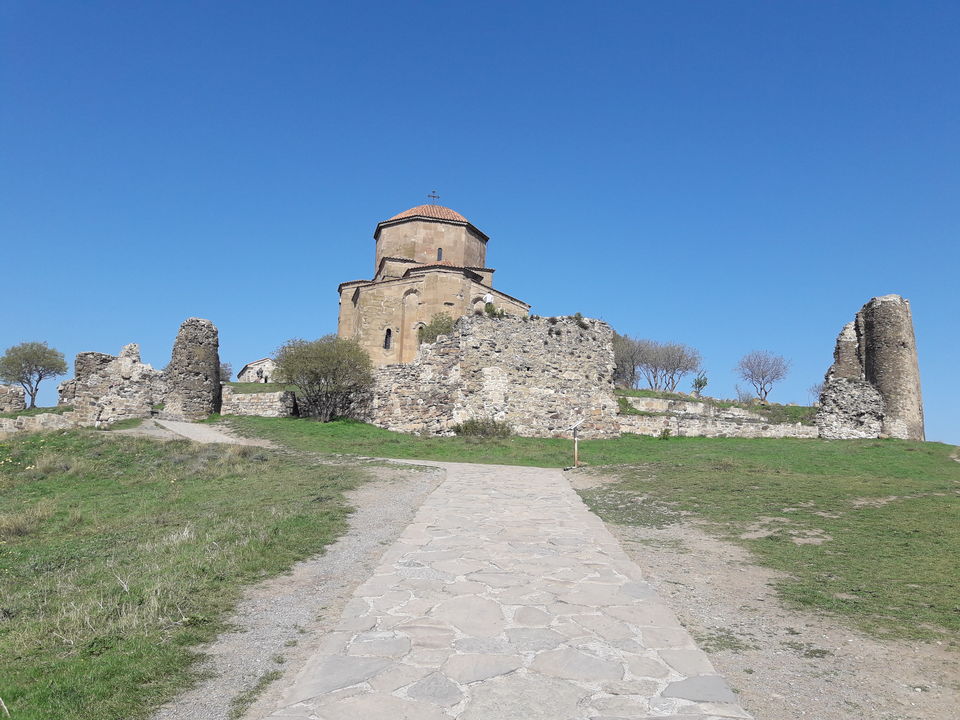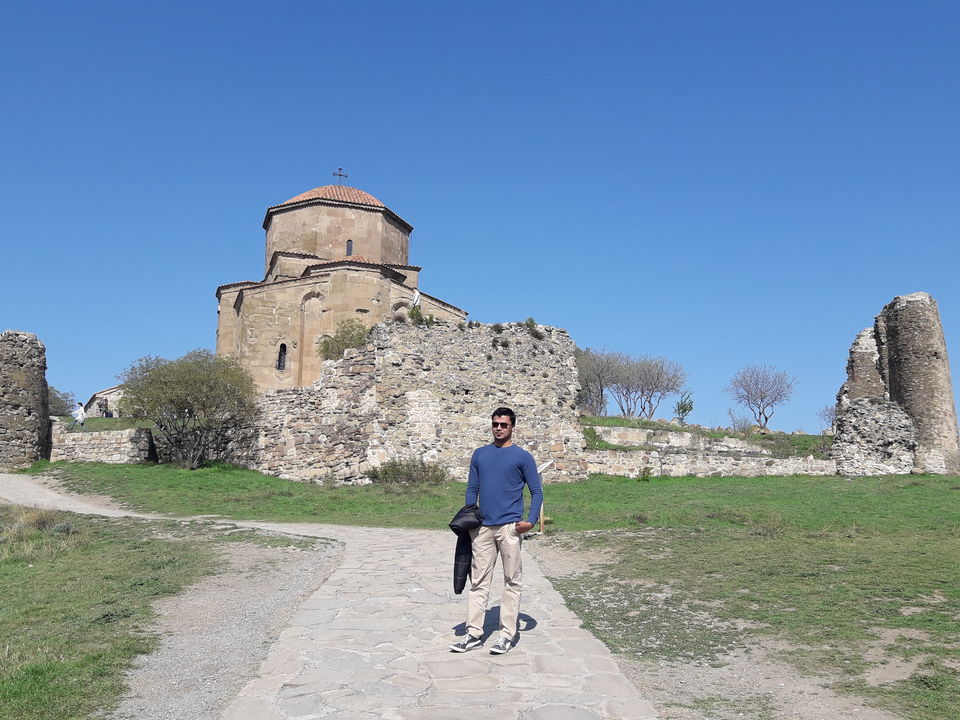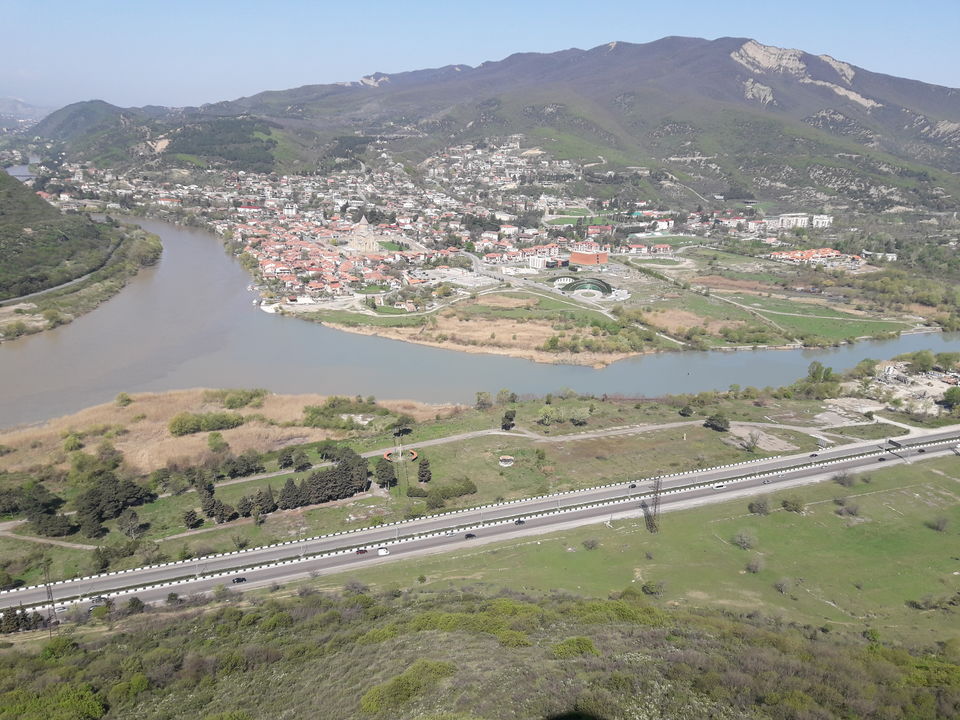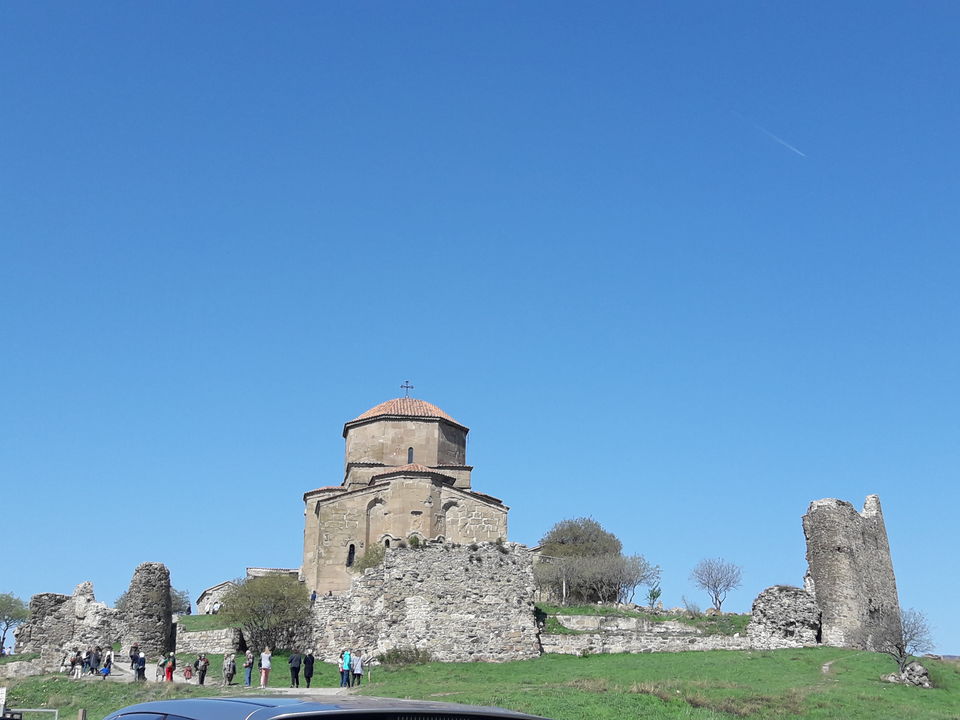 After admiring the beautiful views, we left for the Svetitskhoveli Cathedral which required passing thru the narrow walkways which are quite peculiar about Georgia.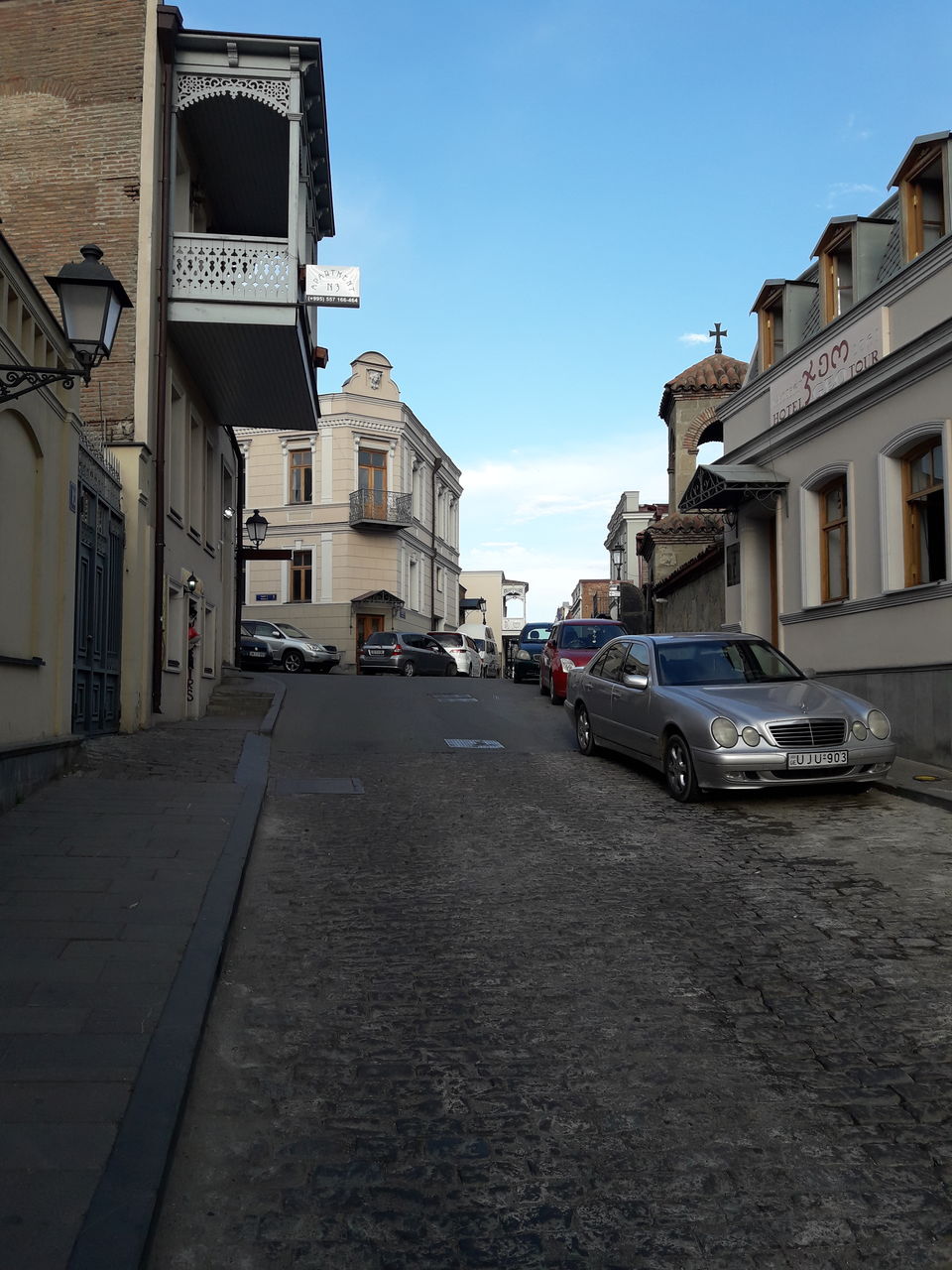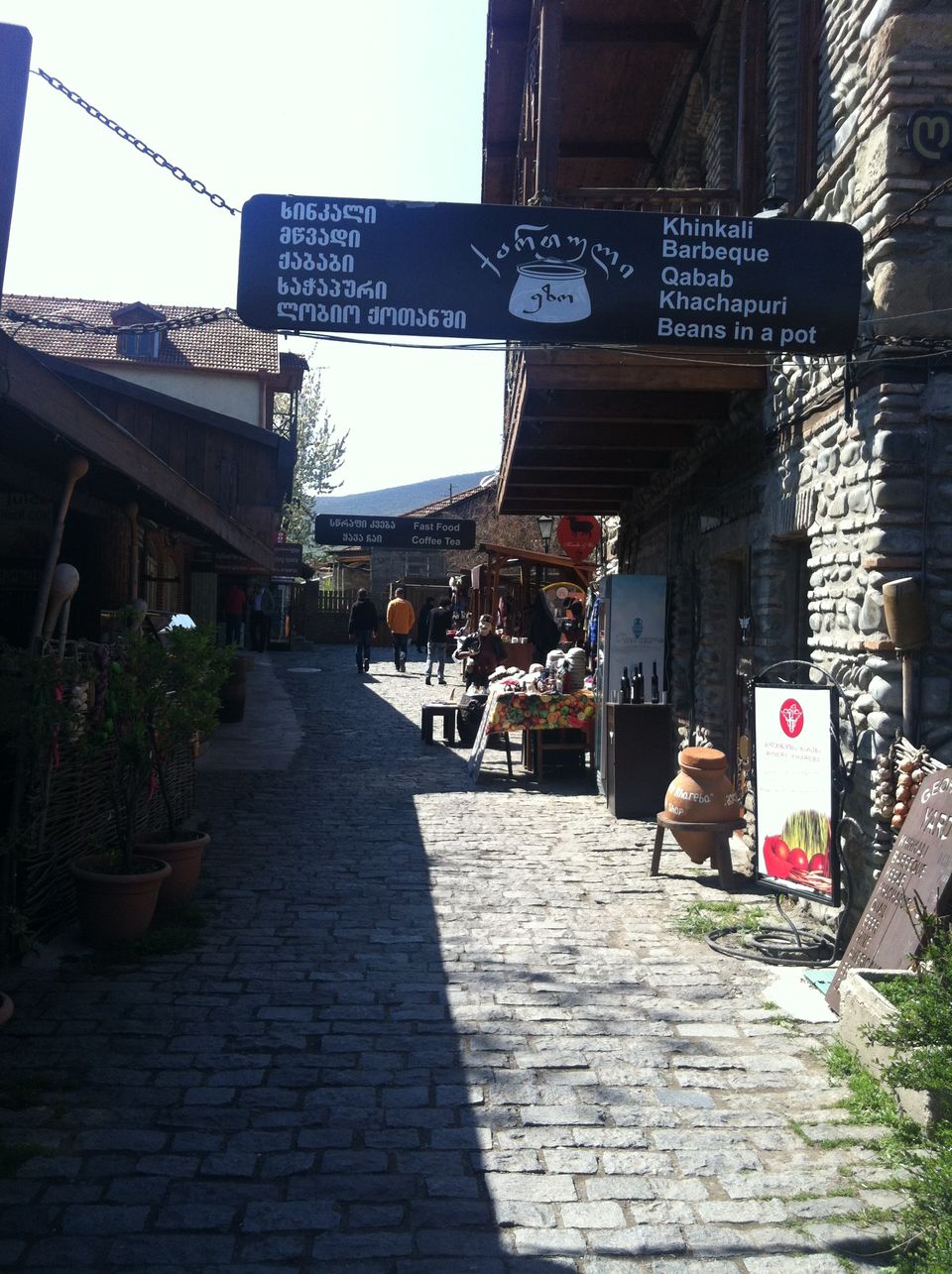 Some photos of the Svetitskhoveli Cathedral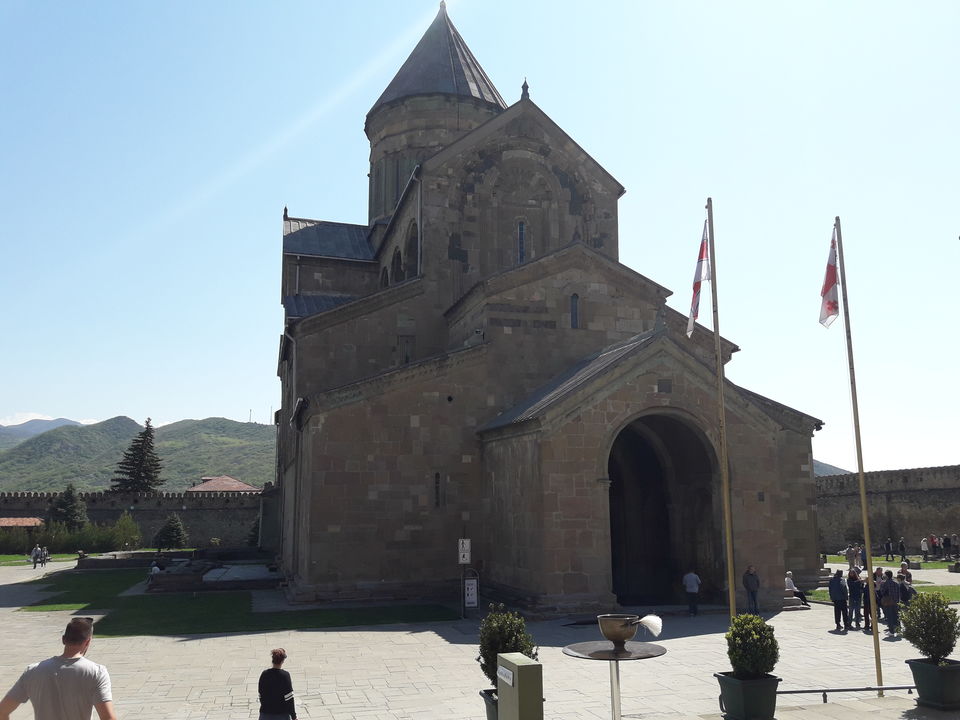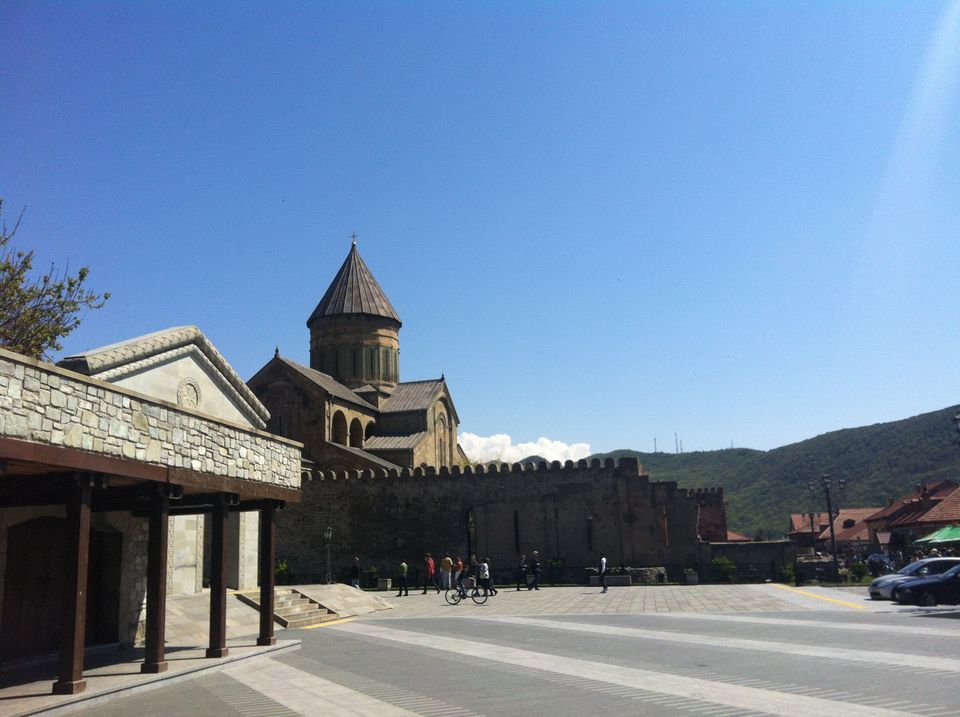 After a nice quite short pit stop at the monastery we left for the Uplistsikhe Caves which are around 60-70 kms from the Mtskheta city.
The Uplistsikhe caves is huge site with so many caves and ruins. It is an important site for the Georgians and lot of efforts are put in to preserve the ruins and caves. There are stairs for climbing the small hill and adventorus people can take the small hiking trek. Be careful if you don't take the stairs, it is better to have shoes will grips. We saw some people slipping while descending.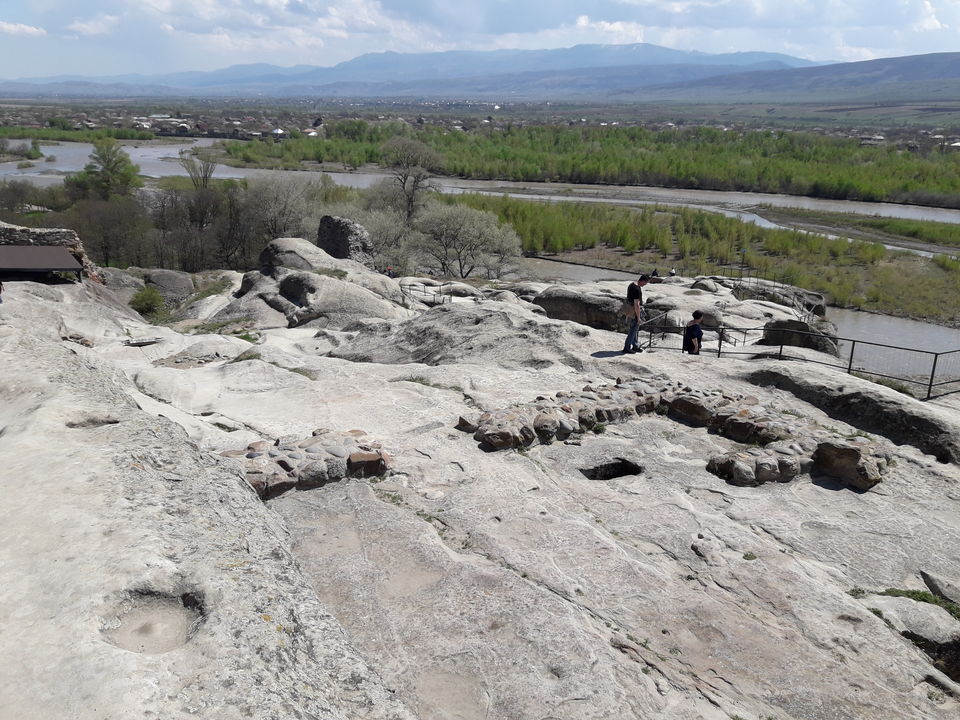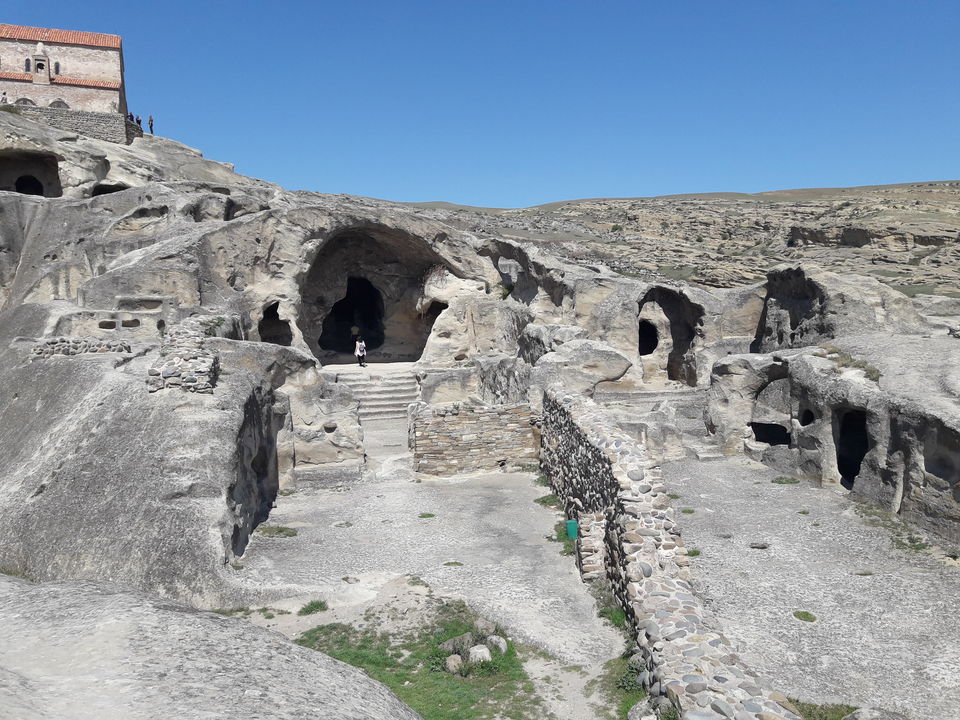 There were some holes present there which were termed like a prison cells. The prisoner would be chained up and kept in such small holes and would be serving the prison time. The site is located close by the river Mtkvari which keeps the gentle breeze blowing around this area.
Prison Cell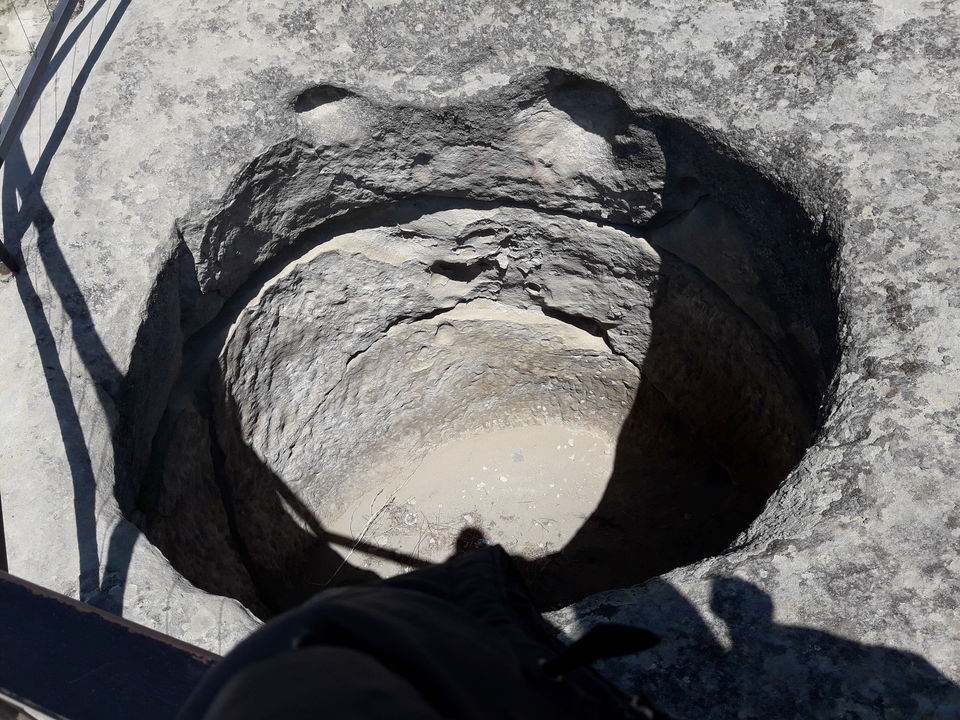 It was quite tiring to walk around in the sun which made us quite exhausted. After vising the site we had a late lunch and then decided to leave back to the accommodation. It took us around 2 hours from Uplistsikhe caves to Tbilisi. We planned instead of have dinner somewhere out, we arrange a small candle lit dinner in the Airbnb apartment.
Day 3 : Old Tbilisi
We had planned to see the Old Tbilisi on Day 3 and started the journey with the Cable car in the Vake Park. The cable car system looked a bit old but it was safe enough to take us at the top of the Vake Park. The Vake park has a small lake, jogging course, benches to rest, small statues and a view of Tbilisi City . There were tourists as well as locals exercising at this park. We headed back to Cable car and then straight to Rike Park which was in the Old Tbilisi city. This park has some locals petting parrots, monkeys etc. and on seeing tourist they ask to take photos with animals for money. This is where I again found that Georgians are rude. We politely requested them that we don't want any photos with the animal. One of them kept forcefully kept the parrot on my shoulder even after rejected him almost 5-6 times and then he made a commotion as I was not ready to pay them money. Few passerbys were looking at the commotion but no one intervened. At the end, I paid him some coins and he replied "**** off" in Russian and left away. We did not pay much attention further and try not to think about it and just continue visiting places in Old Tbilisi city.
We had a small hike to reach the top of Narikala Fortress (Kartlis Deda view point). The city looked very lively with tourists and people exploring this city. The back of the Fortress gave a beautiful view of the Tbilisi Botanical garden. This view point gave us a mixture of views. On one side we could see a concrete jungle and the other side it showed us beautiful green views of the gardens. We continued exploring Narikala Fortress and then descended back to Rike park.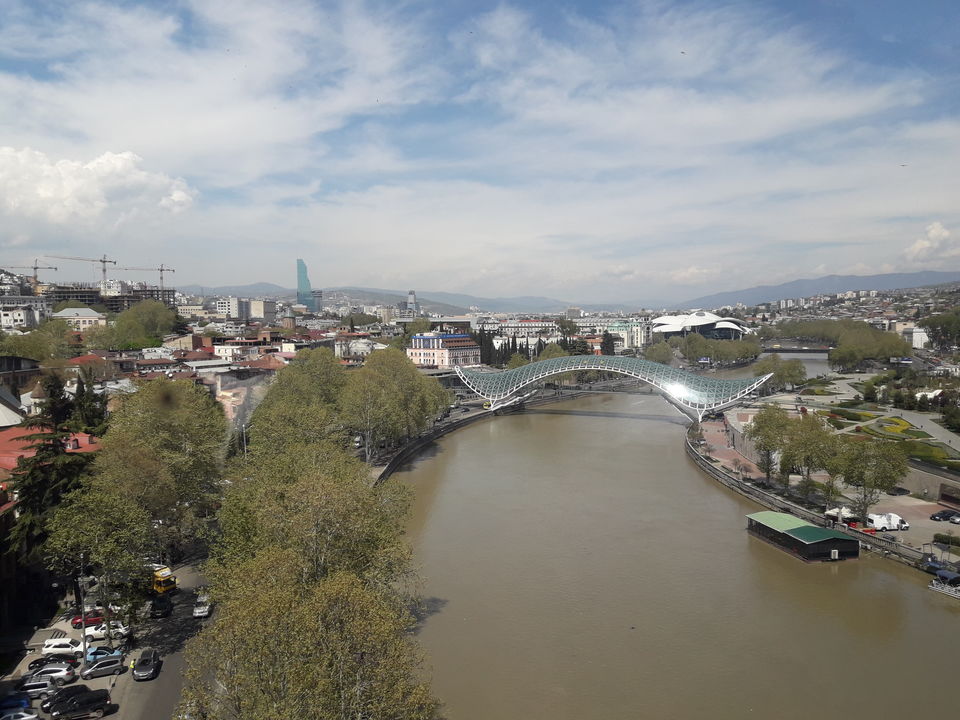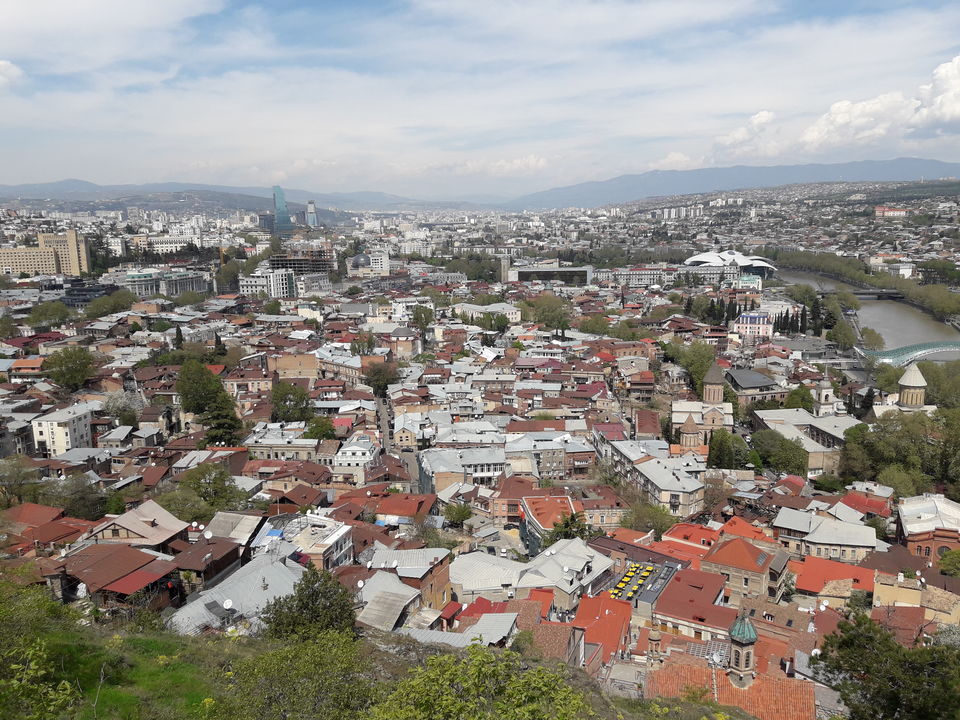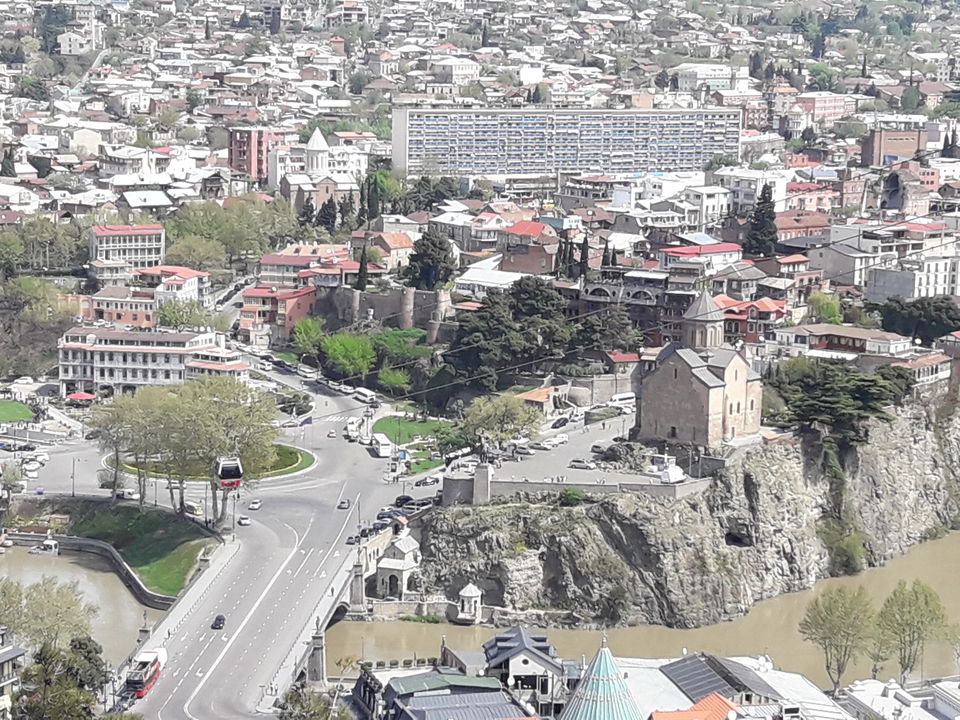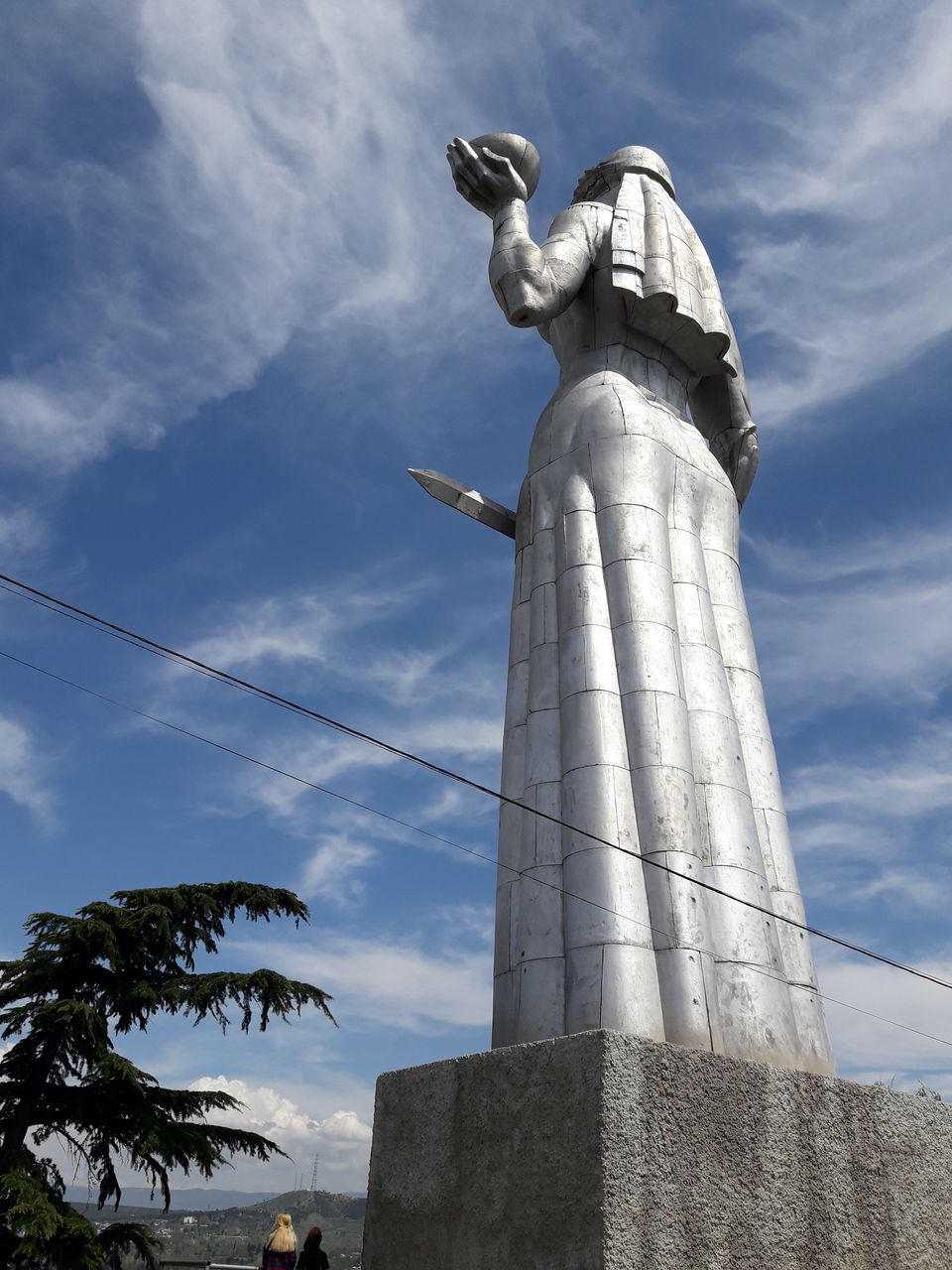 After the tiring walk, we reached the bottom of the Narikala fortress and saw dome shaped structures which happen to be Sulphur baths. There was a strong pungent smell of sulphur near the sulphur bath. The bath was quite relaxing which was followed by steam which made us relaxed and help us to get rid of all the tiredness and gave us some positive energy.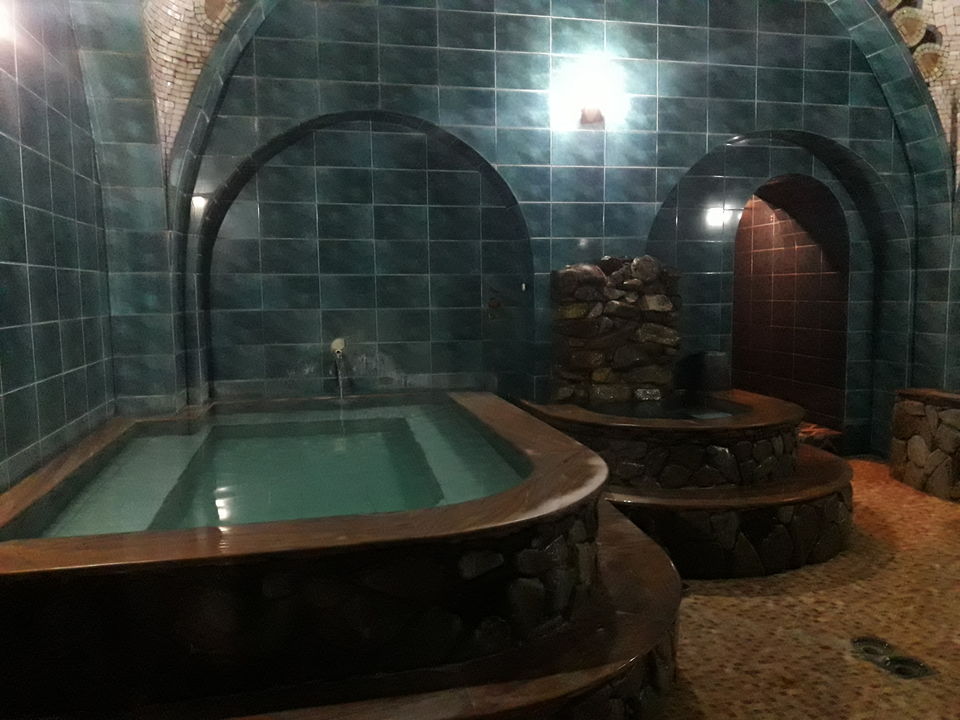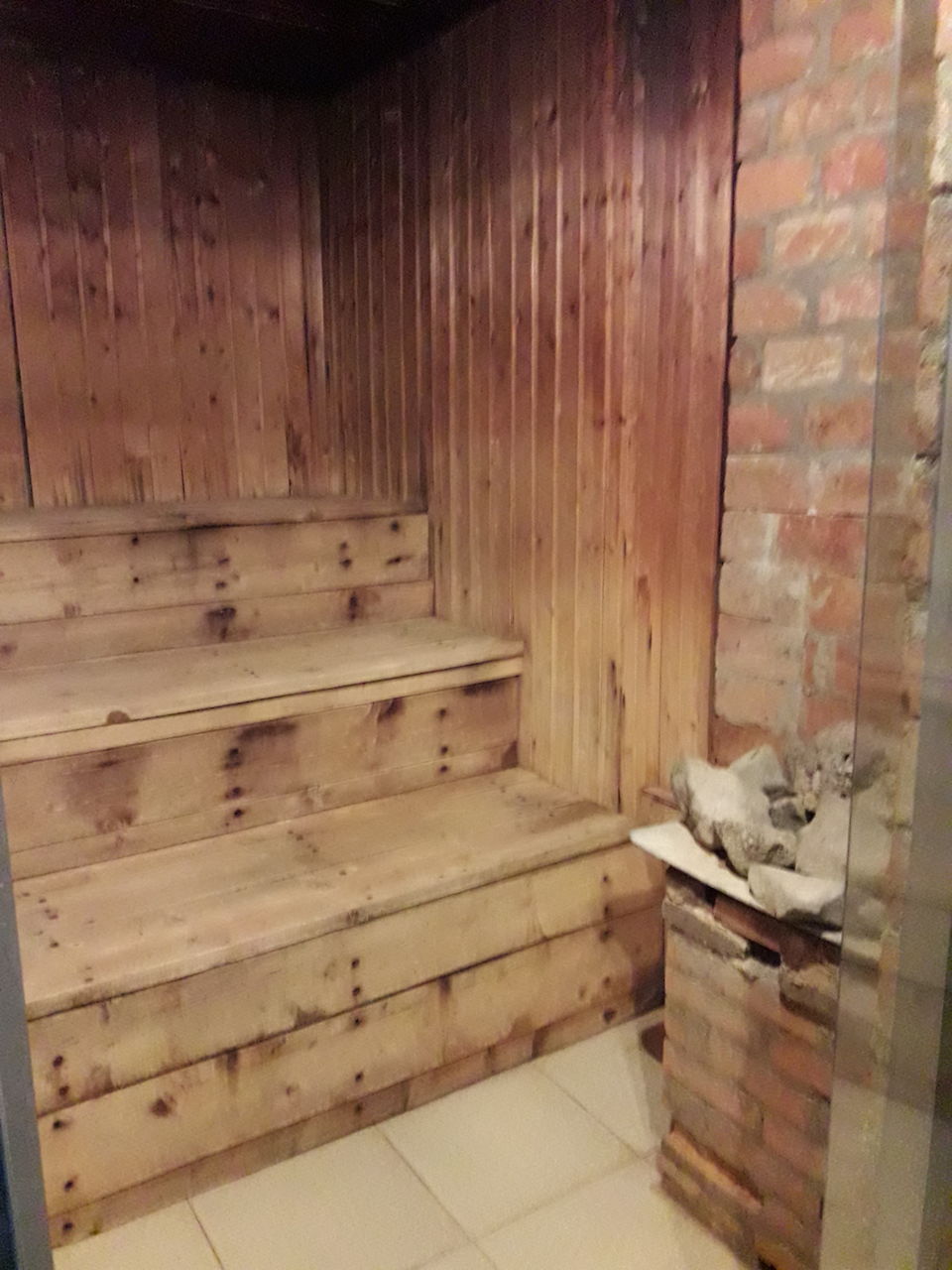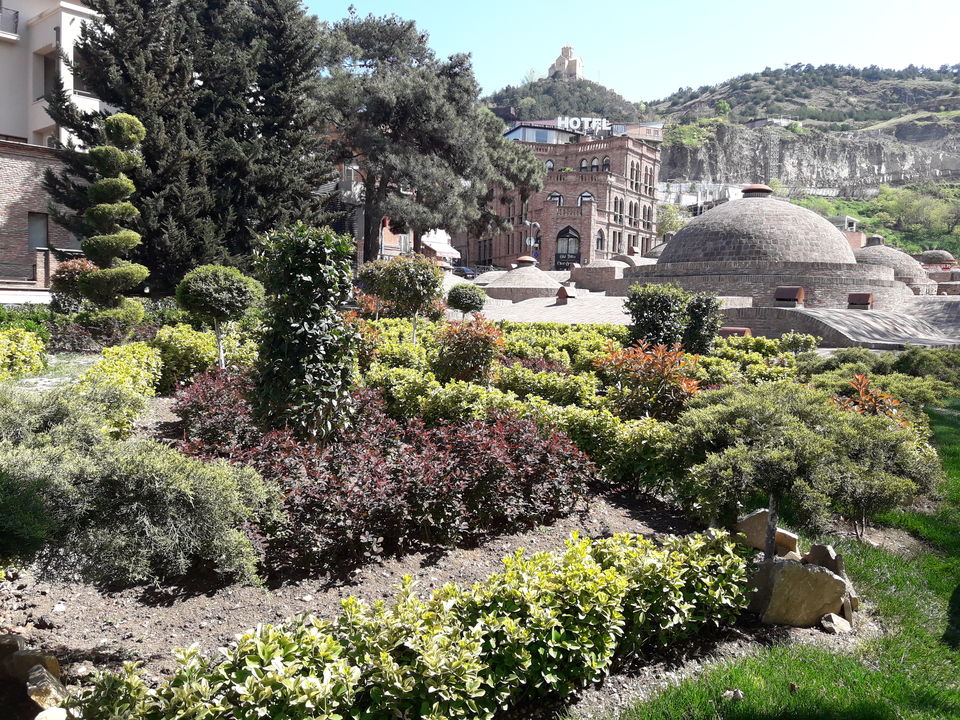 After the sulphur bath, we had lunch and then went to see the Meteki Church of Assumption. This church is located right beside the river Mtkvari. There is small place available for seating outside this church right along the banks of the river. The river as such is very murky and not clear. This seating place has a clear view of the Narikala fortress and other building in the nearby area.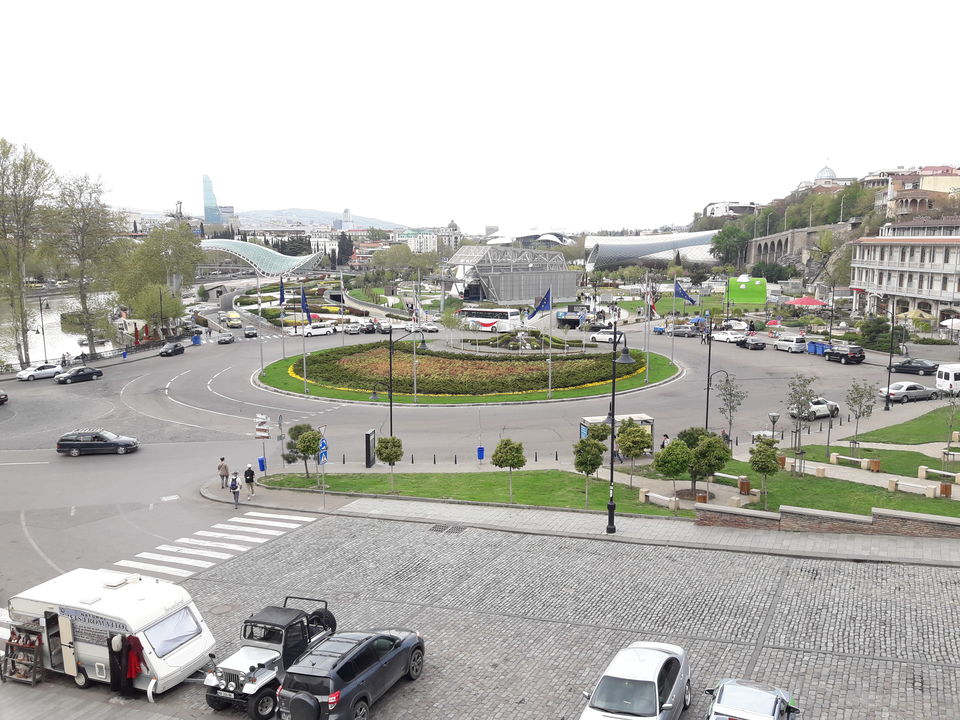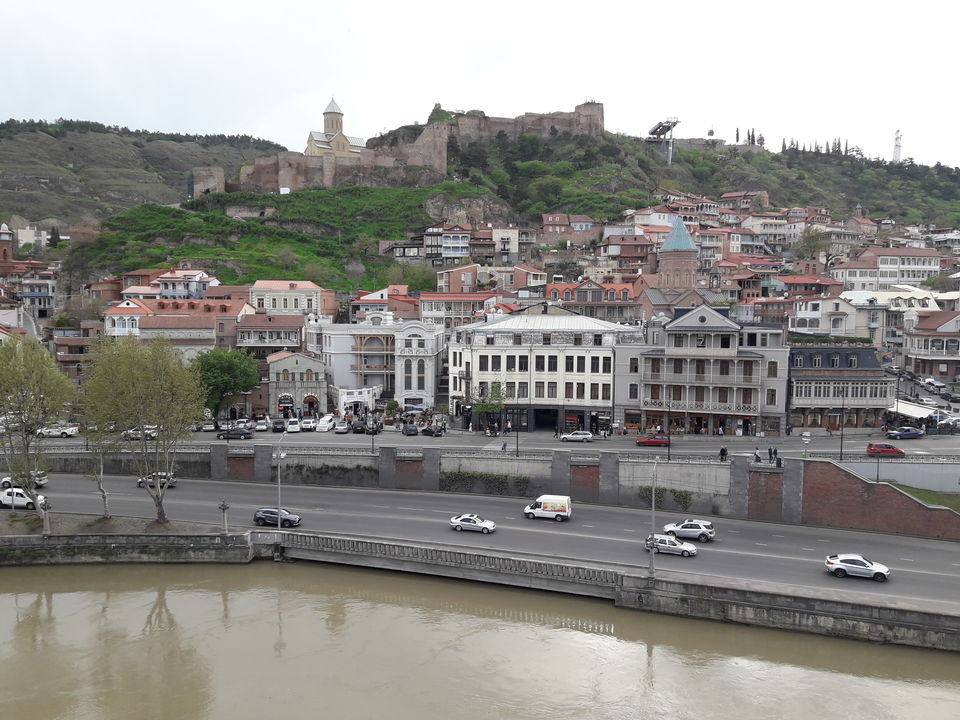 As the evening started to set in, we headed towards the St. Trinity Cathedral which is the most iconic spot in Tblisi. We had checked on the internet and found out that this church needs to been seen both during the day and night time to get a view of its beauty. We reached there around sunset time started exploring. This cathedral is very huge. The interiors, the details, the painting, the carving on the walls in this cathedral is spectacular. We spent time inside the cathedral admiring this beauty with a pin drop silence .
The sun started to set in and suddenly the old Tbilisi city started to get brighter with the lights setting in. We were waiting to get dark and then the man-made lights to take charge and show the image of cathedral.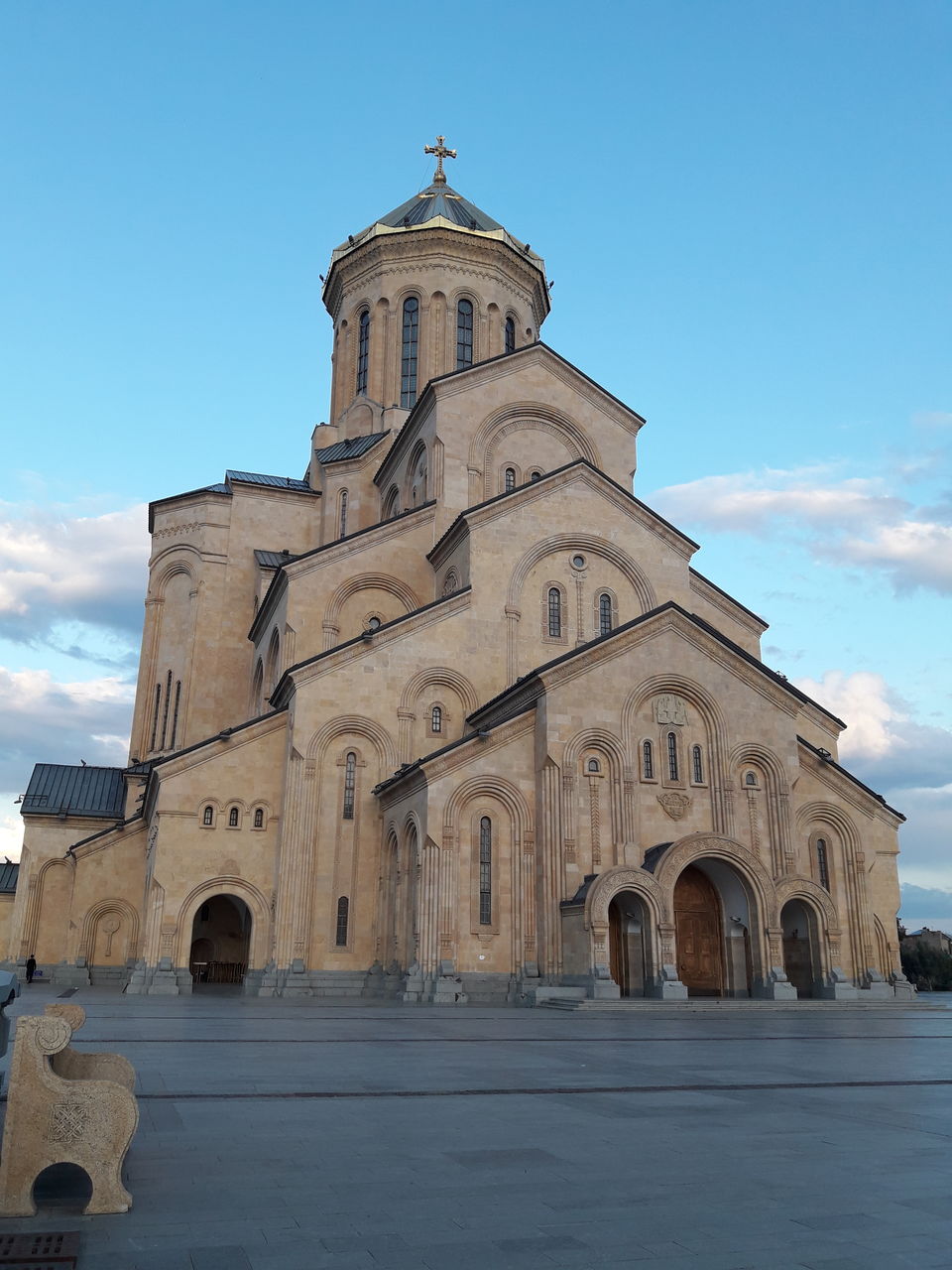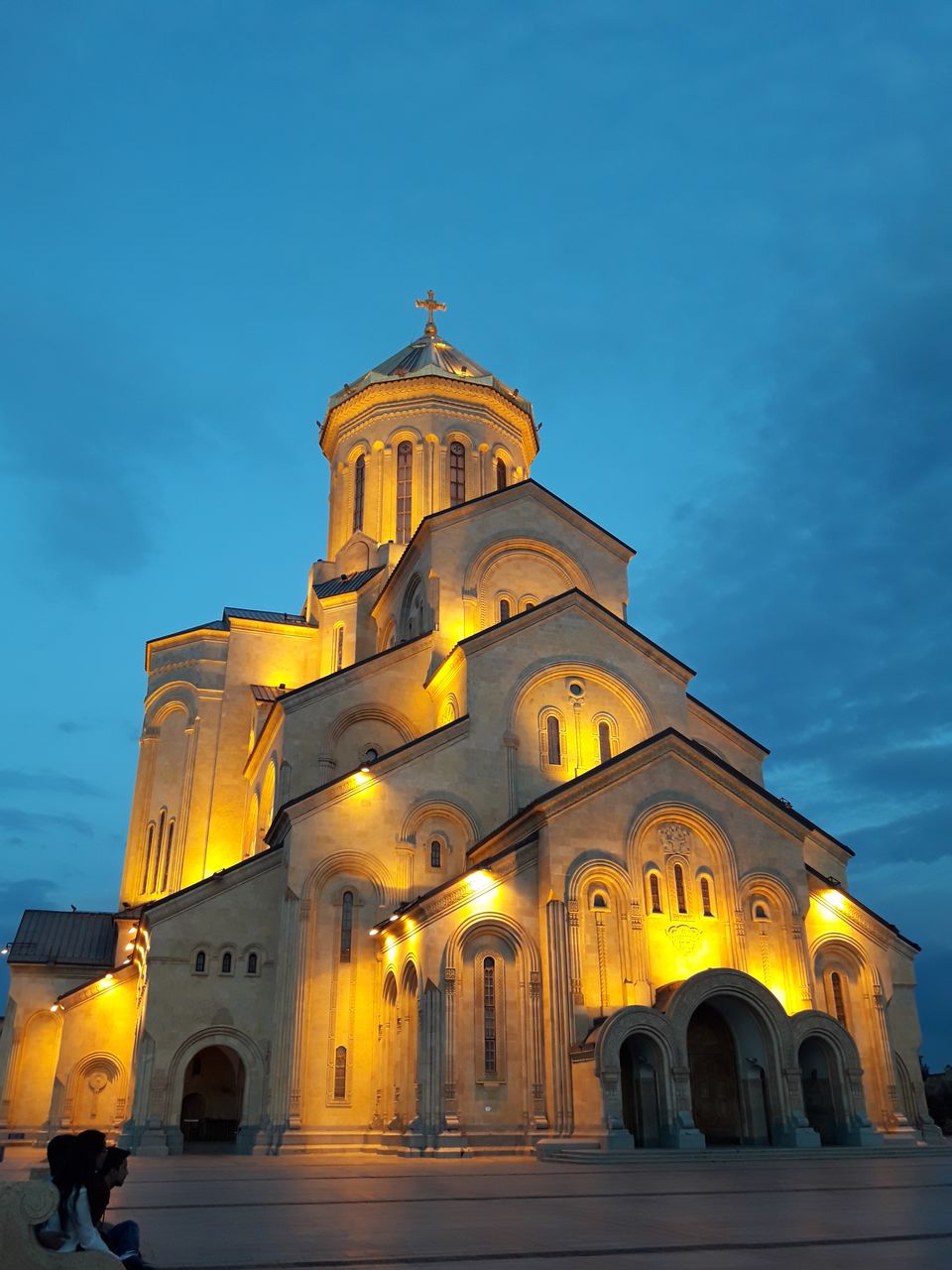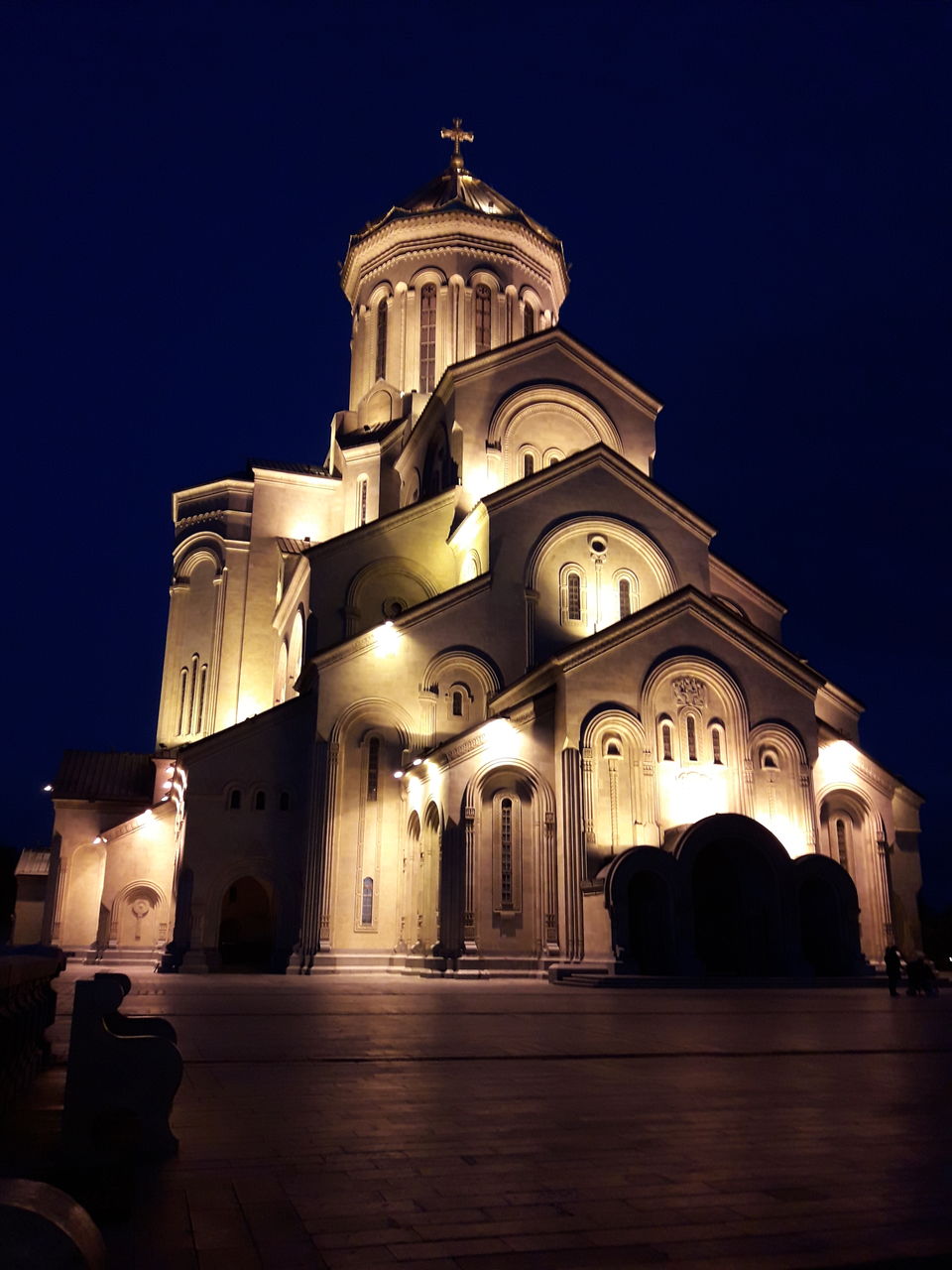 We left from there and then came back to RIke Park and it was so colourful at night. The different types of lighting got admired by the people and lot of tourist and local people flocking in to spend time at this park.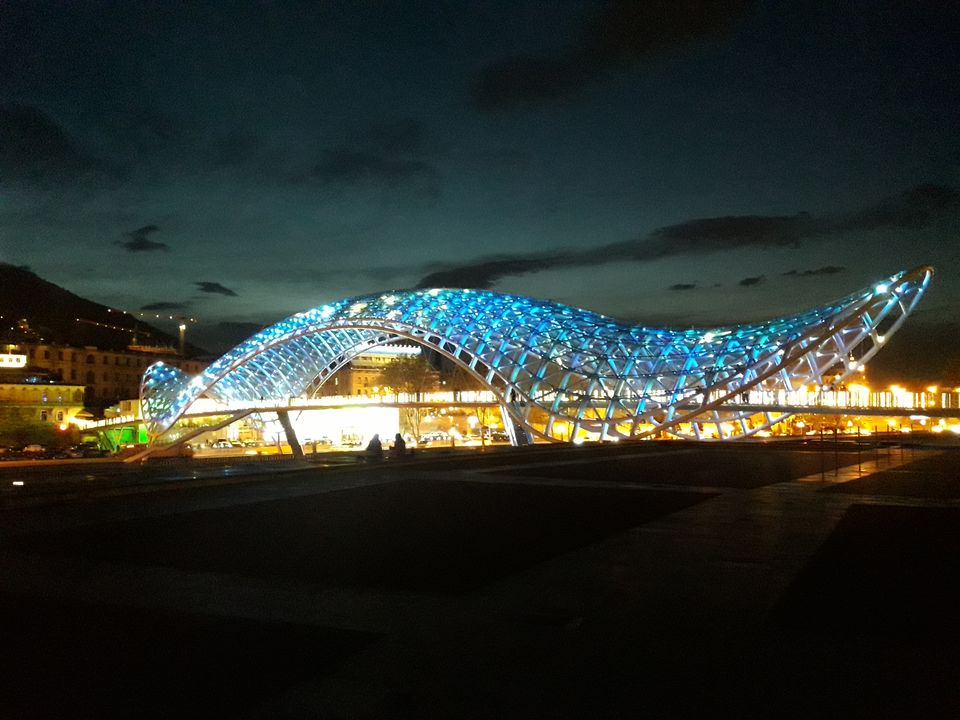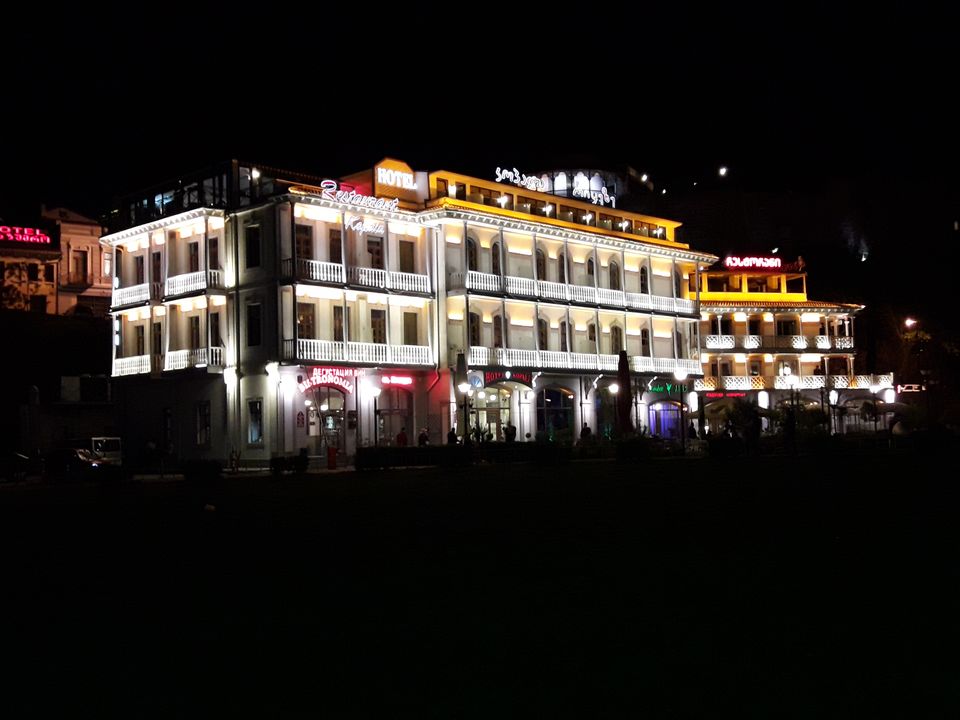 We head back to our apartment and next day left back to our countries to the same old routine daily life.
Tips: For women visiting the monastery, please make sure to wear full covered clothes and a scarf to cover your head.
At one of the monastery, there was a group of Indians (from UAE), who were yelling in the monasteries to hear the echo. It was very childish and immature of them to behave in such a manner. It is a place of worship for others and let's try to respect the religious sentiments of others. Please do not spoil the name of Indians in other countries.
Even though this country issues E-visa, there had been cases that people were sent back to India the day they landed in Georgia. They even had valid E-visa but due to some reasons the Georgian Immigration decided to reject their entry and send them back to India on the next flight.
Georgians are considerably rude with others. They are not as such a friendly country especially if you are with a black skin from Asia.
P.S. Only the cover photo is downloaded from flicker.com.