We boarded our flight from Dubai International airport, Terminal 2 at 12:10 am. As it was a direct flight, we reached Tbilisi at 4:40 am. Tbilisi international airport is a small airport and we quickly cleared our immigration and the security check and were out of the airport by 5:00 AM and geez! it was very cold outside (6 degrees C).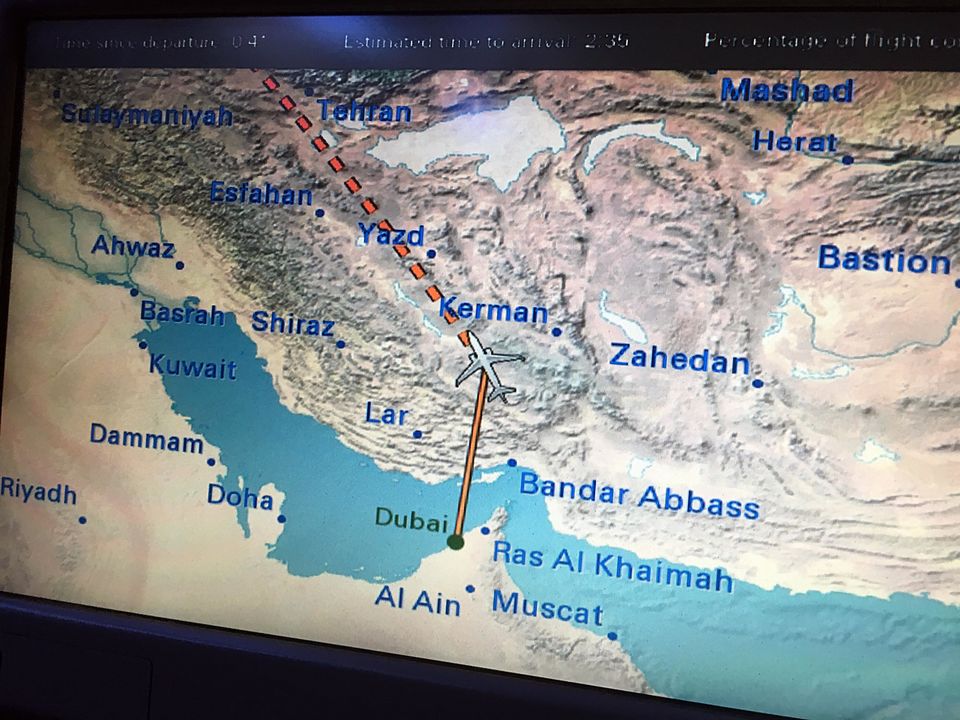 The driver was already waiting for us and we quickly left from the airport. We had a hard time finding our hotel and finally checked in at around 6:30 AM. After a quick nap till 9:30 AM we woke up for a sumptuous English breakfast.
At 11 AM we started our Tbilisi city tour with our local guide, Sandro. Our first stop was Mtatsminda Amusement Park on the top of Mount Mtatsminda. The entry to the park is free, but for rides, we have to recharge a card available at Kiosk. Hubby and I went for the giant wheel ride (1 Lari per person-Minimum 8 Lari is to be recharged) The view was just breathtaking. We took several snaps at the amusement park and headed towards the main city.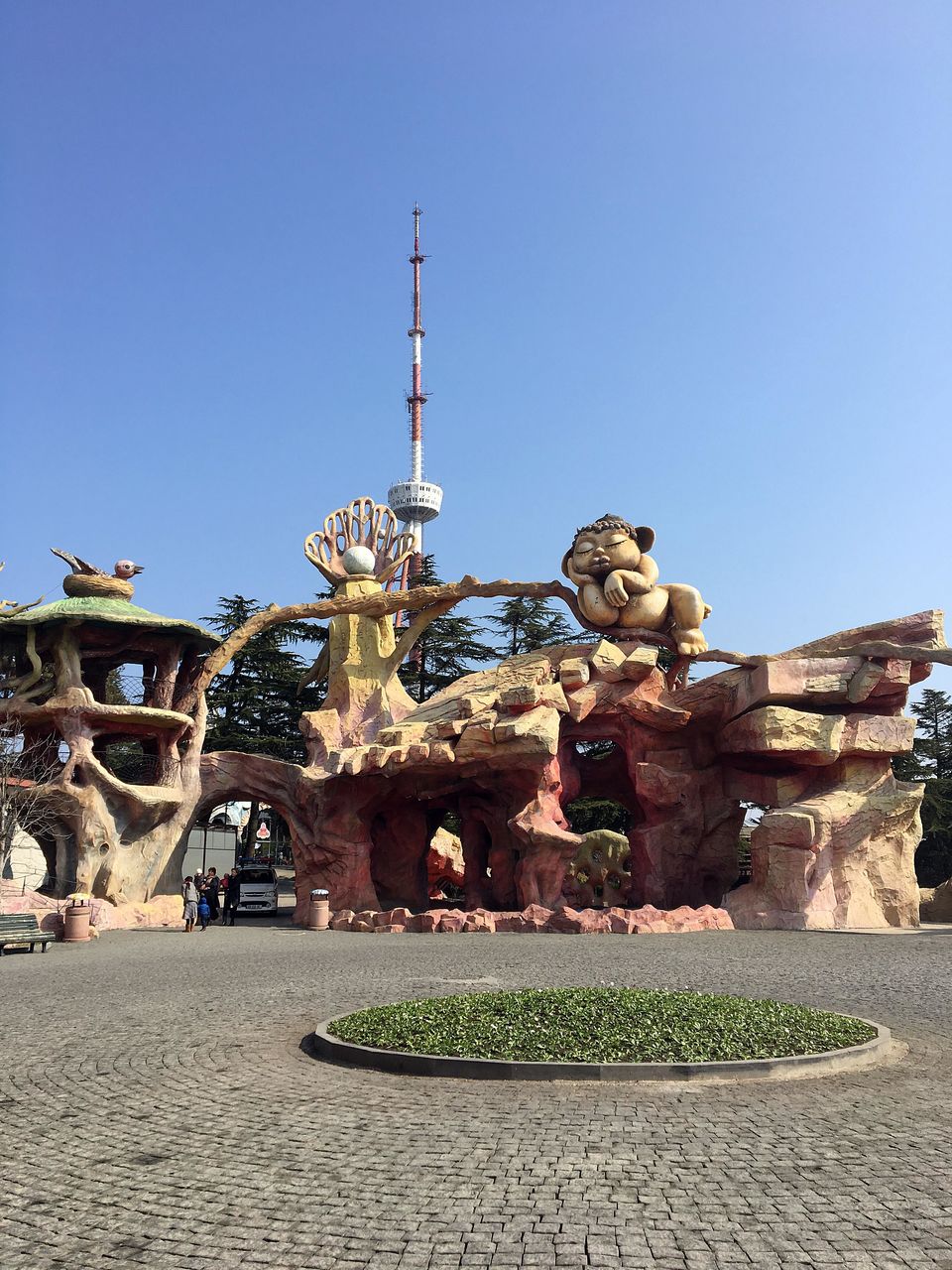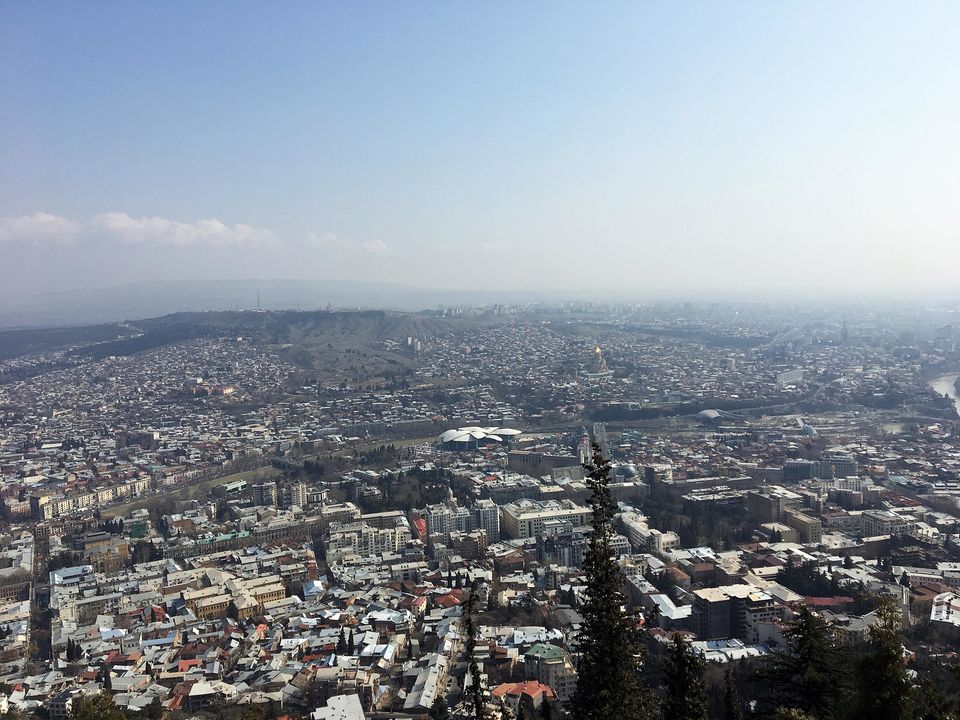 Our next stop was Holy Trinity cathedral. This place is also called as Sameba. It is the main Georgian Orthodox Cathedral and is the third-tallest Eastern Orthodox Cathedral in the world. Sameba was constructed between 1995 and 2004.We lighted candles that are sold within the church complex.Here we encountered an elderly gypsie woman asking us for Lari, unfortunately, we did not have change, and the woman started yelling at us in Georgian :P Sandro had to interfere and send her away.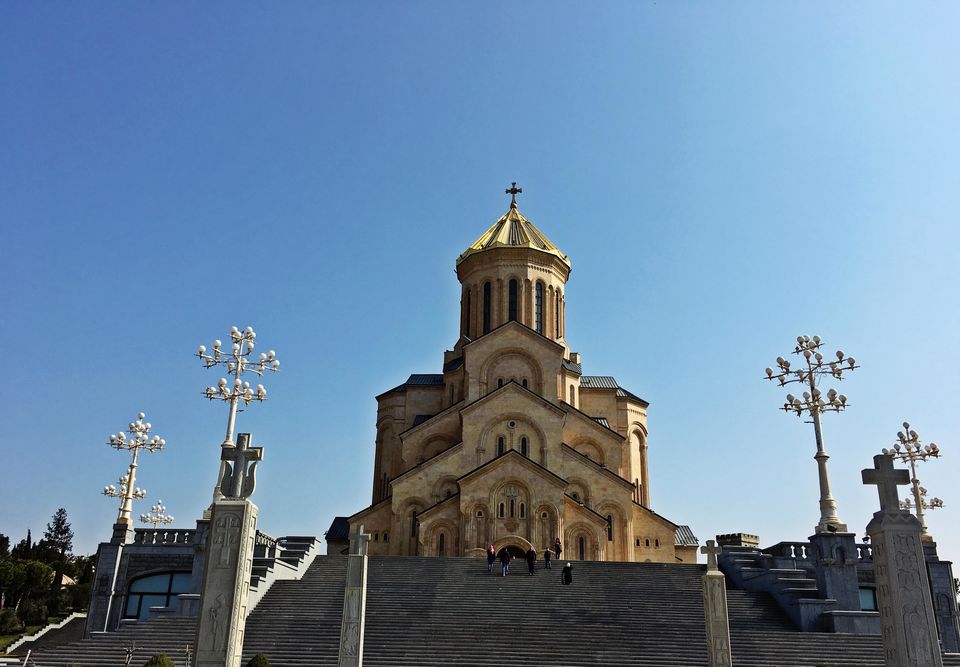 This was followed by lunch in one of the local restaurants. We tried Khachapuri, veggie pizza, Georgian lemonades, khinkali.The local cuisines include meat and chicken. Since we don't eat beef, we ordered the chicken counterparts of Khachapuri and Khinkali. We tried the local beer but did not like it much.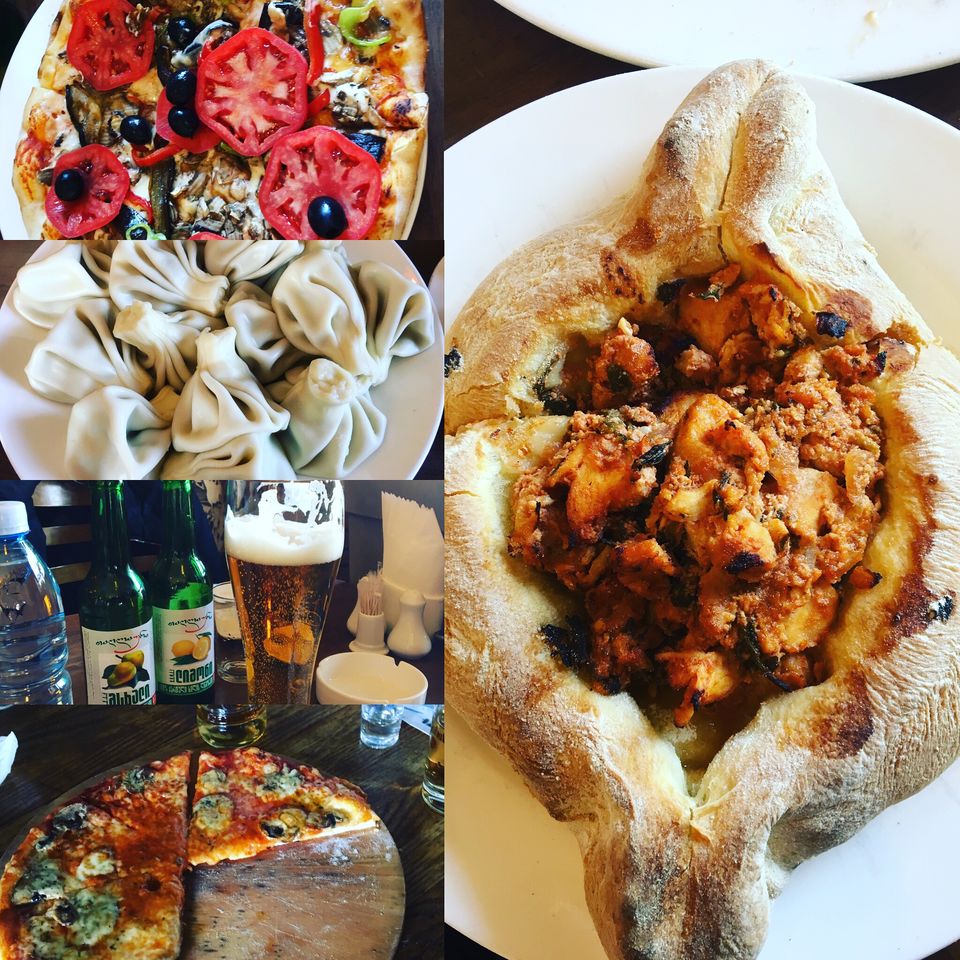 After the yummy lunch, we went on to visit the sulfur baths and a hidden waterfall in Abanotubani. The water was really cold .There was also a bridge full of love locks :) We too added a love lock on the bridge. Then we proceeded to Metekhi Cathedral which is on top of a hill overlooking the Mtkvari River.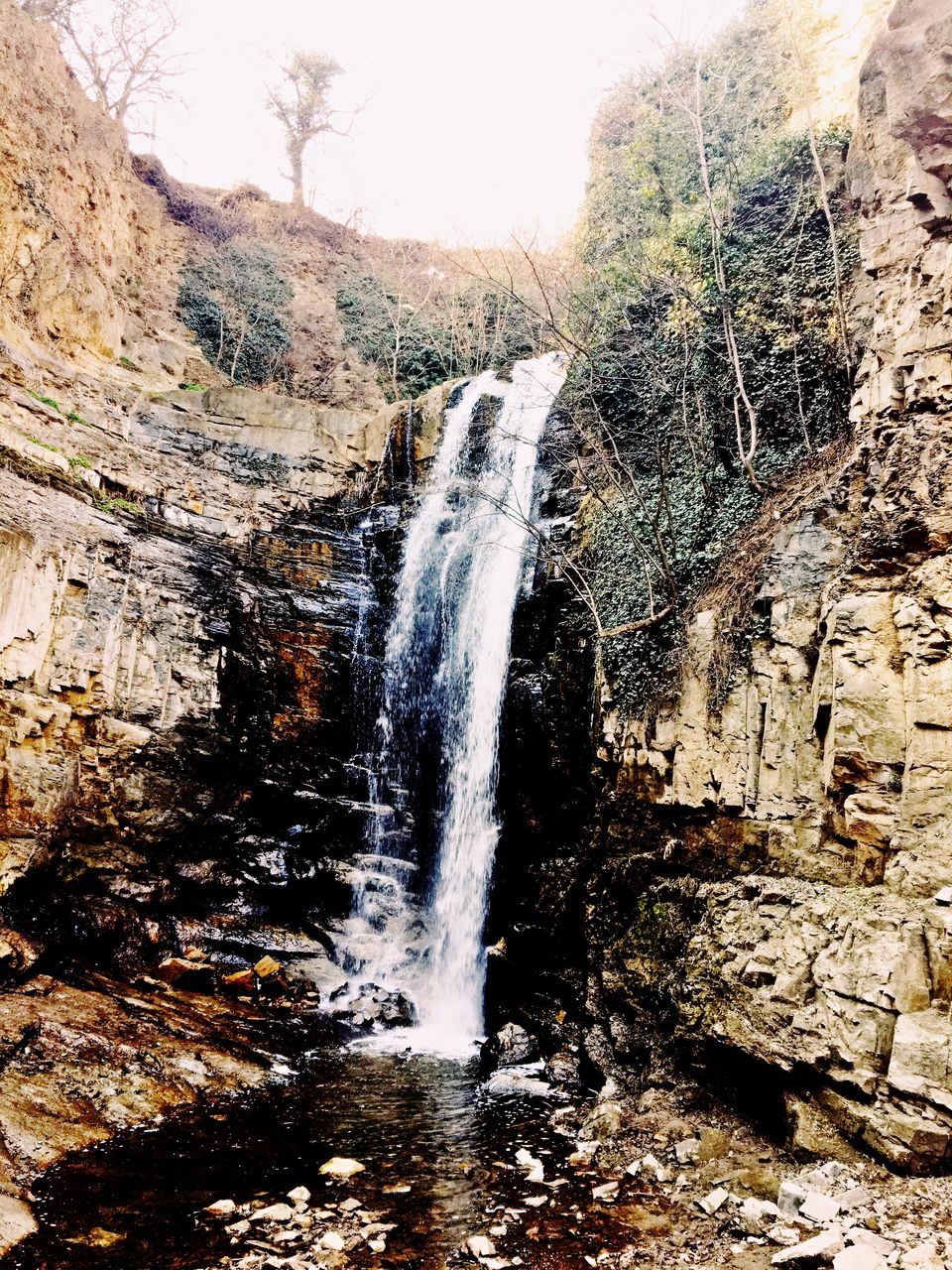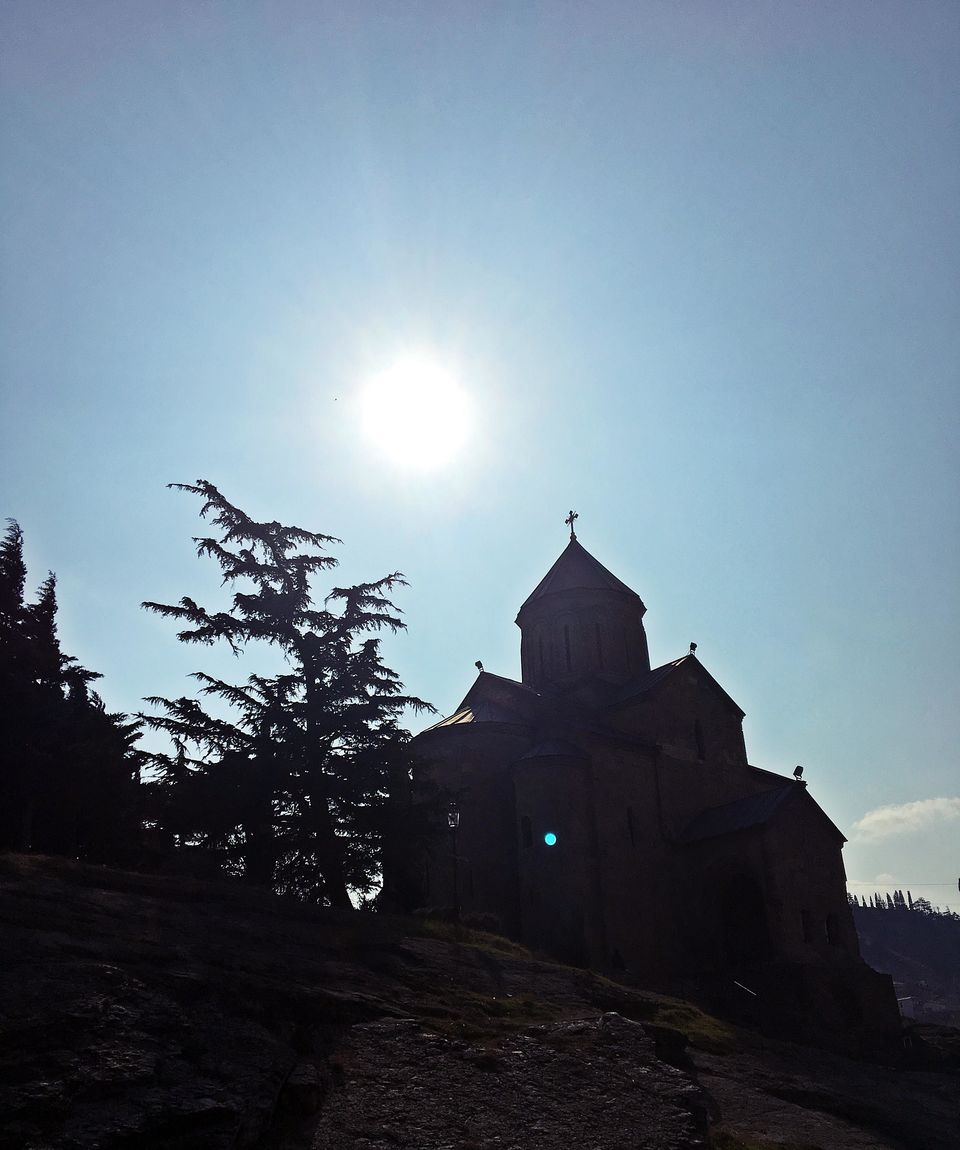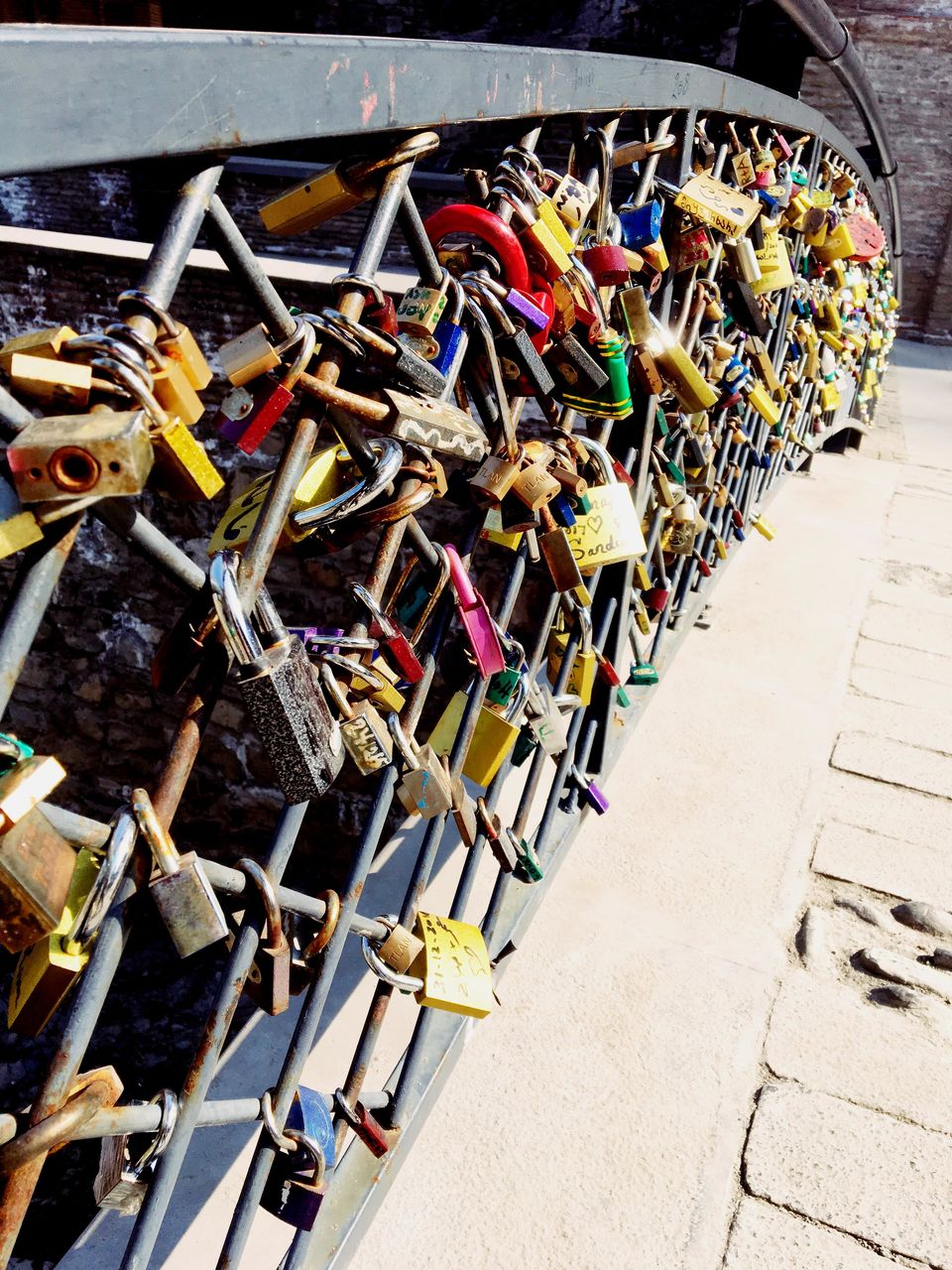 Later we took an aerial cable car which connects the Rike Park on the left bank of the Mtkvari river with Narikala Fortress. This ride just cost us 1 Lari. We could have the 360-degree view of Tbilisi. The ride is for 2-3 minutes and then we reached the Narikala fortress. The fortress was said to be established in 4th century BC. We walked around 1.5 KM to see the Mother of Georgia Statue. It was an incredibly beautiful statue. She had a sword in one hand and a chalice of wine in other. The sword was to defend the country from the enemies and the wine is a peace offering to all the friends of the nation. Also, there is a church within the fortress complex. One needs to wear a headscarf and a skirt( available outside the church) to visit inside.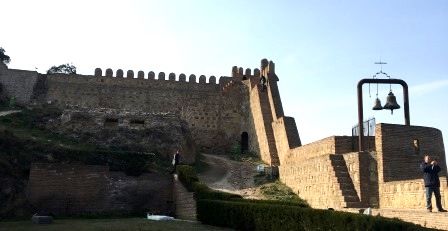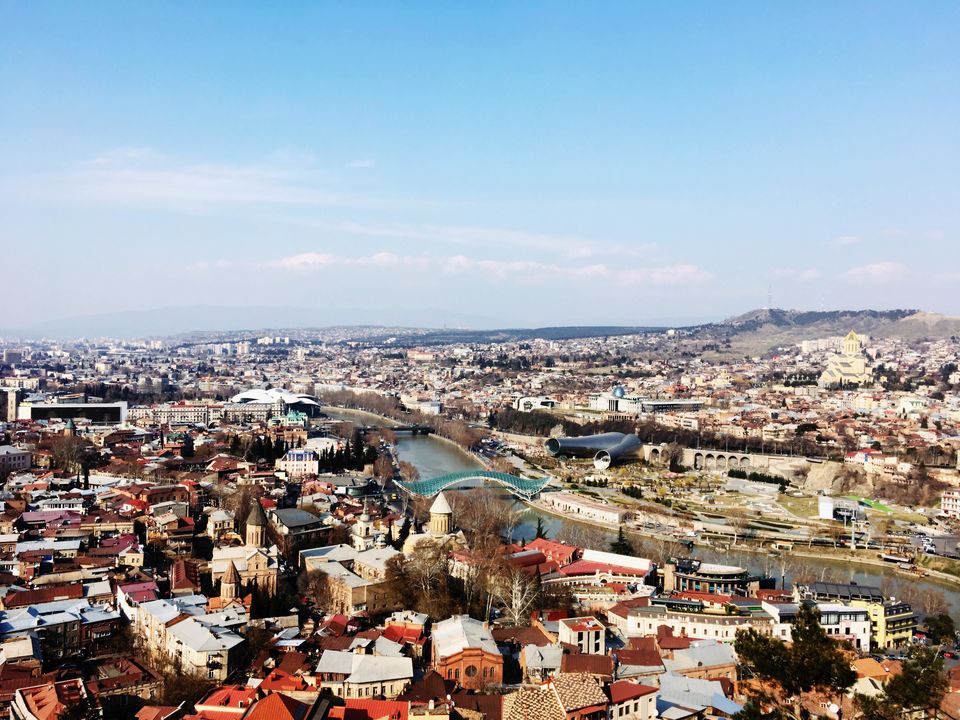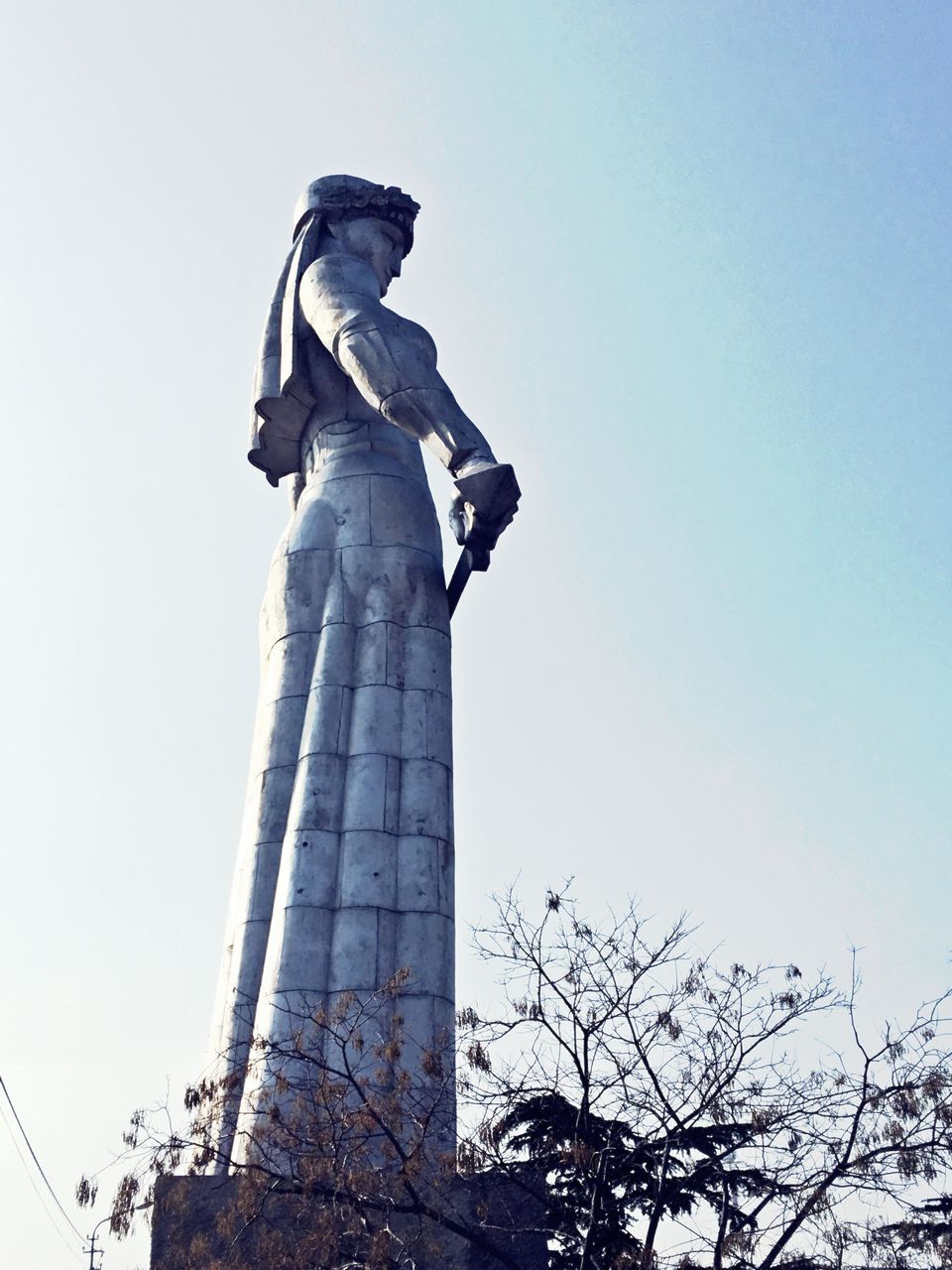 We came back to the Rike park by the aerial cable and then went to see the Bridge of Peace, situated over the Kura River in downtown Tbilisi. It is a pedestrian bridge of around 150m and very near to the aerial cable station. The modern architecture of the bridge was quite a contrast to locations we visited, which were truly ancient.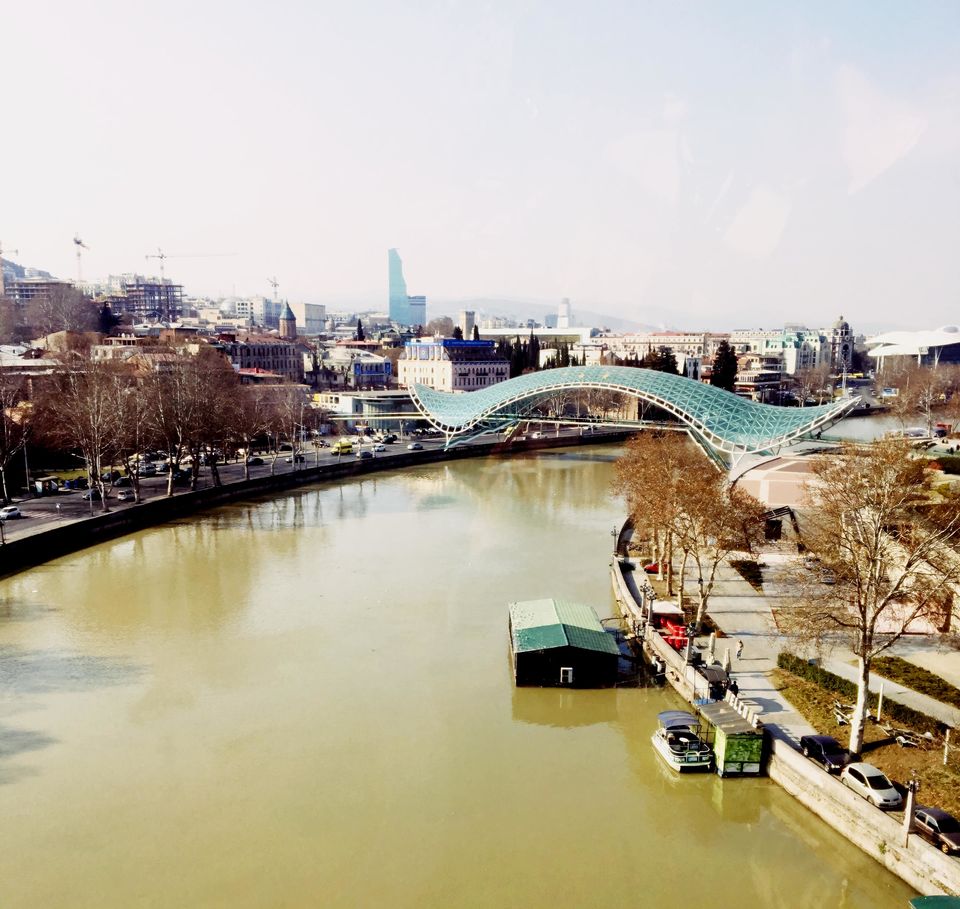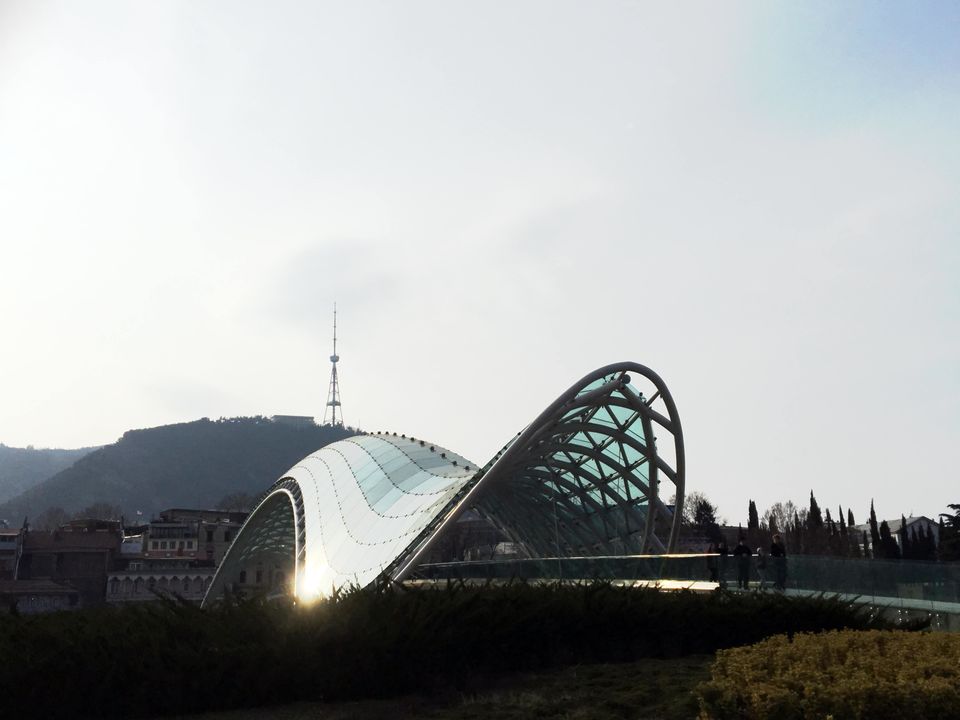 We were already exhausted beyond words. It was almost 6 PM and we decided to end our city tour. We stopped by at the freedom square for a couple of photos and then reached our hotel.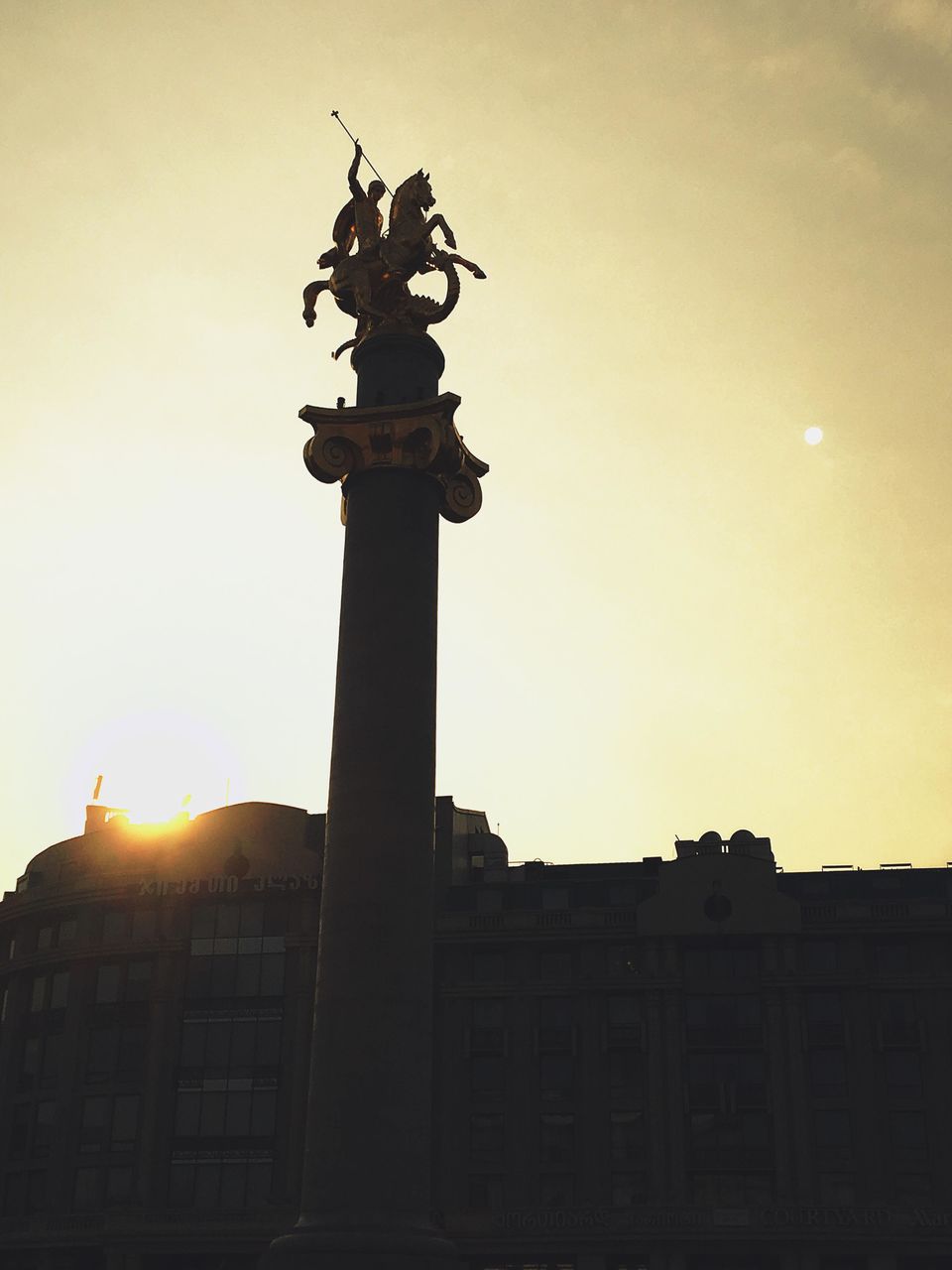 We were too tired to even walk or talk.Hubby ordered some local wine and some Biriyani for dinner. It was a great day in Tbilisi and I loved it.