Nepal, circa May 2011. I woke up at 3.00 am with a cramp in my left calf that surely felt like the build-up to a leg amputation. Too proud to speak up about last night's calamity, I trekked all of the next day feeling like my leg had become a residence for a family of leeches.
Is the Everest Base Camp trek worth the hype?
In full disclosure, I love trekking, or at least I used to. By virtue of studying in a boarding school in Dehradun, I was exposed to rigorous 5-day treks every six months. And it was this love and experience that had made me sign up for the Everest Base Camp trek. Active and adventurous, my friends and I were not intimidated by the average trek time of six hours over 12 long days. In fact, the only thing that did give us the jitters was the flight from Katmandu to Lukla, the gateway to Mount Everest. At one end of the 500-metre-long runway is a mountainside and at the other, a sudden drop into a 2000-metre-steep valley. Death is certain if planes mess up landings and take-offs.
My group had flown to Lukla on the first day of the expedition and ended the day's 3-hour-trek in a small village called Phakding. Once settled in at the guesthouse, we sat outside in the evening and made merry the only way 16-year-olds knew how – by poking fun at each other over bottomless glasses of Pepsi. I went to bed soon after, excited about what lay ahead. But given the unnerving pain I had woken up with, that excitement had died rather quickly. Blimey, was this how the rest of the expedition was going to be like?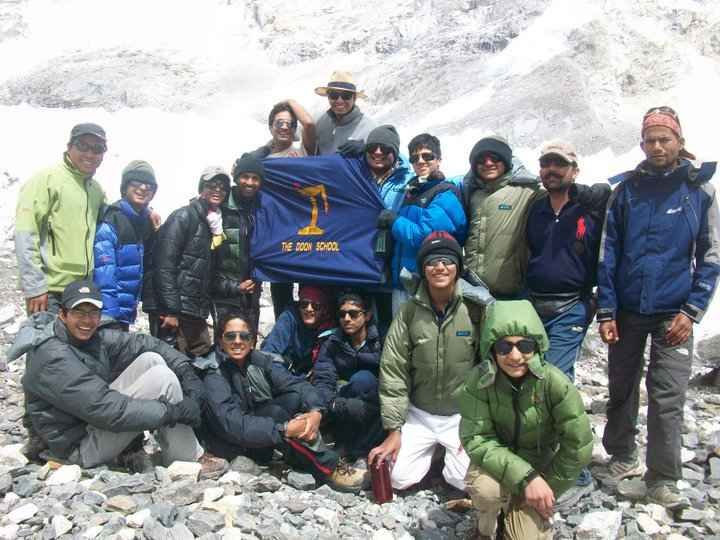 For the next few days, our legs were fresh and the mood jolly. We enjoyed an acclimatisation day at Namche Bazaar, the Nepalese equivalent of Himachal's Bhagsunag. Relishing pahadi Maggi and playing pool in the upper reaches of the Himalayas – could it get any better? From flat grasslands and modern rope bridges, the setting soon shifted to narrow trails with steep drops and snow-capped peaks in every direction we looked. I possessed an archaic digicam so photos could never do justice to the scenery.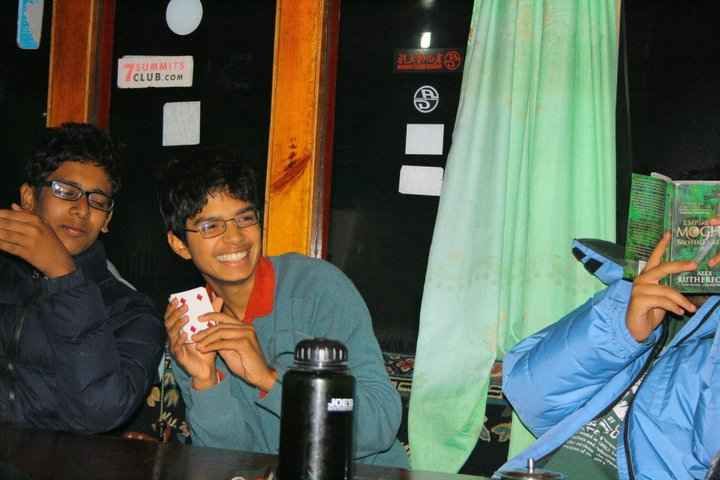 On rest days, we would go on short treks to acclimatise and recharge our batteries. Every other moment was spent playing the popular card game called Court Piece. EPL or 'Expedition Premier League' – a Court Piece tournament, the winner of which would win two large bottles of Coke. Small victories!
On summiting, feelings of extreme joy overcame each of us and we never wanted to leave. To be in the presence of Earth's tallest child was surely something. While most of the mountain was hidden by a couple of smaller ones, even the view of the summit was a sight for sore eyes. I clearly remember a vivid picture of mounds of ice draped over a black and rugged surface that felt within hugging distance. The camps set up at the base camp and the prayer flags tied for those who endure this arduous journey only enhanced the setting. Regardless of how I feel about the rest of the trek, those twenty minutes spent staring at Mount Everest will forever be etched in my mind.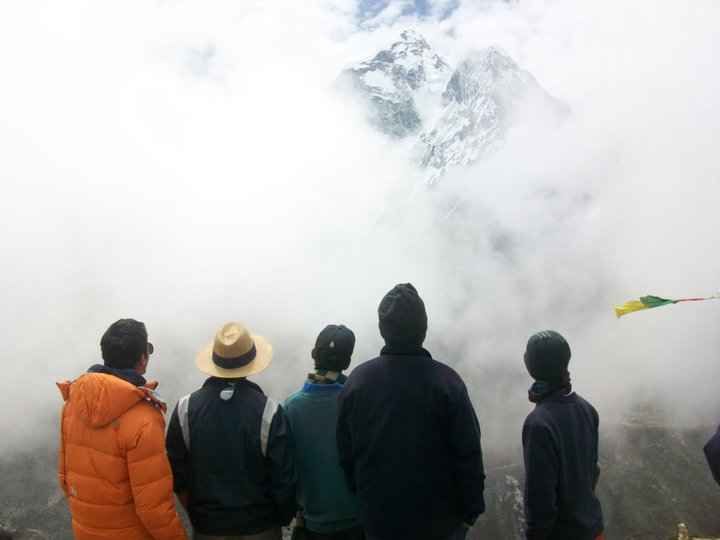 So, what went wrong?
For starters, I don't think I was mature enough to truly appreciate the beauty that lay ahead of me. As a school-going athlete, all I saw was how many metres I was ascending and how many kilometres I was covering. The Himalayan vistas were an afterthought. The exhaustion and repetitive routine of waking up at 6.00 am and going to bed at 9.00 pm got too overwhelming towards the end. Sigh, if only the sixteen-year-old me knew about the 'repetitive routine' of a day job.
I identify as an outdoor enthusiast, but that wasn't so when I embarked on the trek. This two-week expedition struck off a fortnight from my summer holidays, every day of which was highly valued. So to wake up and bathe in cold water in freezing temperatures while the rest of the school luxuriated at home didn't sit too well with me.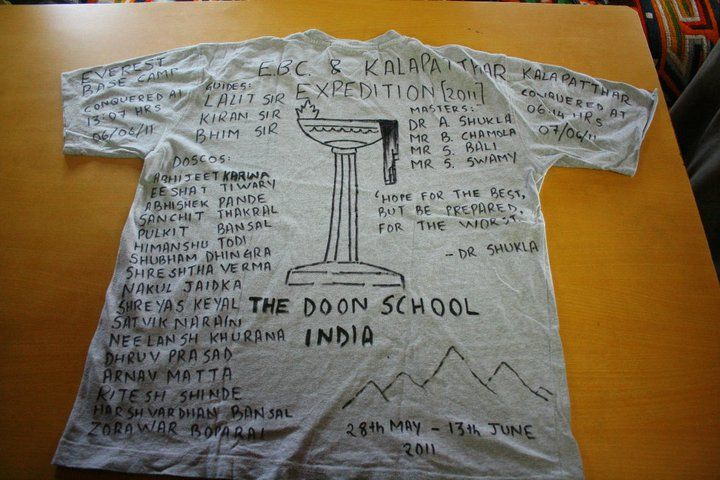 One of the teachers accompanying us had thrown in the towel on day one itself due to acclimatisation issues. While I wasn't troubled by the altitude, some of my friends and teachers experienced intense high altitude sickness. You come within biting distance of the world's highest peak only to turn around and descend because your body can't handle the altitude. To part with friends who would live to tell the tale of how they never made it to the top was psychologically overwhelming. We were supposed to be in this together, through thick and thin.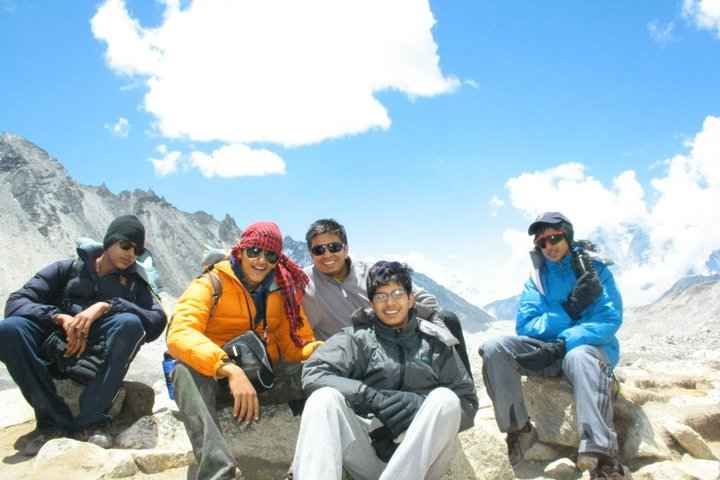 It's been nine years since I went on the EBC trek, and I haven't been on another trek since. Cycling, surfing, slacklining, backpacking and the likes are all regular features on my holidays but trekking just hasn't been on the calendar. Is it ignorance or conscious neglect, I know not. People talk a lot about the adrenaline one gets from trekking. Trekking for me is a pleasant and relaxing activity that only becomes an adventure when things go south. Something on the lines of a bear outside my tent or crossing paths with a snow leopard.
So, should you reconsider your next trek now that you've read this? Hell, no! The mountains are the history books of the planet, and if you can read them, you'll know they're the greatest story ever told. Sadly, I haven't read the chapter on trekking yet.
How was your last trekking experience? Tell us about it in the comments below. Or write about it here on Tripoto and earn Tripoto Credits!
Explore the best of travel inspiration on Tripoto Instagram!
Frequent Searches Leading To This Page:-
Joys of Trekking In Nepal, trekking independently in Nepal, self guided trekking Nepal, annapurna manaslu tourism sector