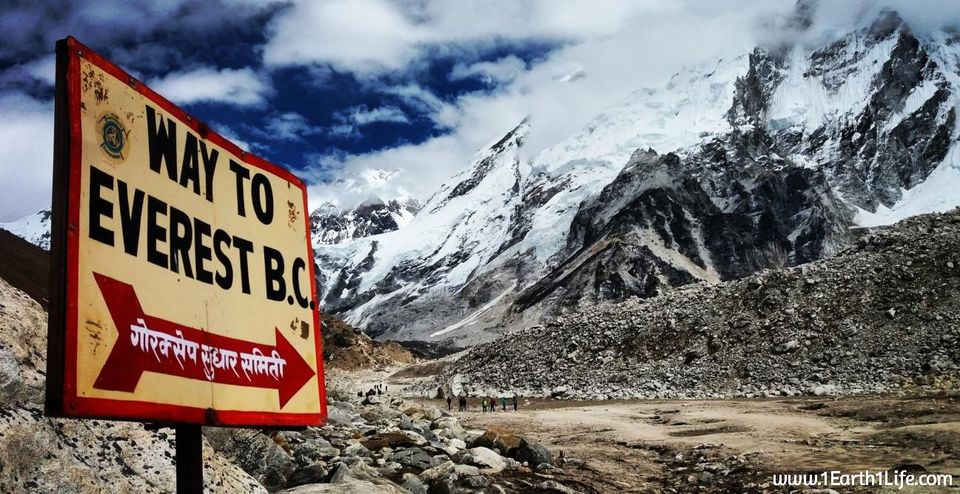 Every year go to a place that you have never been before. Every year do something that you have never done before.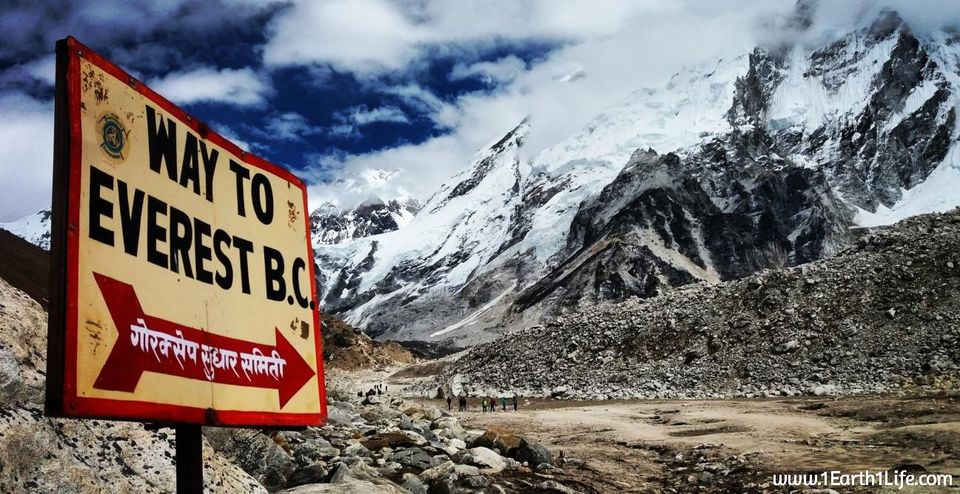 Accept the fact that everything that makes up your world is there because you attracted it with your own thoughts and emotions. There is no big secret, just listen to your emotions and choose to feel good. You can decide to have better feeling thoughts and choose to be in a place of attraction and abundance.
What does it feel like to be present ? To be here and now and fully experiencing the moment. Free from any weight of the past or any anticipation of the future. Just free for you to realize that you can control how you feel about anything and everything. Free to really see things what they really are. Free to give your time and energy to what really matters.
What do you want to do in your life ? What makes you tick ? What makes you feel off ? What makes you happy ? What makes you smile ? What makes you feel alive ? Finding answers to these questions is of utmost importance. Do not be under the impression that you are supposed to do anything. You are supposed to do what you choose to do. Follow your bliss! Stop looking for reasons why you can't and start looking for reasons why you can and when you realize that you can, you should.
Yes, I had been on multiple treks earlier. But, all of them were to the Western Ghats. Easy-to-moderate level with a trek time of 7-8 hours, both ways included. The trek to EBC [Everest Base Camp] is something at a completely different level altogether. Walking for ~140 kms over a period of 13 days with a 10 kg backpack at high altitude has to be a challenge. It demands for some good level of physical fitness and mental toughness. Even if you possess it, there is no guarantee of you making it. There are a few factors that are not in your control, altitude sickness being the main one. It is something that all high altitude hikers/mountaineers need to be wary off. It can hit anybody, no matter how strong you are physically and mentally. Human body is not designed to work at high altitudes where the oxygen level is low. At the Base Camp of Everest, the oxygen level drops down to 50% than what you find at the sea level. The only thing in my control was to put in the hard work during training and leave the rest to as it comes, being fully aware of the consequences. Trekking at high altitude is more like a marathon than a sprint. It is all about endurance and longevity. The mantra was to train hard and trek slow.
Training :
It started a little more than two months before landing in Nepal. I did not want to wake up every morning during the trek with a sore body. I had to sweat it out during training in order to return with a great experience and make this expedition a huge success. Agreed that I was not climbing the summit of Everest, but reaching its Base Camp is not a cake-walk and definitely not an easy feat to accomplish. I had to take my training seriously.
The training schedule was spread over 4 days per week for 2 months, more focus being on building stamina and strengthening my core body. The ones mentioned in the image were for the evenings. During mornings, I had included long walking hours in Lalbagh with a backpack and my new pair of hiking boots. The idea behind wearing a backpack and hiking boots during my morning walks was to replicate the trek as much as possible. As mentioned earlier, the only thing in my control was to work hard during training and leave the rest to as it comes. Two months into training and towards the end of it, I was feeling good and ready to undertake this adventure of a lifetime. At the same time, I did not want to get complacent as I was fully aware of the things that were not in my control.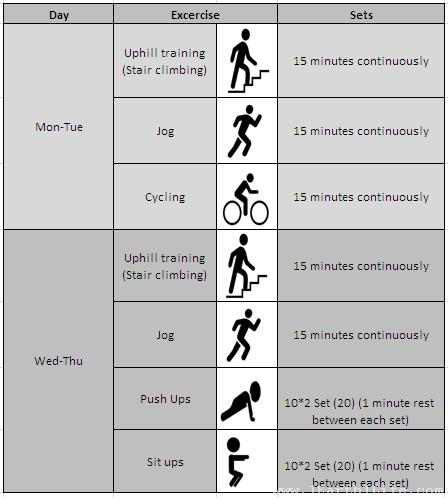 High Altitude Sickness [AMS, HAPE and HACE] :
It becomes very important to be aware of altitude related illness - its symptoms, prevention and treatment. Knowledge of this would be very essential in making wise decisions during the trek. This section includes a brief explanation of the same. High altitude sickness includes:
AMS - Acute Mountain Sickness.
HAPE - High Altitude Pulmonary Edema.
HACE - High Altitude Cerebral Edema.
HAPE and HACE are a more severe version of AMS where fluid gets accumulated in lungs and brain. If not treated on time it could potentially lead to death.
AMS symptoms :
● Headache
● Tiredness
● Lack of appetite
● Difficulty staying asleep (waking frequently)
● Nausea, sometimes with vomiting
AMS prevention :
This can hit anybody irrespective of their fitness levels. However, it can be prevented. The two most important preventive measures are to ascend slow and to keep your body well hydrated by drinking plenty of water. Human body is not designed to work at high altitudes where the oxygen level is low. The initial itinerary included multiple acclimatization days to give my body enough time to get used to the height. The idea was to climb high and sleep low. The plan was to hike to a higher altitude during the day and return to a lower elevation to sleep at night.
AMS treatment :
AMS treatment includes rest, descent, and medicines to relieve symptoms. I had taken Dispirin and Diamox along. Dispirin takes care of mild headaches due to dehydration and if it did not reduce after say maybe even an hour, I would be popping in Diamox as it helps in acclimatizing faster. It takes all the bi carbonates out of the body through urine and acidifies your blood. That means your body will start to hyperventilate and you will inhale more oxygen. Basically, it makes you breathe better and helps your body get more oxygen. The best treatment of them all is to stop climbing higher until the symptoms have resolved. If hit by any of these symptoms and if they did not improve or worsen even after medication, I knew that the trek would be called off and I had to descend to a lower altitude as soon as possible.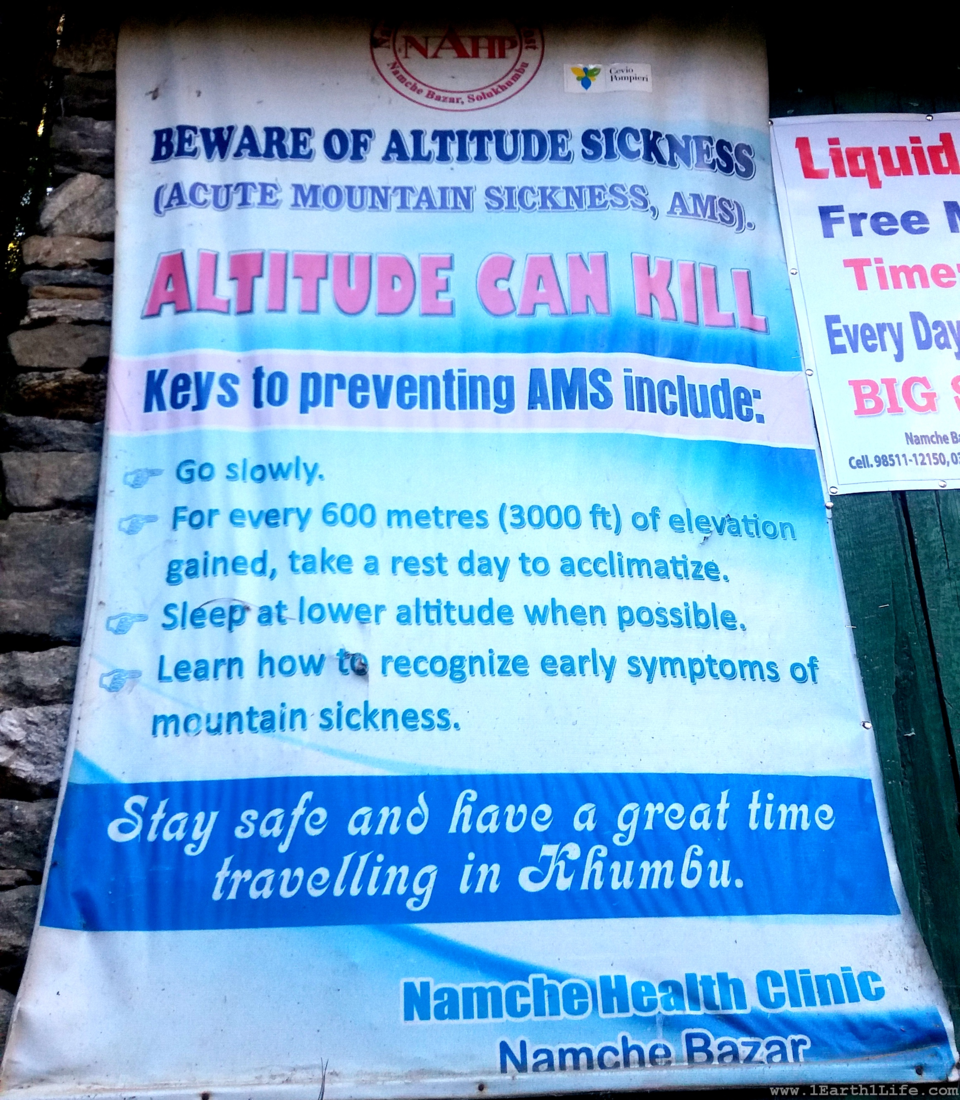 Equipment :
The most important aspect while packing my backpack was to realize that I am the one who would be carrying all the stuff during the 13 day long hike. Hence, lesser the weight, lesser would be the strain on my body and easier would be the hike. I had to take things that were absolutely essential for this epic adventure, things that were really required and useful. My backpack with all the things inside weighed a little over 10 kgs. The following image has a check list of all the things that I carried. I ended up using them all.
The Check-list :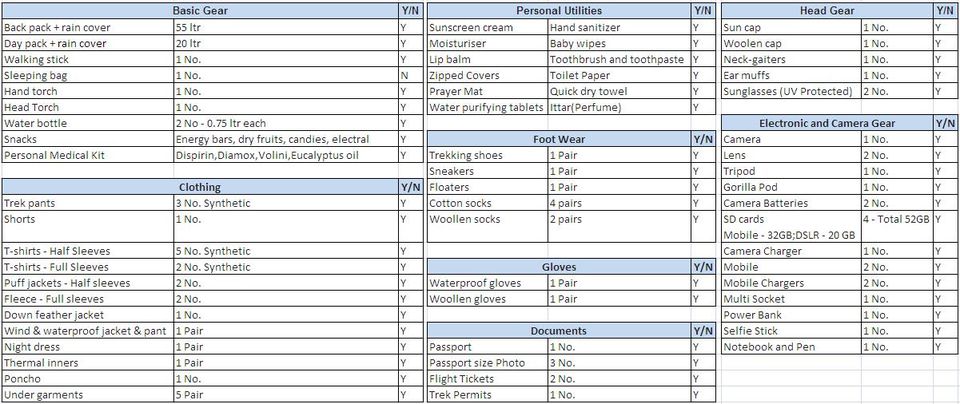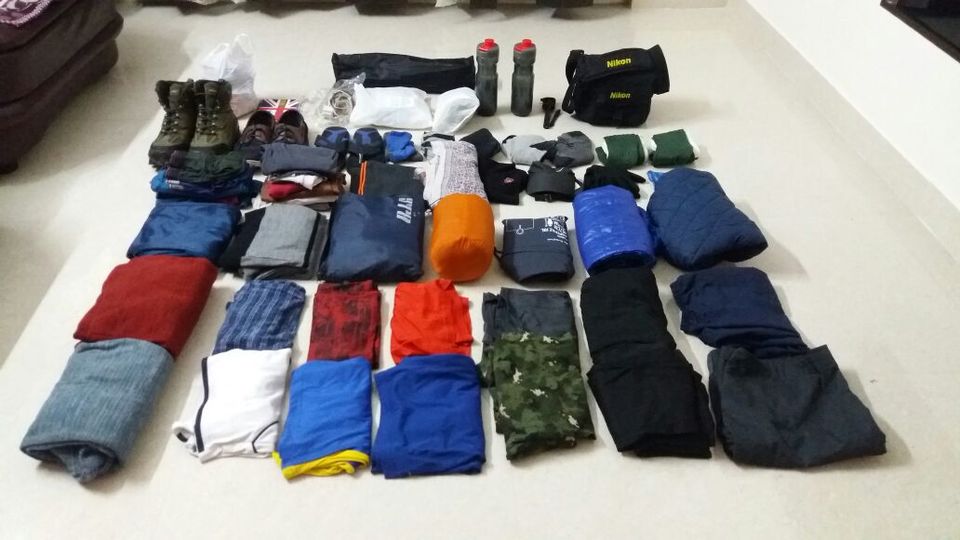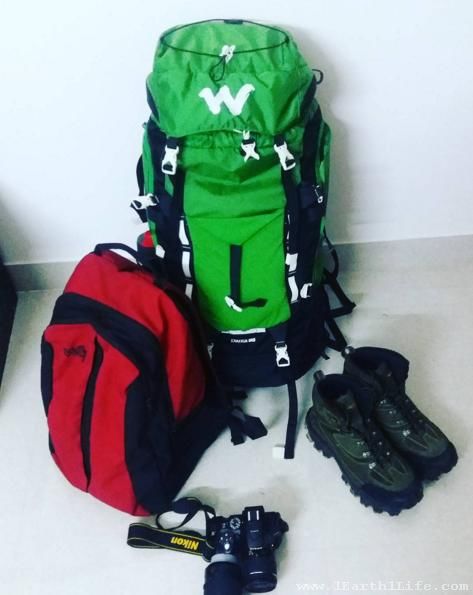 Map :
The ones marked in red were the places where we halted at night during the forward trek and the green dots were during the retreat trek.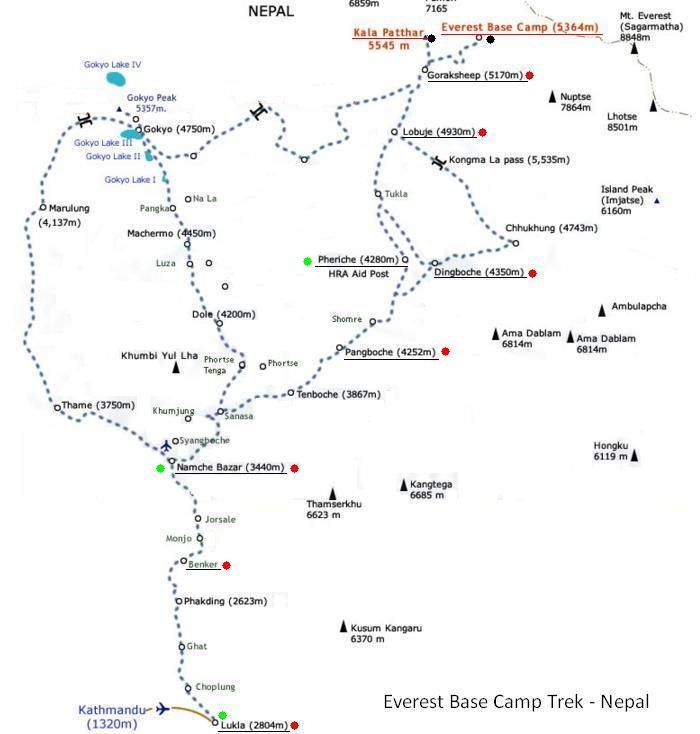 FAQs :
I have compiled the most frequently asked questions about this trek. Click here to view.
Initial Itinerary :
Sep 30 - Day 0 : Flight -> Bengaluru-Kathmandu.
Oct 01 - Day 1 : Explore Kathmandu. Last minute equipment-shopping in Kathmandu.
Oct 02 - Day 2 : Fly to Lukla (2804 m) from Kathmandu, trek to Phakding (2610 m).
Oct 03 - Day 3 : Trek from Phakding (2610 m) to Namche Bazar (3441 m).
Oct 04 - Day 4 : Acclimatization day in Namche Bazar which includes a short hike.
Oct 05 - Day 5 : Trek from Namche Bazar (3441 m) to Tengboche (3860 m).
Oct 06 - Day 6 : Trek from Tengboche (3860m) to Dingboche (4410 m).
Oct 07 - Day 7 : Acclimatization day at Dingboche (4410 m) which includes a short hike.
Oct 08 - Day 8 : Trek from Dingboche (4410 m) to Lobuche (4910 m).
Oct 09 - Day 9 : Trek from Lobuche (4910 m) to Gorakshep (5153 m) to Everest Base Camp (5364 m) and back to Gorakshep (5153 m).
Oct 10 - Day 10 : Hike up to Kalapatthar (5545 m) and retreat trek to Lobuche (4940 m).
Oct 11 - Day 11 : Retreat trek from Lobuche (4940 m) to Tengboche (3860 m).
Oct 12 - Day 12 : Tengboche (3860 m) to Monjo (2835 m).
Oct 13 - Day 13 : Monjo (2835 m) to Lukla (2800 m).
Oct 14 - Day 14 : Fly from Lukla to Kathmandu. Explore Kathmandu.
Oct 15 - Day 15 : Flight -> Kathmandu-New Delhi-Bengaluru.
Sep 30 - Day 0 : Flight -> Bengaluru-Kathmandu.
An uneventful Nepal Airlines flight took me from Bengaluru to Thribuvan International airport, Kathmandu in 3 hours. Cleared immigration without a visa as Indian nationals do not need it to enter Nepal. A hotel representative picked me up from the airport and dropped me at The Lemon Tree Hotel, Thamel.