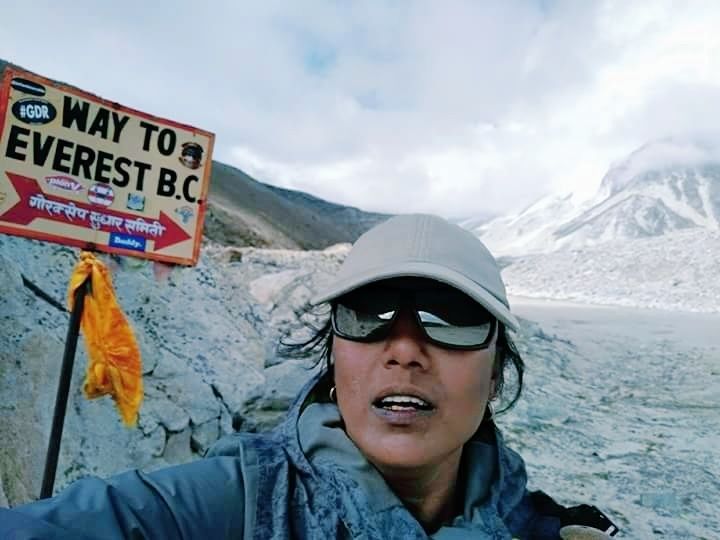 https://racetoeverestbasecamp.blogspot.com/2018/10/race-to-mount-everest-base-camp.html?m=1
Friday, October 12, 2018
Race to Mount Everest Base Camp
The Beauty of Mt Everest fascinated me through stories, documentaries and number of blogs written by people who felt her presence in their life. Not just her beauty, but it was that hazard element and the risks associated that evoked my adventure spirit.
As days passed, I strongly began to feel that mother mountain was calling me with her arms open to embrace me. Then there came a point where I could no longer could remain numb to the inner calling. I knew it was the time i.e Time to act & confront EBC challenge.
Around June 2017, I decided to take up the EBC challenge. When I started analyzing & researching about the trek, I realized that the budget was a major constraint for me. In addition to budget limitations, It's a reasonable endeavor for anyone with good physical fitness I had to improve my fitness level and stamina as it was a mandate to successfully complete this mission.
Without wasting any time, I joined workout classes along with continuous cycling sessions. I started saving a fixed portion of my salary every month by cutting down some expenses for the trip. I was ready with two plans (Plan A & B) to ensure all feasibility options for successful completion of the trip. Early in the morning on the 3rd June I gathered my trekking gear and headed to Tribhuvan Airport to Fly to Lukla.
Plan A: Kathmandu to Lukla- Direct flight to Kathmandu to Lukla immediately. If everything ready like climate conduction & Flight ticket availability for next day have to start on 7 June to lukla.
Plan B: Due to lukla climate conduction flights may be cancelled in this case by road-Kathmandu to Salleri Village vie trek for next two days to reach Lukla.
5 June 2018: Left from Pune on 5th June around 11pm to Delhi - (Flight details Pune 02:10am to Delhi reach at 04:25am to Delhi – (Indigo 6E-6698)
6 June 2018: Reached New Delhi Terminal 1@ 5:30 am - Moved to terminal-3 for spot immigration next connecting flight.
Boarded flight to Kathmandu at 11:45am reach KTM at 13:45pm Kathmandu (Indigo 6E-31). I was pleasantly surprised to see land of mountains finally & tears rolled down my eyes with joy. The Scenic beauty of Nepal just stole my heart. The people welcomed me & felt like a Princess of their kingdom.
Nepal welcome me
Tribhuvan International Airport
On reaching Kathmandu airport, I purchased local sim card for navigation and communication with my parents during the trip. I stayed at The Sparkling Turtle Backpackers Hostel near Buddha Park, Swayambhu in Kathmandu.
7th June: I tried booking for Lukla air Tickets immediately, but failed. So spent the day in Kathmandu & visited local places & Pashupatinath Temple in the evening for Darshana.
Since Plan A failed as there were no Flights to Lukla due to climate condition I switched to Plan B (By Road) -
8 June: Kathmandu to Salleri I meet few people who had come from India to do EBC and Gokya & we all decided to go Lukla by road. The last stop was Salleri village in solukhumbu district. While travelling towards Salleri our traveler van broke down. We had to spend the night in the village. Around a tea stall, I meet a person named Haribabu from India now settled in Kathmandu who suggested me to go to Lukla airport by cargo chopper from Salleri village. He shared contact details Mr. Sitaraman (GM)& I was overwhelmed to I get one reference. Stayed overnight in Salleri Village.
9 June Salleri vie Lukla vie Namche Bazar to Tengboche: Morning I spoke to Mr. Sitaraman, he asked me to reach cargo airport within 20mins as the chopper will be leaving to Lukla by then. Helipad was 5kms away from village in the mountains. I Saw a jeep going towards village I requested driver to drop me at the location, which he refused initially but after some persuasion, he finally agreed. When we reached the place, one of the staff member referred me to one local woman to enquire about chopper charges. She quoted Nepalese rupee 10,000/ & out of fear of being stuck in that village and to avoid any further delay, I agreed to her price.
Finally, chopper took off and landed to Namche Bazar. The Scenic beauty of Namche Bazar is quite popular among tourists in Solukhumbu region.
Cargo chopper along with local person
Local kid at Namche Bazar
I started my Actual trek to EBC on 9th JuneMorning from Namche Bazar. Before starting the trek, I had to get permit from Sagarmatha National Park. Since it was Saturday, the office to give permit was closed. I met Mr. Pramod Barai, General Manager for Sagarmatha National Park in between. I spoke directly to him and got permission. I went to his office and spoke to his assistance to get the permit, which was Rs1950/-in Nepali currency. On finishing the application, I took some pics over that area and museum.
Trek Plan for Next 13 days
I was with two backpacks weighing@ 11.5kg, which made my pace very slow and I had to take a break every 15min. I decided to unload one of my bags in a safe place to collect it on returning. The weather was colder and cloudier, but still pleasant. I continued my journey towards Tengboche crossing forests, valleys, bridges, finally reach Tengboche villager Stayed overnight home stay to a beautiful monetary.
On the way to TengbocheTengboche Buddha temple
10 June Tengboche to Dingboche (4360m) 9.1km: The next day, the lush, cozy forests that had surrounded us so far gradually faded away, and ground became littered with small shrubs. Dingboche, the next resting spot, looked like the Wild West, a sharp contrast from our previous surroundings.
No more trees after Dingboche
Dingboche is place where one can get the first real glimpse of the Mt Everest. I started my trek and proceeded towards Pangboche village. I was blessed with spectacular views of Mount Ama Dablam. I had lunch at Pangboche and will then trekked towards Pheriche to reach the Imja Valley. I got a glimpse of the River Lobuche and it was a steep hike to Dingboche. The trek took about 6 hours while it will be moderate for most part. Here I experienced minor headaches that come and went. Lots of water and an excessive amount of garlic soup provided temporary relief. I decided to hold off on the Diamox at this point, since the headaches never really stuck around for longer than a few minutes.
I felt that having a problem with high altitude sickness. Inform to one of the Guide, he suggested me to take Diamox pills for high altitude sickness to avoid headache. I have started taking pills from 4360meters to continue my journey safely. I have reached Dingboche villager Stayed overnight
Acclimatization day at Dingboche
11 June Acclimatization day at Dingboche (4360m): It was a day short trek to get view of worlds three top mountain peaks, Mount Lhotse, Mount Makalu and Mount Cho Yu and then returned to hotel for continue overnight stay.
12 June Dingboche Vie Dughla/Thukla to Lobuche (4940m), 6.5 hours 7km: Trek to Louche (4, 940m) was the longest trek in this trip. Louche situated beside the Khumbu glacier. The mountain pass is full of mountaineers' memorials, who lost their lives in different expeditions
Mountaineer's memorials who lost their lives in different expedition
I continued my journey towards Lobuche crossing memorials, valleys and Khumbu glacier finally reached Lobuche Stayed overnight
13 June Lobuche (4940m), vie Gorakshep (5170m) to Everest Base Camp (5364m) & back to Gorakshep. The trek was completely glacier route, though it was moderate to Gorakshep (5170m), it took me 5hours. On reaching Gorakshep had lunch and proceed to EBC that it took 2hours. "This Place was called the Everest Base Camp 12 years ago. Because people could trek only till here.This was at the altitude of the 5110 meters above sea level" when I first went to the Everest Base Camp, I had tears in my eyes and felt so happy to reach my all-time dream place. I was able to stay there only for 20minutes and get back. I had to do so much just for this 20minutes of ecstatic feeling. I cannot explain how to would feel like, unless someone goes and experiences it. Back to Gorakshep Stayed overnight.
Everest base camp ice khumbu glacier region
Everest Base Camp
14 June: Hiking to Kala Patthar (5645m) and descend to Pheriche (4940) :The hike to Kala Patthar at 3:30am will be the most difficult part of this trekking expedition. I could see the Peak of Everest.
In fact, Kala Patthar is the only place, which will give you views of almost the entire high peak mountains of the Himalayan Ranges. It took about 3 hours to reach Kala Patthar from Gorakshep.
Mount Everest view from Kala Pathar @ Early Morning
After Kala Patthar & Gorakshep, it was all descending and the trek becomes very simple, though I had to be careful about the decline. Pheriche is full of Landscape and one of my favorite Place. It took 7 hours about to reach Pheriche village stayed overnight.
Phariche Village
15 June Pheriche to Namche Bazaar: It is total moderate trek until Namche Bazaar. It took 8 hours about to reach Namche Bazaar village stayed overnight in YAK hotel.
16 June Namche Bazaar to Lukla: It is total up and down of the mountains crossing many bridge and valley. Lukla,the tiny town I had flown into a few days earlier, felt like home any other cosmopolitan village with all the comforts of home. There was fast wifi, hot showers, bakery & of course, most dangerous airport above sea leavel 2,860 metres
Lukla Valley
Long Bridge towards to Lukla
I entered the guesthouse, which Saturday just a few meters from the Lukla runway, to find nearly a dozen trekkers watching the Football World Cup on TV. The tone was not as celebratory as I was expecting. Out the window, I could see a herd of goats grazing at the end of the runway. With a heavy haze hanging in the sky, pretty everyone knew there were not going to be any flights out of Lukla any time.
Nest Guest house in lukla
My Room
Healthy English Breakfast
17 June: We had small get other party at coffee shop along with other co- traveler's for successful submitting EBC. The same day we received confirmation that the flight was cancelled, just like all the flight the week before had been.
Everest Coffee Shop
18 June morning, five of the other trekkers and I hiked a short ways into the valley to catch a helicopter back to Kathmandu. The beautiful, exhilarating ride took just over 45mins. Then I was in back packers to take rest.
Iam so happy to explain entire my journey experience most joyful moment of my life and how it would feel like, unless someone goes and experiences it.
EBC & KalaPathar Certificate
All picture are in below hyperlink & YouTube video at EBC.
Amulakonda Sreelatha
(sreelatha228@gmail.com)
Cell# 98491-22208
Youtubeurl:https://youtu.be/opepj-0dDHg
https://photos.google.com/album/AF1QipPt2SBvbWP-fGSZK5FhkEvSE7fWe0