Flight to Lukla...
Trust me on this one - The flight to Lukla is in itself an epic adventure...Its a 16 seater plane and ut takes half of an hour to Tenzing-Hillary Airport at Lukla. You get to see a brilliant view of the Himalayas during the flight and an adventure was awaiting before even starting to trek...the landing on the runway...so what's adventurous about it you might think...well the runway is just about 400 metres to the end of the cliff from where starts a deep gorge and then surrounded by the Himalayan mountains (don't forget Lukla is situated at an altitude of approx 9380 feet) ...after the safe landing we all cheered, clapped and whistled and said special thanks for the pilots...for an adventure before the adventure!!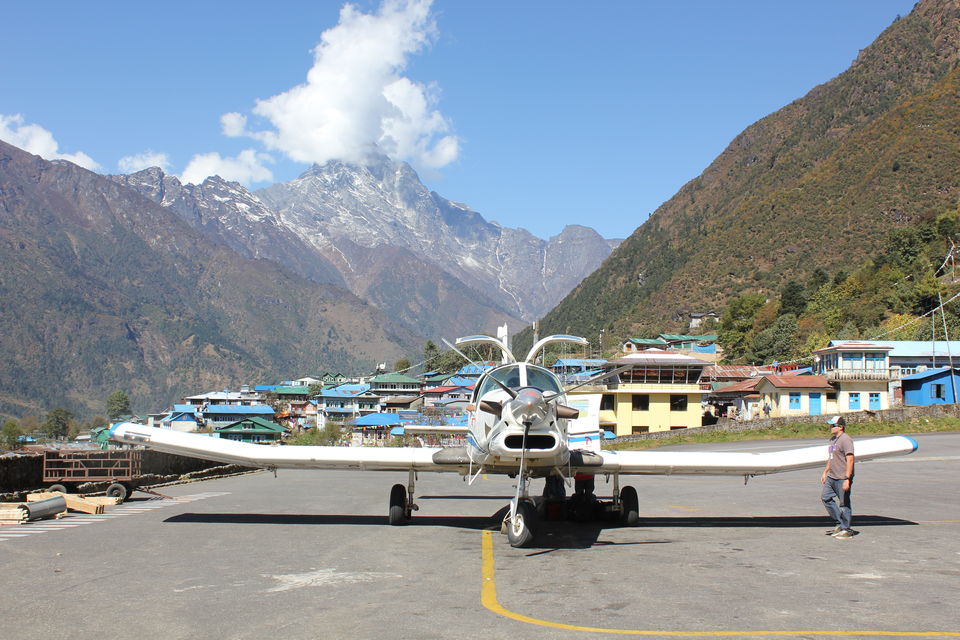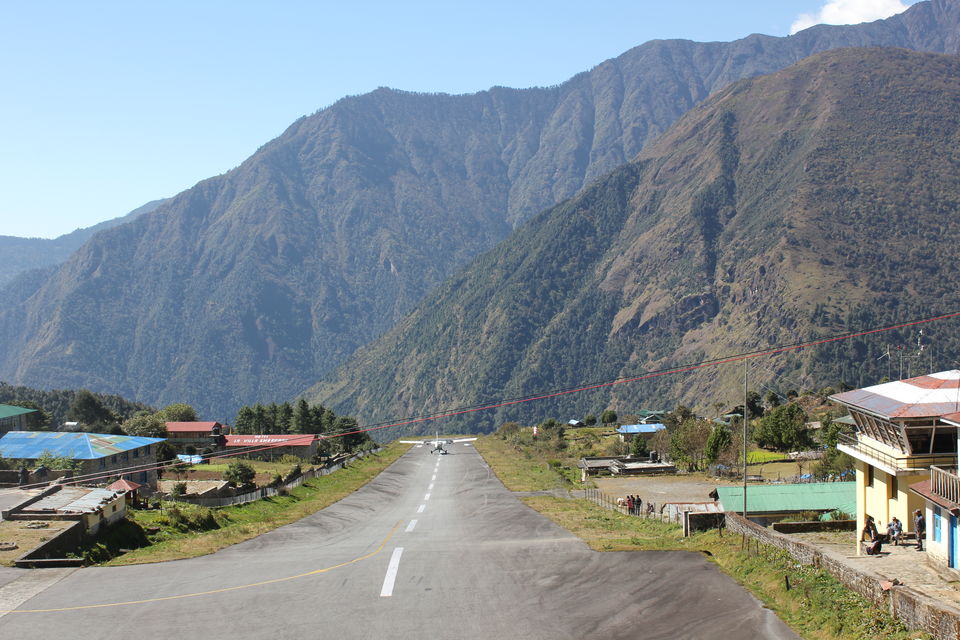 Anyway, few hours later....touchdown at Kathmandu Airport ...after getting off the flight you would have that feeling of"Oh My God! Oh My God! I am in Nepal for real!" You do get to see the mighty Himalayan mountains from the airport albeit far!
The trek itself..
After lunch we started off with the trek, first day being a two hour trek. Well, for a person who's never been to a trek it was surreal to see mountains so huge, impassable, jagged ..well I guess the description can go on....and the first sight of the divine Dudhkoshi river..a blue jewel like stream, bubbling and gurgling, with white water that looks like diamonds gleaming with glory from the suns shine - hopping over the rocks happily and gently flowing over the riverbed and mountains standing silently in the background ...aptly named DudhKoshi!! When we reached Phakding we could see that the area was dotted by tea houses here and there - a place of rest ,food, sleep and comfort!
Well, the second day was one of the toughest days of ascent, might I say so ridiculously steep that it seemed to never end..trekking across from one mountain to another using the bridges that connect the mountains...and you get to walk on plenty of these bridges in which are hung the Nepali prayer flags. Guess what might create human traffic in the bridges..Guess ..Guess..Off course the Yaks! And it is during this day that you get the first glimpse of Everest and also entering into the Sagarmatha National Park! By the time we reached Namche it was bone chilling and it felt like we had been trekking for days non-stop.
When I came out of the tea house to feast my eyes on the mountains...Oh boy! It turned out to be much more! Completely surrounded by the mountains with brooches of snow over the lofty peaks (the mountains would make you think its like a protective wall out there - ready to give you a hug :))...pine trees showing their presence everywhere as if to say "even we are here" and the impeccable number of stars that can be seen as far as your eyes can see. The sight was so beautiful that I stood there in awe admiring the view.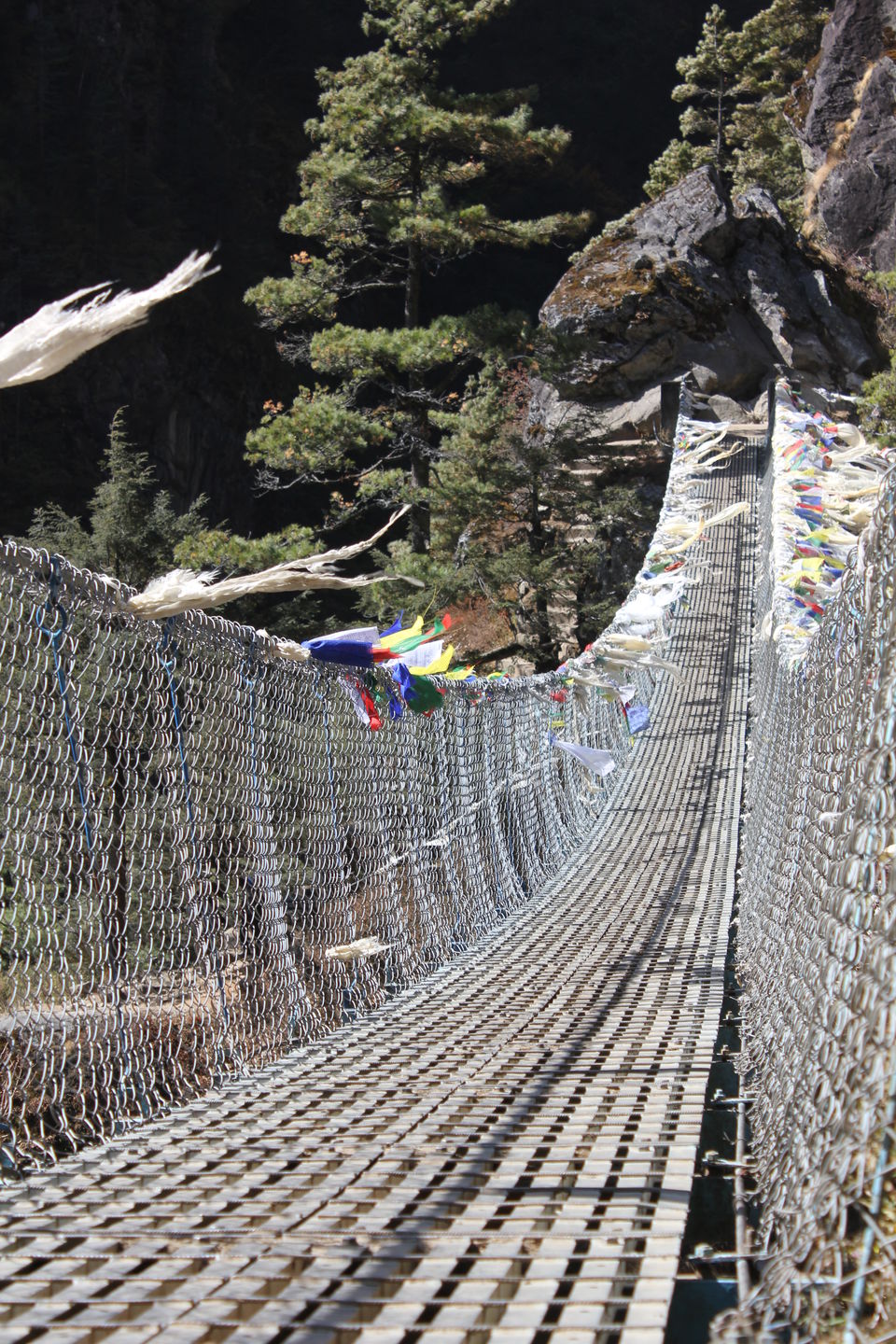 Over the next few days of ascending the mountains to reach Gorakshep ( final place of ascent) over the Khumbu glacier ( Route being Namche-Tengboche -Dingboche-Lobuche and finally Gorakshep) - the landscape would make you wonder whether your dreaming of heaven! - the sky piercing mountains - the snow clad mountains - mountains kissing the sky - the landscape keeps changing bringing surprise in every turn and hour - helicopters flying past now and then - the landscape gets so surreal that you would question yourself whether your on planet Earth or in a parallel universe . The route from Namche to Tengboche is incredibly beautiful as you can see Dudhkoshi far below and you get to view spectacular views of AmaDablam , Everest, Lhotse which seem to welcome you as you trek :). Also, visiting the monastery at Tengboche is an amazing experience.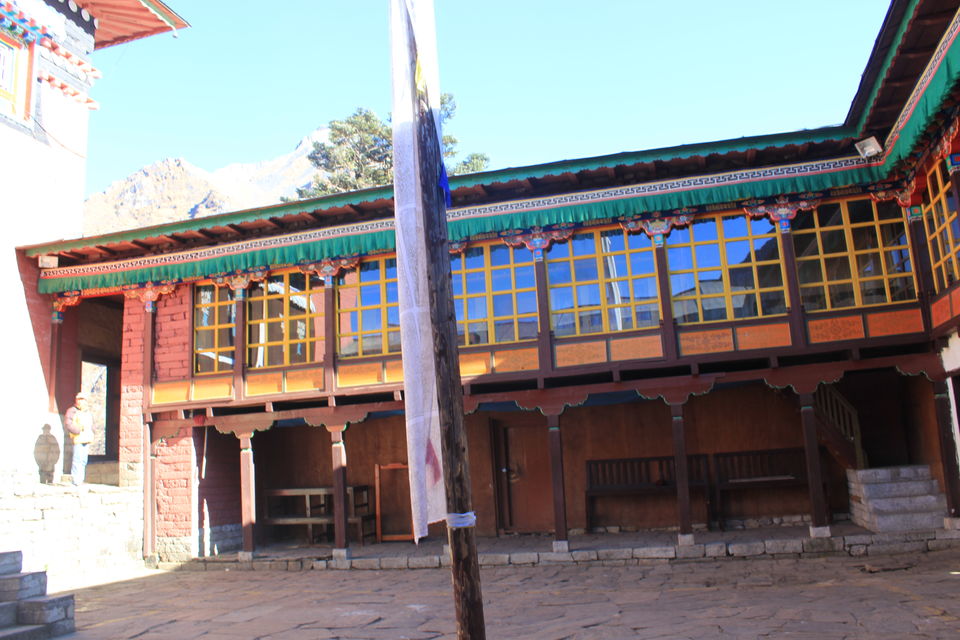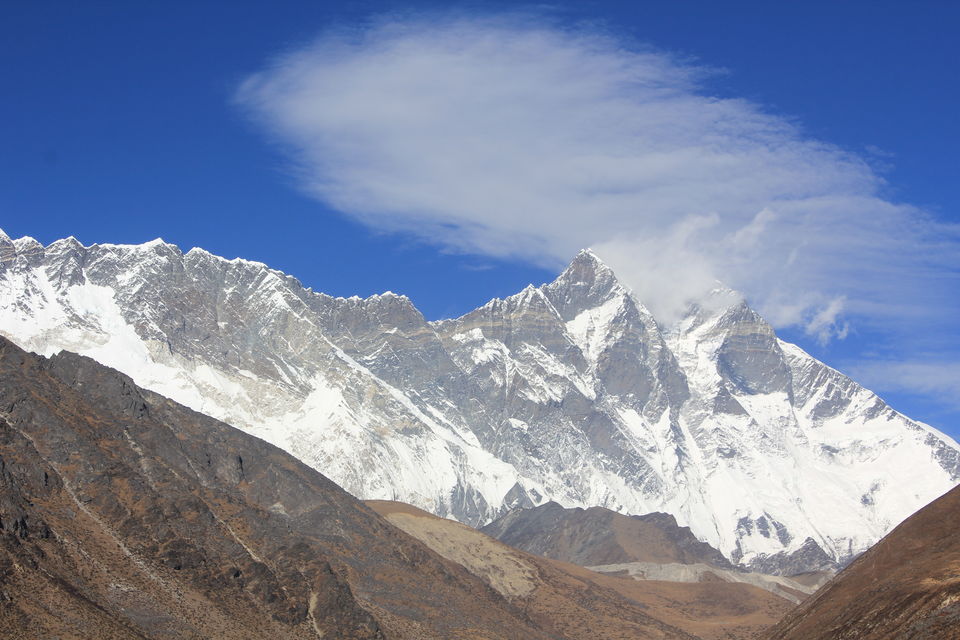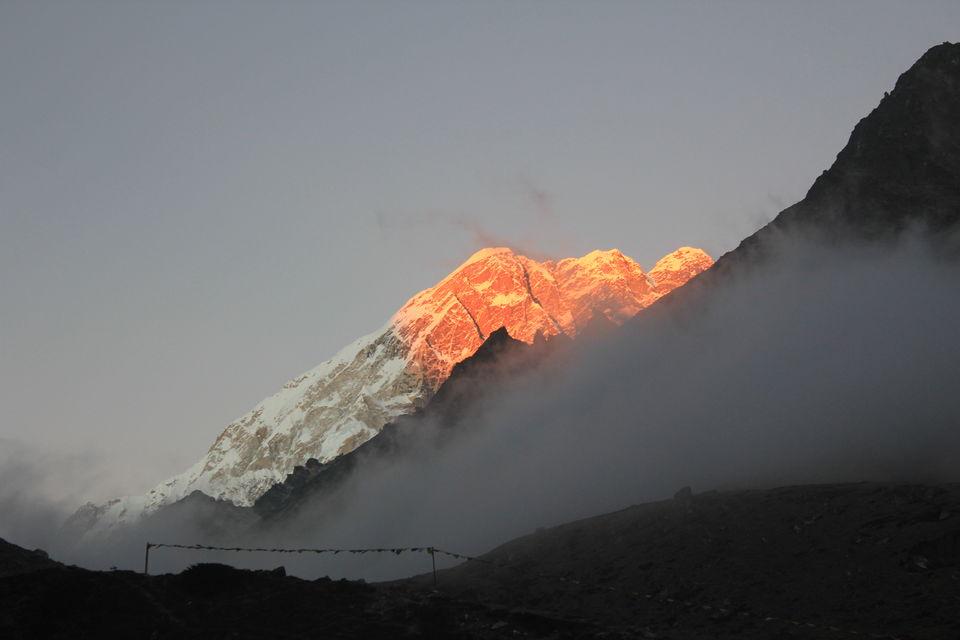 You get to interact with number of trekkers throughout the trek who have come from all parts of the world!! Yes! you get to see trekker from every nook and corner of the globe!! And every village is adorned with pretty , colorful tea houses that would ultimately be a haven after your day's trek. As you ascend to a higher altitude - the lesser the number of trees you get to see. We did find many people who were having altitude issues- thankfully none of us had severe symptoms.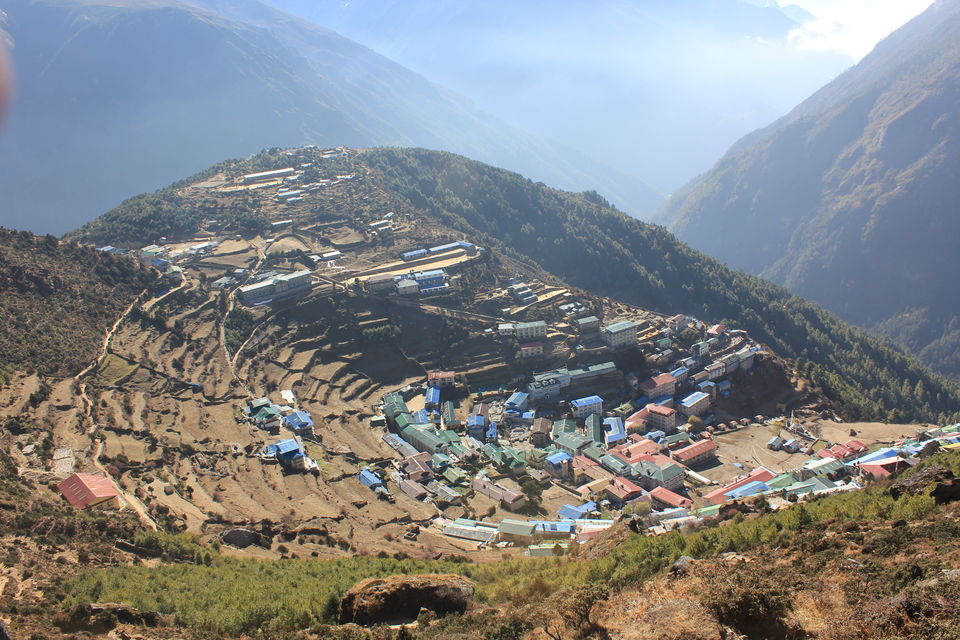 Many a times the silence amidst the mountains would be spine chilling because we are so used to the cacophony of city life - One of the days I leaned my back against a rock and closed my eyes-enjoying the sun's warmth and an air of silence - just the hustle of wind that blows now and then - enough to quieten the raucousness of the mind. The landscape is of such picturesque beauty that no words can completely describe the beauty of the mountains unless one sees for himself/herself and on how one gets completely immersed in the beauty of the mountains. I did struggle while trekking but managed to stay put and reach Gorakshep.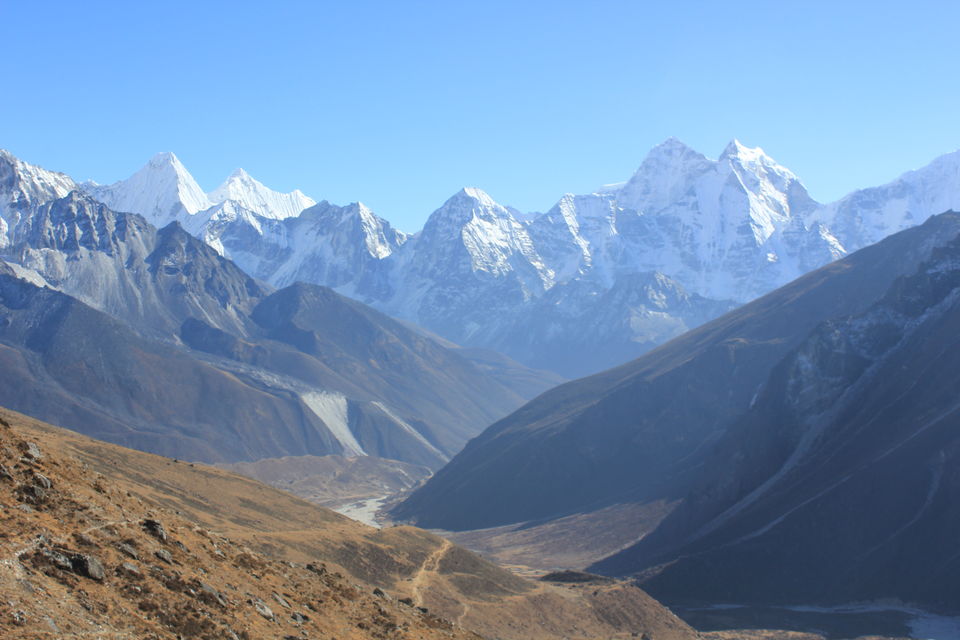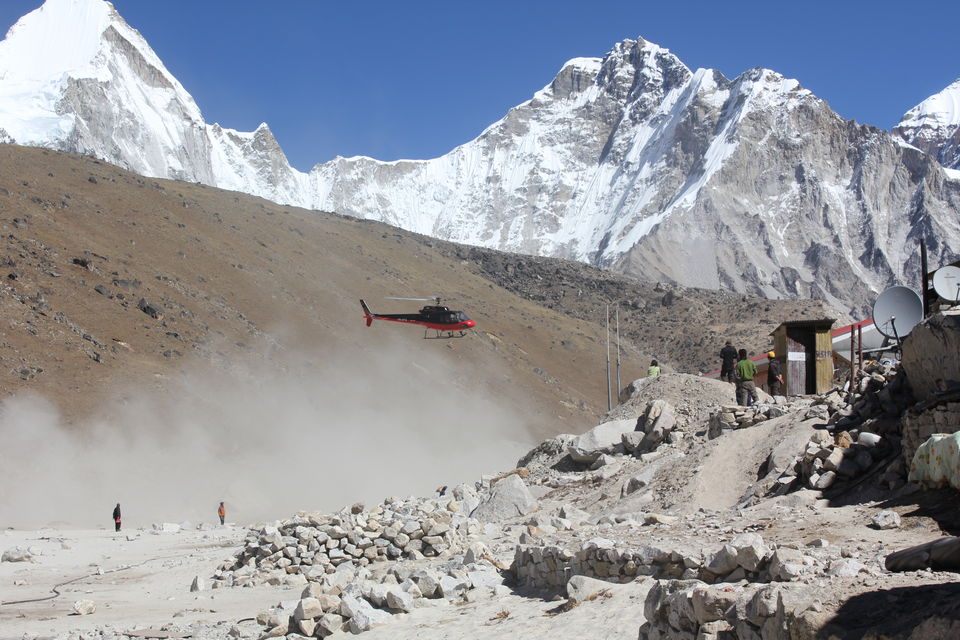 From Gorakshep is where we would head to Kalapathar to view the sunset on Mt. Everest...kalapathar is a barren mountain and it reaches up-to a height of approx 5550 metres...I struggled a lot on this day - I could see my other trek mates way up the mountain and I was struggling behind. I didn't want to give up- I had to motivate myself that "I can reach there- just a little more"..I kept telling this to myself and slowly made my way to the tip of Kalapathar - from where one can get majestic views of Everest, Luptse, Nuptse and Pumori in the backside - I was stoked when I reached the tip of Kalapathar - a person who's not a fitness freak - never been to trekking - working in the night shift- and surmountable confidence that I can do it and on the Divine. But, behold, when the sun was setting we were treated with what one could consider the blessing of viewing a golden sunset on Mt Everest - The tip of Everest and the surrounding mountains seemed like it was painted in orange-gold - a sight soo divine that it was the epitome of our trek. One of the most scintillating sunset a human being can possibly see.
What an experience ! Words fail me though I have described a bit of the trek ... the Sherpas (Himalayan inhabitants) who are such warm and friendly people and hands down they are stronger than the word strong !!
Hmmm, as any other Himalayan trekker would agree , Himalayas has a magnetic effect that once you visit them- even when your heading back to your city you would almost certainly be planning for another one! Well, I for one loved Nepal and the entire experience soo much that I literally had tears when I thought I had to get back to civilization.
Well, what are you waiting for?
Frequent Searches Leading To This Page:-
Everest base camp for beginners, everest base camp trek difficulty, everest base camp trek deaths, everest base camp to summit
It all started due to the unending turmoils in life and the need to get out and find some peace of mind which seemed to be lacking from long! Mind you I have never trekked before and what started as a search to head out for a trip to Himalayas ended up in booking a trek to Everest Base Camp (EBC)! Yes, you heard it right....EBC baby!
So here I was at Bangalore Airport on Oct 27th, 2012 waiting to board the flight to Kathmandu with 4 other unknown human souls destined to go for a trek together what would be one of the best soul stirring -life experience . If it weren't for the a-bit-pushy attitude of the organizer (in a good way pushy) I would have not thought of going ahead!!So I owe her for this !
To give a preview of events that led me here.... Dads permission ( though informed him after booking the trek ) Check!.. Getting leaves sanctioned from office..( 15 days) Check! ...Fitness for the trek.... Check Errr never been to a trek before and just worked out in the treadmill for half an hour a day for a month. Did I worry about fitness....not really since deep down I had lot of confidence regarding my stamina. All that was there in the mind was" Himalayas" "Everest" and "Himalayas" ...so the rest of the stuff became secondary :) ( I know in reality it sounds crazy).