Ready to travel with a handpicked Itinerary, Free visa and a few bahts in pocket. Thanks to Ithaka – travel planner app for helping us out with putting our itinerary together and specifically suggesting us with the 4th and final destination in Thailand.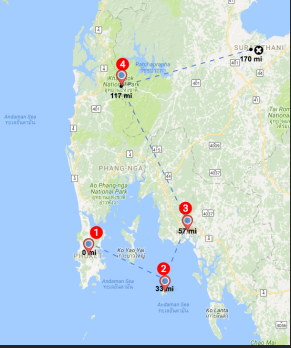 After picking on the locations and duration of stays, it was time to book our stays.
And while we selected "budget stays" for 3 of the locations in 6 days, we chose to spend every saved penny on stays of last 2 days. So we had,
Location Speciality Cost
Phuket | Hotel with roof top swimming pool | 1k per person per day
Phi Phi | 4 beds in Backpacker's Hostel | 1k per person per day
Krabi | A fully equipped,cozy BnB studio apt | 5K for 4 ppl, 2 days
Khaosok | Floating Bungalows (Complete tour) | 5k per person
Khaosok | Beautiful Camps | 1.8k per person
Beginning : At 8PM, We took the surprisingly comfortable Delhi Metro-Airport line which was a ride of less than 20 mins from New Delhi metro station. After going through all the formalities from check-in to the security check, we were left with mere 20 mins to have a quick free meal on the airport lounge with a beer each before taking off @11PM for our journey.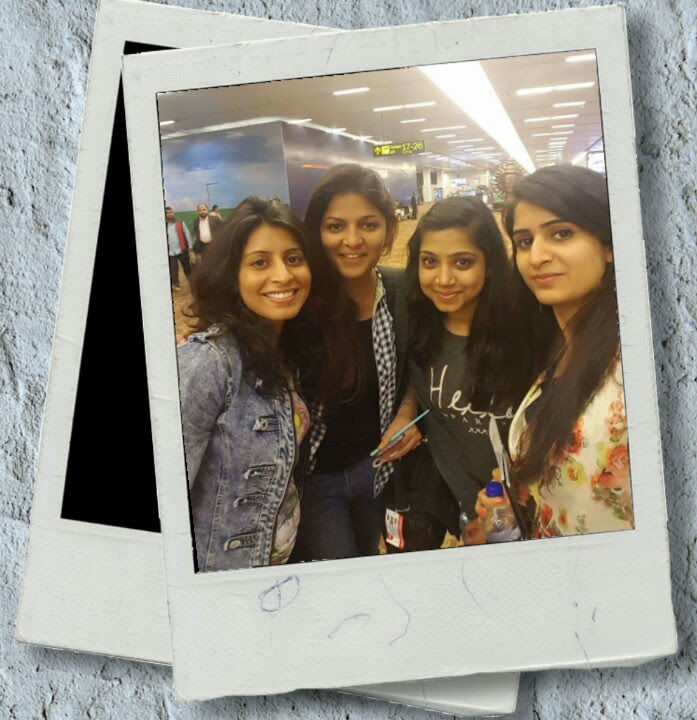 Have you been to Phuket?
Woke up with first brightening views from plane reaching Phuket, bought local sim cards and took a shared minivan to our hotel in Patong area. After the tiring overnight travel, We grabbed a last bite of mom-made food on our journey and surrendered ourselves to the comfortable beds for few hrs. Later in the evening, We rented 2 motorbikes for a day and went to see the Phromthep cape sunset point which was a 20 km long ride from our hotel.While the uphill ride in twilight was spectacular, the point was a bit too much crowded. We spent some time out there, seeing the setting sun and the beautiful view. While returning we took a stop at Karon beach, grabbed some cocktails, beers and headed back to hotel, to float in the roof top pool.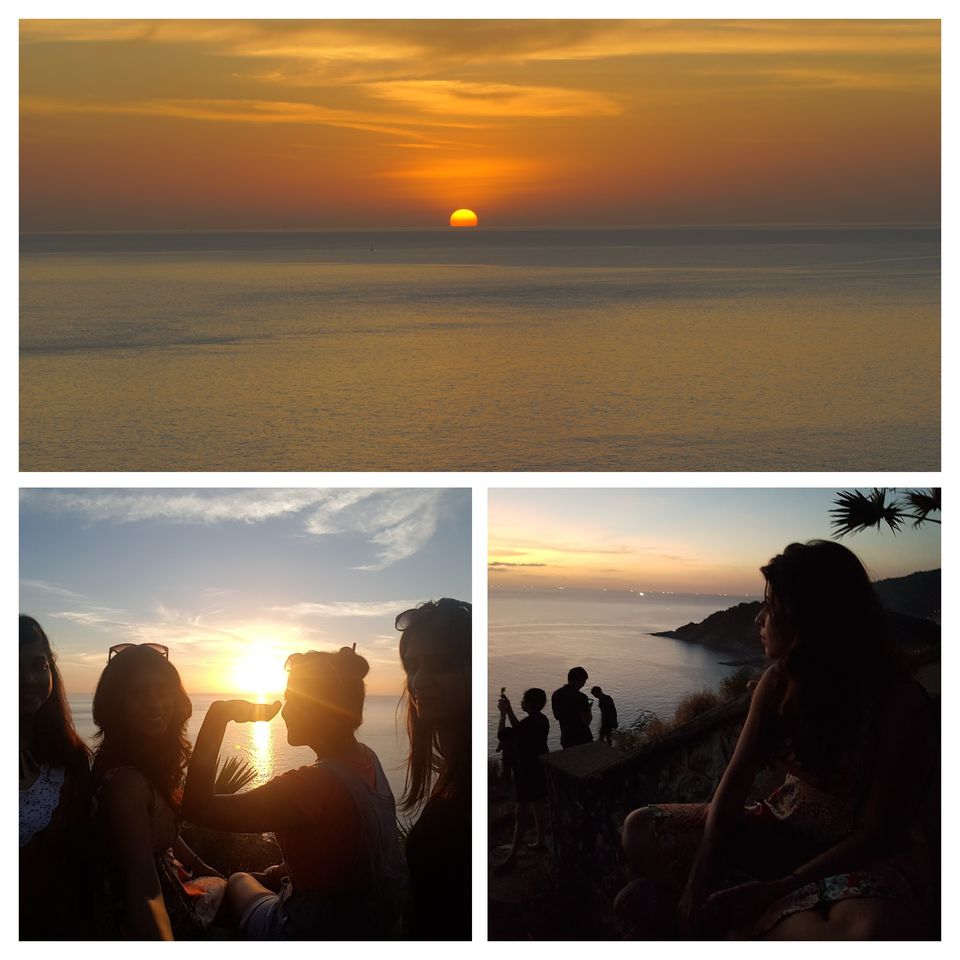 Touring PhangNga Bay : Next morning we went for a tour to phang nga bay, which included
Pick up and drop from/till hotel in phuket.
A ferry ride to overrated james bond island.
A canoe ride going across caves.
A full fledged lunch.
And last but not the least, ferry stops at a place safe for swimming, in middle of nowhere, and you can dive in the water from top of the ferry.
We had a real good time meeting people in the ferry, dancing on arabic songs and making Irani people move a bit on 'humma humma'. Later on when I was a bit tired talking to strangers, I took a break with one of my friend. We walked towards the exit door of ferry hall to see people jumping and diving in the water! I dived in the next second. And then once again, We jumped in. It was a hell of a jump from the 1st floor of the boat.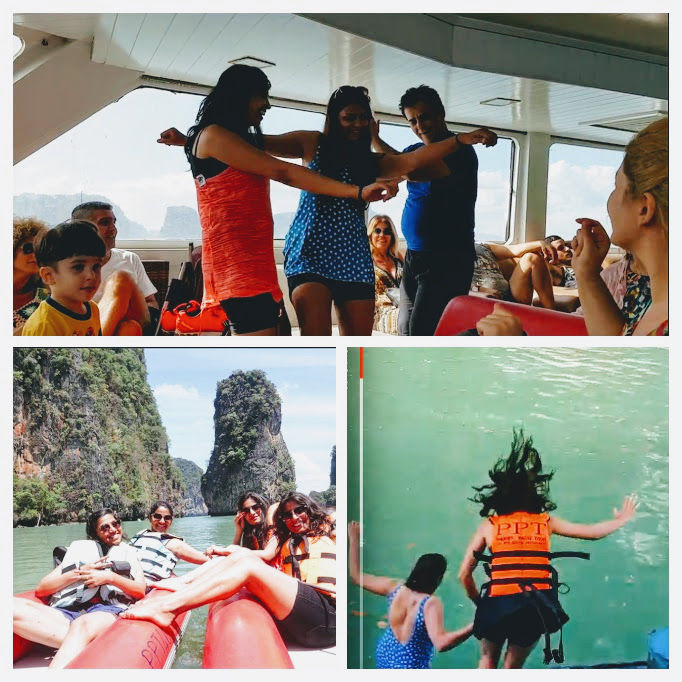 Infamous Bangla : In the evening, we went to see the infamous street of phuket i.e. 'The bangla road'. After hopping into a few clubs, we settled for one of them offering discounts on beer. Well ! I won't describe the whole experience. But it seemed funny to hear an Indian Bollywood no. "aaja nachle" in a club of Phuket, and while everyone had eyes on the girls on stage, An Indian man on other side of the stage thoroughly enjoyed every beat of the song with this crazy shake of his head. Later on we went to the Patong beach close by, and spent sometime talking about a few creepy things we saw in the club and played a sand pictionary game.
Through me a Party @Phi Phi
Next morning we left for phi phi islands which was a 2 hr ferry ride. It is a very small island, with no vehicles on the road. With beaches on two opposite sides and hills on other, everything can be reached with a few mins walk. Excited to experience our next stay, we entered our backpacker hostel in a surprisingly clean room with two other travellers who were already staying in the room. We didn't get to talk much with them as we were almost never in the hostel together, and for the very little time all of us did find ourselves together, they weren't quite inviting.
We decided to take rest for some time the 1st day on Phi Phi after which we went out to try some local vegan food. Then we quickly moved to the beach and had a quiet swim for ourselves. Later in the evening we booked scuba diving trip for next morning and proceeded to have an Indian meal since we couldn't stomach the thai food much. As the night set in we were at war in a game of beer pong with another group of friends. They were ruthless. Shooting the ping pong ball into beer glasses like there was no table at all. Scarred from our exhilarating defeat and having lost half our senses from all the beer we had gulped, we basked in the glory of this game full of life. We danced, they teased, we jumped, they scored. We were alive !!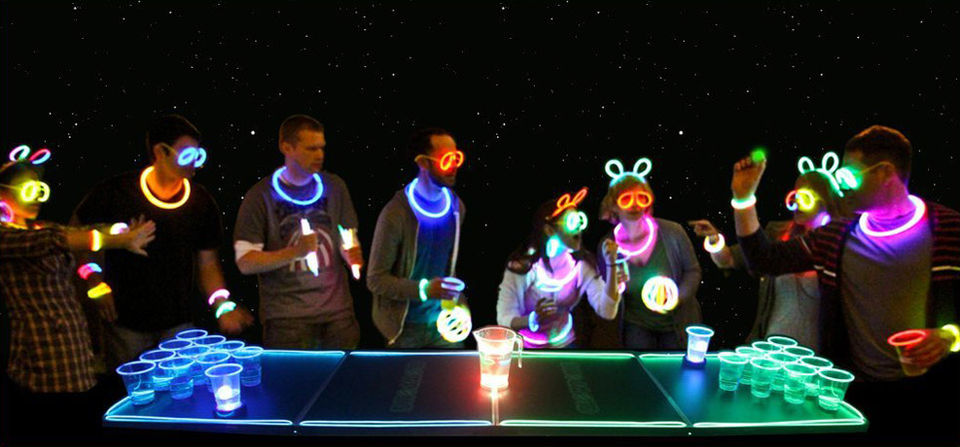 Next morning we found ourselves sleep deprived and full of different kinds of anxieties. Two of my friends declared that completing even one of the two dives would make them their own heroes. Well I was excited for the dive and couldn't wait to check out the amazing marine life under the vast ocean. Couldn't care less about my paranoid friend who asked me to never let go off her hands as if I could be trusted more than our instructor to save her life in case of a mishap. The cruise ride to the diving location was the time when our instructor prepared us with some life saving tips and tricks under water, like how to drain the water that seeps into the eyeglasses and how to get back your oxygen regulator if you lose grip on it. Lastly, after the basic sign language training for communicating underwater, we geared up for our first dive .
Time to Dive In : We dived in (and instantaneously came up, floating). Then the instructor took us one at a time , a few feet under water and made us practice all the skills he taught us verbally on the boat. Initially, the use of regulator to breadth in and out made everyone a little uneasy, and I did feel 1 0r 2 of my friends may quit, seeing their reluctance and unease just a feet under water. But once we went deeper, they kept on going on and on ..and i was quite proud of them, honestly. What we experienced under water was breathtaking marine views with turtles, lots and lots of different kinds of fishes, baby shark, jelly fish and other species i don't remember names of.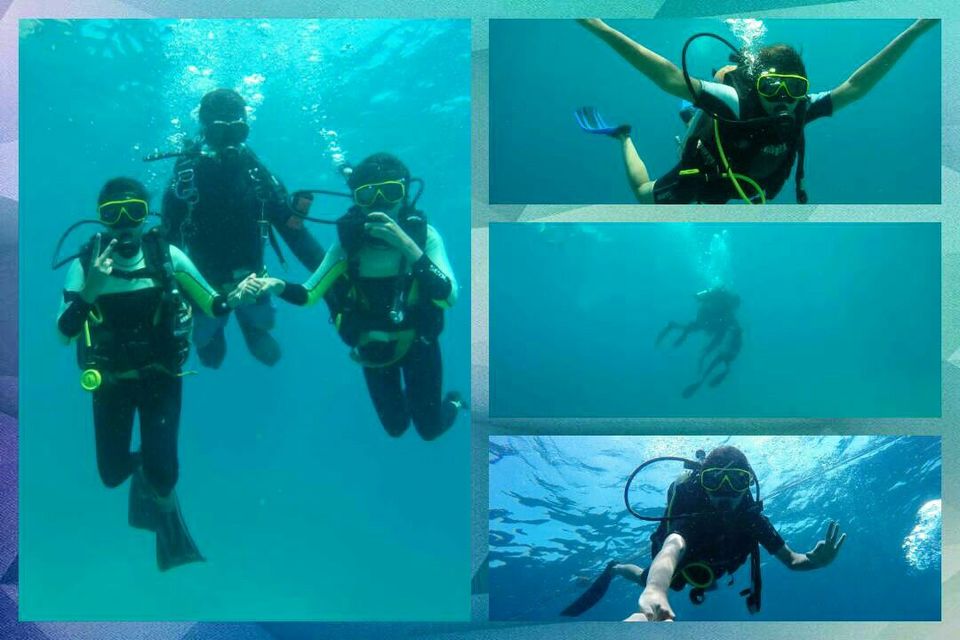 Later on I remember us talking about the whole experience, and I shared with them about how calm and at ease they looked deeper in the sea, to which one of them promptly replied that it really felt like the only option, once inside (do or die literally) .*everyone laughing*
The Vibrance : After the mesmerizing experience of scuba, We were even more excited to see the much heard, vibrant nightlife of phi phi. We went to the coastline of phi phi with lots to backpacker's hostels. We saw a huge crowd gathered in front of almost every hostel, with fire-shows and stunts being performed all over . We sat in front of one of the fire show with glasses of beer in our hands. As the night grew darker, parties started getting louder and People started participating in the limbo and skipping games in greed to get a free SHOT and yes right, how could we stay back? I along with one of my friend managed to earn 3 free shots each in easy stages of game hosted by same guys performing in the fire show. ????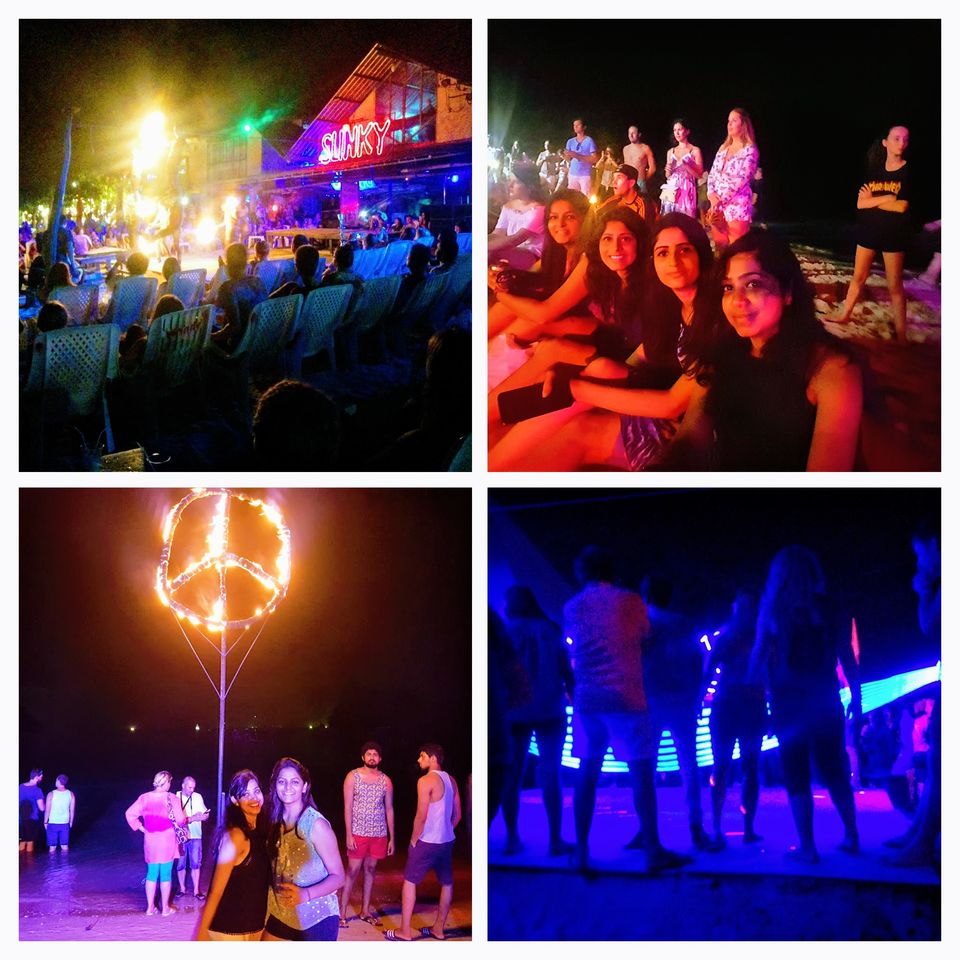 The night didn't end here, we played another game of beer pong to get drunk in style. With all the enthusiasm and craziness people create around the table, I realised that spectators participate equally in this game. Later the shows/games which were pumping up life came to an end but everyone out there seem to have woken up to the new level of energy. As soon as the floor was set clear, Everyone started to dance ! After losing ourself for a while in the crazy dance and music, We sat on the beach to relax. Amusingly, After a short while, Guys started to approach us with their innovative ways to start a conversation, like showing off magic tricks they don't know, or asking for way to pier, or 'who is following who' conversation, or just coming forward and talking about their travel experience. We had a real good time talking to most of them and even though none of us wanted to leave the place, We finally walked back to our hostel @ 3 or 4 AM only to take ferry to our next destination in the morning.
Find the magic @ Krabi
Krabi is another beautiful town, which offered us to go beyond what we planned. We reached on to our cozy little studio apartment after 1.5 hrs of ferry ride and 1 hr of taxi ride. We cooked some maggi while enjoying and appreciating the cozy apartment. Later we talked to the super friendly lady at the reception to arrange us bikes. We had a few eye pleasing places in our itinerary for the day, like jumping in emerald pool, hiking to tiger cave temple and taking a hot spring bathe close by it. But we ditched our itinerary for once to just chill around and went to ao nang beach 1km away and shopped in local street market for hours. Afterward we grabbed some thai beer and headed back to our apartment to indulge ourselves in some drink&talk and played some brainy card games till 2AM.
We woke up @6AM to support a friend with her adamant idea to see a sunrise on the beautiful and calm beach of ao nang. We drove to the beach to see a few jogging and our friend attempting yoga. Poor sleep deprived me slept on the beach mat, to be woken up by the tiniest breed of dog playing around me a few minutes later. We spent some peaceful time on the beach to see the sun rising from opposite side to beach. Yes! We should be drunk to think that sun can rise from the same point famous for sunset. ????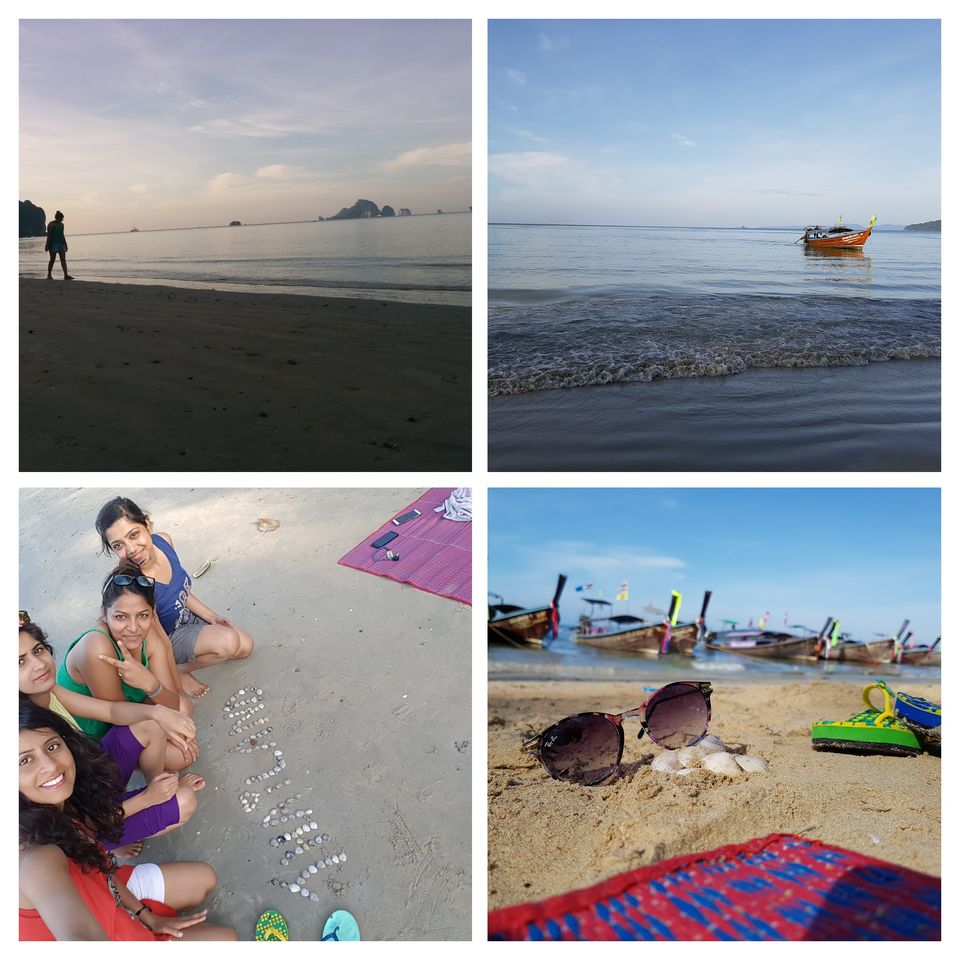 Railey Beach : It was a rainy day in krabi. After returning the bikes and pre-booking our taxi for next destination, we did some tripling with driver on motorbike taxi to reach ao nang beach. We took a long-tailed boat with 15 mins ride to drop us at railey beach in the evening. The beach looked amazing with the clouds giving dramatic feel to it. We spent some time in the water till it got all dark. A boatman approached us with his offer to take us back, and the Indian in us started to bargain! Surprisingly, he promised to show us the planktons (species behind bioluminescence ) in that money.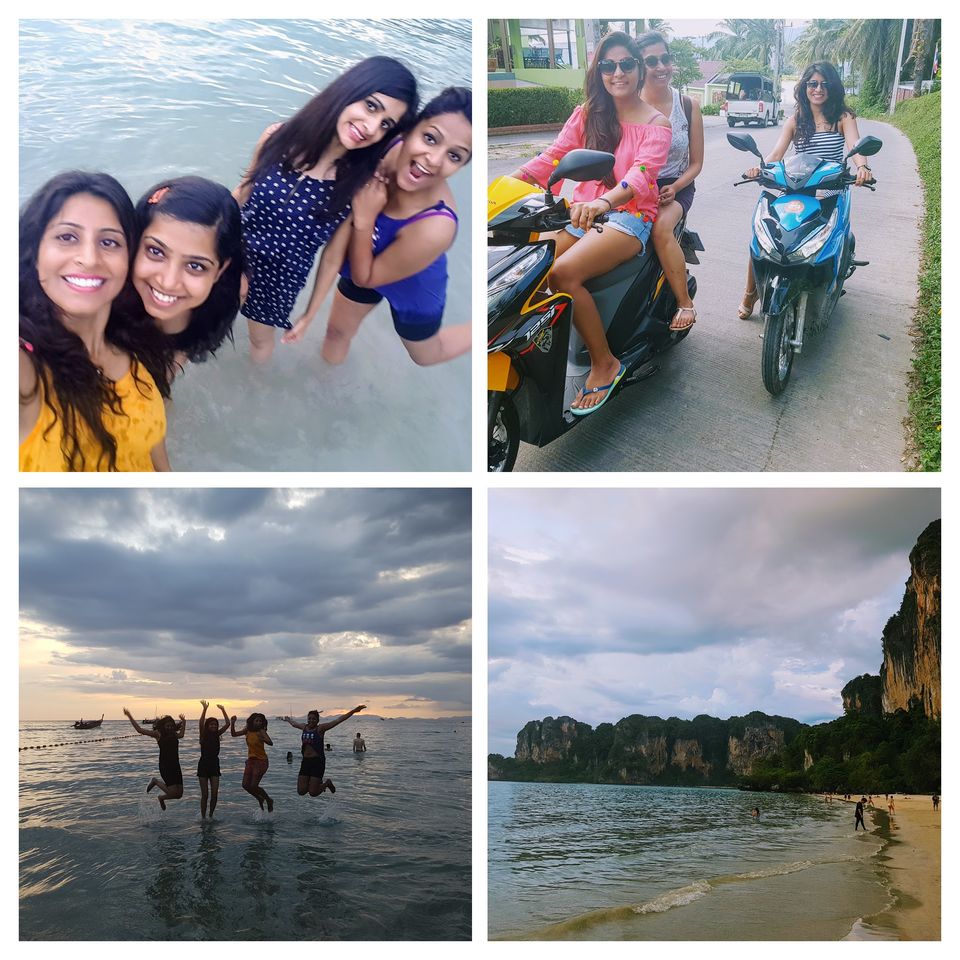 Swimming with Planktons : It was a dream to see bioluminescence, specially after watching some spectacular scenes of it in leonardo di caprio starrer "The Beach".But more we researched about them, we got to know that its depreciating and hardly visible in thailand anymore. So we never added it in our itinerary till that boatman came up with the offer. After changing on to the spare pair of clothes in our bag-pack, We climbed on his boat with another girls gang and a couple.He drove us in dark to a cliff in middle of water and stopped the boat. We could not see a single glowing thing, so we enquired with him for planktons. He bent a bit to wave a little in water via his hands, and there they were!
He invited people to take a dive and swim. No one responded may be because no one could trust it to be safe to jump in middle of nowhere with zero visibility in the dark. While we still could not gasp in the mere idea, he jumped in. We were awe-stuck, and he called everyone in one more time. I could not resist! How often do we get to see something so amazing and it has to be safe inside since he has already dived in pretty confidently. With no more spare clothes in bag and lot more to roam around, I saved the clothes and jumped in. One more girl from the other gang came up and dived in. Other people on boat became spectators watching planktons around us, glowing with movement in water.
While we were still struggling with the courage to stay inside water in dark, the boatman asked us to follow him towards the cliff. With excitement overtaking fear, we swam to follow him. We did ask him about any possibility of a shark, He refused confidently and took us closer to the cliff. It was shallow there, so we could comfortably touch the ground and saw a lot more of the planktons. We quickly looked around and turned to swim back to the boat. I spent the rest of boat trip peacefully, in admiration and awe of what we just experienced.
Later on, we did a lil shopping and realised that we were short of cash in pocket, so we walked back to our apartment to get some after grabbing some beer from leftover cash. We went for a session of thai massage after a while. They twisted every joint and squeezed every inch of our body as if we were a piece of cloth. It felt really relaxing though.
Disappear @ Khao sok National Park
Once again slept @2AM and woke up @5AM to catch up for our 4th and last destination. We chose this destination for 2 reasons-
Staying inside a national park on a lake in floating bungalows .
People were going gaga for treks in reviews of the place.
It was a 2hrs drive. It was impossible for us to keep our eyes open and each time i could, I checked if the driver has not fallen asleep. We reached the resort, which was the starting point of our 2 days 1 night lake trip. A shared minivan took 14 of us waiting at the resort. It took us to the pier of long tailed motor boats going to floating bungalows while taking a halt at local market for people to buy any essentials. We took a head torch and beer.
Cheow Lan Lake : It took 45 mins for the motor boat to take us to the lovely view of floating bungalows. We were rather surprised to see the vastness of the lake. And got to know that its a 35 feet deep man made freshwater lake which is used for generating hydro electricity and for conservation of the national park. We met the BIG MAN (as he liked to call him), one of our guide for rest of the tour as he showed us our bungalows. We quickly kept our backpacks in our bungalows, put swimsuits on and jumped in the lake. After a while, we took the kayak parked right in front of our bungalow to take a look around. At 2PM we went to the common lunch area for a thai meal and quickly got ready for the trek.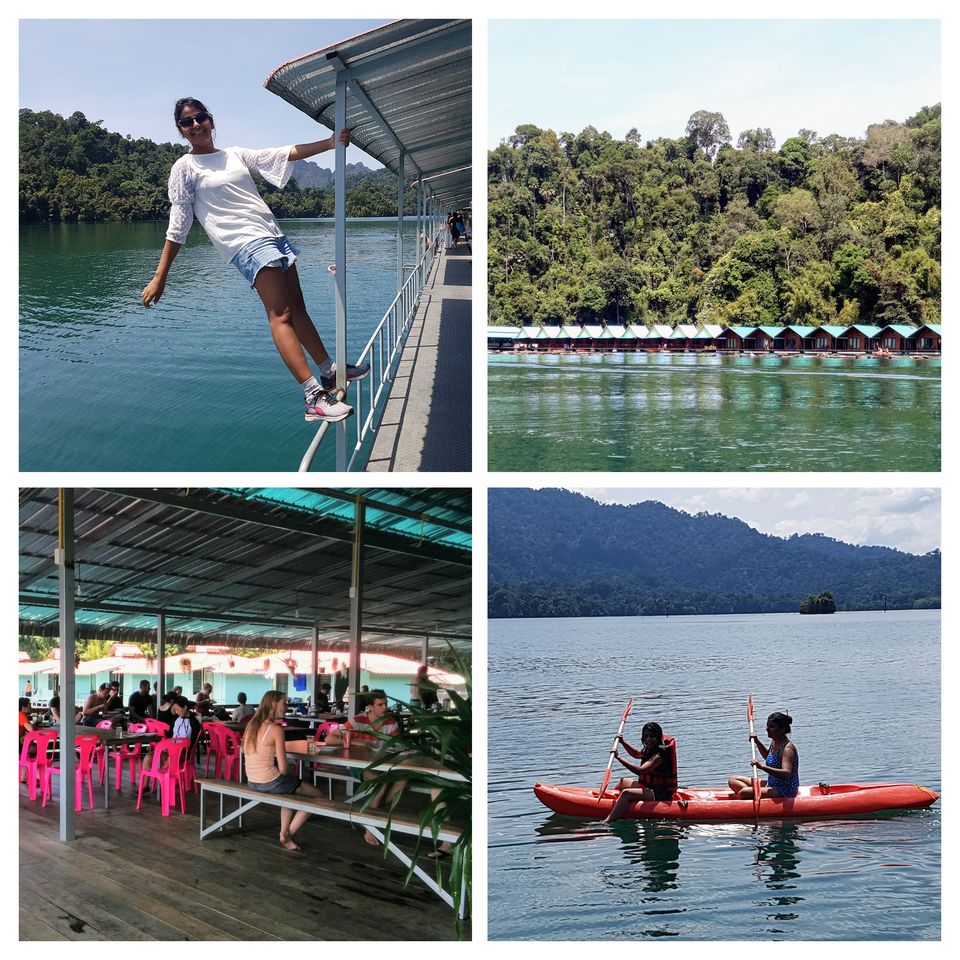 Nam Talu Cave trek : It was a 3.5 hr long beautiful and adventurous trek for going both way, which makes you walk through jungle, water and of course nam talu cave. It takes 1 hour to go through the dark cave alone with water level going above 5.5 feet (my height) in some parts of the cave and only source of light fitted on your head. You can see bats all over the cave ceiling and glowing eyes of wide variety of spiders on the walls of cave.The cave does not end till you start praying for it.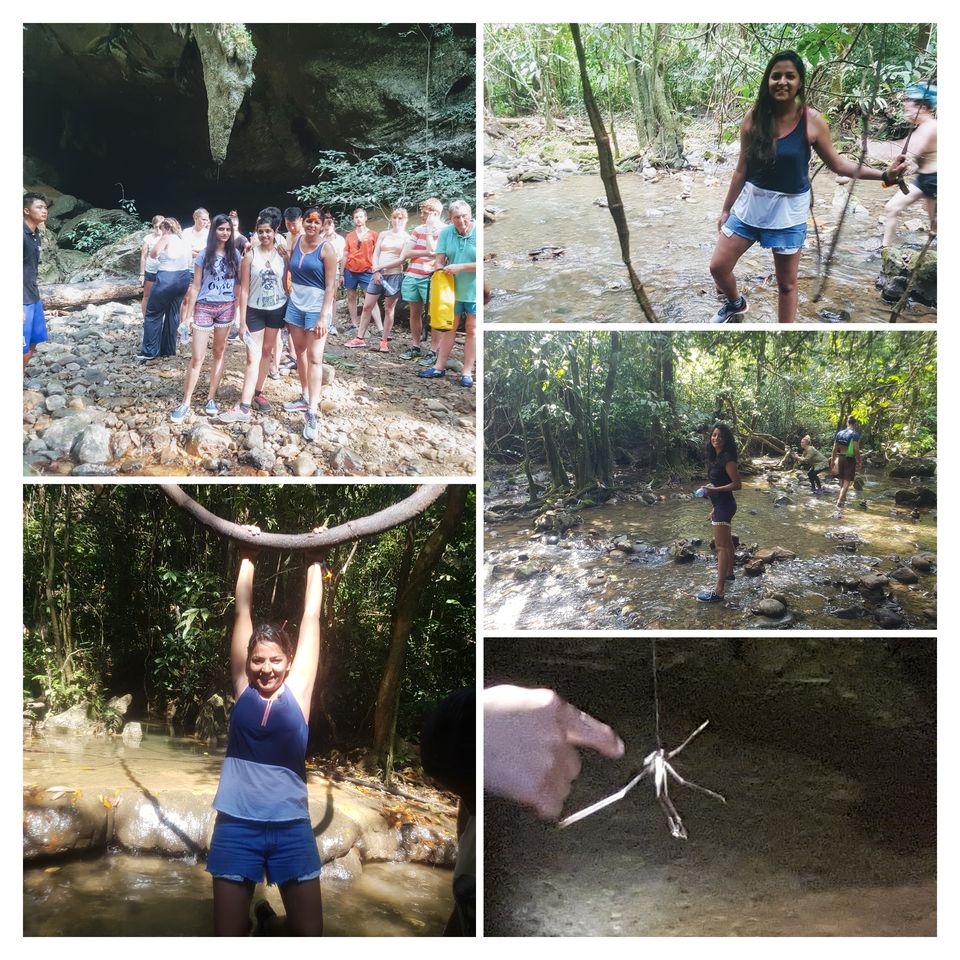 Nam Talu Cave Trek
Returning just before the dark, We went back to our bungalows for showering off the mud and relaxing for an hour or so. Later we had our dinner while the guide announced in his quirky style to join him in a small night ride in lake to see what jungle looks like in the dark. And for the boring and lazy lads out there, they can just chill with their friends and beer for the night. After thinking and rethinking, we decided to go along.
Being Pirate : The boat went through a tunnel-like area of lake with jungle on both sides and a dark clear sky with billions and trillions of stars glowing .We were right at front, laying on the front tail area of boat.With pin drop silence on boat and a torch to look forward in dark, the whole ride had a feel of pirate movie and i did feel at some point, someone from our boat will scream for an Attack as we were heading into the dark. After returning back, We spent the rest of evening drinking and talking to a group of two old-aged German couples and a 25 yr old girl cop from England.
Day 2 of tour : Next morning we woke up @8 to have a quick breakfast and checked out from bungalows to go on yet another trek, before returning back to where we started for the tour. It was a 1hr long steep cliff trek to get to a cave. With two of my friends preferring to relax and one lil injured, I went ahead with the group. Though the cave seemed ordinary after what we saw a day before, It is always great to trek. It took us 45 mins to climb to the cave and 15 mins to come down for a treat.
We reached back to the resort from where we started and waited to be picked up for the final camp night. It was a 15 min drive to reach the camps resort. It was in every way apt place to chill out on the last night of the ending trip. Words cannot describe the place, So relying on pictures.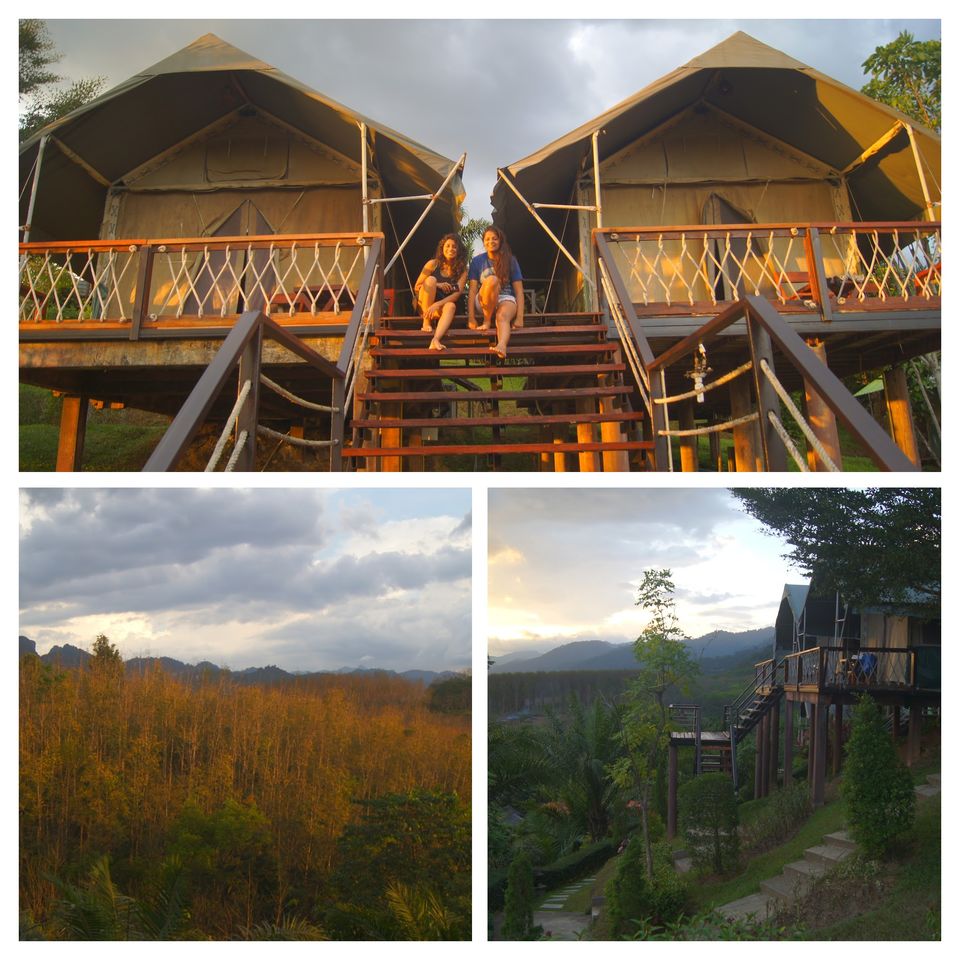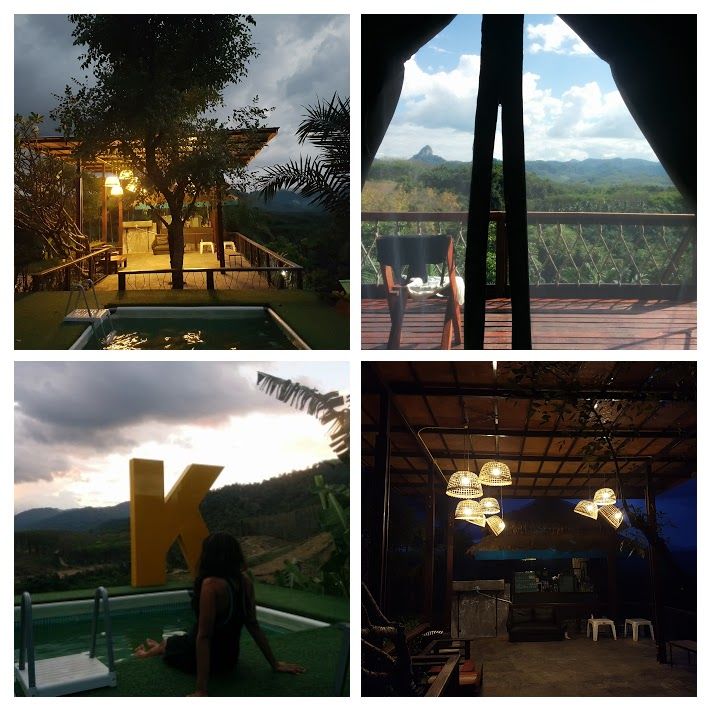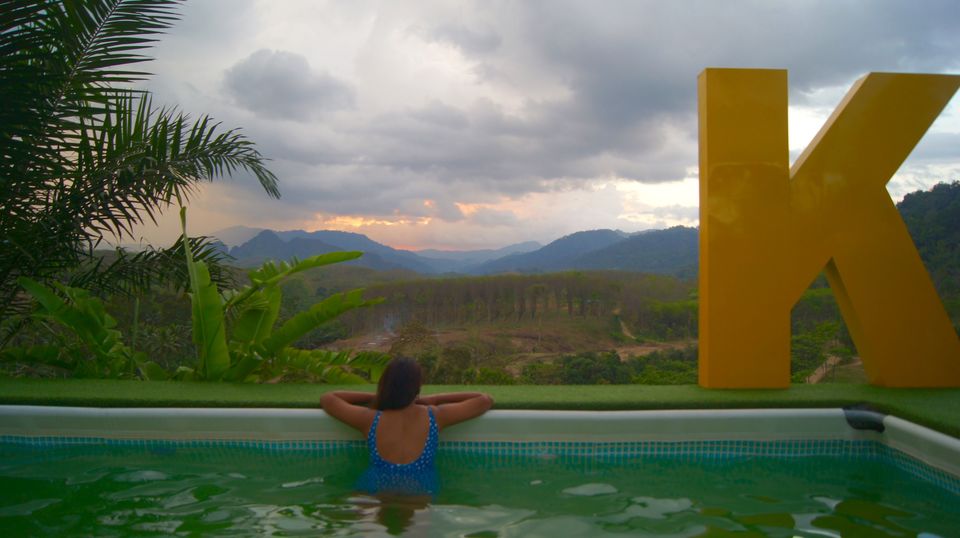 We left the camp @9:30 next morning to catch our return flight from Surat Thani airport.
And i wish that could have been the end, but Kaula Lumpur airport wanted to enter the blog. We tried saving 8000 bucks by getting the connecting flights on different tickets but end up paying for Malaysian visa i.e.14000 Rs for 2 person. We needed the visa to cross immigration for picking our luggage and re-checkin. Air Asia did not find it important to tell us about the visa condition, When we showed them both the tickets and requested for a baggage transfer @Surat Thani airport. I wish i can curse Air Asia a little more, but i think we all need cheap flights.
Thank you to those, who could bear my first piece of writing till the end and don't forget to share your Good, Bad or Ugly reviews about the blog.