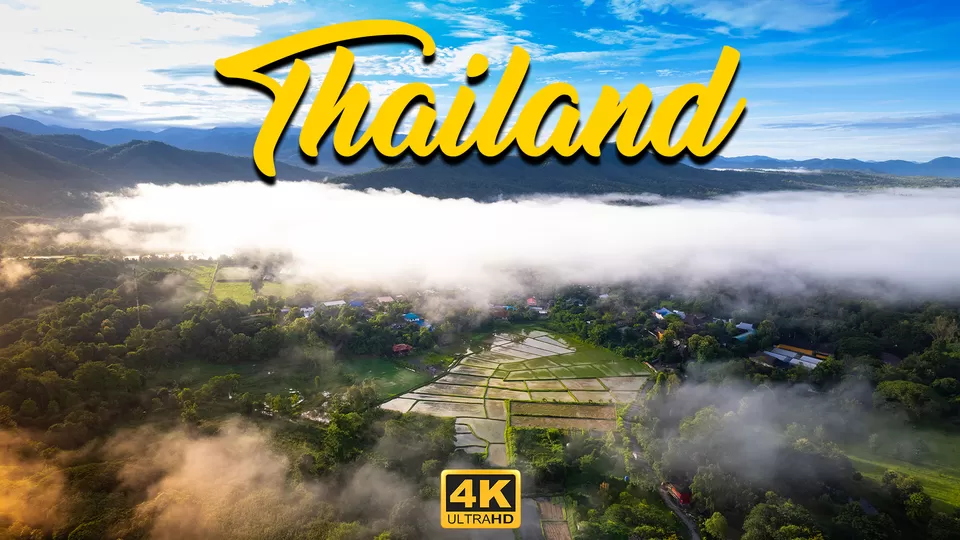 When we say Thailand, the first thing that comes to our minds are the beaches. Well, my trip to Thailand was quite different. I stayed away from all the beaches during my 14 day trip except on the last day. Else, I visited some of the most beautiful and less crowded places in North Thailand, as far as the Laos and Myanmar border.
Let me take you through the journey.
Here is a quick recap of our trip. I am also writing the individual places which I liked the most during the trip further below.
My trip started from Bangalore, India to Bangkok, Thailand, where we rented an apartment via AirBnb next to Ekkamai BTS station. AirBnBs are the best options for accommodation throughout Thailand.
The first thing we wanted to do was to visit the Mae Klong Railway Market.
The Maeklong Railway market is considered one of the amazing attractions in Thailand. The market is called 'life-risking' market because its stalls are attached to the Mae Klong-Ban Laem railway, which is a short railway line running from and to Mahachai and Mae Klong. Vendors at the market put out parasols or canvas to protect themselves against the sun.
The shelters stick into the railway where visitors walk and do their shopping. When each signal of the arriving train rings, chaos happens: vendors will rush to close their parasols and canvas, along with clearing all goods that will obstruct the coming train at a great speed. Once the train passes, parasols and canvas will be reopened as goods are again put into their usual place next to the railroad. The market, accordingly, is so called 'Hoop Rom (umbrella/parasol-closing) Market'. The practice is usual for vendors and local people, but not for tourists who will definitely find the scene exciting and enjoyable at each visit. The parasol-closing event happens eight times per day according to the time that trains leave Mahachai for Mae Klong and depart Mae Klong for Mahachai.
Trains will arrive at Mae Klong Station at 8.30 a.m., 11.10 a.m., 2.30 p.m. and 5.40 p.m., and depart the station at 6.20 a.m., 9.00 a.m., 11.30 a.m. and 3.30 p.m.
Bangkok to Chiang Mai
We first headed to Chiang Mai, which is around 700kms from Bangkok. We took an overnight train and I must say the train was super clean. Though we could not see much during the night, the morning after sunrise was very scenic as the train passed through some jungle, beautiful little train stations and rural country side.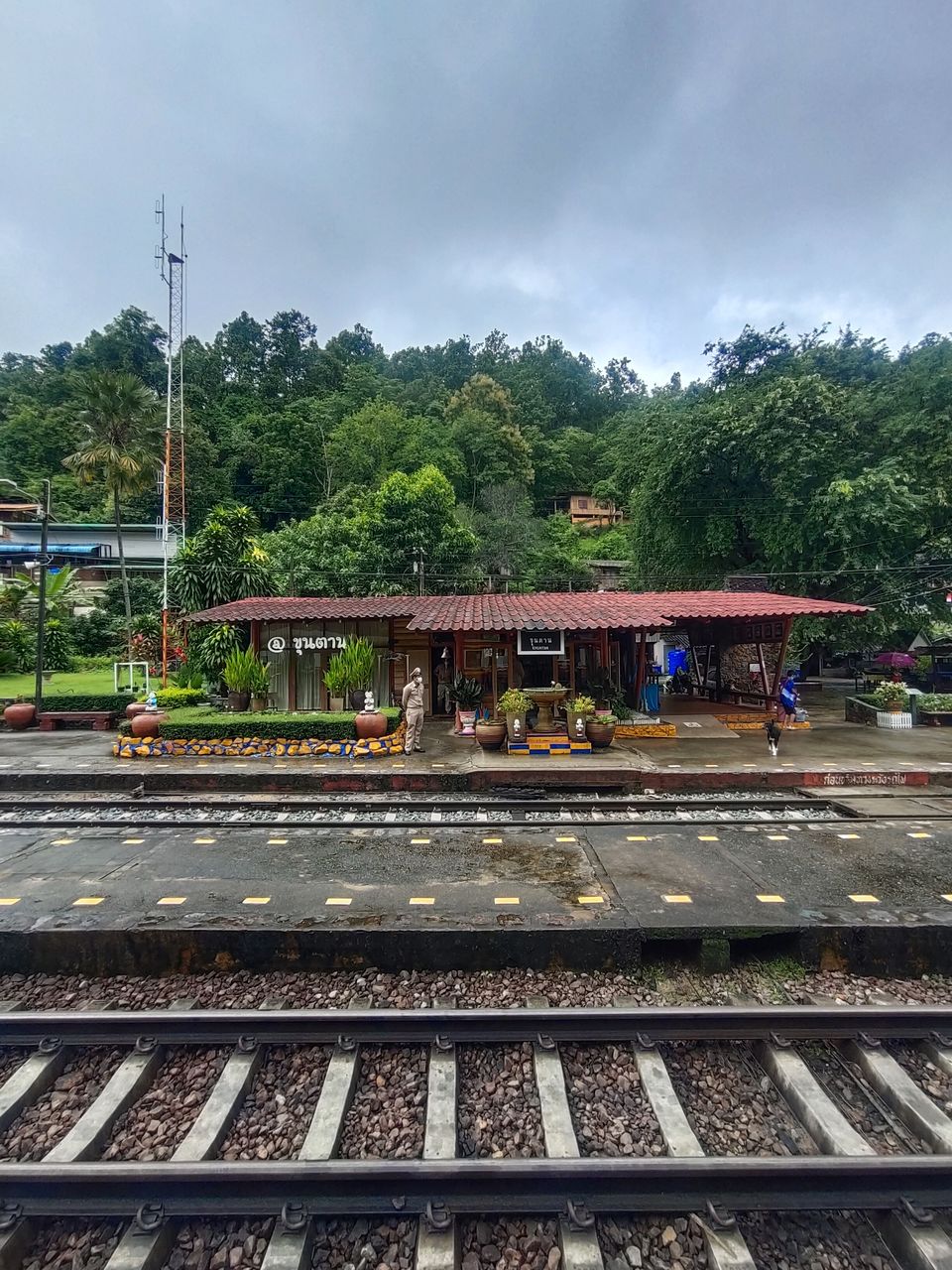 We then reached Chiang Mai around 11 am in the morning.
Chiang Mai is a city in mountainous northern Thailand. Founded in 1296, it was capital of the independent Lanna Kingdom until 1558. Its Old City area still retains vestiges of walls and moats from its history as a cultural and religious center. It's also home to hundreds of elaborate Buddhist temples.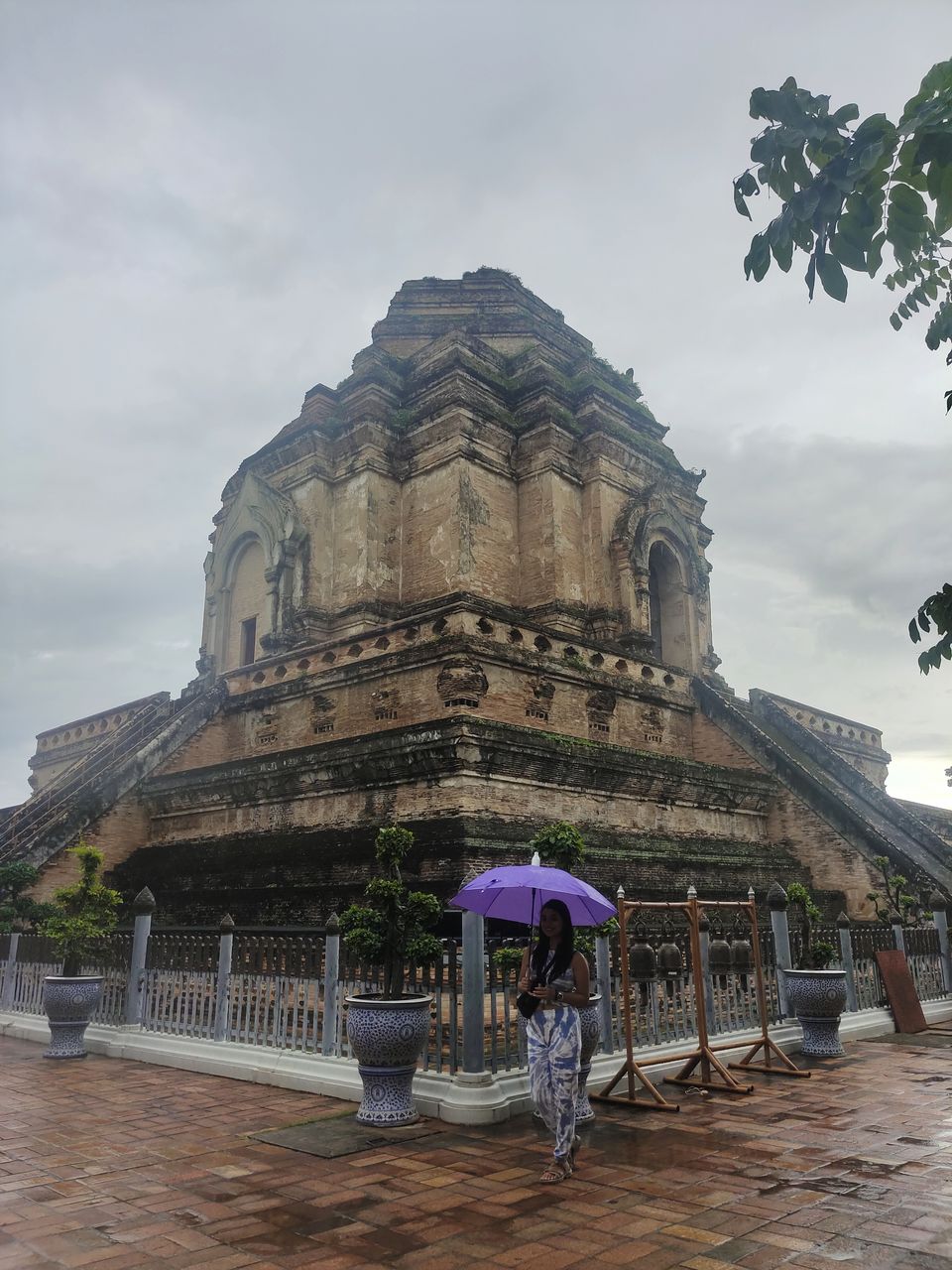 We decided to go to the Sky Pagodas which are Thailand's floating temples, perched on the side of a mountain, are relatively unknown, but the secret is out, and now's the time to see their beauty before the masses ascend.
The sight of the pagodas was something which will instantly gave me a sense of relaxation.
We rented a bike to explore the city, which is the best means of transportation in Thailand.
After exploring Chiang Mai and it's temples, we then set on a road trip to Chiang Rai which is 200 Kms.
Located about five hours from Chiang Mai, Chiang Rai is a community not to be missed. The area offers a variety of cooking classes, beautiful views, markets, resorts and restaurants. In addition, visitors can get a feel for true northern Thai culture during their visit.
We stayed at a traditional house which is more than 100 years old.
We then went to see The largest Guan Yin in Thailand at a height of 79 meters!
Guanyin is the "Chinese Goddess of Mercy". She is the bodhisattva of compassion, a bodhisattva being anyone on the path to becoming a Buddha. Sometimes Guanyin is depicted having a thousand arms. Having a thousand arms and a thousand eyes enables her to help more people at the same time.
Later, we went to see the Golden Triangle - the point where you can visit 3 countries at once; Thailand, Myanmar, and Laos.
It is 9 kilometres north of Chiang Saen along the Mekong riverside road. Sop Ruak is the place where Mekong River, the border between Thailand and Laos, meets Ruak River, the border between Thailand and Myanmar.
In the past, Golden Triangle was one of the world's largest source of drug trafficking owing to its privileged location attached to many countries. However, it is currently taken good care of and is a popular tourist attraction. From the viewpoint, the tourists will find the land that connects the three countries, surrounded by long and calm waterway. There is boat rental service at Sop Ruak so that the tourists can admire the view at Golden Triangle. The trip takes only 20 minutes.
To our surprise, there were hardly any tourist, which was something very strange!
The next in our list was the white temple.
Wat Rong Khun is a unique temple that stands out through the white color and the use of pieces of glass in the plaster, sparkling in the sun. The white color signifies the purity of the Buddha, while the glass symbolizes the Buddha's wisdom and the Dhamma, the Buddhist teachings.
After White temple, we headed towards the Blue temple.
The Blue Temple is immediately recognizable for its brilliant shade of rich sapphire. The temple walls, roof, and surrounding statues are all covered in this gorgeous hue, an unusual decorative choice in a country where most temples are made of gold. This color is symbolically associated with purity, wisdom, and the lack of materialism that Buddhists aspire to.
After exploring the local markets, we then left for Pai.
Of all the places, Pai was different. Unlike Chiang Mai and Chiang Rai, the province was even further less crowded and people here are more in to farming making the place look very green with beautiful terrace paddy fields around.
We rode our bike to reach Pai from Chiang Rai which is around 250 kms.
Pai is a town in the Mae Hong Soon Province of northern Thailand. It sits in a valley on the banks of the Pai River. It's known for its nearby gorges, hot springs like the Tha Pai Hot Spring and waterfalls like Mo Paeng Waterfall. Downtown, food stalls and handicraft shops line Pai Walking Street. West of town lies Baan Santichon, a traditional Chinese village with clay houses and eateries serving Yunnan cuisine.
The bamboo bridge walk was such an amazing experience that I would recommend to do it when in Pai.
After exploring some other places like the Pai Canyon, hot spring etc, we headed back to Chiang Rai, returned our bike and left for Bangkok by Train.
We had 2 days to spare before our trip came to an end. So we decided to go to a beachside and Pattaya was the place we decided to go.
Pattaya is a popular Beach resort on the Gulf of Thailand, just 150 km southeast of Bangkok –a mere two-hour drive. Pattaya's pulsating NIGHTLIFE is well known, but Local authorities have, in recent years, improved the quality of the beaches and reinvented the resort as a more family-friendly destination.
We took a bus which is easily available from Bangkok.
We also visited the Laser cut Buddha Mountain.
Also known as 'Khao Chi Chan' and 'Laser Buddha', this gold leaf filled Buddha engraving is one of Thailand's best known landmark attractions. The 130-meter-tall by 70-meter-wide image can be seen from miles away, but to truly appreciate it, you should see it from close.
Some information regarding food, travel and accommodation in Thailand.
Food:
Thailand being an international tourist destination, there is a lot of vegetarian and non vegetarian food options available. So that should not be an issue. Stores like 7/11 are also a good option for quick bites like sandwiches and these stores are there almost everywhere.
Transportation:
Thailand is well-connected by Air, train and roadways. The best and the cheapest option to travel around Bangkok is via the BTS and MRT train service. They are available right from the Airport to most of the places. I would suggest you to take a day pass to roam around. The next best option is to rent a 2 wheeler.
Like Uber, Thailand has Grab taxi, the app which can be downloaded from the Playstore or Appstore.
In places other than Bangkok, you can either travel via Flight or book trains. Trains has been convenient and economical for me.
The official website to book train tickets (translation is available in English) :
Official Thai Train booking website
Accommodation:
From my year's of travel experience, AirBnb has been my companion for booking Accomodation. Thailand has really good options for stays from as low as USD10 and these are really good when it comes to cleanliness and facilities.
Other points:
1. Always get your currency exchanged to Thai Bahts. You can also withdraw cash from ATMs but comes at a cost. Typically around $3 flat per transaction. Please refer to your bank's policy regarding the same.
2. The beaches of Thailand are typically humid so carry sunscreen lotions and drink plenty of water.
3. Thailand is very particular about their culture. So be very considerate.
4. Do not litter. Keep he places clean (applies wen you travel anywhere)
Hope this helps you to plan a trip to the less crowded parts of Thailand.
Follow my updates on Instagram on http://www.instagram.com/soulandfuel and do subscribe to my YouTube channel for some amazing travel content.