We all have heard of it – An international road trip from India to Thailand. Some of us have even watched it on Tv shows or web series.But when it comes down to planning a road trip to Southeast Asia, we only dream of it and go back to our daily lives.
For backpackers like me, the idea of driving a car to another country sounds so far-fetched that we can't even dream of it. Because, let's face the reality, it's really difficult to plan an international road trip when you don't own a car or have friends who are available for such long trips. But there is, however, another medium of travel that can make your International road trip dream come true – public transport.
Yes, you can take a road trip all the way from India to Thailand exclusively by public transport which can be budget friendly and much more comfortable than the journeys within India. Read below for more:
Stage 1: Pre-Planning
1. E-Visa for Myanmar –
The first step of your trip is to get the E-Visa for Myanmar. You can apply for it on the Official Government Website. Usually, it takes less than 24 hours to get the E-Visa, once you have submitted the following details & documents online – Your passport, valid for at least the next 6 months, one passport photograph, your entry point in Myanmar, details of hotel bookings in Myanmar and details of your return journey (air tickets from Thailand). The cost of Visa is 50 USD (equivalent to Rs 3,500)
2. Flight Bookings –
You can start your journey from Imphal, Manipur. This is the closest city to the Indo-Myanmar border. Direct flights to Imphal are available from Guwahati, Kolkata, Delhi and Bengaluru. You also need to book your return flight from Thailand. You may book a flight from Bangkok to Kolkata/ Bengaluru for cheaper rates. You can get a one-way flight to Imphal for as low as Rs 3,500-4,000 from Delhi/ Kolkata. Bangkok-Kolkata/Chennai flights can come for as cheap as Rs 4,000-5,000.
3. Hotel Bookings –
You are required to show prior hotel bookings in Myanmar for your visa. You may book any hostel in Mandalayhere, without having to pay in advance. Once in Mandalay, you can cancel the booking if you like to stay somewhere else.. A dorm bed in a decent hostel at Mandalay costs around Rs 500-600.
4. Banking –
Activate and extend international transaction limits on your Indian Debit Card. Usually Master Cards work at KBZ ATMs in Myanmar.
Stage 2: Travelling to Myanmar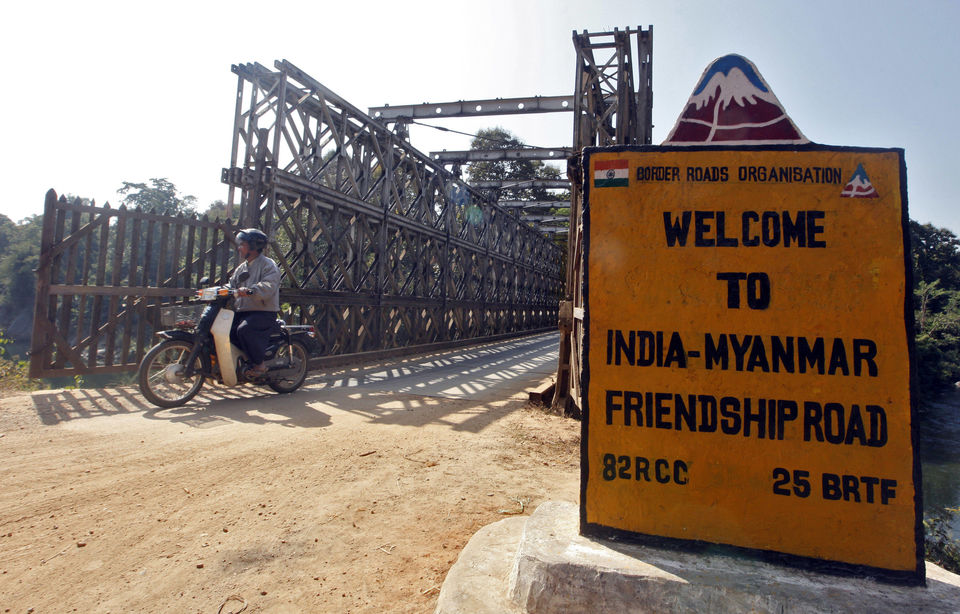 1. Imphal to Moreh –
As you land in Imphal, you will find buses and shared cabs that will take you to Imphal city. You can also find cabs for Moreh, but these will cost you at least Rs 3,000 or more. It is better to first reach the city, and then get a shared cab. Shared cabs to Moreh are available from Singjamei area in Imphal and charge you Rs 300 per person. These cabs take about 3 hours to reach the border.
2. Immigration –
You will go through the Indian immigration office in Moreh. The officers check your passport and E-Visa, after which you go through customs, where they scan your luggage. Ensure Make sure that you are not carrying any animal products or plants as they are not allowed. This process will take not more than 15 minutes. The immigration office is not at the Indo-Myanmar Friendship gate but lies a kilometer, east of it.
3. Entry to Myanmar –
You cross the Indo-Myanmar Friendship bridge by foot and report to a small immigration counter at the end of it. Here, you need to show your passport, E-Visa and return tickets.Your passport will be stamped here. The process takes less than 10 minutes and then you are ready to go.
4. Moreh to Tamu –
After the immigration, you can immediately take a tuk-tuk or an e-rickshaw to the nearest town Tamu (5 kms). Tamu has a bustling market where you can get your currency exchanged. According to the current exchange rate in November 2019, 1 Kyat (pronounced as Chat) = Rs 20.50 Make sure you exchange adequate amount of currency for your trip as rupee-exchange is difficult to find and you may also get poor exchange rates, unlike converting dollars.
Start early from Imphal so that you reach Tamu by 12 noon. Buses and cars are available only till 3pm IST which is equivalent to 4 pm in Myanmar. After which, you might have to wait till the next day to find a transport for your journey ahead.
Stage 3: Travelling in Myanmar
1. Tamu to Kale/ Mandalay –
10 seaters and shared cabs from Tamu to Mandalay are easily available. A seat may cost you anything between INR 750-1,250. It takes about 14 hours to reach Mandalay from Tamu. It is advisable to take a 10 seater as they are more comfortable than the cars available, considering the duration of the journey.
While Mandalay is more popular, and most people travel to it from Tamu, you may also choose to stop at Kale and travel West to explore the beautiful Chin state, adjacent to Mizoram.
Extra Tip: Sunsets and night skies while travelling to Myanmar are gorgeous. Do ask your vehicle to stop on the way if you want to enjoy a phenomenal view of the Milky Way Galaxy.
2. Mandalay –
Explore Mandalay for a day or two. It is a well-off city where you can find a lot of commercial activities. Street food is cheap and you should try it all. Tuk-Tuks here charge the same as the ones in India and you can avoid them for a cheaper option which looks like a lorry with seats. You can also ask your hostel/ hotel for cab tours, or pool-in with other tourists. If you find four people, the cost of a cab trip will be down to 60-70% of what it would cost for the same distance in India. Most of the monuments in Mandalay do not have an entry price. Check out the places to visit in Mandalay here.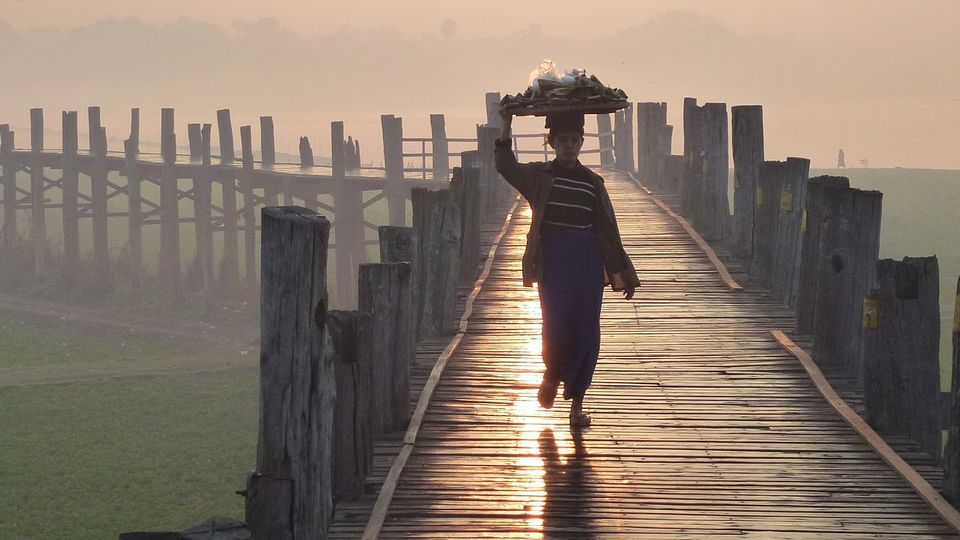 3. Mingun –
A boat ride across the Irrawaddy river takes you to Mingun which has some great tourist attractions. Shared boats leave early in the morning at 8am. The return trip per person to the island costs Rs 500 (which you won't find expensive given the duration of the boat ride). Entry to Mingun islands costs Rs 250 per person. There are no other payments for individual monuments. Check out the places to visit in Mingun here.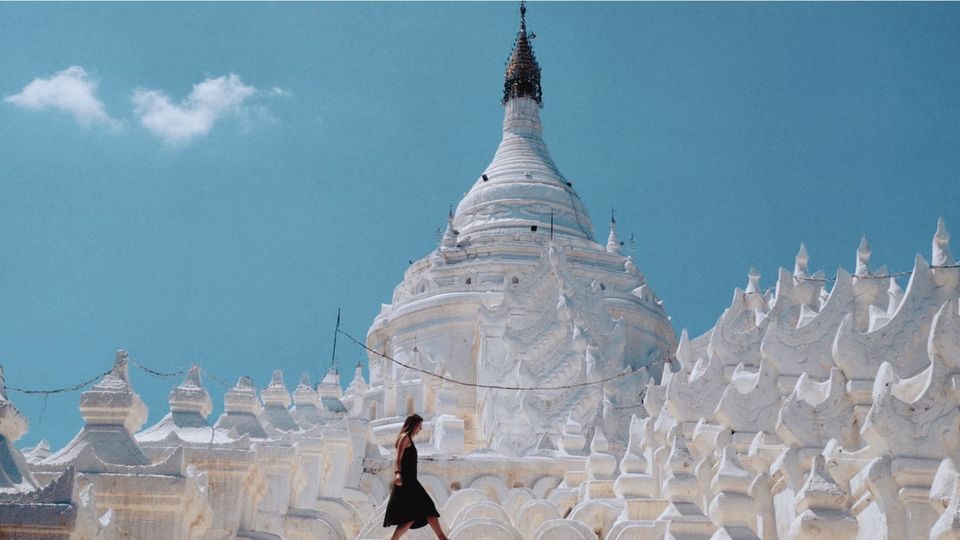 3. Mandalay to Bagan –
If you feel like splurging you can take a day boat ride from Mandalay to Bagan which takes about 12 hours to complete and costs about Rs 3,500. However, if you take a luxury bus to Bagan, the cost is just Rs 750. The journey takes only five hours to complete. These AC buses come equipped with washrooms, blankets, neck pillows, drinks and snacks. They also stop at some of the best restaurants on the highway which are low on cost but high on taste. A platter of food with meat, veggies and a number of side dishes, costs less than Rs 100. Bus tickets and free transportation to the bus station can be arranged by your hostel/hotel.
4. Bagan –
There are more than 2,000 monuments in Bagan. To see them you need to take an entry ticket of Rs1,200 (25,000 Kyats). Most of the smaller monuments are unguarded in Bagan, and many tourists sneak into them without buying the tickets. But it is advisable not to embarrass yourself and purchase tickets wherever there is a paid entry. E-bikes are available on rent for half and full day duration. They cost around Rs 400-500 (8,000-10,000 Kyats) for the day. Check out the list of places to visit in Bagan here.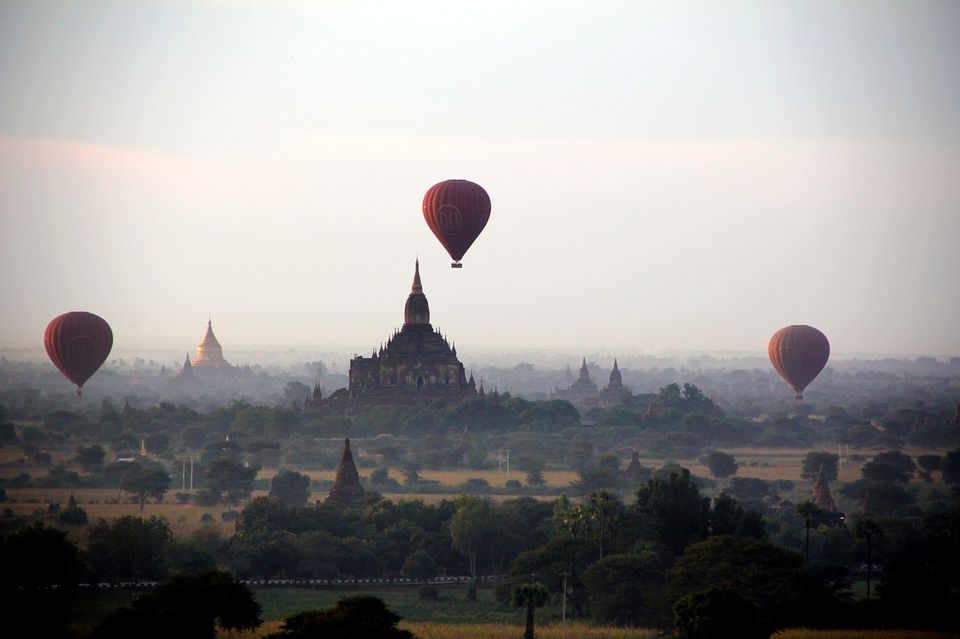 5. Bagan to Kalaw/ Inle –
Luxury buses from Bagan are available to Kalaw and Inle. This is a slightly less-visited area, hence the number of buses going there is also less. A ticket to Inle costs Rs 1,200, and for Kalaw, the cost is Rs 900.
6. Kalaw –
Kalaw is known for its trekking options. You can buy tour packages for 2-3 days for Rs 3,000-8,000 per person. You can also explore the area on your own. If you have trekked in the Himalayas or Western Ghats, you would find the treks to be easy. Read more about Kalaw here.
7. Inle –
This is a floating city buzzing with local artisans and other activities such as . A full day boat tour of Inle costs Rs 1,000 and is worth a lot more than its price.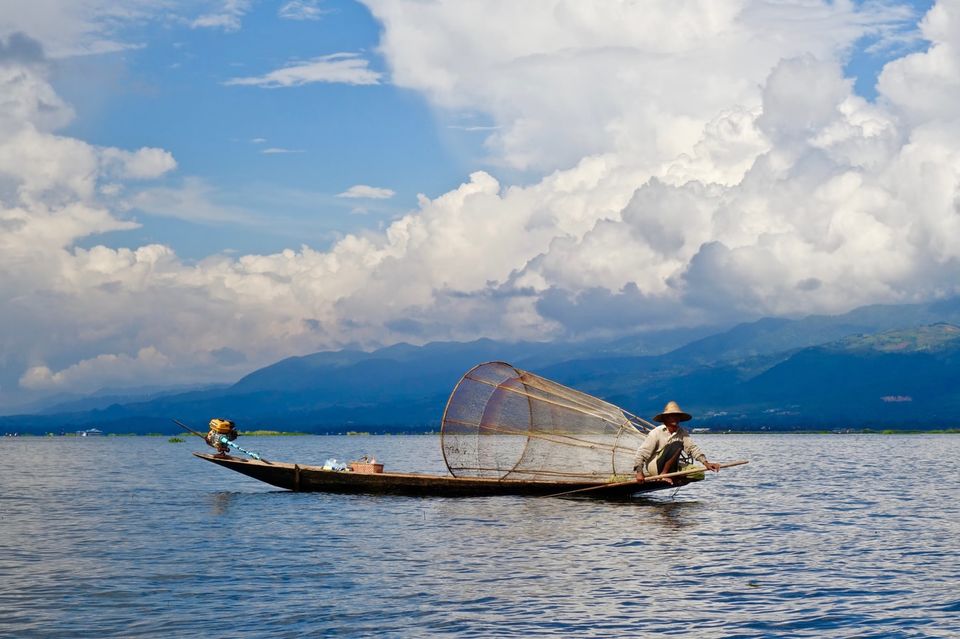 8. Inle to Yangon –
It takes about 12 hours to reach Yangon from Inle and 10 hours from Kalaw. The luxury bus will cost you around Rs 1,200.
9. Yangon –
Yangon was the previous capital of Myanmar and is quite similar to Mumbai when it comes to infrastructure. The loop railway connects to all parts of the town, and is very cheap. However, it is a very slow mode of transportation and can be taken to enjoy people-watching. The ticket costs Rs 20 for a journey of about 30 km and you can choose to get down wherever on the loop. It also connects the airport to the other parts of the town. The more popular mode of transportation, however, is cabs which are almost similar to the price of Uber in India. However the cars look much better in Yangon.
You can check in to any hostel in the downtown area of Yangon, a popular place to stay amongst budget travellers, adjacent to the Yangon river..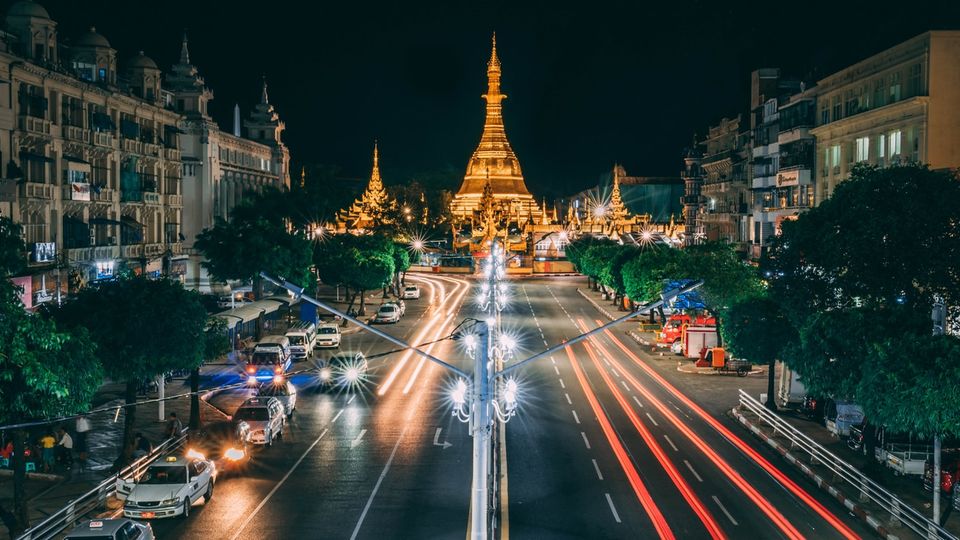 10. Yangon to Hpa An –
Many buses are available on this route starting early in the morning until late at night. The journey takes about 7 hours and costs Rs 400. Alternately, you can spend a few more hours and travel by boat for Rs 500. This is an interesting ride that will take you through rivers such as? and the Bay of Bengal.
11. Hpa An –
Hpa An has some interesting monuments and caves. The city can be travelled on foot. Tuk-tuks are pretty cheap (INR 20-30 on specific routes). You can even rent bikes for Rs 250-500 for a day.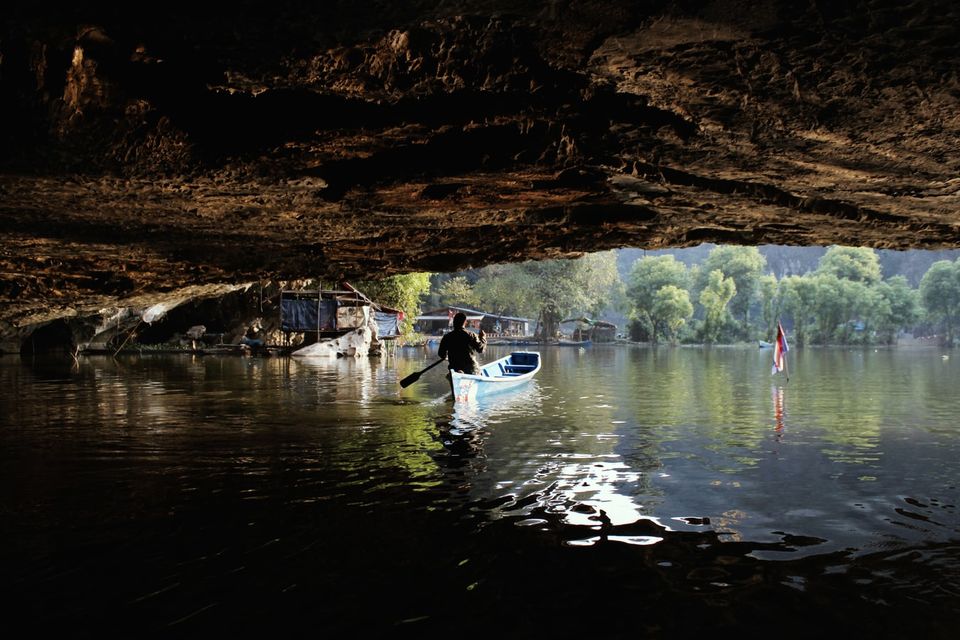 12. Hpa An to Myawaddy –
It takes about 4 hours from Hpa An to Myawaddy. Shared cabs are available for INR 500-800 per seat. This is costlier than the bus ticket, priced at INR 400. However, the cabs drop you right at the border and you don't need to find any other mode of transport from the bus station.
Stage 3: Travelling to Thailand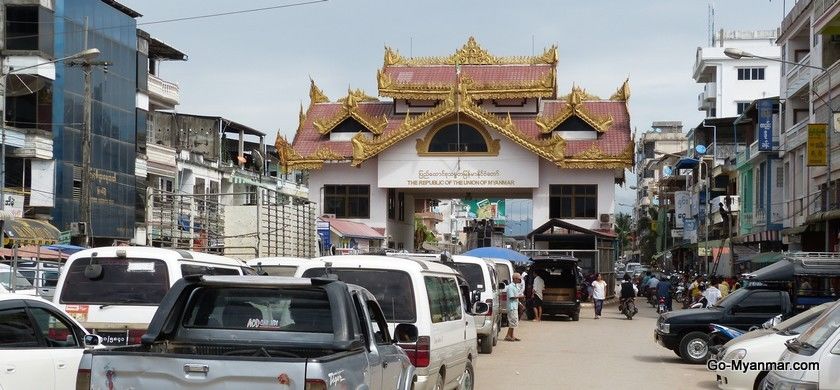 1. Immigration –
The cab drops you 100 metres away from the immigration office at Myawaddy. You need to show your passport and E-Visa. Your E-Visa is stamped here as your journey to Myanmar is complete. You cross over a bridge to reach the Thailand immigration office where Indians receive Visa on arrival. You also receive the Arrival Card for Thailand here. It is advisable to have exchanged all your Kyats into Dollars or Bahts before entering Thailand. If not, you can take out Bahts from the Cash machines available at the immigration office exit.
Stage 4: Travelling in Thailand
1. Mae Sot to Chiang Rai –
There are only a few buses available from Mae Sot to Chiang Rai. You are more likely to find buses from Tak to Chiang Rai. Tak is an hour away from Mae Sot and can be reached by public transport for INR 200 (80 Bahts). The journey from Mae Sot to Chiang Rai takes about 7 hours and costs Rs 1000.
2. Chiang Rai –
Chiang Rai is a medieval city which is slowly opening up as a tourist attraction. Tuk-Tuks, bicycles and shared cabs are available as transport and serve point to point for nominal charges. Read more about Chiang Rai.
3. Chiang Rai to Chiang Mai –
You can travel to a more happening city, Chiang Mai from Chiang Rai in just 3 hours for a cost of INR 300 by local buses.
4. Chiang Mai –
Home to many Buddhist shrines, Chiang Mai is also known for its buzzing nightlife. Interesting transport options like Songthaew are available on specific routes for very nominal rates (INRs 10-20). Other options like bicycle and shared cabs are also readily available. Read more about Chiang Mai.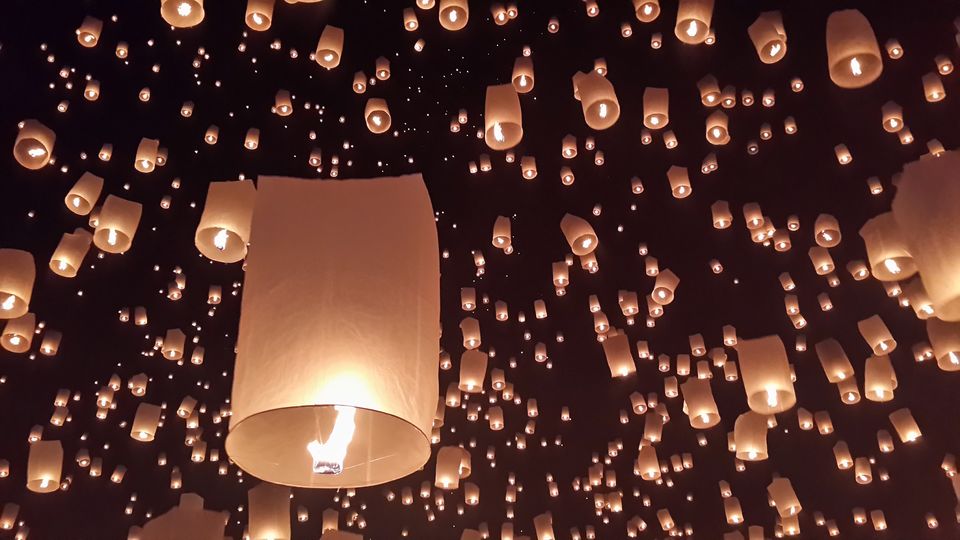 6. Chiang Mai to Bangkok –
Taking a flight is the best way to travel between Chiang Mai and Bangkok. Flights cost anything between Rs 1,200-1,500. Buses are also available on this route but it is a good idea to save time and take a flight that takes about an hour while buses can take up to 7 hours to reach Bangkok.
7. Bangkok –
Bangkok is the most visited place in the world. A lot is already known about Bangkok and other popular places in Thailand, which you can read more about here.
8. Bangkok to Kolkata/ Bengaluru –
You will have to follow a simple immigration process at the airport and you will be all set to end your trip and be back in India.
Ready to go around the world in 2020? Click here for the ultimate 2020 bucket list!
Frequent searches leading to this page:-
Thailand tour package 3 days 2 nights, Thailand tour package from Chennai, Thailand tour package from Delhi, Thailand tourism packages from Delhi, Best places to visit in Thailand, top things to do in Thailand.