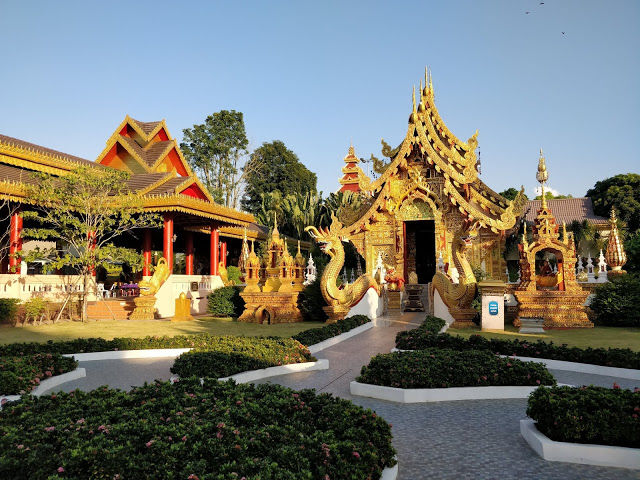 What to Do in Thailand for 10 Days: A itinerary for a family with kids
Thailand is a land of contrasts, which on one hand soaks in the traditional Buddhist culture and on the other hand is knee deep in Fun and frolic. Where at places you can not even enter if you are not dressed properly there are places where you don't even need your clothes. It's a land of extremes, where everything is possible if only you are willing to go. We wanted to explore both the worlds and hence the plan below. Instead of spending the last 5 days in Krabi and Phuket you can instead go to Koh Samui region and explore the area.

Not to be missed is getting in touch with Northern Thailand and you will thank me later for sure. Overall a very simple to follow itinerary with all activities that you can cover with your family with kids. Dropped some famous landmarks just because it could not be done with Kids. So please go through and let me know you queries in comments below.
Bangalore to Bangkok
Arrive at Suvarnabhumi airport, pick a taxi and lie down in your hotel pool, evening take a stroll through night market or do a beer hopping in downtown.
Bangkok sightseeing
Get up, get dressed and head for the palace. Don't forget sunscreen and umbrella or Hat, it's scorching heat here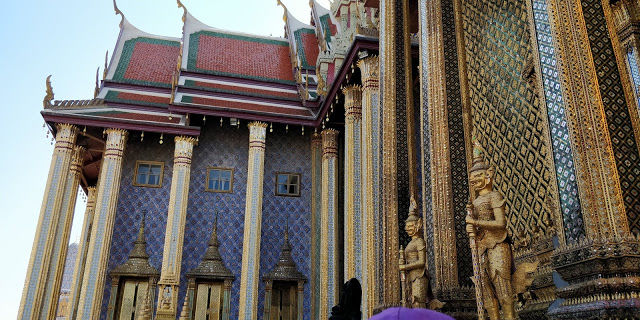 Grand Palace & Emerald Buddha- get up early as the place closes by 12 pm. Madam Tussaud Tales of the sea - Must see if you are with Kids, opt for pre-booking at Klooks.com for some really huge discounts.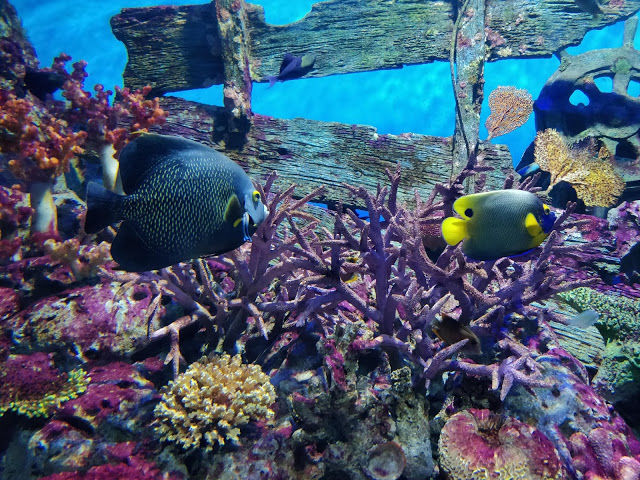 Take a Flight from Bangkok to Chiang Mai/You can also take an overnight train to Chiang Mai but you will have to book in advance. The journey through Hills is really memorable and worth a shot.
Chiang Mai local sightseeing(temples):
This is one of the best stops of the trip, very nice weather coupled with equally cool vibes of the place. Stay near Night market area for enjoying a leisure stroll after hours.
Walk toward the old city and visit the amazing collection of stupas and temples, all beautifully carved and maintained. I have listed down the must see places below-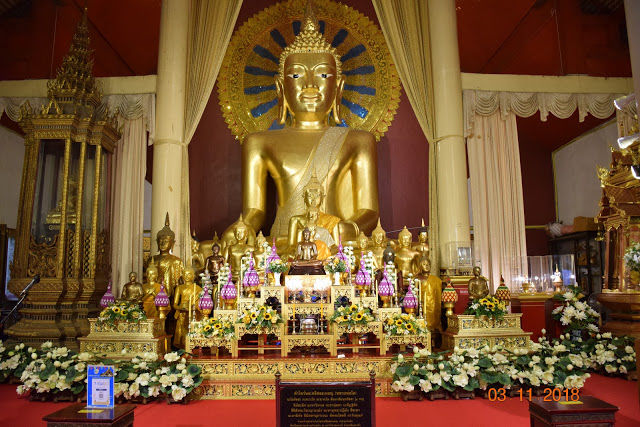 Wat Phra Singh
Woramahawihan
Wat Chedi Luang
Wat Pan Ping
Wat Chiang Man
Wat Pan On
Wat Umong Maha Thera Chan
Night market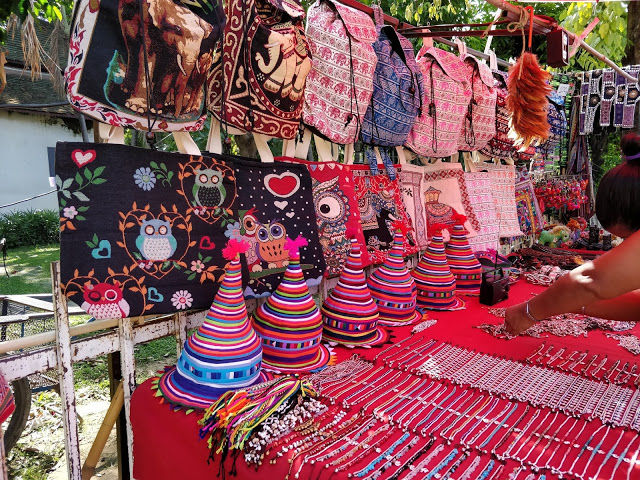 At night do not forget to try in amazing restaurants in the area, many stories are born in the cafes here. I loved the sticky mango rice so much, ended up eating it almost every day after food.
Chiang Rai sightseeing:
Pre-book a cab to head early towards Chiang Rai the sister city of Mai to devour some amazing privately maintained Temples. This place is a rhapsody of colors with some amazing architecture.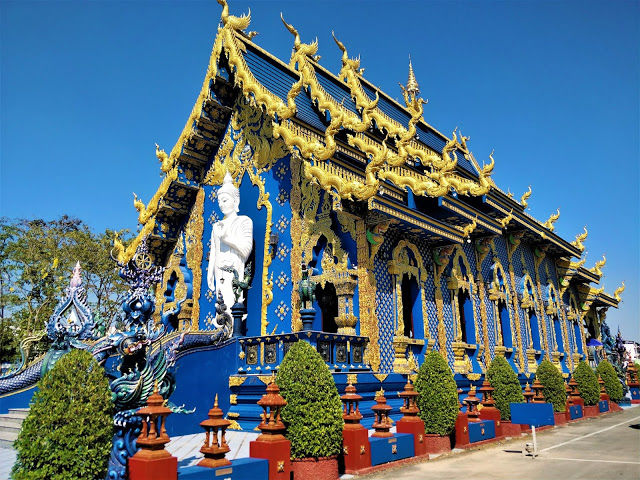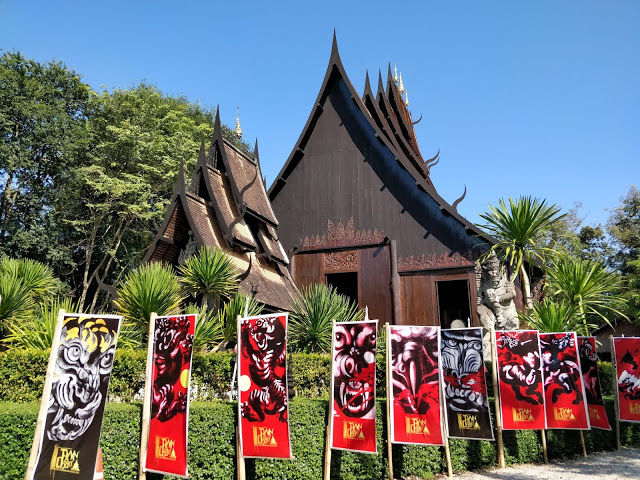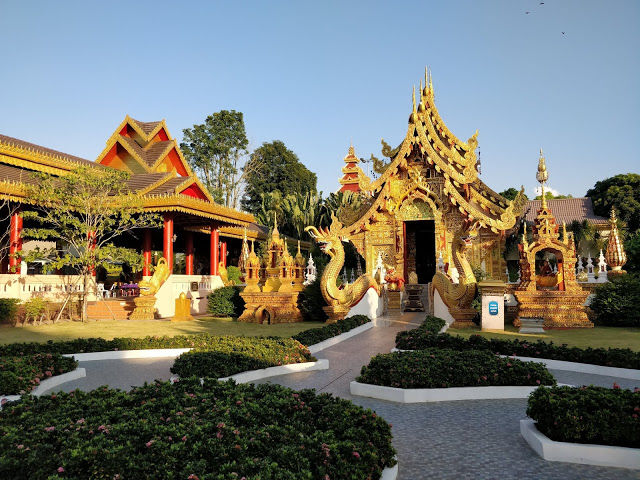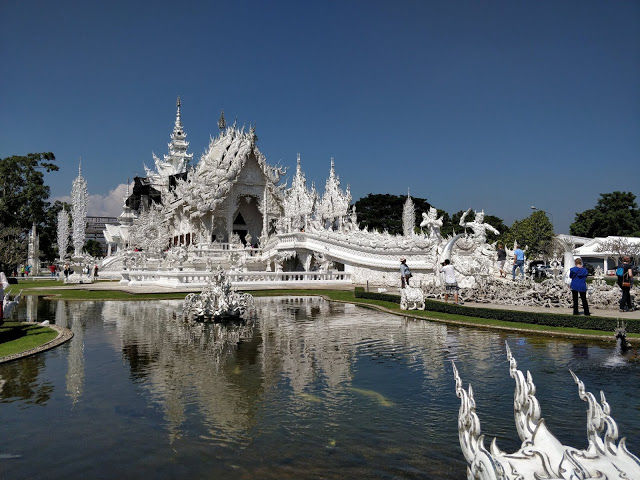 Must See Places
Mae Kachan Hot Spring and Geyser
White temple - Wat Rong Khun
Blue Temple - Wat Rong Sueur Ten
Black temple - Baandam Museum Wat Saeng Kaeo Phothiyan
Chiang Mai to Koh Lanta
Add 1 more day in Chiang Mai if you have time to visit Tiger Park and Elephant Park along with a trip to Doi Suthep for an amazing view of the city in Chiang Mai. We couldn't but would love to come back once more to this beautiful city. After Sun its time for Water, head to paradise in Koh Lanta, you could also choose Koh Mood or Lipe. Else enjoy the beautiful city after crossing the mainland with ferry and soak in the blue waters of Laem Kho Kwang beach.
Take a stroll or head towards the market area for handmade items. Don't want to walk take a Tuk Tuk back to your hotel. Eat, Drink, Read a book or just lie under the sky everything is a bliss here.
Koh Lanta 4 island tour
How can the trip end if you haven't seen the islands up close and beautiful? Take a private longtail boat and enjoy the beauty in unspoilt form. Snorkel and if you know swimming dive among the worlds best dive points. Get immersed in the colorful world of sea life. The island hopping covers the following places-
Ko Chueak- Amazing place to snorkel and witness God at its best creation
Ko Ngai - White sand all along with blue water to give the contrast and yes you are in Heaven
Ko waen Markot(Emerald) Cave - Want to feel like Pirates of Caribbean, head to this pace wherein you swim under a mountain pitch dark to open on the other side of a cave where the loots were kept in those wonderful pirates days.
Koh Lanta to Krabi
If you had enough of privacy and relaxation lets head back to the mainland for a bit of fun and nightlife in Krabi, Ao Nang Beach. Yes this is a place where you will get all from she-man to cheap bars to exotic cabaret.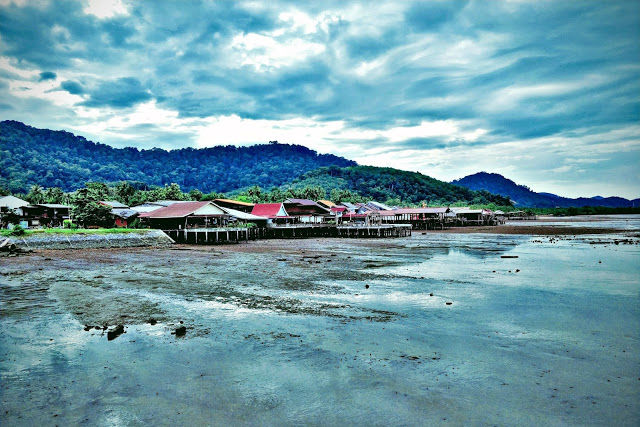 Day 8: Phi Phi island tour/Hong Island Tour
Beach Hopping is incomplete as you head towards Phi Phi island the place that inspired "Avatar" Floating mountains and Leonarda Caprio's "beach", Maya beach is the local name for it. A speedboat takes you to an unforgettable journey and yes food is also provided. If you want to go more secluded take the Hong Island Trip instead. It is a group tour and covers Bamboo Island, Monkey Island, Blue lagoon, and finally snorkeling at PHI PHI.
Try starting early to have these beaches less disturbed by hordes of tourist which unfortunately didn't happen in our case as one of the group woke up late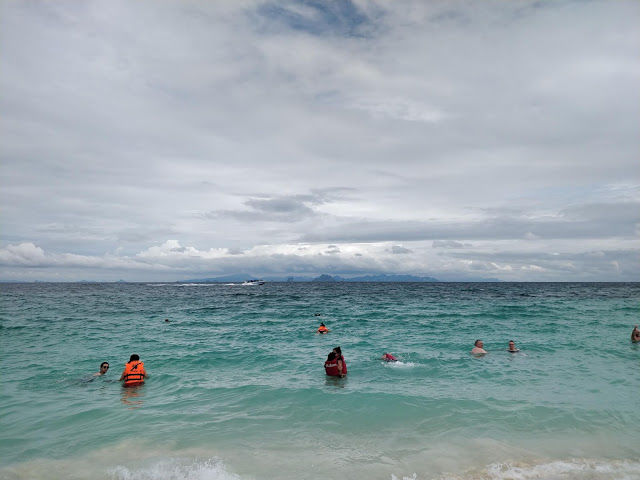 Railay /Phra naga beach
So well if you are tired moving with the group and want a piece of heaven on your terms to go to Pier and get yourself a boat to drop either at Railay beach or Phra Nang beach. Both of them are just a cliff away from each other but not connected via land and so making each of them less crowded yet close to the main town for all comforts.
Day 10: Krabi to Bangkok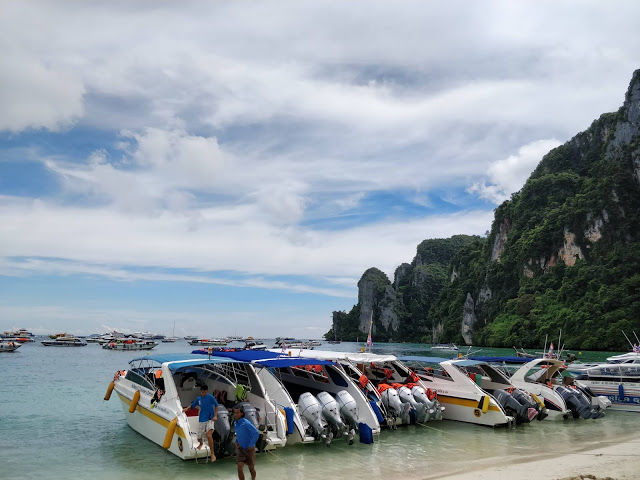 If you take an early morning flight head straight to the Siam Ancient City which is a wonderful place to see and visit all of Thailand you might have missed albeit on a miniature level. You can take your car or drive a bicycle provided free of charge as part of the ticket cost to explore this place.
Else head for the downtown market to shop till you drop.
Day 11: Bangkok to Bangalore
With heavy heart bid farewell to this place and head back to home to reminisce about what you witnessed.
Frequent searches leading to this page:-
Top Thailand tour packages with price, Best Thailand tour packages for couple with price, Thailand holiday packages all inclusive, Thailand honeymoon package cost, Top places to visit in Thailand