Bangalore - Mysore - Rabgyalling
I wanted this place to be clandestine from the maddening crowds, Far from the reach of the tourists.I never thought of writing about it,Later on when I happened to read the excerpts of H H Dalai Lama's Freedom in exile, which mentions about the journey and hardships of Tibetans faced during the cultural revolution in China, Forced them to flee from their homeland and to seek refuge in India, I Couldn't resist myself to express and exhibit about their strong determination and faith which helped them to start beautiful and serene settlements from ground zero.
From the excerpts of Freedom in Exile -
"On 1 February 1960, the first settlers arrived at Bylakuppe in Mysore state. I heard later that when they saw the land, many of the refugees broke down and cried. The task before them seemed so immense. They had been supplied with tents and basic equipment, but apart from this, their only resource was such determination as they could bring to bear."
" No matter how bad things become, they will eventually get better. In the end, the innate desire of all people for truth, justice, and human understanding must triumph over ignorance and despair. So if the Chinese oppressed us, it could only strengthen us."
Their strength and ability to cope up with any situation should be well noted.Spread across the tropical jungles of Northeast to cold deserts of Ladakh, Chilling Himachal to hot plains of South these settlements are their ray of hope to keep alive their culture and monastic tradition.
My visit to the Tibetan settlement Dhondenling made me more intrigued about Tibetans, their culture, and other unknown refugee camps.As I found South India itself hosts 5 and all are in Karnataka made me more eager to explore the other remaining ones. It's fairly common knowledge about the camps in Bylakuppe in Coorg. Other than that there are 3 more.After a quick search in the central Tibet administrative site, I found one which was very near to Mysore but still not traveled by many as I couldn't get any information on that place.As always the faith in Google lord and the locals helped me to throttle to the place without a doubt.
Rabgyalling Tibetan settlement, One among the 5 Tibetan refugee camps in South India, Established in 1971 the camp is located very remote from the of Hunsur Taluk of Karnataka.Since the usual tourist spot, Nagarhole national park is located very near, People will barely notice this camp.As most tourists have not flocked in here, you can find the place very peaceful and calm.The tranquility and silence here is very much addictive which will make your time worth each minute.
Aided by the maps and the quirky GPS we reached the camp after meandering along some harsh and bumpy country roads. As we enter the camp, we saw the vibrant Tibetan flags been tied up in every corner.The camp now houses some 4000 people in 16 villages each separated in 2-3kms distance.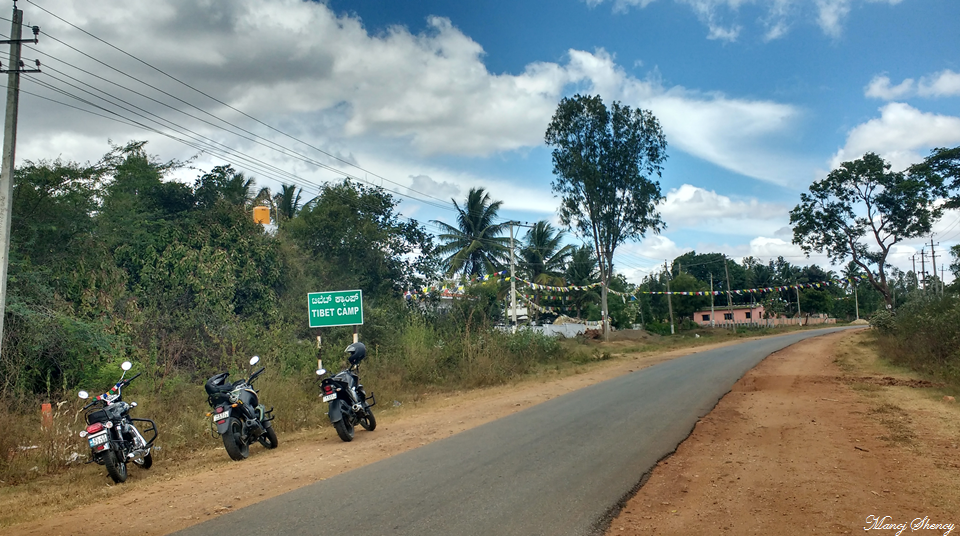 After a hell of a ride, We finally reached the entrance, Path to Peace might be narrow, harsh and untrodden. But what awaits you on the other side will be a sight to behold.The beautiful avenue roads welcomed us as we move forward to visit Dzongkar Choede monastery.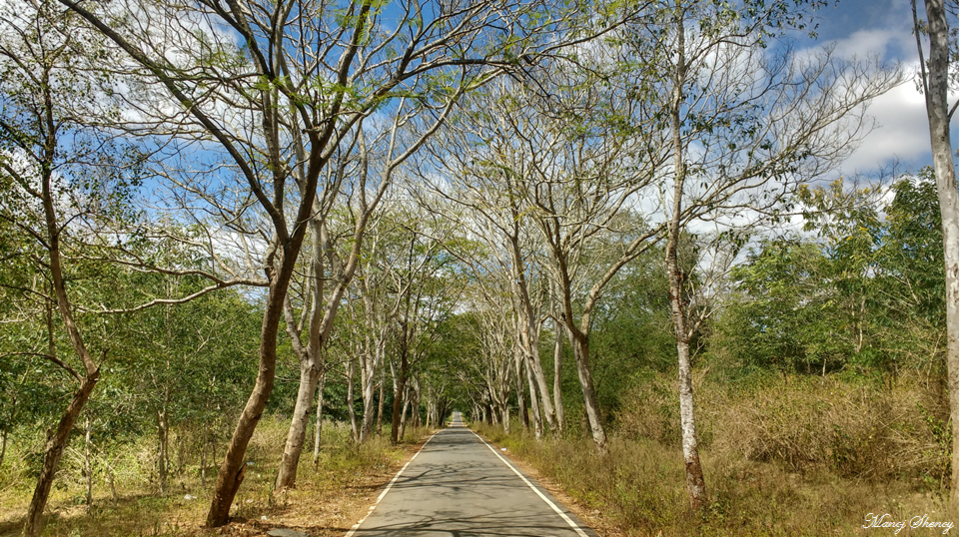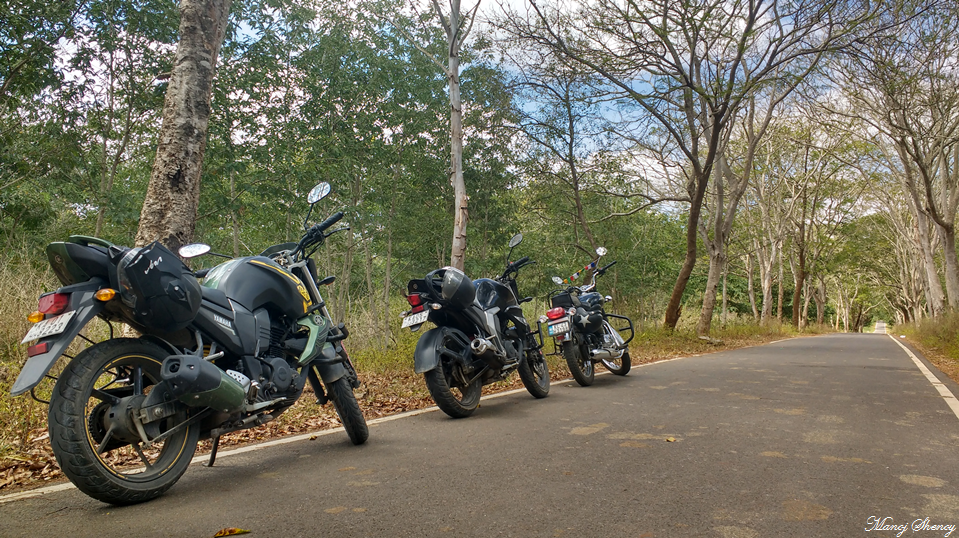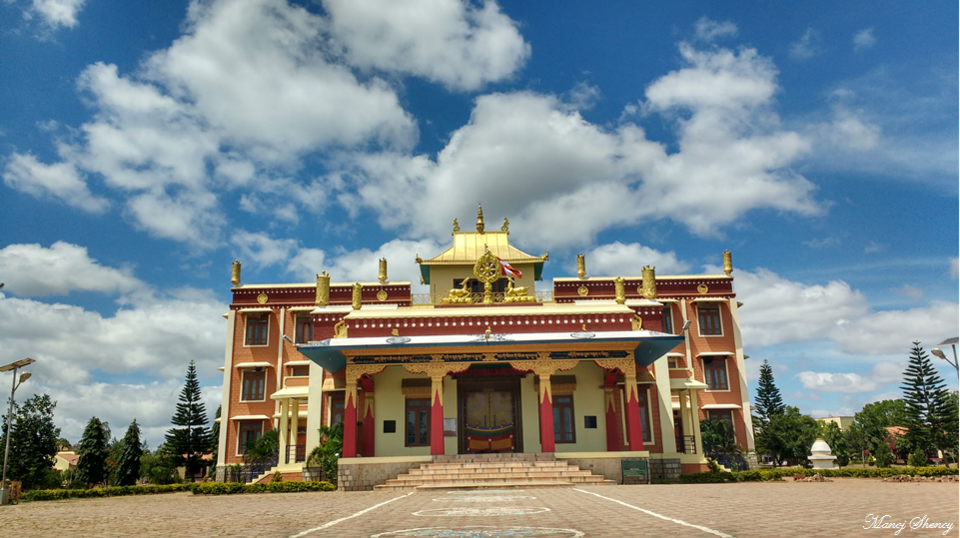 Dzongkar Choede Monastery is one of the oldest monastery in Tibet which was razed to earth by the Chinese during the cultural revolution, and the monks had to escape.Of many monks, only a few survived to tell the tale.A decade and a half elapsed in this historical twilight to alive in exile.The current monastery in Hunsur was then reconstructed under the auspices of HH Dalai Lama and Govt of India.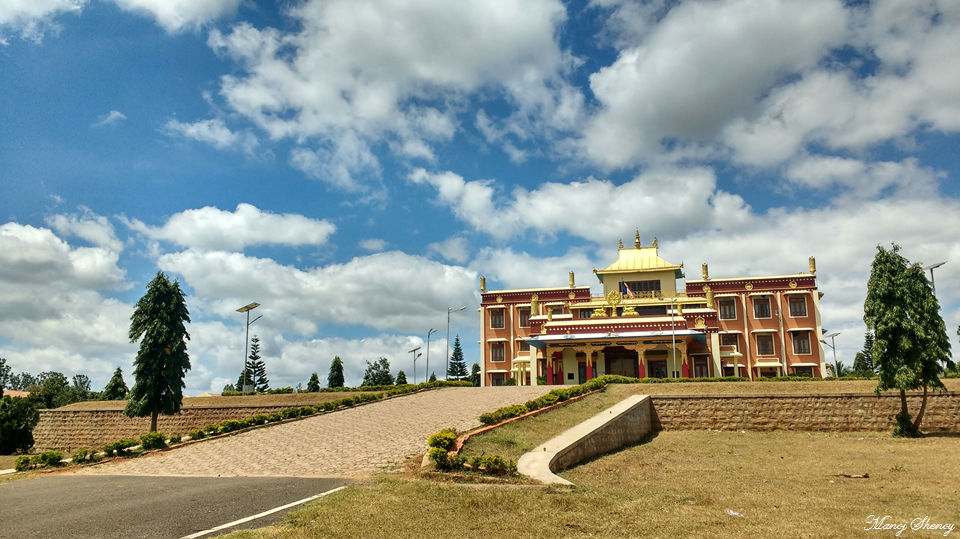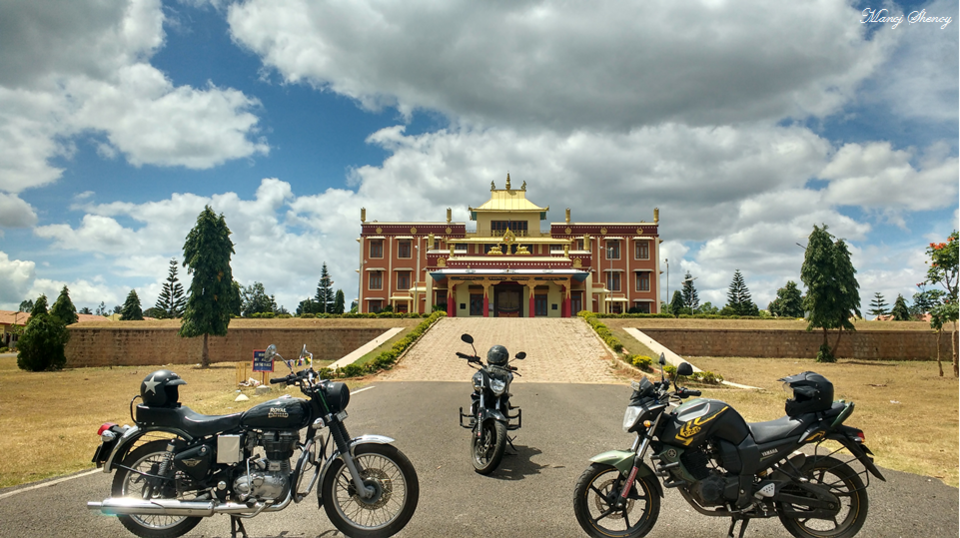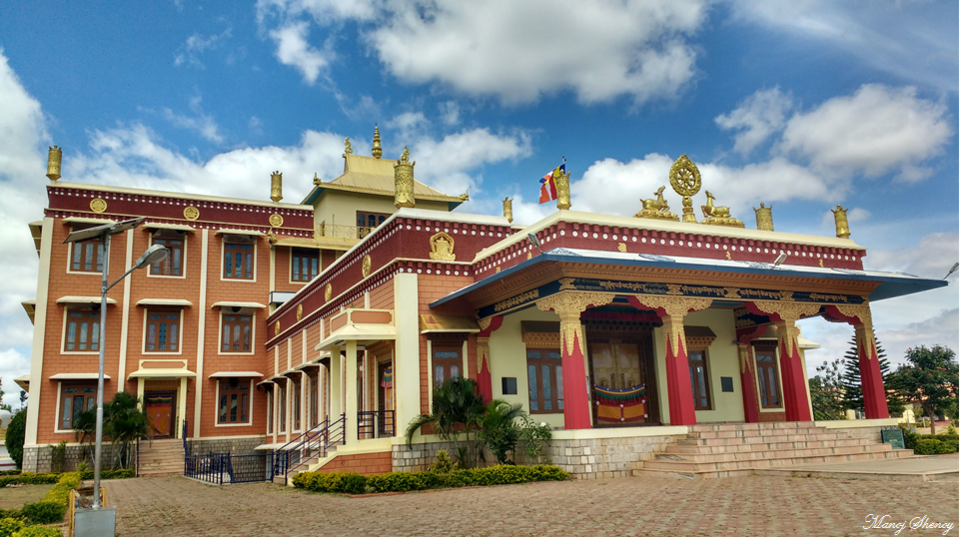 ' The monastery is closed on Sundays for a visit ' said the monk commiserating on our predicament.He seemed to be the administrator of the office.Surely we were disappointed, We can't blame them as they were doing some ritual prayers inside.The polite monk tried his very best to get us in, but luck was not with us.Skirting around the premises, we saw the little monks playing around and a few returning to the beautifully built homes lining the monastery in all 4 directions.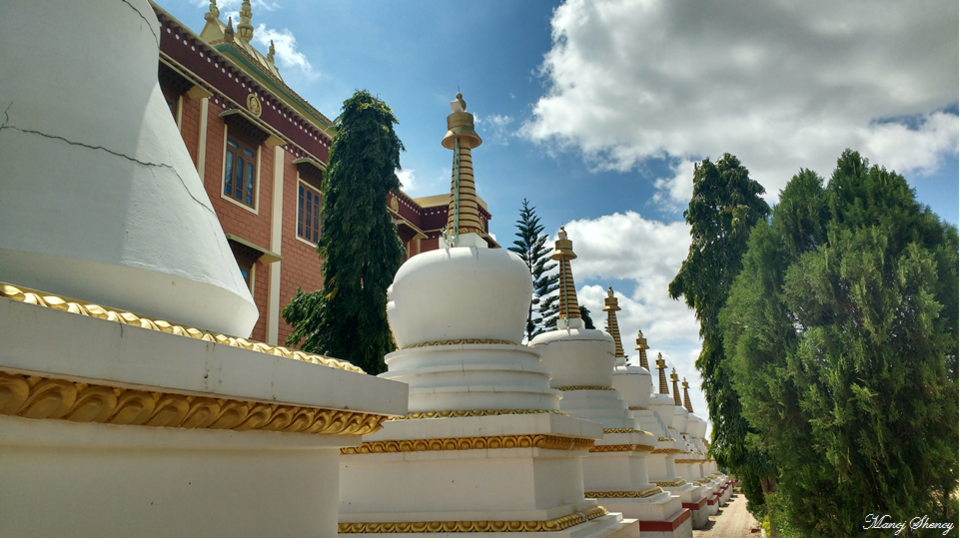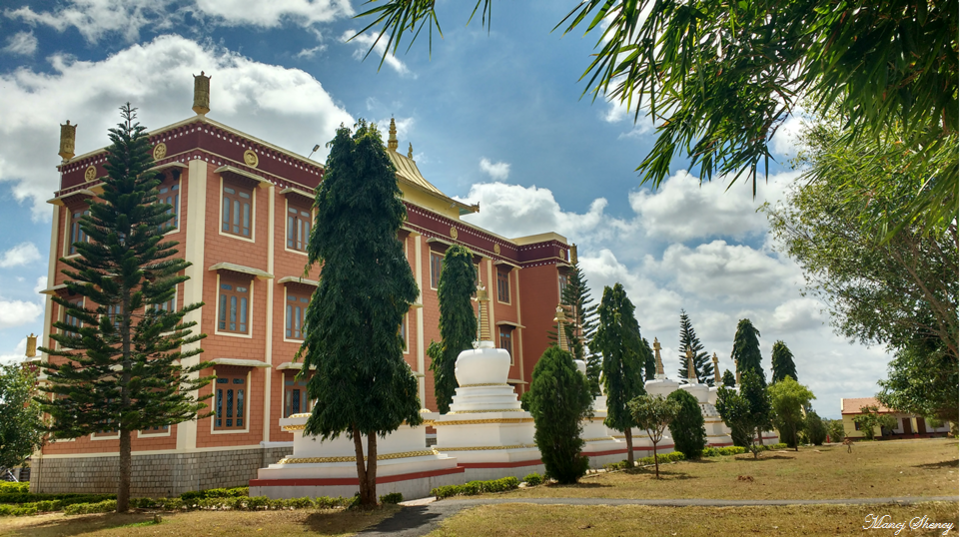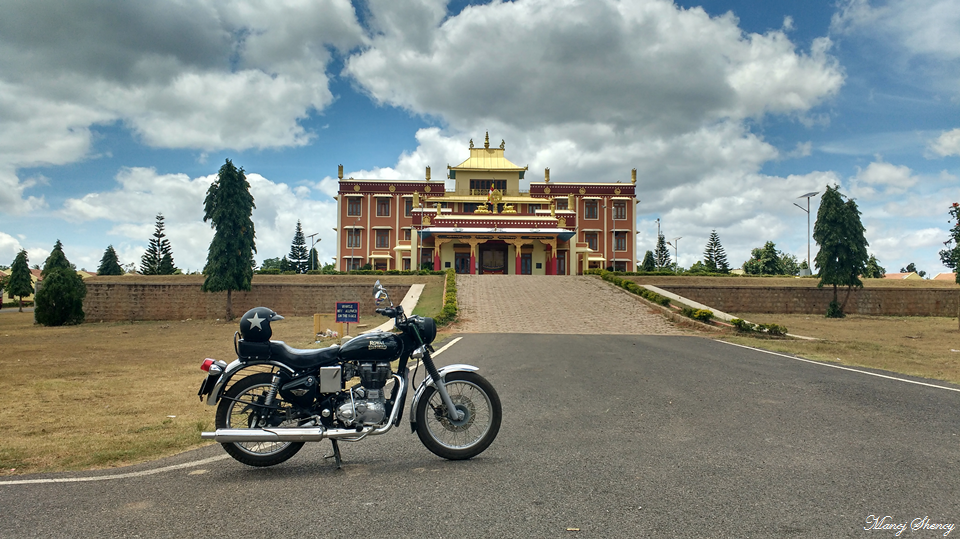 We rested ourselves in the temple stairs hoping to get the glimpse of the inside after the prayer finish.As the time passed, we were sharp-set.As we were about to leave, The Monk earlier who we met came forwarded and was expressing sorry and welcomed us inside for having the lunch as the token of their happiness.The hospitality, humility and benign nature of these 'Spiritual rock stars' (As I call them :) ) is well known, and I have experienced the same in my previous encounter in Bayoe Rinpoche monastery in Dhoendenling. We followed him to the dining area where he served us with some Buddhist cuisine.It had a thick Tibetan bread served with the cabbage curry and pickle.It was completely new to us.After a prolonged pestering the Monk and his aid joined us for lunch.
He gave us a talk on Buddhism and the sufferings, Prosecution and incineration of Tibetans in China, Exile life, Their hardships to live and grow crops here in the hot plains of South India and much more.I was deeply moved by his statements.I expressed my grief and then with the hopes of the situation to turn around in benefit for them I bid adieu to the land of peace. Indeed a great day spend! Looking forward to visiting again.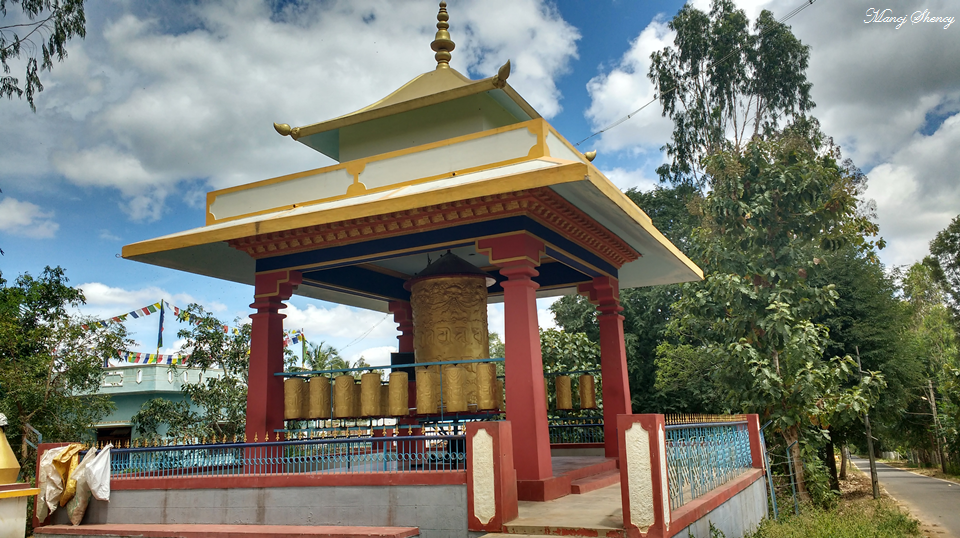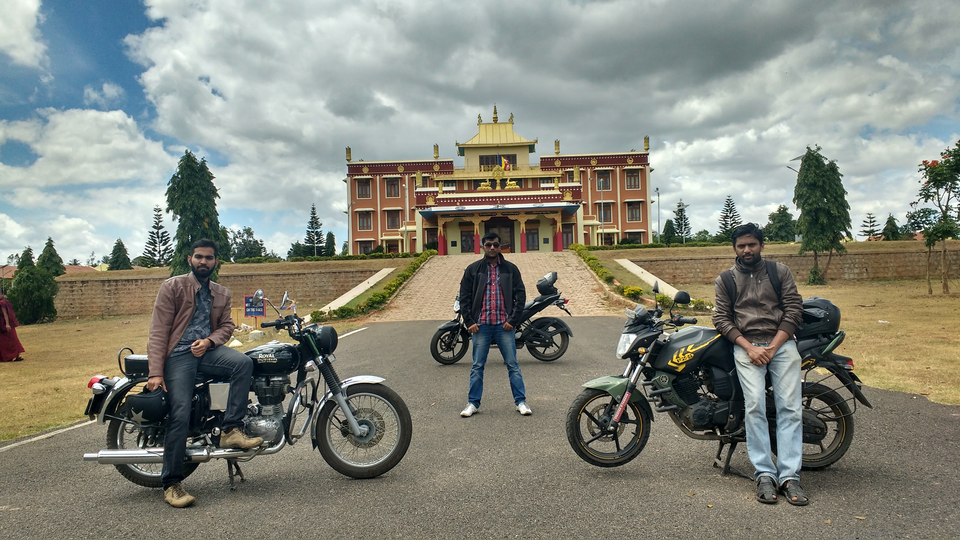 Ride Route: Bangalore - Mysore - Hunsur - Rabgyalling Tibetan camp & Dzongkar Choede Monastery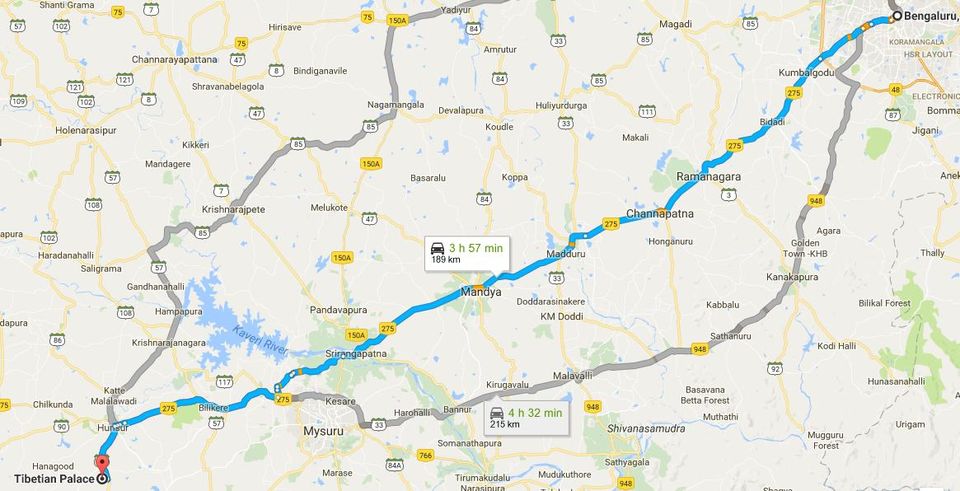 Blog Link : http://shenoystrail.blogspot.in/2016/12/ride-to-little-known-tibet-rabgyalling.html
PS :
1. Eatery option available on the way are very less.
2. Roads are bad.Expect potholes, patches, and gravel roads.
3. We couldn't find ATM and petrol pumps for some safe distance.
4. Google maps can be tricky.
The very next week, I was fortunate enough to be in Tibetan headquarters, Famous by the name 'Little Lhasa' - Mcleodganj, Dharamshala. My travel tale of Desert to the Himalayas chasing the sunsets will be unfolded later. Stay tuned... :)