Bylakuppe – first thing came in my mind, is this a place's name.
When I went through the details found on internet it was hard to believe that it is a Tibetan settlement in Karnataka. I was ready right at that moment to visit this place coming weekend. North east India has been my favourite place and staying in south India it was difficult to plan a trip all the way there. That was the reason I was super excited to find Bylakuppe here in south 248 KM from Bangalore.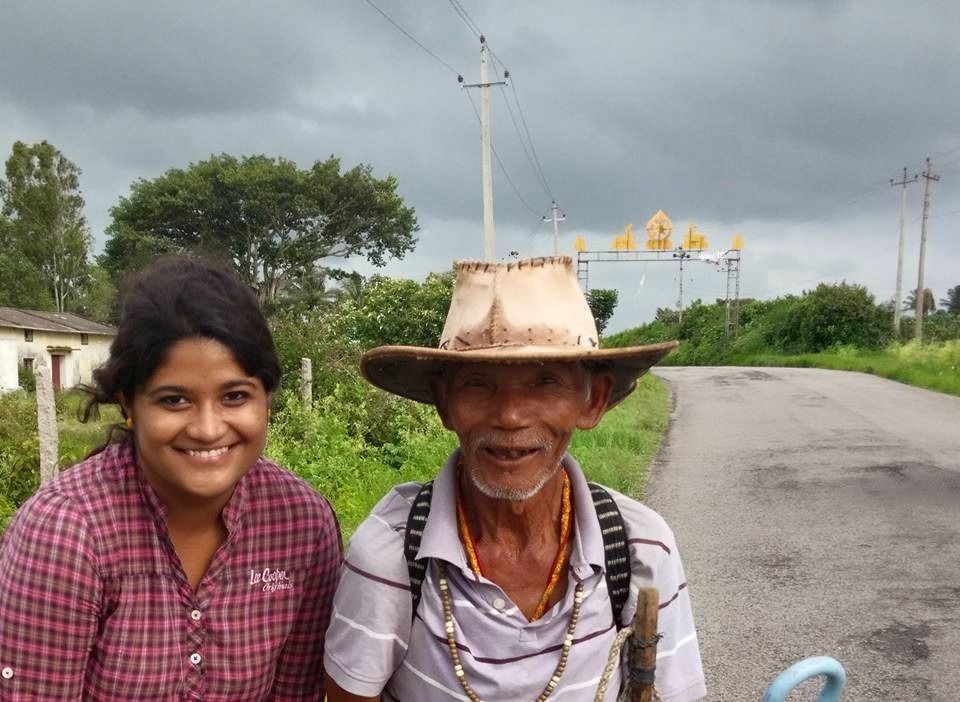 You can catch any KSRTC bus going to Mysore or Coorg as BK is on the way which takes 4hours 30min from Bangalore. Only one private bus is available on Red Bus. I and my backpacker travel mate and friend booked private bus as we were travelling late night and was not sure about the place. We got down at BK around 4:45 AM. It was still dark and a tea shop was open near the small Bus stand. As BK is famous for its Golden Temple we asked them the way to Golden Temple and started walking with our backpacks and torch. Foreigners are strictly not allowed without a PAP permission.
There was a huge golden arch when you enter the village road. These arches you can find everywhere inside the village when a monastery is nearby. There were no street lights and it was dark. Without our torch light it would have been difficult to walk. Although it is a beautiful path to walk with fields around when there is enough light. We were too energetic to stop and wait for the sun light. We continued walking and there were dogs barking almost from every house. We decided to stop near a closed shop and sit there till some light as we did not find it safe to move further only because of the dogs.
We reached Camp 1 market area and saw a board of TCS Guest house – it has nothing to do with TATA group. Dialed the number given to get the exact location as it is inside the market on the left side. Got a double bed Room at 500 bucks. There were two single beds at each corner with a TV, attached bathroom and Geyser. You can ask for extra bed as well. Unfortunately it rained heavily last night and due to wiring breakdown there was no current in Camp 1 that whole weekend. The huge windows in the room were enough to bless us with some light. We needed a nap badly as it was a sitter bus travel and we did not sleep properly. We slept like pigs till 11:30 AM.
The moment I opened the door of my room I saw monks everywhere at eateries enjoying there Saturday. We got ready, ready to explore this small Tibetan village. But before we jump it was time to make our stomachs and soul happy with good food. Their staple food was noodles. You can find their authentic dish Thukpa – Soupy noodles in a huge bowl and Momos everywhere with the usual chowmeen and fried noodles. But all small outlets had only Beef. So for the veggies and chicken lovers you need to go around and search a little.
Best restaurant - Potala Kitchen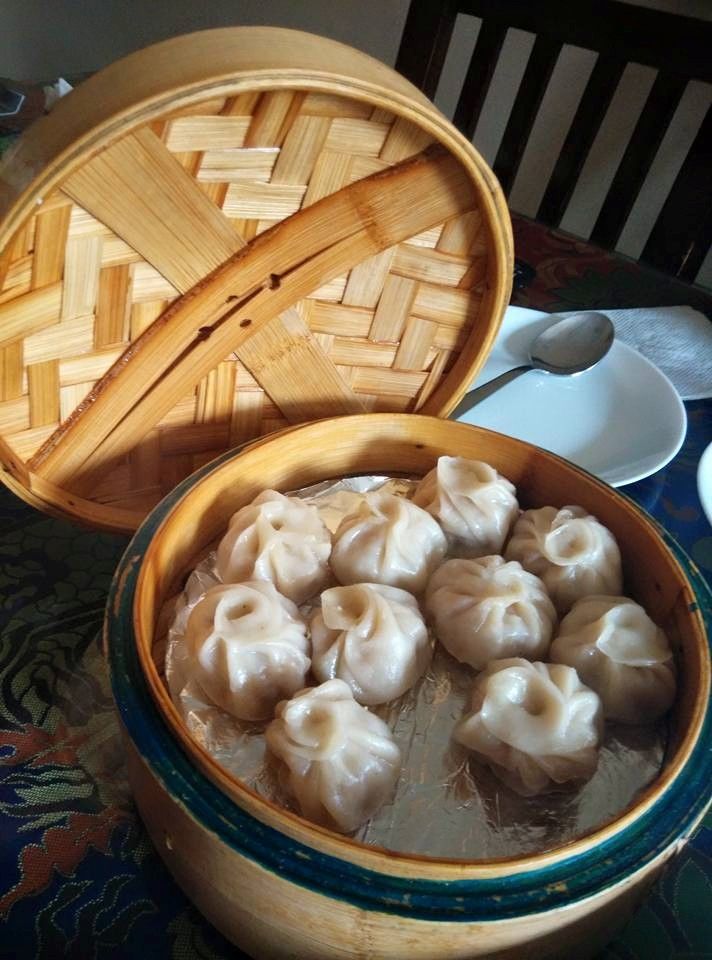 There are eateries everywhere, so it's not all possible to die hungry. The food will be plain without any spice but they do provide with their Tibetan spicy red chili sauce to spice up your meal. You can also try there one and only Tibetan snack – La Ping – made out of flat noodle with spicy sauce available throughout the day.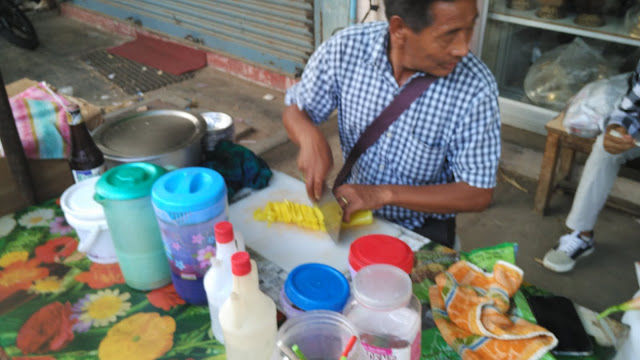 There is a straight road from National highway where the bus drops you, till the Golden Temple. The roads do diverge left and right on the way to different monasteries. All the monasteries are breathtaking and worth visiting. You can go around everywhere by walk. Everything is just 20min walk and with the lovely green fields around and trust me you do not want to miss the beautiful countryside experience.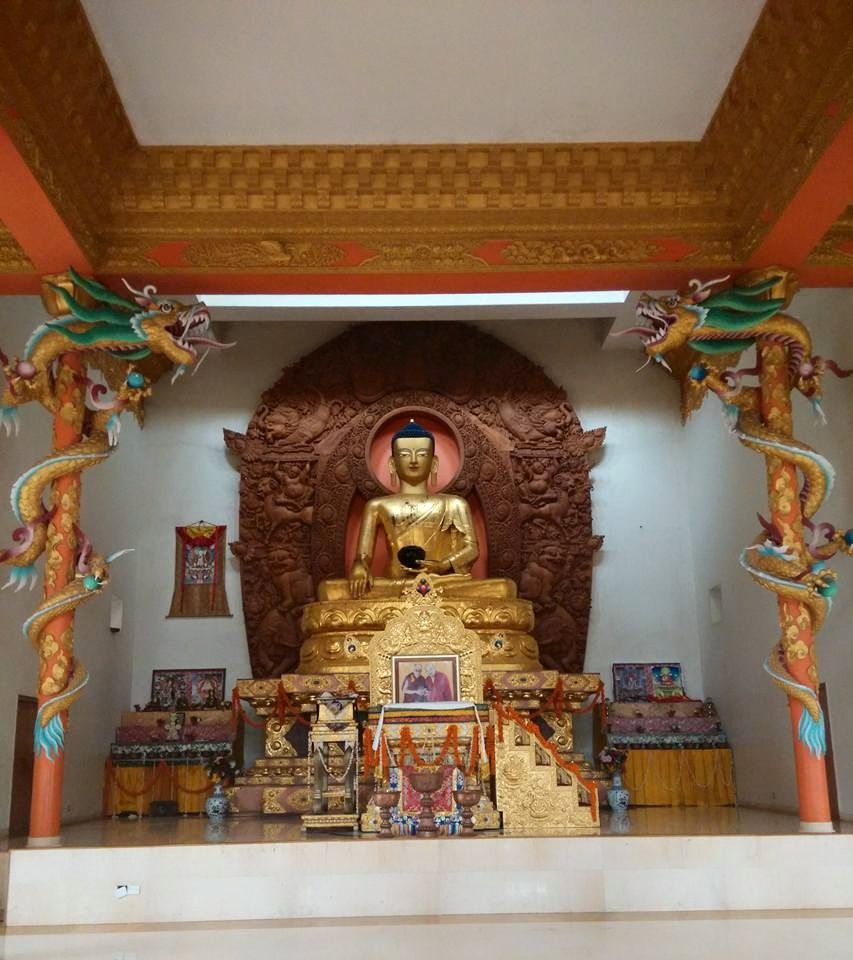 There is a handicraft shop named Dicky Handicrafts and to my surprise not at all costly. You can get handmade Tibetan flags, prayer flags, herbal incent sticks at just 20 bucks to 50 bucks. Everything is pocket friendly. A chicken Thukpa will cost you 70 bucks and a plate of momos 40 bucks. There are good Tibetan praying flags available at a Printing shop on the way to Golden Temple. They are the ones you even find in Leh and Laddakh and here in Bylakuppe they were in every house and with the cool climate it gives you the typical hilly North east feeling.
We were wandering everywhere around the village wherever the roads were taking us. We decided to visit the main Golden temple next day early morning to witness prayer done by Monks. We returned to our Camp 1 had Thukpa in Dinner and ordered lemon tea at TMT Kitchen adjacent to Tibet Café. That was the best ever lemon tea we had in our life. A must try at that place. We were sitting by the road side outside the restaurant. It was a relaxing evening with nonstop rounds of lemon tea and chats. The tranquility in the place made our minds and heart open to many ideas we would want to implement in our life. It was the most content, noiseless serene evening ever. The TMT kitchen with their stupendous lemon tea became our "adda" from that day on. Whenever I pass by that road in future, we are going to stop just for the lemon tea at our adda.
TMT Kitchen closes by 9:30 – the only restaurant that can provide you food late night. We were settled again in our room hearing some soul soothing songs helping us to meditate in that peace and sleep.
Next morning we checked out at 8 and reached Golden temple by 9, right on time for the prayer. The prayer started with slow chanting and drum beats. The vibes everywhere not only inside the temple but all around the village were so strong and positive. First time in my life I sat through the whole 1.5 hours of prayer. We made a Monk friend named Nyina there at the main shop at golden Temple who shared about their life as monks. You can also strike some words with monks there and learn about their life and rituals. There are shopping markets at Camp 1 and at golden temple. For shopping freaks you can get nice and trendy stuffs there. Do not underestimate Tibetans and Monks just by their simple look. They carry themselves pretty enough to write a fashion blog.
There are tuk tuk available in the village but we just took a walk back to Camp 1 for lunch and our lemon tea on the beautiful road to grab all the natural essence possible before we leave. We lied down in a field on the way looking at blue clean sky and relishing the climate. Ah, how much more lovely this trip can get.
We took an auto till the main road Bylakuppe bus stand and got KSRTC bus to Mysore. From Mysore took a bus to Bangalore.
Budget plan/ head:
Bus tickets: onward and return journey – 500 rupees
Stay 24hours – Double Bedroom – 500 rupees – there are only two guest house we found, one at camp 1 and other at golden temple. If you want to stay away from commercial place go for Camp 1.
Walk around for free else hire auto to visit monasteries – 30 rupees
One time meal – Veg 50 rupees and non veg 70 rupees
Lemon tea at TMT kitchen – 10 rupees
There is only one SBI ATM at the beginning of road, so make sure you carry enough cash as cards are nowhere accepted inside the camps.
The place was so city free – no noisy vehicles, no traffic, no commercial places being fletched with all the facilities. The trip purified each and every element in our body soul and mind. It was like going on a detox diet. The mind was recycled, cleaned and all set to start all over again with so much optimism. When you want to run away from the usual and do not know where to go. Take my advice – take a time out with Monks!
This post was originally published on Pratima Yadav's blog, Wanderlust.