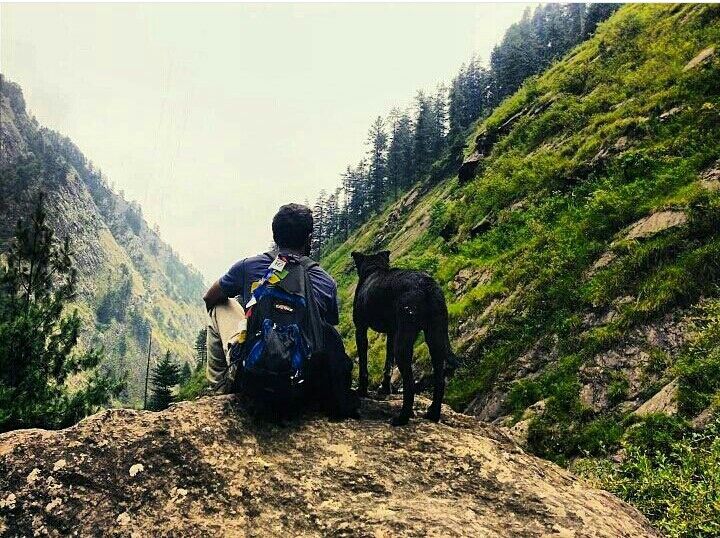 Step 1.

You wake up in the morning, and your wanderlust is kicking in. You feel like jumping out of your bed and just leave. Well don't think twice buddy, this is your first step, never think twice when you feel like travelling going to mountains or a beach. Get out of your bed, go to your bathroom, do your chores, come out pack your stuff, call your friends if they want to pitch in. If yes good, if no screw them.

Step 2

Leave your house, use anyone of the number of travel booking apps in your phone book a bus, a train, a flight whatever you like, or just pick up your car/motorcycle/bike (this will be a better option) and leave. Want to go to the mountains start driving or riding towards them. Enjoy the road to getting there, enjoy the journey. Observe those things that you usually won't on a busy office route. Like watching farmers working in their field in the morning, watch the rickshaw pullers working hard to make their ends meet, appreciate their hard work by just a simple gesture of going to them and appreciating what they do, offer them a cup of tea if nothing else trust me it'll make their day bright. Ride ride and ride untill you reach your destination. It's far? No issues take out your tent and pitch it by some canal or a field. Don't forget to dig trenches, we tauji brats call it trenches what I mean is ding snake pit around your camp location 2.5 - 3ft deep and approx 1.5 feet wide. Camp for the night, look at the sky, isn't it different here? More calm, more clear, more stars? Well it's because this country side is away from the pollution caused by commercialization. Go to sleep because next day will be long my friend.
Step 3

You ride till you get to your destination, clicking pictures of beautiful countryside and soaking in the beauty. Oh you didn't realize you are in mountains. About to reach your destination? Start searching for a cottage or a house stay or a hotel on the way to your destination, maybe a km before your main destination. Book a room go up, all fresh up, nah my friend I know you are tired, but this is time for step 4.

Step 4

Leave your hotel, if you are in a car, walk, if you are on a bike or motorcycle you can use that, because 2 wheelers keep you closer to the nature than a car does. This step is called exploring. Start walking towards the town, enter the town, explore the market, eat something man you must be hungry. Start following the crowd, by crowd I mean locals not tourists. Walk untill you see a path where only a few are going, take that path keep walking till the dead end, or till you find what you are looking for, a secluded beautiful camping fit location, Say eureka out loud. Come back to your hotel check out, come to that camping location if you have a car park it in a public paid parking in the main town, 2 wheelers are friendly for any location you can take it to you camping site. Pitch your tent, stare at that beautiful view and go to sleep.

By the time you wake up it'll be almost night. Ride to the main market of the town, he dinner, grab a beer or two. Met other backpackers while dinner? Share your experience, tell them about your camp location, you can invite them if you want. ( In backpacking community, never keep beautiful camping locations your experiences to yourself, share them with other backpackers) come back to your location. Make a fire, sit by that fire, appreciate the night sky, noises those bugs are making. Play your fav song on your phone read a book if you want. Feeling sleepy? Sleep. Wake up in the morning, don't want to go home? It's totally fine, find another camping location maybe on a different road, or in the next town. Repeat what you did above unless you are satisfied, walk more/ cycle more explore more. Don't sit ideal, keep finding places which are beautiful, which give a mesmerizing view, click pictures, upload them on instagram to tease your friends who said no for this trip.

Step 5

When you feel that it's enough for this time, turn around, on your way back home think about your experience what you did, appreciate your decision. Appreciate the views you were able to see, which usually regular tourist are never able to experience. Reach home and share your experience with the world by writing a blog.

PS: Be a responsible backpacker, take your trash from your camp site with you and dump it in a dustbin, don't leave it there.
Please check out my Facebook page: Travel4Cause