"THE LAND IS SO HIGH THAT ONLY OUR FIERCEST ENEMY OR OUR BEST FRIENDS WOULD WANT TO VISIT US"
- Ladakhi Saying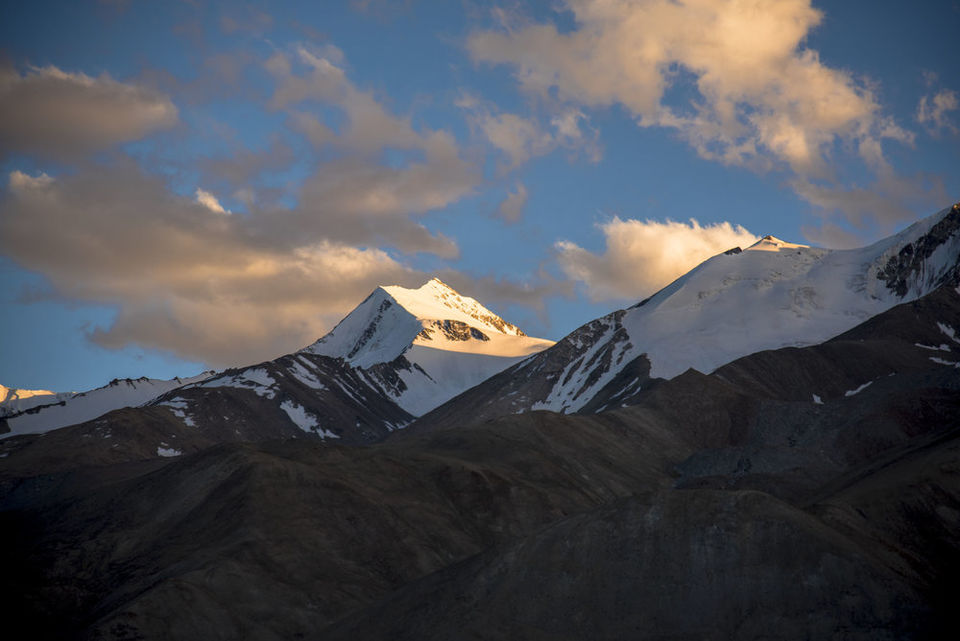 It has been almost a decade when I visited Ladakh for the first time, and I fell in love with this palce its beautiful lakes, snow-capped mountains, ochre colored lands, bright blue skies and rugged terrains are photographed in my brain cells . I have always dreamt to revisit this enchanted place and nothing could be best than to do it with your own self drive car. And this year the dream materialized. In excitement I asked few of my friends to join the trip, but none could join [ you know this and that problem, uhh ! ] , so after many delays I finally opened my two trump cards, my cousin brothers, Vicky and Anshu.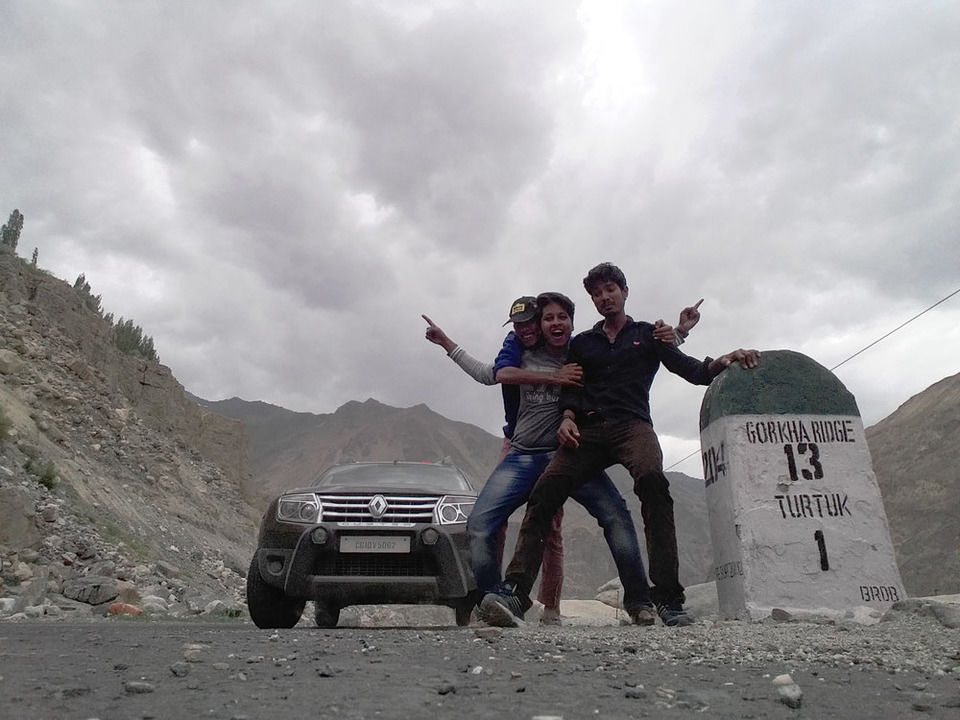 There are two ways to reach Pangong Tso Lake one from Leh via Sakti which is the most commonly used route and the second one is directly from Diskit to Pangong Lake via Shyok, this is generally untouched and less tourist choice road but got the beauty and adventure along the bank of Shyok river. We took the second route from diskit and it was worth choosing this route. Approximately 60% of the length of Pangong lake lies in Tibet China.
At Pangong lake we packed our tent and all set for leaving, our car started giving cold start problem and engine refused to start. We found our battery was discharged due to severe cold temperature that night. We three failed to push start the car, due to tiredness and pushing the car through desert land we were totally out of breath. We got stuck at Pangong lake for 1 hour looking for some help. We thought to get help from nearby army camp which is four km away , breathlessly in cold morning we were walking towards army camp, but some how luckily a pick up driver was moving in that area and we managed to get help from him. This gentleman in the photo who helped us out by towing our car and the engine starts roaring after 6th attempt. Thank god we had towing belt in car.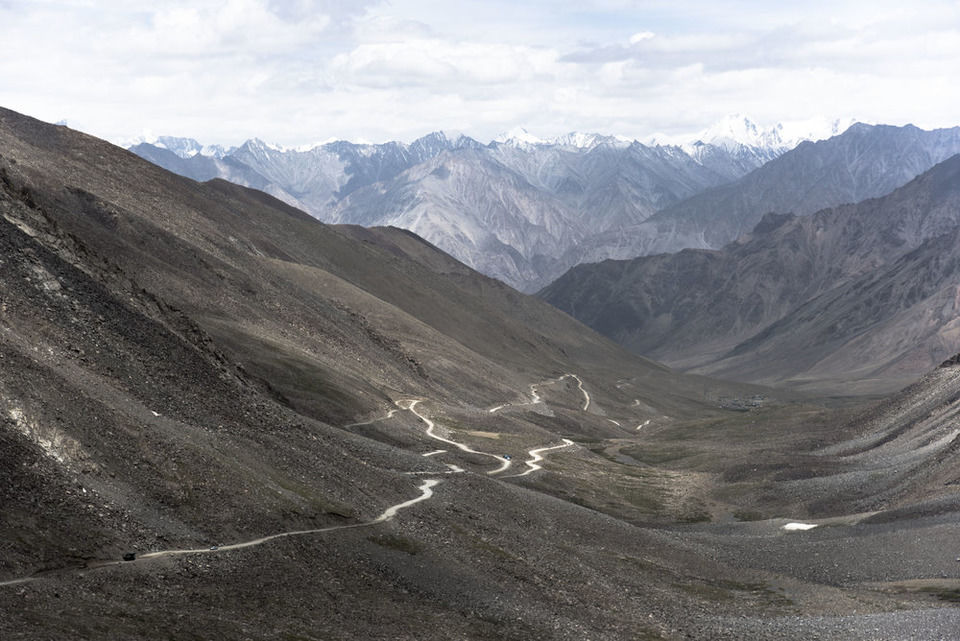 Choosing Anshu and Vicky was my best decision for this trip. I always wanted to keep the group size minimum and we the trio were best. From that day the count down begins so we planned a trip for 18 to 20 days , The self drive road trip to Ladakh started. We agreed to make it this time no matter what comes. The Plan of a road trip was to have a journey which would mean much more than reaching the destination. We set our own driving rules which we had to follow while driving.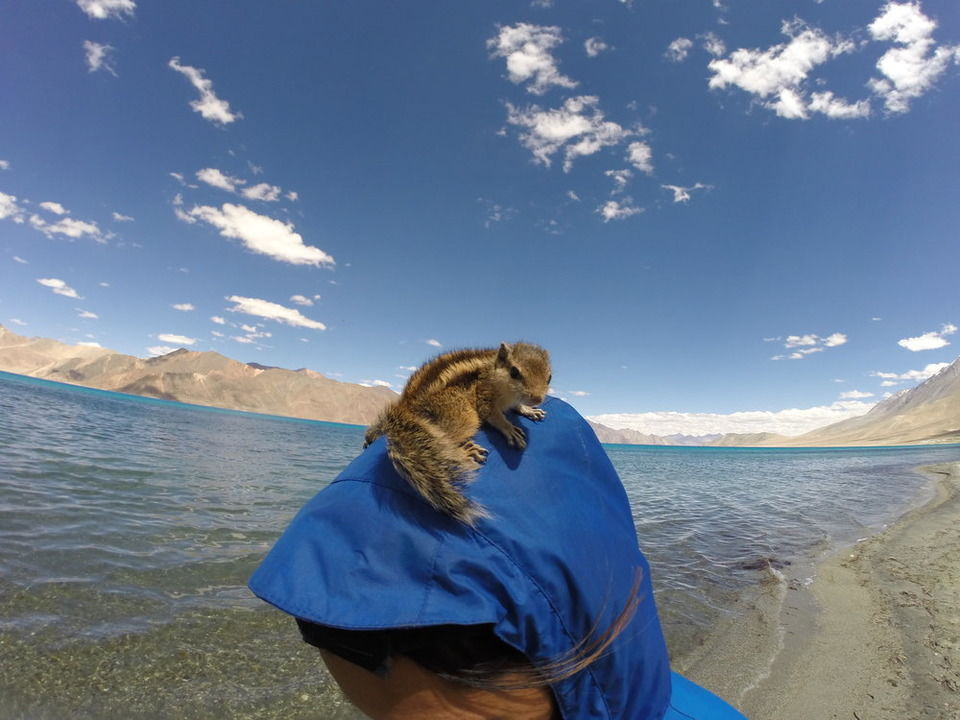 COMPLETE ITINERARY
Day 1 - Bilaspur to Jabalpur / Sagar 520 Km
Day 2 - Sagar to Jhanshi/Gwalior/Agra/delhi-Panipath 742Km
Day 3 - Panipath to Amritsar 366 Km
Day 4 - Amritsar local
Day 5 - Amritsar to Jammu/Srinagar 476Km
Day 6 - Srinagar to Sonmarg/Dras/Kargil-Mulbekh 249 Km
Day 7 - Mulbeth to Zozi La pass/Leh 174 Km
Day 8 - Leh Market and self Acclimatization, rest.
Day 9 - Leh local local sightseeing
Day 10 - local activity
Day 11 - Leh to Khardung La pass/Diskit-Hunder 126 Km
Day 12 - Hunder to TurTuk Indo-Pak Border-hunder 266 Km
Day 12 - Diskit Local sightseeing
Day 13 - Diskit to Shyok/Durbuk-Pangong Tso Lake 130Km
Day 14 - Pangong TSO
Day 15 - Pangong TSO to Chang La pass/Pang 260 Km
Day 16 - Pang to Agra 1053 KM (24 hr. Drive)
Day 17 - Agra Local
Day 18 - Agra to Fatehpur Sikri/Bharatpur 65 Km
Day 19 - Fatehpur sikri to Bilaspur 989 Km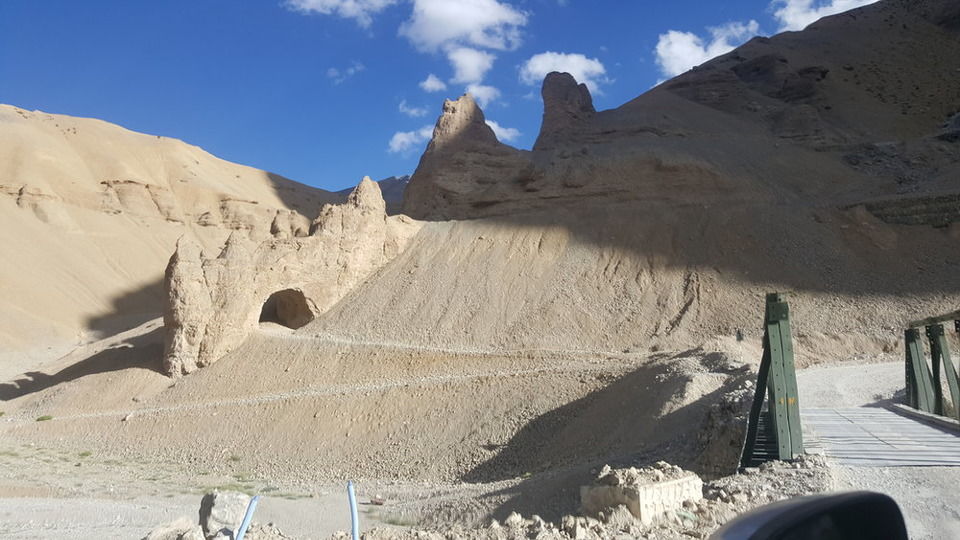 SELF DRIVE ESSENTIALS
Make sure your vehicle has a high ground clearance
Get your vehicle properly serviced.
Carry large container for fuel as there are only few fuel station on the way.
Important to carry all spare parts and like jumper cable, towing belt, two flash light,extra fuse,puncture repairing kit with pump.
Carry complete car and personal documents with you.
First-Aid Box.
Sun glasses must in Ladakh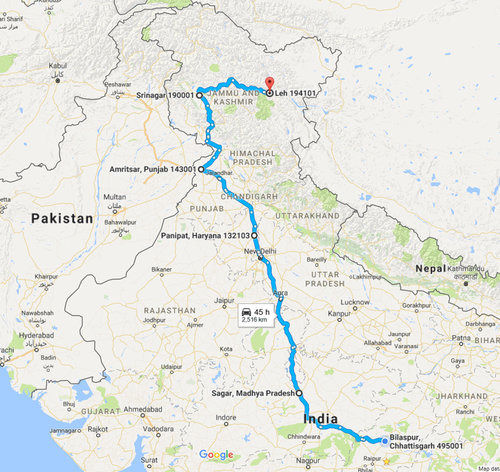 Note
Never get over confident while driving on hills, at some point the roads gonna test you so always be on alert. Driving to Ladakh especially via Manali –Leh Highway could be one of the strangest and adventurous drive you will ever undertake in life.
Don't forget to carry BSNL sim that too post paid one as per the J&K government norms.
Never rush through any tricky section of the road.
Always help others on the way and avoid night driving.
Driving on hill is time taking and risky some time it takes1 hours to just cover 30 km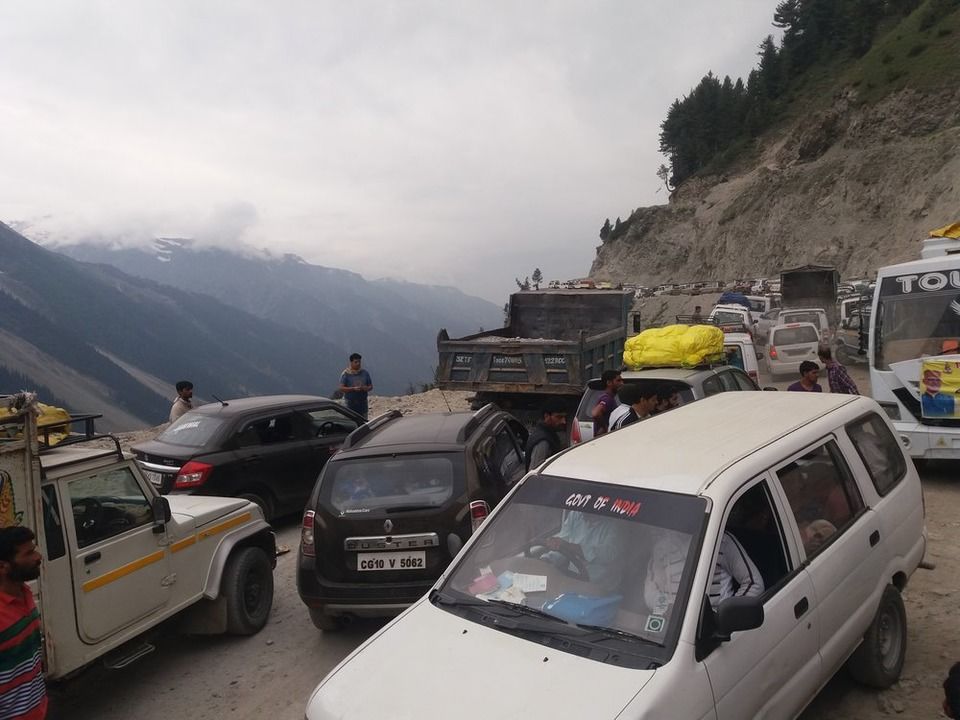 IMPORTANT PASSES ON LEH LADAKH ROAD
Srinagar to Leh
Zoji La (3528 m) – Connects Ladakh with Kashmir.
Fotu La (4108 m) – Highest point on the Srinagar-Leh route.
Leh Ladakh
Khardun La Pass (18379 ft) - world's highest motorable pass.
Chang La Pass (5360 m) - known as the 'Pass of Lower Castle'
Manali to Leh
Rohtang Pass (3978 m) – Crosses Pir Panjal range. Leave early to avoid traffic. Tuesdays closed for maintenance.
Bara lacha La (4890 m) – Crosses Great Himalayan range.
Tanglang La (5328 m) – Crosses Zanskar range.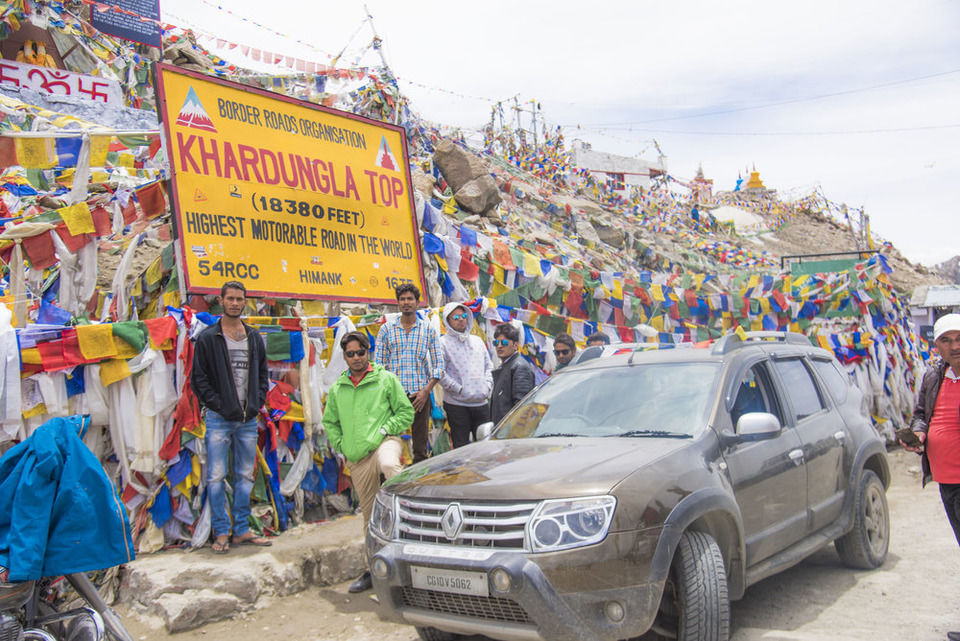 ALTITUDE SICKNESS PROBLEM
Because the Ladakh region is so high in the mountains, its always recommended to acclimatize in Leh prior to start of your actual tour in the region, it requires two or three days of acclimatization and this includes local sightseeing like market, palace etc.,
Please do not exert yourself on the arrival day at Leh and take full day rest. Even the sturdy ones face dizziness and altitude problem in the beginning.
the Views on the way are the most scenic i have ever seen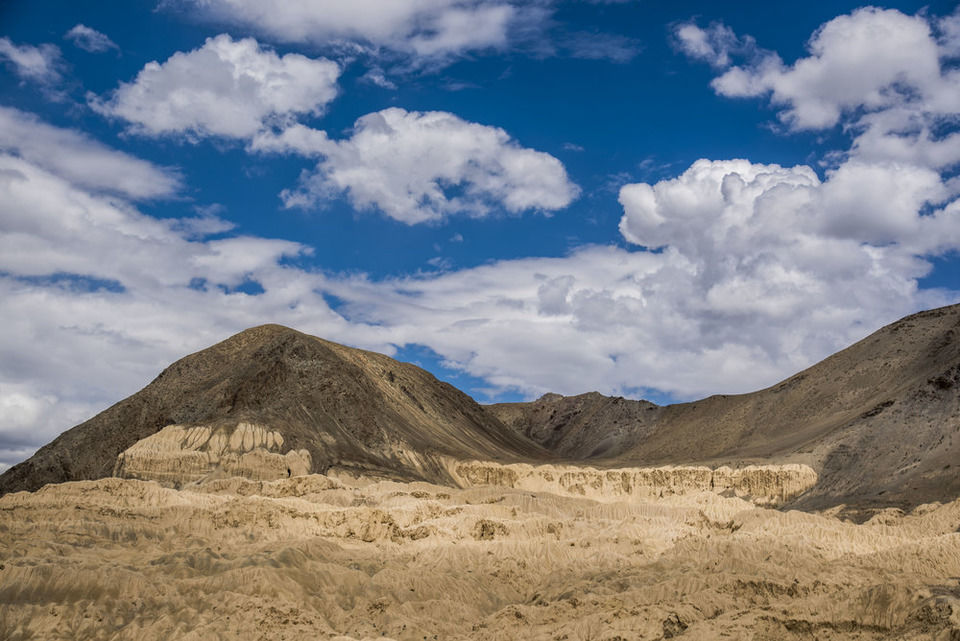 Be mentally prepared for every situation & always have Plan B
self camping
Camping in the lap of Trans-himalayas, specially in Ladakh or Spiti Valley, its something each one of have dreamt about when it comes to camping . You can pitch your own tents or camps almost anywhere as Ladakh or Spiti Valley have the more possibility of better camp site. Don't pitch your tent near forest area or any wildlife area. You will also get some paid tents & camps on sharing basis or can have guest house on the way. Leh Manali road does not have any guest house only camps which is costly Rs 2500 for two person but the best option would be staying in dhaba or in local coffee house which is just Rs 500 for room which is better than costly tents when compared to money and facilities. You are gonna experience unique feeling and you may meet new people around.
TIPS
Do not camp near restricted sites or wetland.
Find your camp site before sunset.
Its safe camping near village.
Ensure you do not leave any food stuff openly.
Do not left any litter around camp site.
Its good to have solar light.
Avoid Windward side in extreme cold areas.
make memories that will last for life time
Expenditure
TOTAL 6709 KM ROAD DISTANCE COVERED IN 19 DAYS.
TOTAL 273 LITERS DIESEL CONSUMED WHICH COST AROUND RS 15000.
OUT OF 19 DAYS OF OUR TRIP WE STAYED IN TENT FOR FOUR DAYS ON DIFFERENT PLACES AROUND LEH-LADAKH.
TOTAL TOLL TAX ON HIGHWAYS COSTS RS 4900.
TOTAL EXPENDITURE AROUND 55K.
SELF CAR DRIVE IS MUCH MORE BUDGET FRIENDLY.
"YOUR HEART IS FREE, HAVE THE COURAGE TO FOLLOW IT "
— DAYS IN LADAKH
This post was originally published on Bandhi Gaurav.
Frequent Searches Leading To This Page:-
Best Tour Packages for Ladakh, Ladakh Tour Package for Couple, Best Travel Packages for Ladakh, Best Ladakh Trip Packages, Ladakh Holiday Tour Packages, Top Ladakh Tour Packages For Family