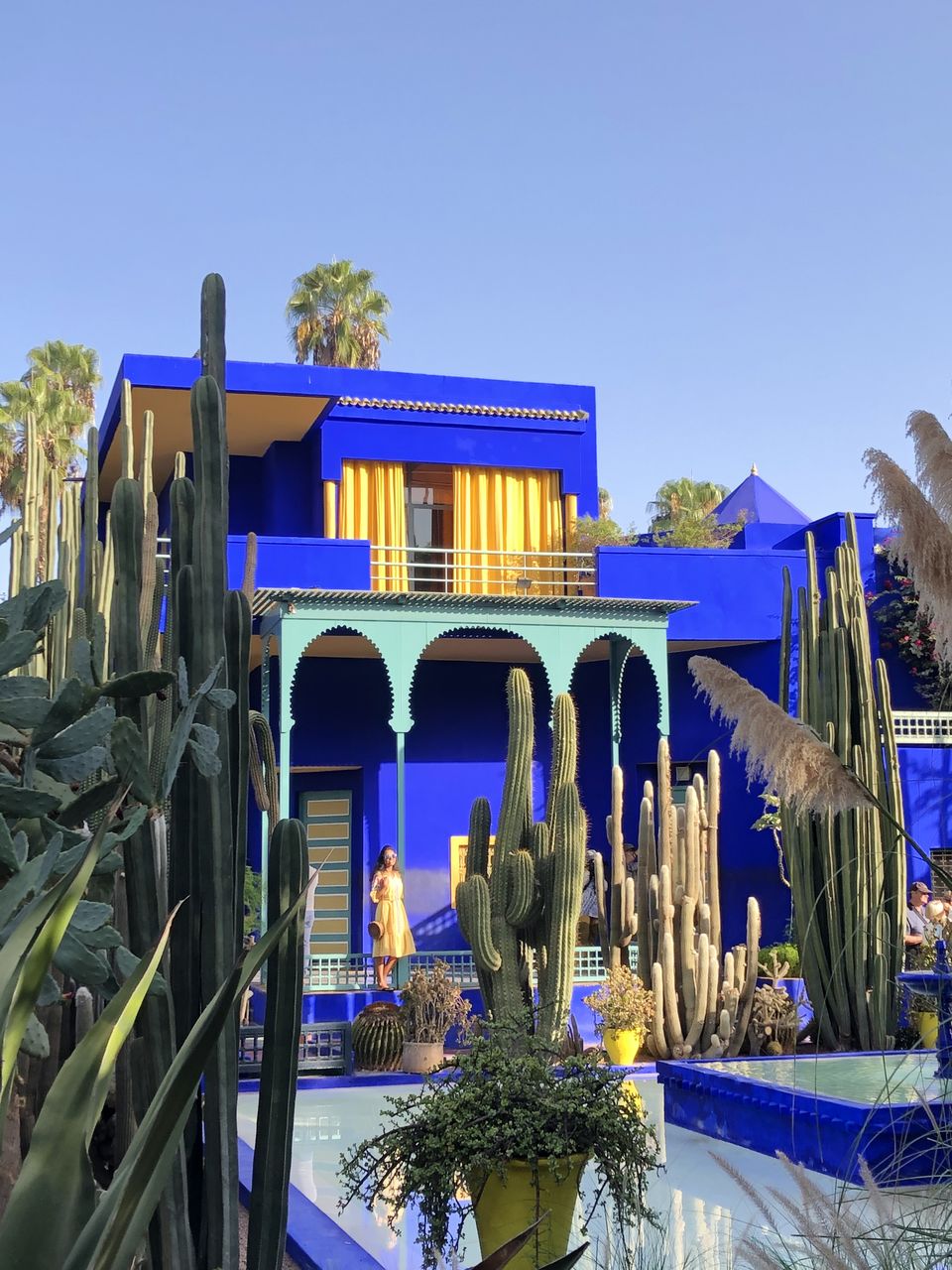 If Jaipur is the 'pink city' of India, Marrakesh or Marrakech (spelled in French) for us seems like the 'pink city of Morocco'. The terracotta walls of the crowded medinas kept reminding me of my pink jewel back. In the entire country, Marrakech according to us was like the hottest & the most crowded city of all. Much bigger than other cities like Fez & Chefchaouen too!
How to Reach Marrakech:
Marrakech has an international airport called 'Marrakesh Menara Airport', so you can fly in to Morocco starting your holiday from here. You can proceed by taking a Sahara tour which starts from Marrakech & drops you to Fez. We chose the other way round. We landed in Casablanca & started our Sahara tour from Fez & ended up in Marrakech. It's also easily accessible by train.
If you have time on you, you should definitely visit Essaouira which is approximately a 3-hour drive from Marrakech. Trust me, it's Gorg!!
Read more about exploring Essaouira
6 Best Things to do In Marrakech.
1.Bahia Palace: Located quite in the heart of the Medina this gorgeous palace is a stunning work of art & is an epitome of Moroccan architecture. The intricate tile work, the appealing courtyards, the dreamy garden & the striking painted ceilings leave you speechless. The Bahia Palace stands true to its Arabic meaning – brilliance!
Timings: 9am to 5 pm
Entry: 70 MAD per person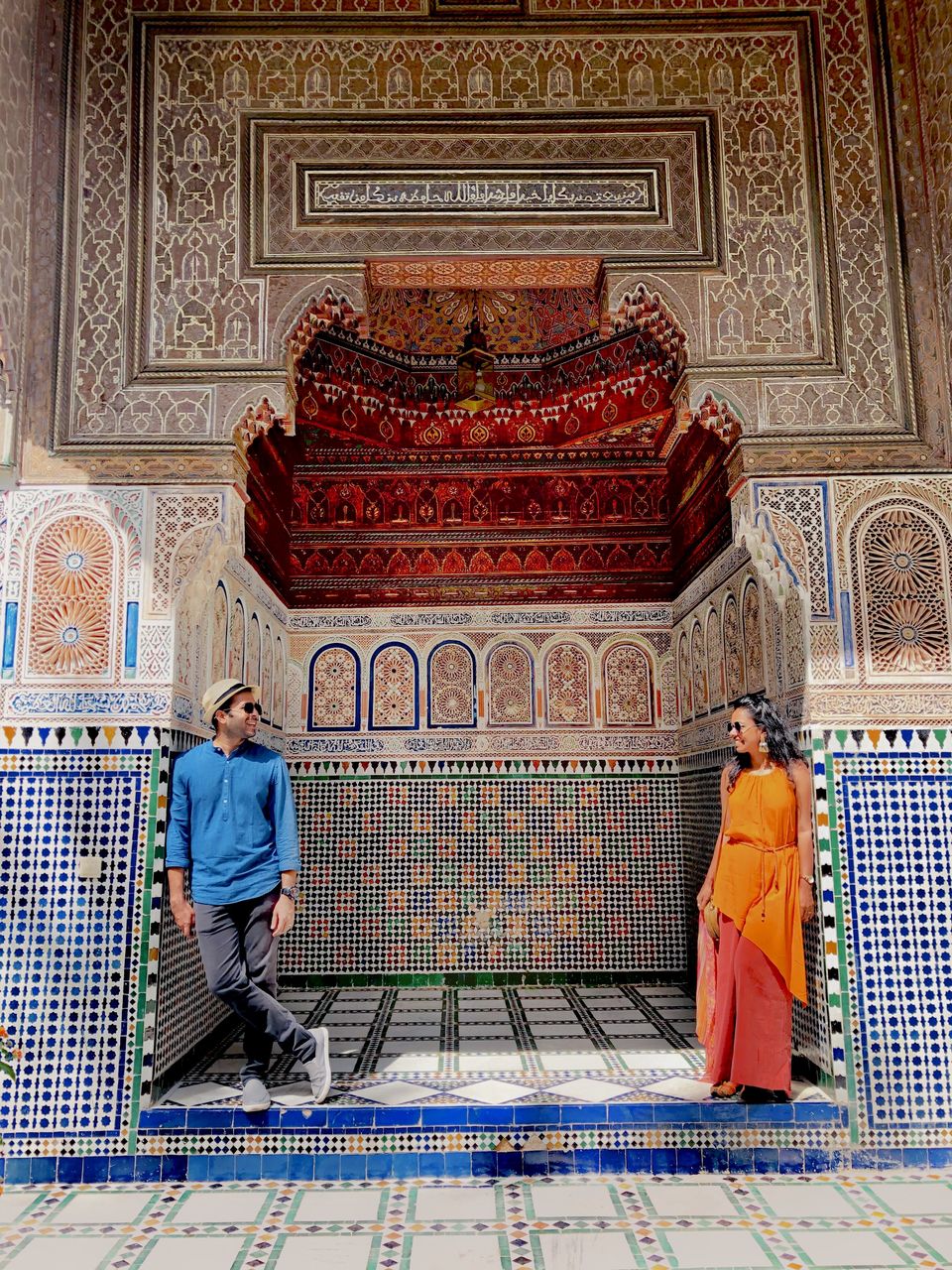 2.Jardin Majorelle garden: This charming garden, originally designed by Jacques Majorelle was later restored by French designer Yves Saint Laurent. Around 300 species of plants decoratively rooted in this garden make a dreamy enchanted zone to wander around.
Tips: This garden is a little far away from the main medina. A cab ride from the Jemaa el-fna square should cost you around 40-50MAD one way. The cabbies would start by quoting around 80MAD & will sound adamant too. Make sure you stick to the price.
Timings: 8am to 5 am
Entry: 70 MAD per person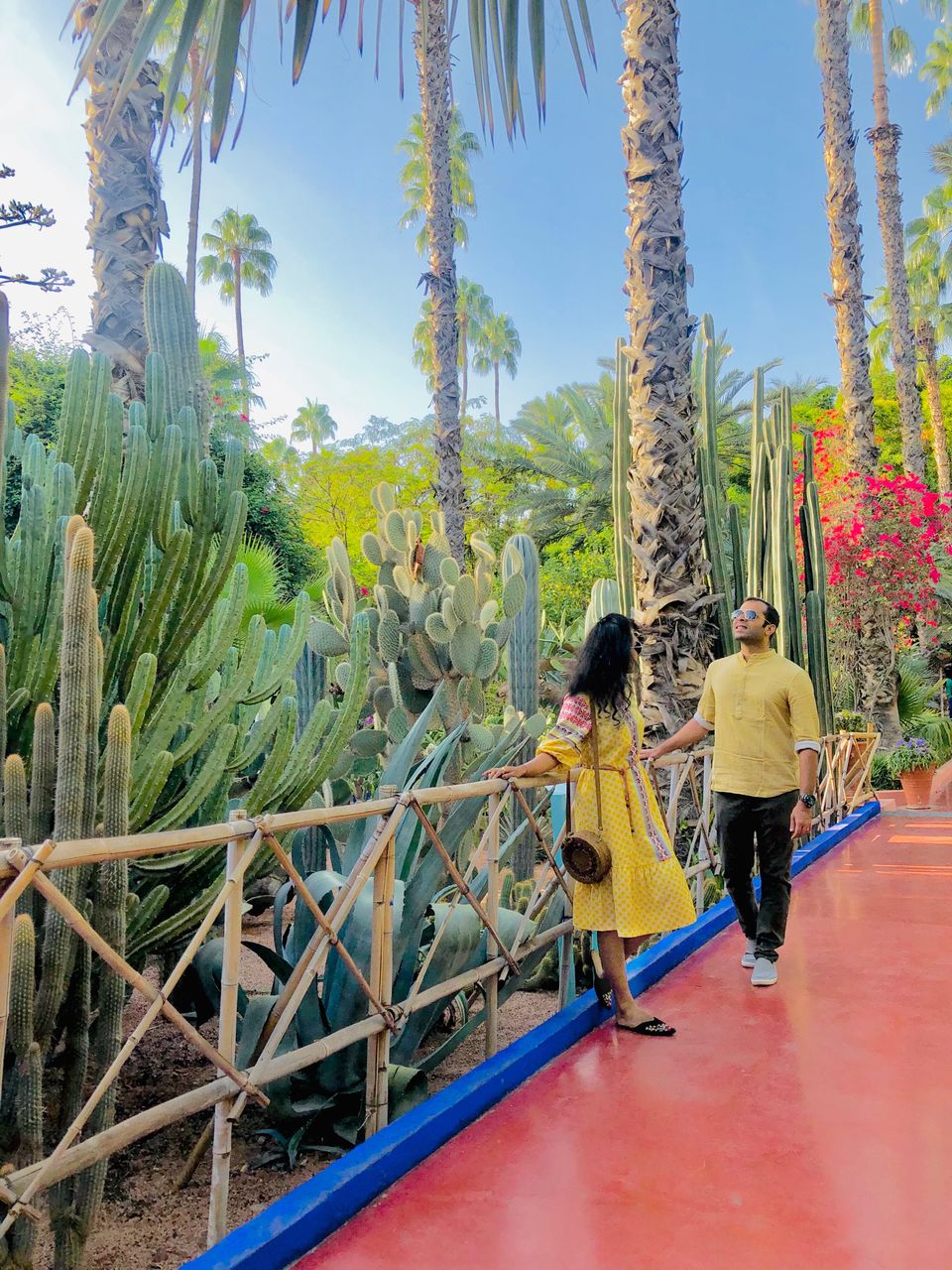 3.Le Jardin Secret garden: In the middle of a lively Marrakesh medina, you'll find this serene secret place. Le Jardin has two types of gardens within. One is the 'Exotic Garden' & as the name suggests, it comprises of the exotic plants species from various regions like Mexico, South Africa, Brazil, Bolivia and Mediterranean countries as well. The other one is the 'Islamic Garden' which is much bigger & has a more cultural feel to it. This section has more traditional trees like the dates & the figs & has a beautifully decoration 'Char Bagh' in the centre.
Entry: 60 MAD per person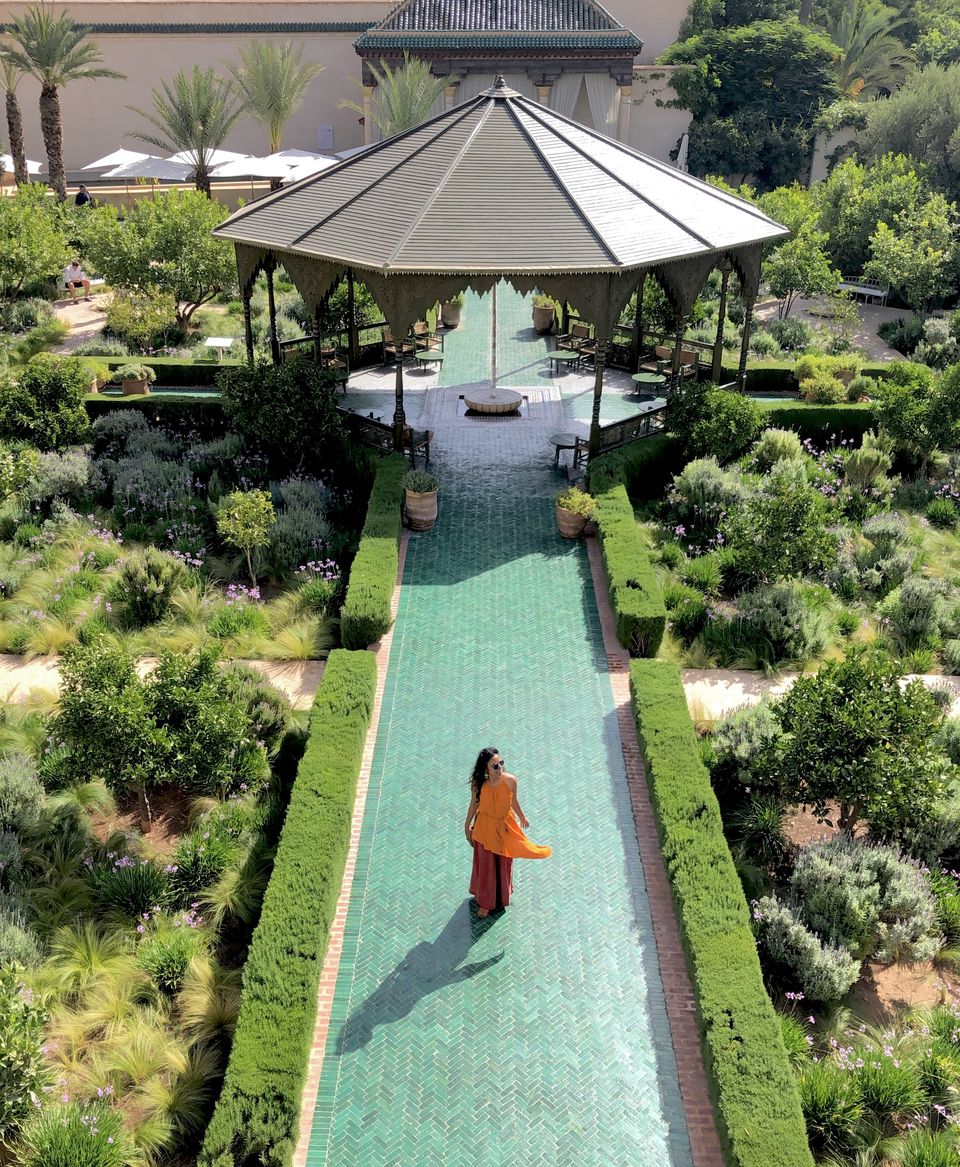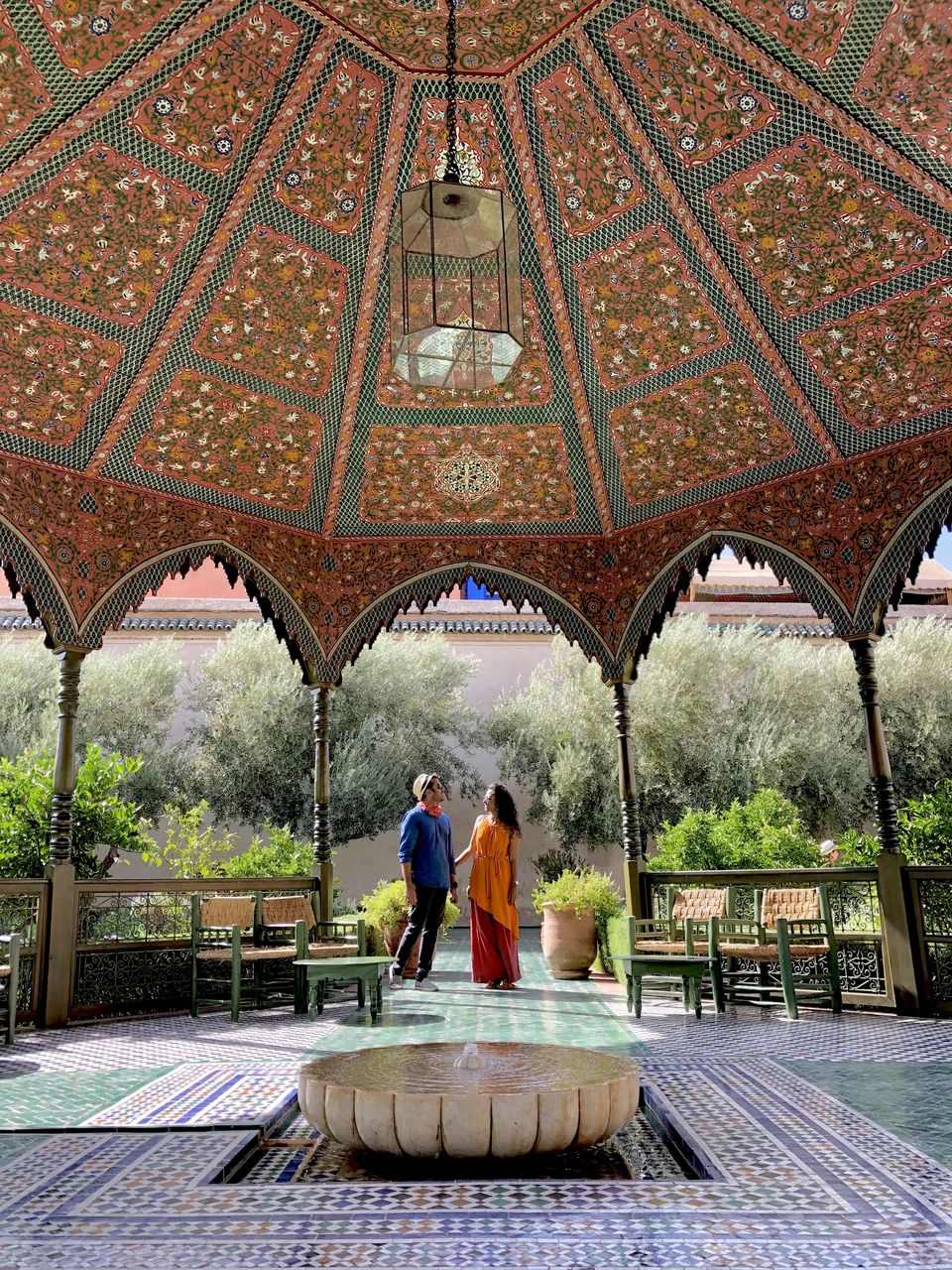 4.Stay like a royal in a riad: It's a must on your to-do list!!! Your holiday in Morocco isn't complete if you haven't stayed in a Riad. It's all about a glamorous feel while experiencing the life of a local. We realized after our trip that Marrakech has some really exotic riads. Infact many of them are like boutique stays & people book them for blog shoots, wedding shoots, etc. The prices however are higher too. Though our riad at Marrakesh was nice, our riads at Fez & Essaouira were exotic & the stay was beyond words at pocket friendly rates.

Book your riad :
https://www.booking.com/riad/city/ma/marrakech.en-gb.html

OR
https://www.airbnb.co.in/s/Marrakesh--Morocco
Read more: What to explore in Fes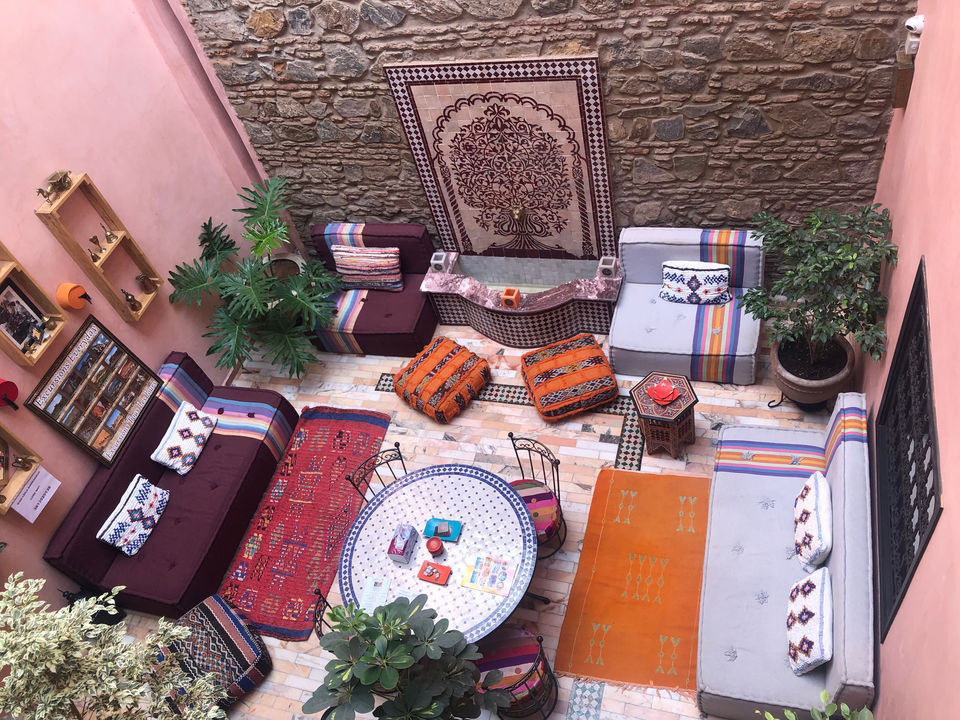 5.Explore the Souks & the Medinas: Souk means a marketplace or a Bazaar & Medinas literally means 'an old town'. I call them the lifeline of Marrakech. Wandering around the colourful souks, losing your way in the endless Medinas is a thing to experience when in Morocco. It's no doubt a shopper's paradise with a range of beauties to pick from. You are spoilt for choice among the gorgeously woven carpets, colorful spices, local dry fruits, the hookahs & the list goes on.
Important tips: The google maps don't work very well in the medinas & by-lanes. It's better to ask around the locals or remember your identification points while wandering.
Beware of pick-pocketers. We did not face any negative incidence however it's better safe than sorry.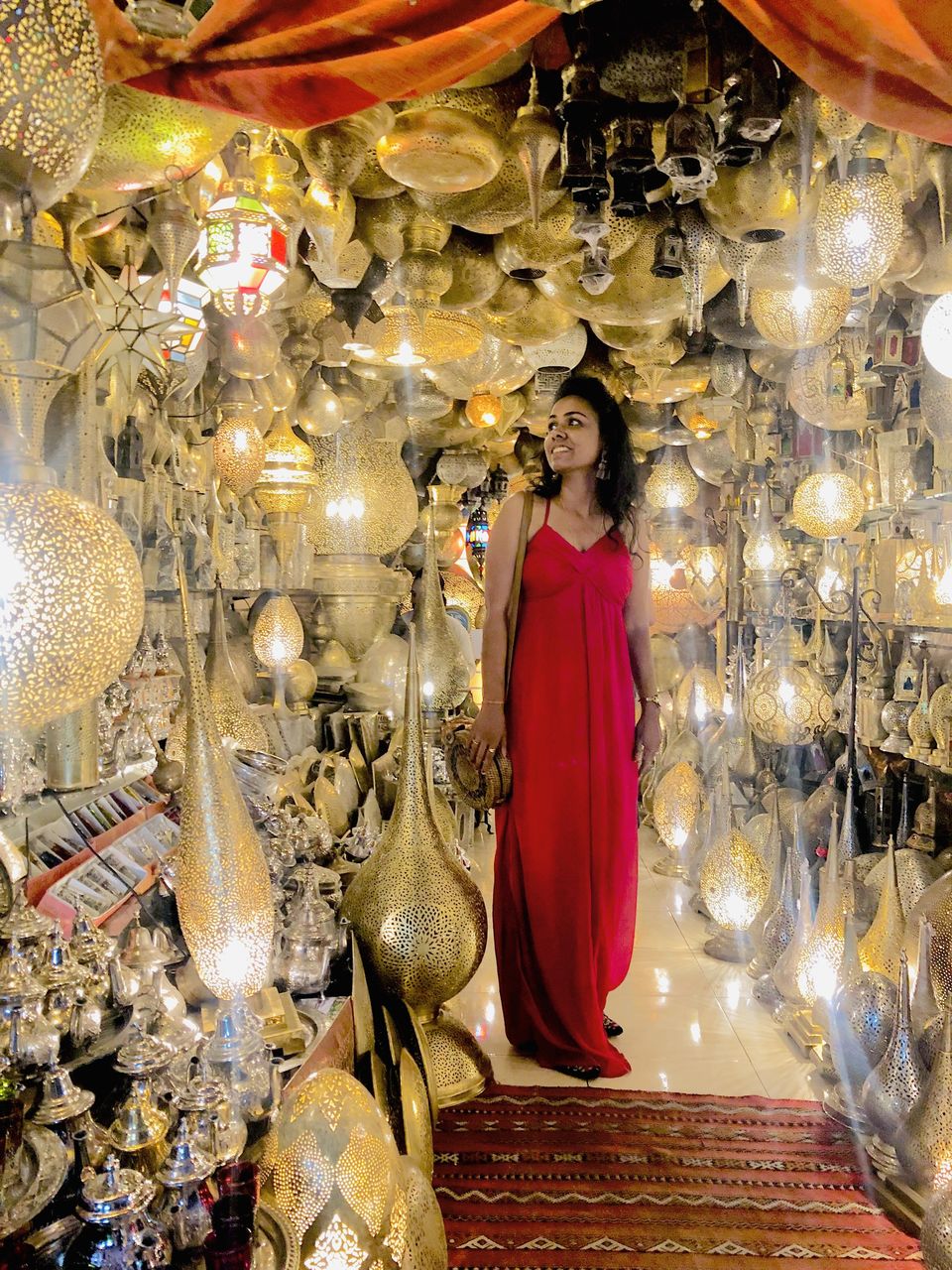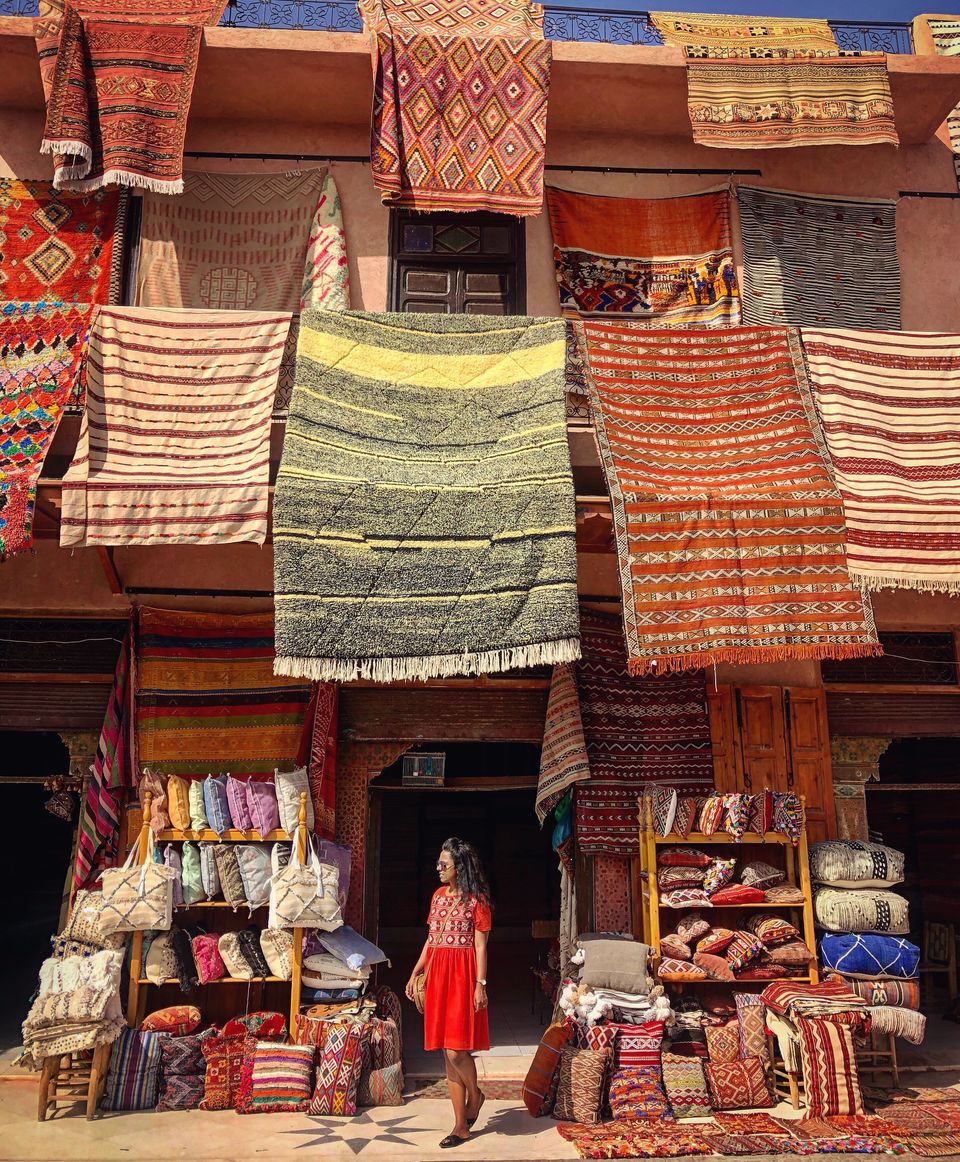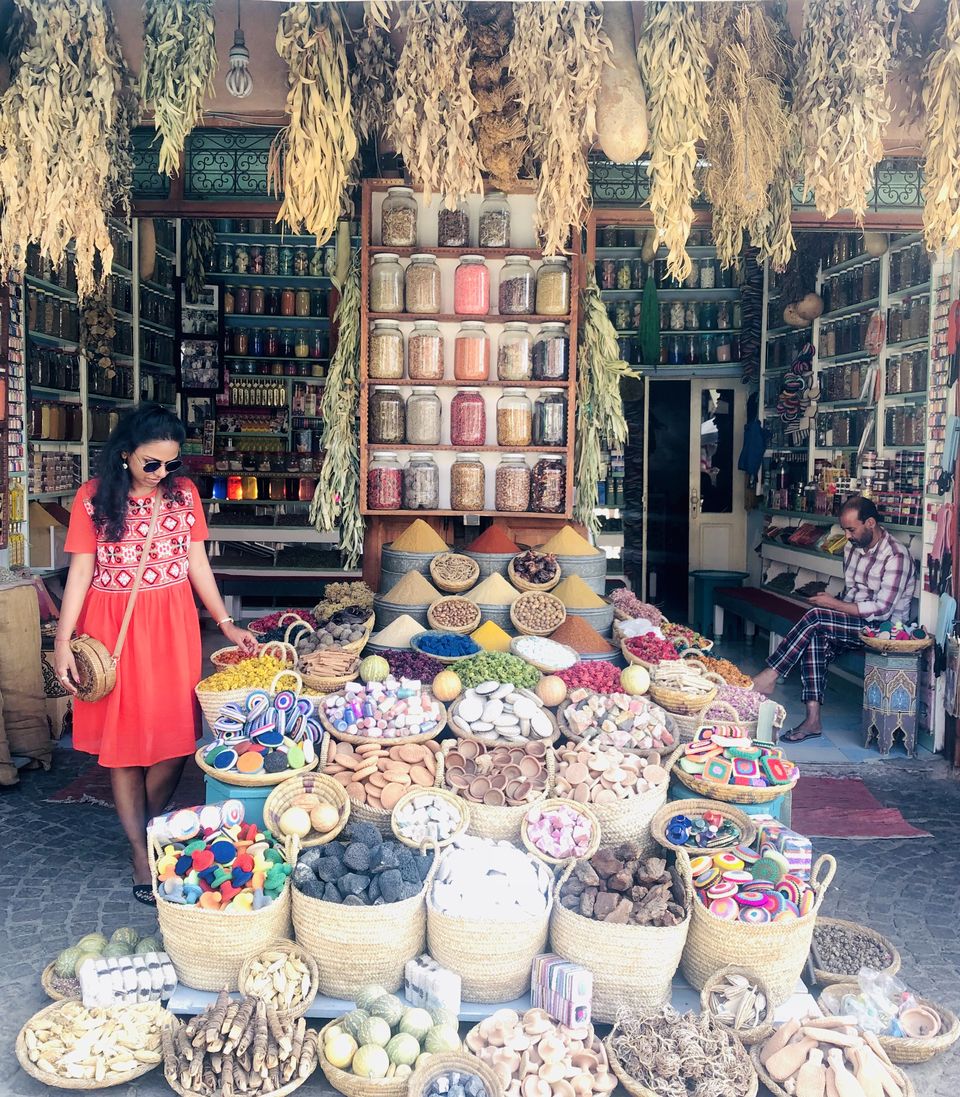 6.Watching the bustling Jemaa-el-Fna at sunset from a rooftop café: You wouldn't wanna miss the sight of a striking sunset in the backdrop of Koutoubia Mosque and the busy Jemaa-el-Fna square in the forefront.
Cafes with rooftop view at Jemaa-el-Fna:
Le Grand Balcon du Café Glacier
Cafe de France
Cafe Restaurant ARGANA
Zeitoun Cafe
Note: To reserve your sunset spot reach at least an hour before. Also, you need to buy something at the café to block your sunset spot over the rooftop.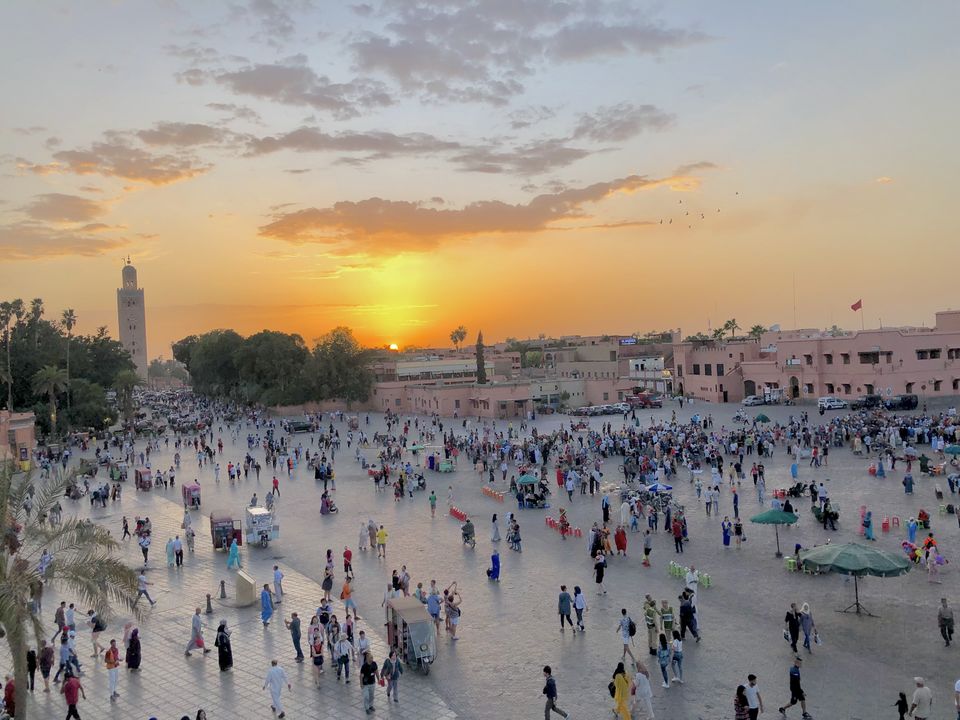 Best Restaurants in Marrakech:
1.Café clock- Good food but a little far off from the main square. Evenings generally have local musicians palying at the café which is pretty interesting.
2.Café Salaam – it's great for your insta pics too!
3.Naranj
4.Café Atay
5.Bakchich café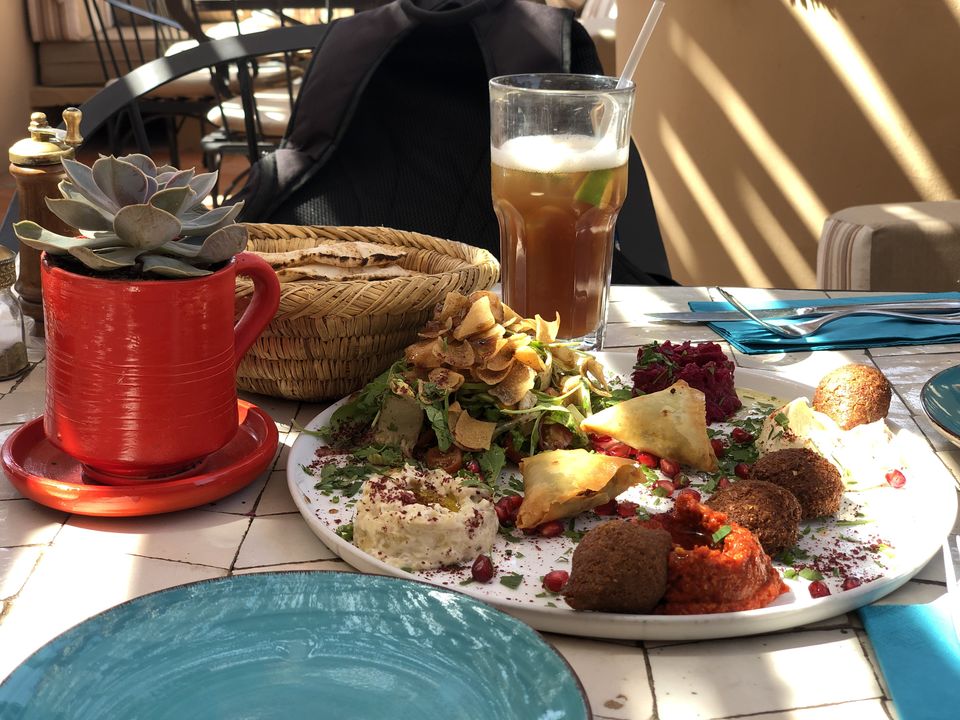 Safety tips: Marrakech is not that unsafe as you might have heard. But the shops in the medinas start shutting around 8ish & it gets difficult to find your way back through the dark lanes. Hence, would recommend if you to be back in the hotel around 9-9.30 latest. And as mentioned earlier, beware of pick pocketers.
Cabbie tips: Always better to know the fare prices before hoarding a taxi. Make sure you get an idea from your hotel/riad or any trustworthy locals. Make sure you fix the price before you start the ride.
Any further queries welcome!
Do follow our page on Instagram – abagfullofmaps & Facebook – abagfullofmaps