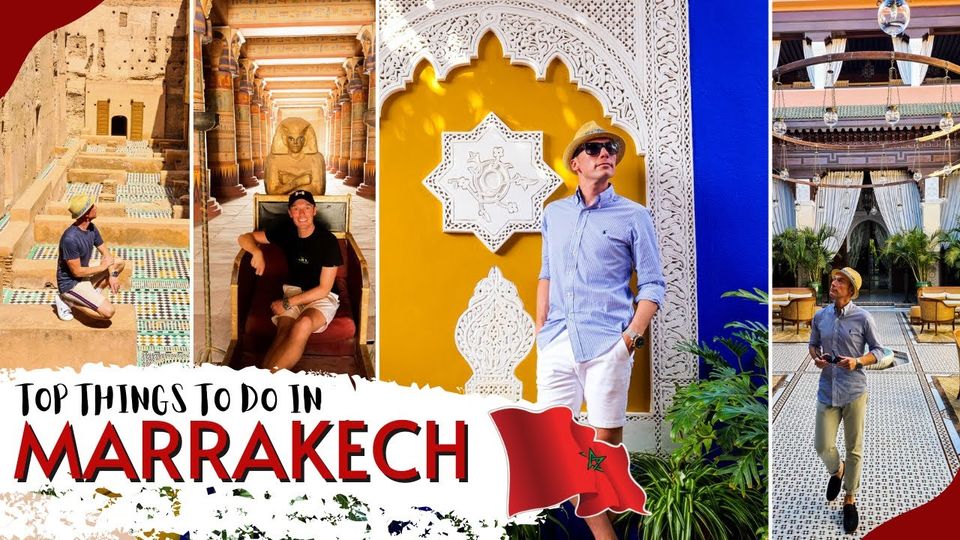 Marrakech is a mix of cultures. You may want to take a back seat and take in all the colors of life its souks have to offer. Just wander lazily in its lanes and see vendors haggling for money. Or go and indulge in the feat for the items you liked most.
If you think bargaining for the Marrakesh souvenirs is the only action you can take on in the city, you can't be more wrong. The city has a lot to offer to keep you entertained and involved.
Here are eight things you can do while you are in Marrakesh.
Visit Bahia Palace
Bahia Palace is an important architectural milestone in Marrakesh. The palace was erected in the late nineteenth century by Si Mussa. Sultan's slave-turned-vizir – who was also known as Abu Bou Ahmed – commissioned this palace and wanted it to be the largest in Marrakesh.
Its 150 rooms represent the height of Morrocan interior design. They are decorated with stucco and cedarwood carvings.
Most of the decorations of this palace were commissioned by Si Mussa's son Bou Ahmed after he rose to power. These include the addition of private gardens with a dedicated riad and other gardens.
Appreciate Art and Culture at Maison de la Photographie
Located in one of the townhouses of Saadian, the Photography Museum exhibits the lifestyle of the country between 1870 and 1950. The gallery is based on the extensive collections from Hamid Mergani and PtriclManac'h. Today, the gallery hosts more artwork from other artists including Daniel Chicault, Jean-Pierre Évrard, and Ana Muller.
After you have immersed yourself in the visual art from the past century, you can head to its rooftop café for the natural scenery of present-day Marrakesh.
Take a Stroll in Jardin Majorelle
Marrakesh is known for its cultural diversity but it doesn't fall short on the front of natural beauty. Jardin Majorelle is one such destination that mesmerizes the spectators with its beauty. Named after its creator, Jacques Majorelle; the botanical garden was started in 1923.
Although the garden is a route to many museums, it is loved by the tourists for its picturesque scenery. The greenery looks breathtaking against the blue and yellow theme of the buildings within the compound. You can avoid the crowd and get the best scenery in the early morning.
Learn a Skill at Ateliers d'Ailleurs
Do you have enough time to go deep into Moroccan culture? Head to Ateliers d'Ailleurs and enroll in a course. You can find different options including cooking, basketry, pottery, and tadelakt (plaster). The workshops last less than a week and allow you to gain beginner-level knowledge in the said craft.
Even if getting trained in your favorite cultural element of Morocco is not your priority, you can still visit the workshop and see the learning artists.
Who knows this trip can help you appreciate the local arts more deeply and let you be more efficient at haggling.
Explore History at the Mellah
Marrakesh is not just rich in culture. This culture also represents its rich history and background. The Mellah is proof of the large and far-reaching history of the city.
Also known as Hay Essalam, the Mellah is a Jewish Quarter. This one is the second largest of all Jewish Quarters in Morocco. It dates back to 1558 when Sultan Abdallah al-Ghalib decreed to create one outside of El Badi Palace.
Most tourists don't visit this place. But if you are a history learner, it's a must-visit place for you.
Cook at Souk Cuisine
This is another attraction that's meant for doers instead of watchers.
It's natural for a tourist to fall in love with the rich and delicious flavors of Moroccan cuisine. If your love is so intense that the idea of parting ways with these delicacies breaks your heart, you can choose to take the art with you.
Let Souk Cuisine help you with this. It is a workshop that takes you through the cooking process for local food from getting the right ingredients to cooking and presenting. Check out its schedule in advance to know what will be on the menu during the weeks you plan to visit Marrakesh.
Soak in Hammam Rosa Bonheur
You have gone to spas before. And you have envisioned Moroccan hammams as a traditional version of these spas.
The experience is somewhat similar. But don't expect lots of similarities. Especially, don't be too alarmed when a local citizen offers to rub your back. Instead, think of ways to pay him back. He wants you to rub his back in return!
Most hammams offer segregated portions for men and women. But you will find a few where dedicated chambers are offered for couples. Among them, Hammam Rosa Bonheur is a top choice for visiting couples. You can also opt for complimentary services like massage and scrub from attending masseurs.
Explore Ben Youssef Madrasa
As the name suggests, this building used to be an institute of Islamic studies. Initially, it used to be the largest Islamic college in Morocco. Nowadays, it is turned into a tourist attraction because of its architecture and splendid interior.
It got its name from the adjacent mosque, Ben Youssef Mosque.
The madrassa is reminiscent of the Saadian dynasty, its impact on culture and religious studies, and architecture.
Popular Tours To Visit Marrakech
There are several options you can take to visit and enjoy all the different activities in Marrakech city. For more information and details about these Morocco, itineraries feel free to check out cameltripssahara.com official website.
Take Away
If your stay is short in Morocco, allow yourself to go with the flow. You will enjoy its souks and the notorious haggling experience of the local vendors. This activity will give you a glimpse of the local lifestyle and culture that cannot be attained through other activities.
But if your stay is longer – say a couple of days long – you should indulge in more detailed activities. Use this post to learn what Marrakesh has to offer and plan accordingly.