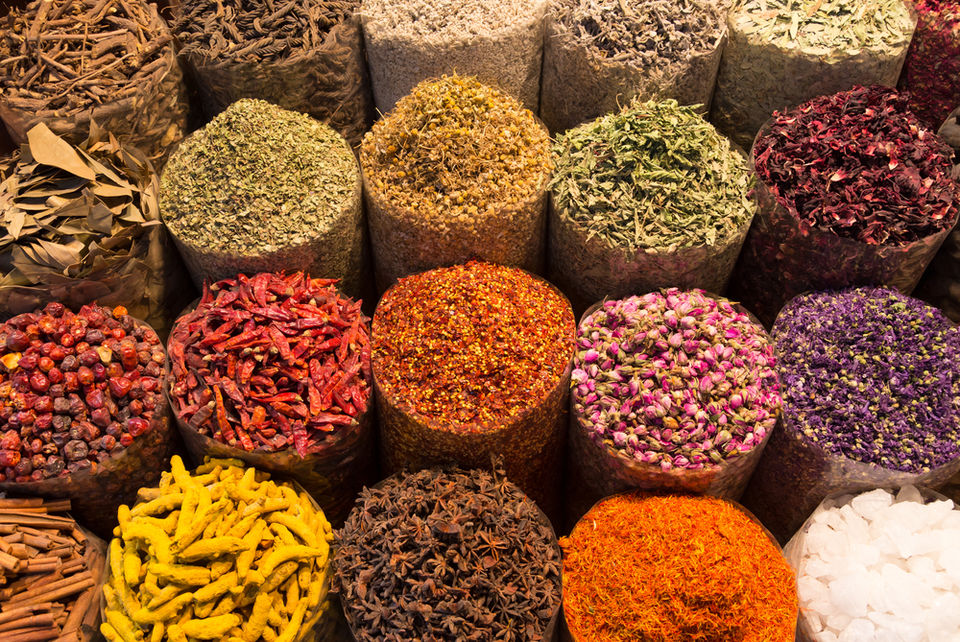 Marrakech is a true gem of North Africa, and boy! I am thrilled I decided to go check it out!
We got a chance to visit the beautiful city of Marrakech in Morocco during the week of the compulsory holidays that we have at work. First up, I'd say plan this trip only if you at least have 4 days because there are so many things to do, and so many sights to soak in. I'd say around 7 days would be ideal.
We flew to Marrakech from Frankfurt Hahn airport and it's approximately a 3 hour 45 minute direct flight. We landed at night, but our amazing Riad was super hospitable and sent us someone to pick us up, despite our flight getting delayed by almost 3 hours.
Now, you may have read about, and seen pictures of these 'Riads' in Morocco. Now what exactly are they? They are traditional Moroccan houses that once the aristocrats stayed in. They're spacious, airy, and have a central courtyard. Now most of them are converted to hotels, but you can still enjoy a true Moroccan experience in these! I had checked with some friends as to whether a Riad is the best place to stay when in Morocco, and they highly recommended it to me over a regular hotel. I am so glad they did! Because living in a Riad is an unparalleled experience. It's like no other right from enjoying the sunny spaces to sipping absolutely delicious Moroccan tea, whenever your heart desires!
Speaking of which, we stayed at Riad Alia which is a stunning Riad with the best staff ever right next to the Bahia palace! Their Riad is newly refurbished, and the decor is top notch with their pristine white and turquoise blue-green decor! I mean, just look at their courtyard!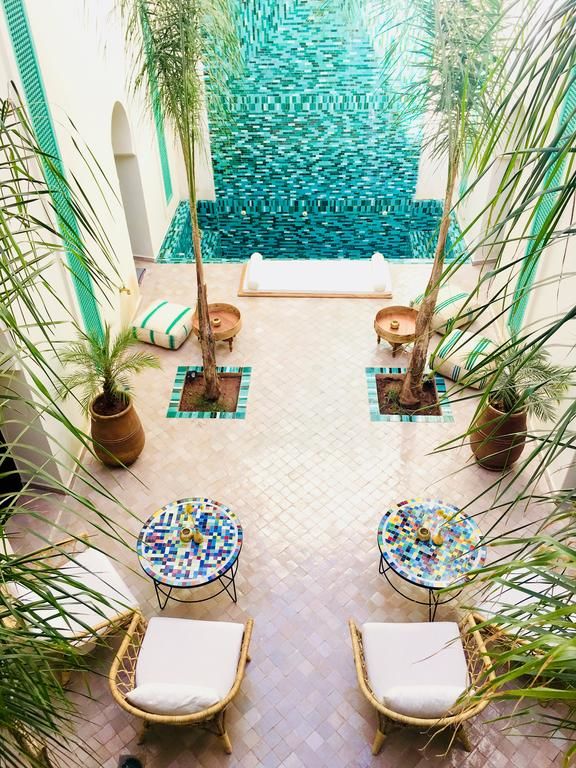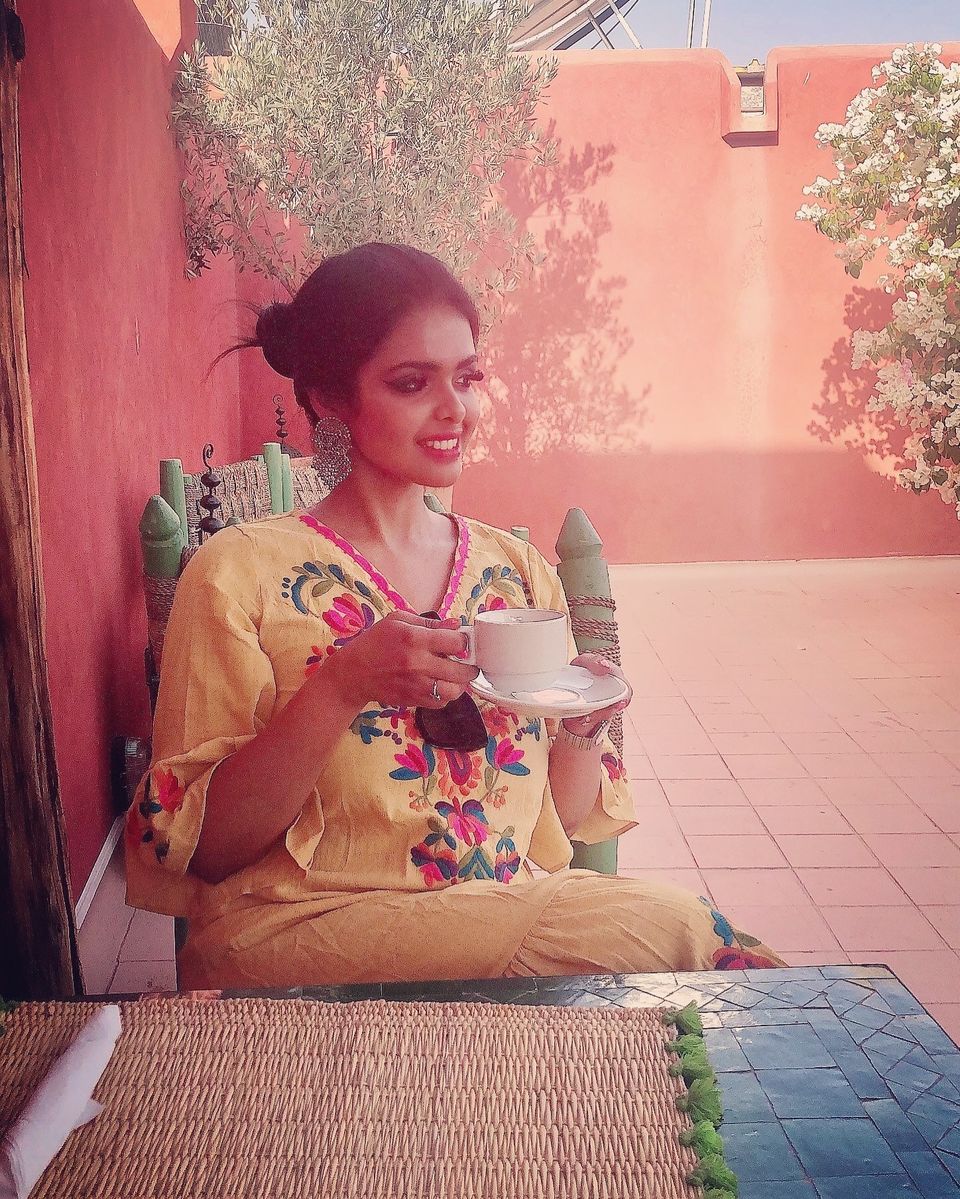 Me, sipping some delicious Moroccan mint tea at our Riad!
On day 1, we decided to explore the Bahia and the El Badi palaces.
The beautiful Bahia palace is one of the most beautiful architectural marvels that I have come across. The word 'Bahia' literally means 'brilliance' and that's exactly what the palace is all about! The palace is massive with several rooms opening into courtyards, and was constructed by **Si Moussa Ba Ahmed, **who was the grand vizier of the Sultan at that time.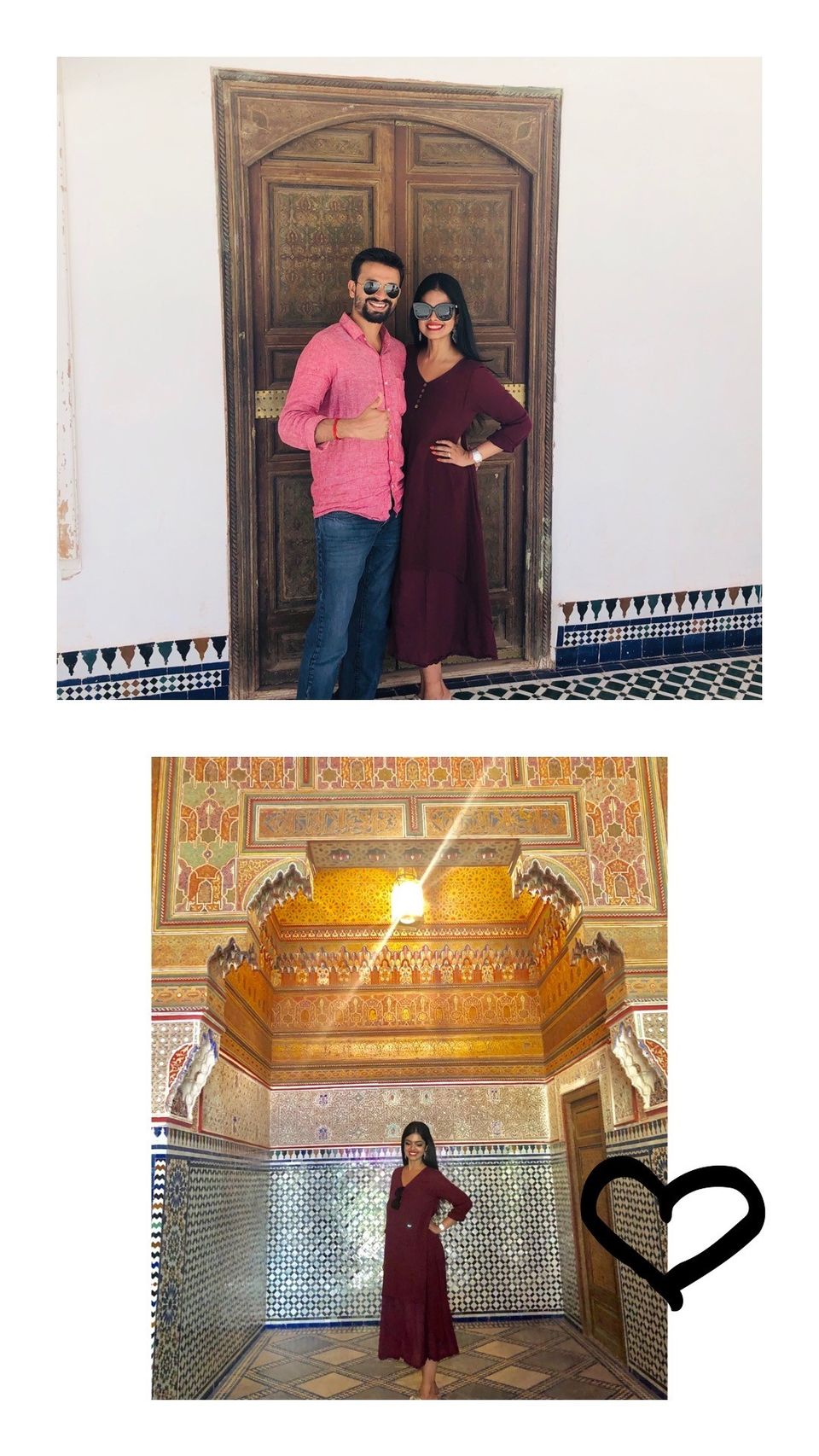 This is us exploring the beautiful palace at a blazing! 38 degree C, which brings me to another point. We had a fabulous time in Marrakech, but the heat was overwhelming during the day with it hitting a high of 42 degrees. As people who like walking and exploring a new city, it was a bit much. Hence if you can, I'd advise you to travel during fall, winter or early spring when the temperatures are milder.
The El Badi palace is another gem, and it means the palace of the incomparable. It is an architectural ensemble that was built at the end of the sixteenth century and nothing short of a masterpiece! A short walk from these magnificent palaces is the bustling square of Jemaa El-Fnaa! This place is magical, and nothing like what I have seen before. It is a place where you witness everything right from snake charmers bang in the middle of the square, to henna artists creating artistic patterns, to juice vendors belting out Bollywood hits (This was directed at us, haha!). You can witness the most beautiful spices arrangements there, like the ones below (Second picture)
Since Henna is such a big part of the culture here, I wanted to experience it too. Now it's a part of Indian culture too, but it seemed way more popular in Morocco so I thought I'll give it a shot. Our Riad recommended the beautiful 'Henna Art Cafe' to us which is a cute little place that offers Henna artists coupled with some delicious smoothies and traditional Moroccan food making it for a great combination!
Also, what is a visit to Morocco without a camel ride? Unfortunately, we didn't have time to drive to the dessert, but there's a little oasis on the outskirts of Marrakech called La Palmeraie which offers plenty to do, including seeing a Berber village, riding camels, petting baby camels, and quad biking. Our Riad had a contact there, and planned this entire trip meticulously for us. A driver picked us up on time (at around 9 am - I really advise doing this ride during the morning if you're visiting around summer/ late spring as it starts to get super hot beyond 11 am - Think 40 degrees C!) and took us on a fun 20 min ride to this oasis where we were greeted by friendly Berber people (who again, loved Bollywood! Seems to be a recurring theme, eh? :) who took us on a 1 hour camel ride and did a short tour of the Berber villages too! It was a fantastic experience, and it helped that our group just had 5 people because the tour guide was all ours to answer questions, and click pictures ;)
Credits : Shutterstock
PS : Unfortunately, due to some error I am not able to copy my own pictures here. But they are available on my Instagram Sin https://www.instagram.com/fiftyshadesofsin/
And last but definitely not the least, Marrakech is home to the magnificent Yves Saint Laurent museum and the adjoining Majorelle gardens (or Le Jardin Majorelle) which is a beautiful botanical garden created by French artist Jacques Majorelle over the course of 40 years! The fun fact is that the YSL museum isn't the only one that the garden houses. It also houses the Berber museum and the Islamic art museum. Now I have mentioned the term 'Berber' a few times. Wondering what it means? According to Wikipedia, 'Berbers are an ethnic group of several nations mostly indigenous to North Africa and some northern parts of Western Africa'
PS : If you want to beat the queues here, then arrive early. We arrived at 8:30 am and it helped! We were the 5th in line!
Now, Marrakech is such a beautiful place with so much to do, that I believe 4 days were not enough either, and I definitely will be coming back to experience and see the other things that this city has to offer. If you have any recommendations, let me know :)