Let's go for a high-altitude trek! Yes, a phrase that entices each one of us. High-altitude trekking is not only a rewarding pursuit of happiness, fun, and adventure but also a challenging getaway. You probably have to do one heck of preparation so that the world does not turn upside down while you are trekking.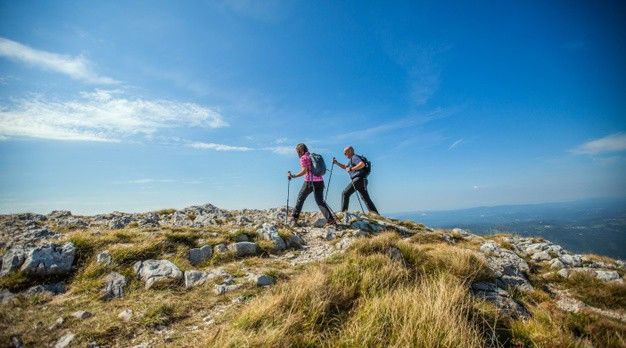 Read through to find out what all it takes to ascend far to the top of huge mountains.
Here's a quick rundown through six tips that will assist you in preparing for a high-altitude trek:
An essential preparation tip for keeping your health on point during trekking is to learn all the /signs of altitude sickness.
You must be aware of all the signs that indicate sickness and should have been fully prepared to cater to it. By this, we mean to carry your first aid kit keeping all essentials that will help you have a rapid recovery.
The common altitude sickness signs include:
->Headache
->Nausea & Dizziness
->Shortness of breath
->Disturbed sleep
->A general feeling of malaise
->Loss of appetite Fatigue
If you observe any of these symptoms, immediately take suitable measures and prevent them from becoming more severe.
Pack your backpack rightly
Higher altitudes are not only about managing a little extra strain on your body but also carrying the whole world in your trekking backpack. The mantra for trekking high-altitudes is wisely packing your trekking backpack. It must include all the trekking essentials like trekking clothes, shoes, tools, first-aid kit, trekking cookware sets, and navigation tools.
Achieve the right fitness goals
As attested by pro trekkers, trekking to high altitude regions varies from the regular trek. One has to fully prepare his body for any and every rigors of higher altitudes. Note that this means you have to head to the gym every day to get that perfectly toned body and muscles. All you have to do is practice walks longer and make them a bit challenging.
Begin by adding a few miles, increasing the height of the ascent each day you head to hills for trekking. Following a fitness regime that includes aerobic activities like running, swimming, and cycling is an incredible way of enhancing your ability to absorb oxygen and fight off altitude sickness.
Be very particular about hydration
A dehydrated body won't take you any far in trekking especially ascending higher altitudes. Therefore, it is highly critical to remain hydrated and have a complete backup of hydration essentials. If you don't want to feel lethargic, exhausted, have a slight headache, or other worst consequences, better pack your trekking backpack with water bottles and hydration essentials.
Also, make sure even when you don't feel thirsty, keep yourself hydrated to comfortably carry out your trekking.
Go for training courses
Before you head for an actual high altitude trek, prepare yourself by joining training courses. There is a galore of training courses that will help your mind and body to prepare for anything and everything during trekking.
They allow you to get through trekking with the best routes and assist in acclimatizing effectively. A comprehensive trekking training is a smart choice if you want to experience unhampered high altitude trekking.
Always pack a comprehensive guide in your trekking backpack. It is an intelligent move to pursue a safe and sound first high-altitude trek. It helps you know the ins and outs of the trekking spot, including the best possible routes and important places to stop by. It vanishes all the stress that comes with the initial route planning and stoppage decisions.
The last but the foremost tip that we always give you is to have fun to the fullest. Whether you are headed for seeking a thrill or to acquire complete serenity, just remember that enjoyment is the key to mark this memory as one the best. Also, don't forget to pack all the trekking essentials carefully.