If you read Enid Blyton's Famous Five as a kid, you've probably had fantasies of getting lost in a rural setting with ginger beer and ham rolls to satisfy your hunger pangs, and nothing but simple joys of the countryside to keep you occupied. I know I always dreamed of living that life and I sort of did – if just for seven days – when I went on the Kashmir Great Lakes trek.
You've probably never heard of this trek before, or maybe you've just heard about it. That's because, according to our trek guide, the trail reopened only some 10 years ago. Before that it had been cordoned off due to the increasing military unrest.
(If you've already nodded off, I'd recommend that you ignore the upcoming monologue and skip ahead to 'In A Nutshell' for some quick info.)
Here's all you need to know about Kashmir Great Lakes trek
The Kashmir Great Lakes trek is a week-long moderate-to-difficult level trek open only from July to September. During the seven days, the trail takes you through lush green meadows dotted with colourful wildflowers (the scene almost looks photoshopped!), dense forests, clear lakes, steep uphill climbs across three mountain passes and challenging descents through rocky terrain.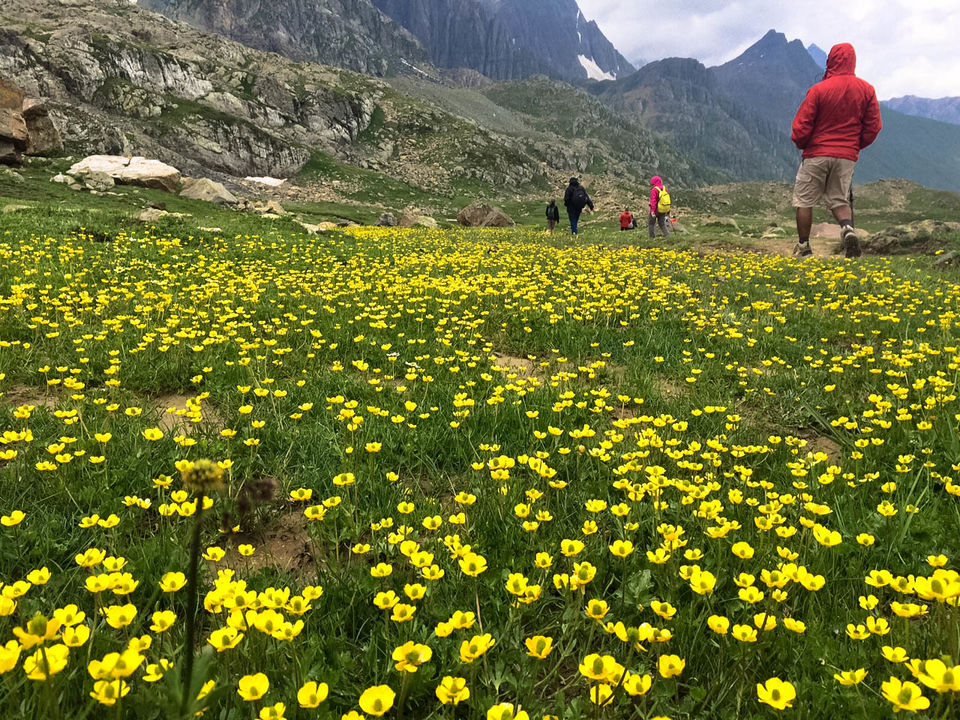 These yellow flowers were one amongst the many different kinds of flowers you'll find on the trail. ~Credit: Prateek Rungta
There are a few companies that organise the Great Lakes Kashmir trek, including the popular trekking community, Indiahikes. But after some intense research, my friends and I decided to go with a group called Trek Kashmir, headed by Riyaz Paktoon. The Paktoon family has been organising treks in Kashmir for several decades and after reading some great reviews, we booked with them. They charged us Rs 12,800 per person to cover food, trek guidance, camping equipment, horses to carry our luggage and transport from Srinagar to Sonmarg, from where the trek begins, and from Naranag back to Srinagar on the last day. We would go in groups of 10-15 people, all from different areas nationally and internationally.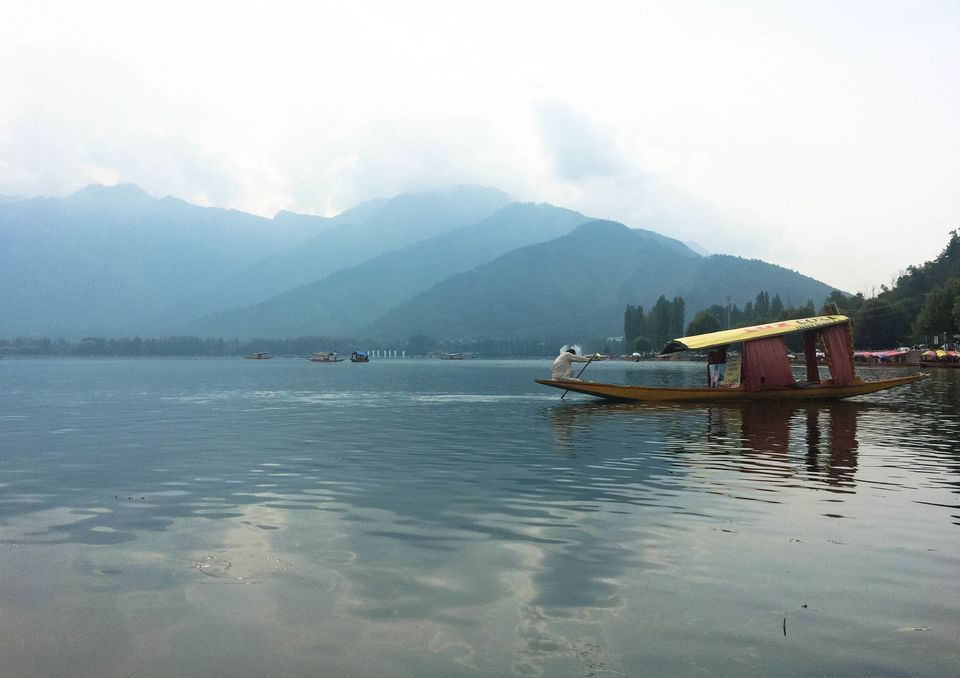 We got a chance to take a shikara ride before we took off to Sonamarg. ~Credit: Himani Khatreja
You'll find a lot of literature on the web on the essentials to take along on the Kashmir Great Lakes trek. And you should take them seriously – you don't need anymore or any less. The temperatures are unpredictable – some days you'll have a hot, skin-burning sun as company, others high wind and rain that can chill you to your bones. This is why you should have all types of clothes. I found all that I needed at the Decathlon store in Noida and spent close to Rs 15,000 loading up on the necessities. You can save some money by borrowing some stuff from friends, but I'd recommend that you do not cut down on the essentials.
This is what ultimately went into my backpack for the Great Lakes Trek: A pair of Forclaz 500 hiking boots, 2 pairs of "technical socks" (they provide support to the hindfoot), 2 pairs of regular cotton socks, a rain jacket with a detachable fleece interior, seven light cotton t-shirts, 2 waterproof track pants, one sweater, a sun hat, a trekking pole, a small daypack, a water sipper, a pack of meds, an SPF 30 sunscreen and a moisturiser. The only thing you can avoid are the seven t-shirts – you can replace them with two or three dry-fit t-shirts. Also remember to take along some identity proof. You'll encounter several Army checkposts on the Great Lakes trek.
Besides packing the perfect bag, some training and basic fitness will also increase your odds of completing the trek. Since the trail goes across all kinds of terrains, stretching exercises, endurance training, climbing up and down the stairs and half and hour of running every day should prepare you well. I, however, did none of these things. I am also generally very unfit and I still completed the trek, albeit while wailing and bawling. Train for a happier journey. Also remember to start taking Diamox a day before the trip begins to help with acclimatisation.
The trip begins a day after you land in Srinagar. The guide will pick you up from the airport (or from another convenient spot) and drive you to a quiet patch of grass near a stream in Sonamarg. You will camp here for the night.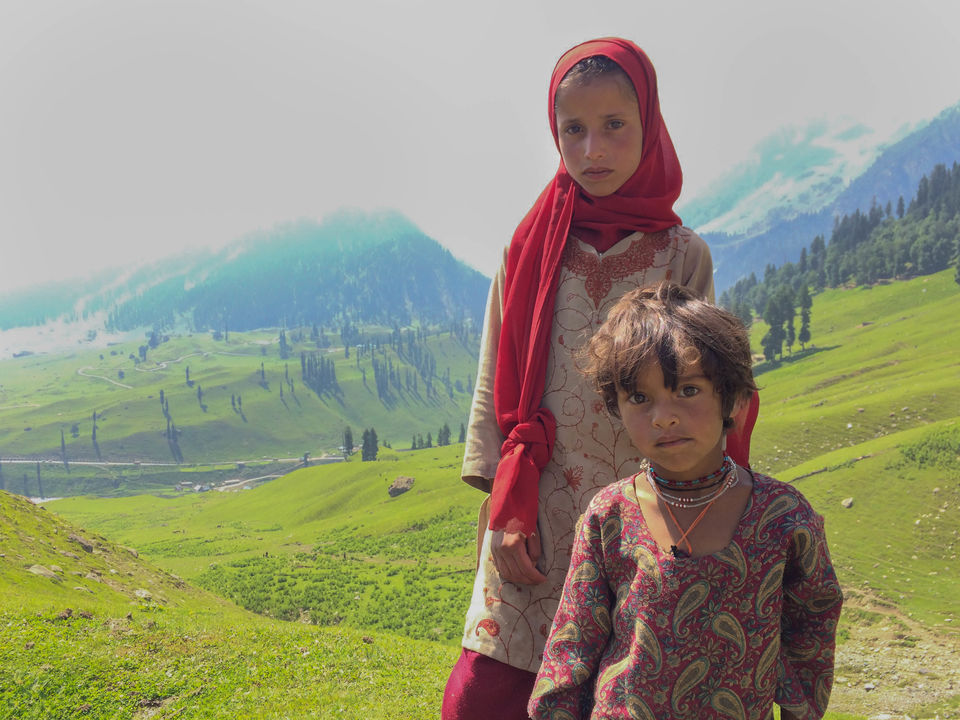 I met these girls in Sonamarg. They promised that if I would look inside my bag, I would definitely find toffees for them. ~Credit: Himani Khatreja
Day 1 of the trek starts from Sonamarg and goes to Nichnai – a total distance of 9km (though, it will feel like a lot more). The beginning is a very steep climb that goes on for 3 hours and then a 1 hour moderate climb, followed by a 3-4 hour (depending on your speed and fitness) ascent to Nichnai. Camp will be set up here at 11,500 feet.
The second day is when you get to see the first Kashmir lake – Vishnusar, at 12,700 feet. And also the day you get to enjoy fresh trout from this lake. The trail on this day crosses the Nichnai Pass and is very different from the previous day. You'll walk for around 6-7 hours, during which you will ascend and descend and cover vast meadows before finally making camp at a plain area, a hill away from Vishnusar Lake. Camping next to the lake is forbidden.
Day 3 is tough, though that's not what the guides will have you believe. Not that the other days are easy, but on this particular day, the trail teases you and plays with your head like never before. That's how I felt at least as I reached camp after 8 hours of walking. It starts the same way – up to a pass, the Gadsar Pass, at 13,750 feet, and then down again into fresh, beautiful meadows. You also spot the twin lakes of Vishnusar and Kishansar together. But as much as the beauty awakens your senses, the walk tires and numbs you. They don't call it the endless meadows for nothing.
Krishansar Lake. Isn't it impossible to look away? ~Credit: Himani Khatreja
The fourth day is a breeze compared to the others. There is only four hours of walking from the Gadsar to the Satsar Lakes. Around 20 minutes before Satsar, you'll have to check in at an Army camp. They'll look at your IDs, jot down some details and move you along. Camp, as usual, is made next to a water source.
Day 5 is one of the most exciting days of the Kashmir Great Lakes trek. Not only do you get a gorgeous sighting of the Gangabal and Nandkol twin lakes, but you finally also camp near a lake. You will walk 9 km in around 6 hours to reach Nandkol Lake. The highest point you'll trek up to will be Zach Pass at a height of 13,500 feet.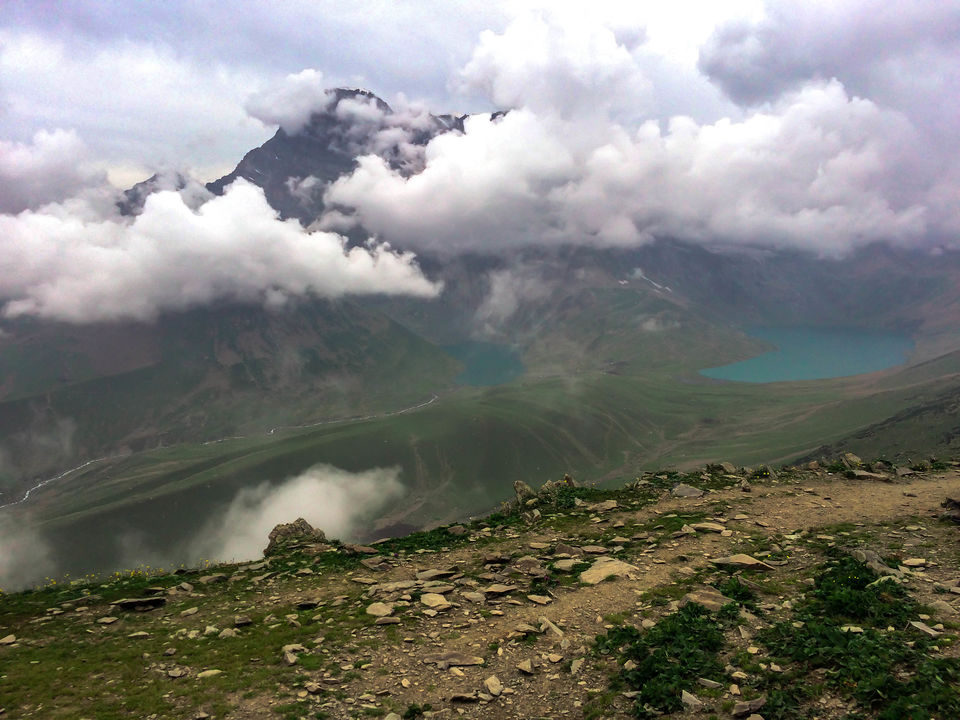 The Nandkol and Gangabal (on the right) Lakes together. ~Credit: Himani Khatreja
The sixth and final day is mostly descent. And a long, crazy, knee-hurting descent. You start with crossing some hillocks and later get on to a trail in a beautiful pine forest. After walking for around 3 hours, you'll come to a point where the downward rocky path will begin. This part of the trek will be full of big and small rocks and slippery sand that will make the walk exhausting. But when you finally reach the end, the sense of achievement at having completed the trek will make the pain worth it. You will have reached Naranag today after walking 11 km and Srinagar is a 3 hour car ride away.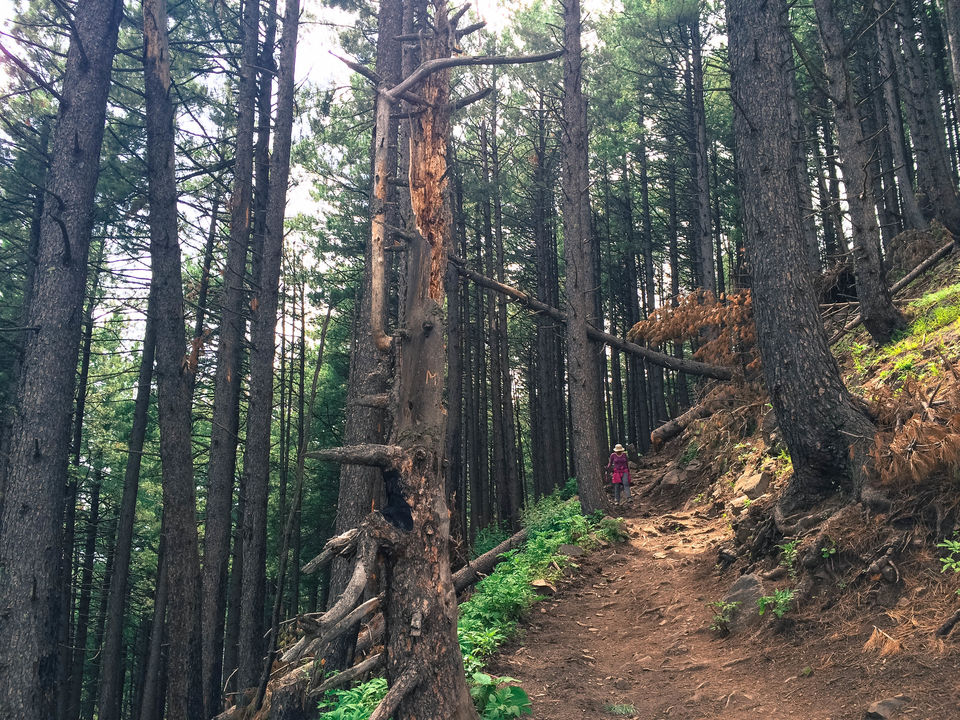 The very scenic trail in the pine forest. ~Credit: Prateek Rungta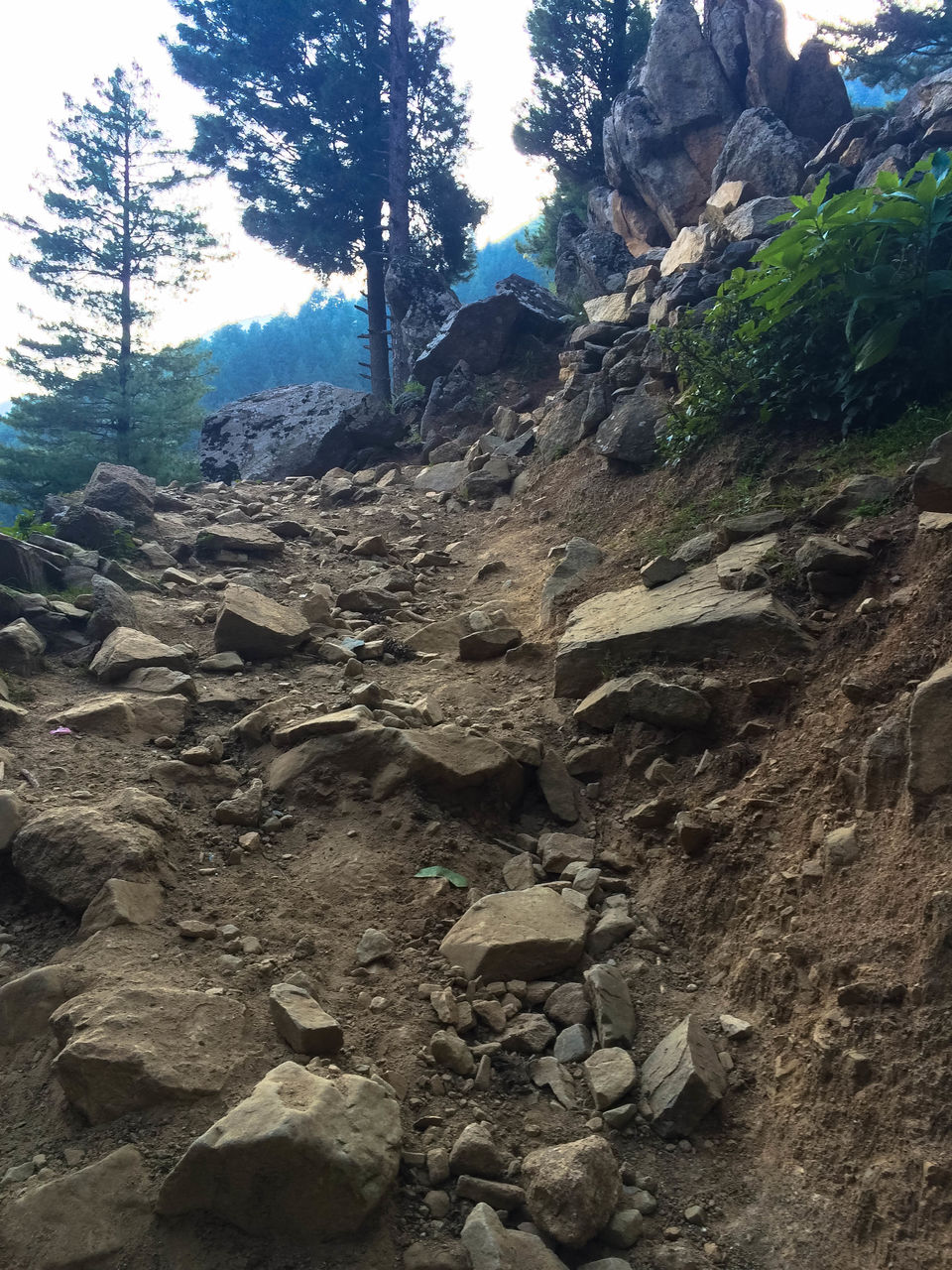 The dreadful descent, full of godforsaken rocks. I lost hope of ever crossing this stretch without losing my legs. ~Credit: Prateek Rungta
Do remember to look up at night to witness the Milky Way. If you're lucky, the sky will remain clear on all the seven nights. If that happens, you will also be greeted by shooting stars every few minutes.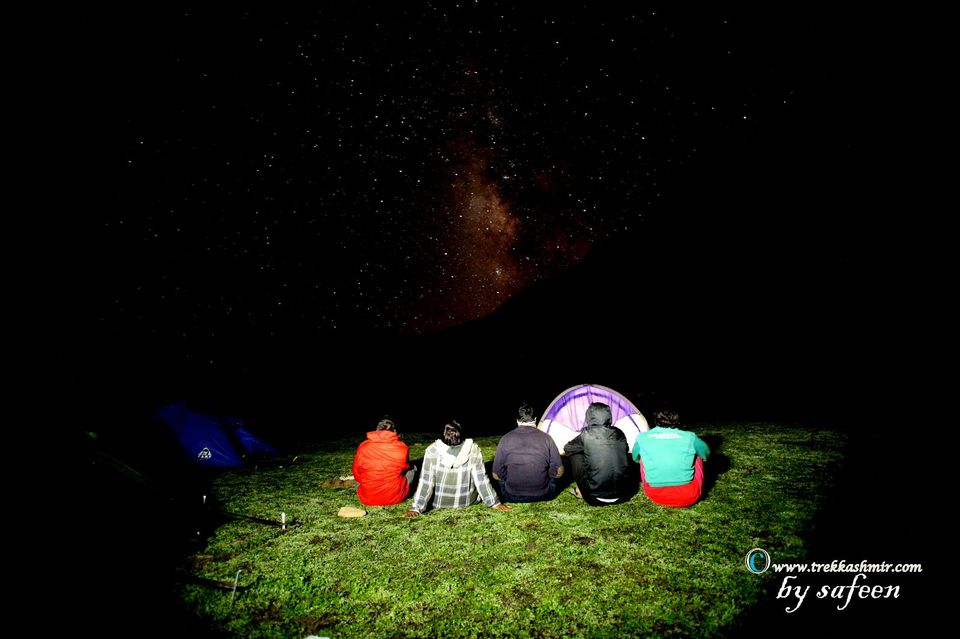 Spend your nights looking at the millions of stars and the sensational Milky Way. ~Credit: Mohd. Safeen Pakhtoon
**************
In A Nutshell
The Great Lakes of Kashmir trek
Route: Starts in Sonamarg and ends at Naranag
Best time to go: Only open from July to September
Duration: 7 days, but if you want a rest day, then 8 days
Cost per person: Rs 12,800 for the trek, around Rs 7,000 airfare from Delhi to Srinagar. Total = Rs 20,000
**************
Frequently thought of/ asked questions
1. Is it safe in Kashmir?
I didn't encounter anything to make me feel unsafe. In fact, I felt quite alright to go out alone at night, in the pitch dark.
2. Will I get mobile connectivity on the trek?
Only for a brief patch on the 2nd day of the trek, at the Nichnai Pass. You can make your last calls in Srinagar, that too, if you have a postpaid BSNL or Airtel connection.
3. What kind of toiletries do I bring?
The minimal kind, because you won't be taking a bath at all on the trek. Unless you're brave (silly?) enough to jump into a freezing lake. So get face wash, detergent and two rolls of toilet paper.
4. How will I walk with all my luggage?
You won't. Every morning you will leave everything except your day pack at the camp. The trek crew will tie your stuff on to horses and bring it to next camp site. Relax!
5. What about food and water?
The crew carries food supplies with them from Srinagar – this includes tea, eggs, rice, atta, vegetables, packaged soups and even, err, livestock. So, expect some fresh and delicious meals everyday. Water is even fresher, because you get a running supply from the streams that you camp near.
6. Is a rest day really needed?
The company I booked with didn't provide one. As much as I was worried about it in the beginning, we all did pretty okay without a rest day. Maybe because the fourth day is a very short and easy journey and provides a break.
7. What if I can't go on anymore and feel like I'm dying?
There is always an extra horse for emergencies. If you need a break or feel like you can't walk anymore, hop on for some rest. If you suffer from extreme altitude sickness, however, it's best to go back.

Have you experienced Kashmir Great Lakes trek? Let us know in the comments below

Disclaimer: All this information is a direct result of my personal experience on the trek. Some things may differ for you, if you book the trek with another agency.
Frequent Searches Leading To This Page:-
kashmir great lakes trek, kashmir great lakes trek solo, kashmir great lakes trek itinerary, kashmir great lakes trek best time, best time to do kashmir great lakes trek