We are halfway through the year and some of us are even in the middle of a vacation right now. But planning for a vacation doesn't stop ever, does it? There's an entire year (figuratively) ahead of us. Scintillating flowery meadows in the monsoon, the resplendent views in autumn, and the chilling snowy cold in winter - all seasons waiting to be enjoyed.
One of the most expensive aspects of a vacation ends up being travel, the rest being fairly manageable. With the prices of flights yo-yoing from cheap to insane, you need to have a firm handle on what to expect. It becomes difficult at times to get the prices mentioned in offers that you get over emails, or newspapers ads, or pop ups, etc. That's either because there are far more limited seats than you might imagine or that the advertised fares are for a sector that you don't even intend to travel.
Here are 7 cardinal rules that you should follow while booking your flight tickets, some known and some not-so-well-known.
1. Plan early
While there might be some truth to booking a certain number of days in advance, nothing beats planning your trip well in advance, tracking your flight ticket prices and booking them at the best rates you find. A round trip I happened to book a month back was the cheapest I could find for that time of the year, on a weekend, incidentally. Although it is said tickets are cheapest on a Tuesday afternoon, given enough time, you can get out of timing the day of the week while booking tickets in advance.
2. Compare. Compare. Compare.
There are tons of websites that aggregate flight searches and will give you the best comparison tools and prices. And some might have great offers accompanying those too. Some of their tools like a monthly price calendar can be extremely handy while planning your trip. Recently, I extended my holiday for 2 days just so that I could avail of better prices, saving an awesome 17% on the return flight.
Pro tip: Use Google Flight Calendar while planning your trips. They have an amazing visual tool called Price Graph which gives you incredible quotes for the length of the trip you have in mind.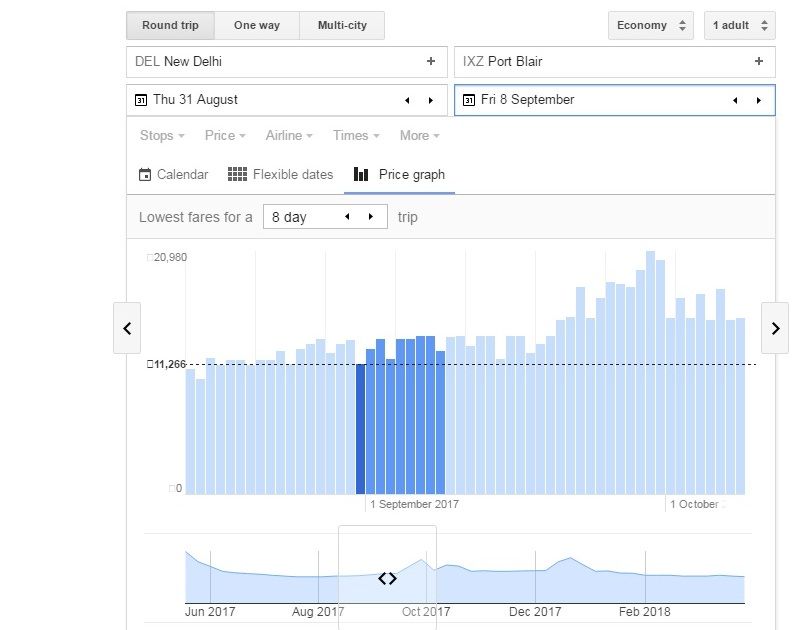 3. Use loyalty to your advantage
I have a rule. Compare everywhere, book on the airline's own website. Booking your tickets on the airline's website or their mobile app gives you additional loyalty points, makes upgrading, modifications and special requests (with respect to food, seating, additional services, etc) much easier. Also, in the event of a cancellation you do not need to run pillar to post (aggregator to operator) to get your money back.
If you're a frequent flier with a certain airline, make sure you get your hands on a co-branded credit card. These cards offer bonus frequent flier points with every booking and even additional bonus points on card renewals. What's more, you will be amongst the first to get intimated of the offers they announce. Not to mention, the complimentary lounge access some of them provide.
4. Scout for online deals
There are a plethora of websites, wallets and banks that are vying for your business. A Mumbai - Delhi flight during the festive season can cost as much as 20,000 as your travel date approaches. Combining a limited-time offer (that I received via a promotional email from the airline) with a cashback offer from an online wallet, I booked a return flight (including meals and prime seats) for the cost of 3-tier AC Rajdhani tickets. That's quite a deal.
5. Don't shy away from layovers
More often than not, direct flights are more expensive than ones that have 1 or two stops. Depending on the time you have, and how comfortable you are at chilling at layover lounges, choosing a flight with a short layover of 2-3 hours can save you a great deal on tickets.
6. Search for single tickets
Airlines are seemingly coming up with promotional offers all the time. The caveat is that they are extremely limited, a few in each flight. When you are booking, say for a group of people, more often than not, the airline will offer you the regular price of the tickets, amounting to a much higher fare than advertised.
Au contraire, when you check for a single ticket, online systems automatically mention the number of limited seats left (This is a classic marketing tactic to induce the fear of losing out on that fare and locking that booking immediately) at that price.
Work around this system by simply booking the maximum number of seats you need under the promotional fare and the balance, if any, under a separate transaction on the same flight. You save a great deal this way, with minimal additional effort.
7. Use incognito mode
Everything on the web is tracked. Every search, every article read, you click it, somewhere in some database; an entry is made for it. Don't get me wrong, it isn't that bad. It gives you amazingly personalised responses to your search results, recommendations based on your lifestyle and choices. It's all good, just not when you're looking to book tickets.
Airlines, it is said, keep a track of your searches and surreptitiously increase the fares for those flights in future search results via cookies. The best way around that is to go incognito mode where your search results are not stored. Better, use a separate device and a different network to make your bookings. I know of a guy who does his research on his iPad and books on his phone and he swears (all the time) that he gets the best prices ever. Well, what's the harm in trying.
These tips/formulae/hacks or whatever you call them should serve you well. Happy tripping!
P.S - Ok, I can't end without one bit of obvious, albeit often overlooked, advice.
Web check-in. Always. There's a hilarious story (in hindsight) of my airport travails once upon a time (read, recently) and how a simple web check-in, saved my, for lack of a better word, behind. Should post that soon.