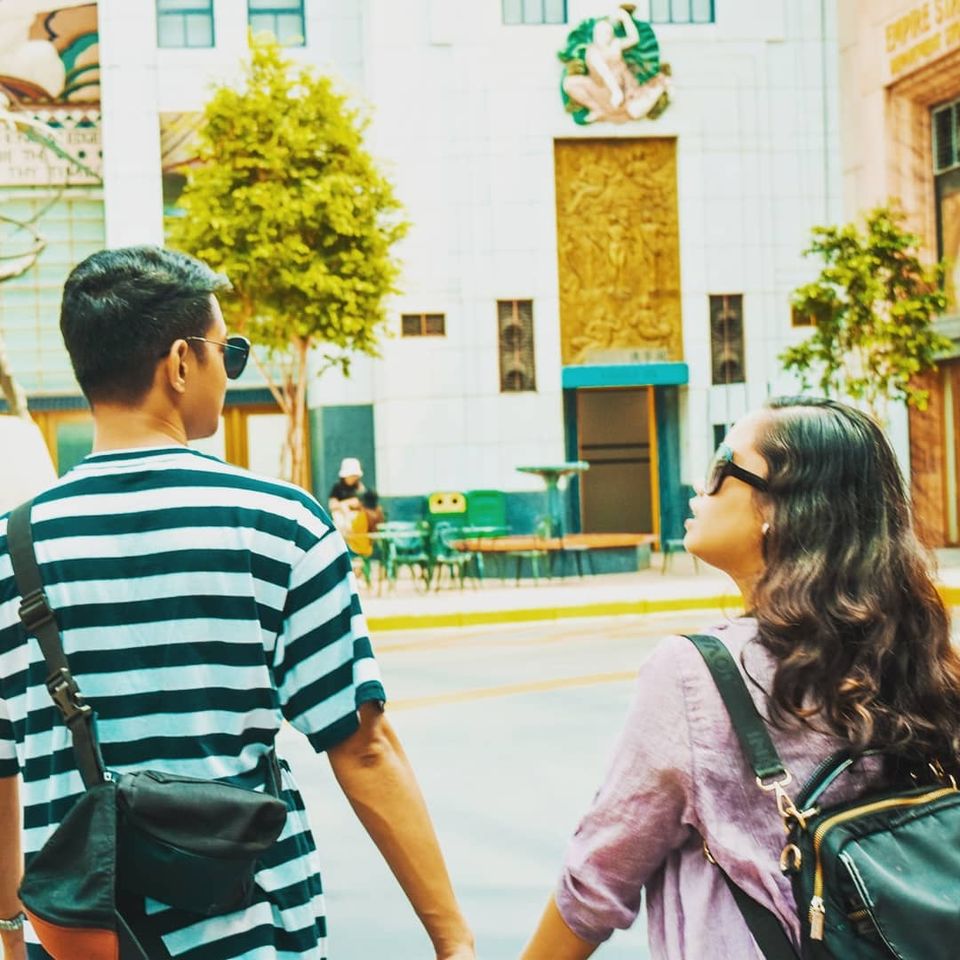 First time I realized he likes me is when he noticed my picture from friendster (yes guys, we're that old, 90's kids) which was a face in a hole of A Monalisa painting.
Growing up together in the same town and being classmates from elementary to highschool, (not to mention that my mom and his dad are batchmates in highschool.. ) who would ever thought we would end up as best friends to lovers?
"TALE AS OLD AS TIME" as we are, here are my top 7 reasons why I love traveling with my Boyfriend.
1. Instant. Instant pillow, instant warm hugs, instant nurse, with instant noodles. You name it. He can do it. He could massage you, at times you feel dizzy, or in pain. Helps you travel light and comfortable on planes and hotel accommodations by carrying your luggage.
2. Eating buddy. Yup. It's obvious and unfiguratively that we eat alot while on travel. Best part of having him along is that, he knows the foods he likes to eat. Google where to find them and tries every variety of food there is. It also means as his way to date you, spend time with you and use his credit card just to taste this incredible swensens with you!
3. Automatic Vlogger photographer.
He takes the best shots, finds the best spots and make the best output for social media postings. His gadgets are up to date, plus more, he has this great ideas for posing. In the end your gonna ask yourselves, "Why did I get so lucky??"
4. Prayer Warrior. He prays! Whenever there is turbulence, he intercede through PRAYING. Sometimes I can hear him say a simple prayer whenever we start riding on buses or planes.
5. Computer genius. Baggage, well we need to be ready for additional baggages. Good thing he has all the airline apps and phone numbers. Either doing it on computer or phone, he can do it.
6. Alarm. He wakes up early and prepares early. I think he's just excited. But whenever it took me time to do make up and take a bath, he would remind me of the time. We would arrive to the place earlier than everyone else.
Early bird catches worm!
7. Buy souvenirs. I'm a Filipino and it's part of our culture to buy something to bring to Co workers or family at home. It maybe a key chain, a food or shirt. I don't like buying for them because it makes me feel burdened. I don't want them to get used to me buying them stuffs. Yet he always buys and reminds me to bring something for my mom or relatives.
I've got loads of things to like or unlike about how I travel with him. But what I really enjoy is his presence. As long as he is there.. Whatever challenges we face in our adventures, we can overcome!