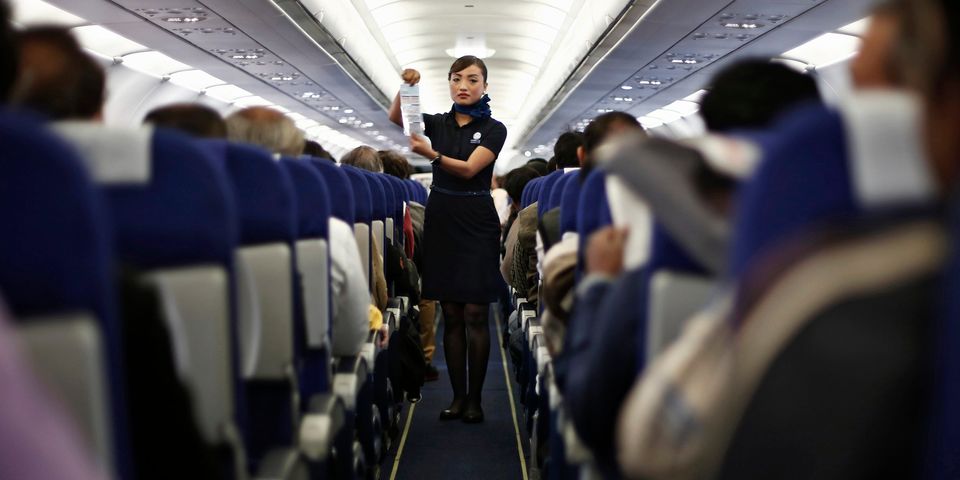 Cruising safely at over 500 mph and around 35,000 feet above the ground is possible only if you are on a plane with the most resourceful flight crew. However, you'd be naive if you believed nothing is being kept from you inside an airplane because it's not just the hotel staff who keep secrets from their guests!
The dimming of cabin lights may not always be the routine as usual, the coded language pilots and crew use is not always for fun, the glass of water you just emptied may not be what you'd use to prepare tea at home. So, fasten your seat belts as we reveal some of the most unpleasant secrets of air travel your flight staff would never want you to know.
1.) Overworked pilots in the cockpit
Rules say that pilots can't be flying for more than 8 hours out of their 24-hour work cycle, but it's not that simple. Completing post-flight formalities, driving to hotel, having food, meeting a friend, driving back to work, attending to aircraft maintenance whenever required, pre-flight checks; it all consumes a lot of time. Guess what, the flight crew would never tell you if there's a not-so-well-rested pilot in the cockpit flying the plane. You may, however, "relax".
2.) CCTV cameras in airplanes
You and your gang board the plane and feel so excited to find half of the seats empty, for you can sit anywhere, even take up all the seats in a row. But if you thought no one is watching what you doing, you are absolutely wrong. Make a mischief and they'll instantly know, thanks to the hidden surveillance cameras on almost all modern aircraft.
3.) Armed sky marshals and handcuffs on board
Almost every plane takes off with people and things no one would expect. However, most of those are for passengers' security. There are handcuffs which are used by cabin crew to contain rowdy flyers. And that cute guy with specs who's smiled at by almost every flight attendant; he could well be one of those armed sky marshals on your flight who only spring into action when a situation gets beyond control of the cabin crew. You might be happy to not know who he or she is.
4.) Dimming of cabin lights
Cabin lights going dim during take offs and landings, especially for late evening and early morning flights, is a routine. Ever wondered why? Well, it's not to help you calm down or fall asleep but to get you get quickly accustomed to darkness outside in case there's a need to evacuate the plane soon after an emergency landing. "If we have problems with engines and we have to shut them down, it results in loss of power, which is why cabin lights may be turned off mid-air", revealed one commercial pilot friend of ours on the condition of anonymity.
5.) The flight crew lingo
Have you ever noticed pilots and flight attendants using a unique language that you couldn't understand despite trying hard to decipher whatever you could hear? In the most likelihood, they use it so that passengers are not made aware of a problem with the flight right away, if any, as it can lead to chaos and panic. So the next time you hear them constantly talking in their own secret language, you better pray hard. Just hope it never happens.
6.) That in-flight meal
Do you always wait for those in-flight meals? Well, one retired flight attendant once wrote in an online blog, "We'd never have that meal, never. Come to think of it; airlines don't even want their own pilots to have "those" meals due to the risk of food poisoning!" Past studies related to tap water on flight, which is used to make most beverages for passengers, have found various bacteria, including the dangerous E. coli. And that's why you would notice flight attendants always drinking bottled water.
7.) Truth of airplane interiors
Airplane cabins look so clean and nicely maintained, but the truth may not always be as straightforward as you want it to be. Those tray tables where you place your meals, they are the filthiest places in an airplane after lavatories. The headrests are home to all kinds of microbes left behind by people grabbing them for support while walking down the aisle. The blanket that kept you cozy all night, they often get just folded back into the drawer. And let's not even get started about lavatories which rarely get cleaned, especially in the planes servicing short flights.
8.) Almost every passenger wants to know this
Apart from the fact that airplane lavatories are dirtiest in the world, you might not be very pleased to know that flight crew know specific ways of unlocking the lavatory doors from outside even when locked from inside. While that's a boon for those who have hard time unlocking the door, it's definitely a curse for those who don't want to unlock it for some reasons that do seem strange at 30,000 feet.
As unpleasant as it may seem, air travel is still the safest means of modern transport. Comment below if you, too, know some secrets of air travel. You can also create your own story here and share it with travellers worldwide. Also, don't forget to subscribe to Tripoto on YouTube to watch awesome and inspiring travel videos.

Get travel inspiration from us daily! Save and send a message at 9599147110 on WhatsApp to start.
Disclaimer: Information in this article contains inputs which may not be exactly true as per competent aviation authorities. We recommend thorough verification of facts and figures with concerned aviation authorities before relying entirely on this article in case of real-life situations.