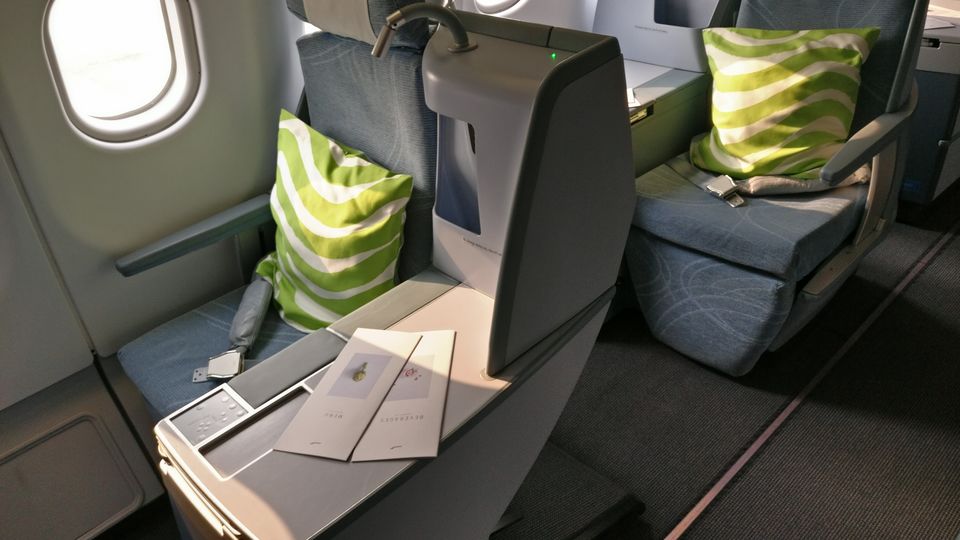 Long travel times cramped up in in an economy class seat is never a good experience for any traveller or tourist. Fortunately airlines have a 'business class' seat layout for those who are willing to shell out some extra moolah for experiencing travel in the lap of luxury. I had the chance to travel by Finnair business class on my way to Copenhagen for a business meeting on board Finnair AY 122 from Delhi to Helsinki and AY 193 from Helsinki to Copenhagen.
Baggage Allowance as on Jan 2019 : 2 check-in (combined 40 kgs) and 2 cabin (7 kg each).
The check-in process at Delhi Indira Gandhi International Airport T3 was a breeze. Separate lines for Business Class and priority segment passengers ensures the check-in is completed in less than 5 minutes per pax. Since Finnair does not have its own lounges anywhere in India, they provide a complimentary lounge access to the Priority pass lounge located on the 1st floor of the departure area after immigration.

Boarding process was smooth with Business Class and One priority members having the privilege to board first. The flight was an Airbus A330-300 with a rather unusual business class seating. It was a 2-2-1 alternated with 1-2-1 configuration (from L-R) of the cabin. So to make the best seating choice, make sure to refer to the image below. There is access to 2 toilets for passengers seated in rows 1-7 and only 1 toilet for passengers in rows 8-10.
Tips for choosing seat: The best business class seats on Airbus A330-300 for Finnair are the 'L' ones which are unfortunately sold out immediately. For seats in rows 8-10 beware that the economy class starts behind them so the bassinets are located at the rear of the partition wall from seat 10. If you plan to sleep and don't want to be disturbed by the crying of babies, then choosing seats in rows 1-7 might be a good idea. Avoid seats 1A, 3A, 5A, 7A and 9A since they don't have a direct aisle exit which honestly is quite an inconvenience when travelling in Business class especially when the aisle passenger is sleeping on the lie flat bed.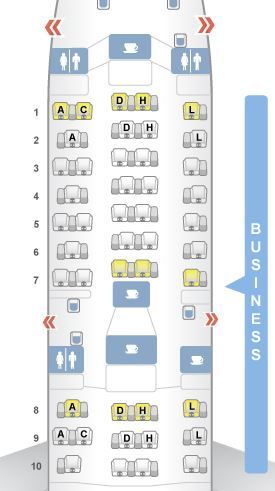 The seats are all lie flat seats with a nice option of a built in massager (although its not very useful). They come fully equipped with noise cancellation headphones, reading light, a toiletry kit, a touch screen entertainment system and a nice pair of comfortable slippers. Once the slippers are taken out from their slot, the shoes can be stored there. Of course, its for storing formal shoes and sneakers. Mid/high ankle shoes cannot be stored there and one has to ask the cabin crew to provide shoe bags (yes, its provided on Finnair!) to store them in the overhead compartment. There is ample storage space for all your belongings. The side tray even has a dedicated slot to store mobiles so that it doesn't slide off. The foot cubby is also spacious, although it didn't matter for a short guy like me but I found even 6ft tall guys did not have any trouble sleeping. The blankets were a quirky shade of lemon green and white and quite comfortable.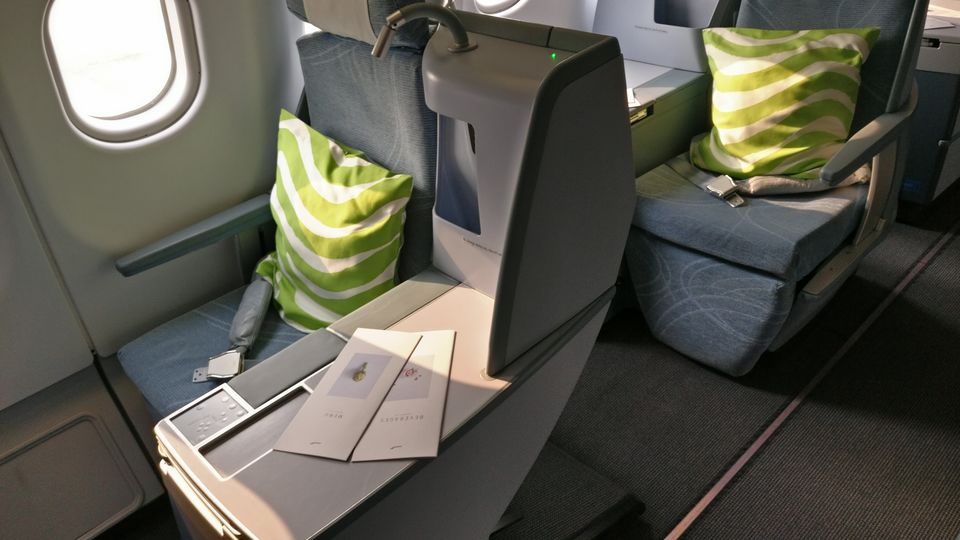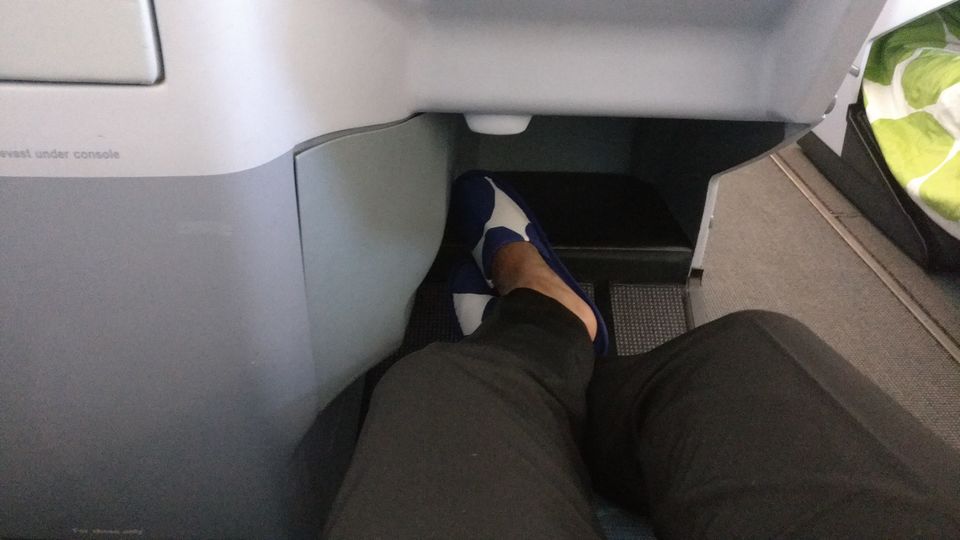 Every seat (including Economy) has a dedicated coat hanger but the cabin crew in business class stow the suits/blazers/jackets in a dedicated compartment without you having to worry for creases on them while you relax in the comfort of your seat. The toiletry kit was good with eye shades, ear plugs, lip balm and hand moisturiser from L' Occitane. Socks, shaving kit, make-up removal kits are not included but can be requested for to the cabin crew.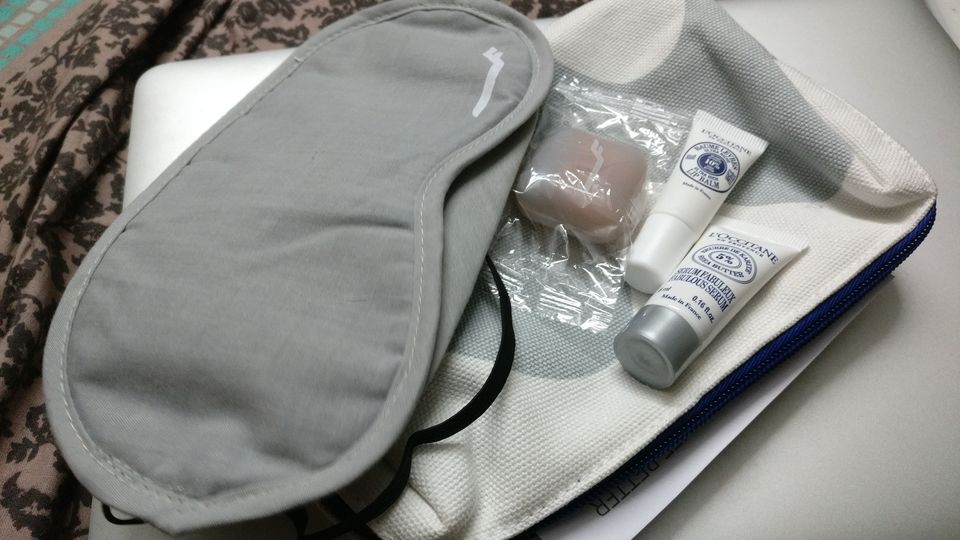 Welcome drink was served with choice of champagne or fresh juice. The crockeries looked chic and are very fine quality glassware and also available as part of their in-flight purchases. I requested a second round of champagne after take-off and was served the drink with some nice cheese and almonds on the side as nibblers. Pretty cool I must say!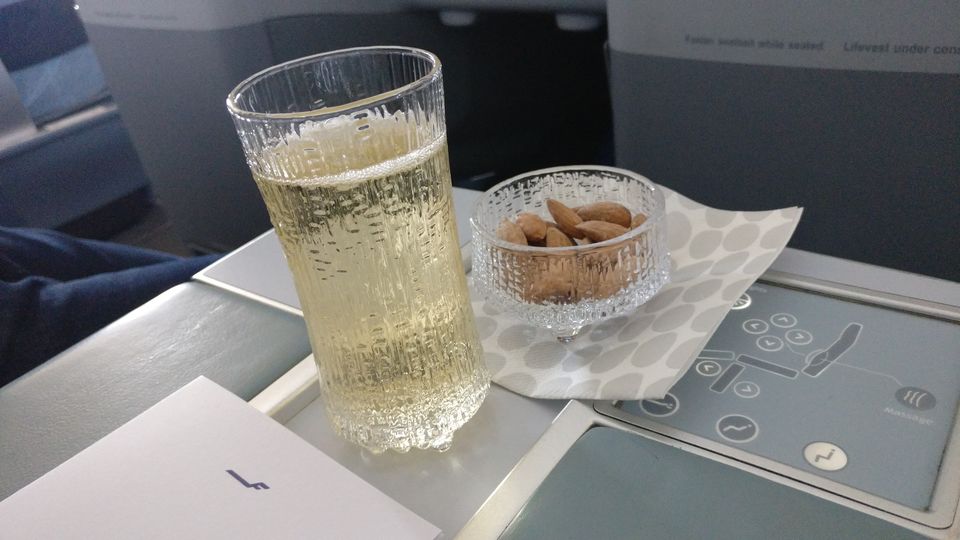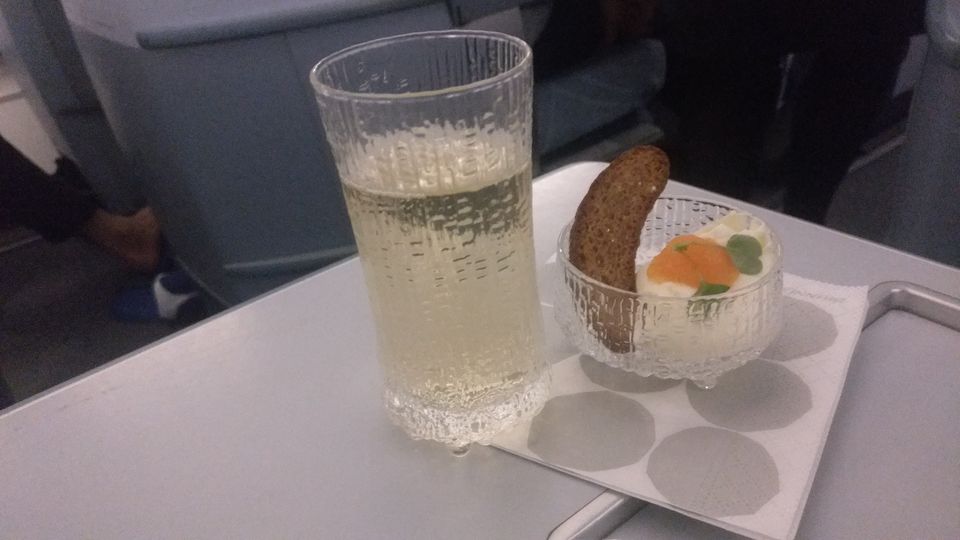 Each seat had a printed meal and beverage card outlining the various options available on board. Its a good idea not to pre-book a meal since the menu looked quite interesting! The options for wines was impressive and needless to say I delved to satiate my thirst.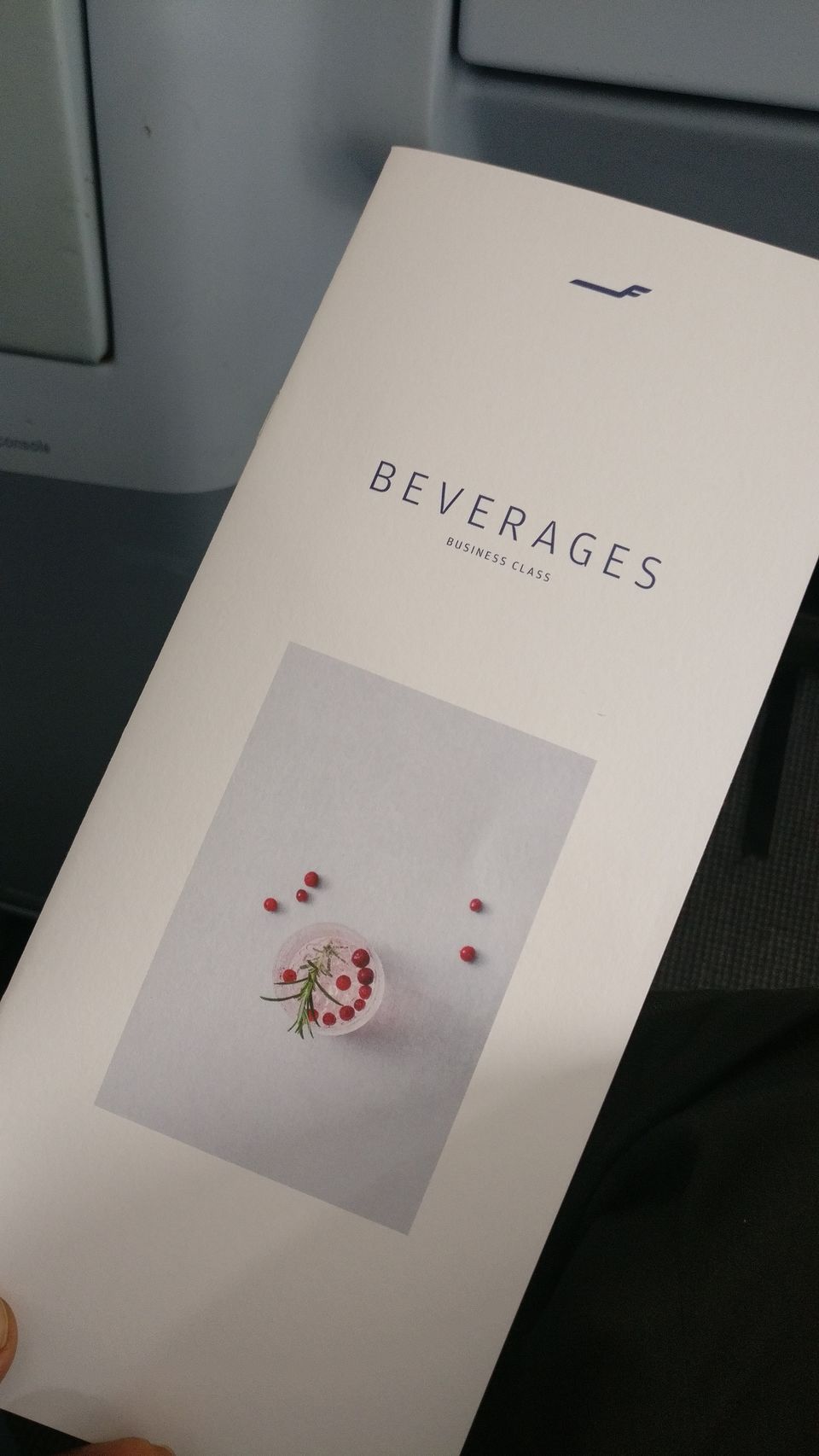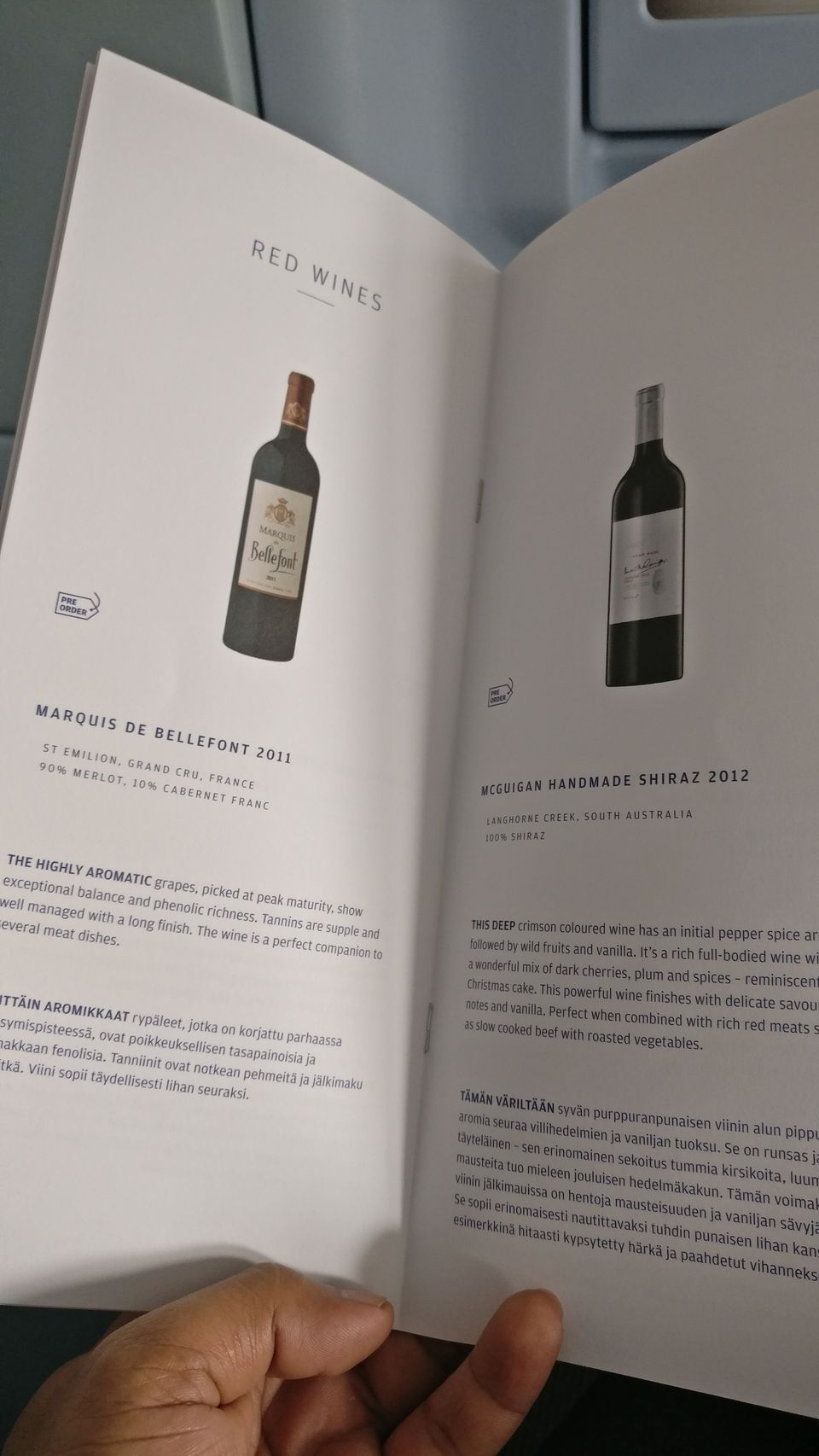 Lunch was served and there were plentiful options on the menu card. I chose to stick with some Nordic starters and a delightful main course of fish. Dessert had option of chocolate cake and ice-cream. I found the wine list to be quite refreshing and tasteful. Chose a red wine and a Chardonnay and needless to say they were quite impressive. Two varieties of cheese were served on the side which lent a nice alternative touch to the dining experience. The food was served in bone china crockery and some fine steel cutlery to go with it. The crew were alert and accommodating to everyone's request and greeted everyone with a smile which lent a nice personal touch to it.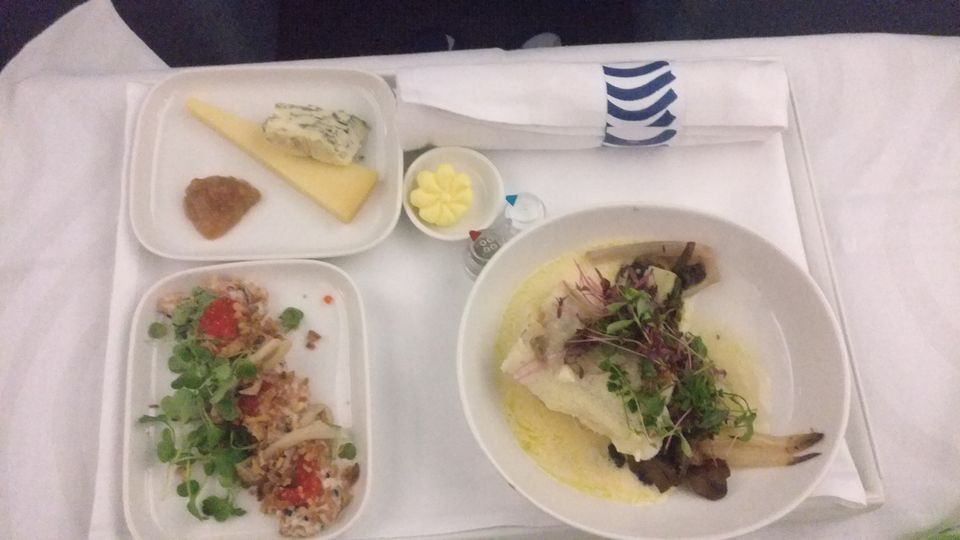 The in-flight entertainment system is not impressive at all with limited options in movies and music. Emirates, Qatar, Lufthansa and KLM operating on these routes have a much more exhaustive list on offer. I watched a Swedish thriller and went to sleep in the comfort of the full flat bed. The pillow was really good and I woke up feeling refreshed.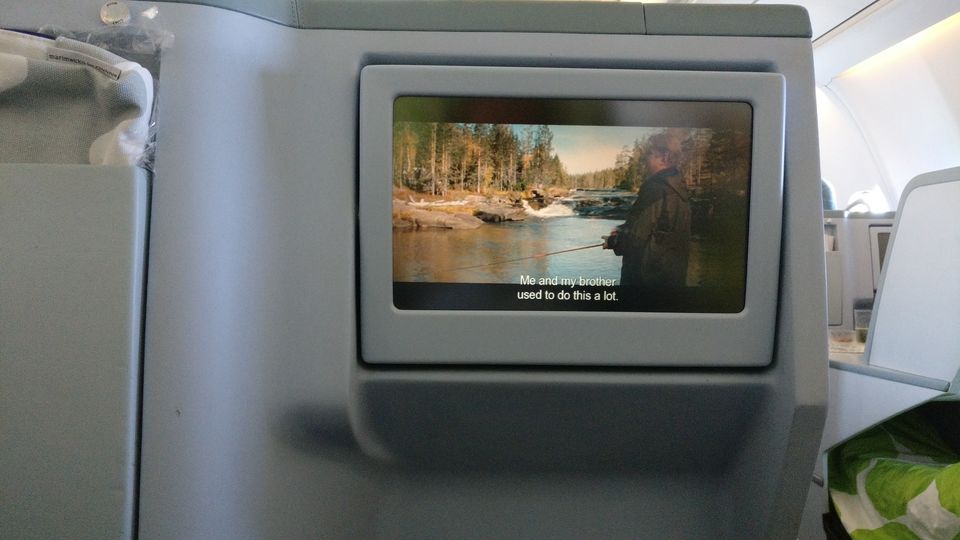 An evening snack was served which was a meal in itself! Again had a few glasses of the lovely champagne and prepared for getting down and transiting through Helsinki.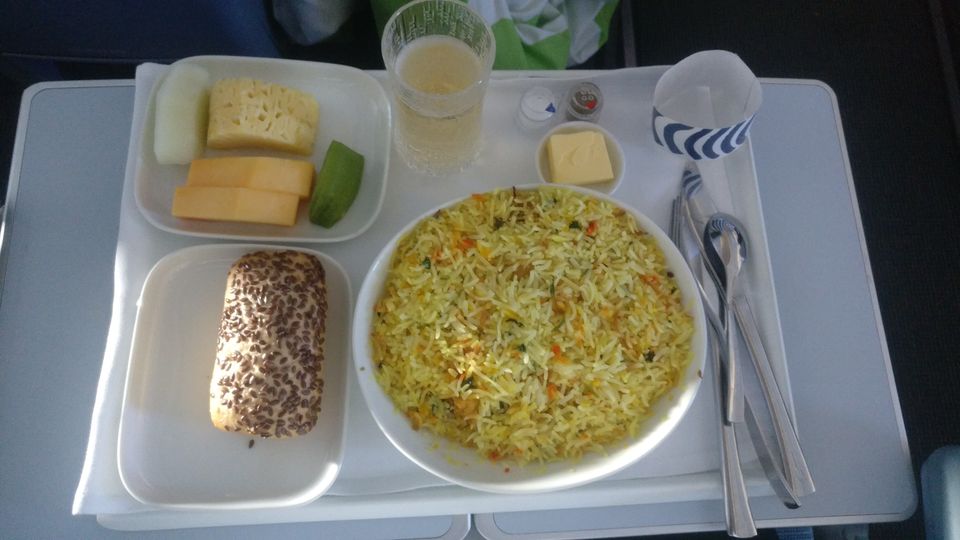 The immigration and baggage screening at Helsinki was really smooth and I even found time to have a smoke in the 45 minute layover time! The flight from Helsinki to Copenhagen was an Airbus A320. The business class seats are the same 3-3 configuration like the Economy but have a 4" more seat pitch. There are 8 rows of business class seats and only the aisle and window seats are occupied with the middle seat empty which gives a sense of space (smart thinking I must admit). Luckily for me, I was the only passenger on the business class for this route and had the whole attention of the crew to myself! 
The cabin crew again took my overcoat for storing in a dedicated space. I was offered a choice for newspapers as this flight does not have any in-flight entertainment system. Food was served and this time it was a mix Nordic and south-east asian cuisine along with some mediocre red wine. I liked the food, but it might not appeal to the bigger diaspora of travellers from the South-east Asia, USA or the Middle East due to its innate blandness.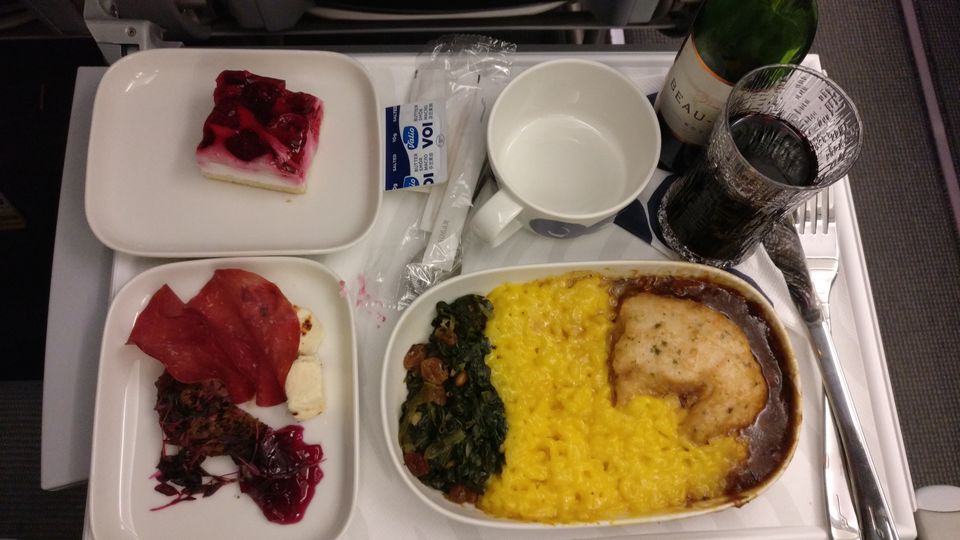 I reached Copenhagen on a rainy evening and needless to say the journey was not at all tiring owing to the luxury of flying Business Class over 12 hours with Finnair. Give it a try the next time you are travelling to Europe or any other destination which is connected by Finnair.