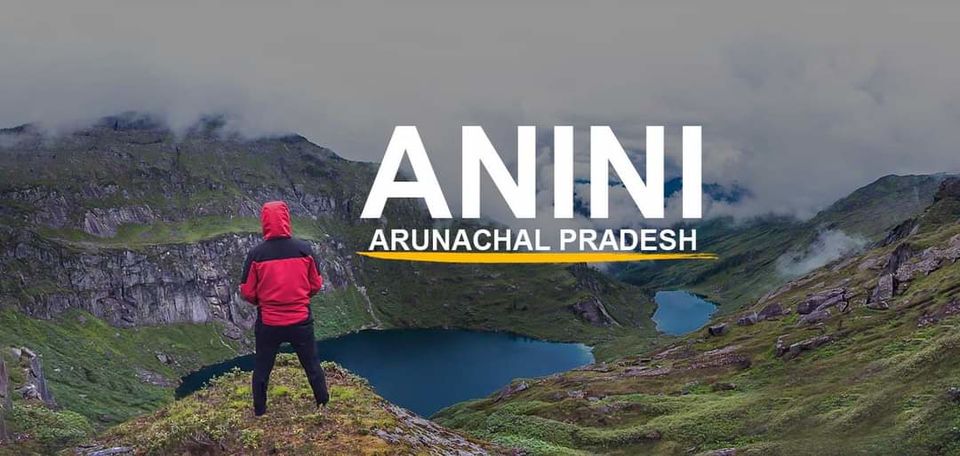 Hello friends,My name is Rituraj Mili and I am a traveler from North East India. I have a small youtube family (Challo NorthEast).
We are a team and we organised adventures, comfortable trips in NORTH EAST.If you want quarry anything about North East please visit our Facebook page(Challo NorthEast) or else you can visit our Instagram page Challo NorthEast.
So friends till then stay home,stay safe and let me take you to mesmerising valley DIBANG.

We decided to travel untouched and unseen valleys of India Anini Dibang Valley.Its located in the eastern part of India in Arunachal Pradesh.We decided to travel with challo north east and believe me guys you won't disappoint with you decision.Anini and Dibang valley is still untouched and the road and transportation is not well connected.So we decided to take car rent through Challo North East from Dibrugarh and challo north east is the traveling site wich is only provide self drive car.
And here we are....
We start our journey to Anini.
Table of Contents
1.Who is this Seven Lakes trekking for?
2.Is it safe?
3.What not to expect.
4.Seven Lakes Trek Guides
5.Is Seven Lakes Anini worth the climb?
6.Things required for the Trek.
7.Day 2 : Anini- Emuli- Aniku top (Camp 1)
*Campsite
*Cooking
*Problems
8.Day 3: Camp 2 of the Seven Lakes Anini
*Camping site.
*problems.
9.Day 4: To Kamuh Ya Lake & Camp 3
*Camping site.
*LAKE 1: KAHMU~YA LAKE
*Problems.
10.Day 5: Towards Main Base Camp
*Lake 2- Emuh~ya Lake
*Camping site
*Lake 3: EMU LAKE
*Lake4:Dini Lake
11.Day 6: To Lakes 5,6 & 7
*Lake 5: Che~ne Lake (The mystical Lake)
*Lake 6 & 7 – HUHU lakes.
12.Day 7: Seven Lakes Anini- Returning Day.
13.Seven Lakes Trek Arunachal Pradesh Price.
–Story and guide from the first successful Seven Lakes Trek Expedition Team organized by Jimu Mele & Kanki Miri.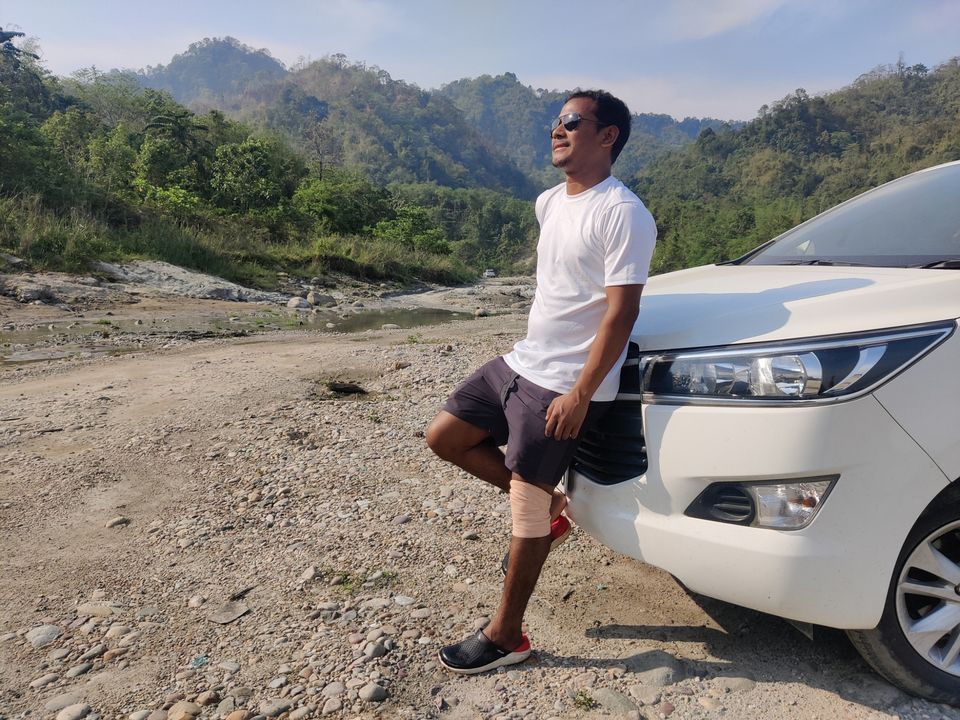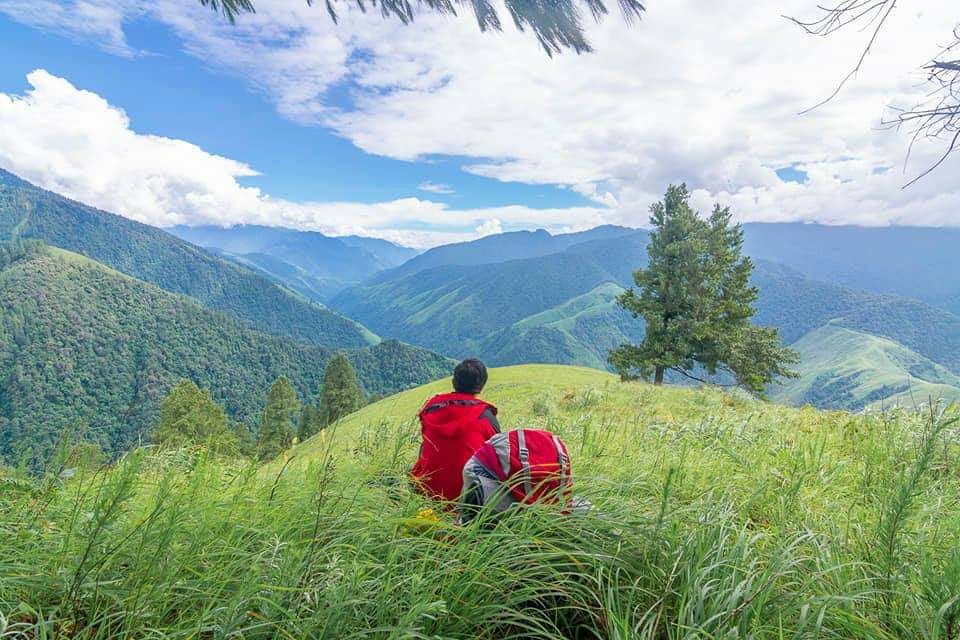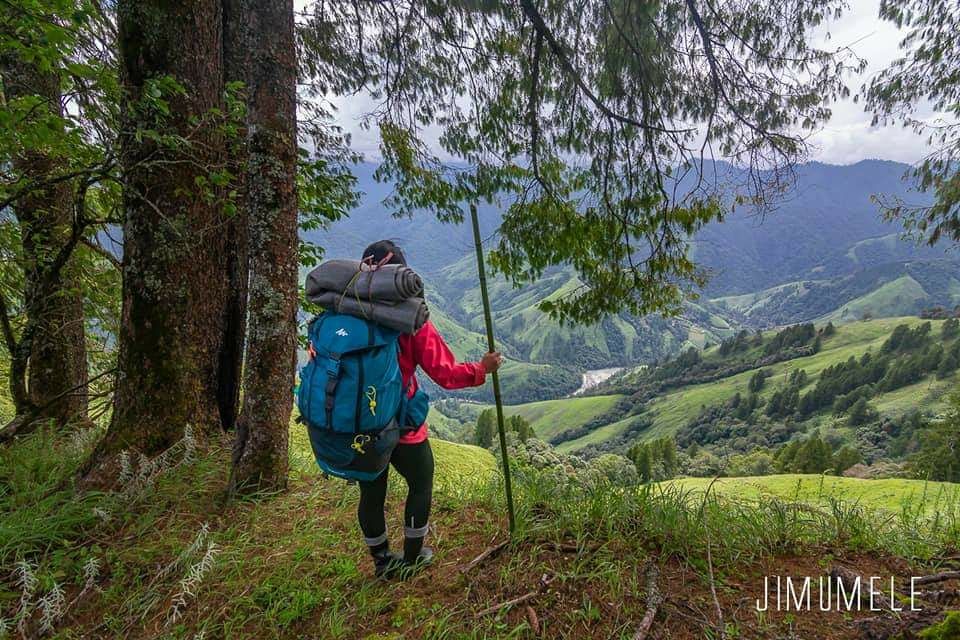 Disclaimer: The owner of the photos and the article is Jimmu Mele You can contact him at +917085917932. He is on Instagram as @jimhikingnature and Facebook as.Jimu Mele.
After reaching Anini.
I have been dreaming and planning to do the Seven Lakes Trek in Anini of Dibang Valley in Arunachal Pradesh for a year but had no idea even how the first lake looked like. The thirst for adventure and landscape photography made me organize this expedition along with 15 more members. With the completion of this expedition, it will forever remain in my heart as a very sacred and pure beautiful dream. No words can justify the precious feelings we have for each lake.
My narration will be from point of view of highly motivated intermediate level trekking person.
Rule-1 and the Only Rule: Whenever we trek in such interior locations we need to respect the God of Nature, Idu Mishmi Tribal Laws and customs then trekking goes fine.
trekking for?
For Professional Trekkers and Adventure Photographers, the Seven Lakes trek in Anini is only a climb of 5-6 hours a day on average. Slope at an average of 70° but not very steep. We were not professional Trekkers but highly excited and motivated intermediate people. We kept on motivating each other. If you are one of these then I can guarantee you that you will always cherish these adventures till you die.
Is it safe?
Seven Lakes trek is safe. We didn't find any place risky. It was all about being mentally strong to walk on and on. We saw two leeches and one snake.
What not to expect?
Easy, Maggi and chai stop. Trekking shoe (RS 6k/10k) will not help because it's all Raw nature with no proper footpaths. Its shoelaces will get tangled here and there and eat your brain. Gumboots (Rs-400 at Anini) is the shoe you need for these terrains. In and out in a second, waterproof with ventilation from the top. Come to Seven Lakes trek expecting the real raw experience of beautiful nature.
Seven Lakes Trek Guides
We had three guides. Two would go from the top while one would go from the middle of the hill to find a route. So it's pure raw nature.
Is Seven Lakes Anini worth the climb?
YES! "OMG" was our response after we reached every spot. Lake 1&2 are very beautiful and different. Dini lake will blow your mind, Chene lake is a mystical lake and huhu lake will bring peace to the whole adventure. It was heavenly beautiful. Ladakh bike trip was a journey I will always cherish the Seven lakes trek and will recall before I die. We can't decide where we are born but we can always choose where to go from there.
Things required for the Trek
Motto : "Stay as light as possible"
1.Inner Line Permit (ILP) for Indian Nationals, Protected Area Permit.
2.Light backpack of 40 liters. (I have found Quechua one very light/ local brand's bags are very heavy)
3.One three-in-one jacket (raincoat + Down Jacket).
4.Two full shirts (to protect from DAMDIM/Black fly and sunburn).
5.Two trekking full pants light (Quechua)
6.One three-in-one jacket (raincoat + Down Jacket).
7.Thick Socks – 3 pairs. Thin socks will get torn in two days.
6.One warm pant light for changing after reaching spots.
7.Sleeping bag.
8.Thin sleeping bag liner to keep warm inside the sleeping bag (Quechua).
9.Single Tiffin steel Dubba one (Rs-150 Anini) closed system with one spoon. One tumbler.
10.Sunscreen.
11.Headlight if you have.
12.Torch/cellphone torch.
13.Two Power banks are more than enough for a cell phone. And for photographers one power bank with portable charger which will be carried by porters.
14.Gumboots – long one from decathlon black color (one size bigger). Or else Rs 300 from Anini Bazaar.
15.One slipper (crocs type or duplicate croos cheap available in Anini).
16.One light Snicker/costly shoe to take photos or stroll around lakes.
17.Sleeping foam sheet Rs.300 in Anini.
18.ODOMOS.
19.Cap/bike light face-covering mask(Rs.100 Anini) to cover from sunburn and flies.
20.Water flask (we carried a water bottle too but it gets lost and water matters during trekking).
21.Don't buy walking sticks. Nothing is stronger than Bamboo in the wild (free).
22.Hand gloves simple one – Rs 100/200 (Anini) for using bamboo pole and cold.
23.Local Idu Hat (aputolo) is a life saviour from rain, heat and even used for giving air to firewood when cooking. Don't know about other hats.
24.Black goggles. To hide your puffy eyes while taking photos.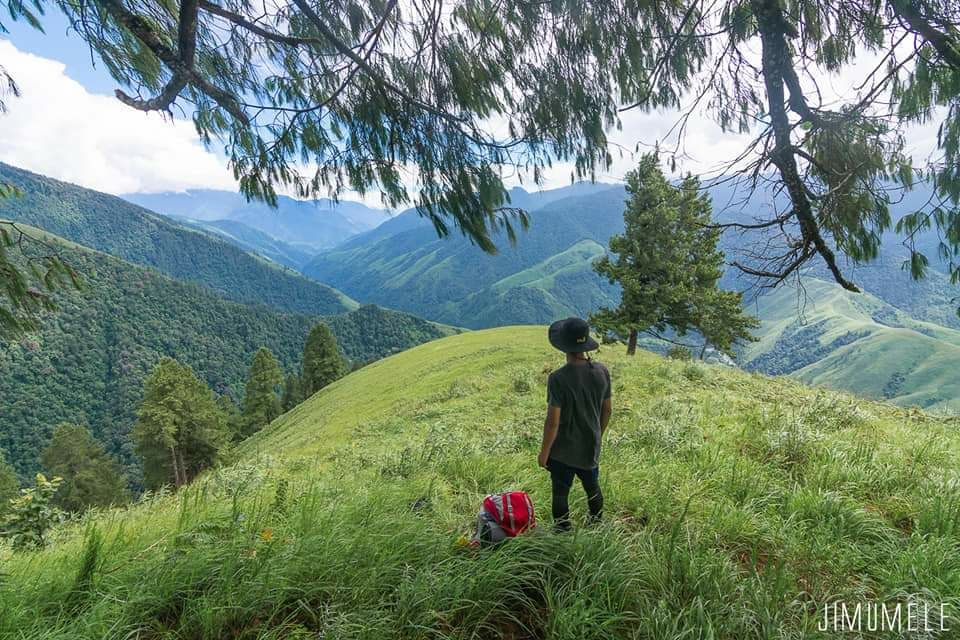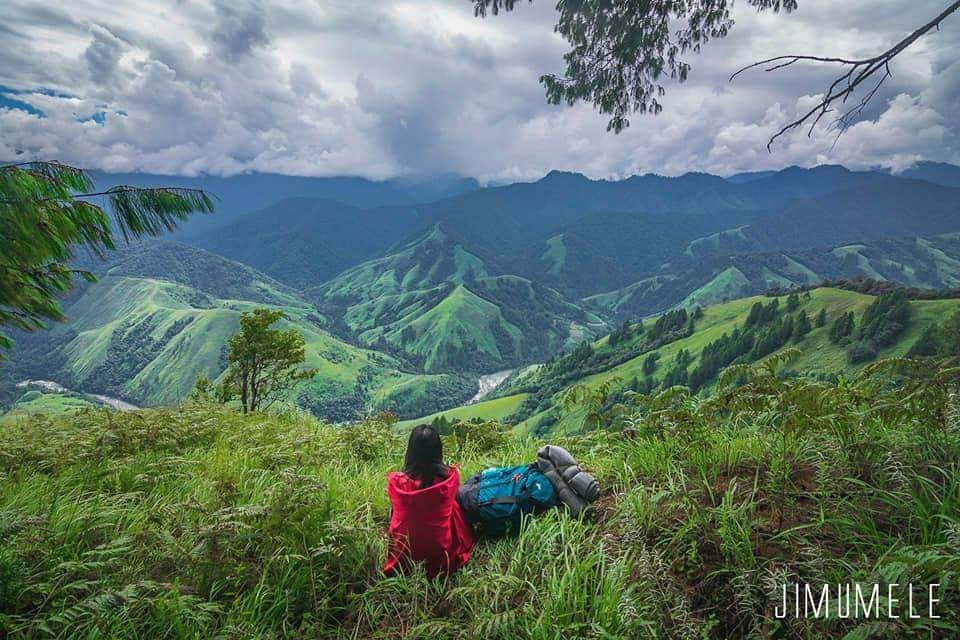 For Landscape photographer- one wide angle lens (beautiful flower foreground) and kit lens/prime(portrait) is enough. I won't suggest you to bring the big heavy telephoto lens as not many birds are found in this season. There is only mountain goat ( Ami in Idu Dialect), Mishmi takin (very far away from seven lake) & two types of bird (Pidi & Peba in our dialect) only. Tigers are our brothers we don't bother them so they too go very far away when humans come. Follow them at your own risk. A 400 mm light lens is enough.
For flower lovers, there will be many types. I have no idea what they are called in English. June and July are the best seasons for flowers but it's heavy monsoon month. By August end and September fewer flowers are found during the Seven Lakes trek, but hey! We can have better weather and hence a better adventure.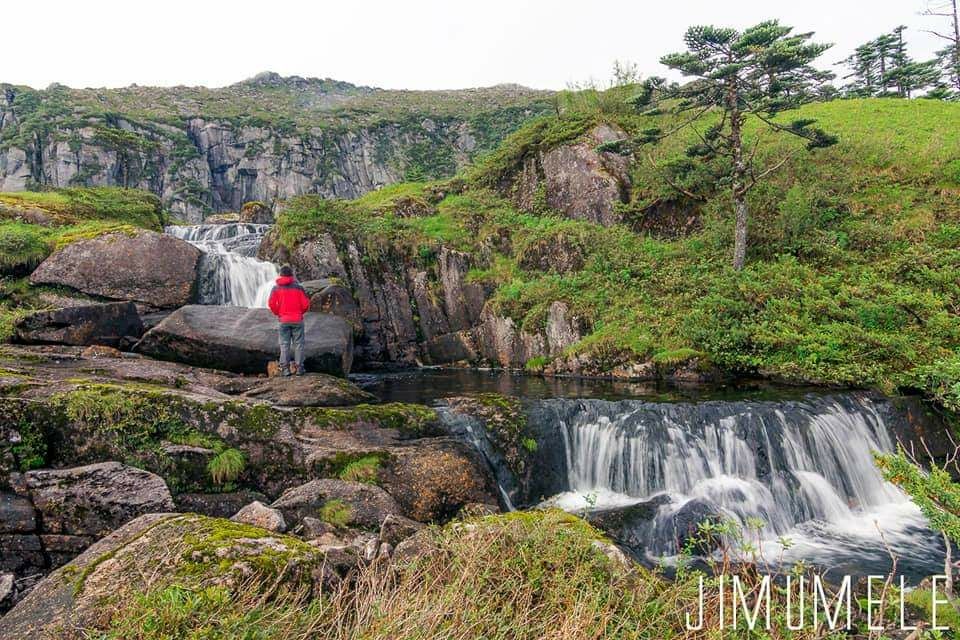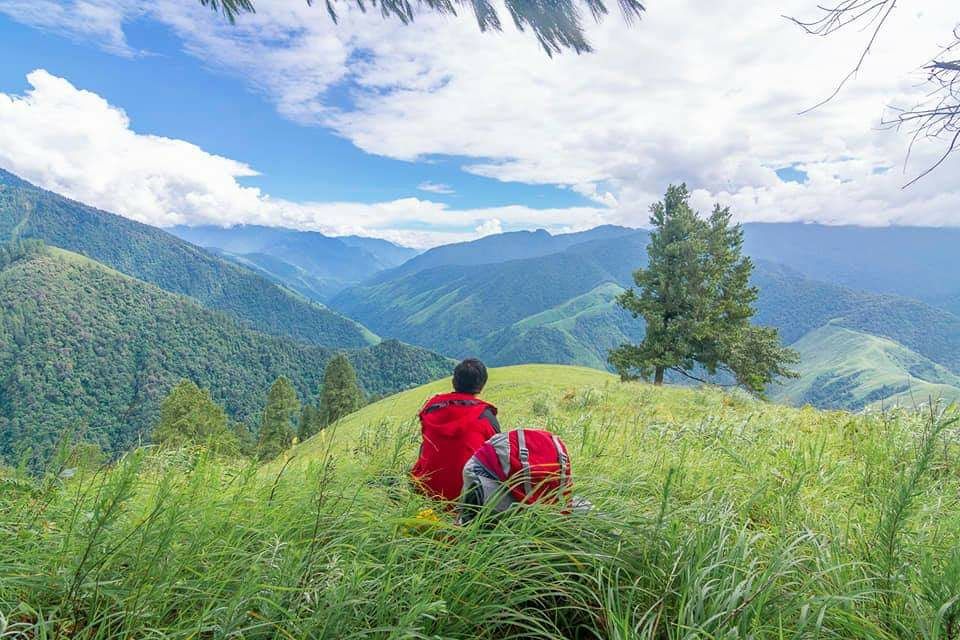 top (Camp 1)
We started the Seven Lakes trek from Anini to Emuli village (1hr 30min drive) at 8 am.
Emuli village road is where trekking starts. We started at 10 am and reached around 2:30 pm at Aniku top. It took us about 4 hr 30 min to reach the Aniku top. (for outsiders even professional trekkers it will be 6 hours)
VIP For energy- Add dried chana inside the water bottle. You won't be thirsty and hungry while walking. You should take Apple real juice and hike up, It helps. I took red bull for Day 1 and Day 3. (longest uphill walk with a beautiful view of Mipi Village). It's tiring but the view and the wind are jolly to the eyes.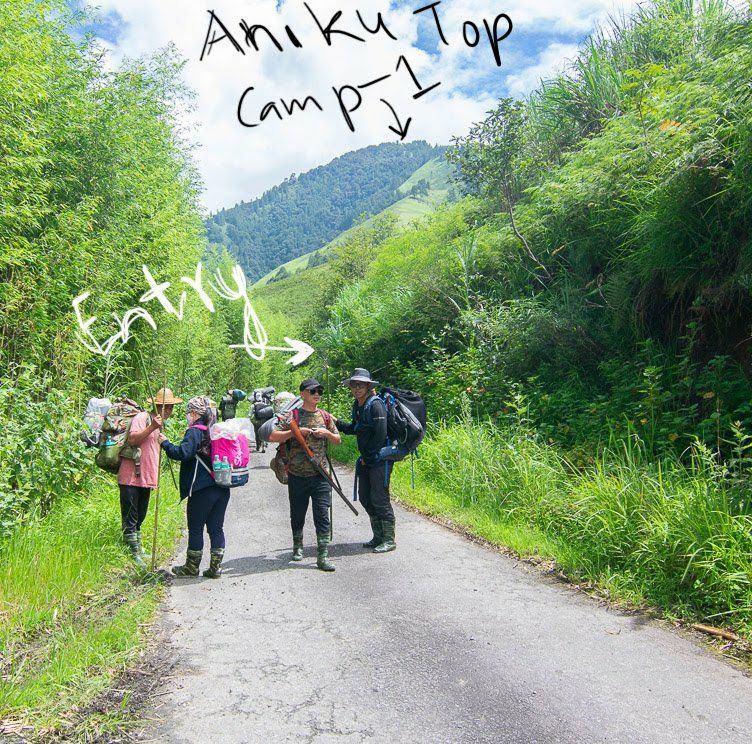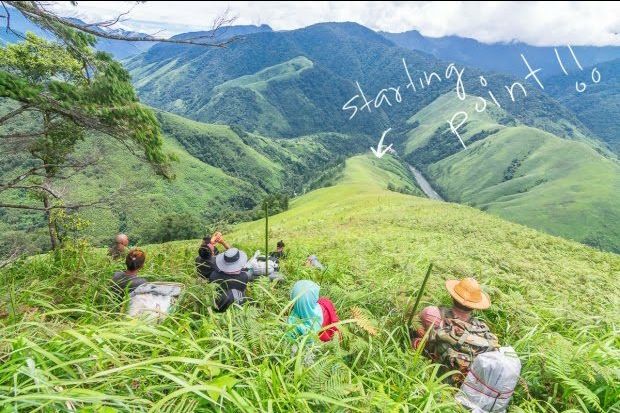 Campsite
We first cleared the jungle and set up our tents. We took one tarpaulin/tripal (locally called) blue one which was used for cooking and also Porters slept under tripal and we used tents.
Cooking
Firewood is available. But no water on top. Water is 30 min away. Which was arranged by our Guide. He knew the route to it.
Trekking trail of the Seven Lakes Anini
Problems
No water source at camp one.
We call it- Damdum/Kamu (in our Idu Mishmi dialect). It is a black fly (very small size) that protects the forest from human invasion. Using Odomos or Dettol will keep them away. Dettol is very effective. I used a bike light cloth mask which protects all heads with only eyes open. Damdum can't enter the tent so don't worry while sleeping. Best of luck with Damdum future Seven Laker tekkers!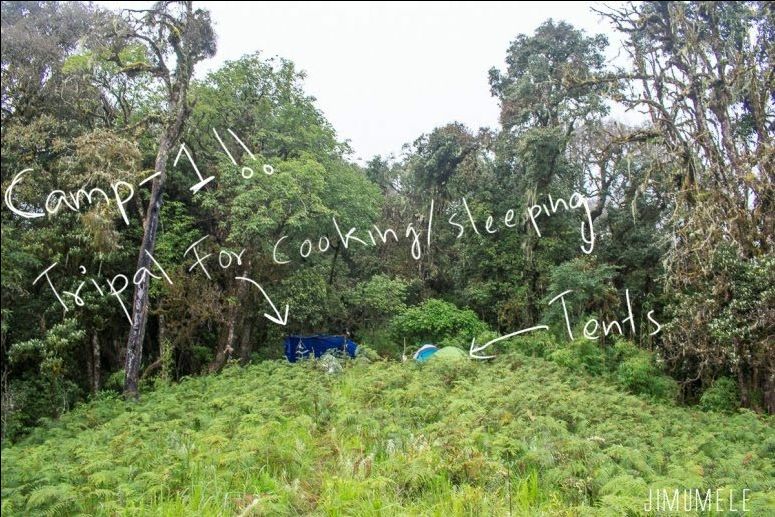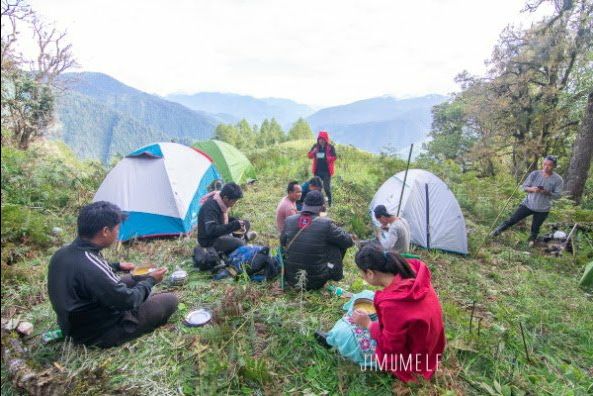 Seven Lakes Anini
Packed everything, had breakfast/red tea, and left by 6:40 am. Reached around 11 am. (4 hr 30 min walk) (6 hr for outside trekkers)
Day 2 is a hike through the rainforest and thin bamboo vegetation. Bee as a companion shall follow humming behind you all the way. You will find churned Bamboo left by Red Pandas/Deer.

Trekking trail of the Seven Lakes Anini
Camping site
The surface is a bit lumpy but if managed properly it can be made into a decent site. A trekking expedition was conducted 2 yrs back. It failed as three trekkers gave up on this camp and urged everyone to go back. They would have reached the lake the very next day. It is like a small area in between jungle with a small stream for water source.

Trekking trail of the Seven Lakes Anini
Problems
Damdum. I remained healthy even if I didn't boil water. But Please always boil water for people coming from other states.

Trekking trail of the Seven Lakes Anini
Day 3: To Kamuh Ya Lake & Camp 3
The day two of Seven Lakes trek began at 7 am and reached by 12 noon to Lake 1. (5 hr hike), (6 hr for outside trekkers)
Route: slope jungle then a rocky hill.
">

Trekking trail of the Seven Lakes Anini
Camping site
Magnificently beautiful it is. It has a more plain area. Beautiful flowers, and a peaceful tiny water stream.
">
LAKE 1: KAHMU~YA LAKE
With a perfect view, the area near the lake is so full of flowers small- yellow, purple, white. Heaven it is!
Kamuh-ya Lake of the Seven Lakes Anini
Problems
Yay! There is no Black fly. But very Less firewood. The help of DIESEL/KEROSENE/PETROL is must to make fire. Here Oxygen will get lower so the fire won't burn so easily. Kerosene is the utmost priority.
Day 4- Towards Main Base Camp
Lake 2- Emuh~ya Lake
We started the fourth day of the Seven Lakes trek at 6 am and reached around 9 am. (4hr for tourists). It is only through rocky mountains.
The view after climbing the top after 30 min is soothing to the eyes.

Emuh-ya Lake of the Seven Lakes Anini
Camping site
One of the best camping sites in the world with a waterfall, a stream flowing, and a lake nearby. What more can we ask from Nature?

Emuh-ya Lake of the Seven Lakes Anini
Watch this video by Jimu to travel to the magical lakes of Mishimi – Anini of Dibang Valley, Arunachal Pradesh–
LAKE 3: EMU LAKE
A 30 min walk for us even though we were tired. (1 hour for tourist). It is the smallest.
Emu Lake of the Seven Lakes Anini
LAKE 4: DINI LAKE:
Our favourite, it is the largest of all. Neither iPhone nor a DSLR can justify its hypnotizing effect. Trust me, if this lake doesn't blow your mind, nothing in the world will. Only our eye knows what we saw.
Dini Lake of the Seven Lakes Anini
Problem: A small black fly was less on the first day but high in numbers the very next day as if they wanted us to leave. Don't worry it doesn't disturb when we walk. It only disturbs when we sit outside.
Day 5: To Lakes 5,6 & 7
Lake 5: Che~ne Lake (The mystical Lake)
Many native people including a friend of our main guide Azadi have seen this lake glowing during night at around 12 midnight.
Che-ne lake of the Seven Lakes Anini
Lake 6 & 7 – HUHU lakes.
We ended the Seven Lakes trek with the two Huhu Lakes. There are more such beautiful lakes. In the map, I have marked the 8th lake too which we didn't go to. After the 9th lake, you will find huge Quartz crystal stones in between lush green flowers.
Huhu Lakes of the Seven Lakes Anini
The 8th Lake is only for Professional trekkers who would want to see it, and it is not yet documented by us. I hope you will be the first.
Pinned coordinate Lake 1 – 28°58'47.0''N , 95°51'50.0"E (By Moge Riba)AT YOU'VE GOT TO KNOW
Day 6: Seven Lakes Anini- Returning Day.
We reached back within a day – a 9-hour hike back to Anini. Which was a bad idea, Sigh! Our legs were about to give up but homesickness gave us push to reach back in a day. I guess, it is better to stay in Camp 3 and come back.
As per ancestral claim- Pralo village (Inguyi) community is the owner of Kahmu ya lake, Emuli Village is the Owner of Emuh~ya lake, Huhu lake and Chene lake. Dini lake belongs to Miwu Clan.
Thanks to the Guides- Kanki Miri, Azadi Rondo, Mizu Rondo.

I have received a lot of request for the Seven Lakes trek expedition. Therefore, we have decided to conduct the trek in August or September of 2021 with only 15 max professional trekkers.
Let's promote Arunachal Pradesh Tourism. Trek the Seven Lakes Anini , enrich your love for nature.
The itinerary on the Seven Lakes Trek and Three Lakes Trek of Dibang Valley can be found here.