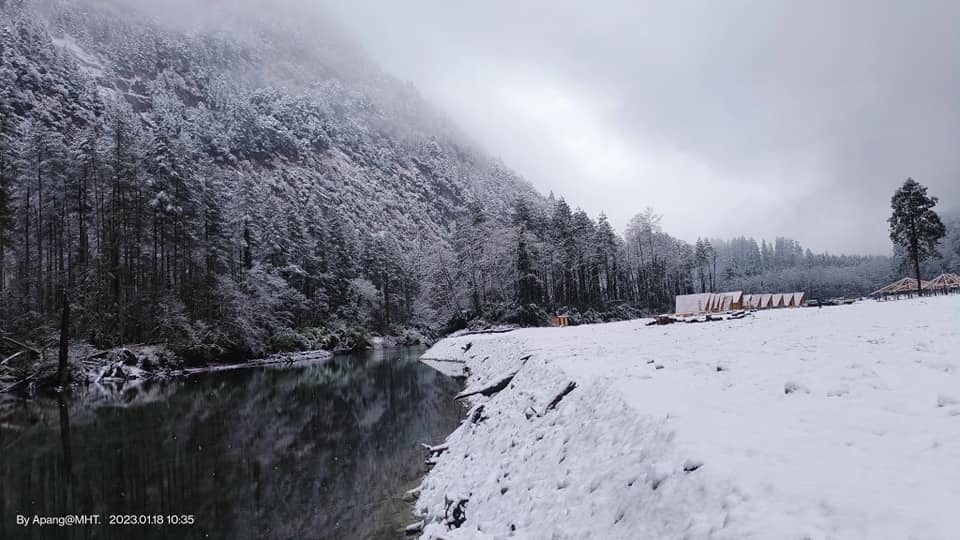 If living in classic Swiss chalets has been your dream, you no longer have to jump the visa hurdle to Switzerland. Arunachal Pradesh is now home to Chighu Resort with its own set of chalets surrounded by snow-capped mountains and offering complete seclusion from city life. Located in the picturesque Anini, this winter wonderland is the perfect place to fulfil your Alpine dreams.
Recently, Nagaland Minister Temjen Imna Along was awe-struck by the stunning chalets in Arunachal Pradesh. He shared pictures of these beautiful structures and exclaimed that they looked like something out of Switzerland or Kashmir!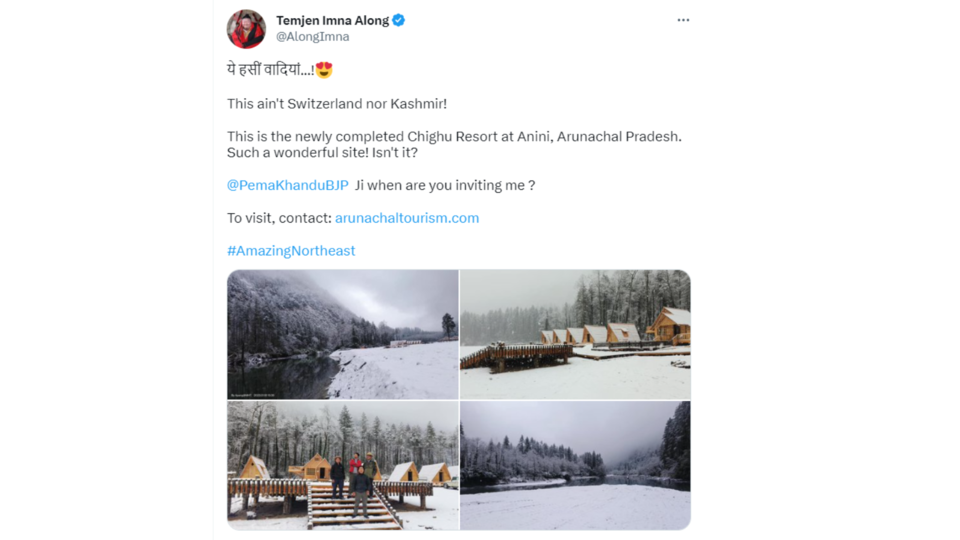 Tagging Arunachal Pradesh Chief Minister Pema Khandu, he asked him when he was planning to invite him to the newly constructed Chighu Resort. And it certainly looks like a must-visit destination!
Netizens were in awe of the stunning chalets located in Arunachal Pradesh, which are yet to be unveiled to the public. Many left positive remarks on the pictures, expressing admiration for those gorgeous views.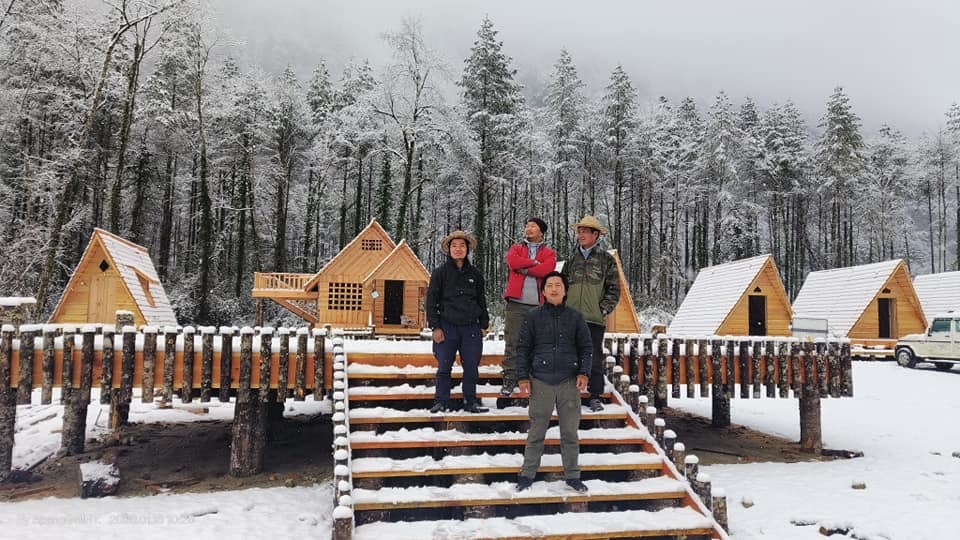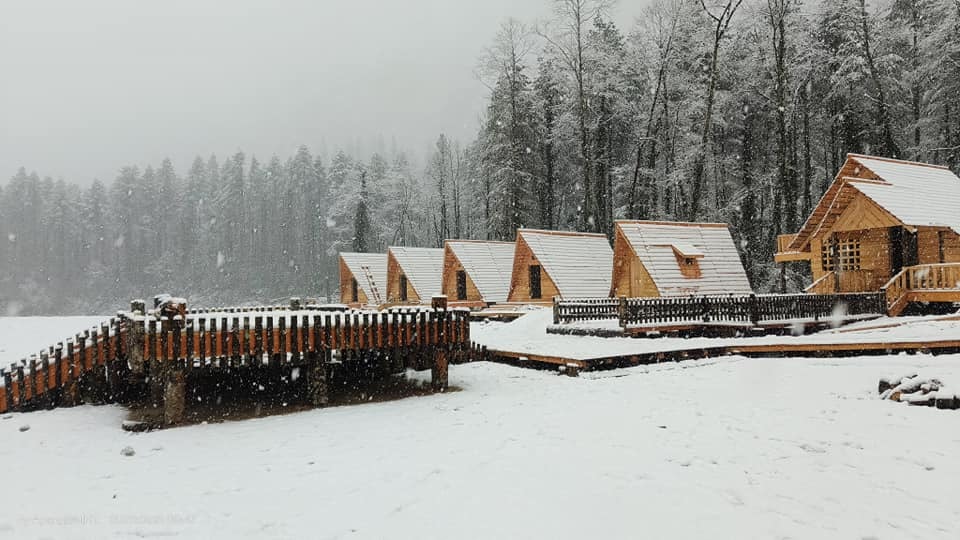 Nestled in the lap of nature, Anini is a charming and serene town located in the Dibang Valley district. It serves as a gateway to an untouched paradise, where visitors can immerse themselves in its tranquil atmosphere and be surrounded by stunning views. The Idu Mishmi tribal people make up most of the population here, while two tributaries of the Dibang river – Dri and Mathun rivers flow through it. With pleasant weather year-round and unparalleled beauty, Anini has become a popular destination for tourists seeking peace and serenity away from bustling cities. Its misty air casts an enchanting spell on all who visit this magical place; one that cannot simply be put into words!
How to reach Anini:
Exploring Anini can be quite an adventure. The only way to get there is by taking a long and arduous road trip from Roing in Arunachal Pradesh, or you could opt for the chopper service from Itanagar. But whichever route you take, it will surely be worth it as the journey itself will offer spectacular views of placid landscapes at each turn. To make your travel easier, you can book a bus or train to reach Roing from Dibrugarh Railway Station in Assam, which is the nearest railway station to Anini. From here, one can avail shared Sumo services or hire private cabs to cover the remaining 225 km stretch till Anini.
Things to do in Anini
Exploring Anini is best done by simply taking a stroll through its winding streets, conversing with locals and marvelling at the majestic Himalayas towering over the landscape. For those looking for specific places to visit, here are some of the top spots in Anini.
Mathun Valley
Explore the wonders of Mathun Valley and immerse yourself in its breathtaking beauty! From lush green forests to crystal clear rivers, this picturesque destination is perfect for a peaceful getaway. The Mipi River, joining the Mathun River from the west-east, is an ideal spot for adventure seekers looking to explore untouched natural water bodies with rare flora and fauna.
Dri Valley
The Valley of Dri is a breathtakingly beautiful landscape, tucked away from the hustle and bustle of everyday life. Its undulating hills are dotted with peaceful villages and its river, the Dri, winds through it like a shimmering silver ribbon. If you're looking for an adventure that doesn't involve too much climbing but still offers plenty of scenic views then this is the place to be!
Dibang Wildlife Sanctuary
The Dibang Wildlife Sanctuary in Arunachal Pradesh is an absolute paradise for wildlife enthusiasts. Spanning over 4,149 sq. km of the upper Dibang Valley, it houses a plethora of rare species like Mishmi takin, musk deer, red panda and Asiatic black bear as well as some rare bird species such as Blyth's tragopan and Sclater's monal. Even more excitingly, a new species of flying squirrel – the Mishmi Hills Giant Flying Squirrel – has been discovered from its edges! With sightings of tigers also reported here occasionally, this sanctuary is definitely worth visiting at least once in your lifetime!
Anini is indeed a place that will stay with you long after you've left. With its rustic charm and friendly locals, it will leave an imprint in your heart forever. So take the chance to explore this hidden gem of Arunachal Pradesh and come away with memories that last a lifetime.
If you have an exciting travel news to share with us, feel free to drop your inputs in the comments below. Or write about it here on Tripoto and earn Tripoto Credits! You can also follow me on Instagram to stay on top of my updates.