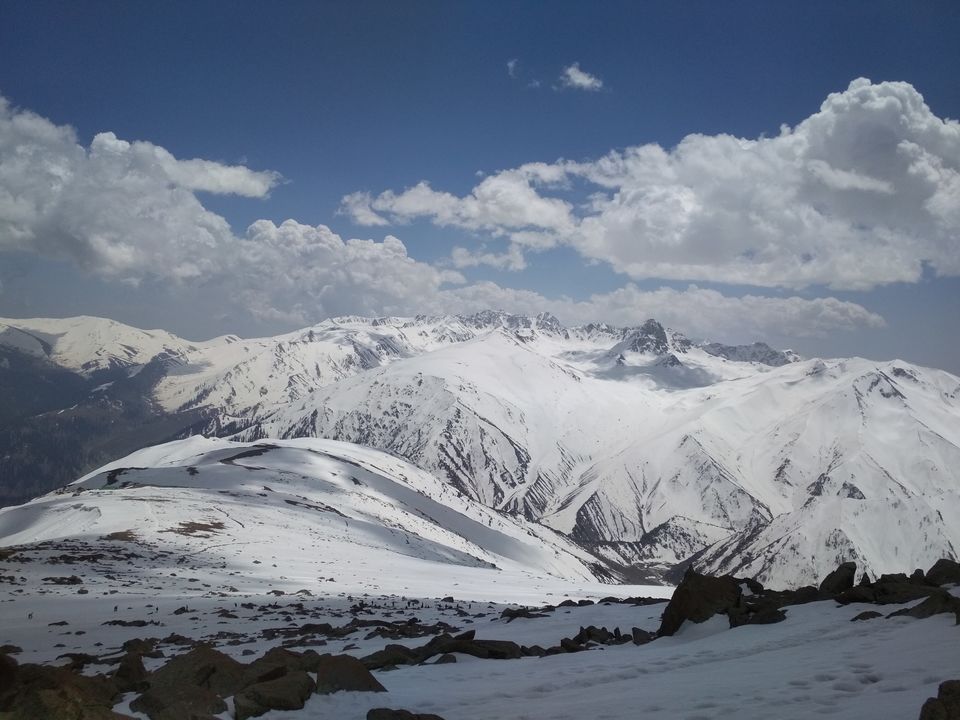 Universally referred as 'heaven on earth', Kashmir valley has got to be on the wish list of every traveler. It's not just the splendid beauty that will leave you enthralled, but the immense warmth of locals will make you want to come back.
Once a go-to place for capturing beautiful shots in almost all romantic bollywood songs, Kashmir valley has now become synonymous with turmoil and uncertainty affecting tourism to a large extent. We too were contemplating a visit to this gorgeous place since long, but kept procrastinating our plans. After much deliberation and discussion, we decided it was time to hatch our plan on one fine day and we are glad we did it.
On landing at Srinagar airport, anyone would be tempted to capture the serene views of Pir Panjal range draped in white on one side of the tarmac, but do keep in mind that photography is prohibited as it is a defense airport. After locating our cab driver/tour guide for the next eight days, we proceeded for our onward journey without knowing that it would eventually become 'once in a lifetime' kind of a trip for us.
Our broad itinerary:
• Day 1 – Transfer from the airport to Gulmarg (approx. 2-3 hours) and Gandola Ride & local sightseeing in Gulmarg
• Day 2 – Gulmarg to Sonamarg (approx. 3-4 hours) and visit to Thajiwas Glacier in Sonamarg
• Day 3 – Visit to Zero Point (officially located in Ladakh region) and travel back to Srinagar (approx. 2-3 hours) for a night stay in houseboat on famous Dal Lake (this can be skipped as the lake is not very clean)
• Day 4 – Transfer to Pahalgam (approx. 3-4 hours) and visit to Baisaran
• Day 5 – Local sightseeing in Pahalgam (Aru Valley, Chandanwari and Betab Valley – Aru Valley is the best sight)
• Day 6 – Transfer to Srinagar via Yusmarg. Yusmarg is an upcoming destination on similar lines of Gulmarg. (approx. 6-7 hours in total)
• Day 7 – Local sightseeing in Srinagar
• Day 8 – Departure Back Home
Pro tips to make your trip hassle free and unforgettable:
• Safety must be paramount for all tourists hence please listen to the tour operators/drivers and do not venture out to places that they may not be comfortable recommending.
• Be alert of your surrounding at all times.
• Be ready to modify your itinerary. We also had to make alterations on real-time basis even though we wanted to visit to certain places such as Martand, Achbal, Verinag and Awantipora ruins due to security reasons.
• Make bookings through trusted options only.
• Prepaid mobile connections from outside J&K do not work in the region.
• Internet networks can shut down at any moment, so please carry sufficient cash with you.
• Beware of tipping culture, bargains, and commercialization as the people are highly dependent on seasonal tourism.
• You will need to hire local transportation at each of the sight- (Gulmarg, Sonmarg and Pahalgam) as union governance is pretty strong.
• Remember to carry valid Photo ID Cards of all travelling members.
• Plan to reach Airport well before your scheduled departure time as several levels of checks are carried for security reasons.
Although the place does carry an element of uncertainty, keeping the above points in mind will help you have a safe and an enjoyable time. I left the place believing that Kashmir is really blessed in terms of landscapes being utmost symmetrical and eye-pleasing. Rest as they say, 'Visit it to believe it and get lost in it'.