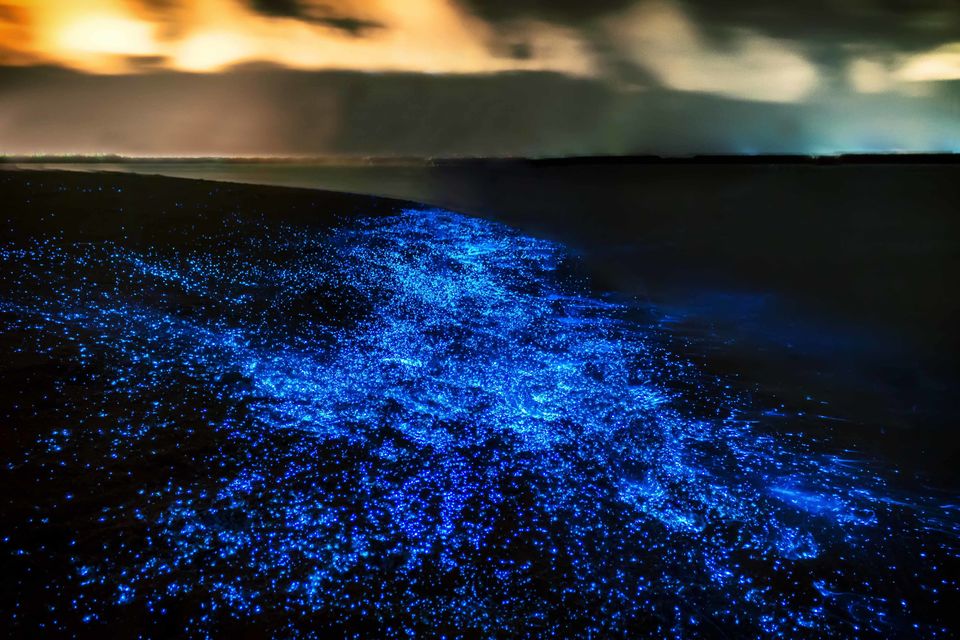 Coldplay's "Sky Full Of Stars" played in my head and I wondered if my favourite band would ever come up with a water-centric version of the song as I was immersed in deep dark waters, enveloped with looming limestone caves and what looked like a hundred tiny stars within the water bed. But I'll get to that soon enough.
Between 2018 to 2019, I have been to Thailand 4 times. In fact, early 2020 would have been my fifth visit and yes, before you ask, I was still excited! The one question that is posed again and again is how do you revisit a place so many times and not get bored of it? It only makes me smile. From a family visit to a bachelorette, to leading two groups of strangers to the country so many call my second home, each experience had been similar and still so distinct from one another. Think of your favourite book, the absolute favourite one. You would have read it a couple of times and would still on some days find the urge to read it yet again. Sometimes, you would be reading it again after ages and you would come across a detail that had slipped from your mind, painting a new chapter of the tale in your head and sometimes, its sheer familiarity would have you running the next scene in your mind already but you still flip the pages excitedly to read it and relive it once more. Travelling to one of your favourite destinations is akin to that.
An Island With No Motor Vehicles - Ko Phi Phi Don
Although, the Southeast Asian nation has been known for its thumping nightlife doused in neon paints and ahem, some (for lack of a better word) transgressions, there's a lot beyond the vibrant social scenes if you're looking for that sort of an experience. Koh Phi Phi Don is a tiny island with an approximate area of 9.73 sq. km., adorned by softly cascading water that resembles a bed of flowers, starting from hydrangeas which would merge into pansies, baby blue dipping into the darker hues. Phi Phi is incredibly popular but I don't think that should takeaway from just how charming it is. The best thing about this gem is that no motor vehicles are allowed here! Yes, get prepared to walk around everywhere. For someone who loves taking long lazy strolls this is a treat, I mean, what better way could there to be to get acquainted with a place.
Walk amidst the colourful narrow market lanes, let the music floating out from a number of cafes whisper its lyrics into your ears and catch a glimpse of the blue beyond each shack. After spending a couple of days here, you start to recognize some faces, passers by smiling at each other and saying "Swadika" in full enthusiasm. There's a sweet old lady who sells the most delicious coconut ice cream in a bright yellow shop. One night we'd been busy dancing at the beach, however, one person mentioned coconut ice cream and we all went dashing to that shop, hoping like hell that it wouldn't be closed by the time we reached. Turns out she had just shut down but she saw 7-8 of us groaning, opened up and served us ice cream with an extra scoop of happiness at 2am on a summer breeze scented night.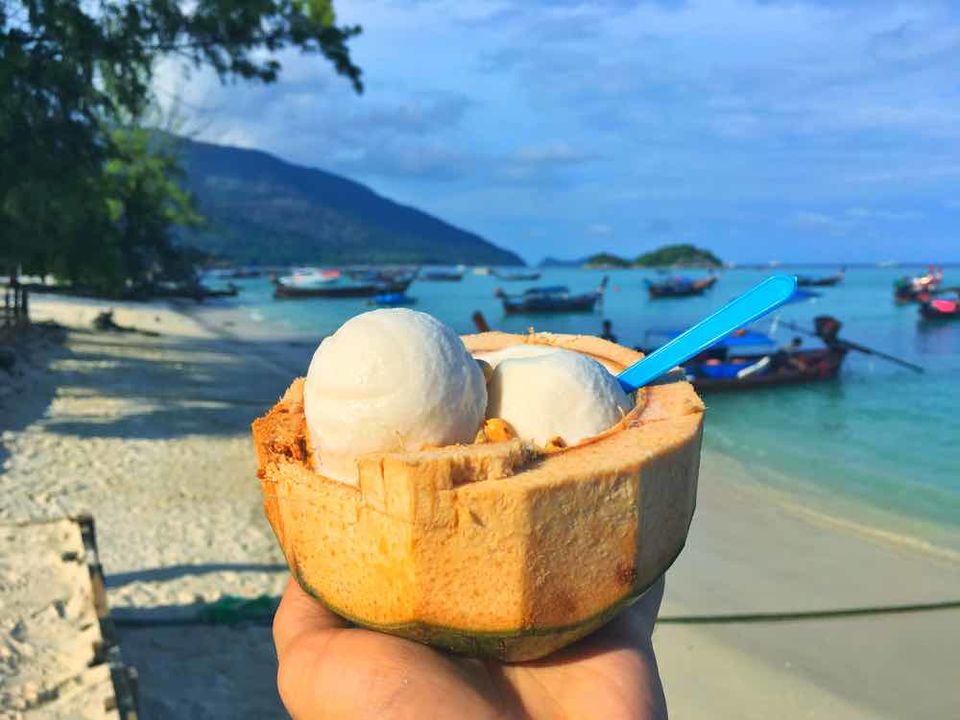 It Takes A Lot Of Deep Breaths And A Lot Of Heart To Swim The Distance!
Leonardo DiCaprio's hit from the year 2000, "The Beach" is credited for being the island's claim to fame as it was shot at Maya Bay within Phi Phi's archipelago. Actually, the initial credit later transformed into blame as throngs of tourists brought about severe ecological damage to the picturesque place. The Thai government had closed Maya Bay for tourists and now it can only be seen from afar as you sit on your boat. Close by is another tiny island where again there is a restriction that prohibits the boats from docking. Don't worry, I'm coming to the silver lining! Your traditional long-tail boat may not be allowed to go there, but you are. Who's up for swimming a stretch of approximately 1.3 – 1.5 kms? Haha, don't be tired before you do it. I'm sure you were a Complan boy or girl! Channel Chak De India's pep talk or even Bob the Builder's "Haan, kar hi lenge" if that works for you and just jump! The cold water will awaken each of your senses as you swim ahead with the sounds of the waves. Once you reach, a cluster of mangroves will greet you but the added joy is in the thrill of making it there and enjoying it with the absence of crowds.
There really is something about adventure that adds a whole other layer to any experience. Thailand offers one too many adventurers be it scuba diving, snorkeling or other water sports. One time we even managed to convince a boat driver to let us drive! As someone who can neither drive a car nor a scooter, this was an awful amount of trust placed in my hands but screaming and giggling simultaneously, I merrily maneuvered the wheel and can proudly say that everyone walked away safely!
A Sea Full Of Stars - Snorkeling For The Bioluminescent Plankton
The list of activities may know no limits but the one I'd absolutely urge every individual to try is night snorkeling for glowing fish. Bioluminescent phytoplanktons gained ground in travel circles as the natural phenomenon came to be spotted more frequently overtime. It is still spotted only in a handful of locations but presently there are travelers who seek these out and specifically plan adventures around them. One April afternoon in Phi Phi, we'd been lounging around thinking of many things to do when the sudden idea of night snorkeling popped up. It was almost lunchtime and the last of the tours were about to get over, so, we went racing down the tiled streets in our flip flops. We made it just in time and soon our group of a dozen people left to spend a day at the pristine beach of Bamboo Island, swimming in open waters along with fishes and catching that quintessential Phi Phi sunset.
The sunsets are sheer poetry painting the limitless sky, as if a basket of mangoes is decorated with specs of marigolds and on top of that basket is a pink scarf tucking it all in together, wrapped into a gift of a view for me and you. That Phi Phi sunset sky is a thing of beauty no matter where you catch it from, the view point that you have to trek up to, the beach where you perch yourself on the soft sands to see it unfolding above the waters or as we did, that summer evening, from a wooden boat with the water around us for a full 360 degrees and every droplet of that water was kissed by that sky.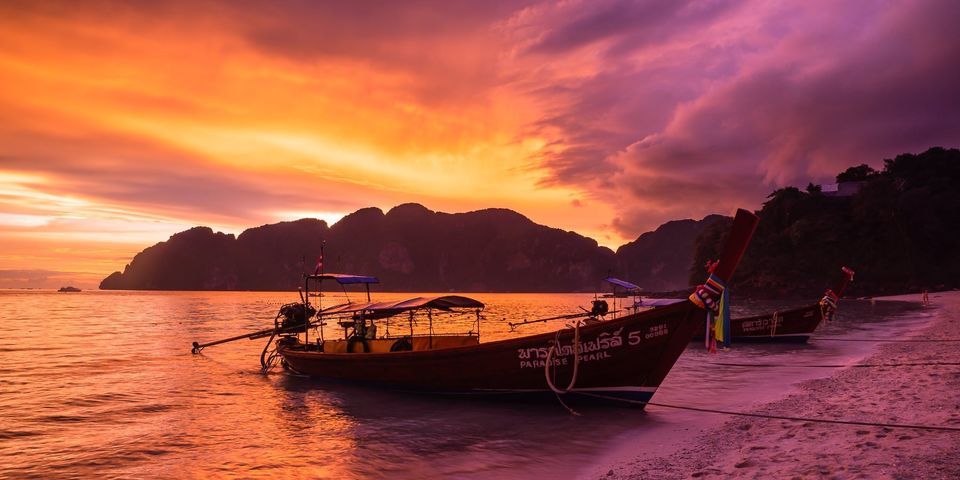 After soaking in both, the water and the sunset, we were headed for the highlight of that day, bioluminescence! It is the emission and production of a light by a marine organism, the resulting light creating a glowing effect. The first time I witnessed this was purely by chance in Maldives when I happened to have Lady Luck grinning at me, letting me gaze at them for nearly an hour. However, this day in Phi Phi I had set out to be united with that sight once again, only this time I wanted to swim in the same waters as them. When we reached the snorkeling site it was post sundown, it was pitch dark and to ensure the experience was as visually pleasing as could be there was no light there except for whatever little light may be shed from your own boat. The trademark limestone caves of the tropical country were towering over the dark waters.
If it's pitch dark and you can't see the depth of the water from the boat, will you still jump in?
A number of people were skeptical about getting in the water at this hour amidst the shadows but the promise of phytoplanktons was too exciting to be missed. As I dipped into the water, the boat driver with his broken English relied more on his gestures to signal that I move in the water, even as he gave me a reassuring smile. It really wasn't daunting but simply adding to the adrenaline because I had waited for this for so long. The first instance of ducking the head inside only let me see all blackness below and then came a simple gesture or just a little bit of that splashing which we all enjoy. The smallest gesture made a patch or two light up, so, I moved more and it looked as if the starlit skies of our very own Himachal were somehow residing within the folds of the waters atop the coral reefs!
Everyone got into the water and was swimming further and further, each movement sending a ripple of lights for as far as we could see. Imagine fireflies on your arms and your legs and your every movement causing them to come hug you. It was the hug that I had anticipated and sought for so long and experiencing it was as immensely beautiful as I had dreamed. Now could someone explain this to Coldplay, please?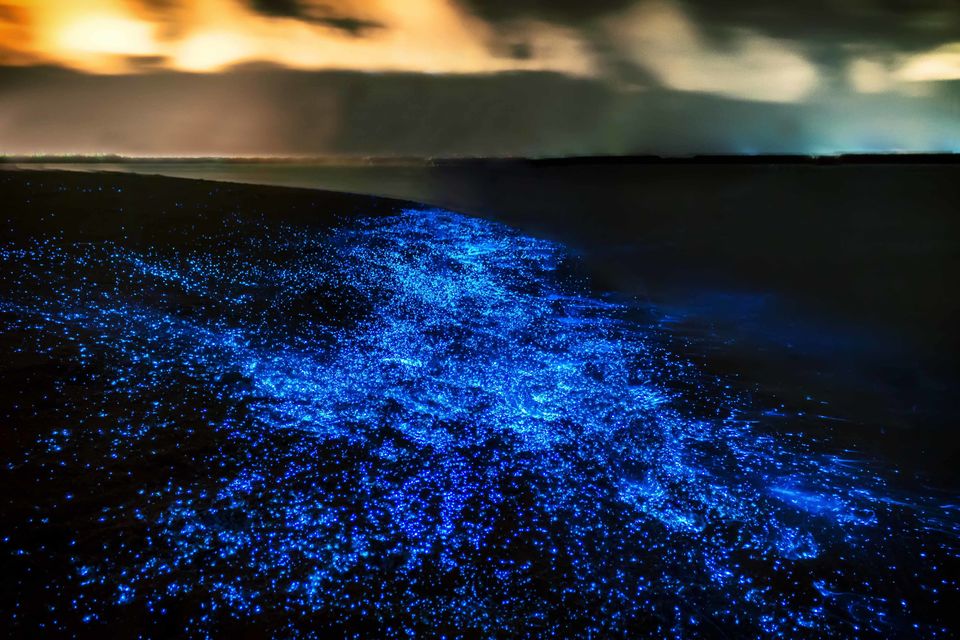 So, tell me, wouldn't you go back too?
This is but one memory from Thailand amidst a series of others. It is just another country standing in front of some travelers asking them to see it properly! Beyond the stereotypes and assumptions, there lay in the land the most scenic of sunsets, views that have stepped out from postcards, the most hospitable of hosts and mysterious to magical marine life to explore. For no matter how many times you open your favourite book, you will find yourself smitten by something new or be left feeling warm as one does with an old comfortably happy love. Just the same for a destination, so, tell me which has been your longest love in all the places you've traveled to?
The author is a Trip Leader and Writer for a travel company called On His Own Trip as well as a freelance writer for multiple other platforms.
This article was first posted on onhisowntrip.com