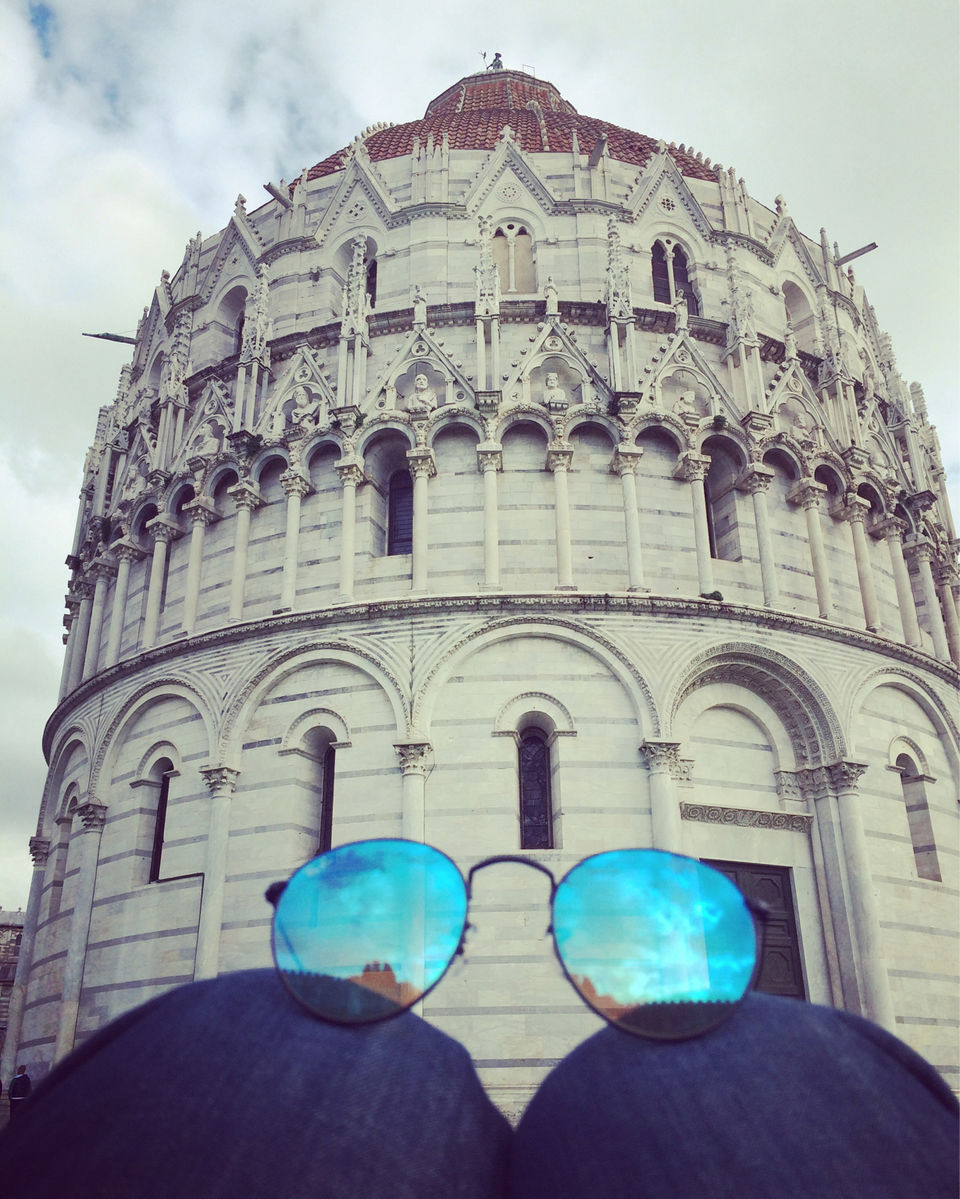 Travel has always been an adventure in my case and this first solo trip to Europe was no exception.I have always traveled with friends or groups till this last trip and whenever i used to look at solo travelers,i used wonder how on earth they travel alone?I was always of a mentality that i am going to get super bored if i travel alone.However when you are in a professional life most of the times it becomes difficult to plan your holidays with friends as timings,leaves don't match and plans keep on getting postponed.When your Europe plan get cancelled twice because of some reason or the other ,trust me it was soo frustrating that i chose to do a thing which i never imagined i would do in my life and that is to travel solo. So here is the story of my journey to Barcelona and Rome.
Barcelona-
I had booked my flight from Dubai to Barcelona which was via Prague with long layover of 8-9 hrs (As this was a Cheapest Flight on skyscanner) .This adventurous trip started when i reached Barcelona airport and after staring at that conveyor belt for about 45 mins i realized that my bag ain't coming and its yet another case of low cost airlines losing my bag.In such situation one of the most irritating part is that you will always find that one bag on conveyor belt which is continuously revolving around the belt without anyone picking it up and your bag is just not arriving.However having traveled to Europe in the past and knowing that such things are common i was actually somewhat prepared with all my essential documents,warm cloths in my cabin bag.Here are few tips if you are flying with low cost airlines within Europe.
Tip-1-Never keep your essentials (Cash ,Cards,etc) in Check in bags
Make sure you don't keep any essentials in your check in bags while flying with low cost airlines across Europe. Split the cash if you want to in your wallets and cabin bags while flying.
Tip-2-Ensure your Cabin bag Size is as specified.
One of most common mistake we do is we don't check the specified sizes of cabin bags while travelling.Some airlines are extremely strict in implementing this and if its of bigger size than specified then they will surely put a hole in your pocket by charging you.
Tip 3-File a report for lost baggage immediately.
Do not Panic at all if your bag gets lost,as there is nothing you can do about that now so just relax and file a complaint at the airline desk.This is like routine for them as there were at least 10 people with me to report the similar incident.Make sure you tell them your hostel/hotel address in each city which you intend to travel in your Europe Trip as even the people at the help desk will be clueless at the point of reporting the incident.
Tip-4-Shopppp !!
Take a deep Breath,Relax and Go shop for essential items you need and make sure you keep all the bills with you.The airlines are entitled to pay you for the damages.E.g-Even if your bag is returned to you after a week,you can claim the money spent on essential items such as daily use products,Warm cloths,etc(So basically whatever you can defend in your claim form).However this would required a follow up with airlines.Reimbursement will be issued to you after airlines analyses your claim form.
So even though i had lost my bag,I was least worried about it.There are many options available to take you near accommodation.The best option is the Airbus which has excellent frequency and would cost you around 6 Euros and will drop you near Plaza catalunya. I had booked my Hostel near La rambla which is most happening area in Barcelona.This area has plenty of options to chose from when it comes to hostels.Barcelona is extremely well connected by metro and buses and you will not struggle at all.Take a 3 day pass or 10 trip pass for metro and you are sorted.
Things To Do-
1.Camp Nou-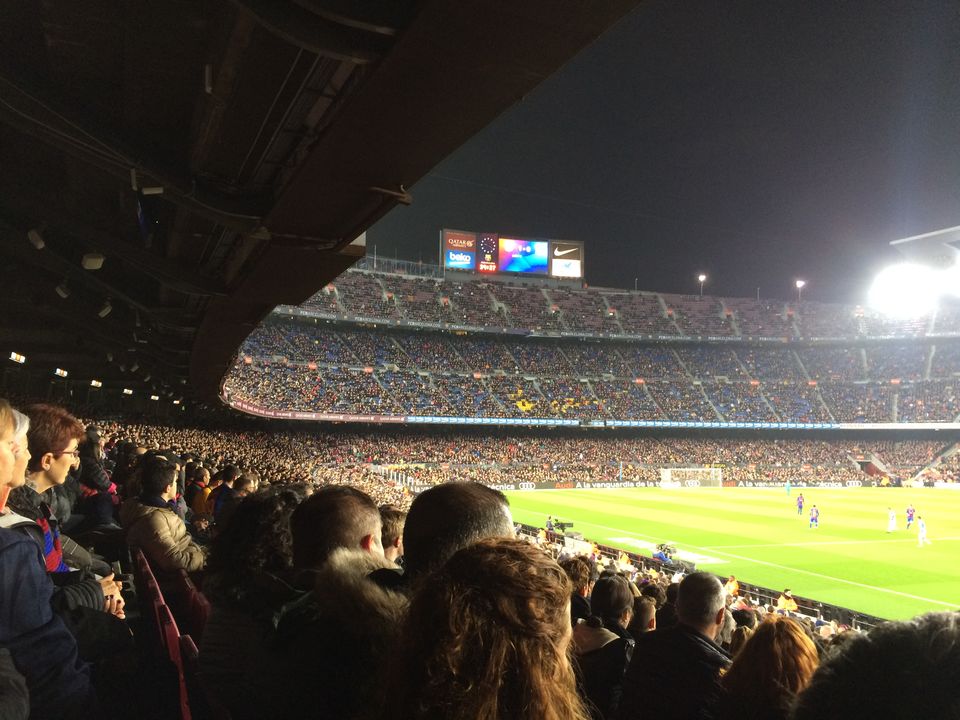 One the main objective for coming to Barcelona to watch a game of football at Camp nou. The stadium is one of the biggest in the world with over 97k capacity.Looking at the facilities out here i honestly felt that Indian football is atleast 50 years behind European football.The match was against the mid table team and yet it was filled with over 40k people screaming and passionately supporting their club.Witnessing the game with hardcore Barcelona in that electrifying atmosphere is something i will cherish for rest of life.The love with which they get involve in the game is amazing.For me it was more about watching world class players like Messi,Suarez,Neymar. The team didn't disappoint us and nail biting game finished with Messi scoring the late winning goal.That was great way to kick start my Barcelona trip.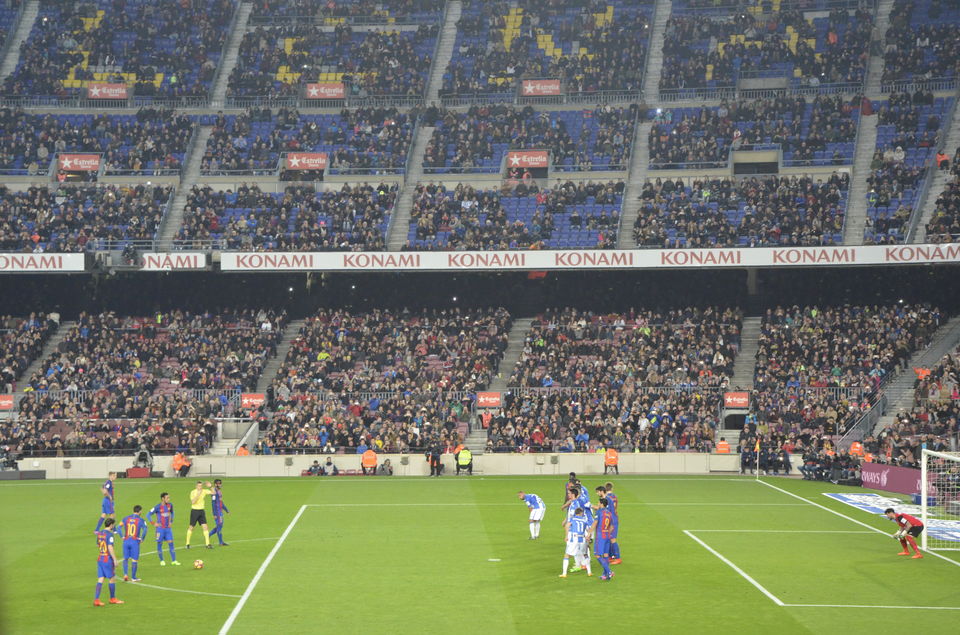 Cost for Match- Ticket prices vary greatly based on stands,opposition team.
Camp Nou Tour-25 Euros (No tour on match day)
2.Gothic Quarter
Gothic Quarter is feast for people interested in Architecture,History,etc.One of the oldest areas of the city takes you back in time in this modern city.Most of the hostels in the area will offer you the free tour of Gothic quarter which is often lead by someone who is studying political science,arts,history,architecture and its always good to see Gothic Quarter through their eyes.Although once the tour is finished they do ask you for money if you like their tour ,but obviously its all in good faith.You will find finest restaurants of Barcelona in this place.Some of the restaurants are so old that they still have century old concept in which you reach the dining hall only after passing their Kitchen first.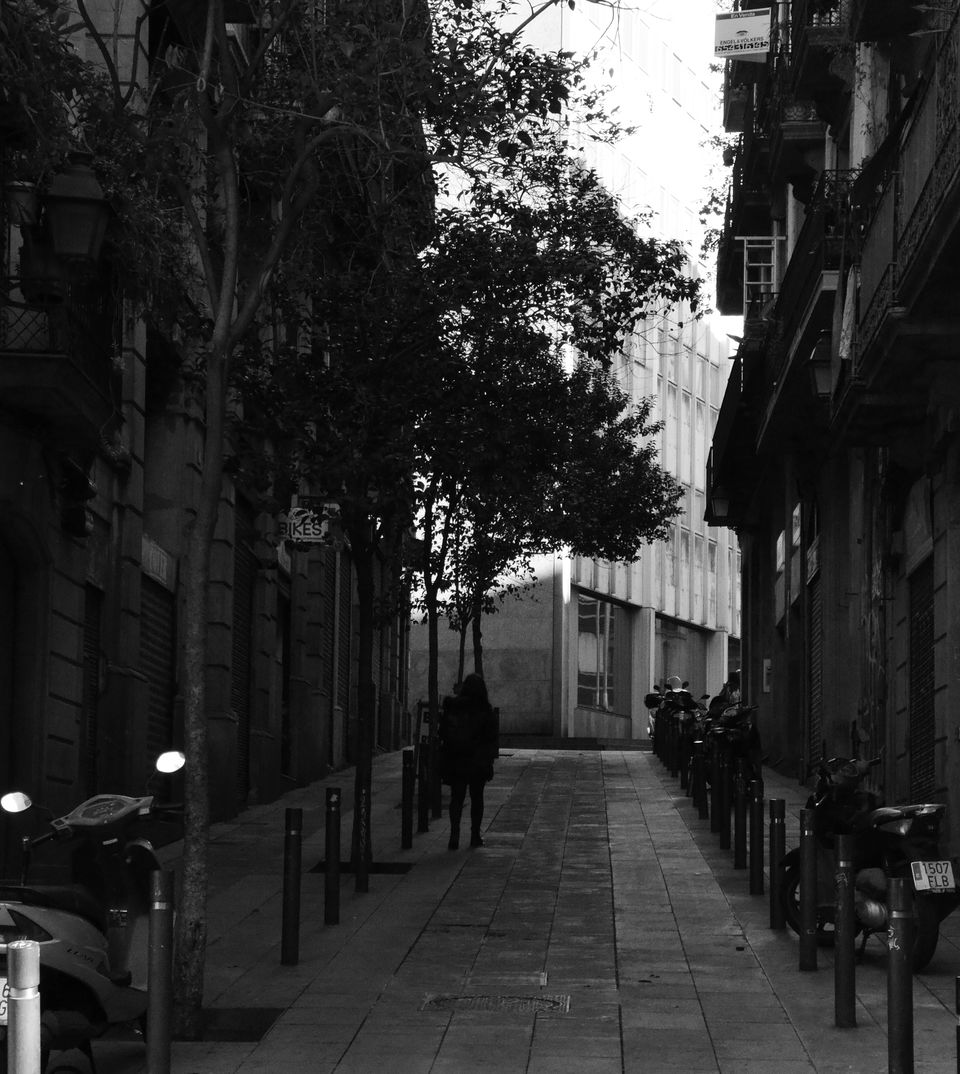 To know the culture of any city you have to visit the oldest areas of those city.Gothic Quarter will provide you more than a glimpse of Catalan Culture.Walking on those narrow streets listening to crazy stories of that guide was some experience.
Cost-Free
3.Sagrada Familia-
The construction of this church has been going on since 1882 and is yet to be completed.This is one of the iconic project of Antoni Gaudi (famous architect Who has designed many breathtaking structures in Barecelona).The Facade,Interiors of the church will definitely leave you in an awe.Extremely well maintained even with soo much of tourist visiting everyday.One of the best churches i have seen till date.Its advisable to book tickets online for this place as you don't want to waste the time in the queue .Also make sure you are entering on the time slot provided to you .The Park next to Sagrada Familia will definitely offer you great view of the church and maybe a great profile Picture as well..:)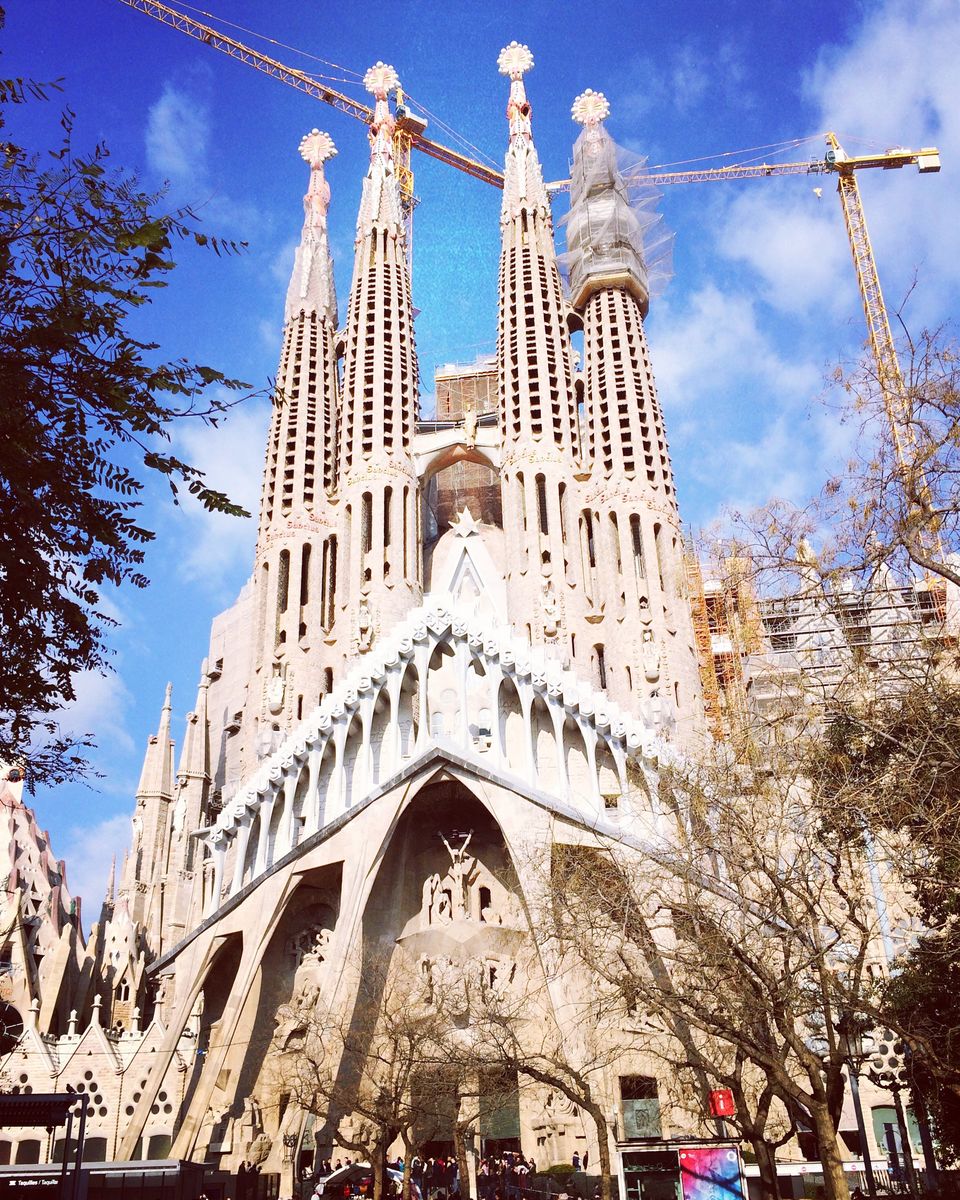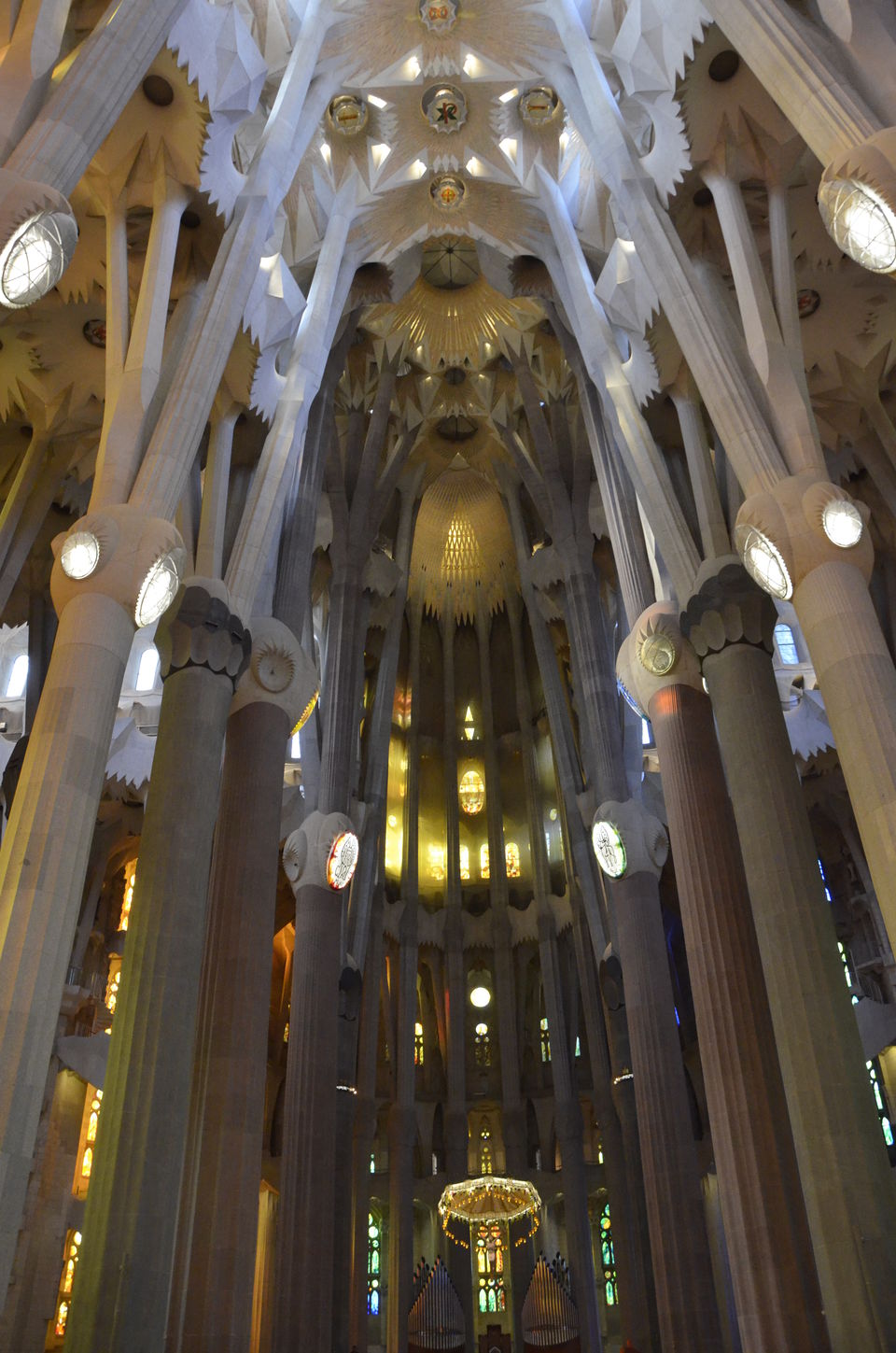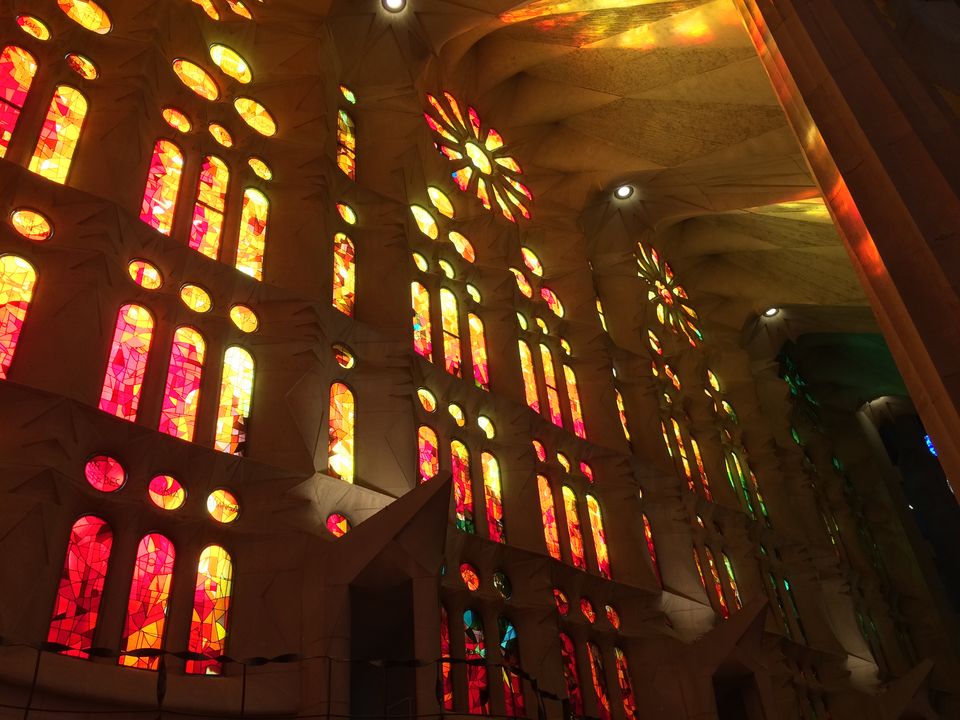 Cost-15-20 Euros
4.Casa Mila-
This is yet another marvel of Antoni Gaudi which was originally designed for one of the wealthiest families in Barcelona.Its better to book the ticket of Casa mila in advance if you are short on time or on a tight schedule.The place offers the Audio tour in different languages.The place is still operational ,however portion of the building is being used for museum purpose which is open for travelers all around the world.The tour starts from roof top offering some great street views from the top.The Place is UNESCO's world heritage site.A must visit place and try to visit during the sunset.The roof looks even more beautiful and colorful.The mosaic on the walls ,chimneys of the roof reflecting the sun rays will glue you to this place.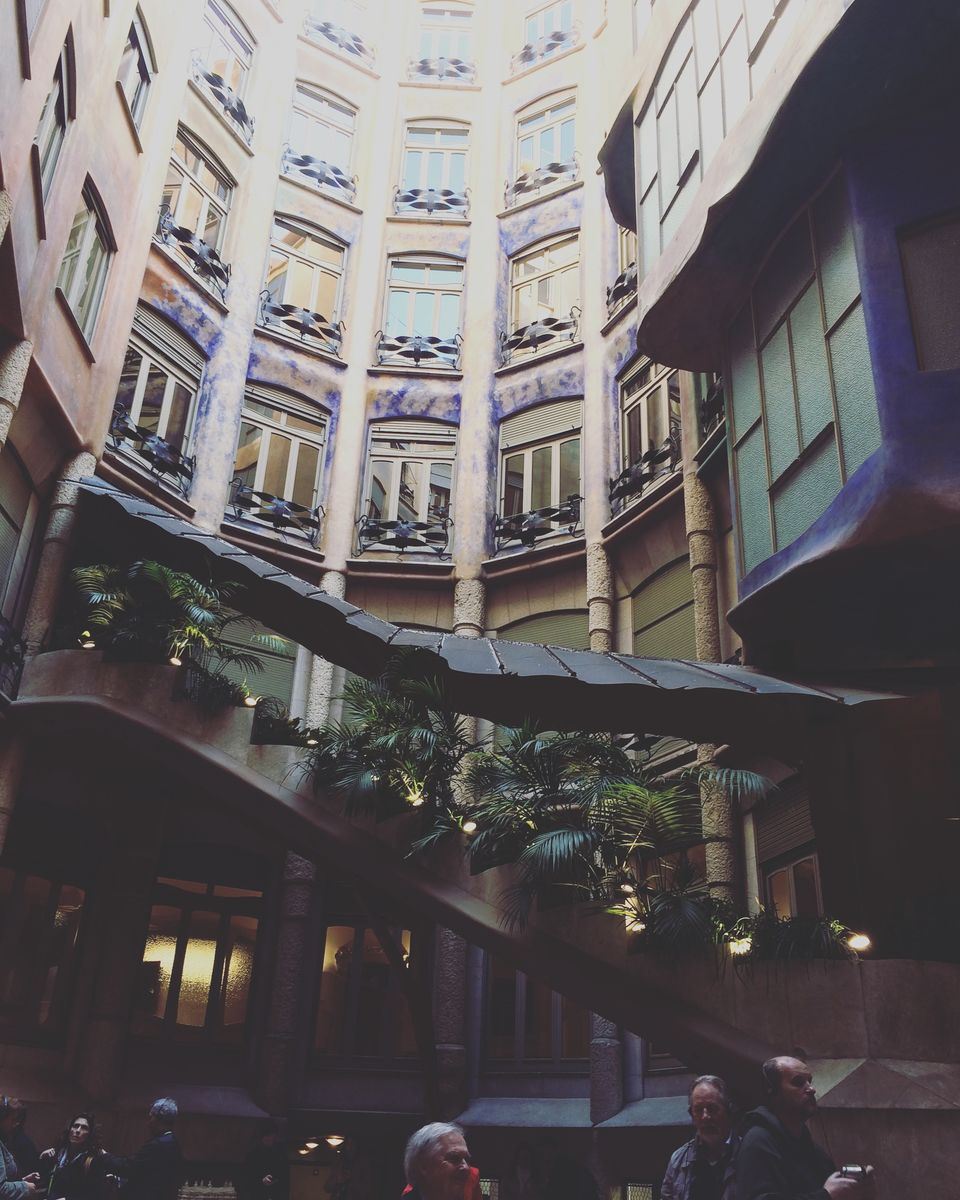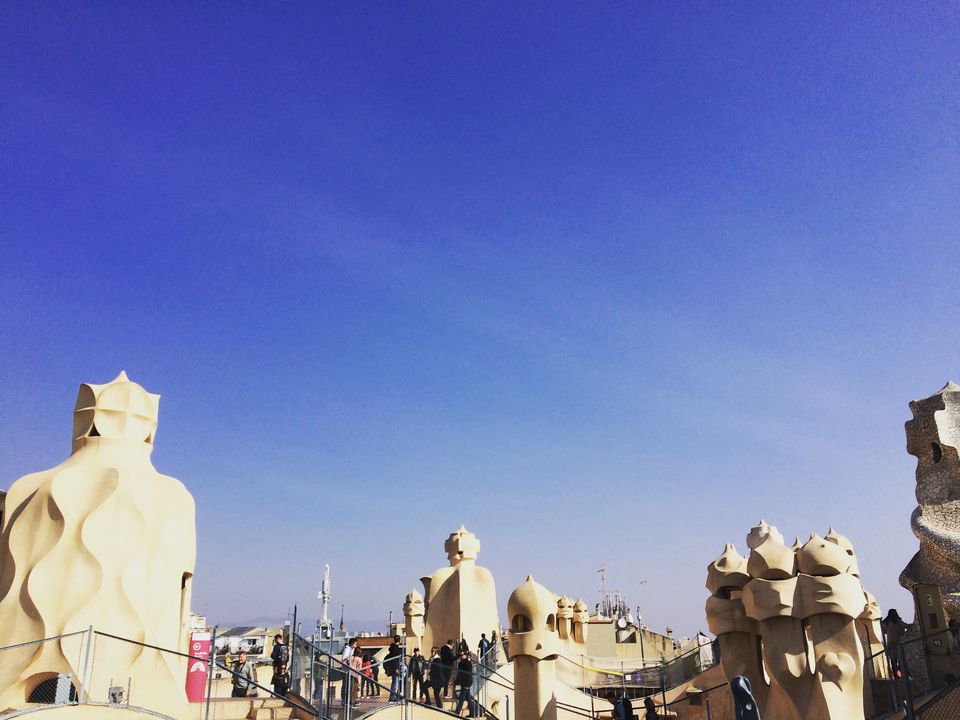 Cost-20 Euros
5.La Rambla-
This place surely tops the chart when it comes to my favorite place in Barca.The place is soo lively,full of energy,with great street food joints,cute looking restaurants,ice cream stalls.Sitting at street side cafe having your coffee/meal with live music playing next to you is soo much peaceful after tiring day.It has many pubs and bars for people who love to drink and party.Make sure you try Paella and Sangria when in spain. Great combination to have.Take a gentle stroll with ice cream in your hand and just walk at La rambla to soak the late night atmosphere.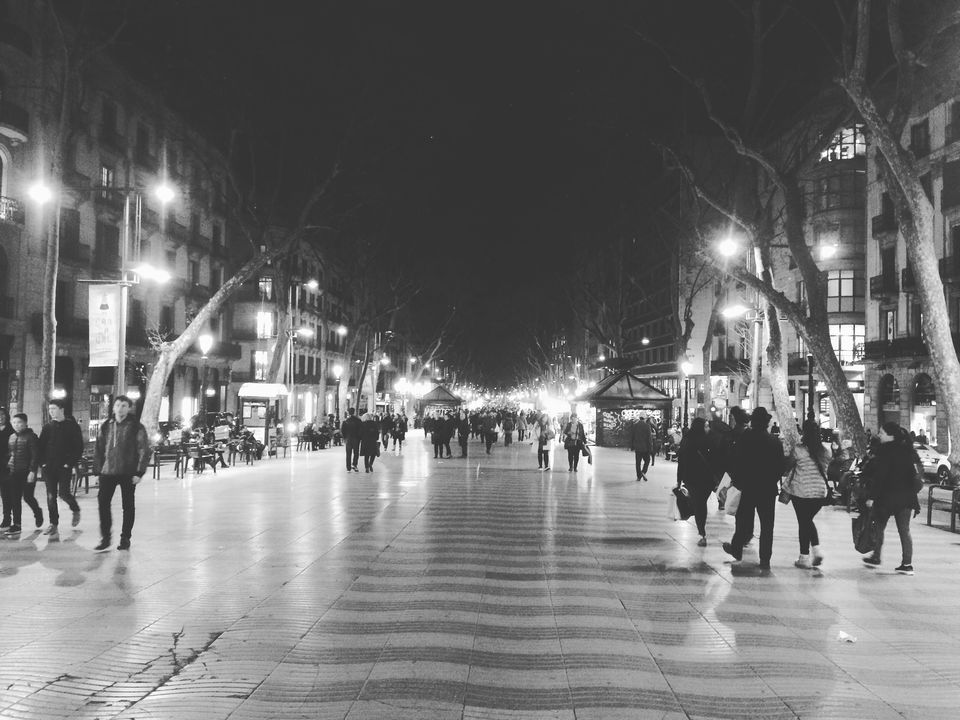 6.Montjuic Castle
The Castle is located at one end of the city overlooking beautiful seashore on its one side and cityscape of Barcelona on the other side.There can either reach the top by cable car if time is constraint or take a hike .Cable car is well connected to Metro station and Metro map as well as City map you get in hostels is self explanatory to reach any place in Barcelona.If your someone who loves to lay down on grass with your music on and staring at sky for no reason this is a place for you and you will be surely at peace here.The place has nominal entry charges.Its good to take a walk while coming down from castle as Cable car runs only till 6-7 pm on most days.You can easily spend half a day here hiking around Montjuic.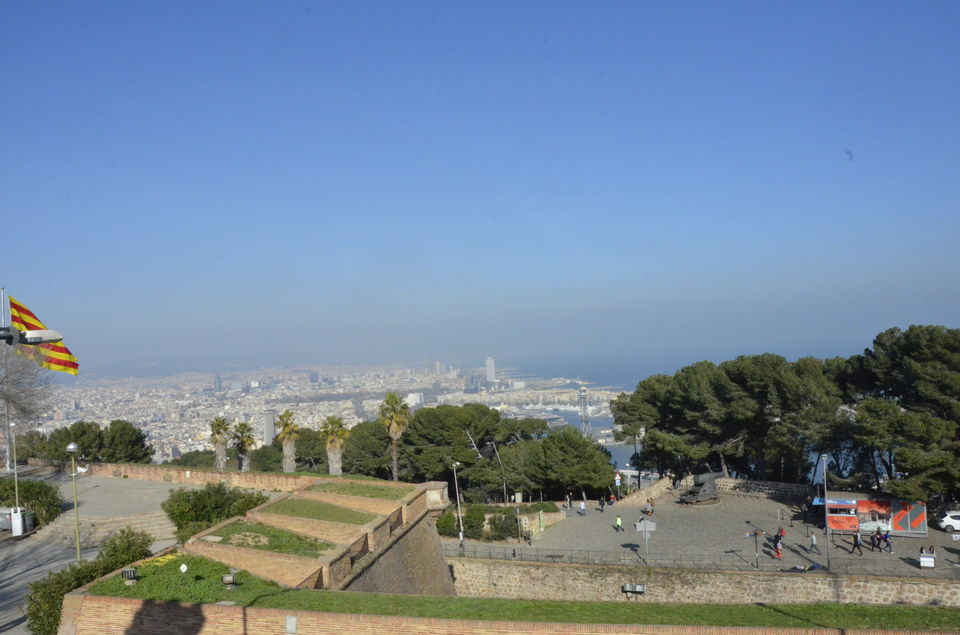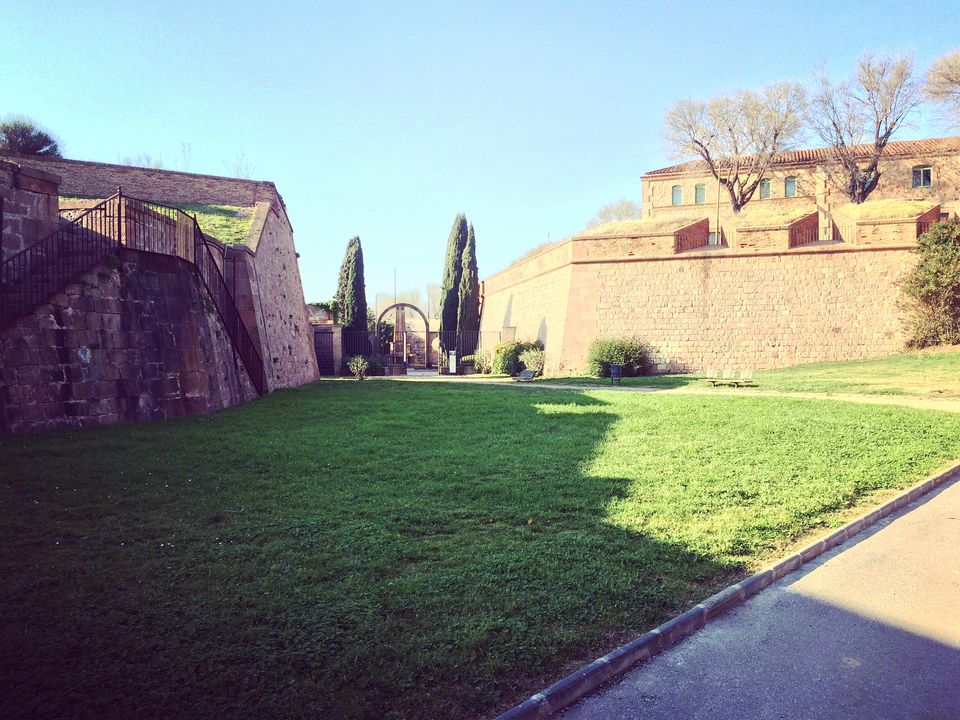 7.Museu Nacional d'Art de Catalunya-
My personal suggestion for you is take a walk down the hill from Montjuic .The road down the hill is very serene and i am sure you will end falling in love with overall vibe of this place.The Museum is located in a building called Palau Nacional and is a an awesome place to visit if you are an art lover.It has one of the largest collection of Artwork in Europe.Located very near to Pl Espanya the place has beautiful fountain which is a must visit especially after sunset.However the place can be skipped if you are short on time or not much interested in Arts.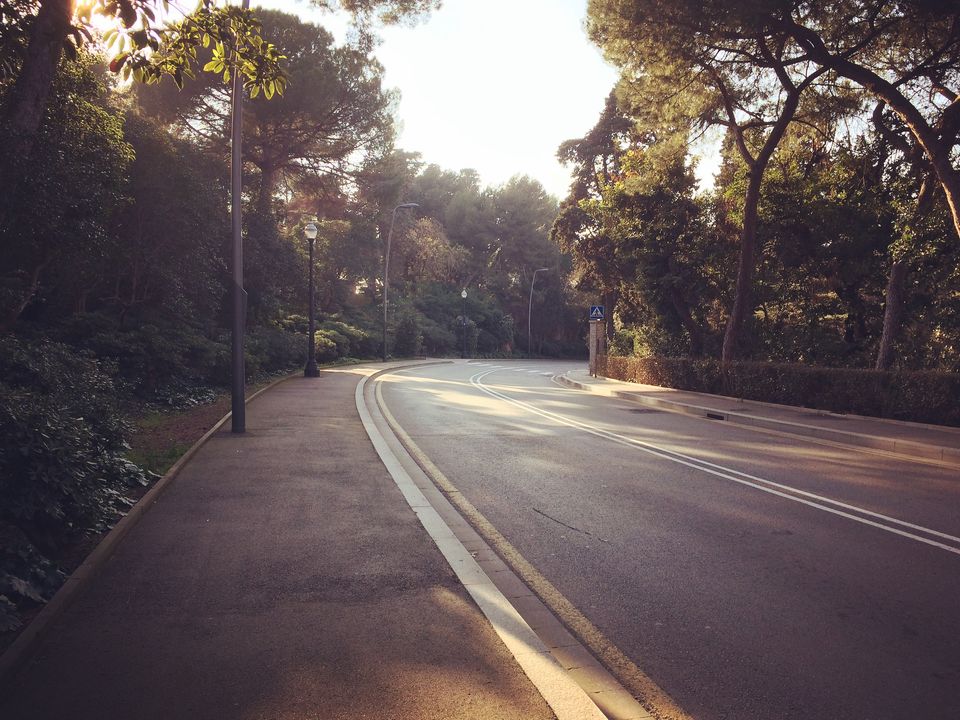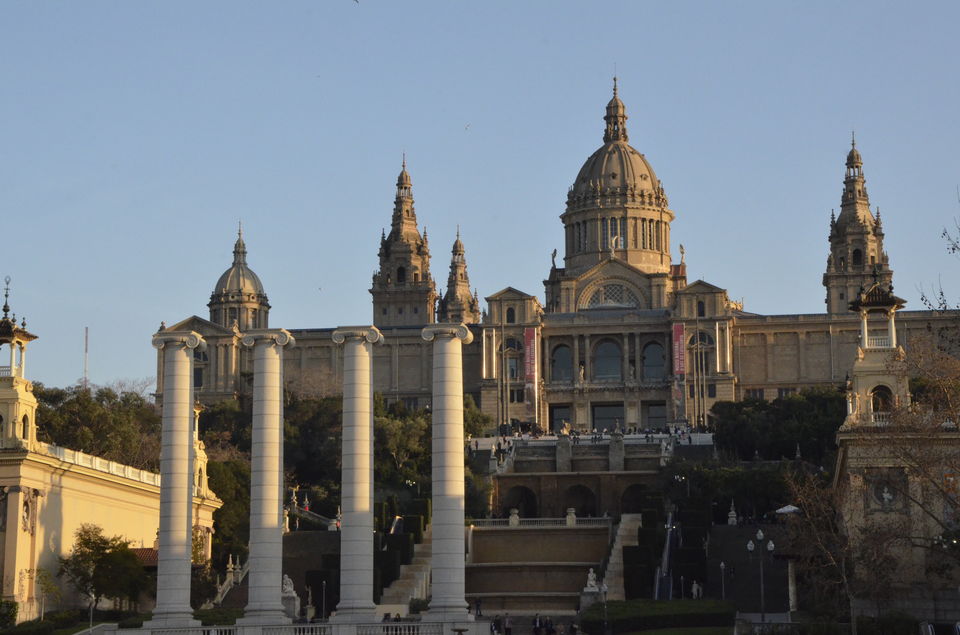 8.Guell Park
This is yet another Gaudi Creation.Situated on the hill in Barcelona,a must visit place.Again make sure you book online to avoid any delays if you are on tight schedule.Park had a free entry before 8 am when i visited.Best time to visit is surely early morning or Sunset time.Apart from the paid park area the hill is surrounded with beautiful gardens,trees and curvy roads taking you down the hill. This is however slightly far from metro station so make sure you ready for small hike up the hill with colorful houses on either side of the road.
Cost - 7 Euros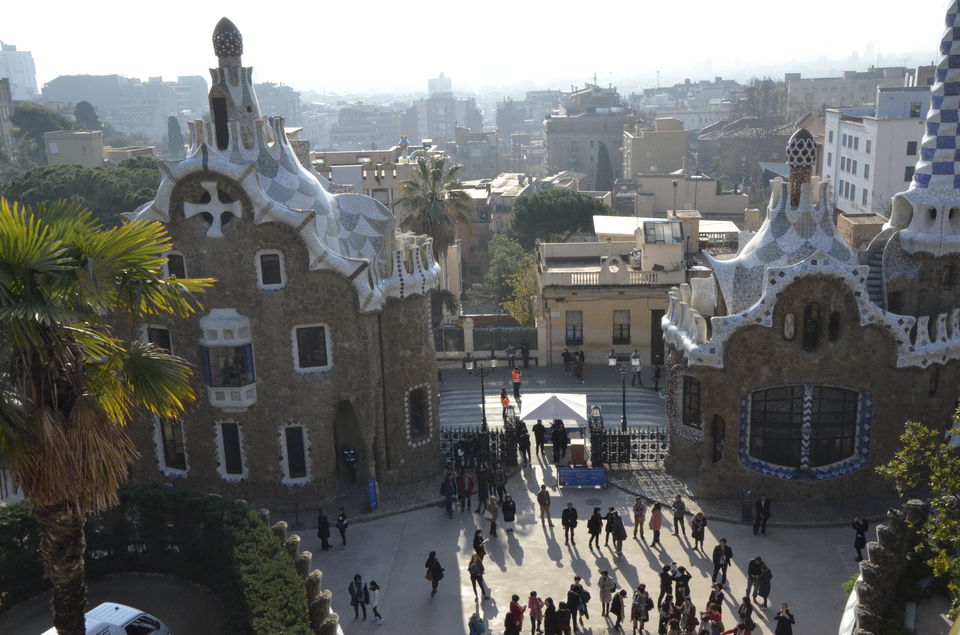 Other attractions-
Barcelona has a lot to offer that you can't cover the city in 3 and half days.There are many mountains surrounding the Barcelona city such as Tibidabo,Monteserrat which offers excellent view ,however can take more than half a day of your travel.The Barcelona Beach is a perfect place to relax.The Place is extremely lively and perfect spot for party at night.There many tours which you do with locals and see the Barcelona through their eyes.You can find many such tours online on a website such as www.trip4real.com .The hostels also offers various tours and activities that will keep you occupied and its a perfect way to bond and share your travel stories with Travelers from around the world.Listening to a story of a american guy who started his travel from Australia 6 months back and covering around 30 countries till then was certainly an inspiration for a someone who was on his first solo trip before i wrap up my stay in Barcelona.
Honestly i fell in love with this city so much that i actually forgot that i had lost one of my bag and was feeling bad that i had to say Goodbye to this beautiful city. As i was checking out from the Hostel to catch my Rome Flight,the help desk received a call from airlines that my bag has arrived at Barcelona airport and i was suddenly elated as if i had found some treasure and felt rich when i finally laid my hands on that bag.
Rome
Have you ever heard that quote-"Rome was not built in a day"
Well you must visit Rome to understand the True meaning of that.The whole city is a history museum.The way they have preserved their culture,art,structures is incredible.Something to learn for all of us as we come from a country which has equally good historical places but look at the way we maintain our monuments and structures.
Once you reach the airport,the cheapest and easiest option to reach the city is the Leonardo express which runs frequently from airport to Roma termini station.
Note-Make sure you validate your train ticket after purchasing.There will be validation machine at the platform and you just have to insert your ticket in it.You may end up paying the fine if your ticket is not validated.
Roma termini is centrally located station with plenty of hostels within 1-2km radius of the station.I had booked an hostel called "The Yellow" which was one of the best in the city. The place is always busy with travelers around the world so make sure you book it well in advance.Rome has excellent metro service and you can take a pass for 72 hours.Also You can buy Roma Pass which covers most of the attractions in the city and is easily available.
Things to Do-
1.Trevi Fountain / Fontana di Trevi
If you ask me my favorite place in these 9 days ,this place tops the chart.Trevi fountain is insanely beautiful and romantic.You will often find someone proposing to their love at this place.The Live music will be playing in the background and crowd cheering for the couple will certainly make the moment for them to remember for lifetime.If you are single like me all you can do is focus on your Gelato ice cream and keep staring at the fountain on a starry night.The place must be visited at night and not at all during the day time.It has a myth that "if you throw 1 coin over your shoulder,one day you will return to Rome and if you throw 2 coins over your shoulder,you will find the love of your life." I never felt like saying Goodbye to this place.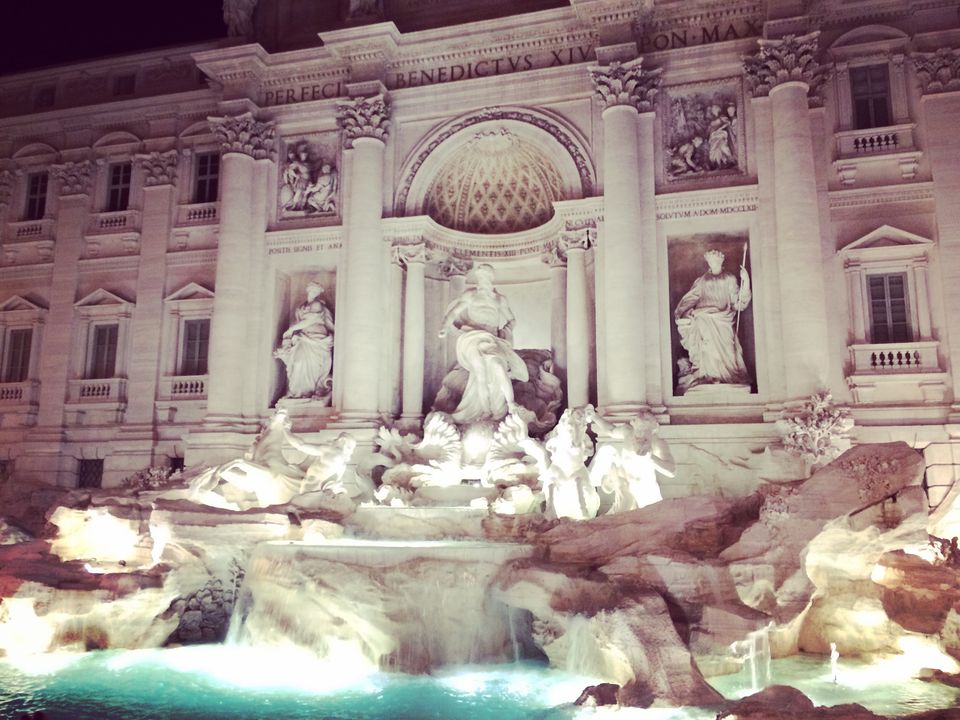 2.Spanish Steps /Piazza di Spagna
Rome is always flooded with tourist and travelers and this place is no exception.If you want to enjoy the atmosphere spanish steps you must visit this place at late night to avoid crowd.It has a church at the top of the steps and has 135 steps.Like i said most of the attractions in the Rome are well connected with metro and same goes for spanish steps as well.They are very near to Trevi fountain and i recommend you to take a walk through those lovely Italian streets as this is best way to explore the city.Once you reach at the top of those steps you will find many small street joints which gives you perfect view of the ity and you can enjoy your cup of coffee with some stranger playing music on that street.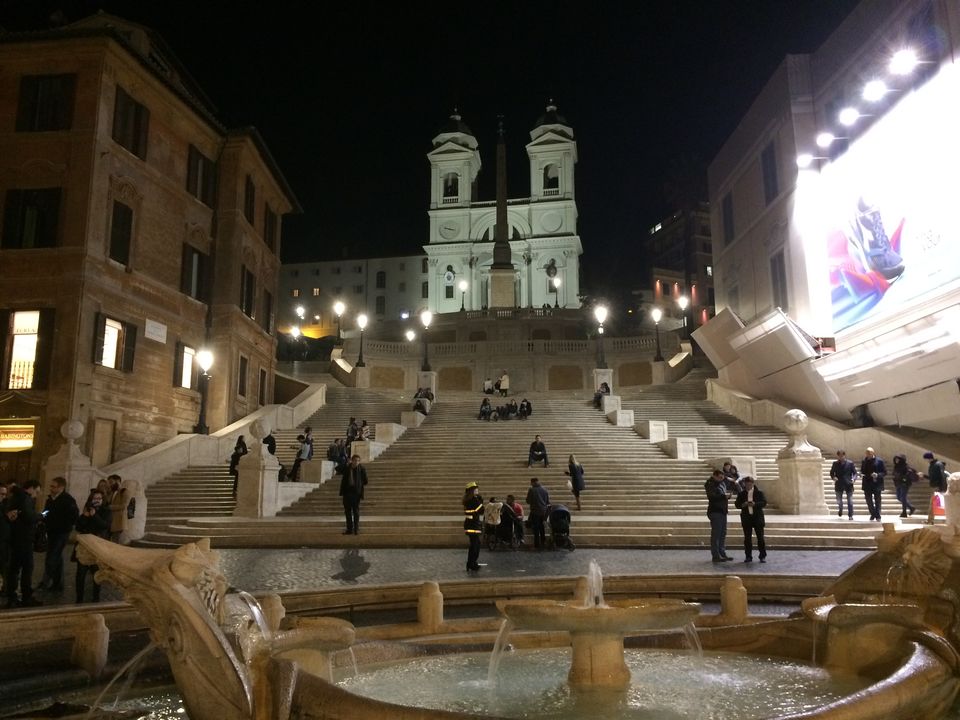 3.Colosseum
Your visit to Rome is incomplete if you don't visit Colosseum.You will find long queue here for tickets so its always advisable to book online and visit the place.In case you have not booked your ticket,then instead of waiting in long queue at Colosseum you can buy the ticket at the palatine hill counter which is on the opposite side of Colosseum .The ticket covers both the places.The size of this place is beyond our imagination.It leaves you speechless and you actually feel very small in front of this place.Masterclass of Roman architecture.If you are a Hans Zimmer fan ,put on your headphones ,close your eyes and listen to Elysium soundtrack from Gladiator.Trust me no better place in the world to listen to that track.Colosseum is usually very crowded so its good to go there early morning as soon as it opens.
4.Palantine Hill and Roman Forum-
Rome is city of seven hills and palatine hill is located right opposite to Colosseum.The forum has the ancient remains of many buildings and temples of roman gods.It used to serve as the venue for the celebratory military processions known as Triumphs.Palatine view offers great view of Roman forum from the top.You can also click some great photos of Colosseum .While visiting both these places make sure you are not carrying big bags as they might not permit you inside with the same.A small bag for your camera,other essential items is totally fine.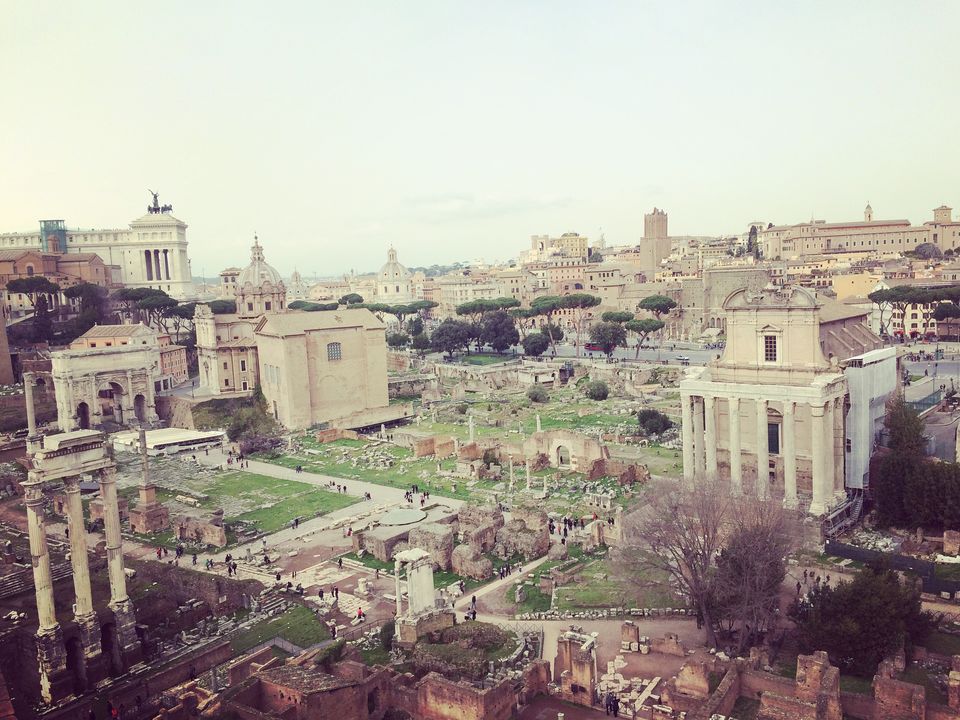 5.Pantheon-
Pantheon is derived from the Ancient Greek culture and means "sacred to a god".This was being used as a temple of roman gods in ancient Rome.The place is now being used as a church and there are no charges for entry inside.The dome of Pantheon is the best part about this structure.The symmetry of the structure is astonishing.There are certain restrictions inside the church regarding the flashing of camera lights so please ensure that you adhere to the rules.The place will not take more than 1 hour unless you want to spend more time praying inside.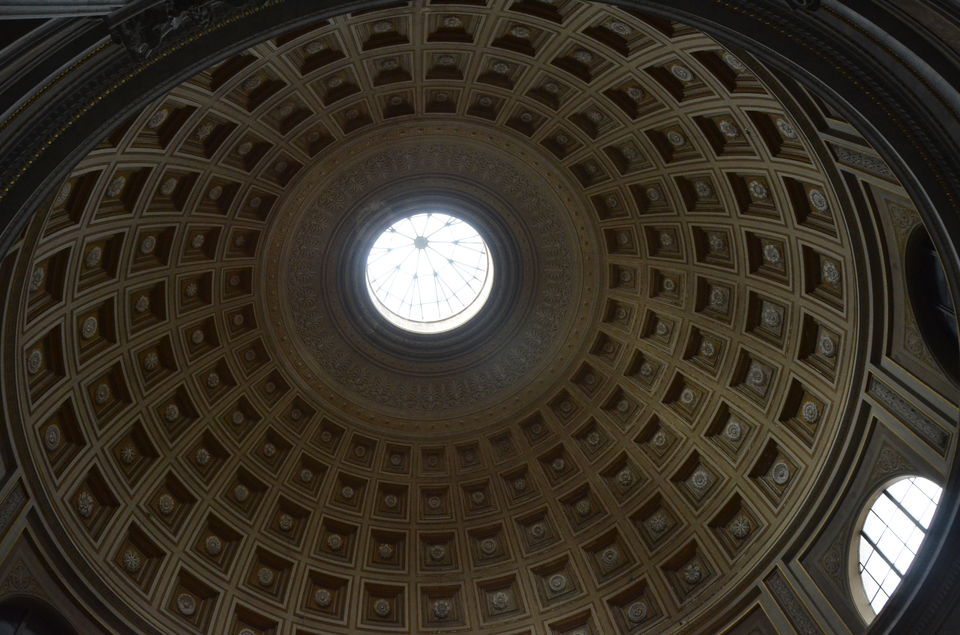 6.Vatican City-
Smallest country in the world and located right in the heart of of Rome.The holy place is the Home of Pope.To cover entire Vatican city would easily take upto 1 day.The major things to look for are-
1.Sistine chapel and Vatican Museum.
The place was crowded even in winters ,but its worth visiting.Sistine chapel and Vatican museum can be covered under same ticket.Its always good to book your tickets and visit,else it can take upto 2 hours standing in a row to get inside.This is a place where an art lovers can spend a whole day. The place is famous for its painting on the ceilings,walls.The ancient roman artworks are being preserved for ages.You can see some great work of Michelangelo. Sistine chapel it the official residence of the Pope and has strict restriction on photography and make sure you don't take out your camera inside the Sistine chapel building.The guards will immediately warn you against it.The main highlight in Vatican museum for me was the exit (Uschita)staircase .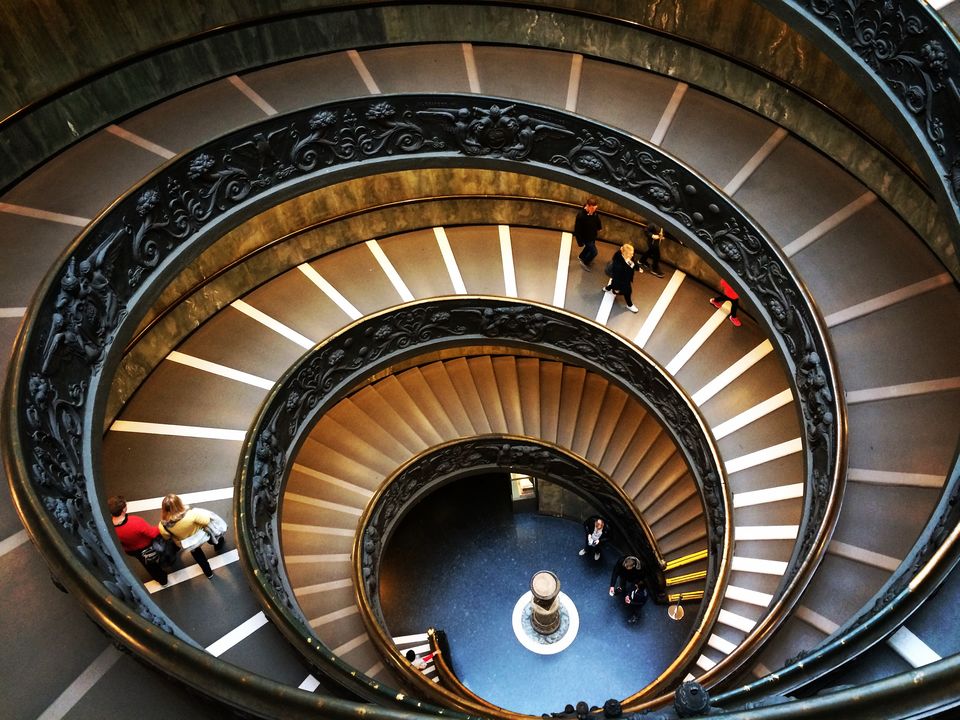 2.St.Peter's Square and Basilica-
Romans loved to build everything humongous and everything looks tiny in front of it.St Peters square is located in front of the basilica and is being visited by thousands of people everyday and can accommodate upto 50 thousand people.Designed principally by Donato Bramante, Michelangelo, Carlo Maderno and Gian Lorenzo Bernini, St. Peter's is one of the largest churches in the world.It is regarded as one of the holiest Catholic shrines. Catholic tradition holds that the Basilica is the burial site of Saint Peter, who was the first Pope. The beauty of this Basilica can't be described in words.
St. Peter's is famous as a place of pilgrimage functions. It is one of the four churches in the world that hold the rank of Major Basilica, all four of which are in Rome.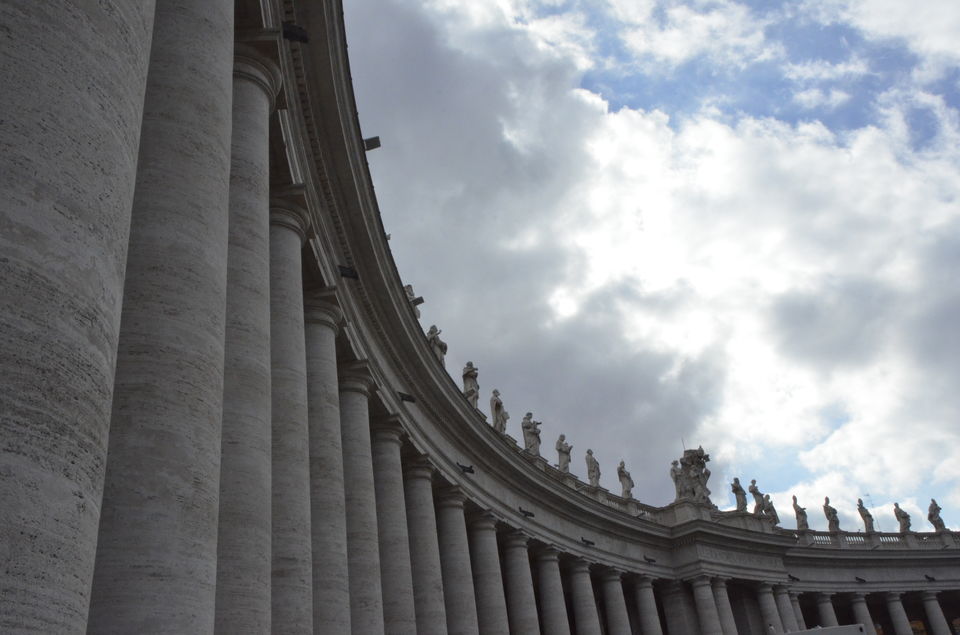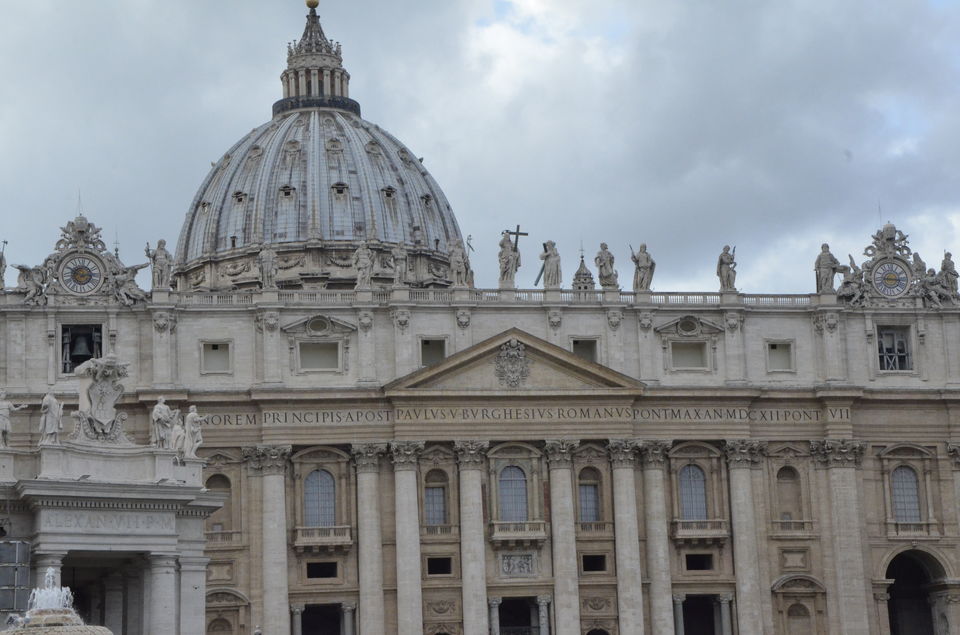 7.Tower Of Pisa-

I always wanted to visit this place as this used to be my favorite book cover while growing up as a kid.A small dream i would say.Pisa is about 4 hours from Rome and is well connected by train.The station name is Pisa Centrale and there are multiple trains heading towards Pisa.The train journey from Rome to Pisa was breathtaking with great landscapes,running through small colorful towns is something i will cherish for rest of my life.The Entire travel might take a day depending upon how much time you spend in Pisa.
Pisa is basically a small town with small population where only attraction is Leaning tower .Most of local people do not understand English (Atleast in my case ).There is a bus that runs from Pisa centrale to Pisa tower.However in my case i missed a stop and ended up getting down from the bus somewhere in the country side.The bus ticket is valid for 60 mins.Somehow i managed to reach Tower of Pisa after talking to locals in sign languages and showing them Photos of the tower.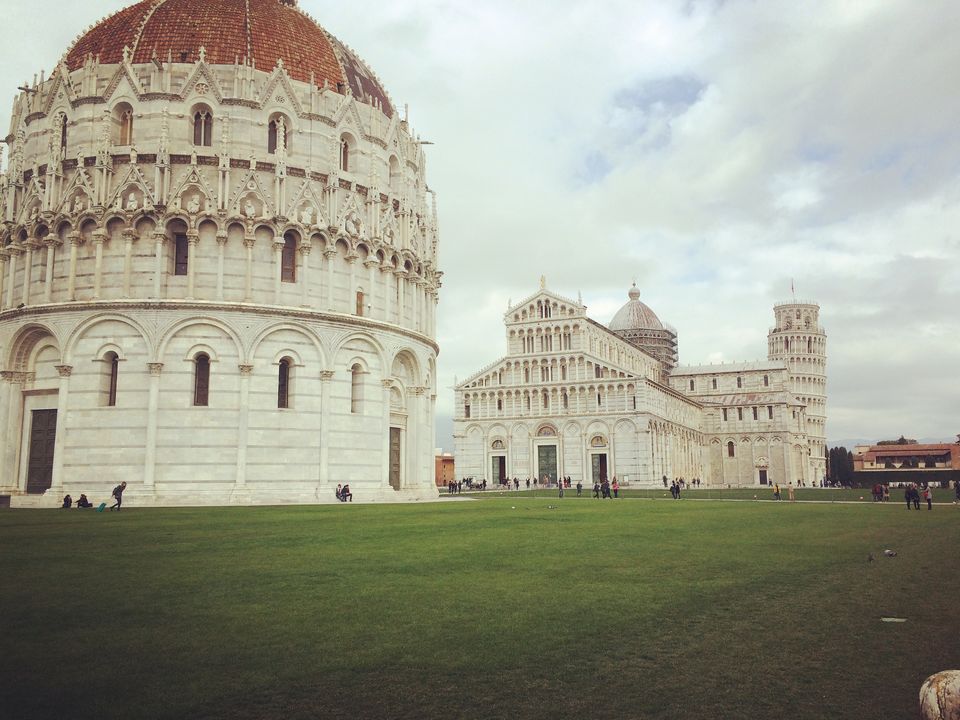 The Tower is marvelous piece of architecture and it is next to beautiful Pisa Cathedral.Yet another typical tourist place with people focusing on cameras rather than the structure and busy giving trademark poses trying to make Leaning tower straight ..:P)
However for me it was all about doing my favorite thing i.e to lay down on the grass ,staring at the sky and doing nothing.After a while i decided to have my last lunch in this beautiful little Italian town sitting right next to Tower of Pisa and thinking about all those good times i have had in my past 8-9 days.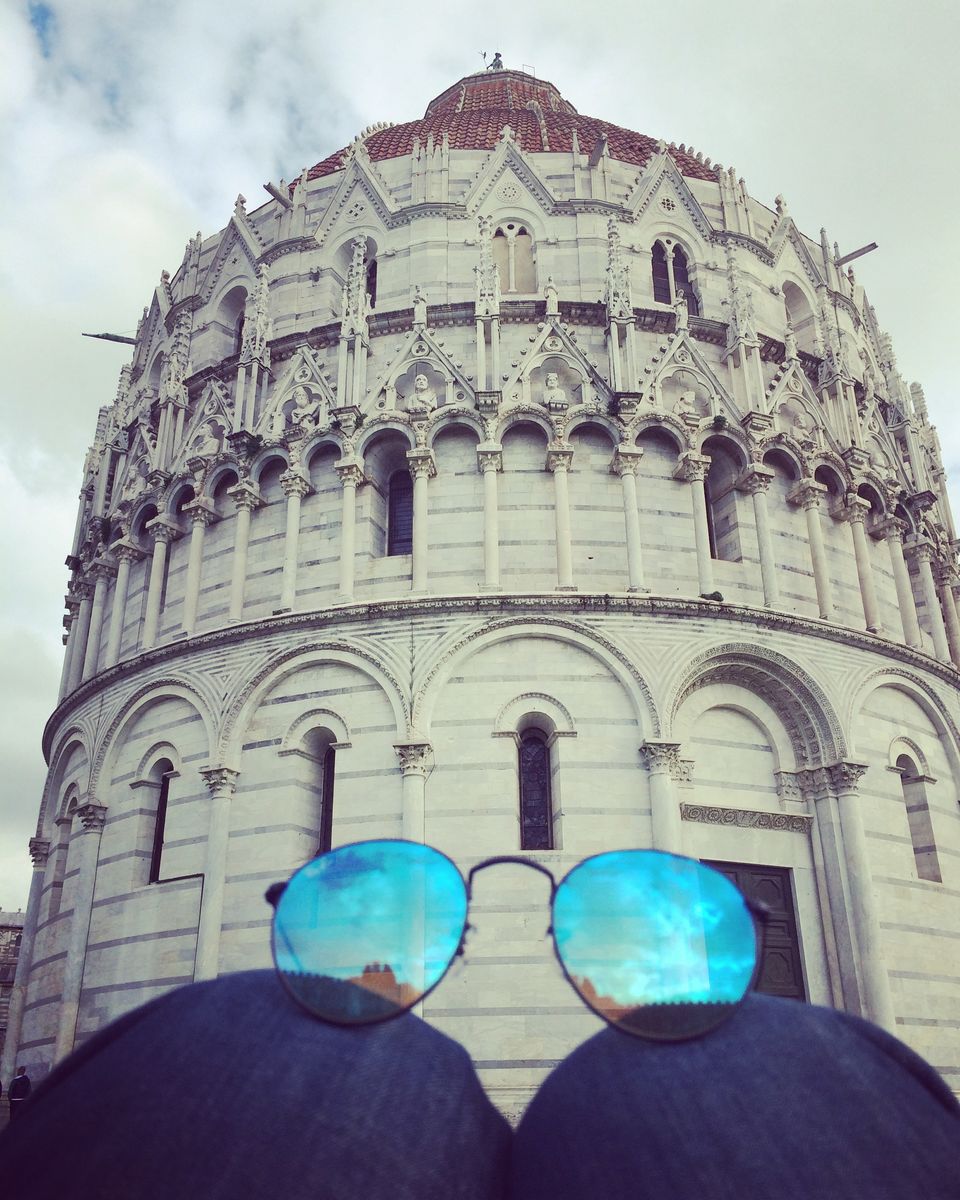 I must say there is something magical about solo travel which you will not understand unless you travel solo.Just think about this quote from Mark Twain -
"Twenty years from now,you will be more disappointed by the things you didn't do than the once you did do.So throw off the bowlines,sail away from safe harbor.Catch the trade winds in your sails.Explore,Dream,Discover."