I am a pizza lover for life. Pizza is my bae (sorry, husband!). Same goes for Tiramisu – I can't imagine my meal at an Italian restaurant without finishing the entire plate of Tiramisu. If the world was ending in two days, I would probably stuff my face with pizza! Ya, you get my obsession!
So imagine my excitement when my husband and I planned a trip through Rome, Florence and Pisa last month. While all my friends were gushing over the architectural brilliance, I was day dreaming of the upcoming week of indulging in pizzas, with no one to stop me (except perhaps my jeans button!). I call myself a fussy foodie, because I don't eat any meat except chicken, pick out aubergines and artichokes from my plate, and am basically happy sticking to the tried-and-tested food.
Now, Italian food is big on seafood, and that means all sorts of unpronounceable things in the menu. Given my reluctance to try anything new meant that for the first two days in Rome, I stuck with a margherita pizza. By the time we were into the second leg of our tour, my tongue was begging for some homemade dal and rice, and I swore to my husband that my love affair with pizza ends here forever. (Psst, I was wrong! Barely two weeks back from our vacation, I mended my relationship with pizza, and over some generous helping of margherita pizza, all was forgotten!)
So, here I am – the fussy foodie who ate and ate lots of pizza and survived to tell the tale! I bring to you some restaurant recommendations in cities of Rome, Florence and Pisa:
ROME
Angelino Al Fori 1947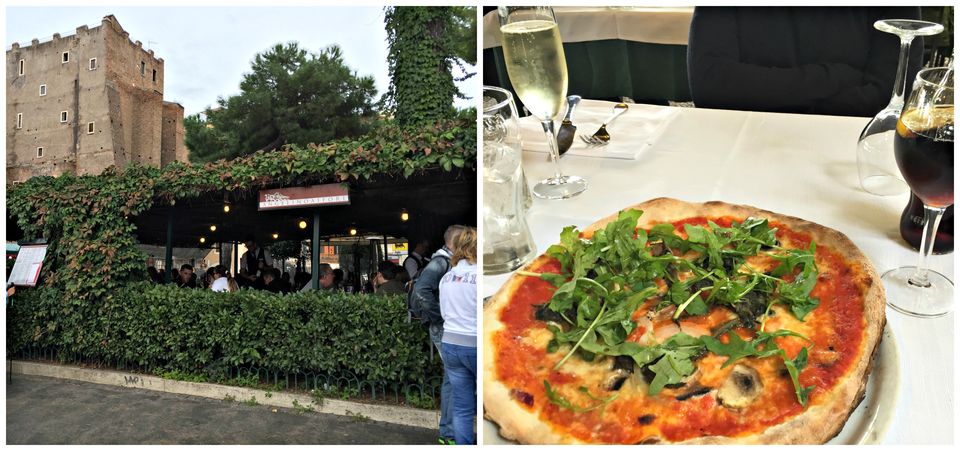 If you think that restaurants near big tourist attractions are average and rip-off, then you are probably not eating at the right places! Let this restaurant change your opinion! Situated right near the Rome Colosseum, this charming restaurant impresses you right from the word go. The restaurant has a beautiful outside seating, polite staff, brisk service and is well-priced. With plenty of menu options to choose from, you can be sure that you will have a satisfying dining experience. We had a vegetarian pasta and pizza and both were really delicious. Sit under the setting of shady trees and enjoy a glass of fine Italian wine and dig into the delicious desserts!
L'Arcano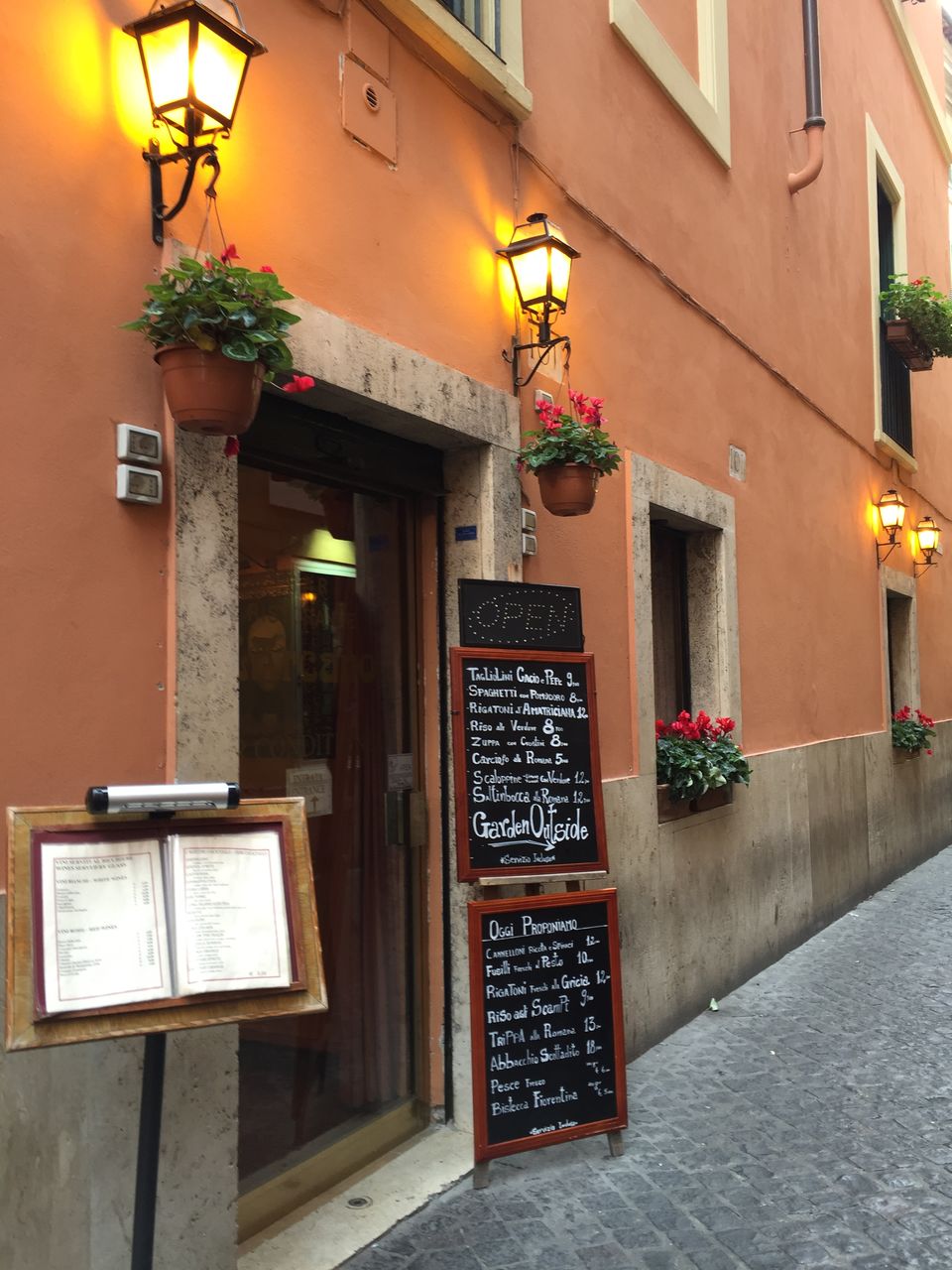 Situated near the Pantheon, L'Arcano tempts you from outside with its pleasant decor. You will probably have to wait to be seated, but the wait staff are very helpful and accommodating. Try the bruschetta in starters and lasagne or pizza. The food is good and while the prices are not certainly cheap, it is a good option if you are near the Pantheon.
Don Nino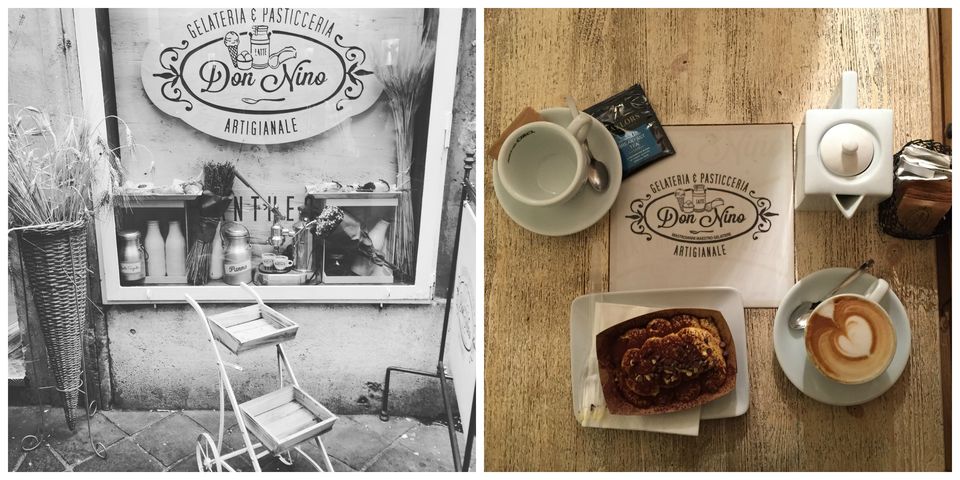 Possibly the best cafe I visited in Rome, Don Nino won me over with their desserts, teas, and the ambience. Only thing that I found surprising was the extra charge for desserts when you had them in-house as compared to when you do a take-away, which we didn't know before. But we didn't mind paying slightly extra because I was in a dessert trance from the absolutely delicious Tiramisu! Also try the natural gelatos and you won't be disappointed.
Gelateria del Teatro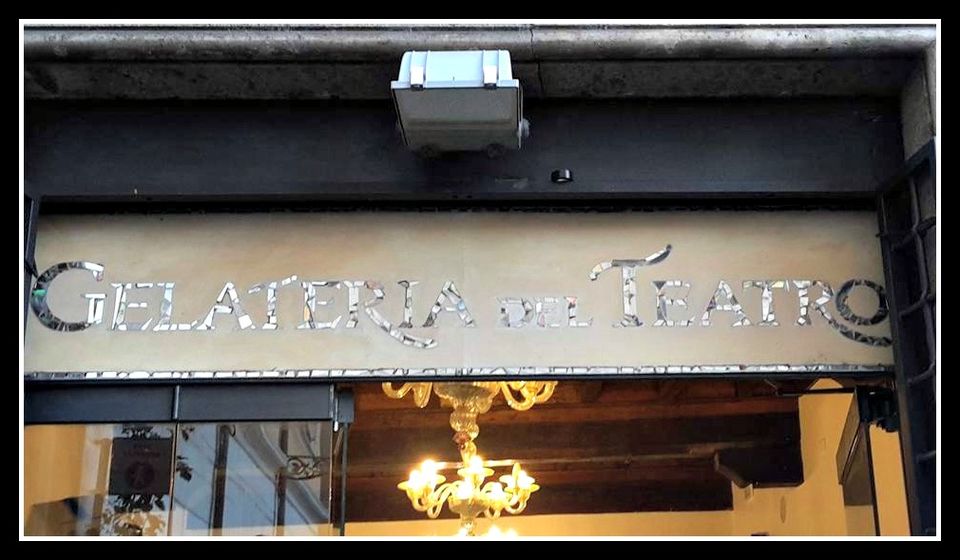 You cannot go back from Rome without visiting this charming gelateria. With a stunning location and all-natural gelato, this place is a winner all the way!
Fa-Bio
Give your palate a break from the pizzas and head this little place near the Vatican that serves the most delicious smoothies, soups and sandwiches. All the ingredients are fresh and organic, and you get to choose your sandwich ingredients from a long list of options, all for 4 euros.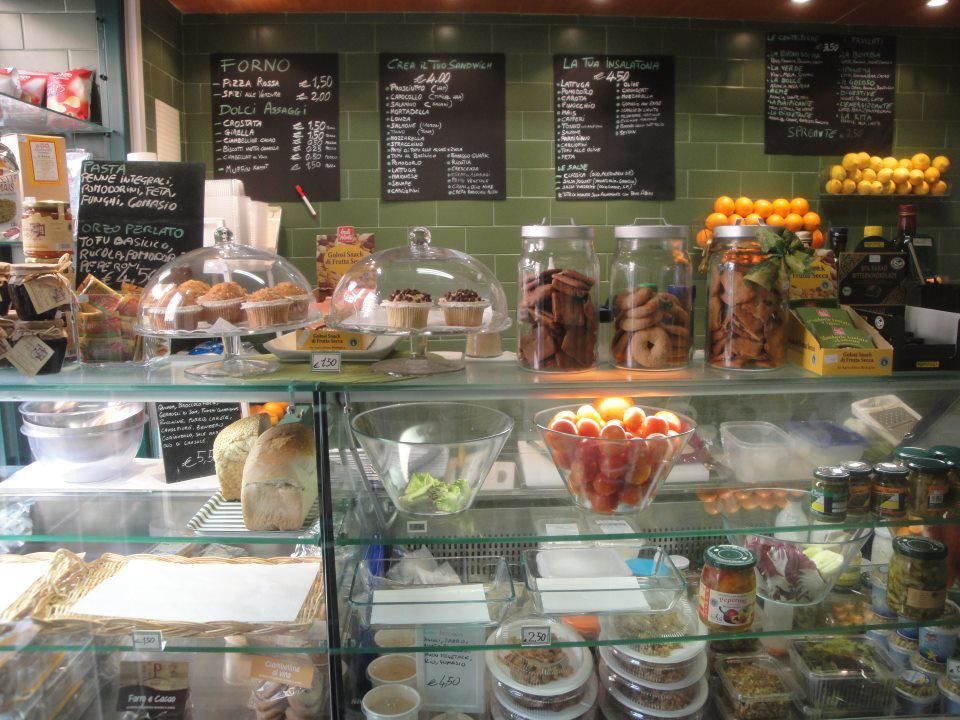 Image Credit: Fabio Facebook
L'Isola della Pizza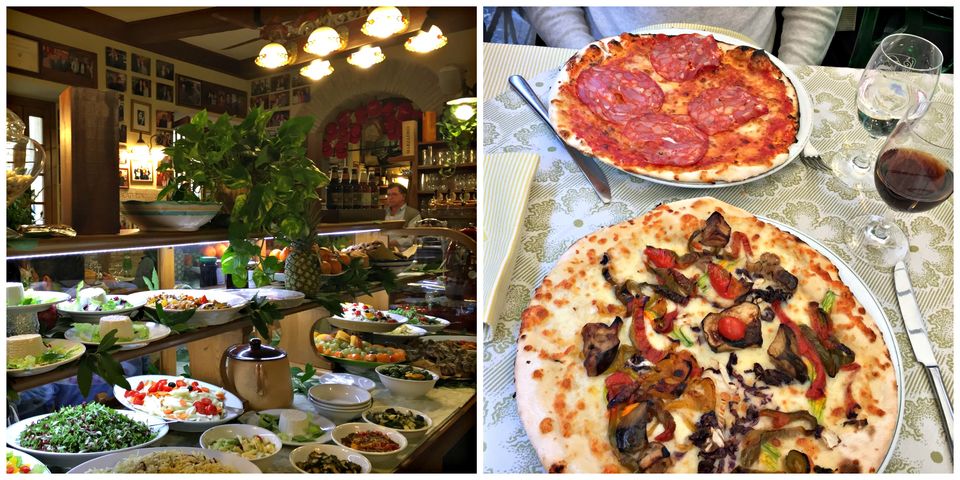 After hours of walking around the Vatican, we found this place by accident. I am thankful that I didn't hear the pleas of my growling stomach to settle for another restaurant, because then I would have missed out on some delicious Roman pizza. The restaurant is located within walking distance of the Vatican Museum, and is an authentic Roman experience, complete with the loud noise! The place was founded in 1985 and is family-run. They say that their pizza is made with ancient recipes and the dough uses four types of Italian flours and cooked in a wood-fired stove. And when you take the first bite of your pizza, you will know the exactly what they mean! Do check out the interiors!
FLORENCE
Dal Barone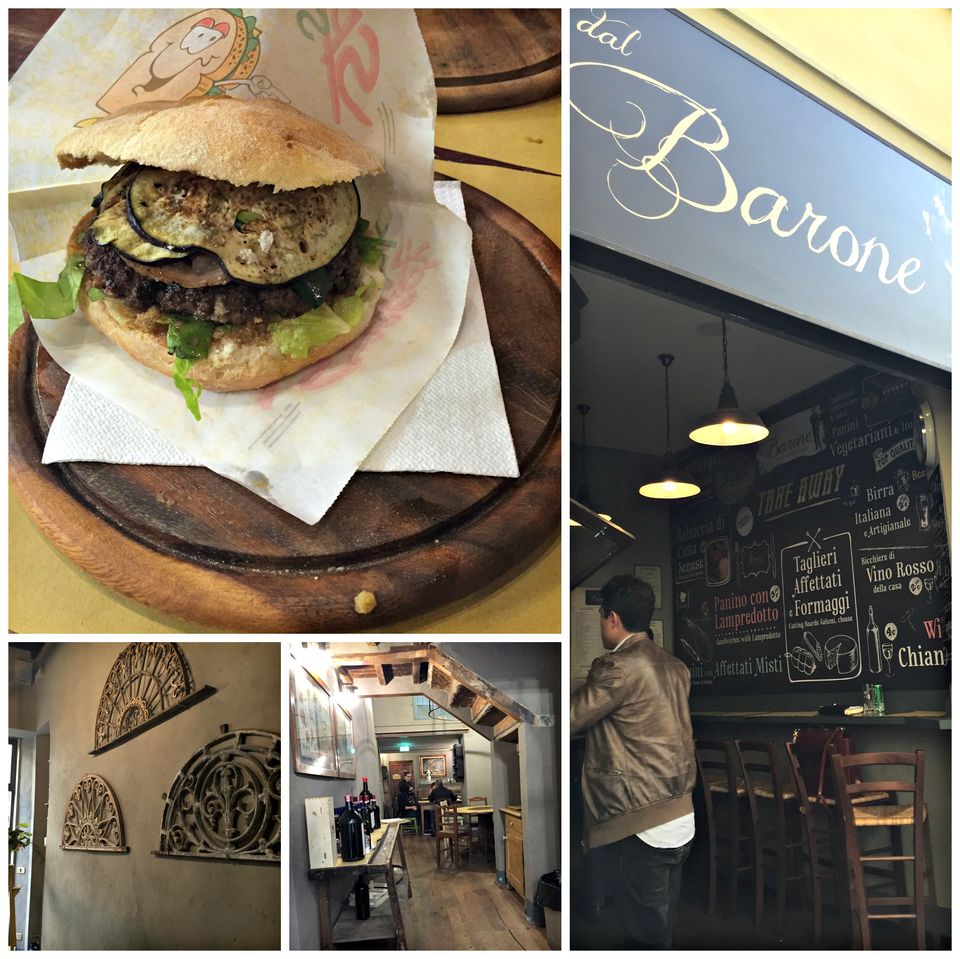 The thought of this place is making my mouth water again! If there is one place that you should visit in Florence, let it be Dal Barone. At first, you are likely to miss this little hole-in-the-wall kind of restaurant near the Duomo and San Lorenzo, as you walk in the winding lanes of Florence. But write the address, grab your GPS and seek it, for you shall be rewarded with the juiciest burger in town, served in classic Tuscan bread. The USP of this place is that it supports and works with the farmers so all ingredients are sourced locally. Try the chicken burger that is served with a flavourful homemade sauce or a twist on the classic hamburger. It was so good that we came back to this place for a second consecutive day in while we were in Florence! The ambience is quite different from most places we have been to. It can get very busy during lunch hours and on weekend, so make sure you arrive early.
Golden View Open Bar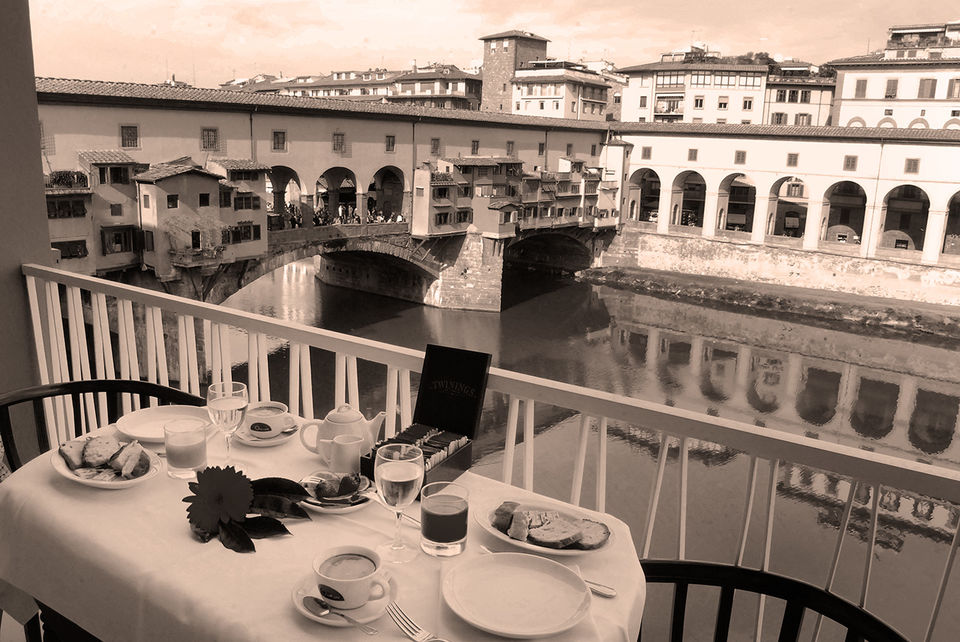 Image credit: Golden View restaurant's official website
Head out for dinner with a view at the Golden View Open Bar, which overlooks at the iconic Ponte Vechhio. Make sure you make a reservation ahead of time; otherwise you are likely to not find a place. If a dinner with your sweetheart with classy wine and ambience is on your mind, then put this restaurant on your list. The restaurant serves a classic Italian menu, with a great wine list. The price is definitely on the higher end for a budget traveller, but you pay for the view! Make sure you ask for a place by the window, and do try the desserts!
Mercato Centrale
If you are a food enthuisiast, then Mercato Centrale is the place to be. A market of fresh produce, it is a haven for everything that Tuscany is famous for – olive oil, cheese, and truffles. There are lots of food stands to choose from and you are sure to find something that tickles your taste buds.
Pisa
India Palace
By the time we reached Pisa (the last leg of our week long vacation), my tastebuds were craving for some Indian curry. Usually I stay away from Indian restaurants abroad (especially in tourist places) because the food is most of the time hardly close to the authentic cuisine, but this time I caved in before my cravings. Minutes walk from our hotel, on the way to the Leaning Tower, we came across this restaurant and had a hearty meal of chicken curry and paneer after a week! The owner is very courteous and friendly and the food was much better than I had expected. Also, the masala chai, which the owner was too sweet to have got on request for us, was the best one I've had! A good place if you are looking to break away from the Italian fare!
Amsterdam Chips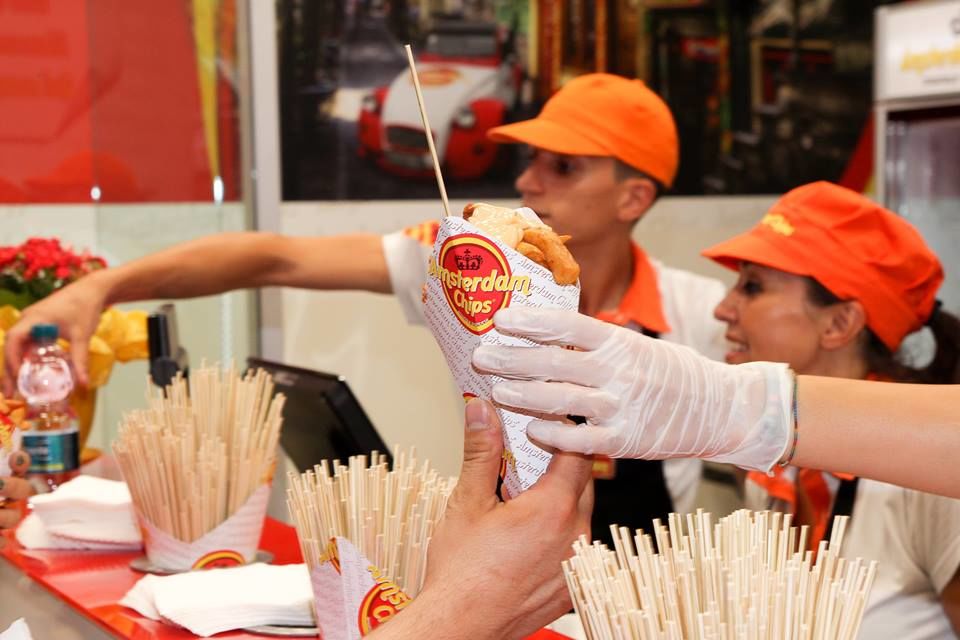 Image credit: Amsterdam Chips facebook page
Head out to Amsterdam Chips for your French fries cravings. Amsterdam Chips, which has outlets across Europe, uses fresh Dutch potatoes to make French fries and serves it with a variety of hot, spicy and tangiest of sauces. Grab it on the go!
Piazza Gambacorti
The last one on the list is not a restaurant, but a plaza in Pisa that offers lot of dining options, all priced fairly. From gelato, to grill place, pizzas and bar, you will find something for everyone here.