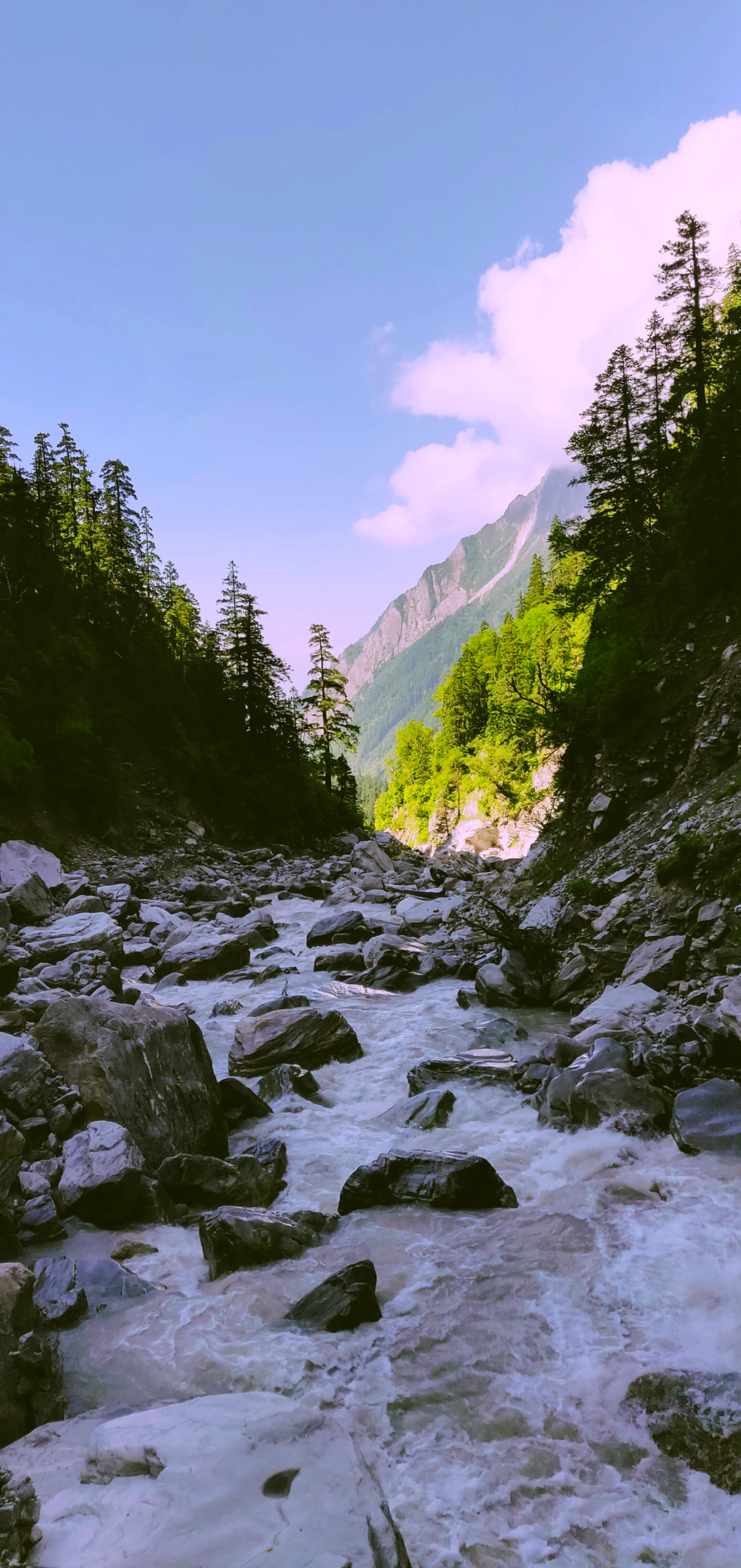 Chapter — 2
In case, you missed the previous part - Chapter-1

"Live your life by a compass, not a clock. " — Stephen Covey
Rise and shine
The most mesmerizing views, you can see on waking up, is the mountains all around you with the sheets of white clouds walking beside them.
Waking up early and getting out of your blankets is pretty tough at these places, and like always, I was the first one to achieve that.
I took my toothbrush and thought of taking a walk through the corridor. As soon as I opened the door, a cool breeze of wind entered right through it. Even though the view in front of me tried to hypnotize me to stay, I couldn't stand out long, and rushed back in after a few minutes.
Soon, everyone was awake and the worst was yet to be faced, taking bath. Which is your last memory of taking a cold water bath during winters? Well, this water was not just any normal cold. It was at least 10 times of what you would have experienced. It was freezing, felt almost like pouring ice directly on the skin. (I can still feel those chills)
Caution: These stunts are performed by experts. Please do not imitate.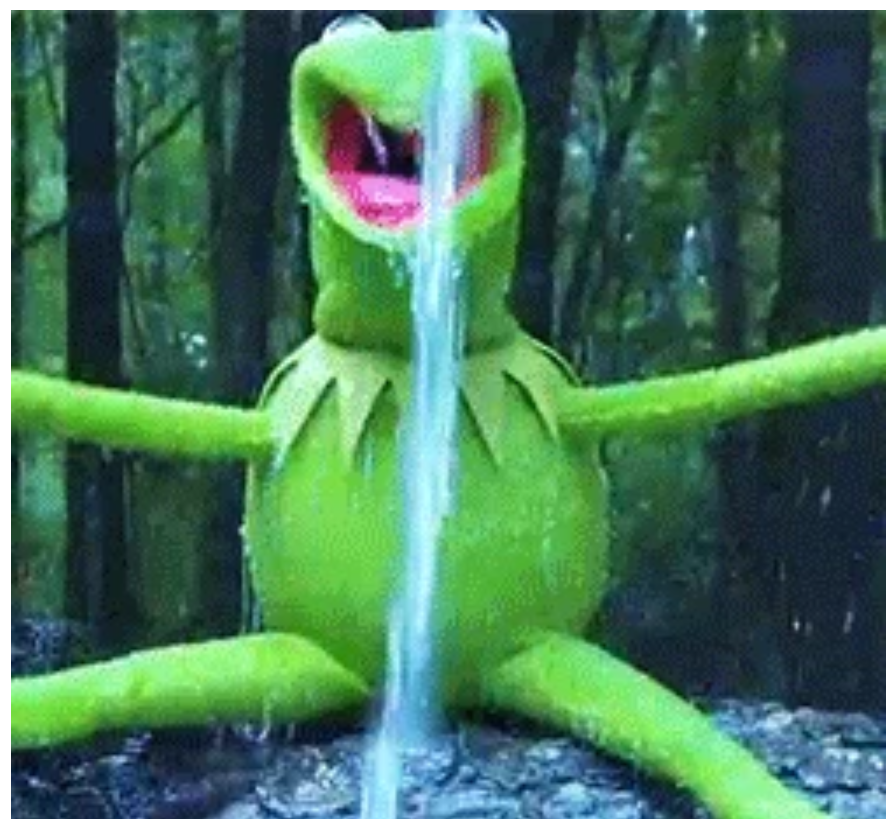 After having breakfast, we were on our way to the Valley of Flowers. It was a 3 km walk, from down to the start of the valley. After half a km, from where the actual trek starts, we got the entry tickets to the valley (150 bucks each).
As it was a bit cold, we had our jackets on, but later, it eventually started getting warmer due to the long walk, and were all taken off.
It was a walk through the forest with tall trees and long grasses with small streams passing by. Almost half the way, the shadow of the trees prevented the sunlight to reach us, and the swift streams were playing a soothing instrumental music in the background all along.
The more appealing and adventurous it sounds, the tougher and dangerous it is. It is not easy to walk through these trails. You have to watch out on your every single step. There are even warnings ⚠ with landslides put up all across the way. Slippery and loose rocks were everywhere. All you need is a trek friendly outfit and a bit of concentration throughout the way.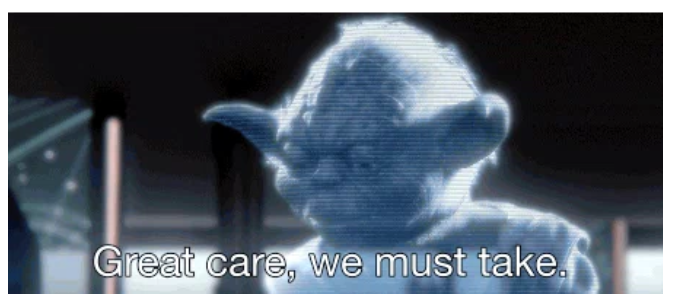 The ground here shines much brighter than the sky
If you are on the Himalayan trail, and you think that you have seen the most beautiful view, then you have definitely not explored much of these mountains. It just refines itself more and more, with every single step you take.
In the middle there were steep elevations, so it became a little tiring. But sooner it was all gone once the valley began. The pure essence of air here was filling up the lungs with a bagful of energy into us. We could feel the positive attitude in the winds blowing past us.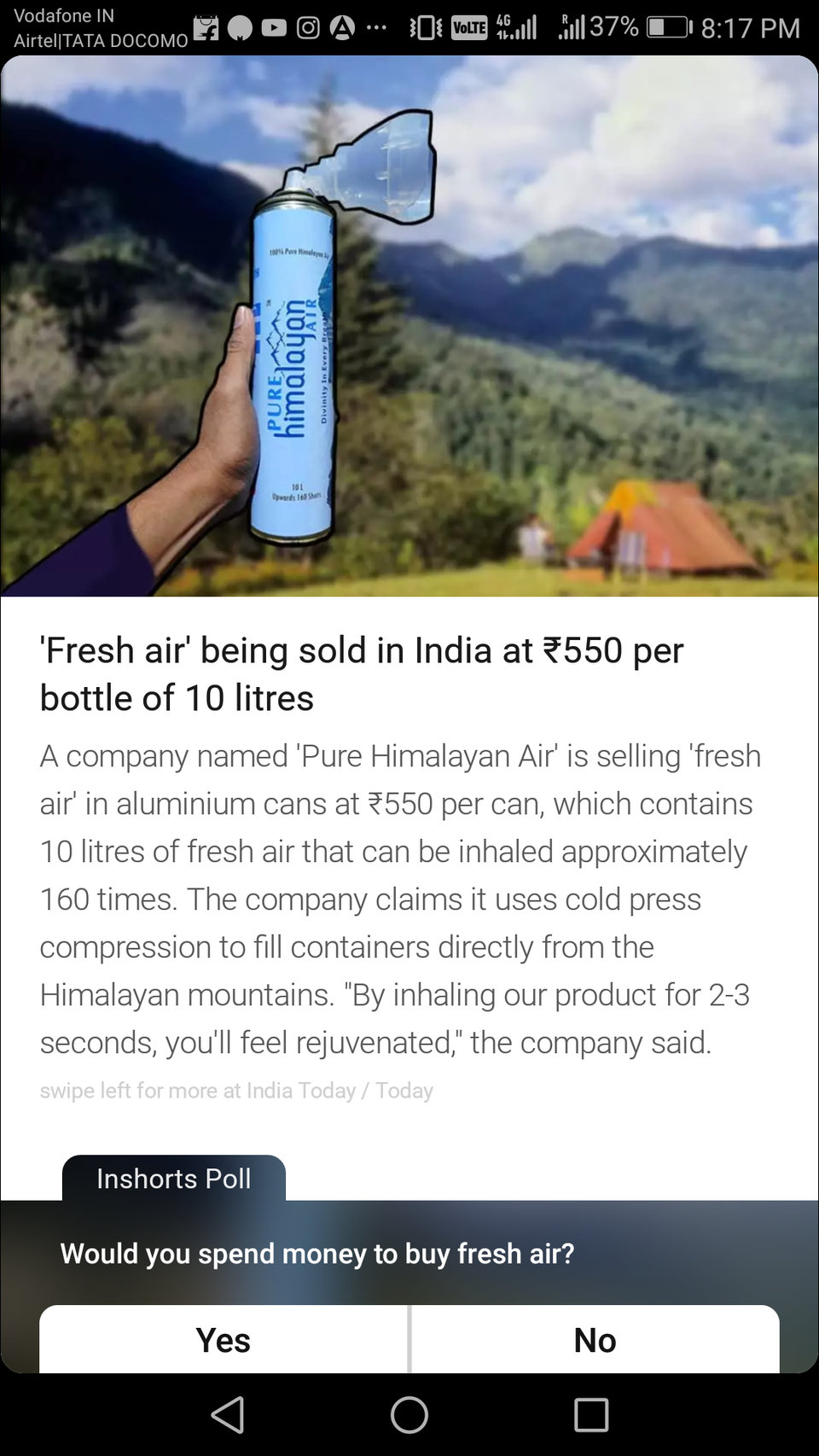 And then recently, I came across this.
Imagine yourself carrying a cylindrical bottle carrying air all the time.
There were huge green mountains, half covered with white cotton of ice ❄, hiding their peaks behind the clouds. And there were us in the middle of this, surrounded by the delightful corolla.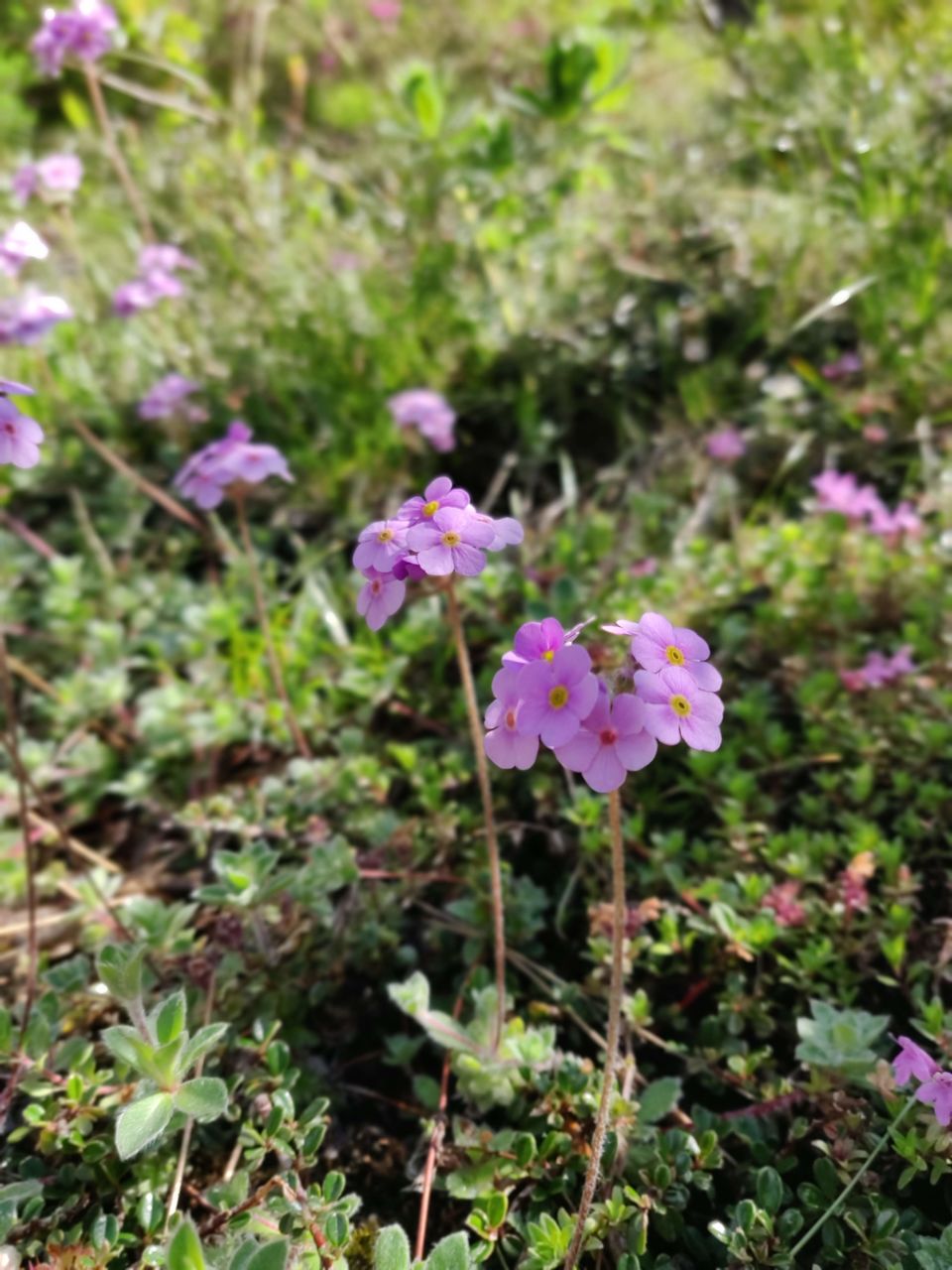 We ran around with the camera, didn't want to miss any corner of this elegant place. Capturing every angle of it with the GoPro. Took almost hundreds of pictures at the same place. And finally lay down, embracing the beauty of the artistic view created by the nature.
The clouds were dropping an off colored shadow over the mountains. The sun added up glitter to the blooms. Butterflies were floating all over the brook of blossoms. And in the middle, surrounded by this prismatic view, a cool musical breeze, like the Beethoven Symphony was playing around us in unison.
Even if we had had a network, and Instagram or Snapchat would have been accessible, we would not have used in capturing it and sharing with the world, because none of us wanted to lose that very own moment. We just wanted to be around these strings of emotional joy and spend all the time we had with ourselves. And now I feel, I can unfold a better story through my words than I would have done it by putting up the pictures or videos at that time.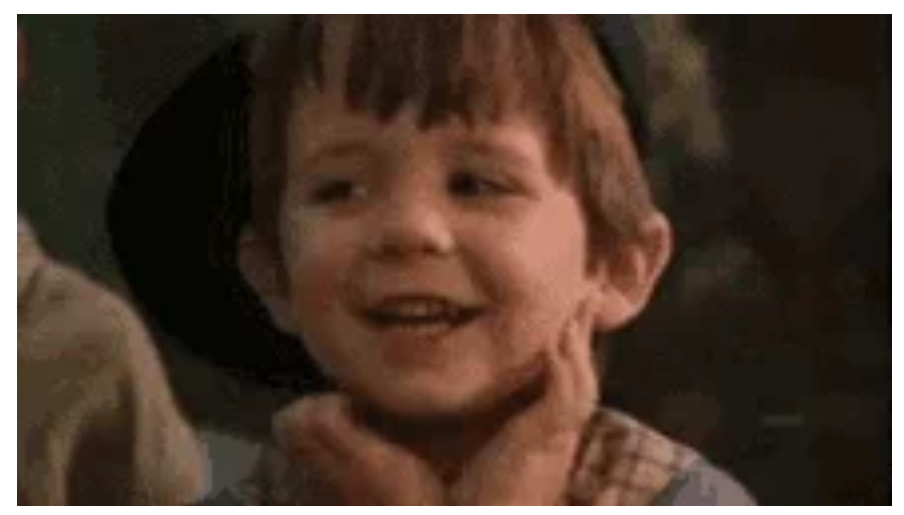 We sat there for almost an hour, didn't talk much in that meantime, kept shifting glance from the clouds to the mountains and then to flowers, because they had a lot to tell and I didn't want to miss out on any of their rattling stories.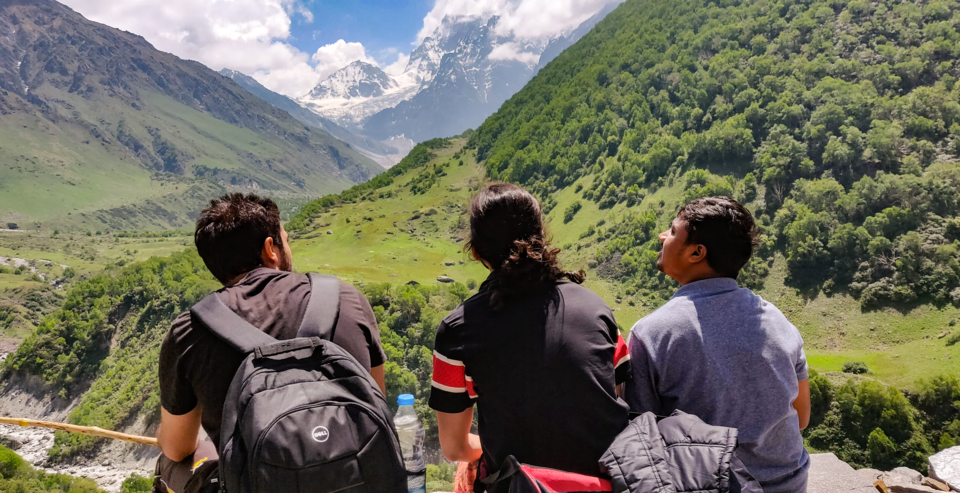 I don't know about heaven, but if you ask me, I don't think in any way it is prettier than the Valley of Flowers.
The locals had told us that the actual time to visit is after July, when we can spot many more different flowers in large numbers. I wonder how beautiful would that scenario be.
Where There's A Hill, There's A Way.
The most interesting thing about the Himalayas is, there isn't a certain defined path to their peaks. The trek always ends after a certain point, but that anxiety to see something new, to touch the top, to be close to the stars, starts increasing gradually.
At this time, I just wanted to make sure if anyone else from the squad was looking up for the same adventure. And like always, Shikhar was up for it.
BTS — I already had no hopes with the other 2. As they just wanted to settle down in the very beginning of the valley.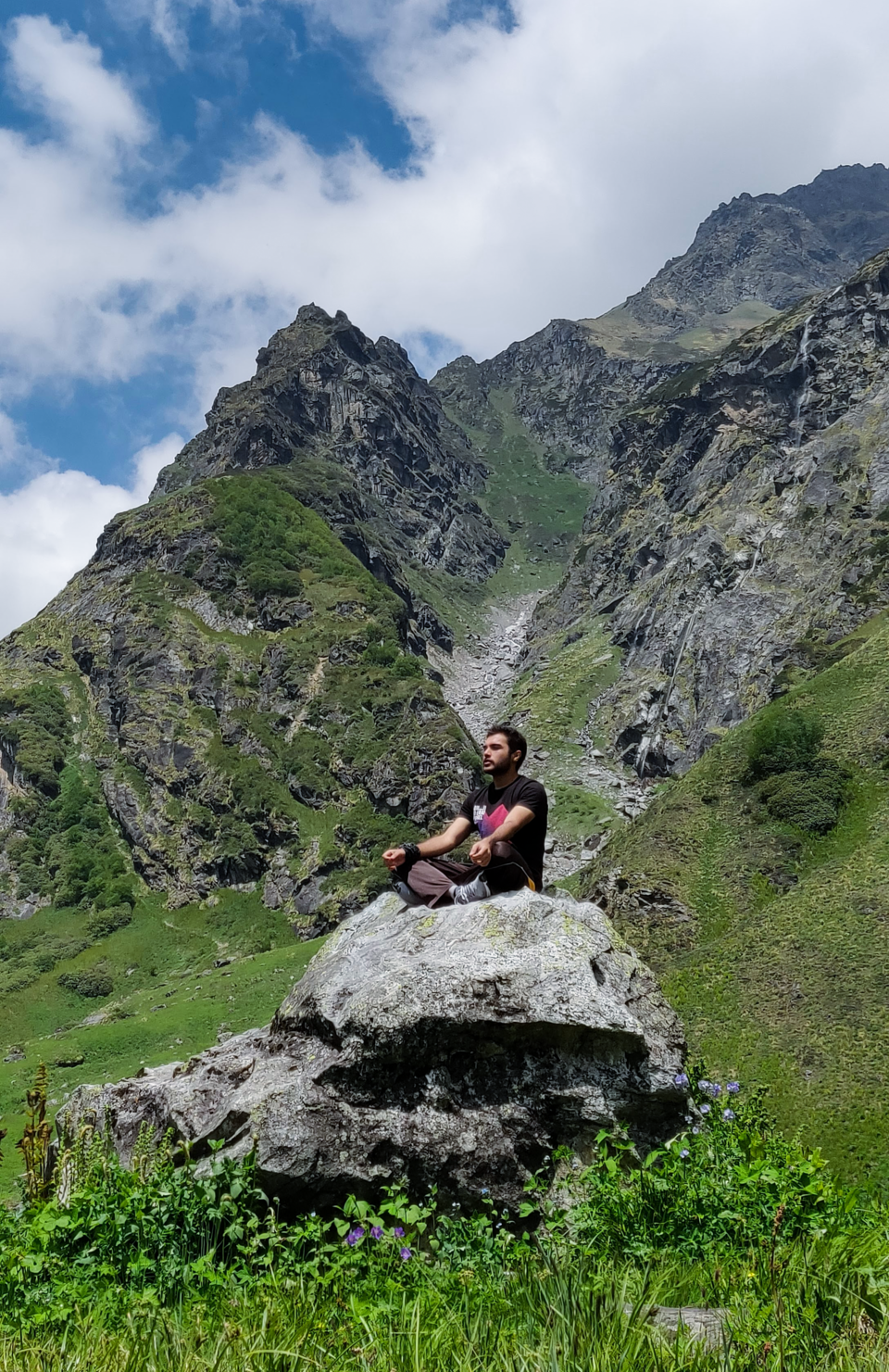 We could spot, snow capped mountains at a distance of around 2 km beside us. And like I said, there was no particular way to reach to that place. So, we took the sticks, got the camera gear and some supplies along, to keep us hydrated and full of energy for the climb, and moved forward making our own way.
If you can see the destination, the path becomes simple. You do a little maths and accordingly walk through. But the problem here was to cross the long grasses, jump through the big rocks and climb through the sheer elevations to reach the destination, which was a totally different challenge. We had to sit down at certain places, get a grip with our hands, and put our next steps very carefully. All the credit here would definitely go to Shikhar, as he was the one leading the trek. I was just following the trail. He made sure to keep the pace at a certain level so that we reach in a small span of time.
Finally, after 20–30 minutes of tiring walk, we reached at the top. The very first thing we did was, took a sip of water and took a big bite of the snickers, as the body was exhausted and craving for some energy was on the maximum level.
After devouring, we took out the camera and started capturing the surroundings. The snow here was old, wasn't as white as it looked from down. We played with it for a while, started digging our sticks into it. Heart even proposed a thought of walking over the ice and climb to the top of it, but then the mind just asked me to take a look at my shoes and the gear, by which I mean the bamboo stick, and then a voice came from the behind- Bro, don't even think about making that stupid move!!!
Now, after coming this far we were still not satisfied. We wanted to grab a little more of adventure from here. Next to the place where we were sitting was a little high cliff, which didn't have any way to reach the top, as it was all surrounded by snow and the only way which could work out was from the front, which had an elevation of around 60 degrees.
Shikhar was in the lead. I switched on my GoPro and began following him. I was a little far when he started climbing. Now, while walking I was watching him, covering the first half of it pretty quickly, and then as the elevation started increasing he had put his hands down to make the grip, and then quickly reached the top.
Now, it was my turn to get over there. So, I took the selfie stick in one hand, attaching the GoPro to it to record during the climb, and the bamboo stick in another to help in making grip. Likewise, I also covered the first half quickly. But after that, started the real challenge. I was using my whole body to get a grip, was holding onto the grass to be steady. And finally I thought it might be better to pass on the GoPro and the stick, and try to keep the whole concentration on reaching the top. And after a few slips and scratches, I finally made it to the top.
It took a little effort to reach over there, but was definitely worth. The view with the levitating clouds above the greenish-yellow shaded mountains was. We took a bunch of pictures with that background, and started back to get back to the lazy ones, as the clouds were changing their color, and the winds started giving the signs of a gray drizzle.
Getting down from this place included a bit of Spiderman tricks, of getting glued to the surface for avoiding any damages to the bones, and some real jumping skills. After which, the rest of the journey felt pretty much comfortable and easy.
We met the boys, and made a move back to the hotel immediately. By that time we had started feeling the droplets hitting our heads. So, we had put our raincoats on and started moving at a slow pace.
The stones on the way had gotten wet and slippery. It was becoming tougher to walk back down. The sticks were also not much of a help at this time.
Note: The only problem is that you can't even stay at these places while rains and can't just run back. You have to watch your every single step very carefully. The stones are loose, always keep an eye around while crossing.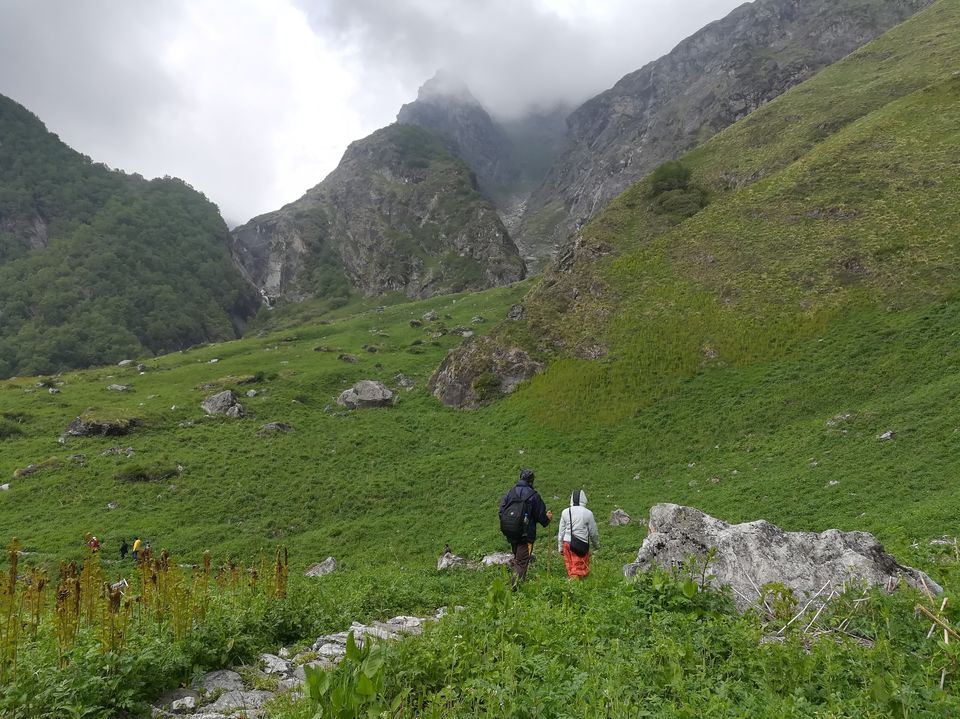 It took us around an hour and a half to reach back to the town. By that time, our legs had given up and were all famishing with hunger. At this time all we were looking to grab something that works better quantitatively, more than qualitatively. And the first dish which our eyes met with was, Fritters.
In the past years, we were so caught up in having healthy and low calorie food that I don't even remember when was the last time I had them. So, without having a second thought, we all just ordered almost 2 plates, each of every single dish available.
P.S. — Fritters are basically Bhajiyas. (So, the next time you want to post a story with the Bhajiya, use the word #fritters, sounds cool)
Along with it, add-ons were something that was the most important part of the meal. So, we took some desert, to be exact- Milk+Jalebi.
That day, we had almost like 5 times the actual calories a normal person needs. Oily Fritters, rolls and the sweetest desert I might have ever had in my entire life.
Now, after the adventurous and tiring day, the body needed some proper rest. So, we got back to the hotel and sat outside in the corridor, covering ourselves in blankets, staring at the Herculean mountains standing in front of us.
Is this the real life? Is this just fantasy?
Stargazing is one of the most favorite things I love to do during a trip. And in the Himalayas, I feel like I can see them more clearly and in large numbers with a closer distance.
As it was getting darker, the cluster of stars began lighting up the sky forming up the Strings of Lamp. In a unison they were gleaming up the ferocious mountains and the prestigious sky.
We had Led Zeppelin and Queen, running in the background, with all the relatable lyrics, seems like they were made to enjoy this very moment.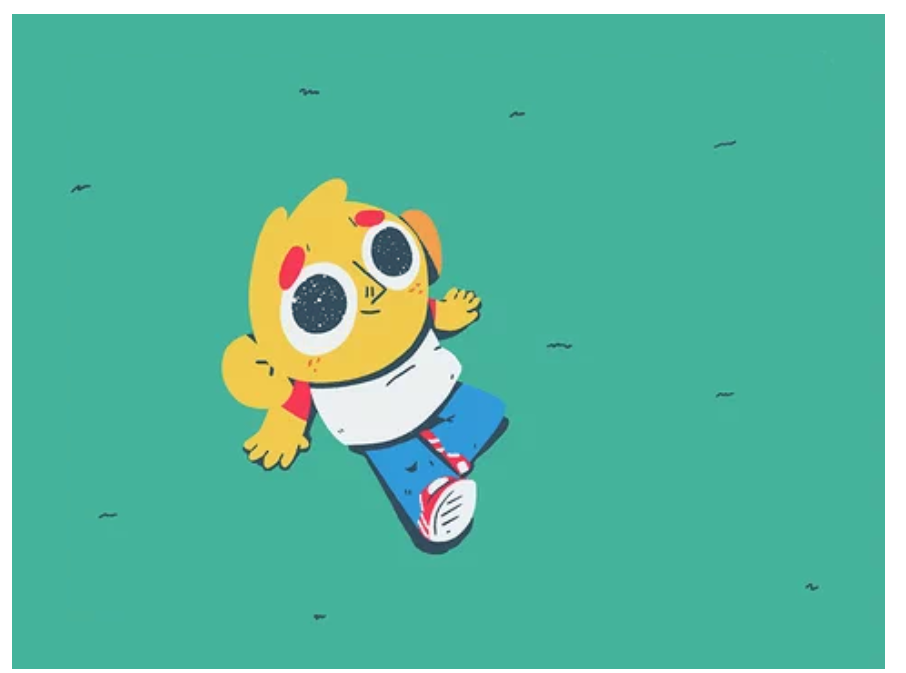 That night, I was back in the valley. Walking alone under the showers of the starlight, surrounded by the fireflies floating over the flowers, with a welcoming sound of clouds following the path formed by the kaleidoscopic petals of the flowers and a cool breeze of wind running around like the musical notes accompanied by the brook of water flowing throughout the way.
That night I just kept walking, with the sparkle of seeking something extraordinary in the eyes.
Well, it would have been exactly like the way I described. But unfortunately, this was just one of my lucid dreams, which felt so real that I wanted to go back to sleep again and resume it.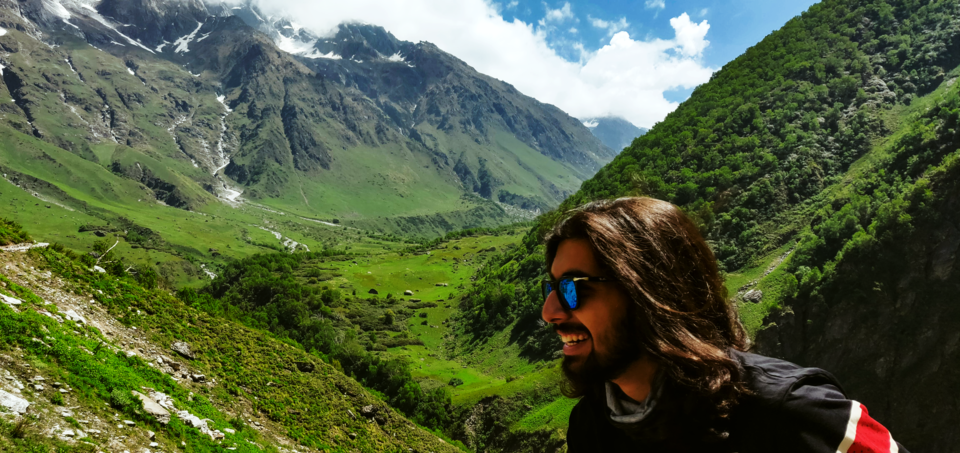 . . .
Dev Bhoomi
Another name for Uttrakhand, The Land of God. All the famous holy places, including — Kedarnath, Badrinath are here. Thousands of people from around the globe come here every month to visit these temples. They come all the way, to worship their gods, carrying a strong belief of the Divine and spirituality along.
One among these holy places is — Shri Hemkund Sahib, our next destination. The world's highest Gurudwara, situated at an altitude of 4,632 meters, on the bank of the Lokpal lake, known to be one of the most visited Gurudwara. Devotees come in large number every year, to visit the sacred place.
We left for Shri Hemkund Sahib at 8 am leaving Somansh behind. He had given up after previous day's trek to the Valley. He preferred staying back, reading a book and chill out for the day.
It was a 6 km trek with a bit challenging difficulty level, because the whole path was made of stones, with lofty elevations. Trekking through the forest is comparatively easier than one of this kind.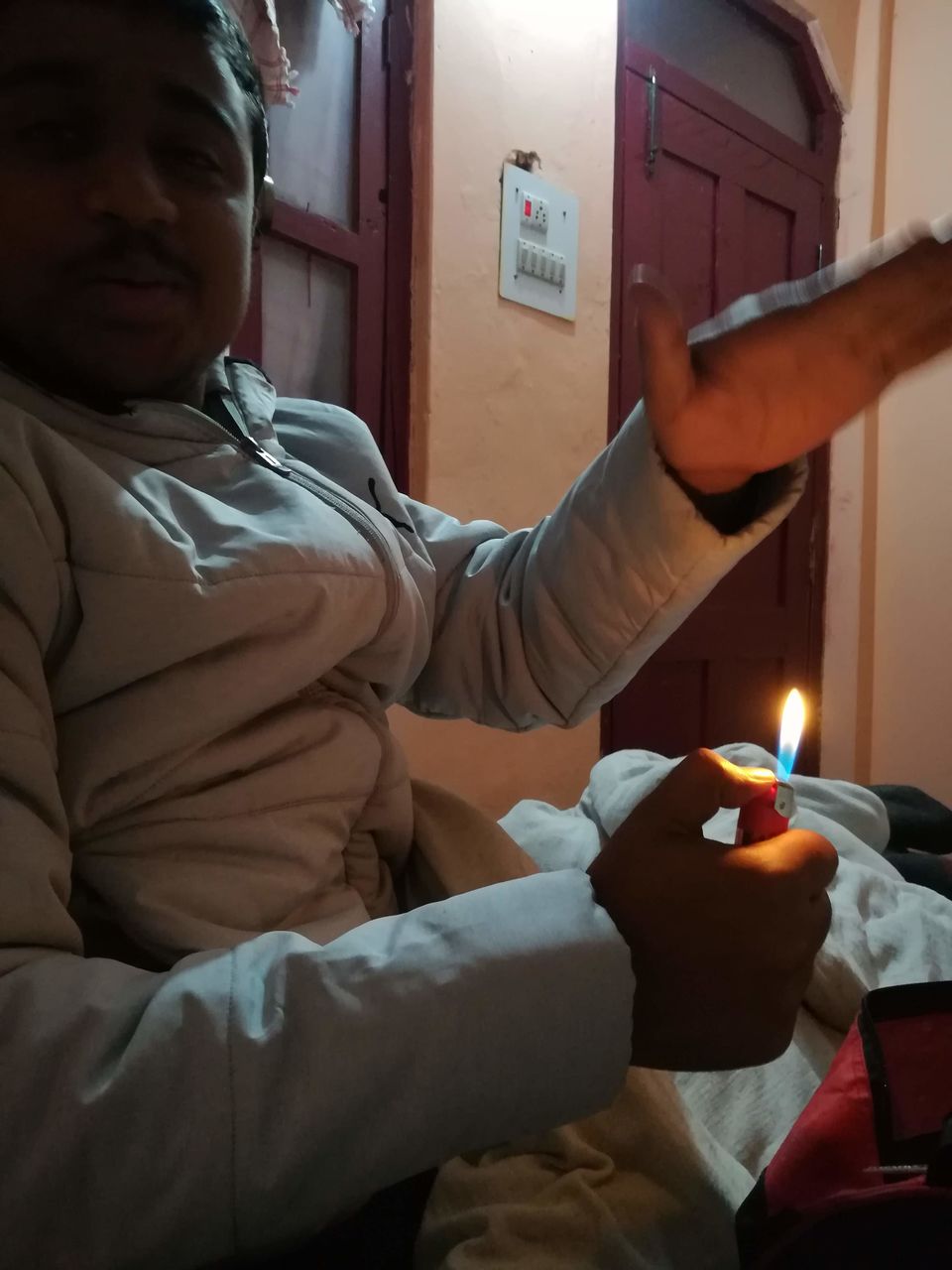 The hotel owner had told us that it will take at least 3 hours to reach if we walk a little fast. So this time, without giving a second thought, Vishal had already arranged a mule to help him reach the destination.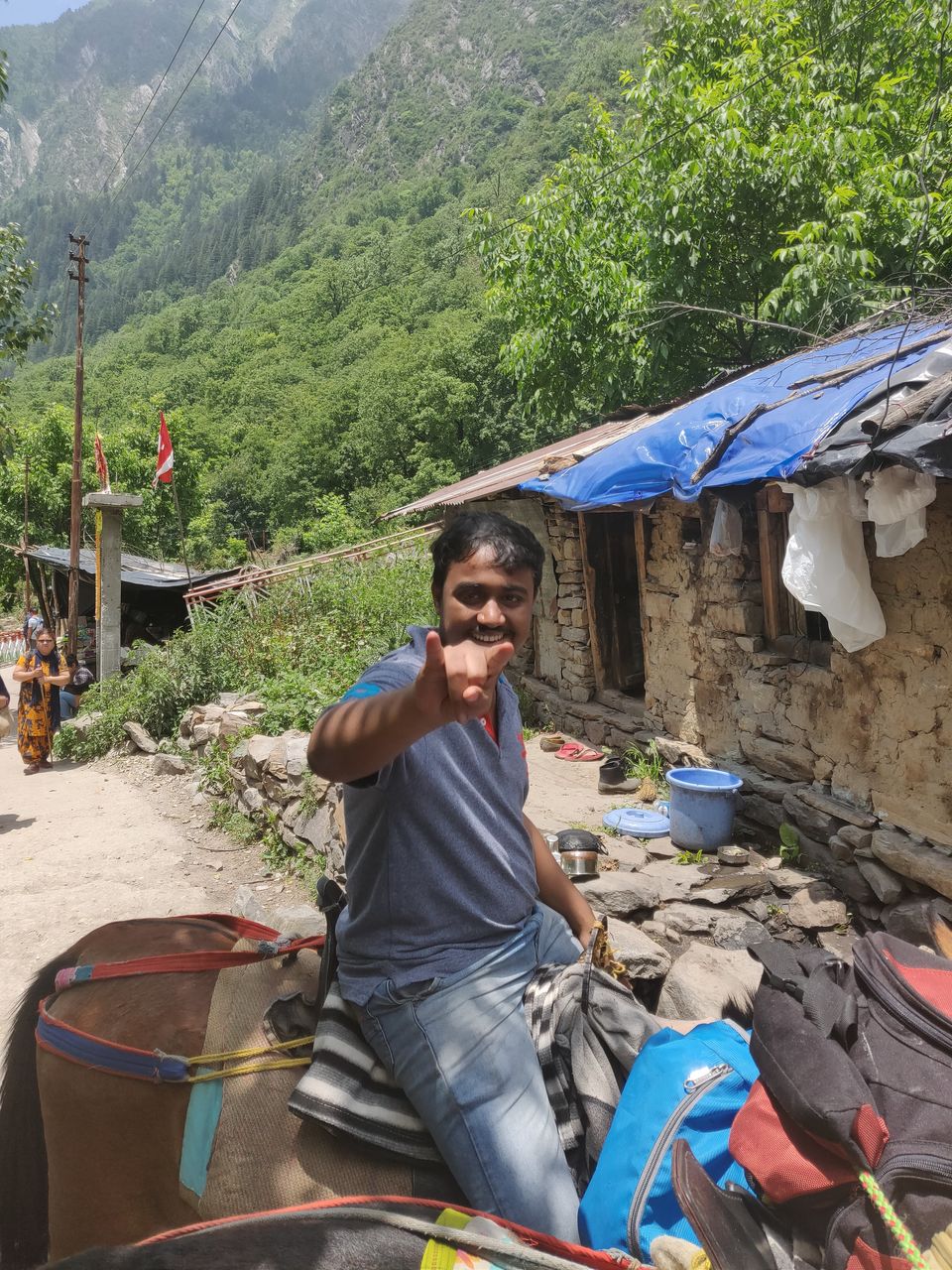 The temperature had dropped down a bit today. We had our hoodies on, and started moving towards the destination with a decent pace.
We covered the first 2.5–3 km in around 45 minutes. Took a few shortcuts to save the time. It took a 1 liter of water bottle for the both of us to complete the first half. We were out of snickers this day, so as an alternative we took some peanuts at a shop on the way. And after hydrating our body and taking in some nutrients, we got back on track.
Note: Peanuts can be a good source of protein, you can have on a trek.
We were in the Himalayas, at an altitude of 4000 meters in June, surrounded by the snow capped mountains with the temperature near to 5–6 degrees and were sweating like hell. Now, you can get a clear idea of how tough was the second half of the trek.
We already had a company of hundreds of people walking aside us. On the way, we met people in their 60s going by foot. They said they had started at 5 in the morning and wanted to get to the Gurudwara for the Darshan as soon as possible. No one was ready to give up that easily.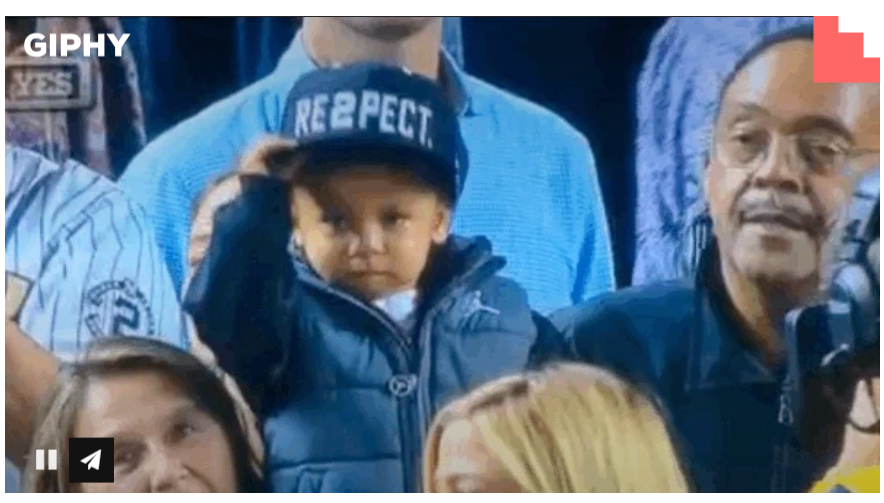 There were stairs for the last 500 meters, around 1500 in total, which was the toughest part of all. The stairs had become slippery. The temperature was dropping, the fog was increasing, it was getting so tough to breathe, and our legs had given up by this time.
Somehow we made it to the top by 10.45 am. And just crashed over there, trying to get the blood flow to normal. It was so difficult to catch breath. Vishal had already reached there 20 minutes ago and was waiting for us. He was asking us regarding the experience about the journey, but I didn't even have the potential to answer.
After 20 minutes we got back to normal and went inside the Gurudwara. When we took off our shoes, I felt the real temperature over there. Almost for a minute, the blood circulation had stopped over there. We couldn't stand for much time, and just went inside with the queue. There were at least 1000s of people over there at this time.
After coming out we saw the Lokpal lake. It is right outside the Gurudwara's exit. We could see the other side of it at one point of time. It was full snowy. And in less than a minute it got covered by the fog. Like Kheerganga, I thought this must be another hot spring. People were even drenching themselves in that. But when I put my feet in that, it felt like I had put it in the snow. It was freezing in there. For a minute my feet just went numb, and I literally couldn't feel anything. Even if I had been given a dare, I don't think I would have taken a dip in that lake.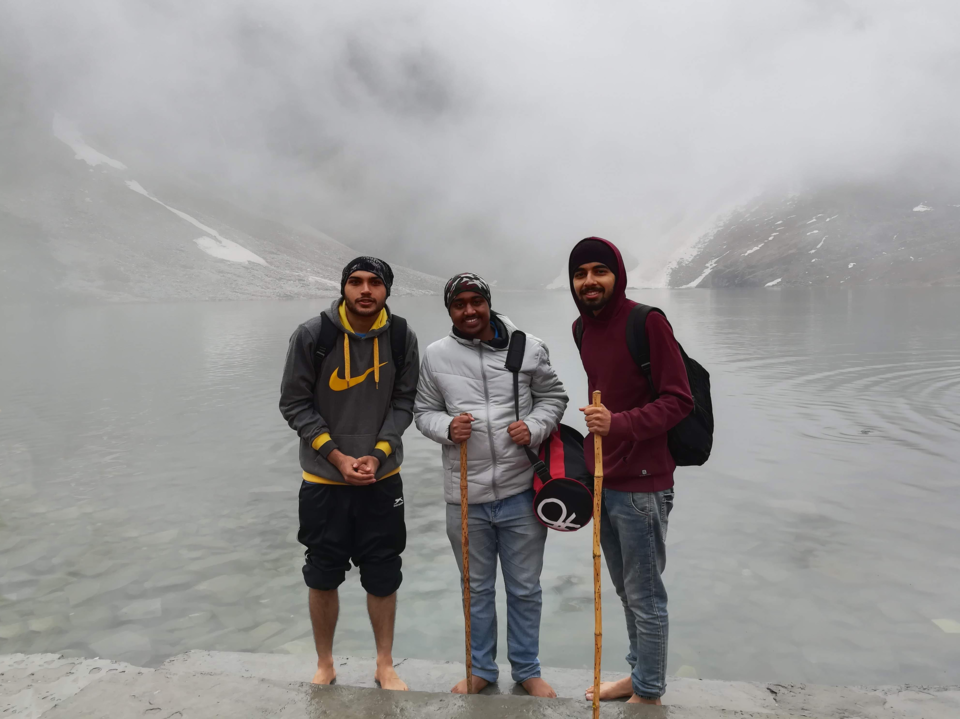 So, after this thrilling icy adventure, we went to feed ourselves in Langar (among Sikhs, a communal free kitchen). The food over there was super simple, rather super delicious. The only reason we had put a stop on the quantity was because we had to trek back down, otherwise we would have definitely eaten up almost thrice of what we actually had.
Vishal had joined us, during the down trek, because he wanted to give us some company.
BTS — Unfortunately, the mule started running on the edge, and slipped many times, while climbing. So, Vishal thought of trusting himself rather than the mule this time.
It started drizzling soon after we started to trek down. We had the raincoats on and started moving down carefully. The path had become more slippery and dangerous. Our shoes were the most helpful mates during the whole trek.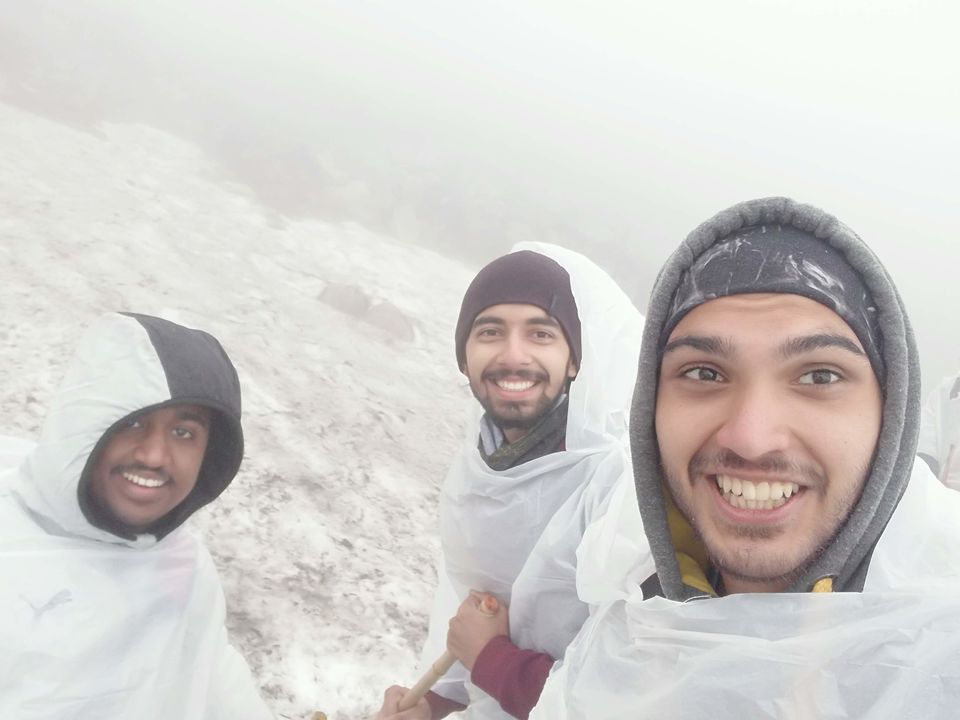 It took us 2 and a half hour to get down. Our toes started hurting and the stomach had started grumbling by this time. So, we stopped at a shop and bought light food to fill ourselves.
It had been 3 days since anyone one of us had last contacted to their family. There wasn't any network on the phones, but some shops had STD phones. So, we made the call one by one informing them that we were doing fine there.
BTS — That was the costliest call I have ever made. That cost us Rs.10 for a minute.
That day we went back to the hotel and fell asleep early.
The not so happy ending!!!
"If you want a happy ending, that depends, of course, on where you stop your story. "— Orson Welles
It was time to bid farewell now. After days of living with them it was time to say goodbye to the Himalayas.
Coming down was easy. The only problem we faced was, when we got back to Govindghat. We got to know that the buses had shut down for the next 2 days as the driver union had gone on strike. Now, we didn't have a backup plan for this, didn't know what to do for the next 2 days, and we were just stranded with no network and almost no cash to survive for the next few days.
When we asked some shopkeepers, they told us to look at the taxi stand once. There could be a chance that we could get a taxi. So, we ran towards the taxi stand, half a km from there, to try our luck. Fortunately, got the seats in the last taxi, that was about to leave in 15 minutes.
It was a Bolero, a 9 seater SUV. And we could see 11 people around, excluding the driver. None of us had any idea how are we going to fit in that thing. He loaded up the luggage on the top, and somehow we all loaded up ourselves inside the SUV.

I don't know how to share this horrible road trip experience. It took us 9 hours to reach Rishikesh and I can still remember that I couldn't feel my back and legs after that. It was around 11pm when we reached over there.
Now we had all planned that we would spend the next day roaming around in Rishikesh, and catch a bus for the same night to Delhi.
Now, after all this f***** up road trip all we wanted was some normal food and a decent place to stay. But the destiny had some totally different plans.
Unfortunately, it was a long weekend and because of which there were no rooms at any hotel. After looking for half an hour we somehow got a dorm, situated at 3rd floor. It was the worst we were hoping at this time. But because we didn't have a choice, we had to end up there. So, we had put our luggage and went down to eat, but apparently the restaurants in the city had shut down by that time. The best meal available at that time was, milk and cookies.
We got back to the dorm and hardly after spending an hour, we got in a verbal fight with the owner because of some stay related issues. And after this, we all had just lost it. The first thing we did was, I and Somansh went to the bus stand by foot, around 1.5 km from there. It was almost 1.30 am by then. We were roaming on the streets in a different city, all alone with no signs of the existence of any human life, on the way.
After inquiring a bit, we found the last bus, which was about to leave at 2.30 am. Without even thinking, we asked the driver to wait for some time and called the 2 over there. The bus was almost full, so the three of us had to sit in the cabin throughout the way. It was so tough to keep our eyes open because we had been travelling since a long time. Our heads kept banging with the window. But at this time pain was all secondary. And during the whole journey, it has been just On and Off. There was no proper sleep for straight past 24 hours.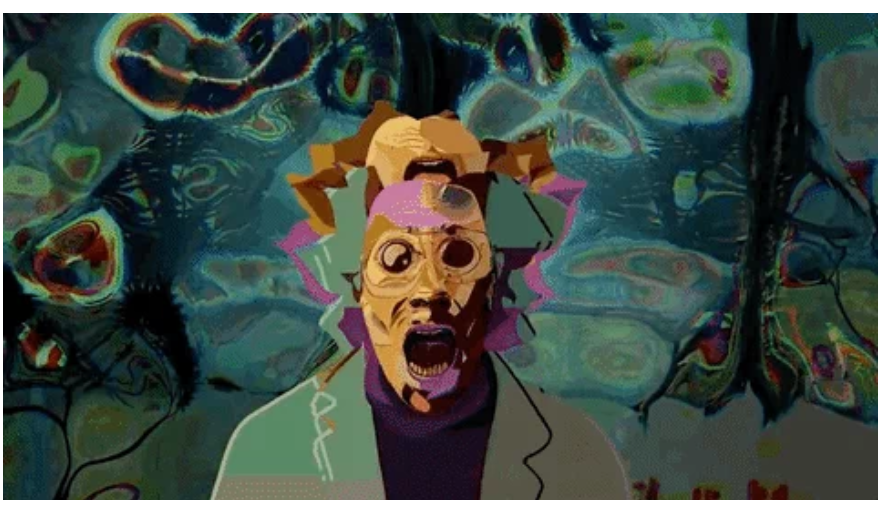 7 o'clock we reached ISBT Kashmere gate, New Delhi. We all had booking for different places from there. I and Shikhar were going to stay in Delhi at home for the day, and Vishal and Somansh were leaving for Rajasthan. After promising of being in touch with each other, all 4 of us parted our ways from there.
Summing up the thoughts
For me, it felt like I had adapted to that environment of cold weather, of the fresh cool air around, of the great mountains surrounding us like a shield, of the people who were happy in their own world, and felt that it is not that difficult to get away from the social life. In fact, there was not even a single moment in those 4 days when I felt bored and got the thoughts of having an internet connection which would have cheered us up more.
It felt like a "home away from home".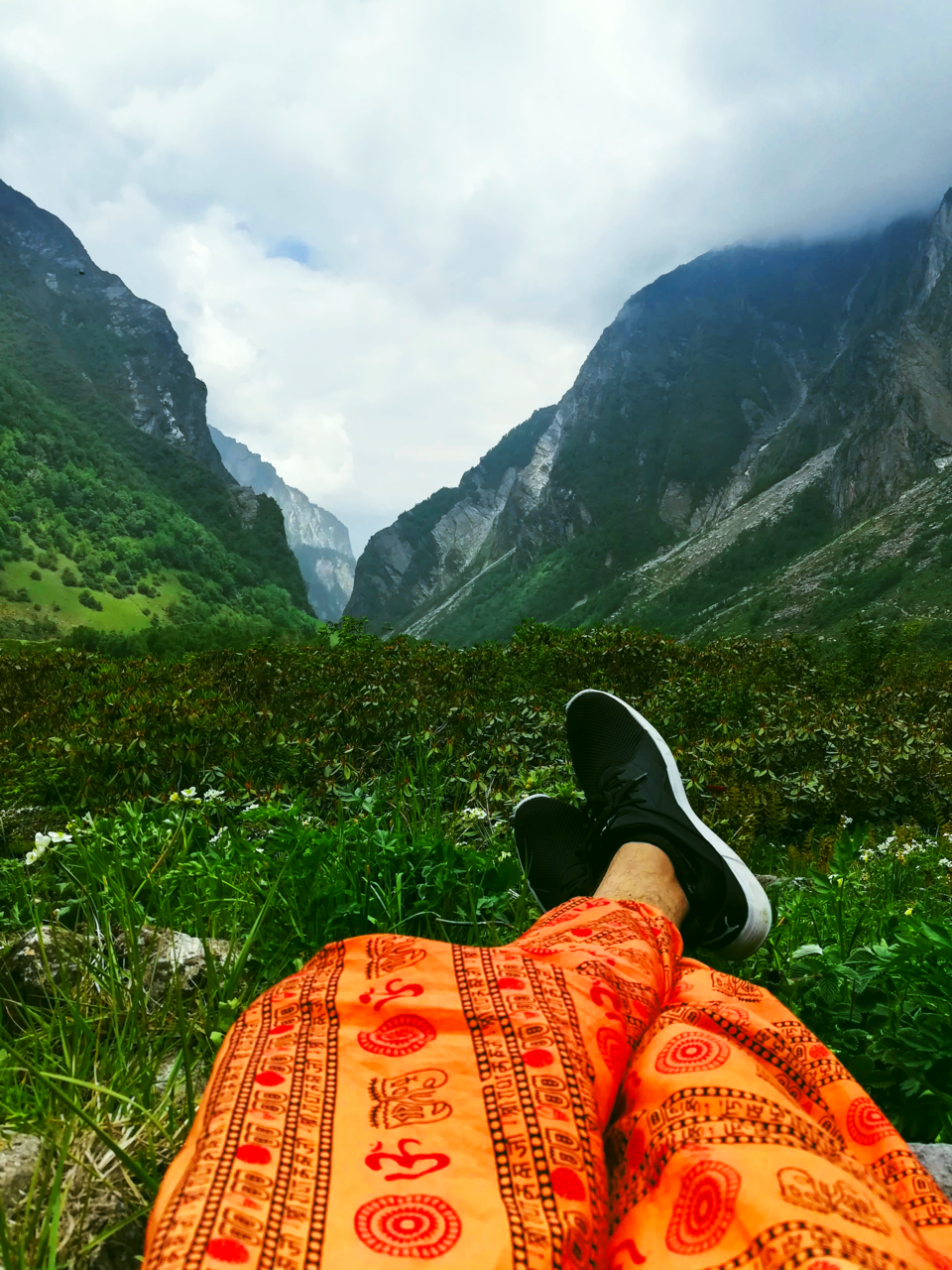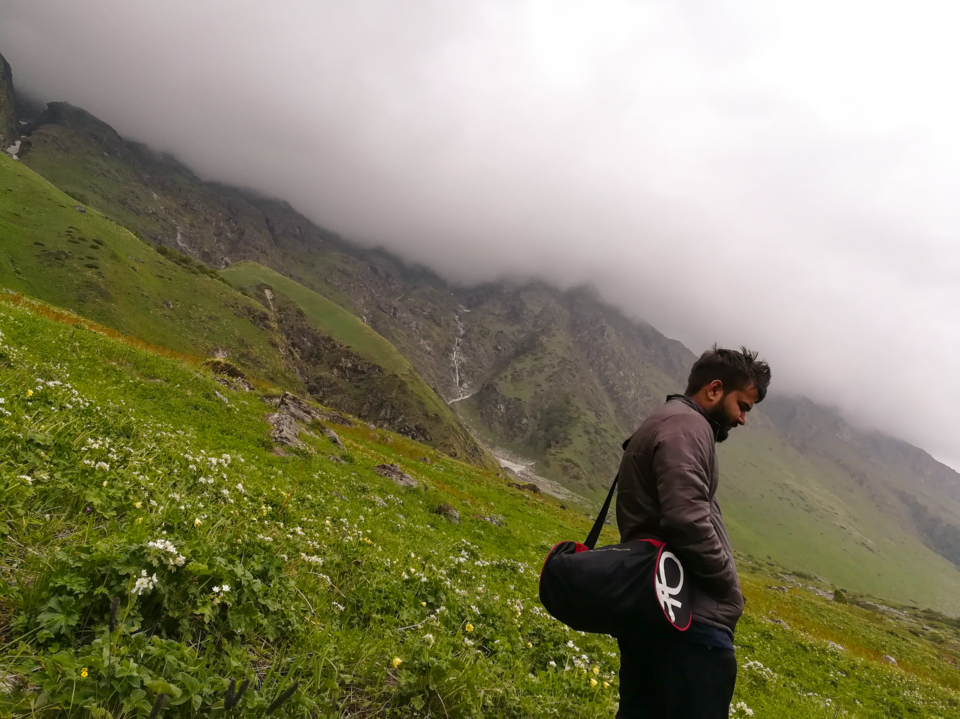 . . .
Now that you have made it till here, I hope you can totally relate to the meaning of the very first line, by Tim Cahill from chapter-1.
. . .
The below hashtags are the outlines from our unforgettable travel tale.
#thelongestroadtrip #thehimalayas #thenoalcoholzone #thenonetworkzone #themule #thetrek #themountains #thevalley #thegurudwara #thenoman'sland #thehomecoming #thelastofus
. . .
Visit here, for a better version of the story.