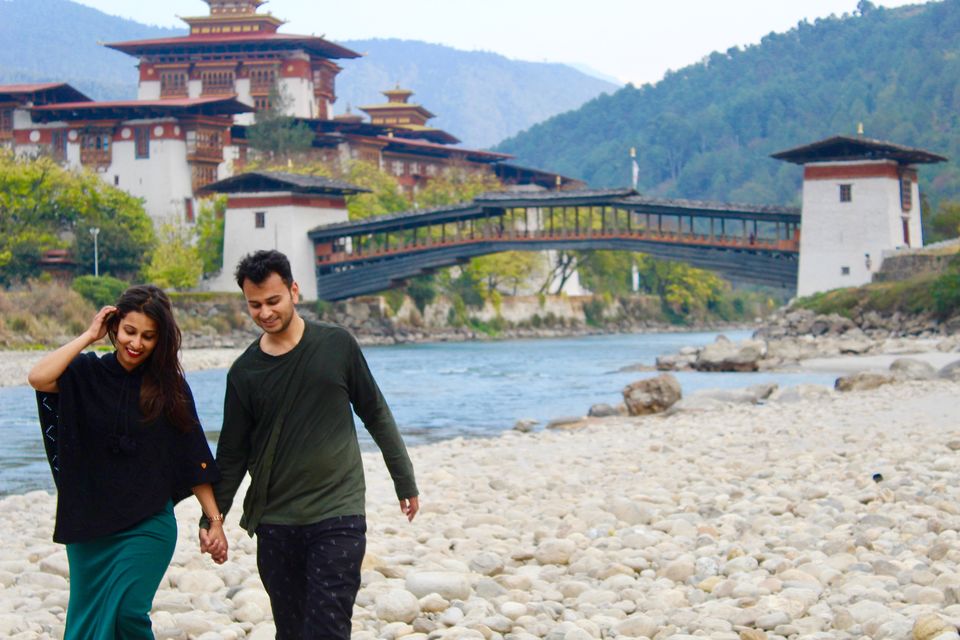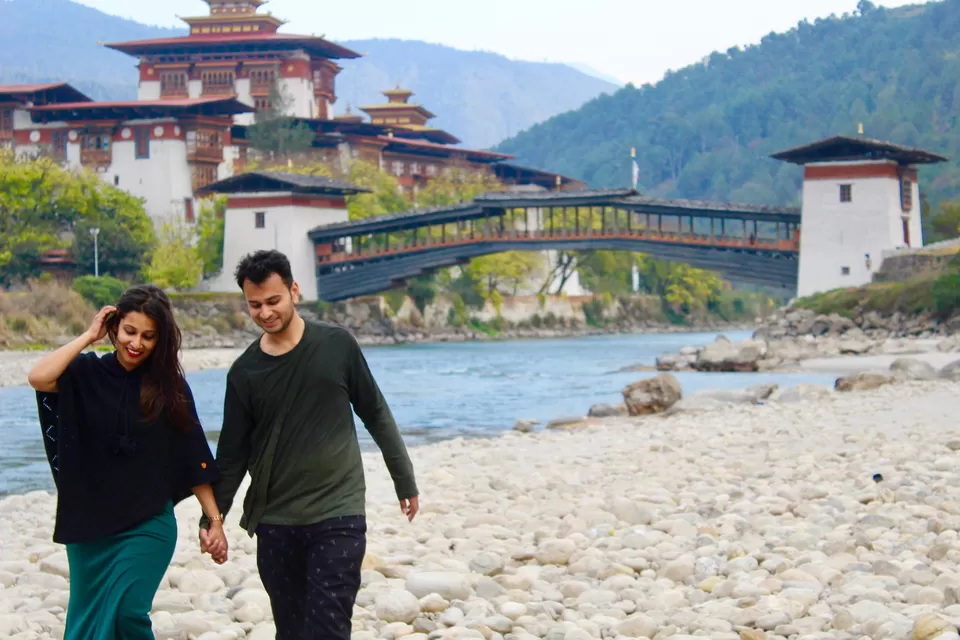 Bhutan's ancient capital before Thimphu, we love the city for its riverside. Its adobe of the most auspicious and beautiful dzong in Bhutan, longest suspension bridge of Bhutan and Phallus paintings.
Punakha is hotter as compared to Paro and Thimphu.
You will need a separate permit for Punakha. There is an immigration office in Thimphu. Go there, fill a form and collect your permit in 3-4 hours. We extended it for Punakha and Phobjikha. You can also extend stay up to a maximum of 30 days. Immigration offices remain closed on Saturday, Sundays and Bhutan Public Holidays. On working days it remains open from 9:00 AM to 5:00 PM Bhutan Standard Time. So plan your travel accordingly.
How to reach
3 hours (72 km) drive from Thimphu. Buses and taxis (both private and shared) are available from Thimphu to Punakha.
We booked a taxi for our entire stay in Bhutan.
Tip:- Carry some packaged food/ snacks and water bottle. You might not find restaurants nearby these points.
PunakhaDzong/ Pungtang Dewa Chhenbi Phodrang
Palace of great bliss. Most beautiful Dzong in Bhutan
Standing in between two rivers that symbolize Male and Female, Punakha Dzong seems a wonder in itself from inside out.
Oldest Dzong and most auspicious Dzong in Bhutan. King Jigme Khesar Namgyel Wangchuck got married here.
The moment you cross the bridge and enter there, you will admire the place owing to its quietness, green shades, and location. There are 3 sets of stairs to enter the Dzong, the middle one is reserved for the royal family of Bhutan only.
There are three courtyards alike other Dzongs which have two only. The first one is for administrative functions and houses a Boddhi Tree.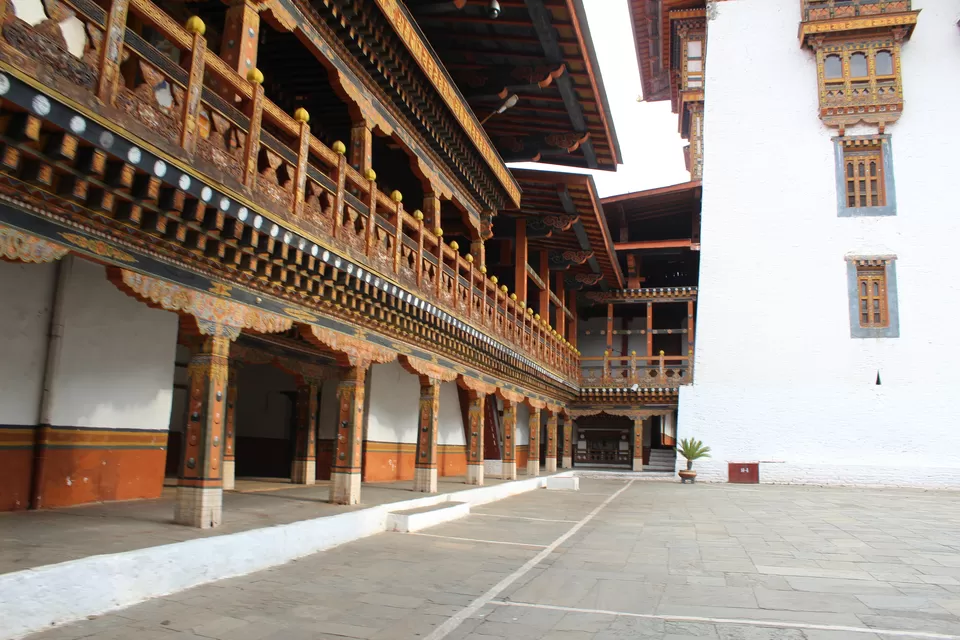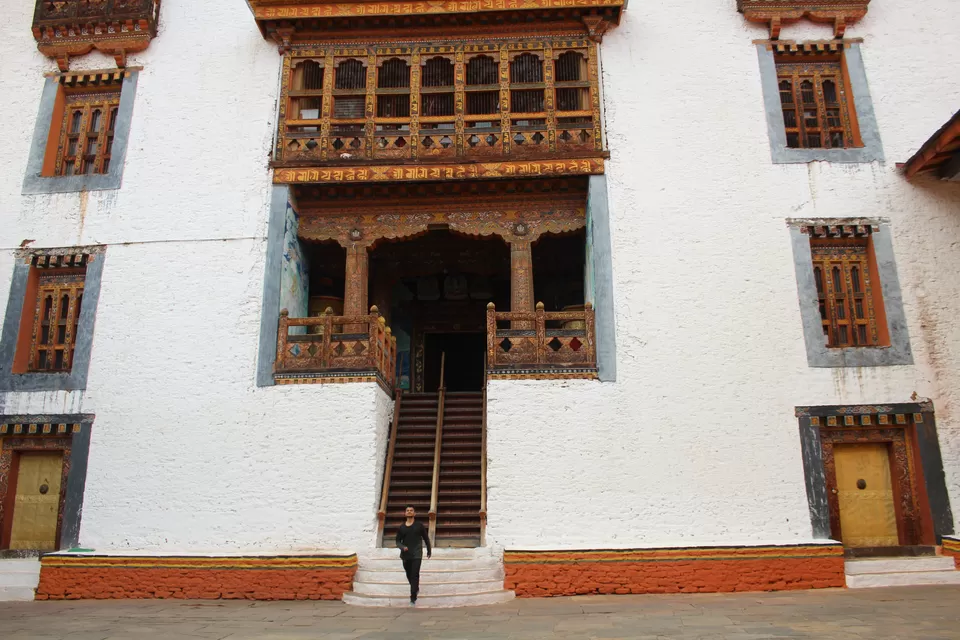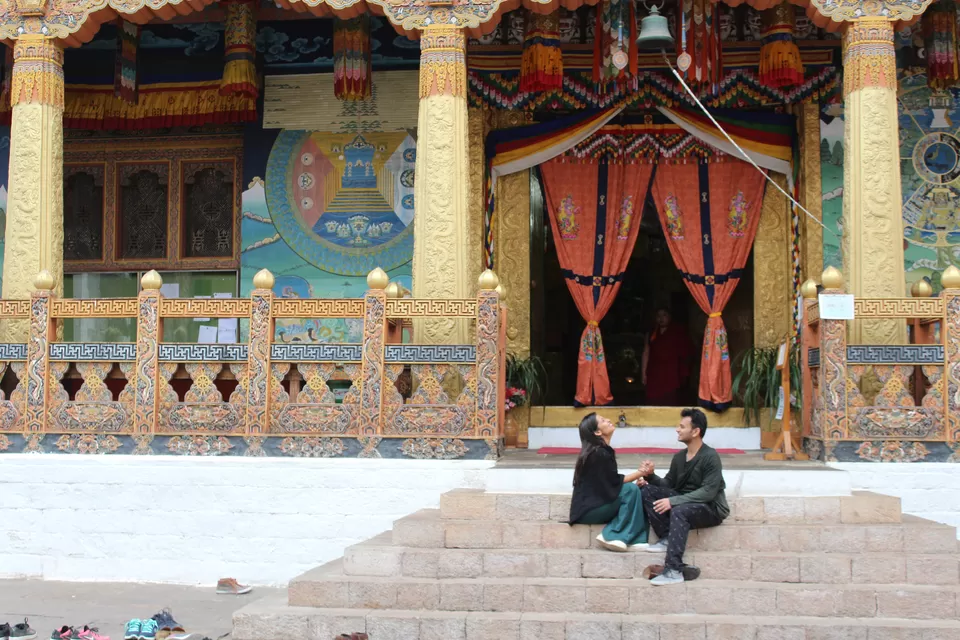 Timings
8:30am ~ 17:00 (Summer: June, July, and August)
11:00am~17:00pm (Winter: November, December, January)
The Dzong will close between 13:00pm~15:00pm during lunch time.
Entry fees
Rs 300 with a guide
Suspension bridge
Longest bridge (160 mt in Bhutan over river Po Chu river.the villages of Shengana, Samdingkha, and Wangkha to the Palace of the Wangchuk Kings. You will surely feel butterflies in your stomach as you walk on this bridge and it sways owning to strong winds.
Once you reach in the middle of the bridge stopped for a few minutes and enjoy the feel of it and views
We crossed the bridge and on the other side of it, a house was being built. In Bhutan traditionally they sing songs and dance while constructing a house and we joined in. Great Experience.
It took us hardly 10 minutes to reach the bridge from Punakha Dzong by car.
It's 15 mins walk from the backyard of Punakha Dzong.
ChimmiLakhang Temple/ Temple of fertility
Where else in the world you will find Phallus symbols on the walls of the houses around the temple.
When we were roaming the streets of Bhutan, many times we came across penis paintings and Phallus Souvenirs. Every time I was curious to know (as it's not a common thing) but hesitated.
My curiosity was finally fed after we visited this temple. Temple was built in the 15th century after the site was blessed by saint Drukpa Kunley, known as Divine Madman famous for his unconventional teachings. He advocated the use of Phallus symbols to drive away from the evil eye.
It is also believed that a childless couple if pay a visit to the temple and wish for a child, it will be granted by blessing the couple using a wooden phallus that is believed to be brought from Tibet by Divine Madman.
I think these things make it the most famous temple in Bhutan. Surely pay a visit.
There are handicrafts shops as well in the village.
How to reach
The temple is on the outskirts of Punakha (10 km) on Punakha Thimphu Highway. From the main road (Lobesa village), its 30 minutes walk through the paddy fields and village houses. You will get to see rural Bhutan here.
Vehicles also go up to the temple parking area (5 mins walk to temple) if you don't want to walk.
Riverside of Punakha
Buy a bottle of Bhutanese beer or Peach wine, take some snacks with you, drive a bit away from the city, to find a quiet place along the Punakha river.
There are rafting options as well.
Frequent searches leading to this page:-
Bhutan honeymoon packages from Mumbai, top places to visit in Bhutan, best places to visit in Bhutan in December, best time to visit in Bhutan, Bhutan packages near me