Last September we went on a memorable trip to Bhutan. From the moment we stepped inside Bhutan through the entry point at Phunshilling, I got a clear hint of what we could expect in the forthcoming 6 days that we were going to spend in Bhutan. If you too are planning a trip to Bhutan, here are the 10 things to look forward to:
(Some of the common issues faced by a first time traveller is answered at the end of this article)
1. Trek to the Takstang Monastery: Takstang monastery or the Tiger's Nest is the most iconic monument of Bhutan. So a trip to Bhutan, without visiting this sacred monastery will be incomplete. Located outside the Paro town this monastery can only be reached on foot. Although the two hours (or maybe more) trek to reach the top may sound difficult for many, but it is worth the effort. Just like the exteriors even the interior sections of this monastery are also magnificent. Our guide explained the importance of all the sections and also shared some of the beliefs associated with the monastery. It is incredible, how the monks build such a massive structure on such a high cliff of a mountain.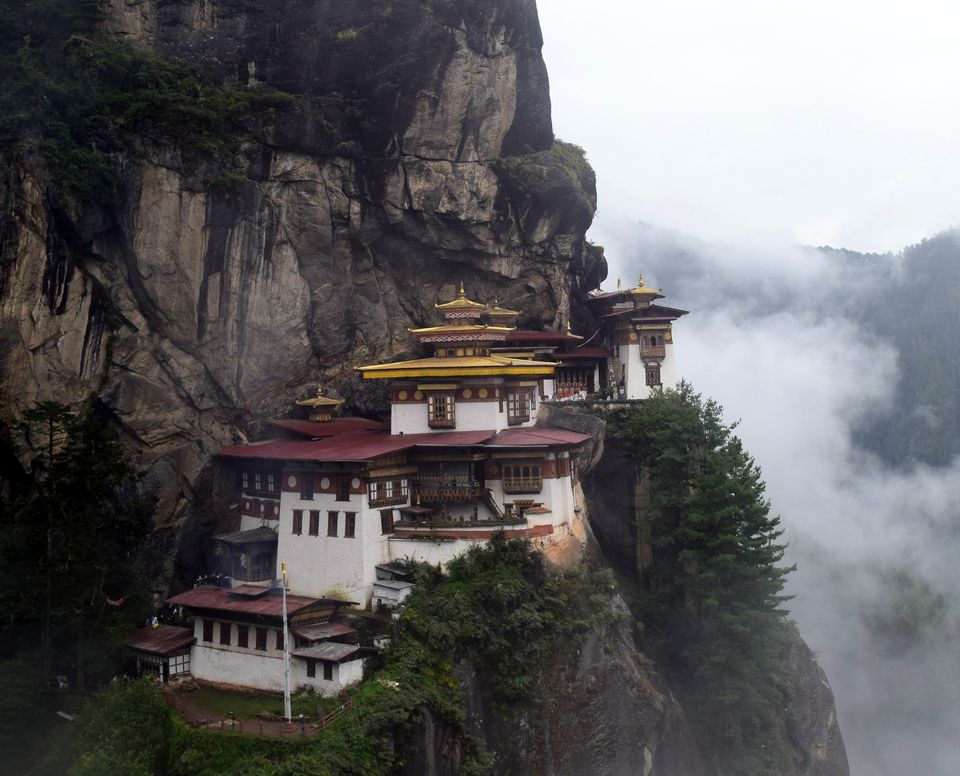 2. The grandeur of the Dzongs: A Dzong is a fortress that acts as the centre of administrative and religious activities. Build in the exquisite Bhutanese design, these Dzongs are massive in structure, has big courtyards and artistic interiors. Each district in Bhutan has at least one Dzong, so no matter which part of Bhutan you visit you will get to see one. Out of all the Dzongs we visited, Punakha Dzong was the most beautiful one. The Dzong is located at the confluence of two rivers and can be reached by crossing a wooden bridge. The Dzong was full of intricate woodwork and beautiful paintings related to Buddhism. The Punakha Dzong may be the best but the other Dzongs are nothing less.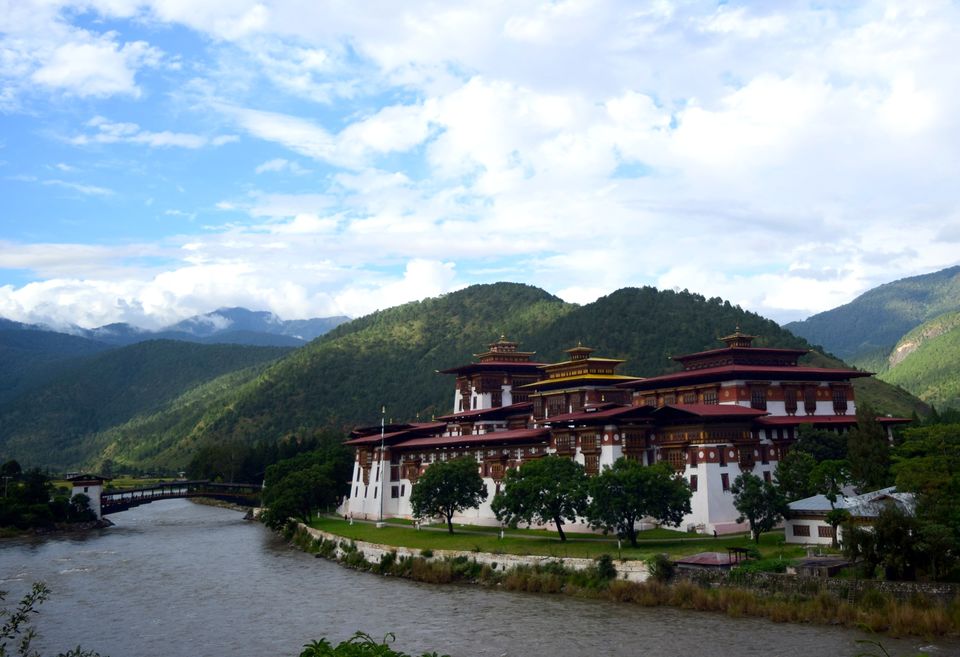 3. Colours of Tshechu: Tshechu is the annual religious festival celebrated in every district of Bhutan. Colourful mask dances and other religious rituals are the main attraction of every Tshechu. The Tshechus are organized in honour of Guru Rimpoche. Every Dzong organizes Tshechu at different times of the year so one can plan the trip accordingly. We planned our trip during Thimphu Tshechu and attended the first day of Thimphu Tsechu. The courtyard of the Thimphu Dzong was packed with both locals and tourists. The locals came dressed in their colourful traditional attires and jewellery and took part in the festival with lots of funfairs. We too enjoyed every moment of this colourful extravaganza.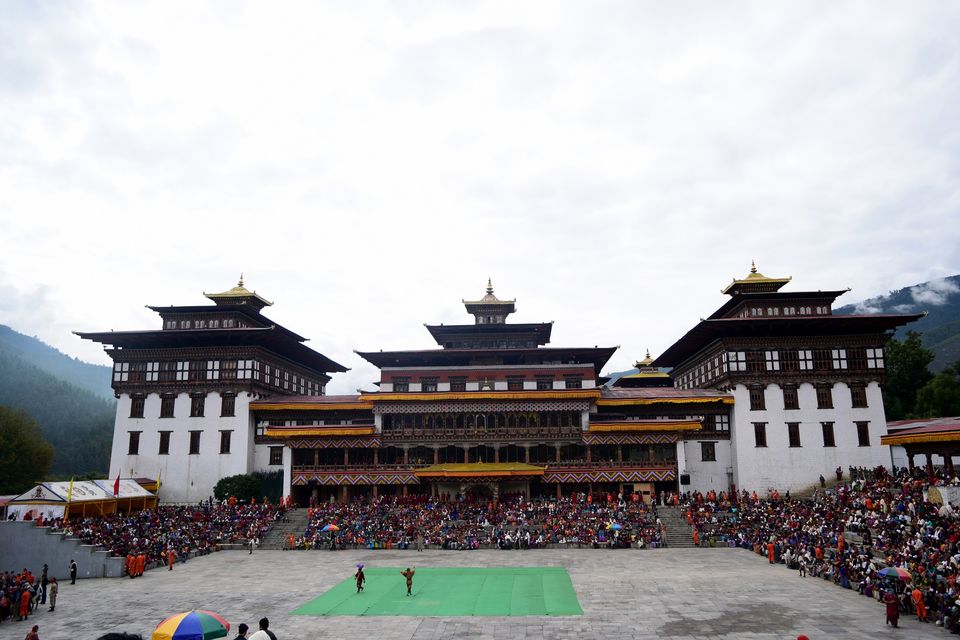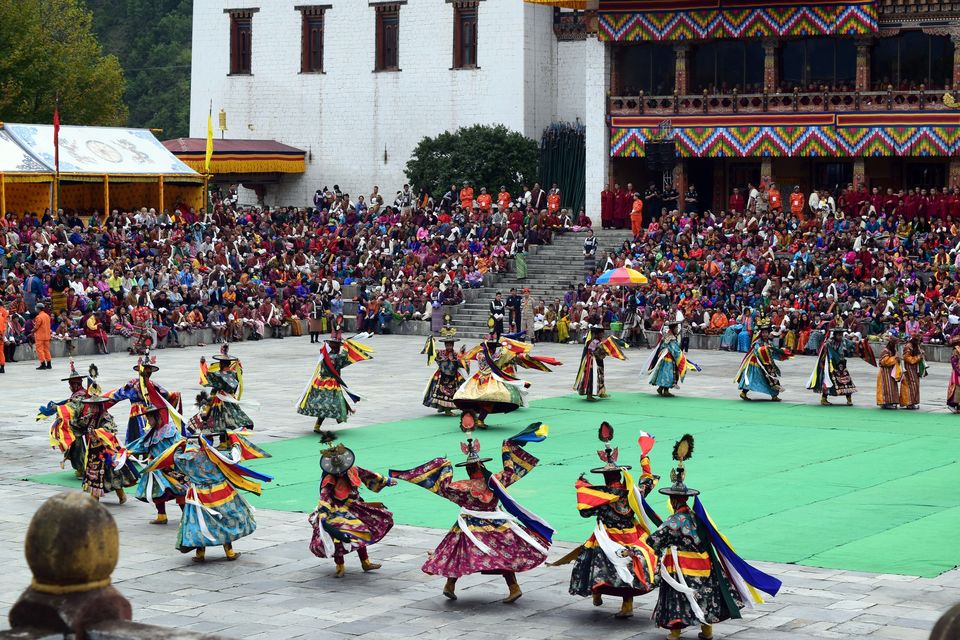 4. The serenity of Haa valley: Most parts of Bhutan are serene and filled with greenery but Haa valley has its own charm. Around 65 KM away from Paro, Haa is a tiny town surrounded by green mountains. It also has a few monasteries and a Dzong but the main attraction of Haa is its tranquillity. Away from the chaotic city life, Haa is a perfect place to soak in some peaceful moments. The road to Haa valley goes through Chele La Pass, which is the highest point of Bhutan and on a clear day one can easily see some of the Himalayan peaks at this point.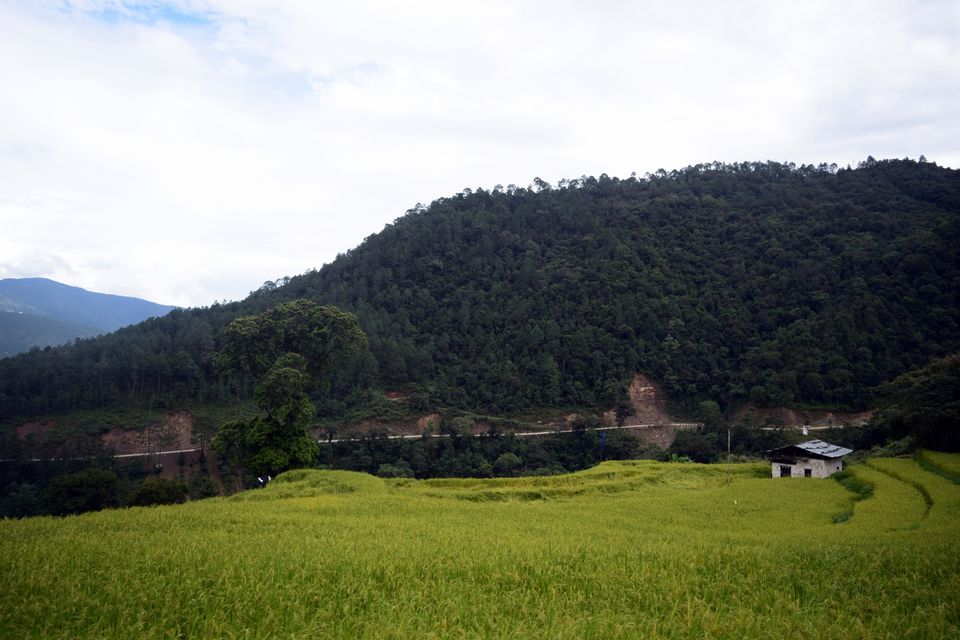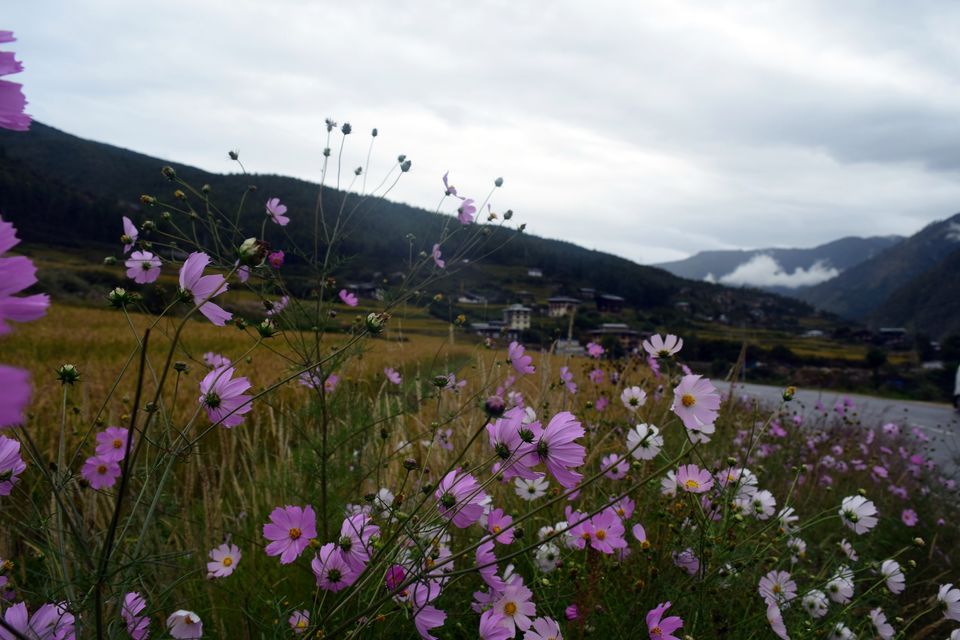 5. Buddha in its larger than life form: One of the must-visit places in Thimphu is the Buddha Dordenma Statue. Located on top of a hill this sitting Buddha statue is 51 meters in height, which make it one of the tallest Buddha statues in the world. This statue symbolizes to be the continual source of blessing, peace and happiness. There is an interesting fact about this giant Buddha statue, there are 125000 smaller Buddha statues hidden inside it. While at this monument I realized, how small are we and our worries in front of Lord!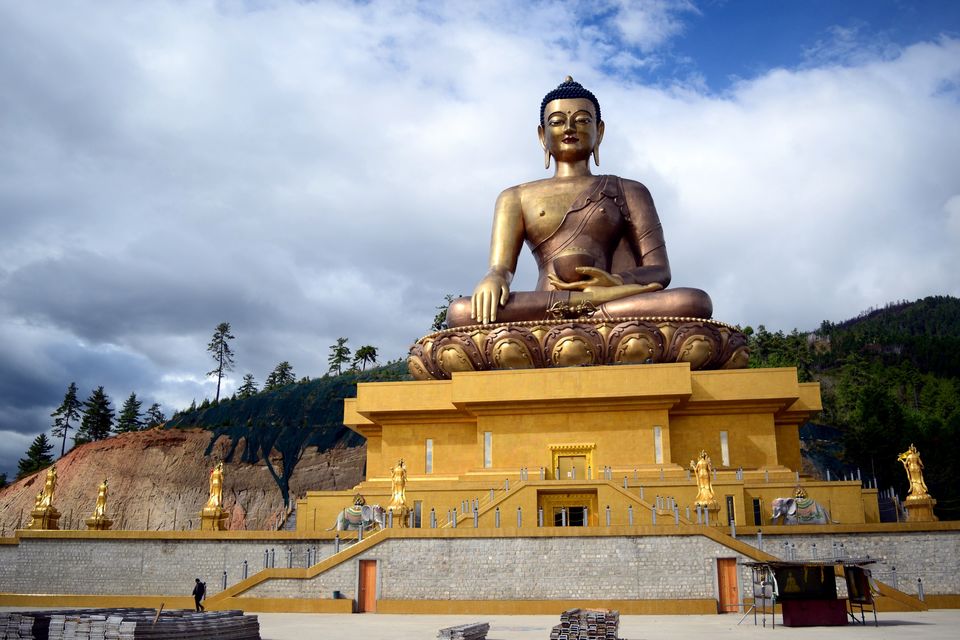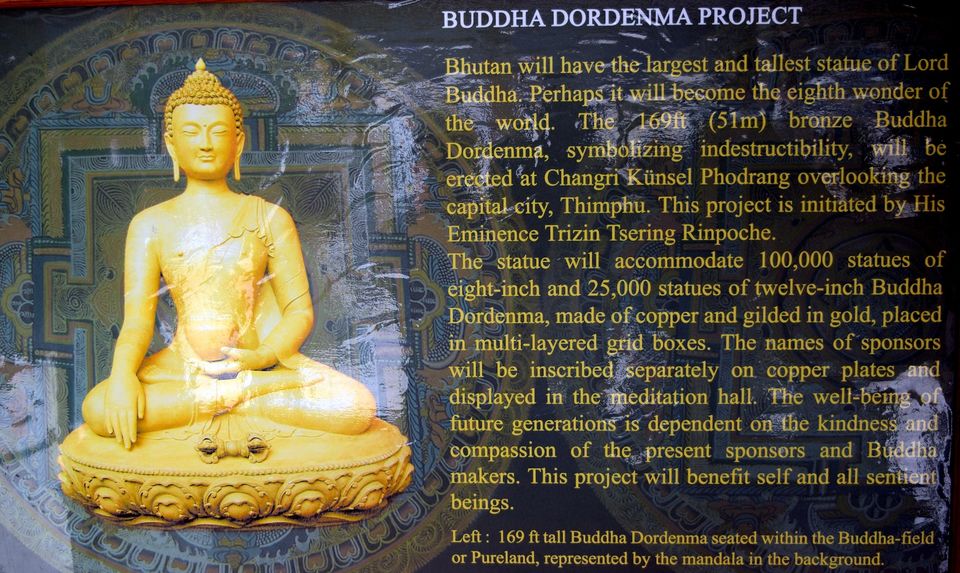 6. Chortens of Dochula Pass: On the way to Punakha comes a beautiful point named Dochula Pass. Dochula Pass offers a panoramic view of different peaks of the Himalayan mountain range. It also has a memorial with 108 chortens or stupas built by the Queen mother of Bhutan, to honour the Bhutanese soldiers who sacrificed their lives while fighting the Indian rebels alongside Indian army. The sacrifice of Bhutanese soldiers for protecting their neighbour is worth admiration.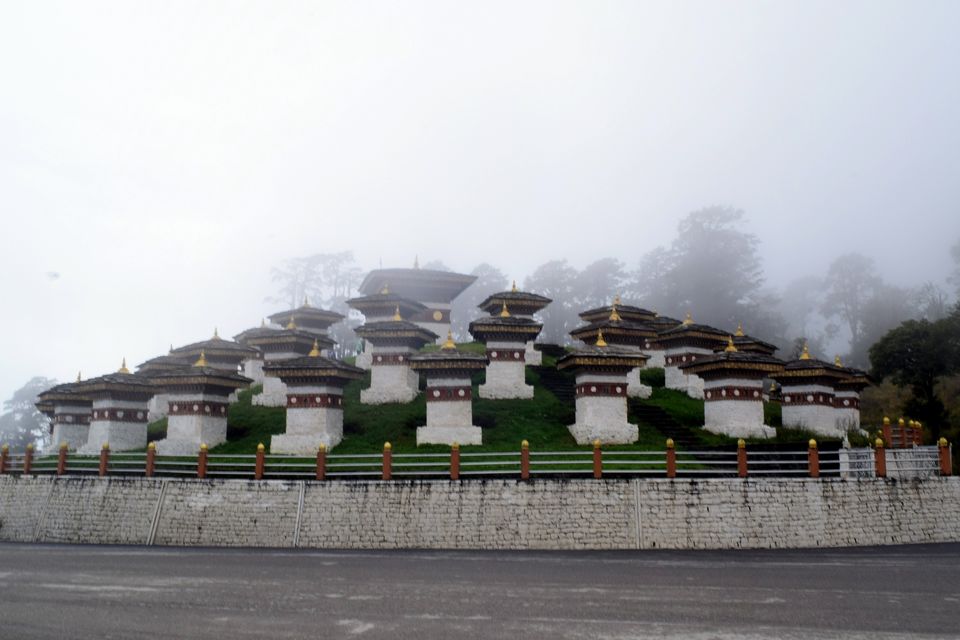 7. Noting to be shy about Phallus: Initially, it was surprising for us to see phallus or penis being drawn on the walls or doors of houses. Later we got to know that phallic art is not a taboo in Bhutan, rather it is considered as a symbol of fertility, good luck and an instrument to ward off evil spirits. It is believed that in ancient times there used to be a saint known as the 'Divine Madman', who used his penis to fight evils, protect people and propagate Buddhism. To honour the Divine Madman, a temple called the Fertility Temple is being built in Punakha. The temple is visited by many people including newlyweds to get blessings for a better life. It may be a culture shock for many, but once you know the background and importance of phallic symbols of Bhutanese Buddhism, it becomes easier to accept.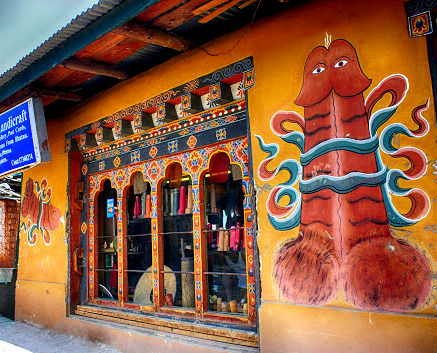 8. Eating chillies as a dish: A traditional Bhutanese cuisine was one of the pleasant surprises for us. Two predominantly used ingredients in any Bhutanese meals are chillies and cheese. In fact, Ema Datshi, the national dish of Bhutan is a combination of cheese and green or red chilli peppers. The restaurant of Folk Heritage Museum, Thimphu is one of the best places to try some Bhutanese food. There are a lot of Chinese, Indian and Continental restaurants in Thimphu, but why not try some of the local dishes while in Bhutan?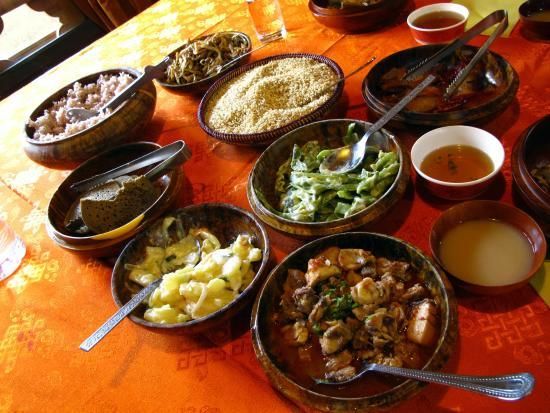 9. Date with the national animal: Takin is the national animal of Bhutan and the easiest place to find them is the Motithang Takin Preserve. A visit to this preservation centre in Thimphu gave us an opportunity to see the Takin up close. As we gazed to the enclosures, the takins would move gently to eat for some time and then rest for a while. We also got to know that takins are very shy in nature. Although there were a few other varieties of mountain goats as well, Takin took away all the limelight.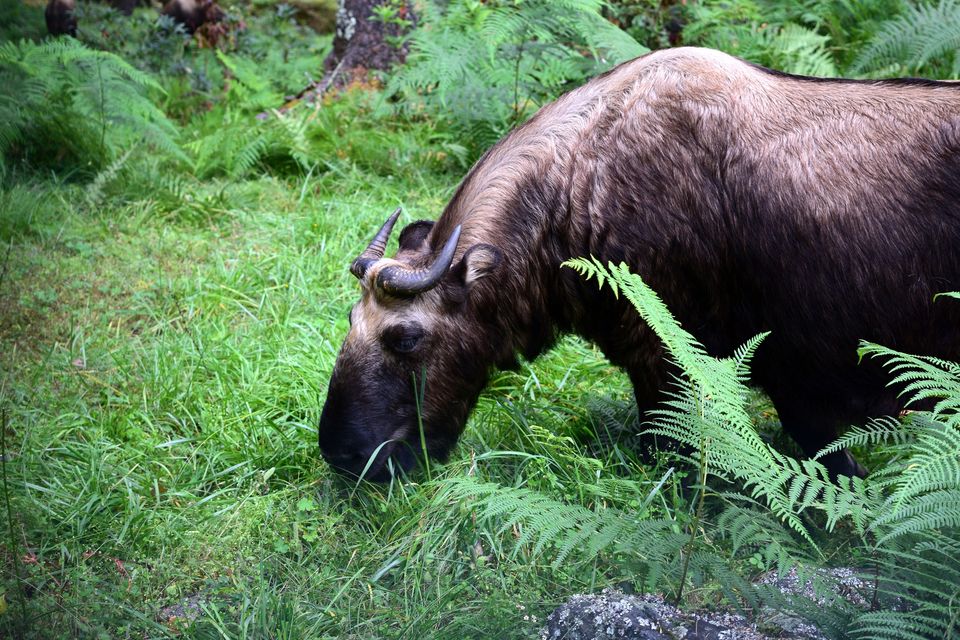 10. The friendly people: Last but not the least, one of the highlight of our trip was the wonderful locals we met on our trip. Be it the homestay owner, drivers, guides or people on the street, everyone was friendly and helpful. On many occasions the locals surprised us with their generosity and kindness, like the tour guide who shared his lunch with us or the lady at market who explained how Bhutanese people cook dried mushrooms and many more. Dzongkam is the main language of Bhutan but English is understood by almost everyone so we had no problem interacting with the locals. Moreover, we never felt unsafe throughout our stay in Bhutan rather I felt as if we were with our extended family.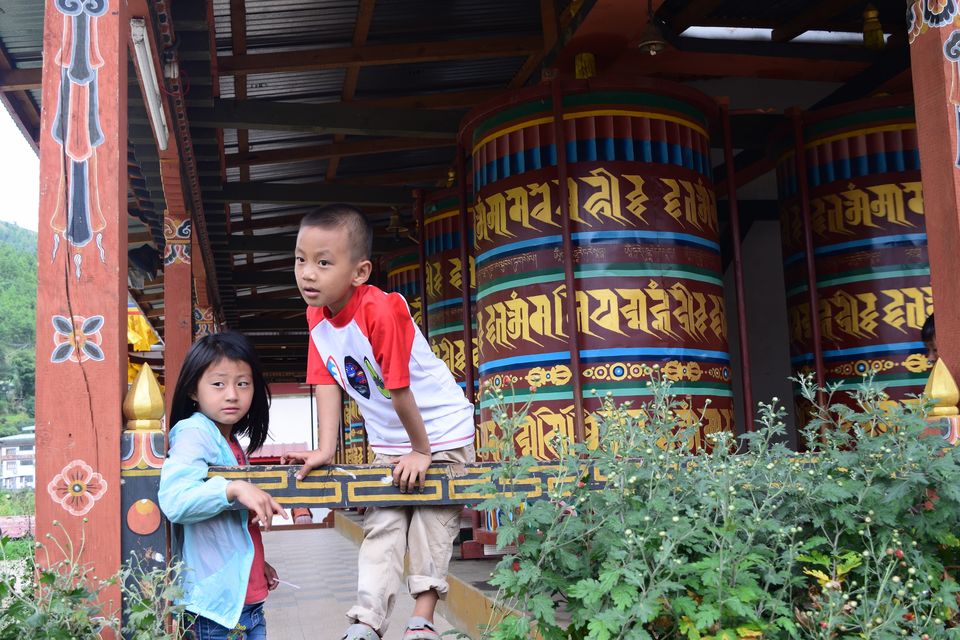 Bhutan is known for its emphasis on gross national happiness and we received our share of happiness during our stay in this beautiful country. These were the 10 things that made our trip even more exciting than we ever expected but there must be plenty of other reasons to explore this Himalayan wonder and for that we will definitely visit Bhutan again.
Here are some of the tips that you may find helpful:
1. Indian citizens can enter Bhutan by obtaining permits at Phuntsholing or Bhutan consulate at Delhi and Kolkata. The process of obtaining permit is fairy simple and it takes around 1-2 hours to get the permit. The applicant only needs to submit a copy of Passport or Voter ID along with photographs along with the filled up application form, which can be purchased at a photocopy shop near the immigration office. The working hours of immigration office is 9 AM to 5 PM, Monday to Friday, except Govt. holidays.
2. One can easily get a car or a shared cab to Paro or Thimphu from Phuntsholing, so pre-booking is not required.
3. It takes around 5 hours to reach Thimphu or Paro from phuntsholing and there are many places to eat on the way.
4. In the application form for the Permit one has to mention the name of the hotel you are going to stay, if you have not decided on the hotel you can write, any hotel. The Norzim Lam area of Thimphu has many hotel options of different budget, so you can book a hotel even after reaching there.
5. Bus and shared cab can be taken from Thimphu to Paro but to reach the entry point of Tigers nest, one will have to take a separate cab. Paro can also be covered on a day trip from Thimphu. Similarly Punakha too can be covered in a day trip from Thimphu.
6. Separate permits is required to be obtained to go to Punakha, Haa or other parts of Bhutan, which can be obtained at Thimphu. The working time is same as Phuntsholing.
7. Thimphu has a large number of restaurants and cafes with variety of cuisines to choose from, however in other places the number of restaurants are limited.
8. The best time to explore Bhutan is between October to April. During winter some of the places witness snowfall so its better to come prepared.
Read about some of my other exciting trips here.