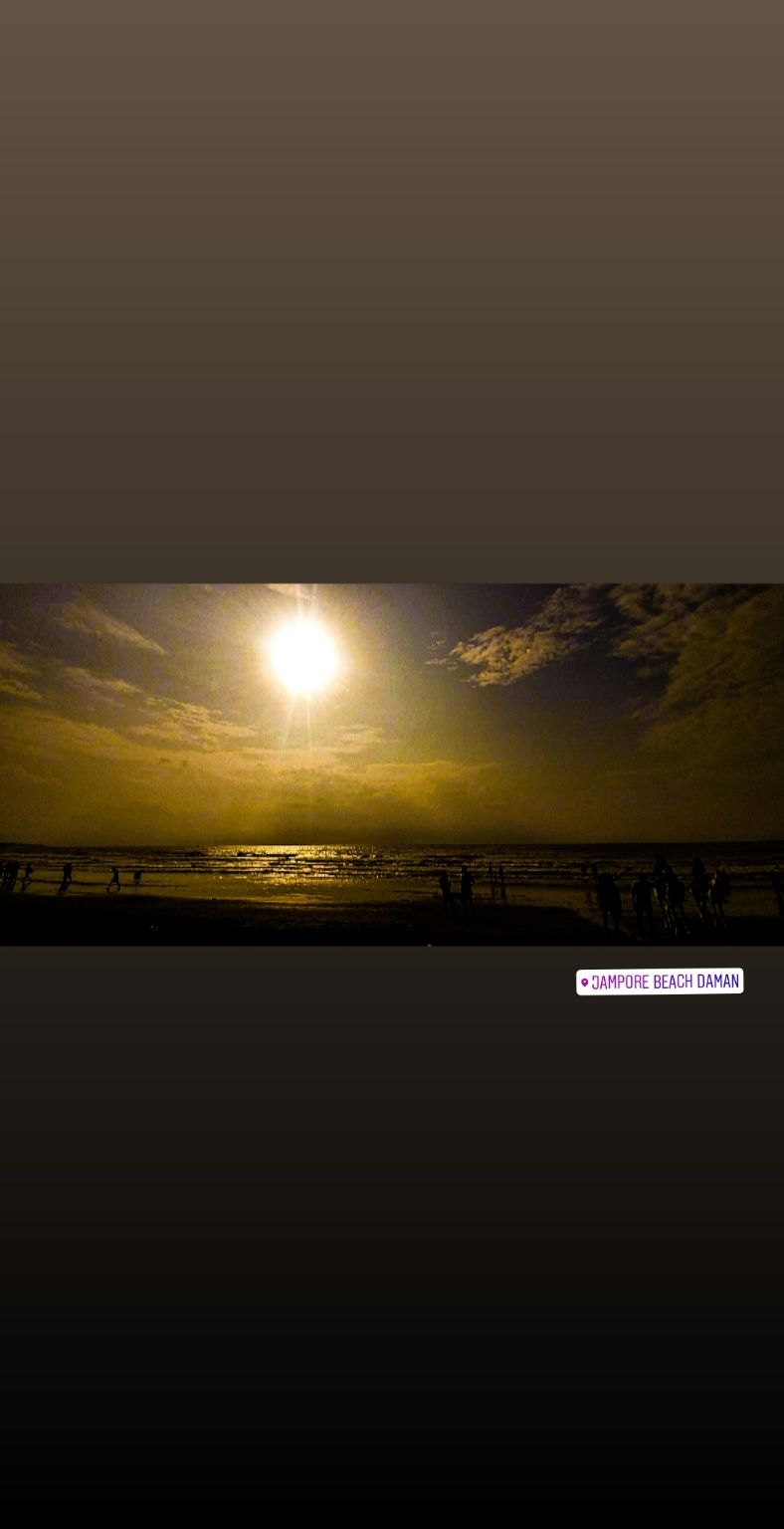 Date: 15th Sept. 2019, Sunday
After my trip to Udaipur I don't know why but I was getting used to with travelling. I wanted to make my every weekend productive, though i get only one day off. I always wanted to travel somewhere. So, on Saturday (14th Sept. 2019, Saturday) I was searching on map for nearby places to visit. First I planned to visit Gwalior but after that one of my friends said that The Statue of Unity is near from Indore around 11hrs of travel. But I was not in a mood to visit any monuments at all. After all those dramatic discussions I planned to visit Diu and Daman. Firstly we didn't know that Diu and Daman is around 672km away from each other so our excitement level was so high for Diu but when we got to know that these places are this much away from each other there was a sudden downfall in excitements. Though there are not so much places to visit in Daman, still we decided to visit Daman, as we have already booked our tickets...LOL! And to save the money i have wasted on my tickets (well this was my thinking before the visit to daman & also we'll be charged by 70% fines if we cancel the tickets so, we had to plan for trip) i started deciding the places to visit in Daman, our search engine started. We visited so many travel sites and also explored Google map. We listed out some good places to visit in Daman.
That time I went to home around two hours early, did packing and we headed towards Daman by bus in the night around 8pm. The bus was already late by 2hrs, so it was expected to reach daman late in the afternoon otherwise we would have reached there in the morning. Well there are no direct routes to Daman by Train or bus. First you'll have to reach to Vapi and then book a Cab or a Rickshaw to Daman, it is around 11km from Vapi. We reached at Vapi in next day afternoon (14th Sept. 2019, Sunday). As per planning we decided to book a cab. But while travelling we met one stranger who was working in Daman. He was basically from bhopal. We had some good conversation and after that when he got to know that we are on trip to daman, he invited us to get fresh and up at his flat rather than wasting out money on hotel room. This was actually the plus point for everyone when we meet stranger from different cities and become such a good buddy. As we have planned only for one day so we needed to rush without wasting time. We went to his room, got fresh and greeted him and went out to explore Daman.
Our first destination was St. Jarome Fort. The fort is situated in the banks of the river and it has really good architectural effects. There are two huge doors at the front and at the backside. The two huge artistic sculptures have been made next to these two doors, which is one of the attractions. You can see the best view of Daman and the coastline from top of the fort. There is one famous church, Cathedral of Bom Jesus, inside the fort which is again a good place to visit. The jetty have been constructed in front of the fort and infinite numbers of sea boats are there, you'll definitely going to get the good pictures at that place. And the place where sea meets the foundation of fort is again very attractive.
After some good clicks we decided to go to lighthouse, which is at the other side of river. The lighthouse is one of the best attractions in Daman. And also the view of Lighthouse during the evening is awesome. When you see setting of Sun behind the lighthouse, the scenery becomes very beautiful. It was worth visiting the lighthouse. Even you can go at the top of the lighthouse just to see the entire view of coastal line.
Now it was time for us to go to Jampore Beach. Jampore Beach is the best attraction for the tourists in Daman. There are so many small shops at the beach which will seize your hunger. Also the coconut crush is very famous at beach side. You'll get to play the water sports, ride parceling and many more activities. Sitting at beach side, looking towards sea, having coconut water and some good food is out of the world feeling for me. I really had best time at Jampore Beach. And also the view of Sea in the evening time is mesmerizing. You will definitely feel like sitting here for hours and hours. We almost spent most of our time at Jampore beach. We had some really good sea food. If you are having time then you can also visit so many other places in Daman like Devka beach, Dominican Monastery, Jetty garden and many more water parks. And also don't forget to plan for Diu along with Daman. It's worth going there.
So, this was all about my small and sweet trip to Daman. I was not so sure that, whether this would be successful trip or not but, at the end we were totally satisfied spending our weekend in this productive way.