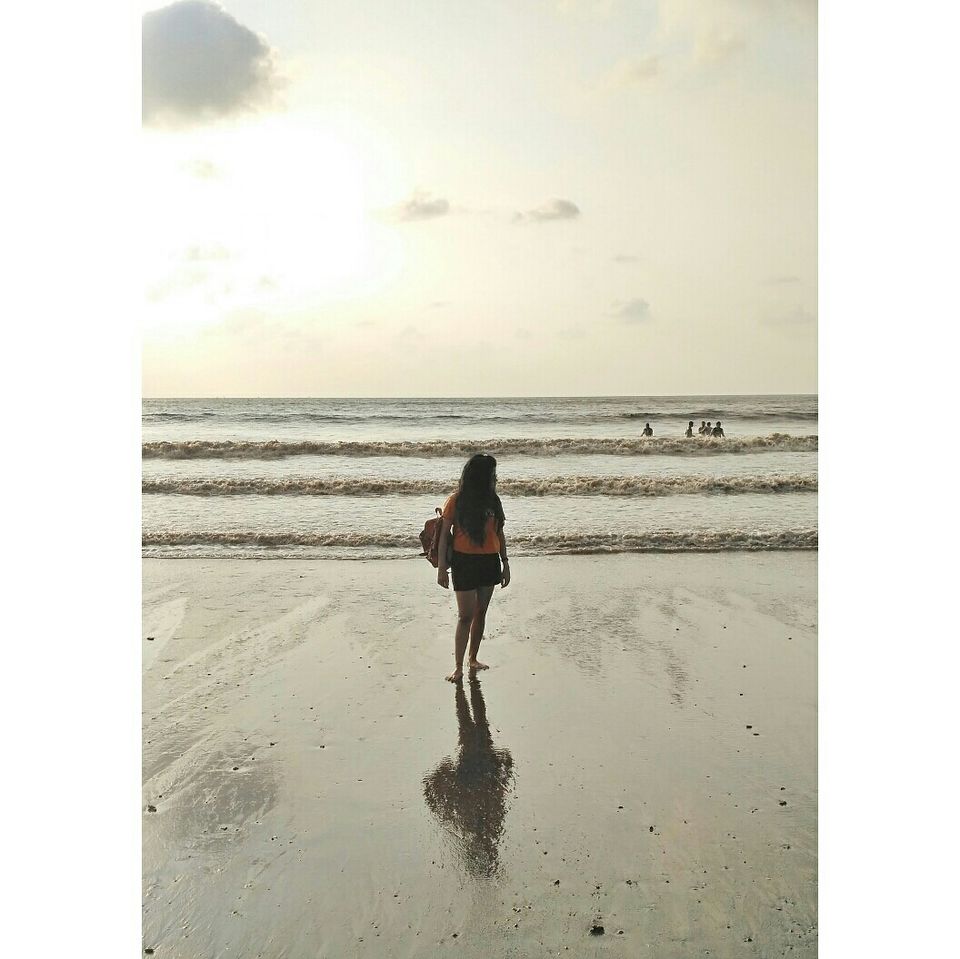 On 24th morning, at 8am in the morning, I was picked up from my home dressed casually in shorts. There was no plan, except a coffee from McCafe at McDonald's. We headed for coffee, placed an order for classic with extra shot and then I yelled - let's go to daman! What say? Bff - yeah, coffee on the move! And that's how we started our roadtrip to Daman which is like 150kms and 2h 39m away from Mumbai!
We headed through Mumbai - Gujarat NH8 Highway. So roads were very good. As soon as we were heading to Daman, I came across a board reading Silvassa. I - do you think we can make it to Silvassa. Bff - why not? Check where should we go at Silvassa. I opened Google places and came across a place Damanganga river front. Place looked exciting and just 13kms away from main highway. We were soon about to enter into union territory of Dadra Nagar and Haveli. The roads were kinda okay. When we reached Damanganga River, the river front was closed. It was already 12.30pm and we were hungry. We decided to have lunch at Lord's Kamat resort. The restaurant had beautiful river facing view but sadly, it also served non-vegetarian food. So we left from there with nothing great to see and decided to have our food at Papillon restaurant at Vapi on highway itself. Food was yummy. After that we headed straight to Daman.
Going by Google maps, we read about fort in Daman. We came across The Deltin hotel on our route. We followed the route and were soon at the gate of the fort and saw a car taking an exit from the fort. We entered into the fort in our car itself just to see that an entire colony and lot of government office buildings, church, exit to jetty etc. inside the fort. The place is also called as Moti Daman fort or Jerome Fort. Basically, Daman is divided in 2 parts - Moti (Big) Daman and Nani (Small) Daman. Moti Daman fort in Daman features among one of the popular monuments in Daman. It was once occupied by the Portuguese colonial rulers and constructed a in 1559. Touted as a popular tourist attractions of Daman, the place is characterized by a dream-like ambiance. It had lot of Portuguese style, Color popping buildings with heritage architecture. You can also go on top of the fort to view Daman harbour but we decided to view the harbour itself.
We booked a boat ride for 200₹ for 2 people. They charge 200₹ no matter how many people you are within group of 8. For 2 people, 200₹ was more, but we didn't bargain and booked the ride. We were soon entering into deep waters of Arabian sea. Since I fear (sea-sickness!!) of deep water and sea, I requested the boatman to go back to the harbour after covering some distance. But the ride gave us glimpse of decks beach, lighthouse of Daman, Nani Daman. It was breathtakingly beautiful.
We also visited BOM Jesus Church which was built in 1605. Beautiful church with beautiful architecture.
We headed to Nani Daman which is 5kms away from Moti Daman. We skipped visiting the fort here since we wanted to visit Decks and Jampore beach.
Devka beach was less crowded but it really needs to be cleaned every day. Why can't people follow basic civic sense and visit places responsibly? It's not only government's job but as a citizen, we should be more aware? Why throw waste in such places when they don't even do that at their own house? Its very beautiful place if you can overlook the dirt on the shore.
Later we headed to Jampore beach. This beach was crowded with people. Not as dirty as Devka, but too many people. There are shacks here which provide booze and food.
We left for Mumbai at 6pm and were home by 8.30pm. it was a wonderful experience. Thank god we finished it in a day. Staying there for another day can be avoided. We wish to have a road trip to Diu Islands too in future!