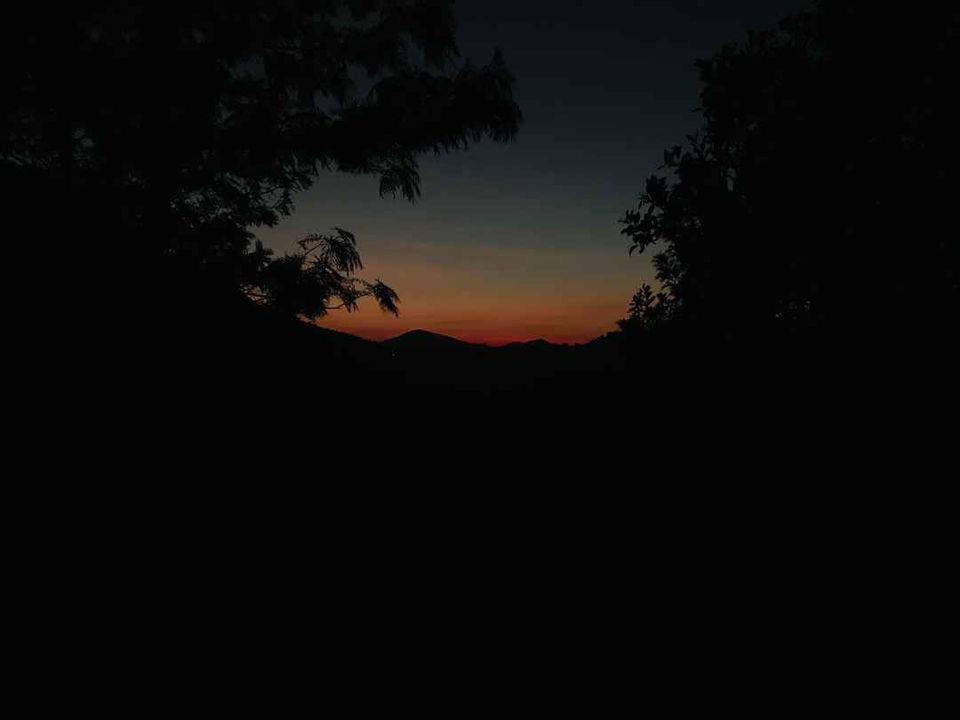 The traveler sees what he sees, the tourist sees what he has come to see!
-G.K. Chesterton
I would want myself to be considered in the prior one, always!
2020 has been a different year altogether which trashed all our travel itineraries to bin for most of the time. But come December, we were almost crazy yearning for a drive and this was when we finally chalked 10 days long road trip starting from Noida. We drove down the West coasts of Gujarat in Dec of 2018 and this time we decided to traverse through the East coast and give Bay of Bengal some more waves (only by our hand) . 19th evening we started from Noida and were all set to drive towards Bilaspur, Chhattisgarh via Lucknow.
Thanks to the roads, we were already in Lucknow in around 6 hours time. We stretched ourselves there briefly to start again in 45 minutes towards our next pit stop. The drive ahead was no less than pulling a roller coaster due to the extreme fall of fog on Lucknow-Allahabad route. Overall we must say that the road conditions were good and we were able to cross Allahabad by 3 am. From here on, we had to drive towards Rewa. The roads ahead were mostly through forest and shabbily managed but breaking of dawn kept us sailing through. The MPSRTC's refreshment centers were like oasis in the desert and kept on coming after every 40-50 kms amidst the jungle. Some of them were closed due to Covid and unavailability of staffs and some were operating partially with decent requisites.
Holding up our driving capabilities with chai breaks at rife, we managed to reach Bilaspur by 1430 hours. We relaxed for rest of the day with some awesome maa ke haath ka khaana and loads of sweets. Continuing our chats and banter to the evening just to make sure no one succumbs to sleep. Our plan was to hold up ourselves till night so that we can sleep early to start at earliest the next morning. We hooked our evening plan of Bilaspur to our local host and he took us to amazing places for real relishing street foods which are tested by generations. After binge eating all that we could, we finally kowtowed to sleep and rushed back home, full till brim and exhausted af.
Keeping to our promises, we did not allowed ourselves to be apart of any mehfil after reaching home and directly hit the bed like most disciplined kids. This helped us kicking up our lazy asses out from the bed at some 5 in the morning and we were already journey bound before the breaking of dawn. Now this was some real accomplishment to brag about because it has made us keep to our self made promise to start early and keep our itinerary afloat. The roads between Bilaspur and Raipur are newly built and are in superb condition, which helped us to cover those 120 kms in just couple of hours time. Now Raipur was the place where we decided to have our breakfast and we trusted our local host for his suggestions. And believe me- it was much more than what picture tells you about it. Speaking a little about this unique dish: Poha-Samosa, it's actually a fusion of 3 amazing street foods- 1. Poha which is very opulent throughout the streets of MP, Maharashtra and some part of Rajasthan. 2. Samosa- which you can find anywhere in the world wherever there are Indians (has origin of Middle East). 3. Matar- This is can be found served majorly on West Bengal, Jharkhand and Bihar mostly. Since it's cooked with gravy, hence turning the entire dish smoother and make its melt easily while chewing.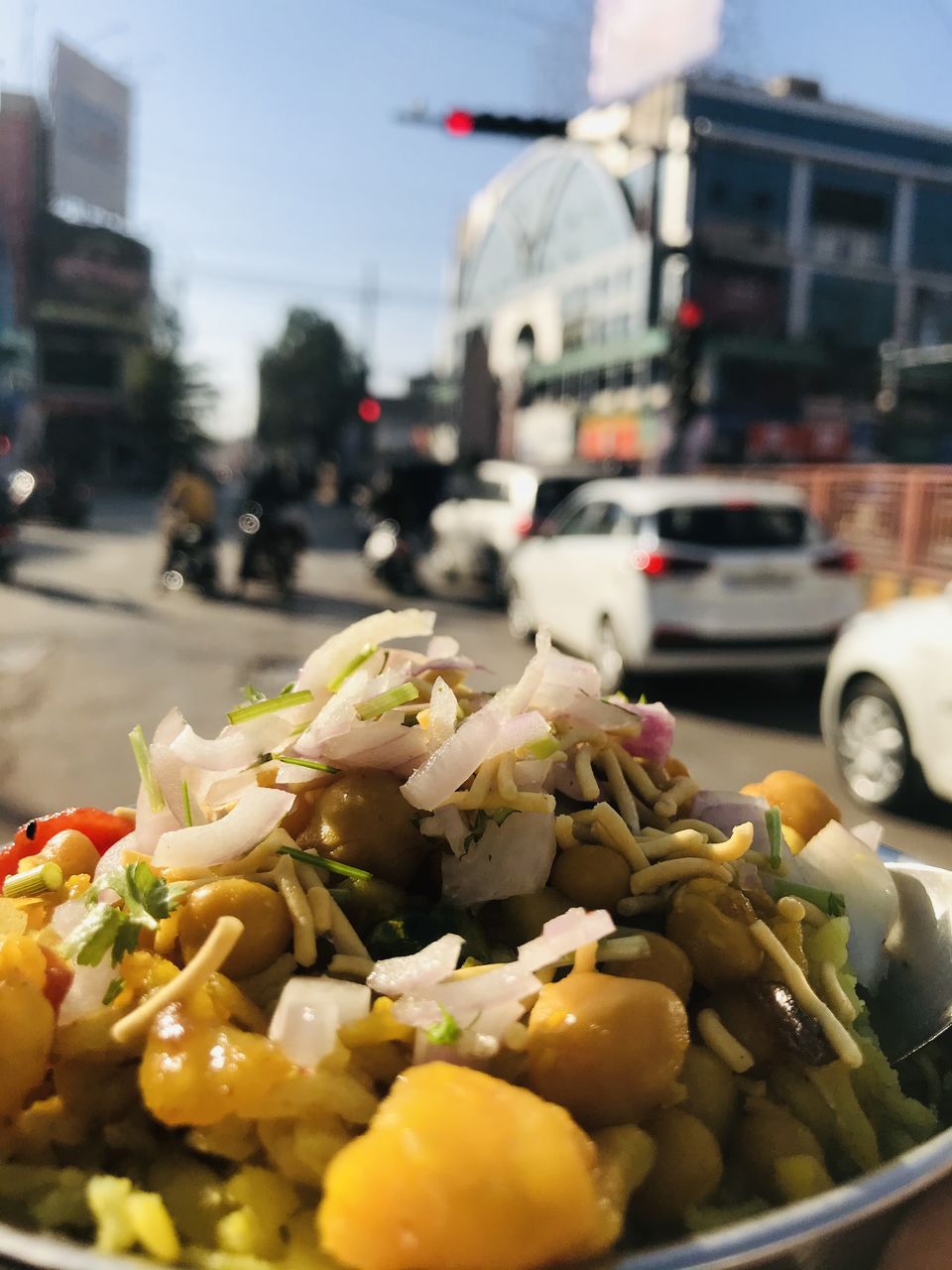 After spending some 45 minutes at this food joint located at Chowk of Jawahar Nagar, we forged ahead towards Araku Valley with the next pit stop to be Jagdalpur. This place came up to our mind just as we saw the route map of Raipur- Araku as this reminded us of one of our college seniors who is a native of the place. The drive from Raipur began at close to 9:30 am and it was a humpy bumpy one with the not so great road conditions for half of the time. Rest part of it was, more or less smooth with minimal diversions and some villages enroute but it was enough to buoy us up and keep us going. By 1430 hours we reached our pit stop and I can say, we were again privileged enough to have the Maa ke haath ka amazing khaana at our mate's place. We nestled ourselves there for a comprehensive one and a half hour or so, as all the college gossip kept oozing out of the box.
Now we began our journey towards Araku valley where Haritha Valley Resort was home for us for precisely some next 36 hours. We must admit that the road conditions were pathetic for the next couple of hours and completely jolted all of us after a long long drive throughout the day. We decided to fill up the tank and take a break as it turned dark and a local route suggestion was becoming necessarily important. The manager at the gas station was kind enough to give us the best route advise and by glancing at the registration plate of our vehicle he couldn't stop suggesting us some specific cuisines of Araku too. He emphasized that no tourists should miss these specialities of Araku during their visit. Rejuvenating our senses and crossing our fingers for the road ahead, we furthered our drive and fortunately after some 10-15 minutes of struggling through the traffic of the town, we were finally driving in solitude on a good road. Although it was a two lane only but considering the scanty traffic, this was more than what we needed right now. The drive was a little spooky and adventurous at the same time as it was a stark dark night at a completely unknown location where we were mostly singular vehicle driving on a somewhat hilly terrain with dense forest. Spotting a jackal has complemented our thoughts about the place but we were lost in our own world of words with some never ending bantering with all the pinch of entertainment flowing in the air. The terrain continued for some good one and a half hour till we entered in to the state of Andhra Pradesh.
The border crossing was not much of an affair, which left us a bit confused and debating whether we have actually crossed the border it was just a small check post on the road. But the writings on the wall confirmed us about the change in state. Now the boards and milestones were more speaking of Araku which is very popular for being a hill station among the residents of the nearby places. It was close to 2100 hours when we finally reached at our shelter. Being a weekend along with the merry Christmas round the corner the whole place was evidently echoing with euphoria. All you can find were people huddled near their private bonfire all over the garden area. There were atleast 10-12 groups chilling in the heat of fire in the similar fashion. All you can find were happy faces with their own set of ecstasy. We decided to limit our enjoyment to our room as we had to travel long in the ongoing pandemic without affording any unwanted contacts. We opted for non AC room accounting to the local weather and the room was of utmost comfort if not luxury. I must say that the kitchen service was pretty slow arising due to unusual and unprecedented crowd. Also, we decided not to stretch the night too long and rested ourselves to sleep by 1 at night after having our dinner.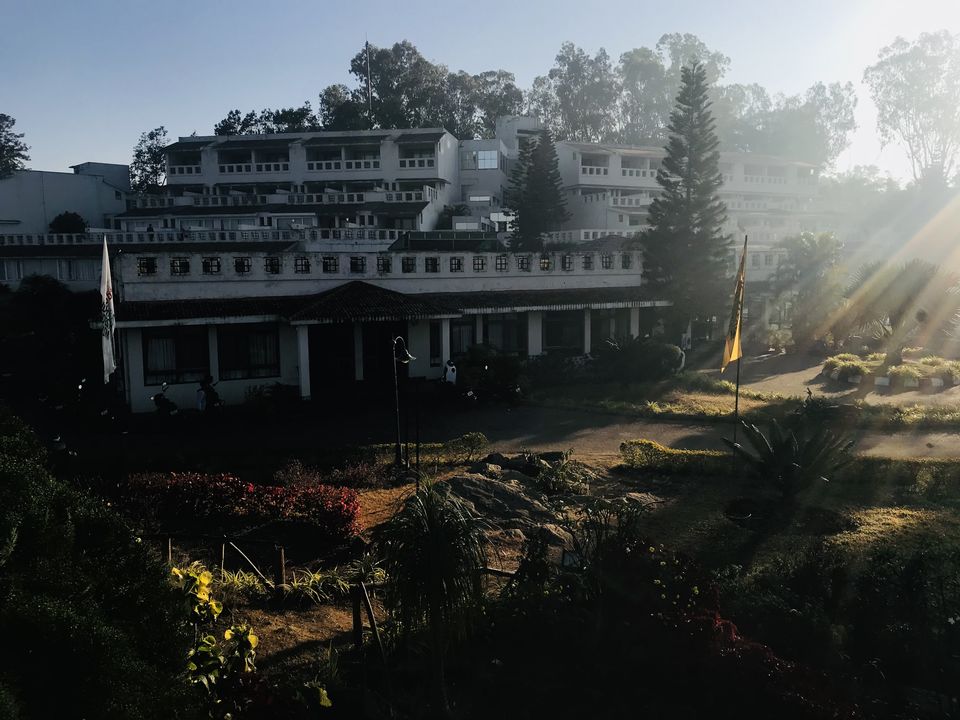 There's a sunset and sunrise every single day and trust me they are absolutely free!
-Anonymous
Though everyone wanted to have full night's rest and already voiced it out aloud during dinner, but I had all no plans to miss the Araku morning. I checked the sunrise time on the app before sleeping and it was indicating 6:27 am so I decided to get up at 6 (though managed only after snoozing for another 15 mins). It was damn cold in the balcony with a visibility of not more than 5-7 meters. This lazed me my time to freshen up as it was pretty much clear that sun is surely not getting the permission anytime soon. Around 6:45 I was out of my room towards a recce around the resort with all the winter gears I had carried along with me. It was merely 10 minutes of a walk and I was sure that the resort had not left with anything more to be looked upon. With craving for coffee, which Araku is renowned for, I started my little expedition out of the boundaries of our resort. After walking for less than 10 minutes I sighted an excited huddle at a place a little away from me and I was sure that these are chai/ coffee fanatics. Reaching there I had my own cup of coffee barging through the crowd and then I ordered second. These coffee were surely Arabica as they tasted creamier and bitter at the same time. The style of brewing was a bit different but it was amazing. During slurping my second coffee I could see the sun finally creeping through the fogs and within only minutes, all the fog was gone in the thin air. I took my way back towards my hotel room spotting a mid aged lady selling some local Masala Dosa and the counter was rushed with eaters. This was on the wish list too for now.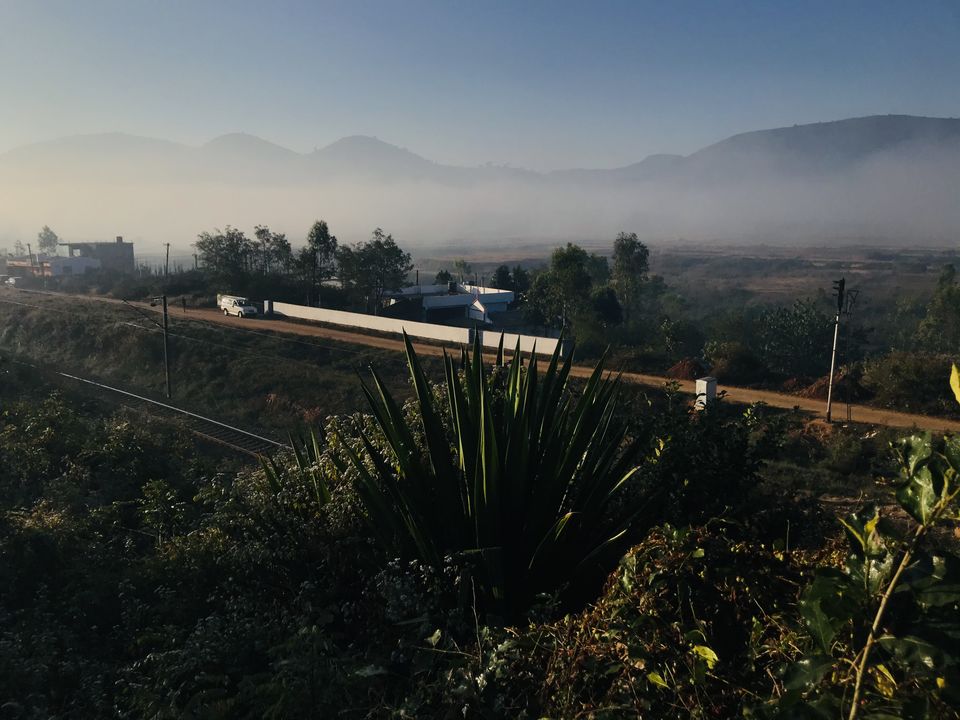 We kept our first half of the day free from any plans and all that we had on mind was to relax. So, after finishing our breakfast by 10, we now again reached to this stall outside the hotel to have coffee. Now that it was completely sunny, the splash of rays were giving us feeling of comfort in a winter morning. After the chai-coffee session, we again reached back to our resort and decided to have more of Vitamin D. We settled ourselves at the resort's viewpoint which was accompanied with a railway track just besides it. The same place also rendered a breathtakingly soothing view of the mountains far away in a day as clear as this. Sitting there, we also seen the passenger train which runs from Vizag to Araku and has a special compartment attached for making the travel experience better with extended see though glasses. The journey en-route is quite picturesque and the specially designed coach just adds to the story of travel. After spending some 2 hours at the same spot and getting obsessed with sunlight we moved towards our rooms to get ready and leave for lunch- The Bamboo Chicken!
This amazing recipe is real treat for the Tastebuds. Developed by the tribals of the land, the most promising amongst all can only be found on the street stalls rather than a restaurant (which you will seldom find in Araku). After gathering little know how about the most famous vendor around, we reached at a counter hosted by couple of ladies. The place was filled up with bamboo as inventory as its used in the preparation of the dish. The chicken pieces are marinated in their own devised technique and then stuffed inside the bamboo which is later placed on the flame. The heat of the flames cooks the chicken placed inside the bamboo in some 20-30 minutes of time, leaving a typical flavor on the cooked chicken. The dish what you eat is more in a dry form and one order can fill two average eating people very easily. Filling ourselves up with the flavors of it, we started our drive towards Borra caves which is one of the most suggested attractions to be visited once you are there.
The route, on one hand was all through the green mountains which gave a spectacular view but on the other hand keeps you from driving very fast. Road conditions, I must say are good with very moderate traffic. This is the same road which connects Araku from Vizag too. There can be found some strategically located viewpoints en-route which gives you panoramic view of the valley and also the setting sun. Following road's course for something like an hour, we got ourselves to Borra caves where we easily managed to park our car. Now the next task was to get the tickets and start the descend towards the cave. But before doing so we chose to use the washroom as caving was gonna be time taking process. The signage also pointed out that there won't be any public convenience once you are inside the cave.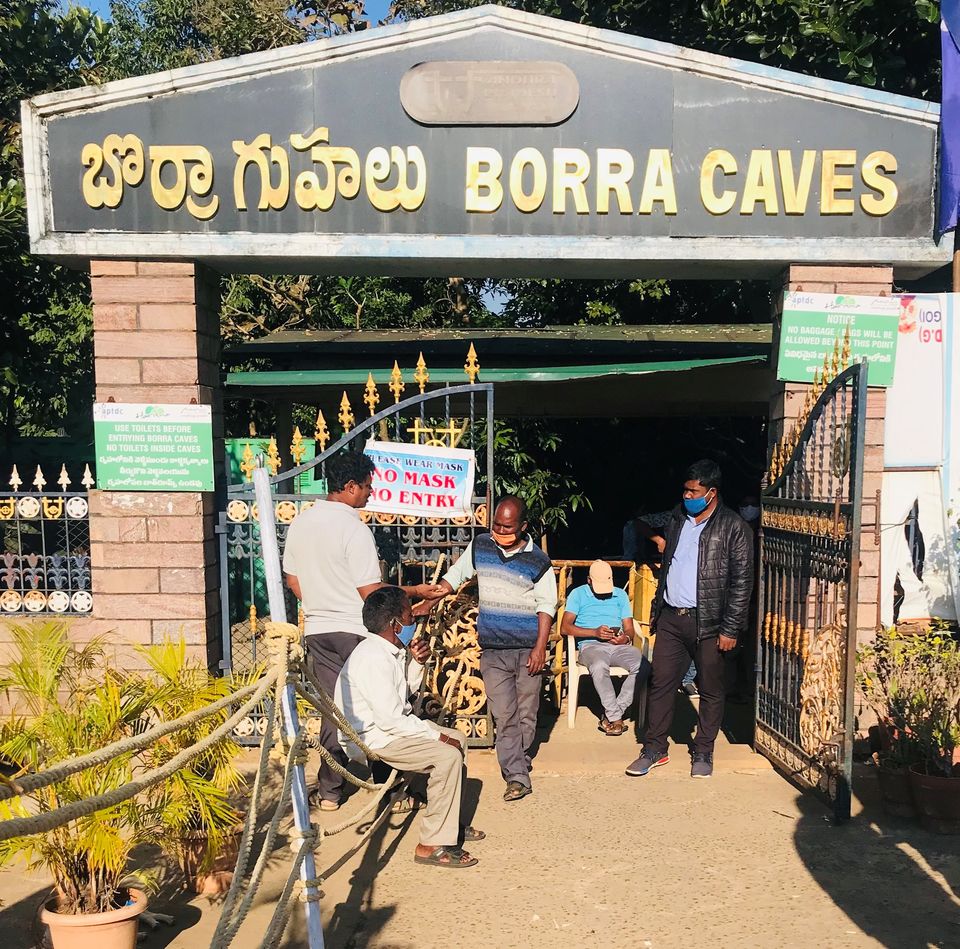 The Borra caves are one of the deepest caves in our country and is quite renowned from the geological perspective due the stalactites and stalagmites found inside it. One has to compulsorily take huge number of steps to trek through this amazing natural masterpiece. The place was crowded, moderately dark and full of din caused by the visitors. Once you start your descend after entering and start getting into its depth, you will start noticing the limestone structures as if they are purposefully architected to draw your eyes. But no, they are very original and talk about the skills what nature professes. It cues you to stand there and laud the not so common sight which is evenly complimented by the colourful lightings done to make it look more appealing. When you reach at the bottom of the cave, you have two things to do. The first one is to explore the depth of the cave, which is more of a simple, flat walk but the second activity is what may excite you and gonna tire the shit out of you. It's a trek where you climb 'n' number of steps and reach at highest altitude of the cave which inhabits Shivalinga and is wardened by a priest. The last hitch of the climb towards the sanctum is sudden steep, grossly narrow and two way traffic ends up making it a congested affair as well.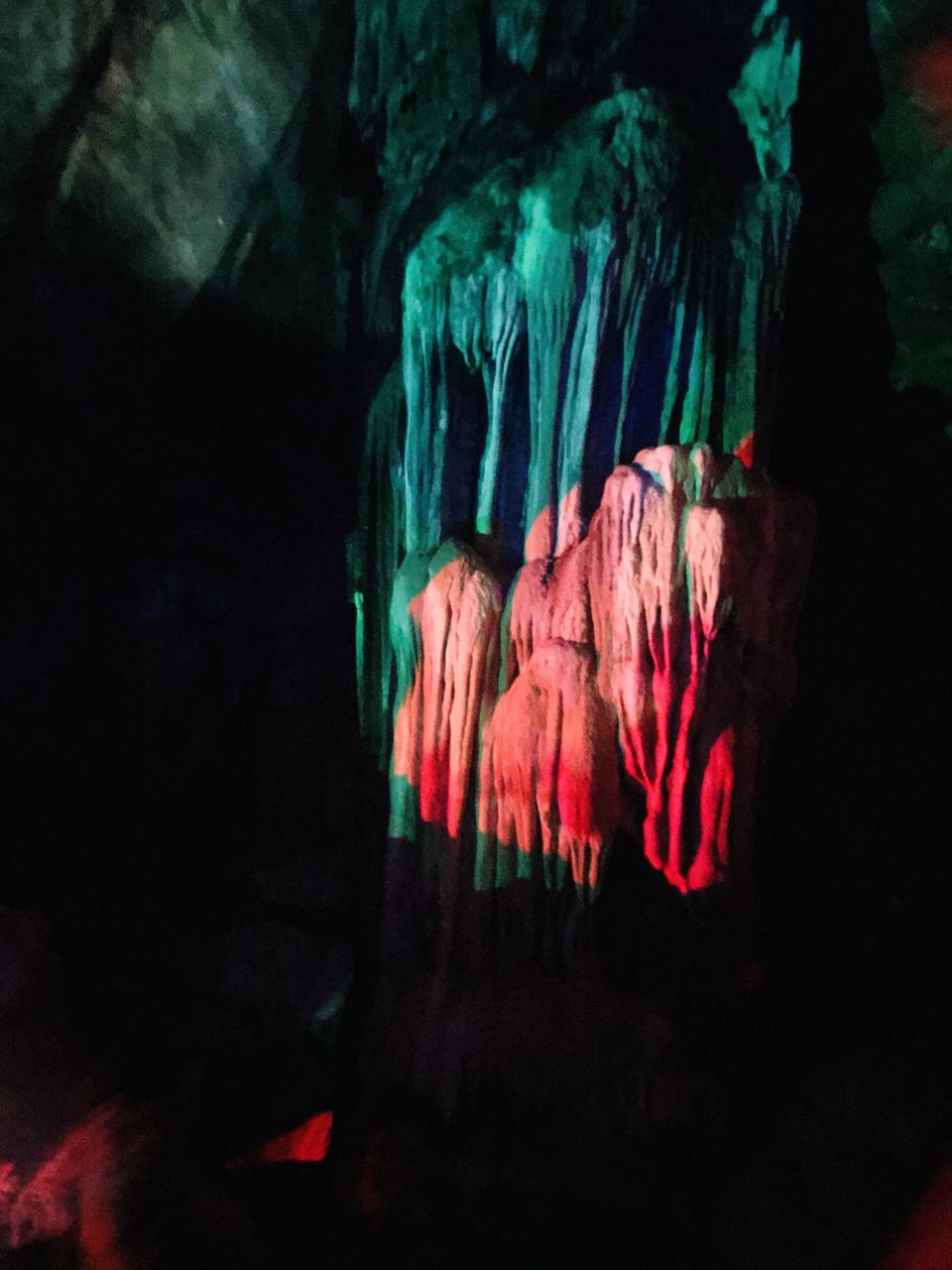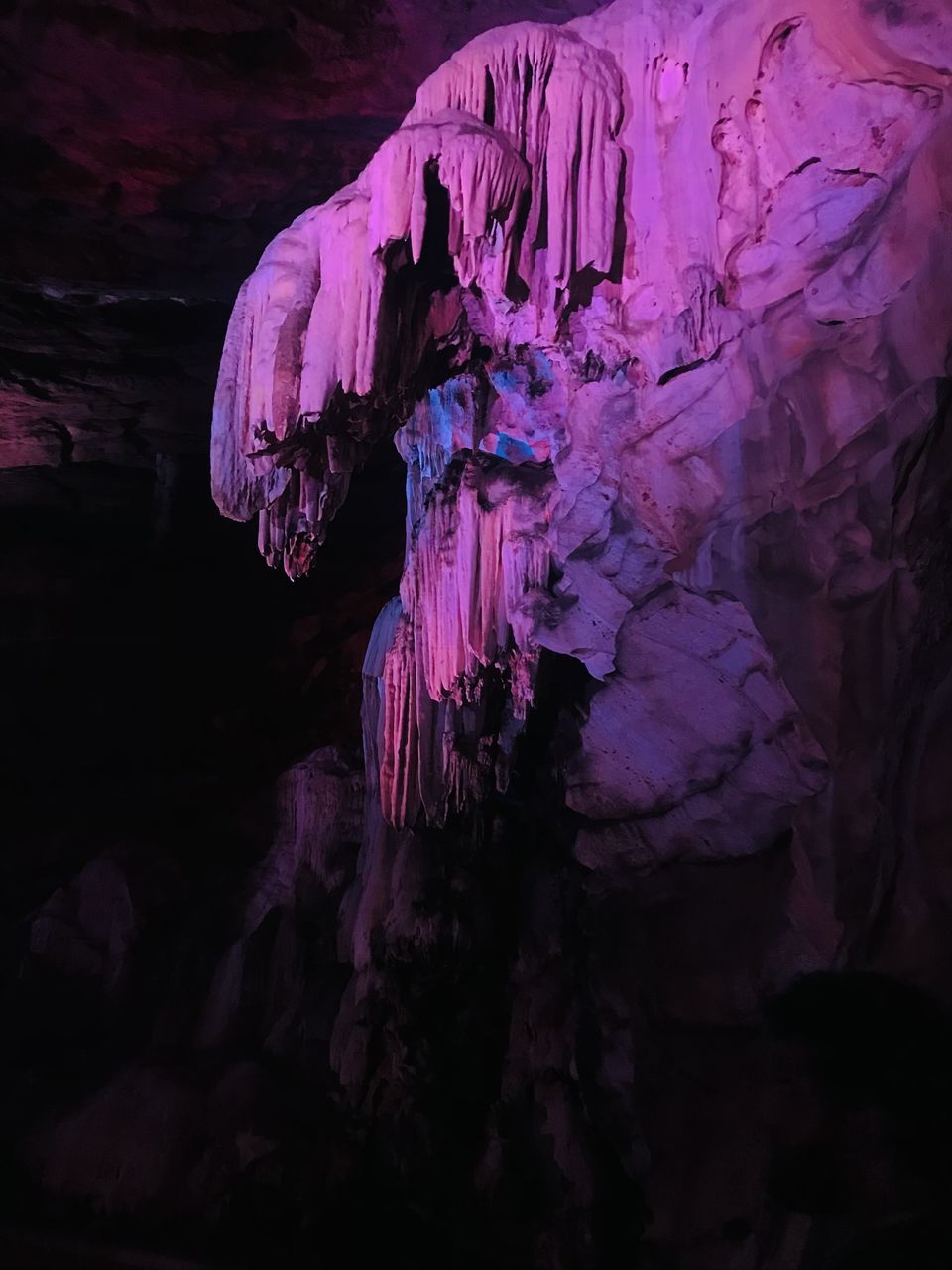 Somehow struggling we managed our Darshan and again began our descend aiming towards entering into the depth of the cave. This took us fewer time and we found ourselves at the dead-end which was again exhibiting the similar rocks and artesian water dripping through some of its part. This was it and all we could think of now was the 60 degree climb in all likelihood. Hacking our way slowly but steadily we managed to do this in comfort. Resting our lungs for some minutes we started to our next destination which was a waterfall. As we expected, the place was closed due to the sunlight dimming off. All we could do was to take u-turn and activate plan B and reach to another waterfall which is more approachable and can be done without any expert support.
At one point of time we had to use our 4x4 mode otherwise it was a drive which can be taken by any car. To reach to the Tatiguda Waterfall, one has to park their vehicle and walk for not more than 100 meters to reach the viewpoint which gives a holistic view of the fall. But wait, this is not worth the hardship. The thin and scanty flow of water evaporated all our excitement in a zap of second. Though we stood there for some minutes and took some photographs and critically examined the place. The structure of the waterfall was evidently speaking of its gigantic flow during the rainy days. That would certainly be a sight to see. All you could see now (even if you like it or not) people having an open jacuzzi.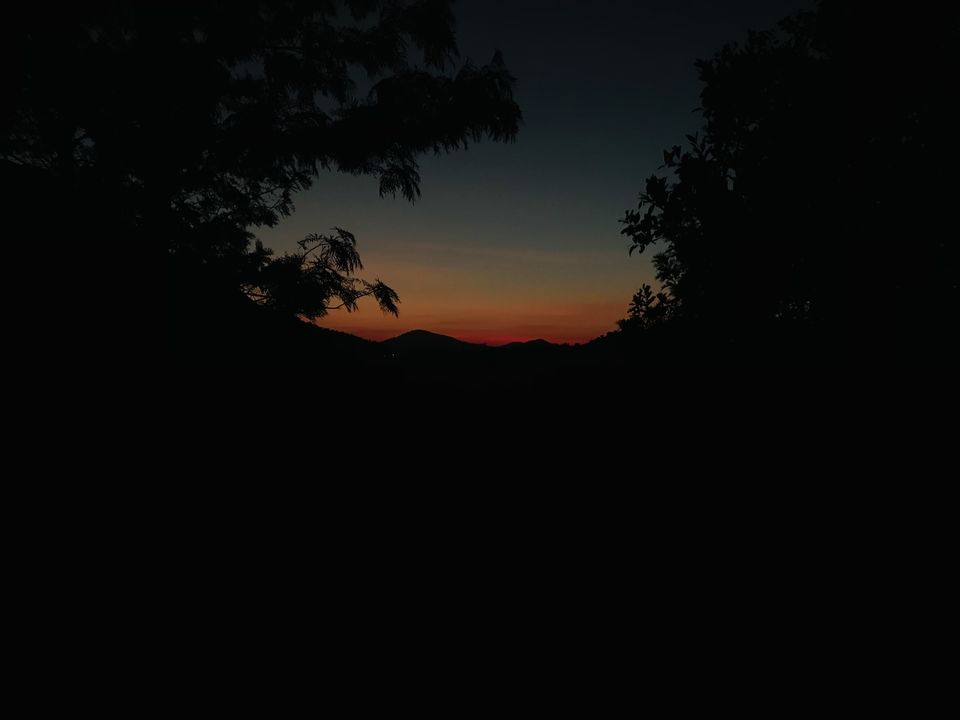 On our way back we witnessed a soul soothing sunset creeping through the density of the forest. This is something which attaches me again and again to the feeling that there couldn't be an artist greater than the nature. What an amazing sight to end the day's travel that was. Sooner we found ourselves again near the hotel and decided to pay the Coffee museum a sincere visit. This place was located right outside our stay, it was, in all its probability had the chances to be missed. But unlikely us, without putting brain to much task, we entered the place. The entry fee is genuinely justifiable and won't bother you an ounce. Since the place was closing down and we were the last lot of its visitors for the day, we have not taken the entire walk around the fences but chose directly to enter the museum. I can't miss to say that this place is any coffee lover's paradise as it narrates you about the entire journey coffee as beverage has taken before reaching your cup. This place tells you from the very beginning, how coffee was adopted as a beverage after some goats accidently ate it for the first time and exhibited some changes in the behavior, the tale of Baba Budan and how he brought 7 coffee beans in India and which started the coffee plantations here. Apart from these two, there are several intriguing facts about this one of the most consumed beverage in the world which you can surely conceive from this place. After taking the coffee journey, you may choose to taste the beverage from cafe made inside the museum premises. We preferred to taste the Arabica bean based coffee which most commonly cultivated in the homeland of Araku. The place also has a shop inside from where they sell the locally produced things in which off course, coffee take a precedence over the other beautiful handicrafts made by tribal residents of Araku.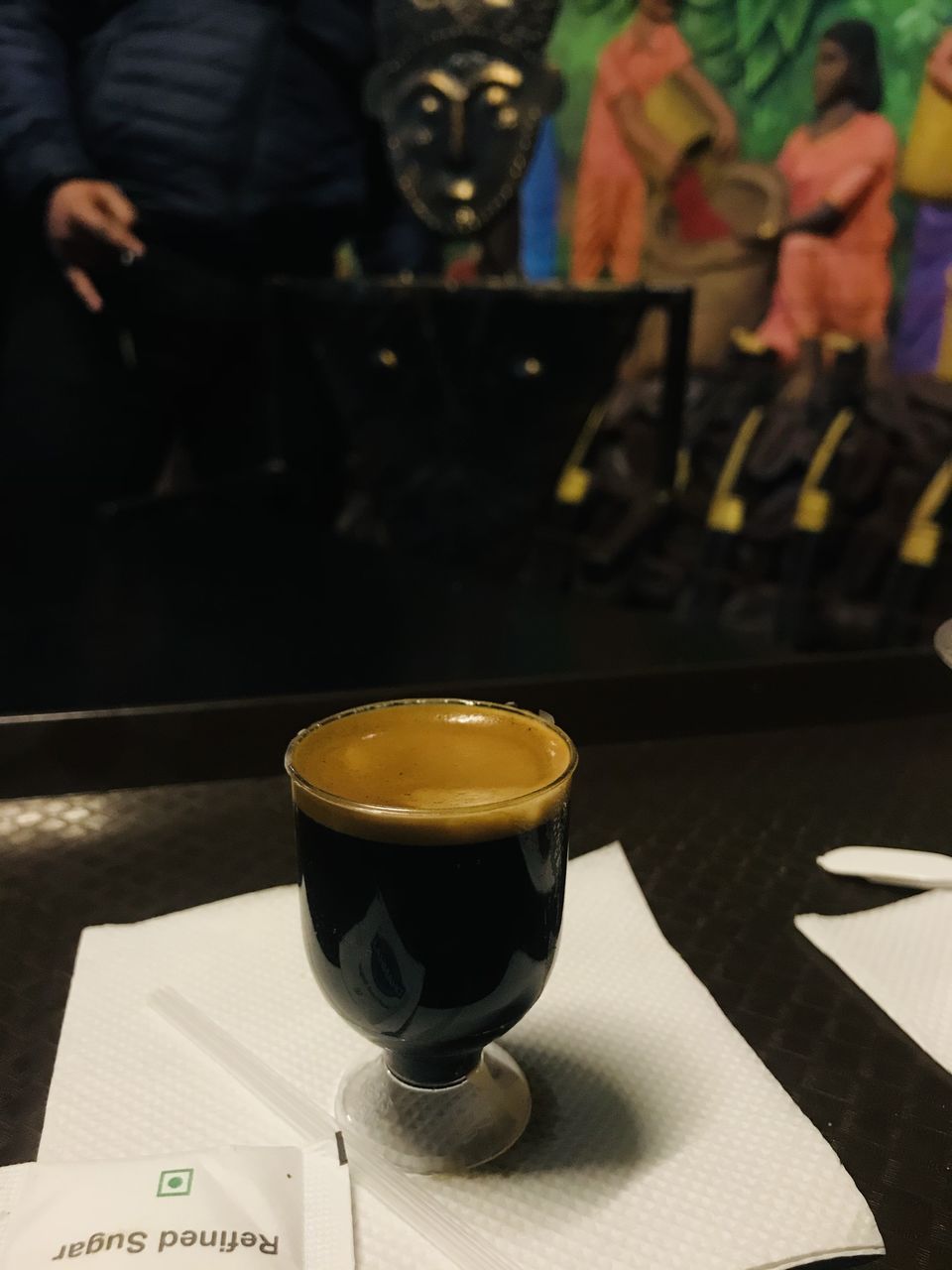 This concluded our expedition of Araku and we sheltered ourselves in the room. We sat together for a prolonged time relaxing and reminiscing the last two days. The food was arranged in our room by the gracious members of APTDC team. I will vehemently yet humbly recommend every visitor to try Egg chilly of this restaurant.
The next morning was no different, it was full of fog again. The only exception today was that everyone of us were up for sunrise today. We packed ourselves up in a jiffy and decided to give the complimentary breakfast a miss. The humble receptionist was courteous enough to request us to have breakfast in their restaurant but we already made up our minds a day earlier to have our first meal at the aunty's local eatery which was jam packed even during the chilling mornings. The crowd made us believe that whatever is being sold there certainly has something of good value. We ambled down there in about 10 minutes and ordered Masala and plain dosa to start with. Taste wise they were yummy but the only thing which was missing was presentation which one shall put aside. The sooner we found out about Puri, we did not resisted ourselves ordering one. We feasted in our own style and had oue coffee at the same shop as yesterday. Making this to be our final meal of Araku up till next visit, we began towards Vizag with a pit stop planned to see the Araku coffee plantations in the estates of APTDC. As the place was on the main road, this only took us to alight from the vehicle and reach to the plantations where there were few coffee beans hanging with the leaves. Briefing our stay for some 15 minutes we archived Araku deep in our heart and soul and started again towards- Vizag!