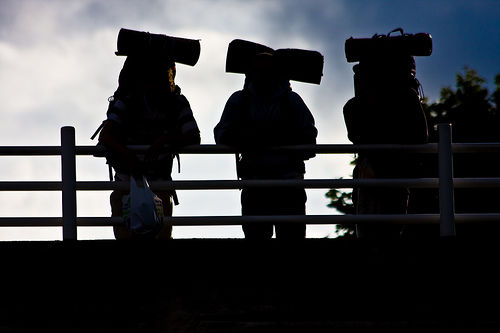 You've got your travel insurance, passport and flight details, had your recommended jabs, and have your clothes and toiletries packed. So, what else do you need? Here's a list of essential items to ensure you have the best experience.
Light Weight Sleeping Bag and Travel Sheet
Hostel bedding can be pretty poor, so pack a light weight sleeping bag. Buy one suitable for your destination's climate and don't forget to purchase a travel sheet for those unwelcoming mattress.
Towel
Travel towels are thin and compact, so will dry quickly and store easily in your backpack. Don't take a regular towel. Regular towels are bulky and take a long time to dry. You'll end up with a smelly backpack and damp clothes. Nice!
Sturdy Shoes
Chances are you'll be living cheap, so you'll be doing a lot of walking. You don't want blisters so invest in comfortable shoes. You can thank us later.
Mosquitto Repellent
This is a must have. Mosquito repellent will help stop bites and therefore prevent Malaria. Choose a repellent that contains at least 20% deet, or if you seem to attract mozzies, grab one with a higher deet content.
Sanitizing Hand Gel
The last thing you want is to contract a digestive illness. Pack hand gel and use after going to the toilet and before you eat. Hand gels are pocket-size and lightweight, so they're the perfect hygienic solution.
First Aid Kit
This is vital! Take pain relief, plasters (especially is you're prone to blisters), an antibiotic cream, dressings, rehydration sachets and a supply of any prescribed medication.
Sunscreen
This is another common sense item but can be easily forgotten. Whether you burn wearing factor 50 or tan easily, sunscreen is essential for hot climates.
Padlocks
The last thing you want is to be pick pocketed. Buy padlocks before you go to keep your belongings safe and deter thieves.
Plug Adapters
Essential if you want to charge your phone. A worldwide plug adapter should be fine but research before you buy, as a handful of countries use different plugs.
Torch
This one is fairly self explanatory. But invest in a wind-up or solar powered variety so you don't have to replace batteries. Essential items are often the easiest to forget. Remember, pack lightly but wisely to make sure you have the best experience. Other items you could take include ear plugs, a sleeping mask, or a gorilla pod for group photos. Happy backpacking!