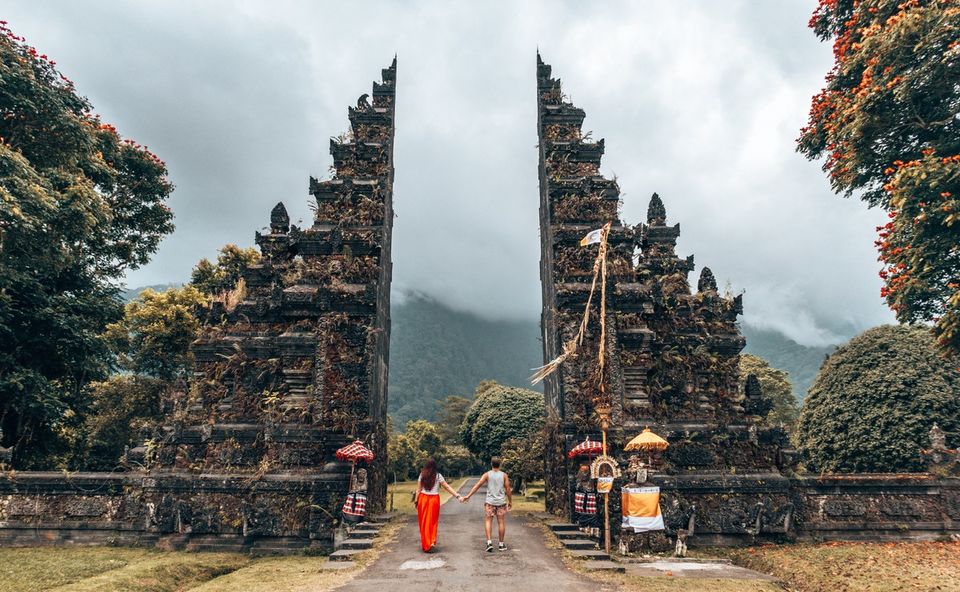 You cannot have enough of Indonesia!! The country that attracts millions of couples, honeymooners, solo travellers and family groups with its pristine beaches and aquatic life has much more to offer than only the virgin, white sand, seafood and out of the world stays!
Here is a list of cultural extravagance that you can immerse yourself in, when visiting Indonesia!
1. Visit the Traditional Houses Bolon Houses Of Indonesia
Have you ever seen a house as unique and majestic as the traditional houses in Lake Toba in North Sumatra? In case you haven't, then be sure to add this to your bucket list! A Batak traditional building that stands 15 meters in height with embossed and colourful paintings is what a Bolon House looks like. In ancient times, a Bolon house was home to 13 kings living on Lake Toba. They are a symbol of the identity for the Batak community. The paintings in the house mean different things that represent Batak's beliefs and customs. It was even believed that rumah bolon was used for kings in North Sumatra. Definitely a royal to visit on a cultural trip! Glimpses of these heritage sites are around Samosir Island, namely Siallagan Village and Tomok Village.
How to reach Lake Toba:
Fly to Silangit International Airport -> Book a GrabCab, or Damri bus or shuttle service to Parapat -> Go to Samosir Island or Tomok Village or Tuktuk Village by ferry.
Fly to Kualanamu International Airport -> Train or bus to Parapat which is 160kms way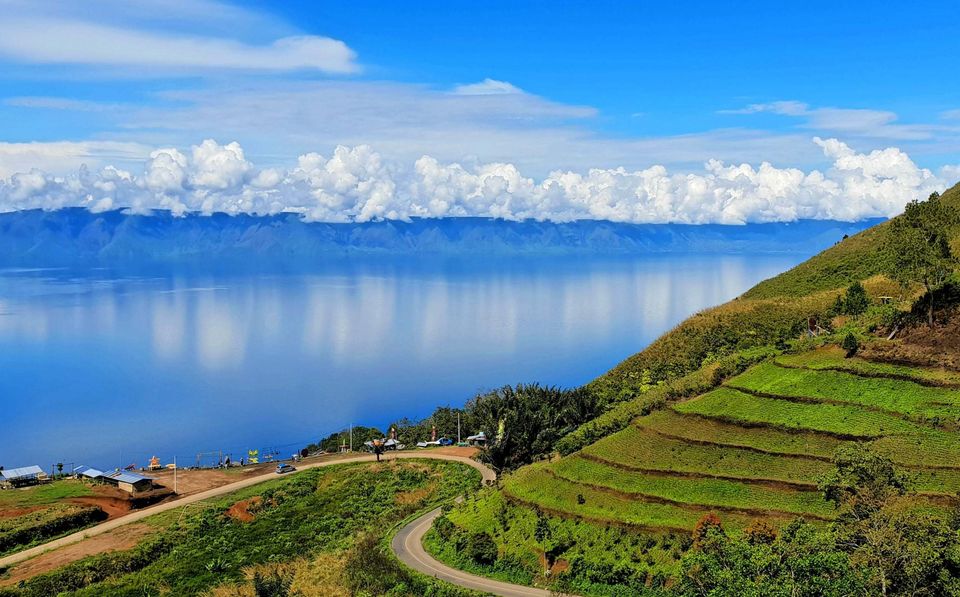 There are several types of Bolon house as summarized below.
Toba Bolon House
A traditional house of the Toba Batak sub-tribe, Toba Bolon House consists of parts namely Jabu Parsakitan which is a storage place for goods (mainly rice) and Jabu Bolon which is a home for a big family where there would be no partition or room so all members would live and sleep together.
According to the Bataks' culture a house should look like a buffalo's head. The interesting part is that all the members of the society come together for the construction of the house which is made of wood. Containing three important parts reflecting three different worlds as per Batak beliefs; this first part is the roof that represents the world of gods, the second part is the floor that represents the human worlds and last but not the least the bottom of the house that is representative of world of death.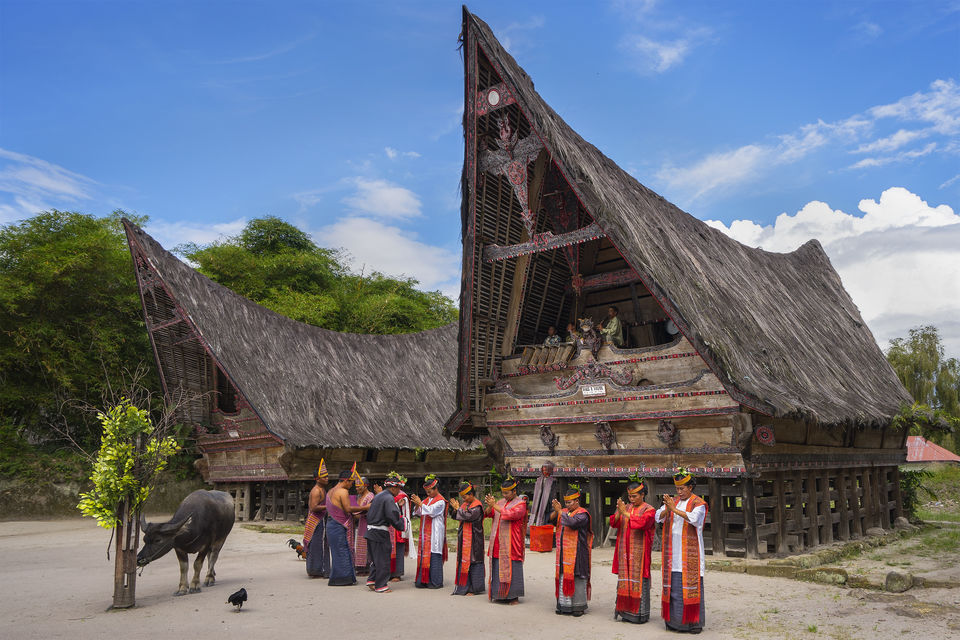 Simalungun Bolon House
A Bolon house that was constructed for the first king of Simalungun in 1515 at Pematang Purba represents the traditional houses for Simalungun sub-tribe. Some buffalo horns that are still in the palace are believed to be the actual horns that were used in traditional ceremonies led by the king and his successors. The interesting thing is that the number of horns in the palace equals the number of kings who used to rule Simalungun.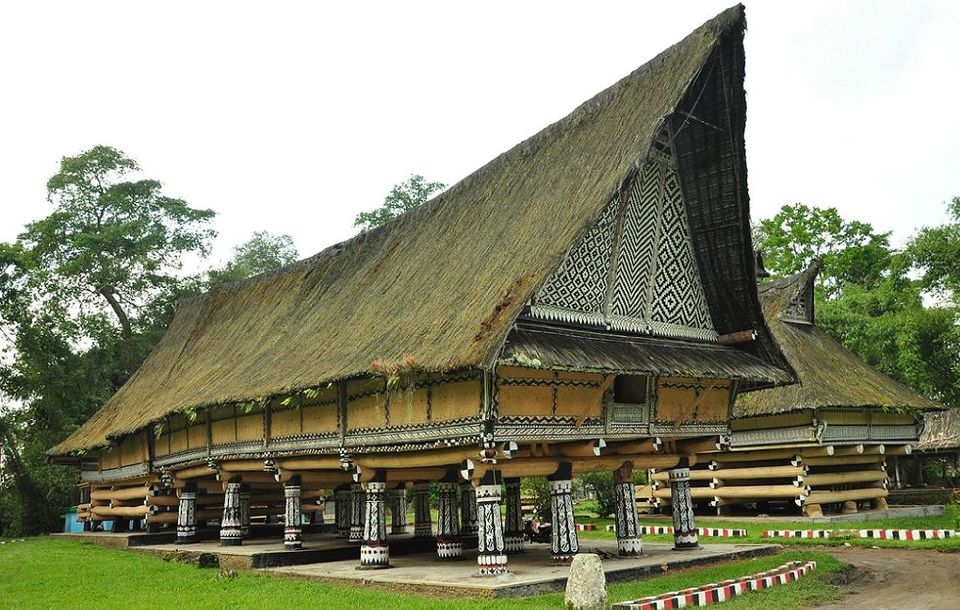 Siwaluh Jabu (Karo Bolon House)
Traditional house of Karo that is different from the dwellings of the other indigenous sub-tribes with respect to the shape yet casts a reflection of the buffalo horn. Designed to accommodate eight families in the house a cloth curtain is used to separate one family from another in the night. They are also found to have shared kitchens in this building.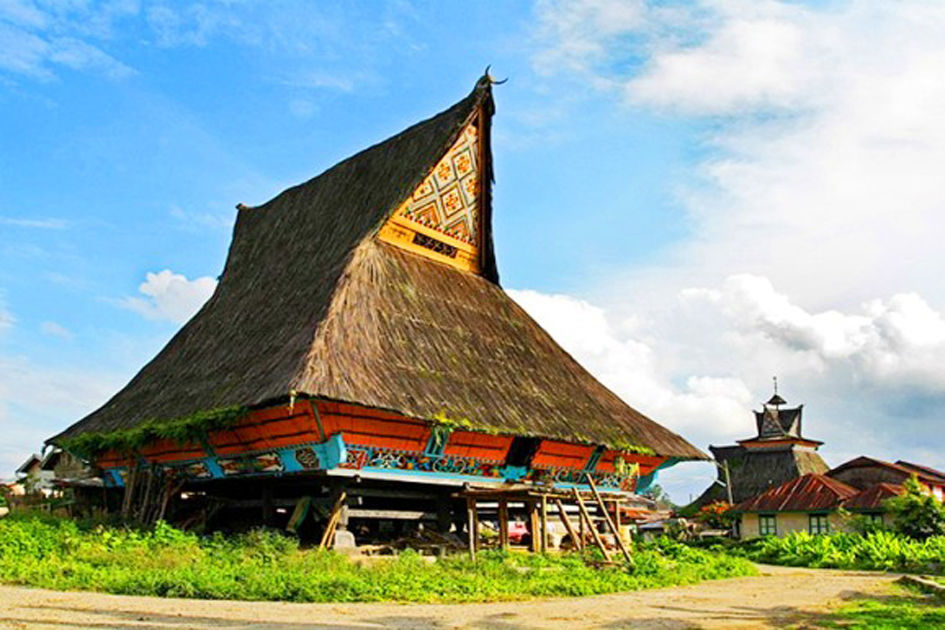 Bagas Godang (Mandailing Bolon House)
The traditional house of Mandailing Batak is Bagas Godang. Considered to be a safe space for the tribe this building uses big, odd columns and odd number of stairs. Being considered a safe zone, anyone who arrives to seek salvation are promised protection by the host.
Pakpak Bolon House
A unique house made of wood and fibres where the roof section is comparatively bigger than the rest of the building; is the traditional house of the Pakpak sub-tribe – known as Pakpak Bolon House. Similar to the other Bolon houses that symbolizes something, here the rooftop ridge is curved that denotes "dare to bear a heavy risk in maintaining customs." A Buffalo horn attached to the roof expresses the "spirit of Pakpak heroism."
Angkola Bolon House
Angkola Bolon House that looks slightly similar to Bagas Godang (traditional Mandailing house) with the difference in the construction material and the colour as Angkola bolon is predominantly black in colour.
2. Admire the Topeng Betawi Dance and Get A Taste Non-Alcoholic Drink, Bir Pletok at Setu Babakan Betawi Cultural Village, Jakarta
Setu Babakan Betawi Cultural Village, that is an hour's drive from Soekarno-Hatta International Airport in Jakarta offers you the unique cultural experience of enjoying the mask or topeng dance called Blantek. This is a combination of Blenggo Dance, Pencak Silat, and magic tricks, which is danced on the tunes of the traditional music of Rebana Biang is in the background. After the dance, you can enjoy the non-alcoholic beverage called bir pletok that is made with herbs like sappanwood, pepper, and ginger.
Setu Banakan Betawi Cultural Village is 52 kms from Soekarno Hatta International Airport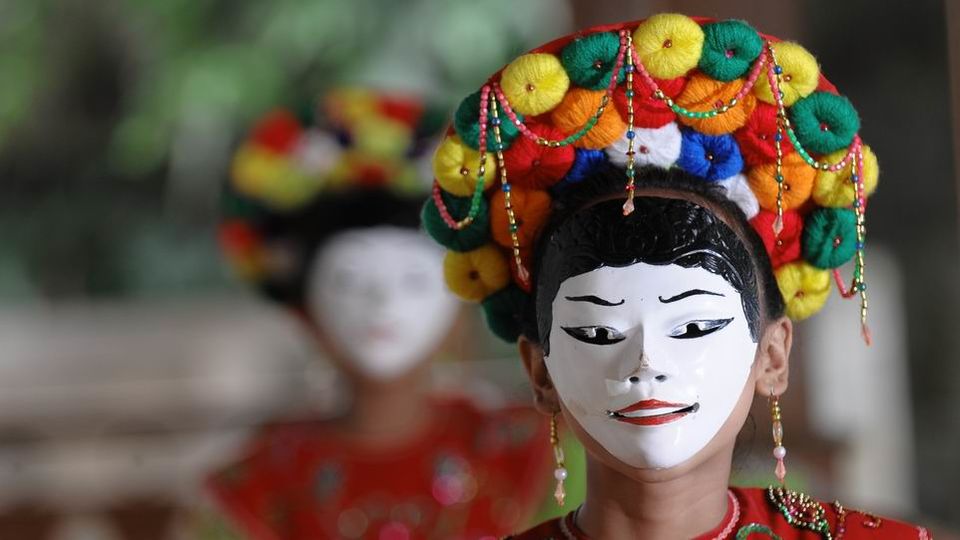 3. Learn The Tradional Batik Print & Get To Play Gamelan At Karangrejo Village, Borobudur in Central Java
If you are a creative person then Borobudur is the place for you! Known for its grand Buddhist temple, a visit to the Karangrejo Village, which a few minutes from Borobudur Temple is a cultural hub that is known for batik and gamelan music. A place where batik enthusiasts should visit is the Plataran Heritage Borobudur. You can also visit Pendopo Bu Condro, where you can listen to gamelan music, watch the artists play, and you can even try playing it yourself!
Fly to Soekarno Hatta International Airport and from there fly to Yogyakarta International airport. Karangrejo Village is 63 kms from Yogyakarta International Airport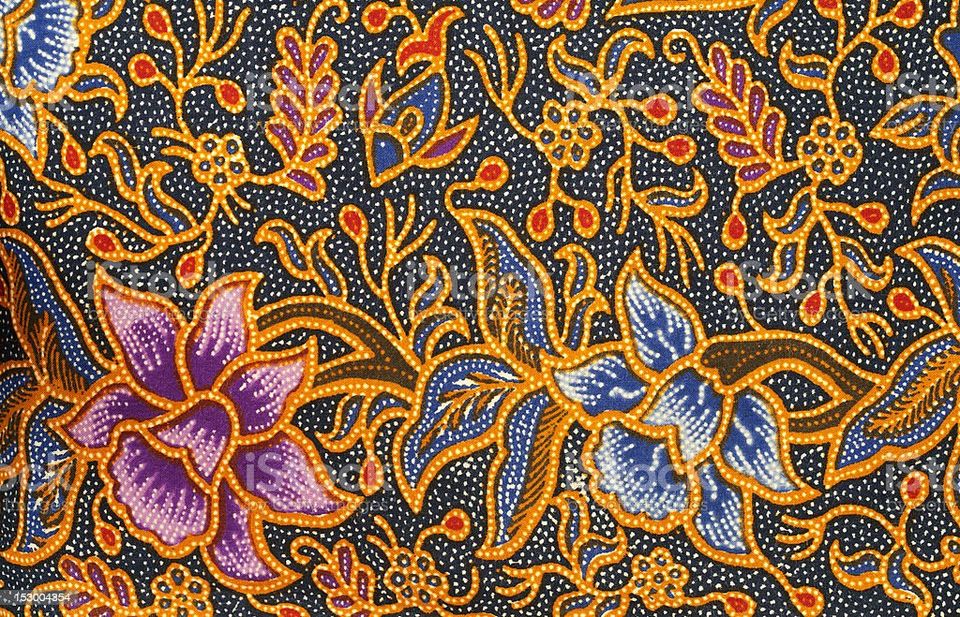 4. Watch The Hypnotizing Traditional Kecak Dance at Uluwatu Temple In Bali
At the Uluwatu Temple be prepared to be mesmerized by the spectacular Kecak Dance that narrates the tale of a prince called Ramayana and his wife Shinta. Believed to have originated from an ancient Balinese ritual called Sanghthat is performed to ward off evil spirits and it's a sight to behold as the dancers fall into a trance to the the alluring "Cak! Cak! Cak!" chants
Fly to Ngurah Rai International Airport. From there Uluwatu temple is 22 kms away and takes around an hour to reach.
5. Explore The Intricate Hand Woven Tenun Fabric & Dress Yourself In The Traditional Sasak Clothes at Sukarara Village, Mandalika, Lombok
The world of tenun in Sukarara Village, Mandalika is as colourful as it gets! What the locals weave is nothing less than magic as the handwoven fabrics literally come to life under at one of Indonesia's most popular hand-weaving places, Sukarara Village. Their artistry showcases its traditions in creating intricate masterpieces. You get to observe the artists at work like how they choose the best thread, the natural dyeing process, and their weaving methods with traditional tools.
Fly to Lombok International Airport and head to Mataram which is 33 kms away. From there you can take local transport to Mandalika that is 20 minutes away.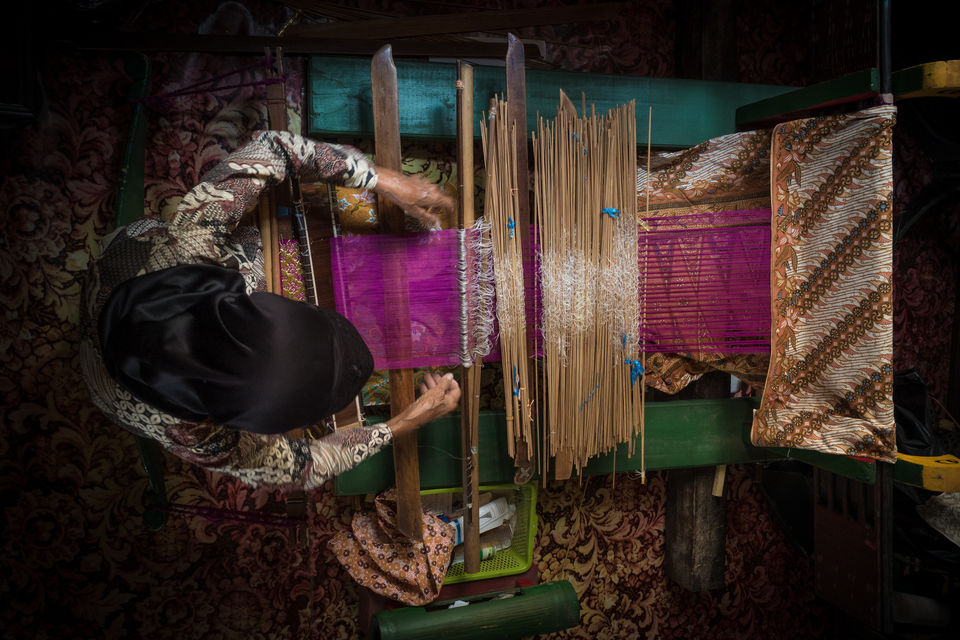 6. Get A Glimpse Of The Vibrant Kabasaran Dance At Likupang In North Sulawesi
Since we are talking culture, you will suffer from major FOMO if you miss watching the vibrant war dance called Kabasaran that originated from the Minahasa people in North Sulawesi. Believed to be performed by warriors during war, the dancers adorn attractive red costumes with weapon like accessories such as swords or spears. These cultural festivals can be experienced around Likupang or Sawangan which is just an hour drive from Likupang.
Likupang is 33 kms from Sam Ratulangi International Airport and takes around an hour to reach.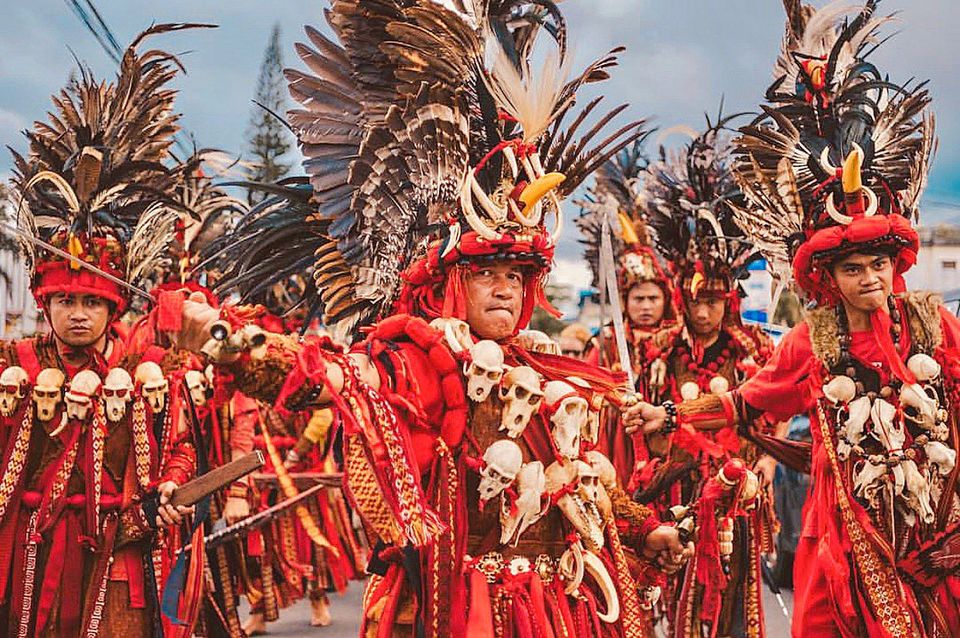 7. Don't Miss The Stay At The Enchanting Mbaru Niang Houses at Wae Rebo Village, East Nusa Tenggara
Looking nothing less than fairy tale houses because of their conical shape, Mbaru Niang houses are found at Wae Rebo Village, East Nusa Tenggara! These are tall and covered in lonar thatch. With its small population of 1,200 inhabitants, it will welcome you to immerse in their simple way of life and also get an opportunity to witness their ceremonies, of which the most popular is Penti. This sacred ritual is celebrated to thank the past year's harvest and offers prayers for a good, prosperous agricultural year.
Fly to Komodo International Airport and from there take local transport to reach Wae Rebo Village.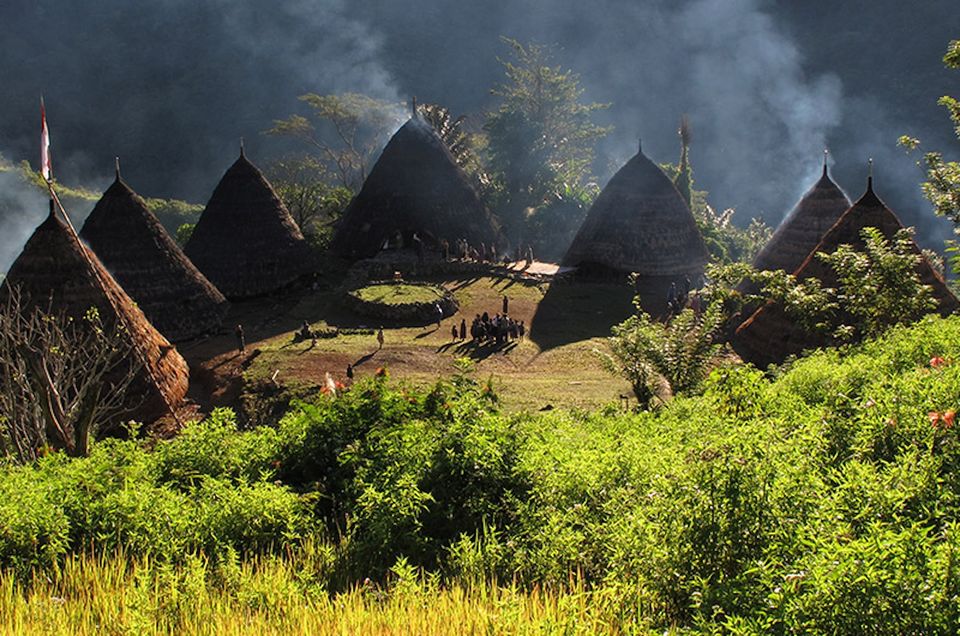 8. Get A Glimpse Of The Smallest Buddha Statue At Museum MACAN
Museum of Modern and Contemporary Art in Nusantara or MACAN is located in West Jakarta and has become a hub for art enthusiasts. Opened to public in 2017, this museum aims to promote aspiring both local and artists and provide them a platform to showcase their works. Some of the customized support to the growing art community is extended through cultural exchange, professional development for flourishing art-professionals and offering education through art.
Spread across an area of 4000 sq.m the museum conducts a lot of special programmes and events that attract visitors of all ages.
The most interesting space for the children in the museum is The Floating Garden that was created by the local artist Entang Wiharso. Located on Level M this space is created with colourful acrylics and specially made plates that are planted on round desks.
Here children are encouraged to let their artistic mind flow and they ask ask for papers to trace the embossed metal textures with colour pens and create their own work of art.
Museum MACAN is 26 kms from Jakarta International Airport and takes around 35 minutes to reach.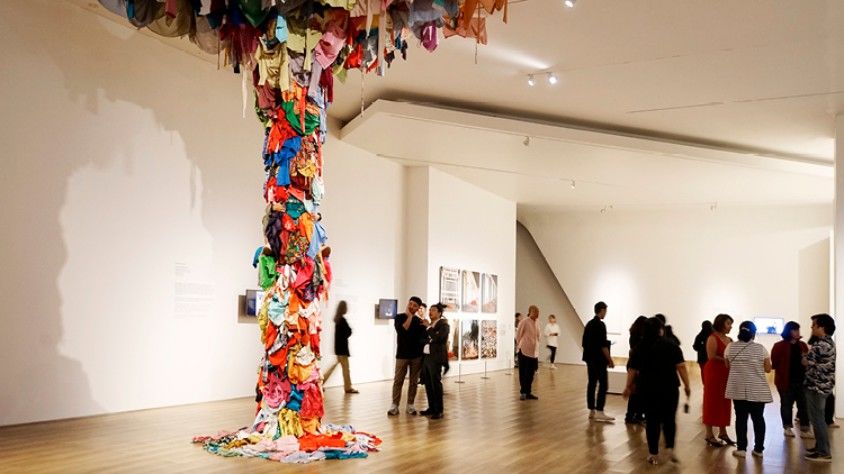 9. Visit The Borobudur Unique & Art Gallery Indonesia, Central Java
The historical, cultural and scenic hub, Borobudur is not just famous for its batik but also for the art collection at the Borobudur Unique & Art Gallery Indonesia. Here, you even get to see the brilliant record-breaking smallest Buddha statue which is only eight millimeters in height and made of gold and you have to look through a magnifying glass to get a good look!
It's only a 5-minute walk from the Borobudur Temple, so be sure to take a creative visit to its museum!
Fly to Soekarno Hatta International Airport and from there fly to Yogyakarta International airport. Borodudur is 63 kms from Yogyakarta International Airport.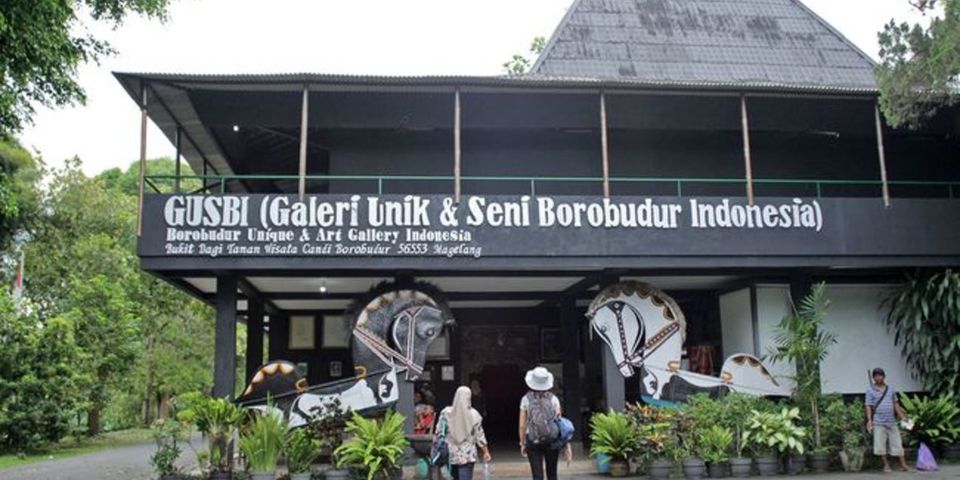 10. Create Stunning Tenun at Sade Village, West Nusa Tenggara
Another village known for its rich handwoven fabrics is Sade in West Nusa Tenggara. The fabric known as tenun is also the cultural heritage of the Sasak tribe, similar to Sukarara Village and is woven in the same conventional method that were used by their ancestors like using natural ingredients like red bark trees and turmeric for dying and colouring. Following this method to the T takes a lot of hard work which can go from a few weeks up to a month depending upon the intricacies of the work.
Besides their artistic splendor, the houses they build is equally alluring. Constructed with clay mixed with buffalo dung, wood and bamboo, these houses are devoid of any putrid odour!!! Their way of life teaches us not only to hold on to the cultural heritage but how to lead a sustainable lifestyle.
Fly to Lombok International airport from where Sade Village is just 11 kms away.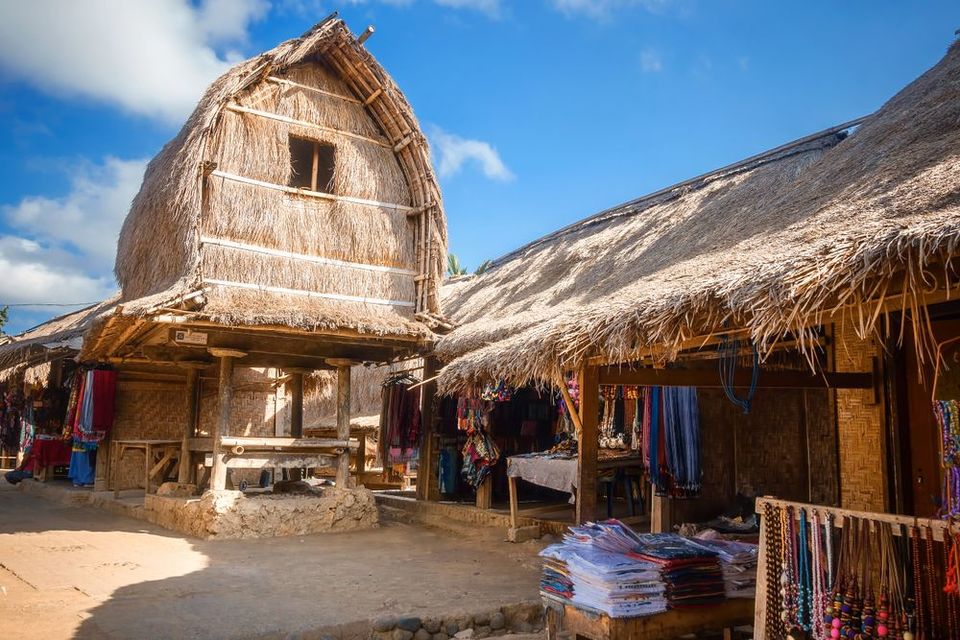 While we think of Indonesia as only "Bali, Beaches, Booze and Islands", the world's largest tropical archipelagic state offers beyond that. It offers a cultural tour of the region, the local artisans, their work, their humble and simple livelihood, their indigenous and aesthetic diversity and much more.
So, why be limited to the beaches and Bali, when the hinterland calls for much more!
Think we missed out on something? Tell us about it in the comments below. Or write about it here on Tripoto and earn Tripoto Credits!