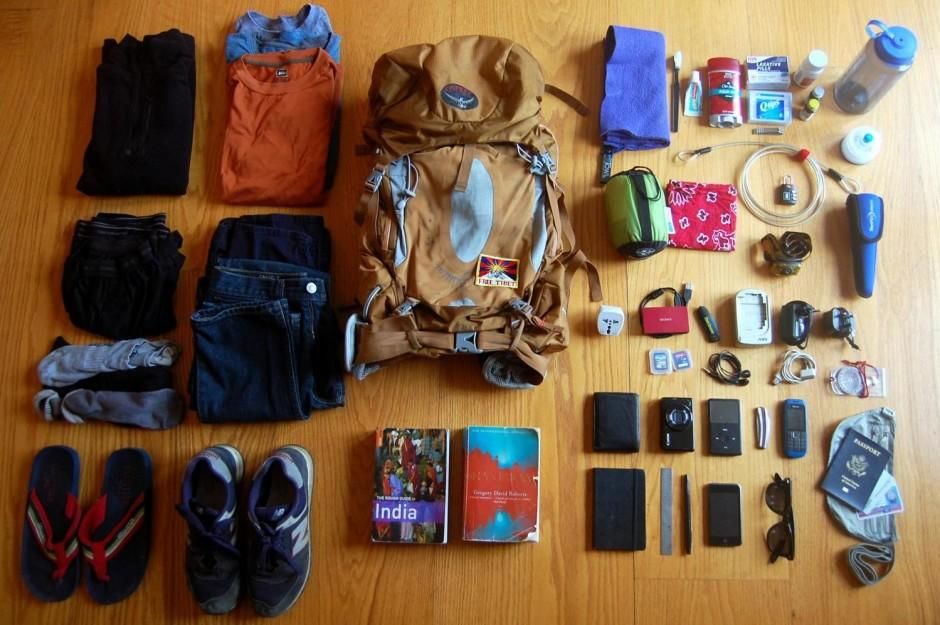 Ghalib said and I quote: Syair kar duniya ki Ghalib, zindagani phir kahan; zindagani ghar phir mili toh, ye jawani phir kahan [Travel the world you ignorant one, you have just one life to live. And if you get another one, your youth will be long past].
Yes! Travel you must while you're young and alone that too. Why? Because Yeh jawani hai diwani [This youth is madness].  Once you've made up your mind to do this- the trickiest part arises. That on which a huge portion of your backpacking travel-comfort depends – PACKING.  It further includes two parts – How much to pack and how to pack it. There is a fine line between taking too much with you and being stuck in a situation where you have to buy things on the go without having much space to keep them. In case the former happens your back suffers, in case of latter you may end up with ill-fitted cheap lingerie. Either way it's a stinker. Every pun intended.
Although I have established how big a deal packing it is if you're going backpacking, (If you don't - let me tell you, it is! If you're smirking at me right now, you wait your turn, it will come bite you on your bum soon and then you'd be wondering why you didn't read my article in the first place!) I still don't want it to take more than an hour of my time.  Let's get to the basics – You must only carry a small day pack (messenger or tote bag which you can carry around in the day) and a rucksack. If you think you have more shoulder power then by all means add a duffle bag. Since the corporate lifestyle doesn't allow me this strength, I usually skip the last one. (Note- Please never bring out that square trolley cabin bag, it's no fun dragging it along unless you're going for a business meeting!)
This time I was travelling to a coastal region for a fortnight, in summers, in India so I set myself up for a challenge that I will only carry as much luggage as I can take as cabin baggage ( 7 kgs), which translates to a 30L rucksack. Random Tip #1: Always ensure ¼ of your bag is empty. You will collect souvenirs/little trinkets from the local shops so keep some space ready for them.
Before I pack I usually make a checklist- actually, it's a checklist I made a few years ago and it has pretty much remained the same, barring a few slight variations.
Part 1: Stuff
1.  An umbrella, hand sanitizer, wet wipes and a small packet of tissues – dirt is Indian summer's bff.
2.  A cosmetics bag / toiletries kit-
·   Shampoo sachets, small shower gel, small face wash, tiny tooth paste and a tooth brush.
·   Sunblock, mosquito repellent cream, tampons (if needed), bb cream, kohl and one tinted chapstick.
·   Safety pins pinned to the inside of the kit for accessibility, cello tape, Band-Aids, volini, a prescribed mild pain killer and an antacid for disaster management.
Random Tip  #2:  The chapstick will help you in lubricating zippers, minor cuts, blisters and scratches, dry elbows/knuckles/cuticles/heels.
3. A money bag to keep your cards, ID (passport, if needed) and cash.
Random Tip #3: Keep some loose change in a small wallet in an accessible area so you don't have to dig into your money bag in public spaces! And keep your money bag deeeeep inside your backpack. Wearing it all day in the heat might give you a rash!
4. Neutral colored flip-flops (Hawaiians) for short walks/baths/to wear with clothes you can't team with sneakers. Make sure these are wrapped up in a polybag/zip lock else their rubbery-flip floppy smell will be all over your stuff. I won't be counting easy-breezy light weight sneakers here as I will be wearing them while I'm in transit.
Random Tip #4: Please avoid rubber sandals- they are as unfashionable as it gets. (Fine, they win over crocs but that's not much of a win in the first place!)
Random Tip #5:  Make sure you wear shoes you have already broken into. A shoe bite is a waste of time.
5. A tiny travel notebook, to keep track of your itinerary and a book to read when you have to wait.
6. Camera, earphones, sunglasses, portable charger and a charging plug.
7. Google maps is your best friend and always will be but pick up a small map just in case you're in a remote area.
Part 2: Clothes.
1.  Five tee shirts – Make sure they are cotton ones – Sweat stains are as disgusting on you as they are on others!
2.  Two shorts, one pair of skinny jeans and a couple of thin cotton lounge pants which can double up as pjs.
Random Tip #6: Wear full length clothes they will make you feel safer while you're travelling. If, however, someone still letches at you, stare back with anger. Or scream at them but make sure you shame them enough!
Random Tip #7:  Carry neutral colored tee-shirts and bright shorts/lounge pants so that you can mix and match with ease for them pictures you want to take and look nice in.
3.  A denim shirt which doubles up as a light jacket in case it rains or the AC is suddenly too cold.
4.  A fit-and-flare black dress which works at just about any occasion, if need arises.
5.  A small pouch full of socks and underwear.
6.  One big bright stole- to wrap yourself if your AC is too strong, to save your hair if you're in an autorickshaw, to save yourself if you're in the sun or to hold out in the wind for that bollywoodish picture!
7. A travel towel which is very light weight or you can buy its Indian variant- a gamcha. 
8. Optionally if you're very hygiene conscious you may also carry a silk sleep sheet which again is very light weight.
Random Tip #8: Most hostels/hotels have very cheap/almost free laundry rates – avail this to reduce baggage.
Lastly, never leave your stuff scattered. If you're in a hostel and there is no locker buy a small metal chain and lock!
So after an hour of sorting and wrapping- most of the 'Stuff' (which had the heavy gadgets) went into my day pack which passed as hand baggage & the 'Clothes' went into my rucksack which passed as cabin baggage. As I happily hopped into my flight I thought mission accomplished.
Happy packing! If you have more tips to add please leave them in the comments section below.  :D