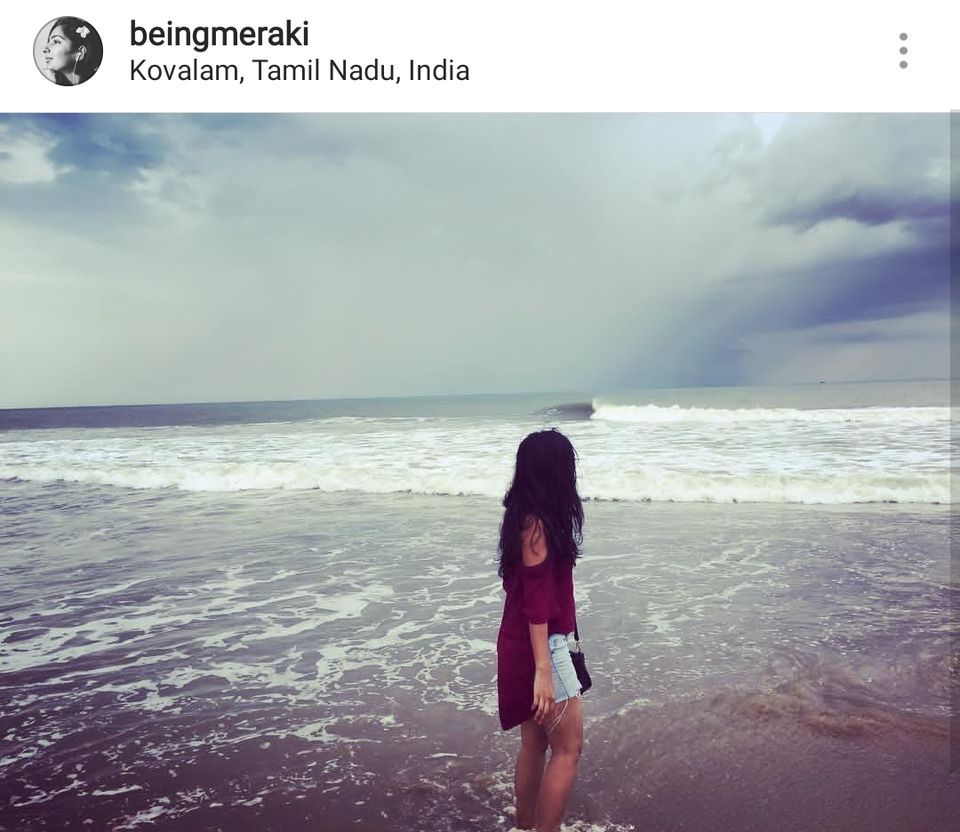 This was last year before I turned 24. I had this thing for doing a solo trip during my birthday week.
So I ended up booking round tickets from Bombay to Chennai way in advance.
This trip kind of opened me up in more ways than one! I did everything from renting out a beautiful AirBnB for a week in French Town of India... Pondicherry, getting a bicycle for myself to explore streets of this eye-smelting town and drinking sizzling filter coffee at small cozy nukads to learning an adventure sport!
Pondicherry and Cafes!
While I was in Pondicherry, I spent my days messing up with my appetite. All I used to have was coffee, in all literal terms.
Be it drinking coffee next to Serenity beach at Le Cafe or parking my cycle next to a random tapri to try freshly brewed filter coffee.
*********************************************
History and Madness!
I also went a lil' ahead of all the set touristy places in the things to do list on Google...and explored this small little town of Arikmedu. It is at the moment all in ruins. Once upon a time it was a huge export center in India.
Talking about ancestorial sites, I also visited Mahabalipuram on my last day. It is one of the oldest temple next to the shore. During floods, it was completely submerged in the water.
This temple is simply gorgeous and giant.
This should most definitely be on your list.
**********************************************
Solo Soul Searching
After hour long walk and cycling, I would come home (my AirBnB) to just sit by myself and enjoy the rest of the day sipping wine and chatting away time with my roommate from Spain!
Somedays, I would just indulge in Netflixing and eating up my remaining pizza from the lunch at nights along with tangy local wine.
**********************************************
New City, Many Impromptu Plans
While I was in Chennai, Mumbai faced torrential floods. So I ended up extending my trip by 2 days.
However, I was done exploring Pondicherry. So I moved out to a small town next to it called Kovalam.
At that time, there was Kovalam Fest going on.
Kovalam Fest was the most random thing I ended up attending. While I was there, I realized that a lot of people have actually taken efforts and pre-booked tickets to be there.
It was Surf-Yoga-Music festival next to Kovalam beach. While I didn't quite enjoy the local bands playing there, I loved the vibe of the place. I also ended up doing Canvas painting.
Here, I had the most epic time of my life. I not only lived next to a beach, I also took Surf lessons and jumped off the cliff, yes I did the most cliche thing that you would every travel blogger doing!
I totally and absolutely loved being in the ocean and playing with the waves. Surfing has been the most adventurous thing that I have done ever in my life and you should most definitely have it on your list!
SURF LESSONS by Bayoflife
Location: Kovalam
Charges: INR 1500/day
All and all, I enjoyed south totally. I did a bit of everything just before turning 24.
I met new people, sat in a cafe all by myself, took surf lessons, painted next to a beach and so much more!
I think this was totally worth my time and effort.