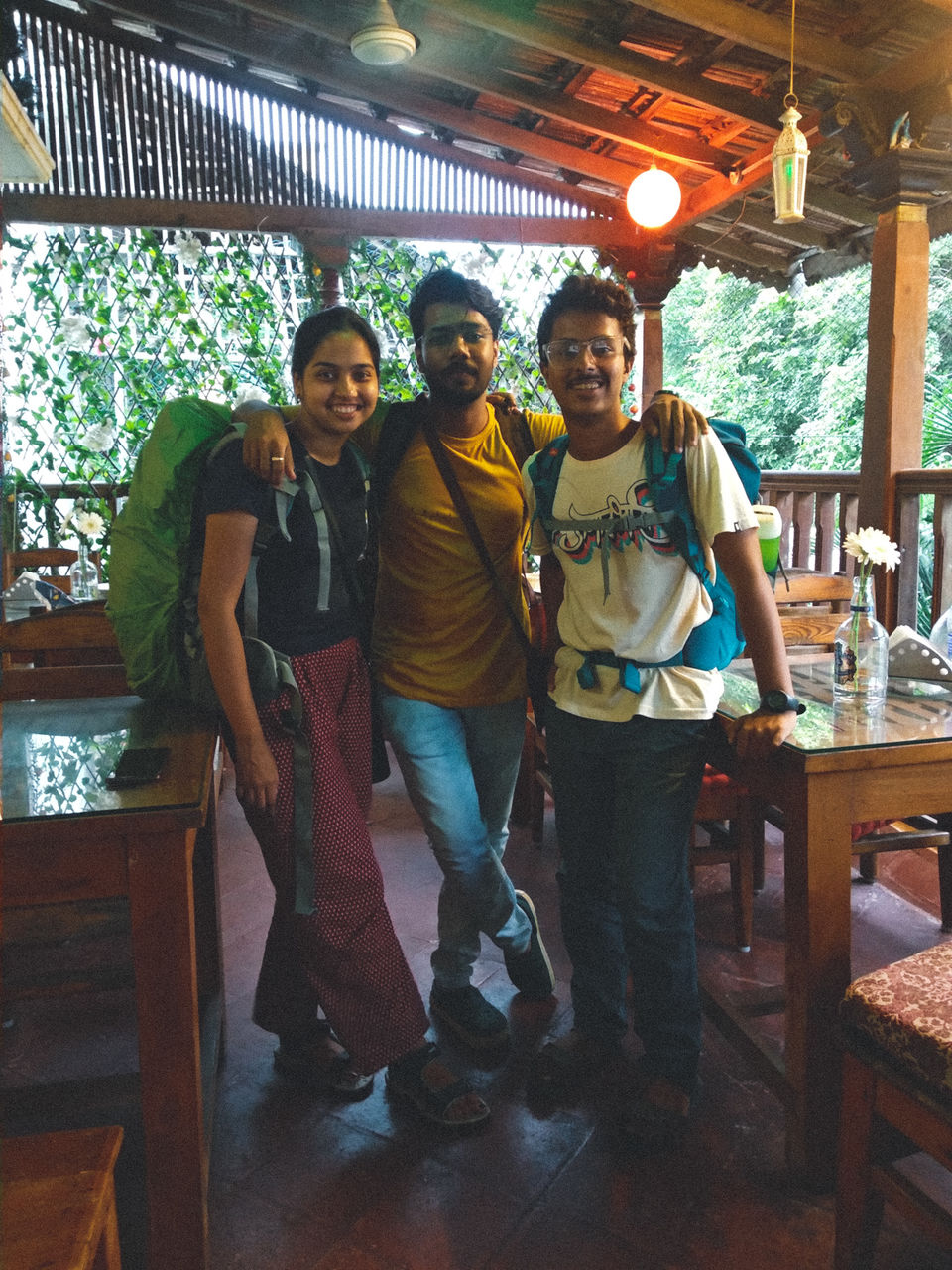 It was Savani's idea to take a trip to Pondy. Although we set out for a backpacking trip, ended up doing a lot of touristy things. I, Sushant and Savani had full plans to celebrate 18 years of Dil Chahata Hai. Our budget was not more than INR3000 for 3 days, obviously excluding the transport cost. Along with the transport, which was approx INR6500, our total trip budget was INR10K per head. We could've cut down the budget by booking trains, but then sparing 2 more days for a rail journey would have been too hectic.
Our flight landed in Chennai at midnight. That night we crashed at a place of an Instagtam friend of mine, Sulai. Early in the morning, Sulai got us seated in a bus to Pondicherry and there is where our trip began!
It took approximately 2.5 hours (due to less traffic) to reach our stop 1, Auroville. Auroville, the best settlement I've ever come across. It's an experimental community where people from all identities live together in the most sustainable way possible. You should definitely google everything about Auroville. Our stay was at the Time Travelers Hostel, which was just opposite to the Visitor's center (literally the center of the town). We had booked a pretty little primitive looking coconut hut for 3 of us which costed INR 900 for a night. After a cup of filter kaapi at the Visitor's center cafe and a bit of window shopping at some super expensive organic boutiques there, we head to the Matrimandir. It was just a golden ball which didn't fancy us much. We were interested to see what's within it, but couldn't make it till there since our itinerary for next 3 days of our tour were packed (You have to physically go and book a slot for the Matrimandir at the Visitor's center at least 2 days prior... Also it's free)
Although covered by lush green patches, Auroville was high in scorch meter. We were all drained out so we decided to chill at the hostel after having lunch at a local cafe. Our hut was the coziest place around. An afternoon nap was the most Maharashtrian thing we did that day. The other half of the day I spent painting Freddy Mercury on a wall while Savani and Sushant were busy talking to Nafsal (the guy who looked after the hostel) about his travel ideas, weed and Marxism. It was dinner time (9pm) but all the cafes nearby were closed, Auroville shuts down early. That day we had to survive on instant ramen.
We extended our stay at the time travelers hostel and decided to take another day to explore that aurovbeautiful place. That day we rented a moped. It costed us INR350 for 24 hours. Three of us triple seat rode around on the roads of Aurovillle. Literally anywhere! Auroville is a proper circular city majority of earth roads around the woods. We decided to circle around the whole of Auroville hopping cafes. The chocolate croissant we tried at the Auroville bakery was just so delicious. Also the summertime tartine at 'Bread and Chocolate' and Mediterranean plate at Well cafe.
Riding around, finding ways and bumping all the way we stopped at 'Svaram'
Now Swaram is a place where they make various primitive kind of musical instruments and sell for very cheap rates. But the fun part was their sound garden where they had kept life size instruments which produced sound. We spent most of our time playing around like 10 year olds.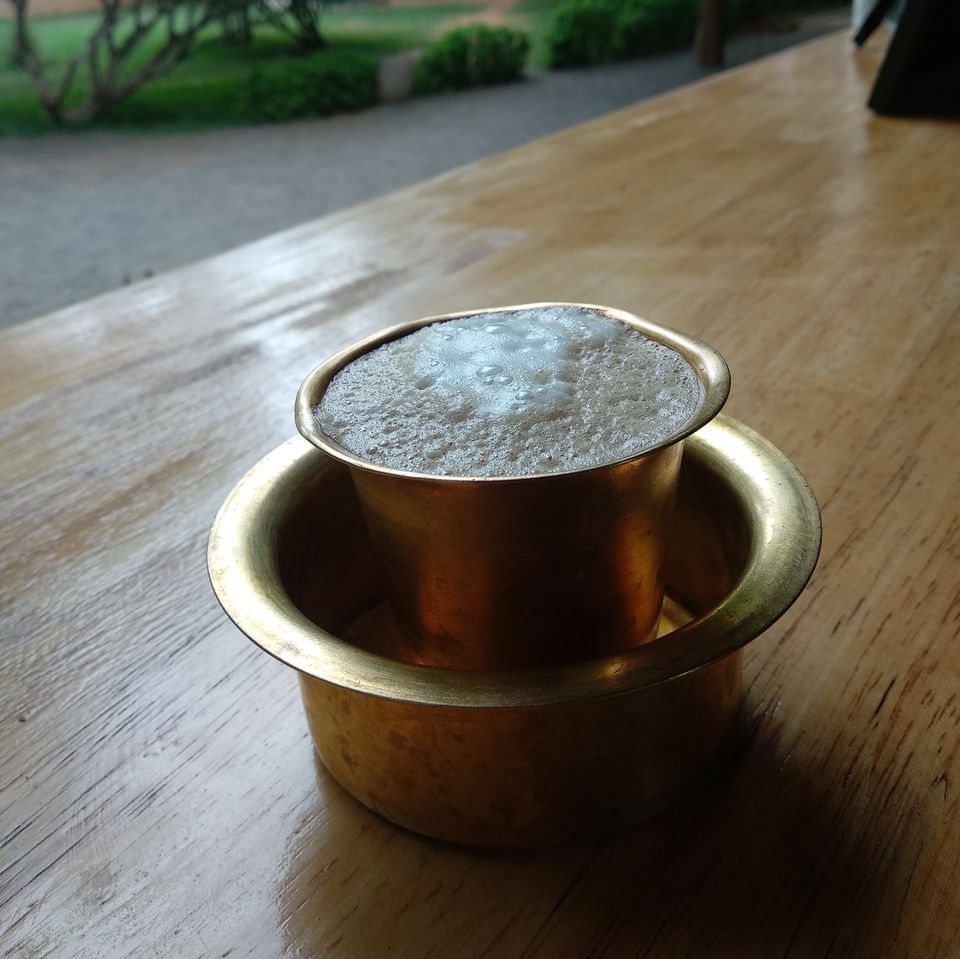 Day 2 was all about food. Being diverse by various nationalities this place has to offer not only great local food but also a variety of continental too. The best part is everything here is home grown and fresh.
For dinner we found Maiyam fast food on google. It was an authentic south Indian restaurant with Indian sitting arrangements, food served in earthenware. Everything in the menu was so hard to understand we ordered a simple rice platter and Puttu for desert, a sweet dish prepared from ragi and coconut. The rice platter consisted of mango rice, curd rice, sambar rice, fried okara and some tangy chutneys. The whole thing tasted so divine, it actually felt like home.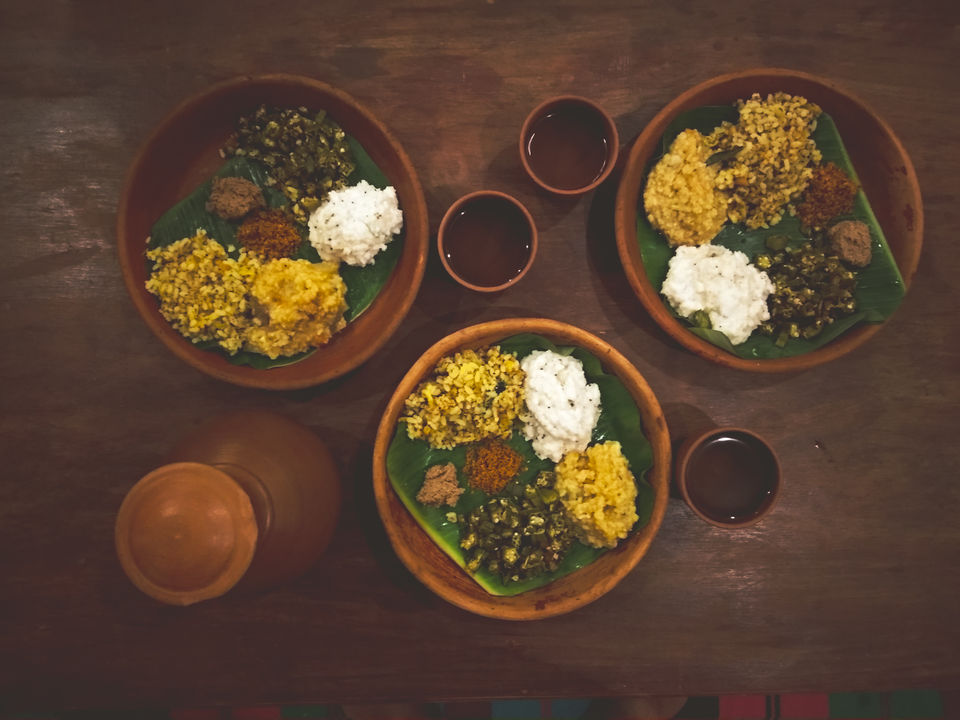 Grabbing croissants for breakfast from Auroville bakery we left for Pondicherry early in the morning. A rikshaw costed us INR 300 till the White Town. White Town in Pondicherry is the part where the French settlement is. We booked a stay for a night at this beautiful home stay called A La Villa Creole in the heart of the White town. It costed INR 1500 for a studio room. Quite spacious and totally worth it, since it was in the most quietist part of the city and had colonial furniture with round windows. Quickly dumping our backpacks in the room we set out explore the city I was dreaming to visit after watching Life of Pi. We rented 3 bicycles, INR 100 each. Sushant and I had to settle for ladies bikes since the vendor had no other.
Our stop one was the Rock Beach. We pedeled across the promenade, hung out on the rock beach. The whole scene got us an absolute Marine drive vibe.
After a tasting great local seafood at Valaiyapattiyar and having a quick look across Aurobindo ashram, we continued our pedel journey, this time through the lanes of White town, through brightly colored French style houses, quite and calm roads, stopping and clicking photos, visiting random bakeries and bookshops. Pondicherry is divided into two prominent parts. One part near to the beach is this fancy French colony and the other is just another hustling city of Tamil Nadu with rikshaws everywhere, posters of politicians... Both had their own vibe and this is what interested me the most.
It was dinner time and we chose cafe Xtasi to feast on their wood fired pizza! What a place to end the day. We got back to our rooms and packed up for our journey back to Mumbai next day morning.
With a lot of memories, photos and jokes I bonded closer with these two humans on next level!